Located partway between Zadar (which has some pretty stellar accommodation of its own) and Split, you will find the beautiful town of Šibenik. Known as the gateway to the idyllic Kornati Islands, the closest central town to the Krka waterfalls, and home to one of Croatia's UNESCO Heritage sites, Šibenik is an excellent spot for a break.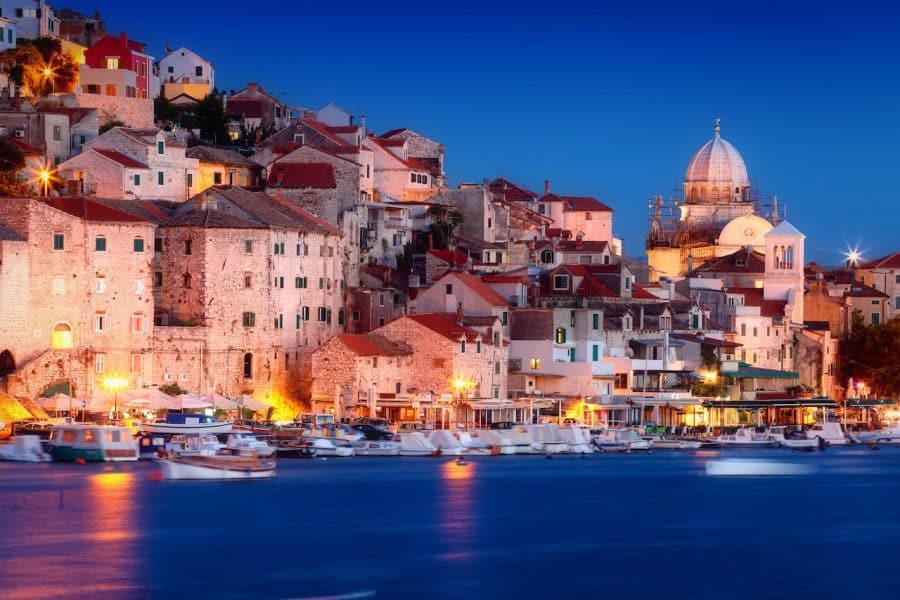 This is a popular area, so there are plentiful Šibenik accommodation options to check out. Let's help you narrow it down!
Map Of Hotels In Šibenik
What Is The Best Hotel In Šibenik
The best hotel in Šibenik is entirely personal. Do you want to stay in a five-star hotel? Would you prefer a home away from apartment? Is a hostel what you're after? It's a subjective choice.
Having said that, prices are going to be lower during the shoulder season, so we're talking May and June and September to October. July and August are the busiest times, and this is when prices are higher and crowds are more prominent. Of course, you can still visit during the winter period too!
Hotel Booking Sites
Booking.com is an excellent choice for finding low-cost accommodation in Šibenik, and you'll also find the most extensive range of options here too. The site is fantastic for last-minute deals, and you can also find smaller hotels and villas, as well as large five-star hotels.
4 Star Hotels In Šibenik
D-Resort Šibenik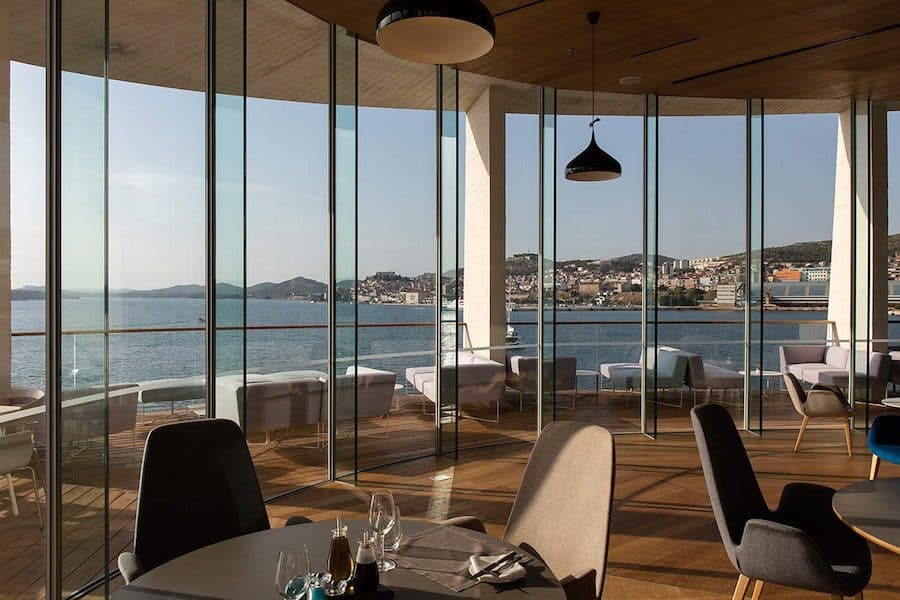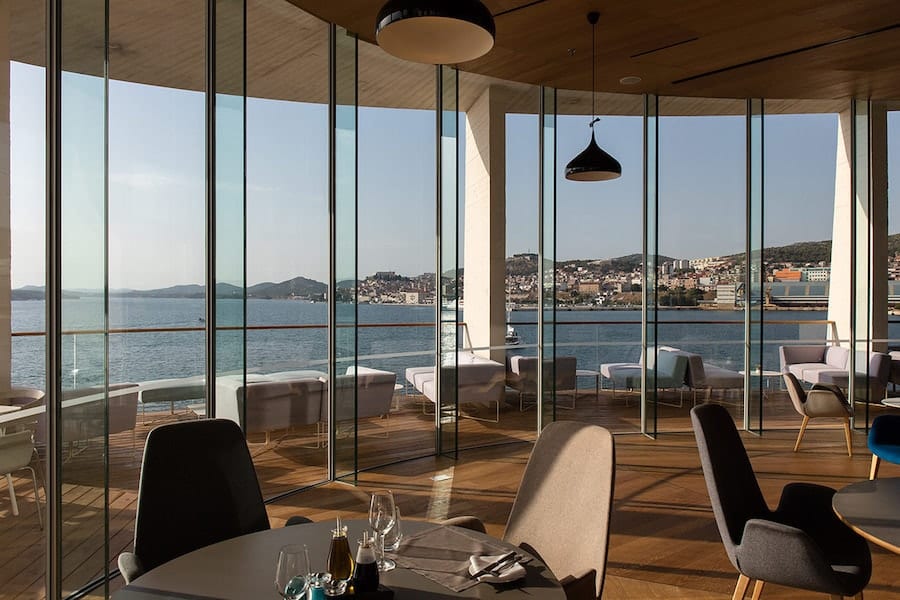 You won't find a better location than this hotel offers you, as it is right on the marina, with stunning views. You can enjoy the rooftop restaurant and bar's panorama every evening or head to the spa first! Of course, being so central, there are many bars and restaurants to enjoy around the hotel itself, and you can venture out whenever you please.
Rooms are large, decorated in a very modern manner, and have sea views. You'll also find a flat-screen TV, private bathroom, and free Wi-Fi throughout. There are four bars on-site, a spa, a Turkish bath, two separate saunas, and a gym. There isn't much this hotel doesn't have!
Heritage Hotel Life Palace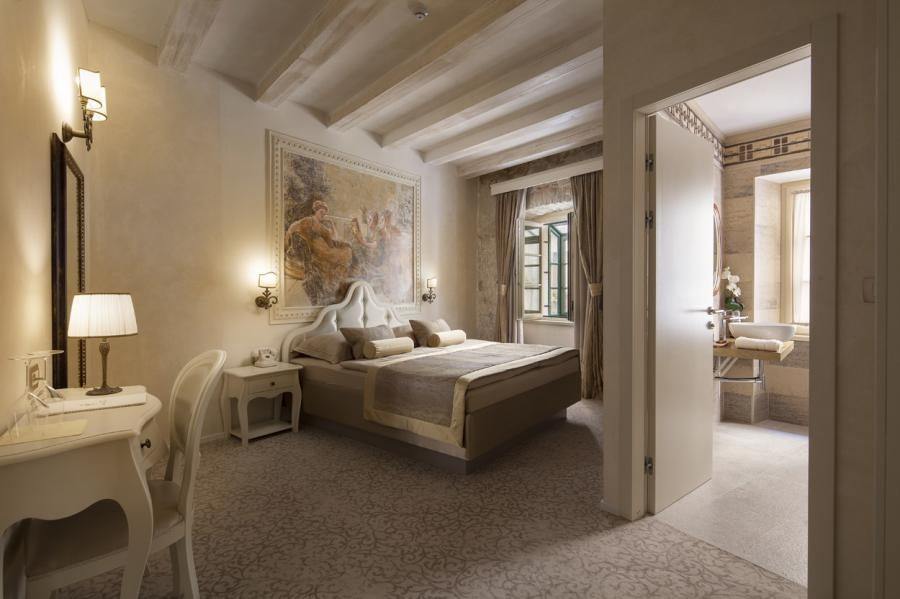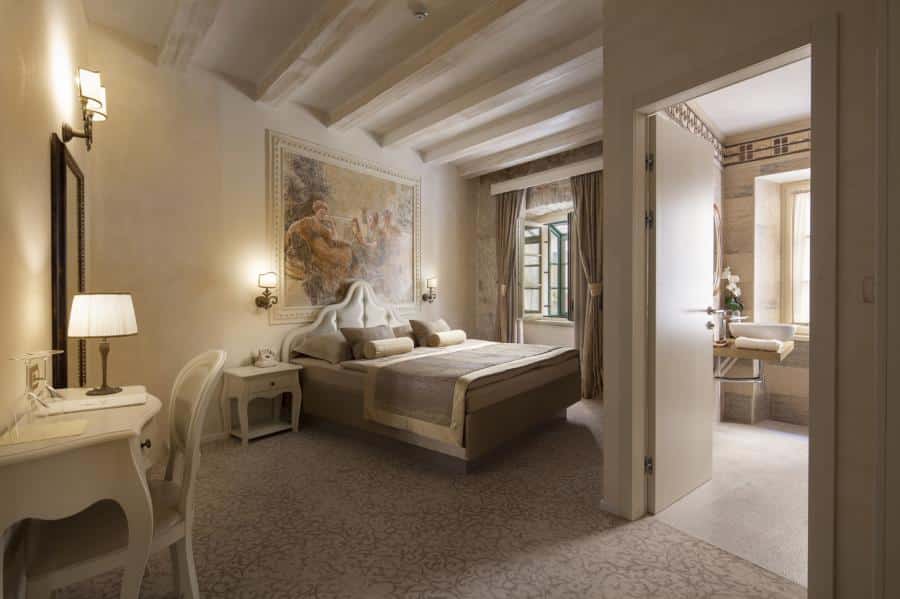 The outside of this hotel is very opulent, and the location is perfect for anyone who wants to get out and explore.
Rooms are all air-conditioned and have flat-screen TVs and satellite channels. You can request a sea view at the time of booking. Otherwise, you'll get a city view, which is just as fantastic! Rooms also have a private bathroom with a bath or a shower and amenities to be entirely comfortable during your stay. There is an on-site bar for evening entertainment, or you can head out into the city to see what else you can find.
This hotel made our list of Top Luxury, Unique, and Award-Winning Hotels in Croatia!
Fenice Palace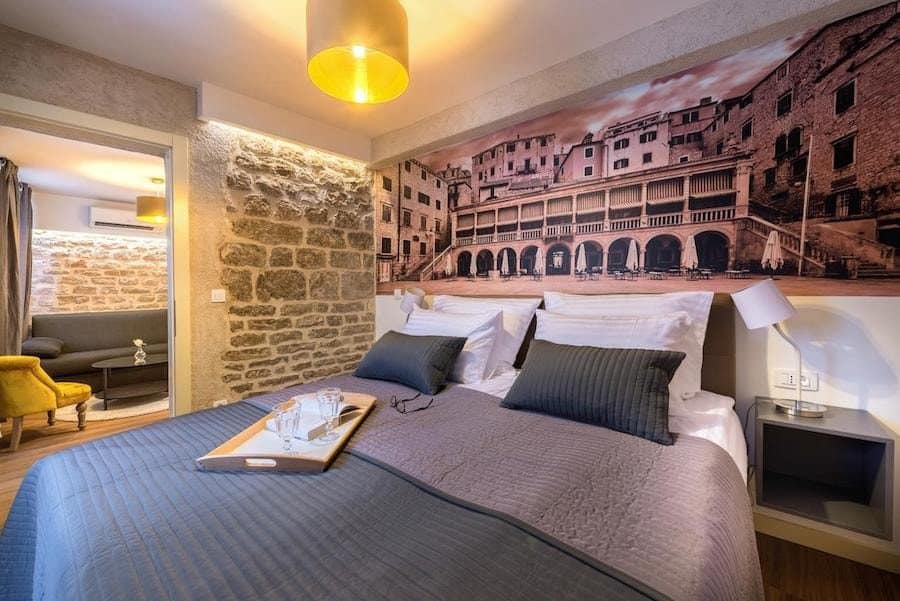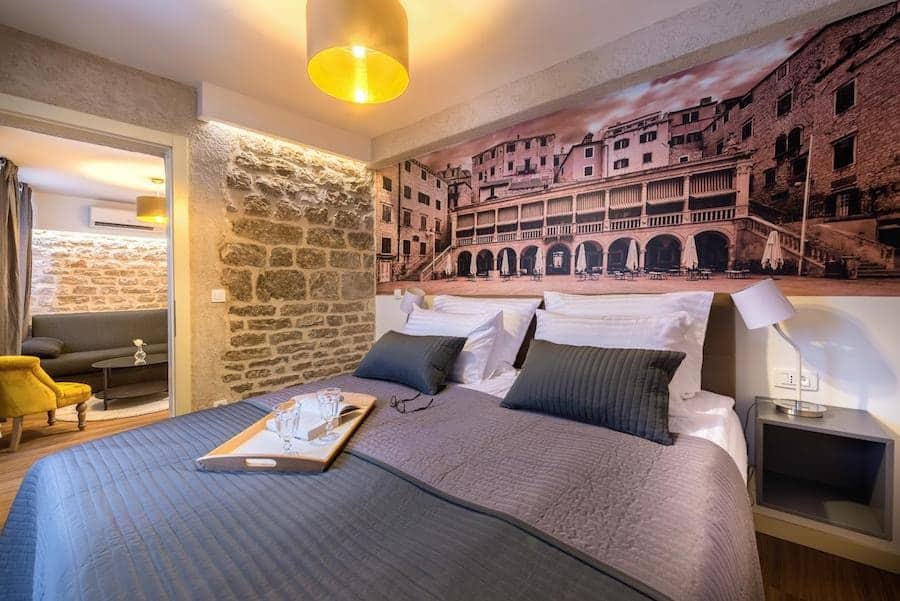 This hotel is decorated in a really modern and chic way, so it's a great place to stay, in the heart of Šibenik. You'll find the Church of St Barbara within walking distance, as well as the Subicevac Fortress. Transport to Zadar and Split is also a short walk away.
Rooms are air-conditioned, large, and all have coffee machines and private bathrooms. Wi-Fi is complimentary across the property. There are countless bars, cafes, and restaurants around the hotel if you want to get out and explore, perhaps for some evening entertainment.
Amadria Park Ivan Ex Solaris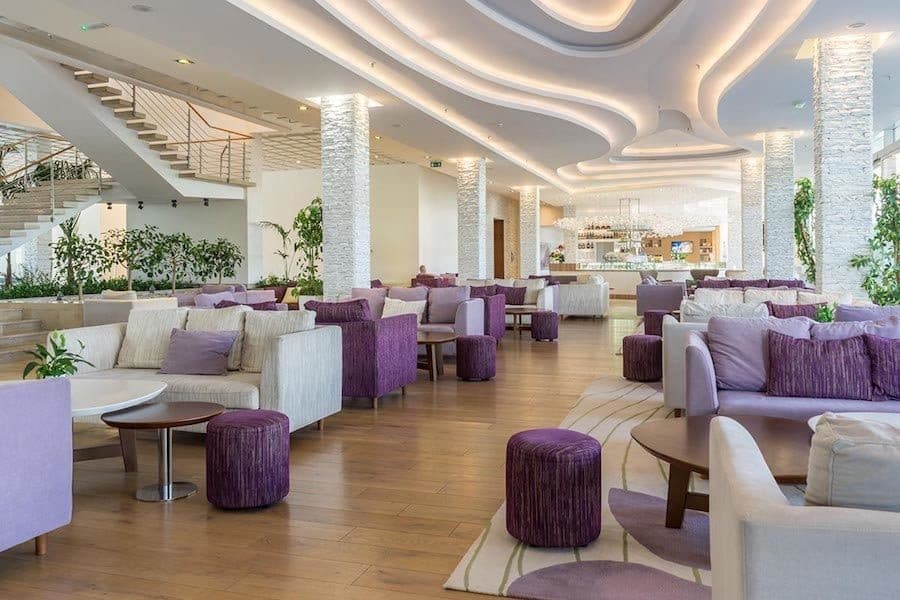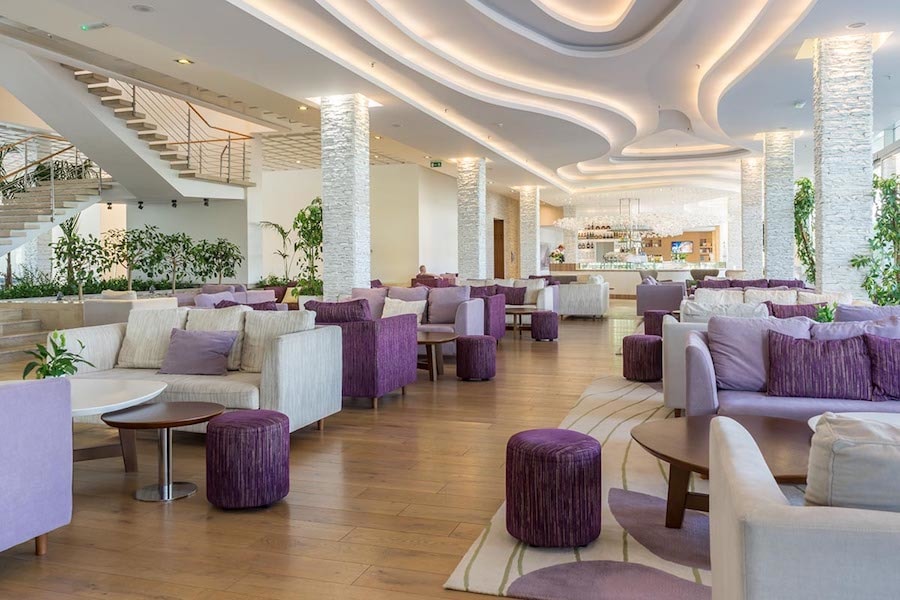 This hotel is a fantastic get-away from it all kind of location and is located just outside the center of town, 6km away. The hotel is located on the beach and is surrounded by green forests and trees. There are tennis courts on-site and a spa too. The on-site restaurant offers local and international dishes to enjoy.
Rooms are large and are air-conditioned. Each has a TV, minibar, and private bathroom. This is an excellent hotel for families as there is an on-site aqua park, playground, and plenty of space to run free.
The on-site spa, indoor pools, and Turkish bath finish off the facilities and several restaurants and bars.
Bellevue Superior City Hotel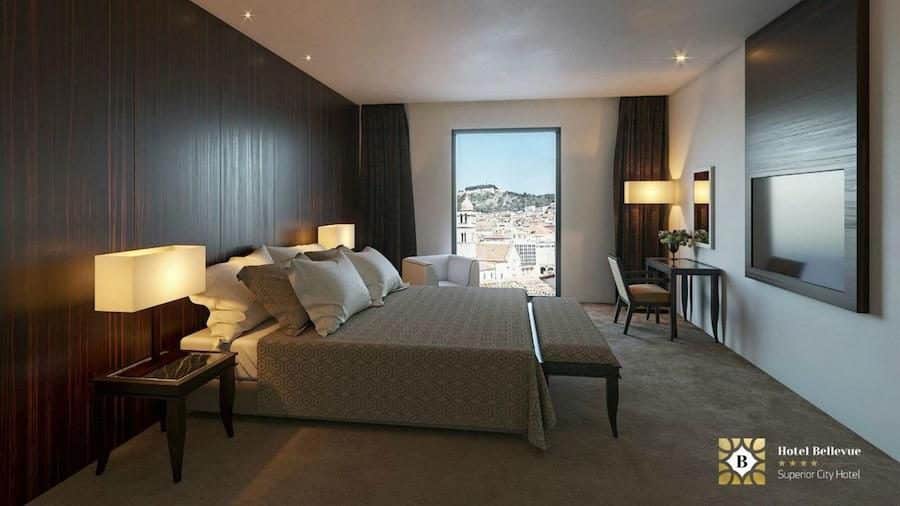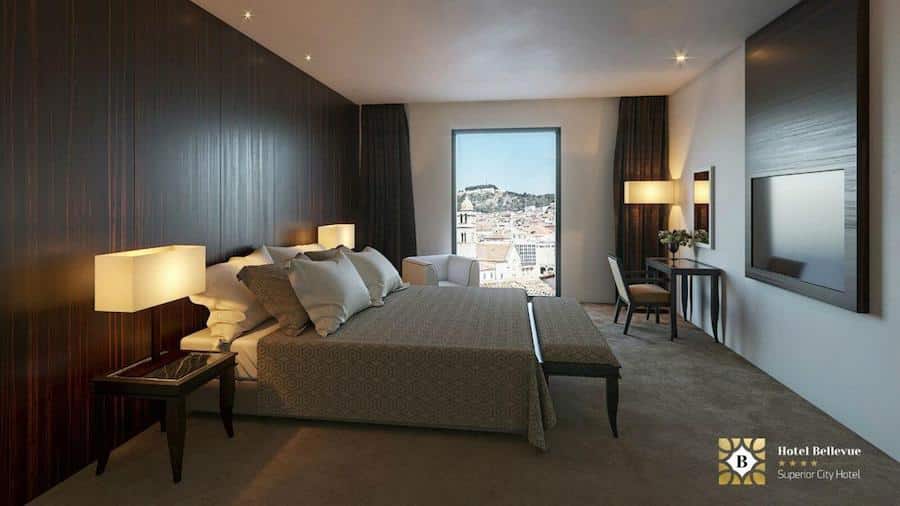 This hotel is located in the center of town, but it is set up on a quiet side street so that you can be assured of a chilled-out stay. Having said that, you are very close to some of the town's major attractions, and public transport runs from just around the corner.
Rooms are spacious, and all have flat-screen TVs, private bathrooms, and air conditioning. There is an on-site restaurant, which serves breakfast and evening meals, and a wellness center with a hot tub. You can also organize many trips and activities from the main desk, which is open 24 hours per day.
Heritage Hotel King Kresimir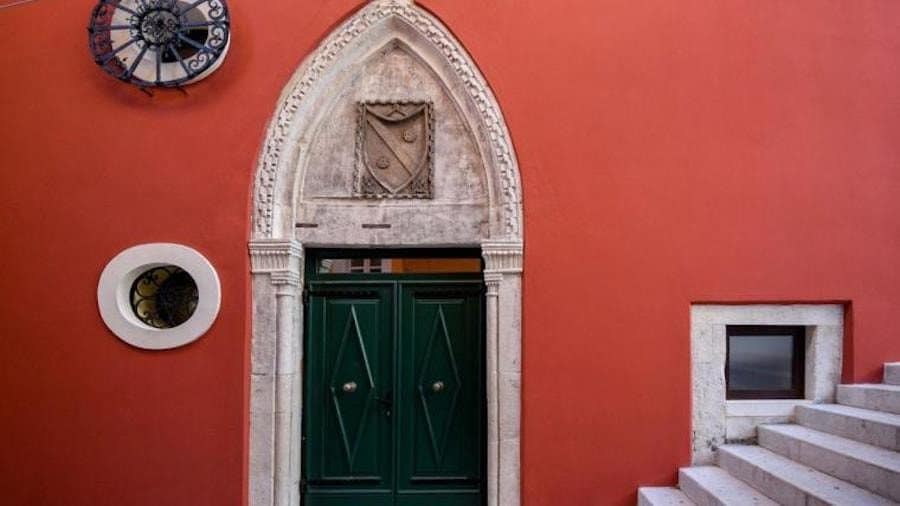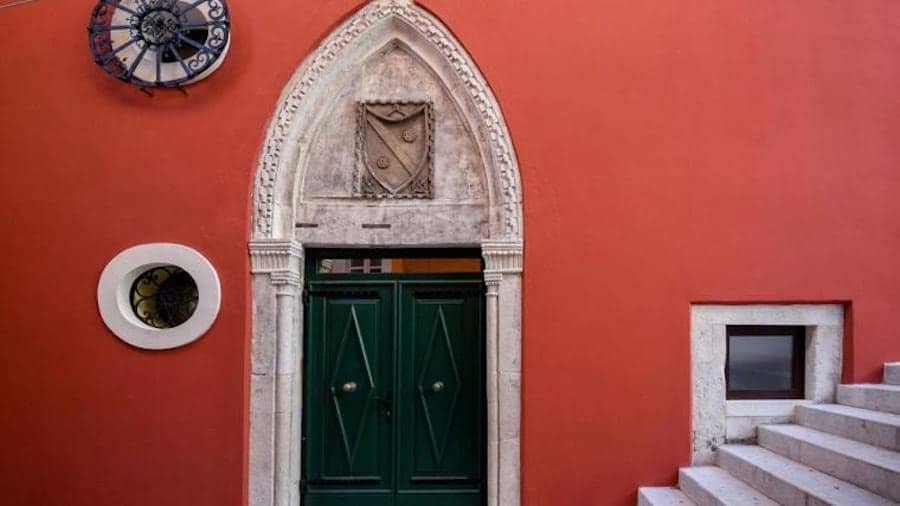 If you are a keen history buff, this is the hotel for you, as it is located right in the city's historic heart. You'll find decor which matches that description, with a little of the old and a bit of the new. Despite that, there's free Wi-Fi! The hotel was once owned by royalty and was a former palace.
Rooms are decorated elegantly and feature air conditioning, a flat-screen TV, and if you want to, you can ask for butler service! The on-site restaurant serves local and international dishes, and there is a terrace if you're going to eat outside. This is an exceptional hotel and one which has a little something extra about it.
TRAVEL COMPANIES WE USE AND TRUST
3 Star Hotels In Šibenik
ParkCity Rooms And Apartments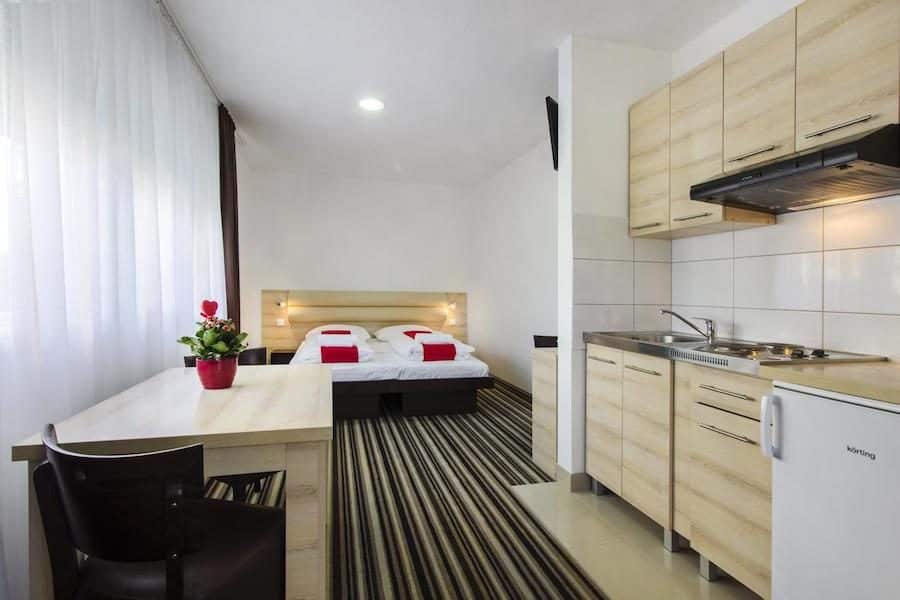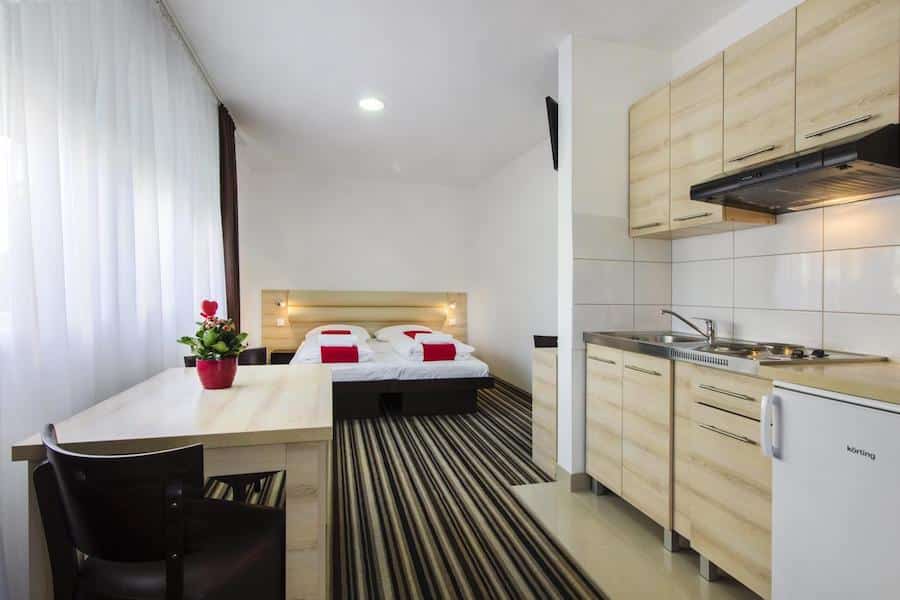 This hotel/apartment offers a self-contained home away from home accommodation within a hotel setting. The ideal blend! The property is close to Šibenik Fortress, and there is plentiful free parking on-site and free Wi-Fi.
Rooms are large, and all have a kitchenette, which is fully equipped with everything you need. There is also a flat-screen TV with satellite channels and a large bathroom. The rooms are all air-conditioned. However, if you don't want to cook, you can request a buffet breakfast for a small charge.
Guesthouse Merla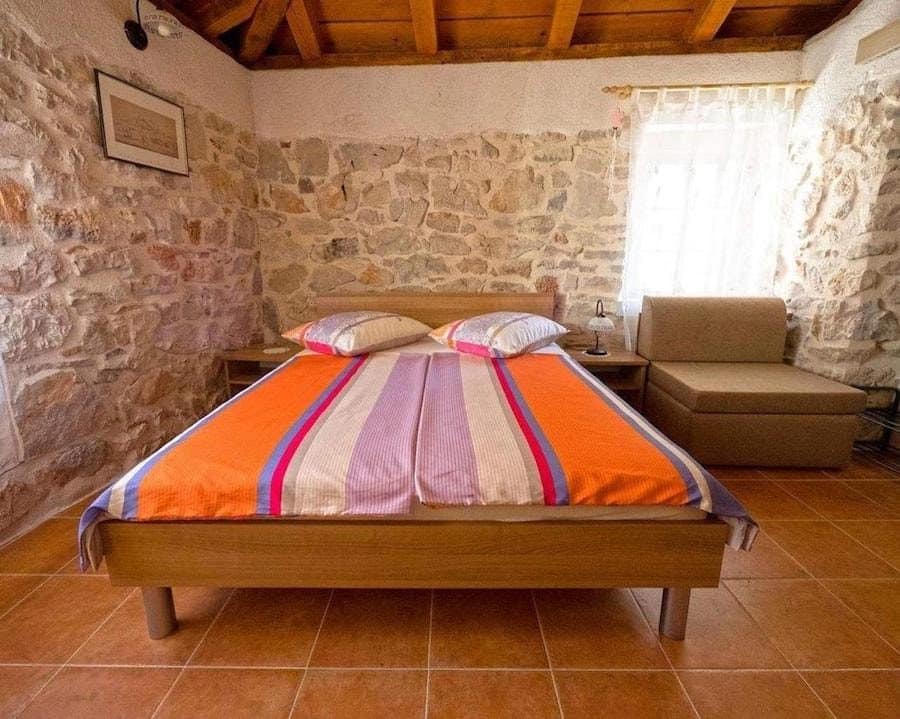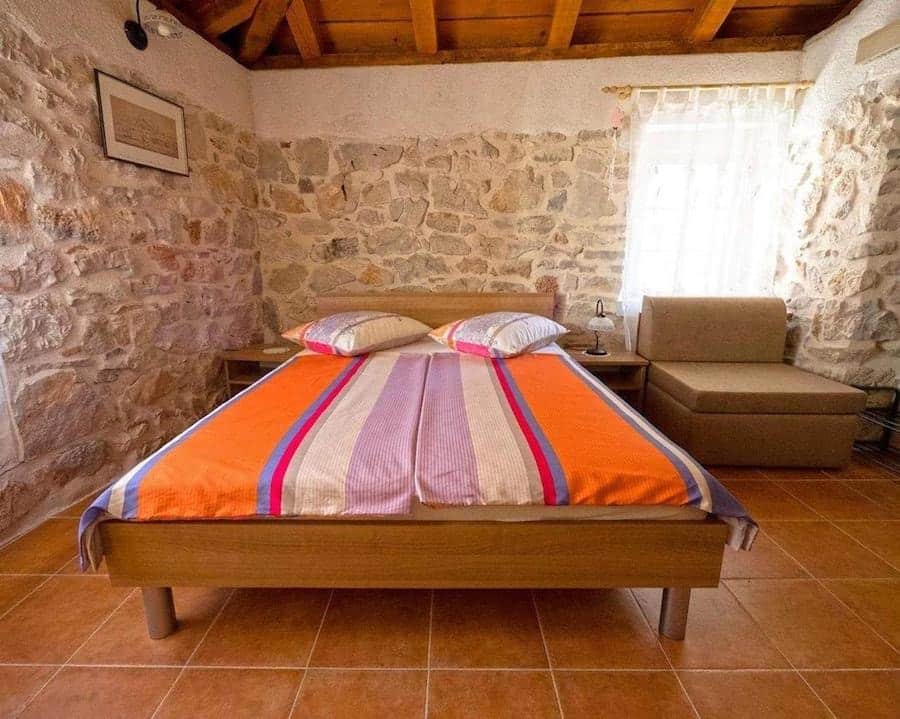 This is a great place to stay without cutting down on comfort or quality for those on a budget. The guesthouse is located in the city's old town, a stone's throw from Subicevac Fortress.
Rooms are comfortable and medium-sized. All are air-conditioned and have a flat-screen TV, and have a private bathroom for your comfort. There are also many bars, restaurants, and cafes around the hotel, so you don't have to go too far for your evening's entertainment for your meals.
Guesthouse Ivan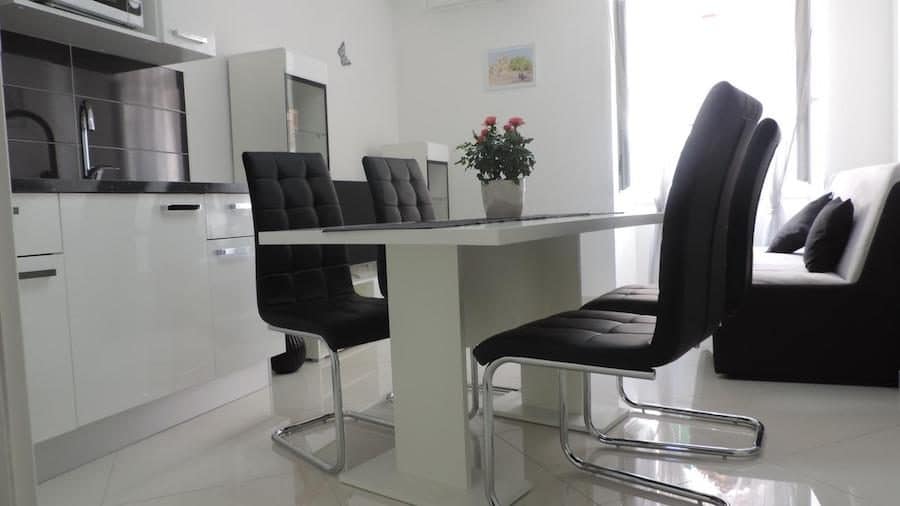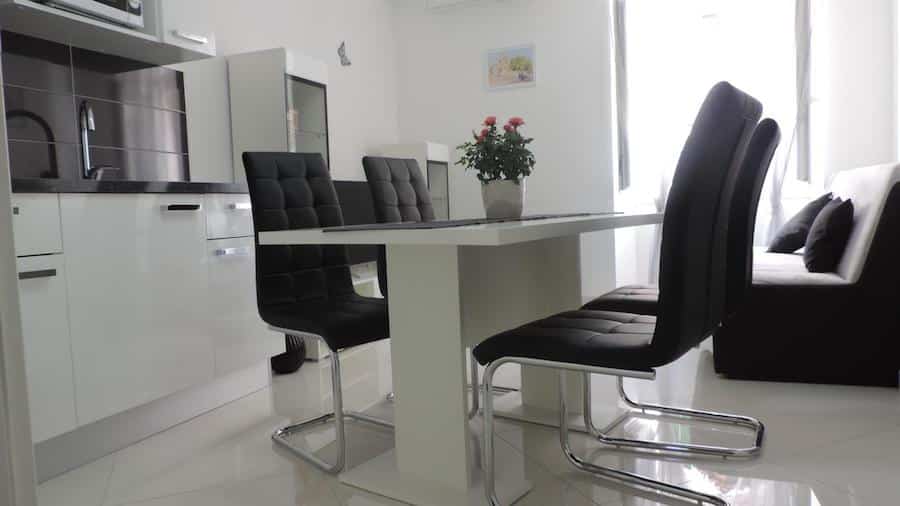 A very short distance from some of the main attractions in the center of town, Guesthouse Ivan is a very highly rated, family-run accommodation choice. Rooms are large, and all have air conditioning and a private bathroom. You'll also find a flat-screen TV and satellite channels in your room, and some have a small kitchenette if you request it at the time of booking.
Around the hotel, you'll find many places to eat and bars for your evening entertainment, and the hotel is also renowned for offering fantastic advice on places to visit, so that is something to bear in mind during your stay.
Barone Rooms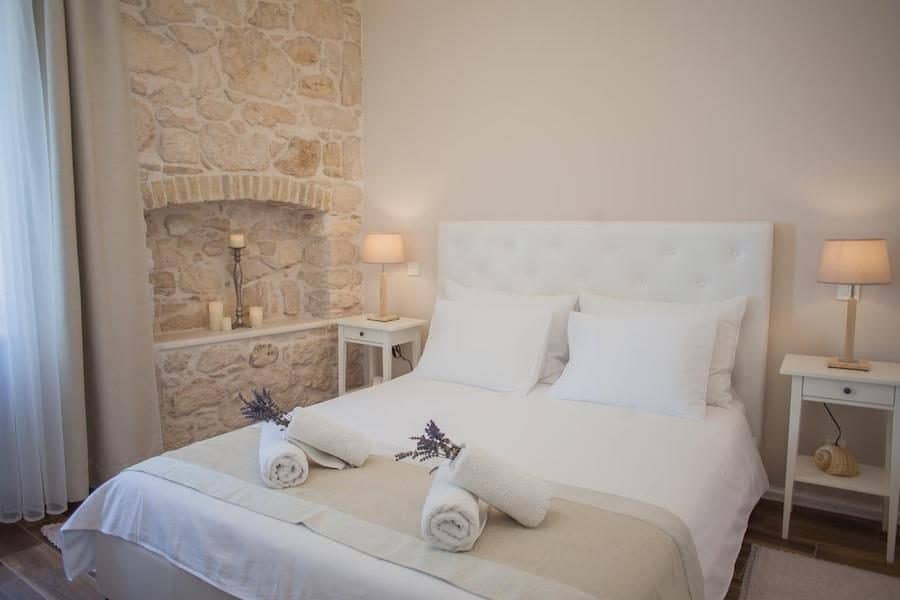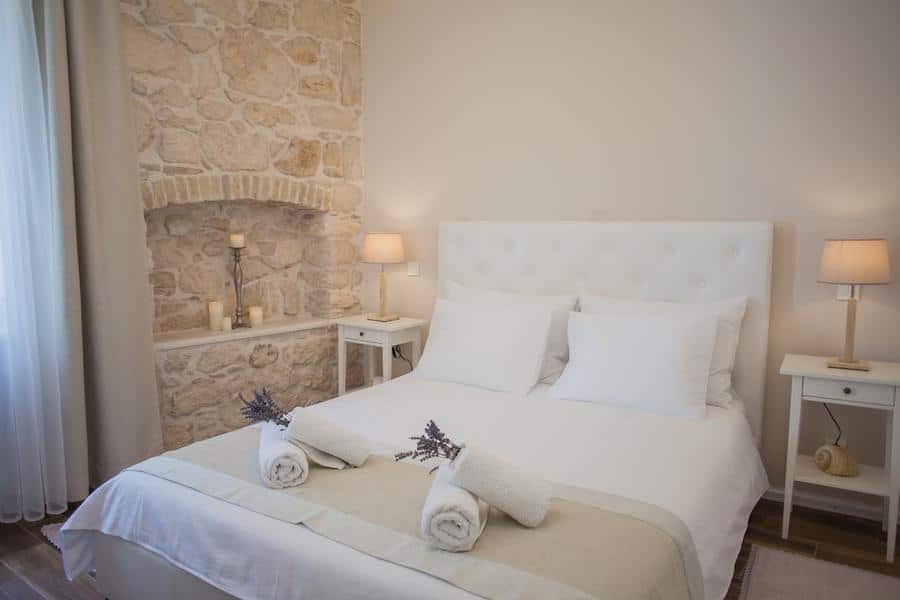 This small guesthouse offers really comfortable surroundings for your stay in Šibenik and is also ideally placed for exploring a little further afield. The Šibenik Town Museum is a stone's throw away, and Subicevac Fortress is just 500 meters on foot.
Rooms are large and designed in a modern yet homely way. There is a flat-screen TV in each room, and air conditioning as standard. You'll also find a sitting area in each room too. Again, there are many places to eat and drink around the property, so you won't struggle to find something to do during the evenings.
Hrga Rooms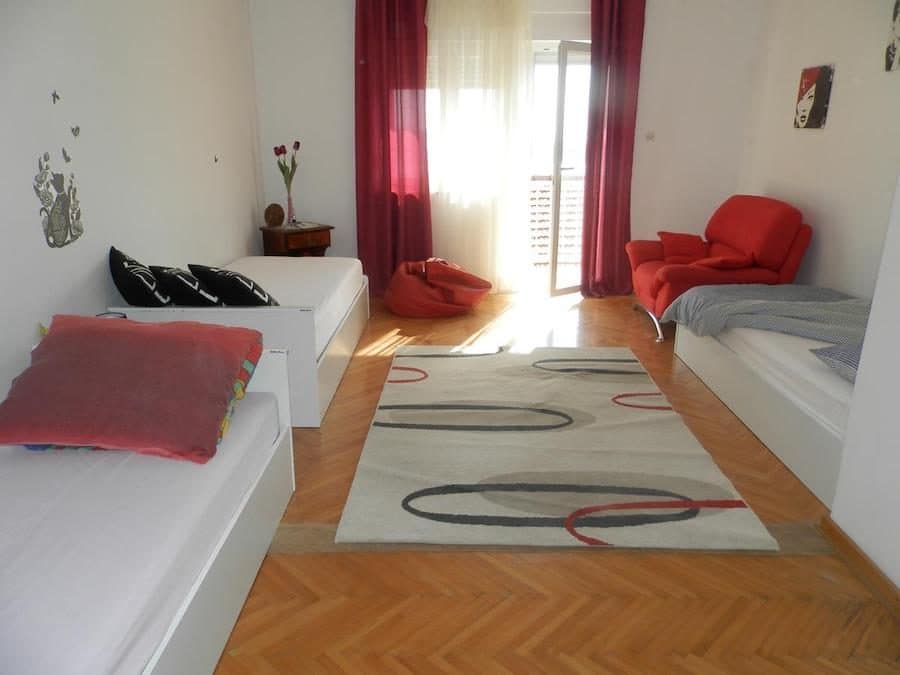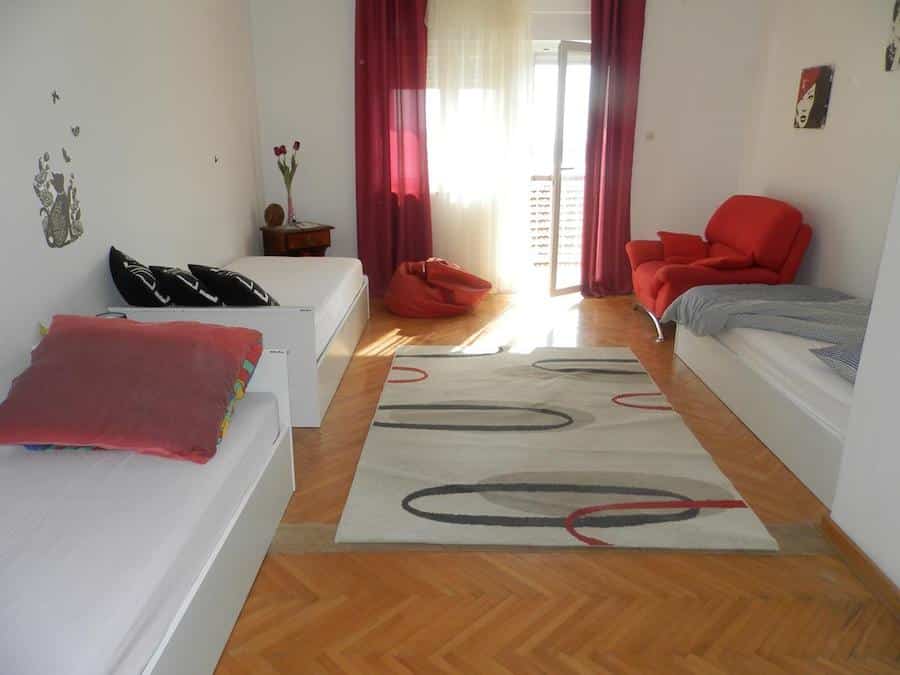 This is another home away from home property, but in a hotel setting for extra comfort. Located a stone's throw from the center of town, the hotel is also very close to the beach. This is a good budget choice and would be ideal for backpackers too.
Rooms are comfortable and air-conditioned, featuring city views. Bathroom facilities are shared. However, the price does reflect that. There are also shared kitchen facilities if you want to do a spot of cooking. There are many bars and restaurants just outside the hotel too.
Best Apartments In Šibenik
Aurum Apartment – 4 Stars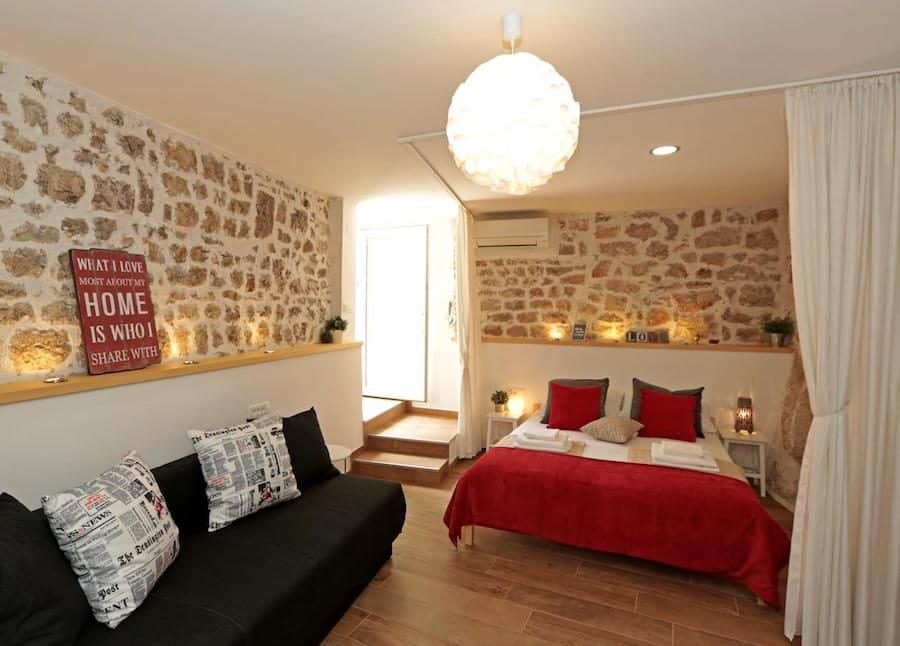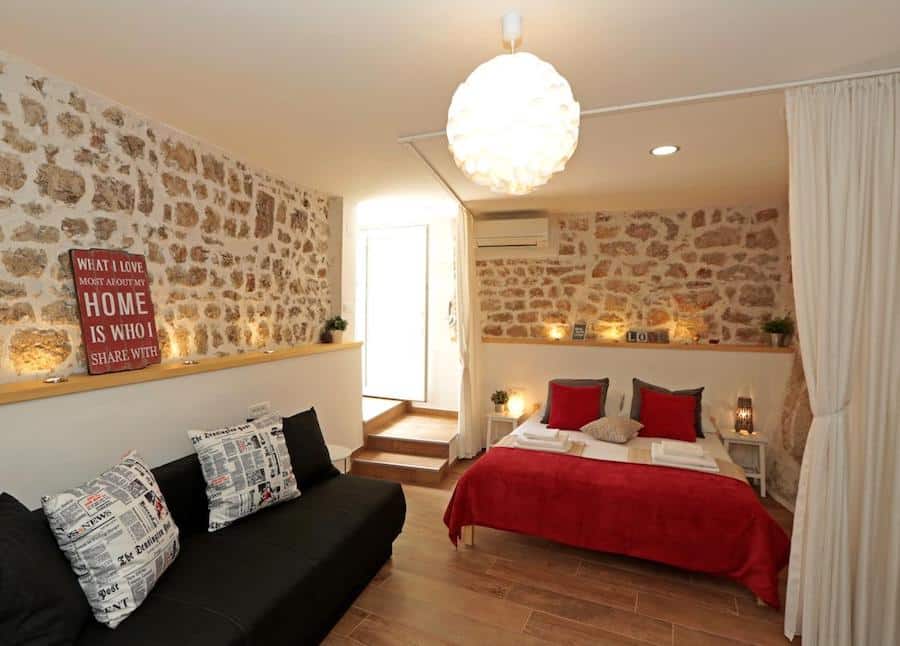 For those who want a homely place to stay, this is an excellent choice, and a 4 star one too! Apartments are decorated in a modern, minimalist style and are located just 200m away from the Town Hall.
There are many restaurants, bars, and grocery stores just outside, and there is also free Wi-Fi on-site. Apartments have a terrace, flat-screen TV and all have private bathrooms.
Apartments Stella Mariela – 4 Stars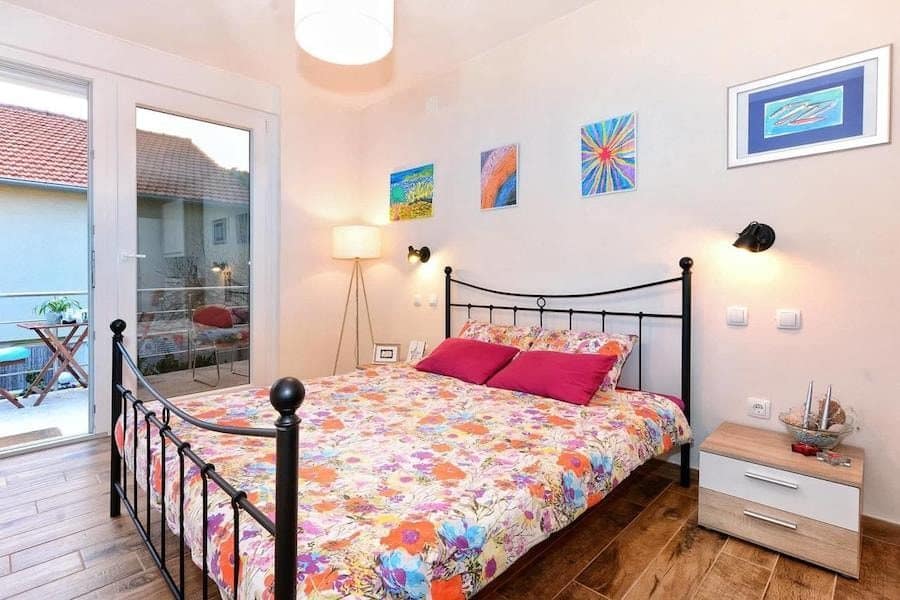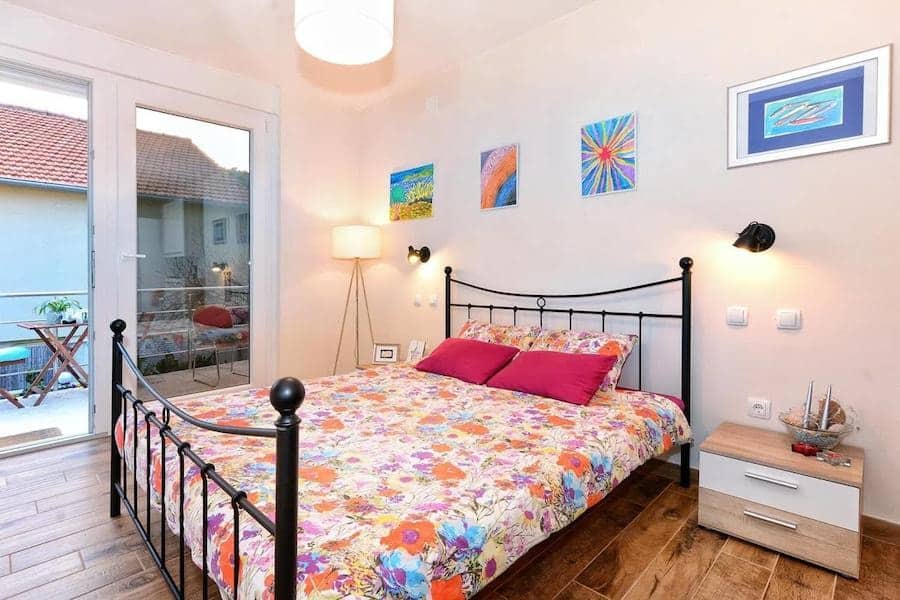 The beauty of this particular apartment is that it isn't set right in the heart of town; it is around 5 minutes by car away, which gives you a chilled-out feel to your stay. It also feels more residential too.
Wi-Fi is available across the property, and apartments have a large kitchen that is fully equipped with everything you need. There is a sofa bed in the living room and two large bathrooms. The living room has a large flat-screen TV and DVD player. Outside you will find barbecue facilities and a terrace/garden area.
Sara Nautica Apartment – 4 Stars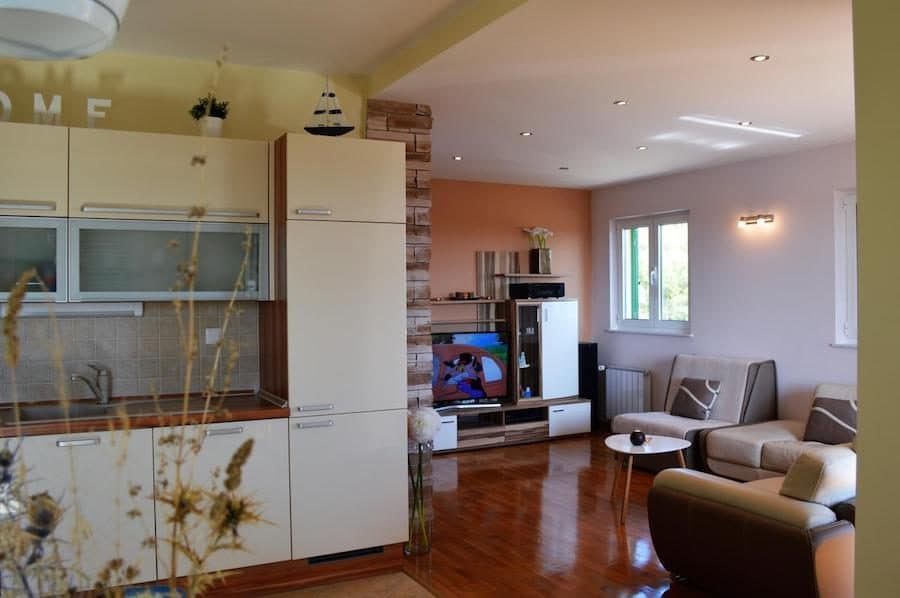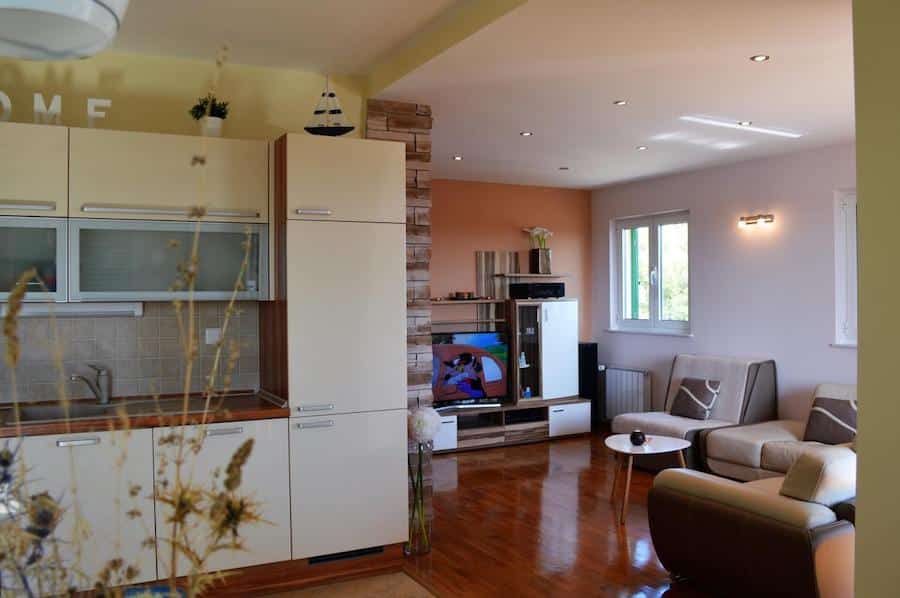 This apartment is a very popular choice and is often booked up. The property is around 1.5km away from the center of the town, and private parking is available. If you want to get out and about a little, you can rent bikes and even a boat via the property, and you have free Wi-Fi for the duration of your stay.
Apartments are large and spacious and have one bedroom and a large kitchen with all mod cons. The living area has a flat-screen TV and DVD player on offer, and the entire property is air-conditioned. This apartment has a real homely feel to it.
Medulic Palace Rooms & Apartments – 3 Stars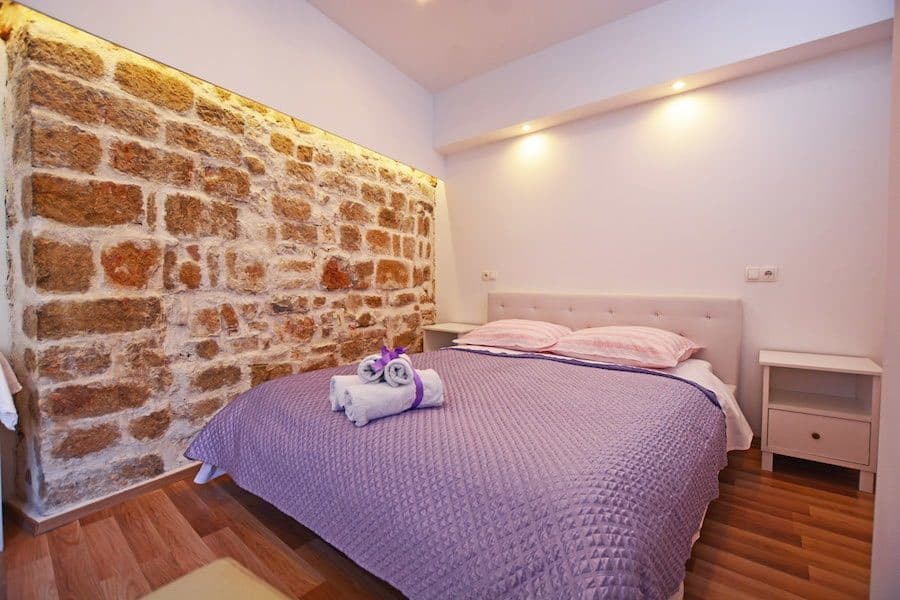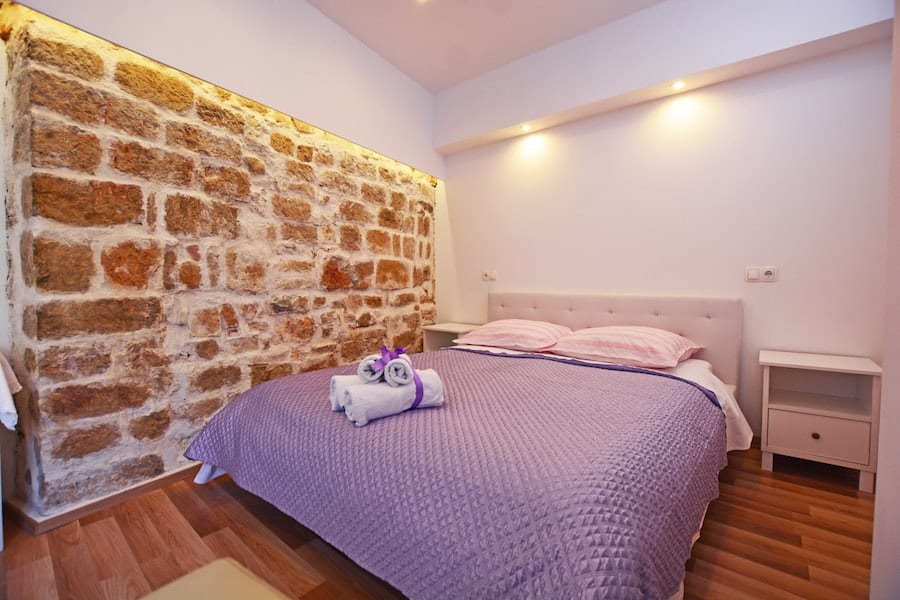 This particular apartment choice is ideal for those on a budget and is situated in the heart of Šibenik. This is a family-run apartment block, and rooms are stylishly decorated, with free Wi-Fi, flat-screen TVs, and air conditioning. Rooms also have a kitchenette, and outside you'll find many restaurants, bars, and cafes.
The property is one minute away from the cathedral and just a couple of minutes away from the harbor.
Apartments Bastion – 3 Stars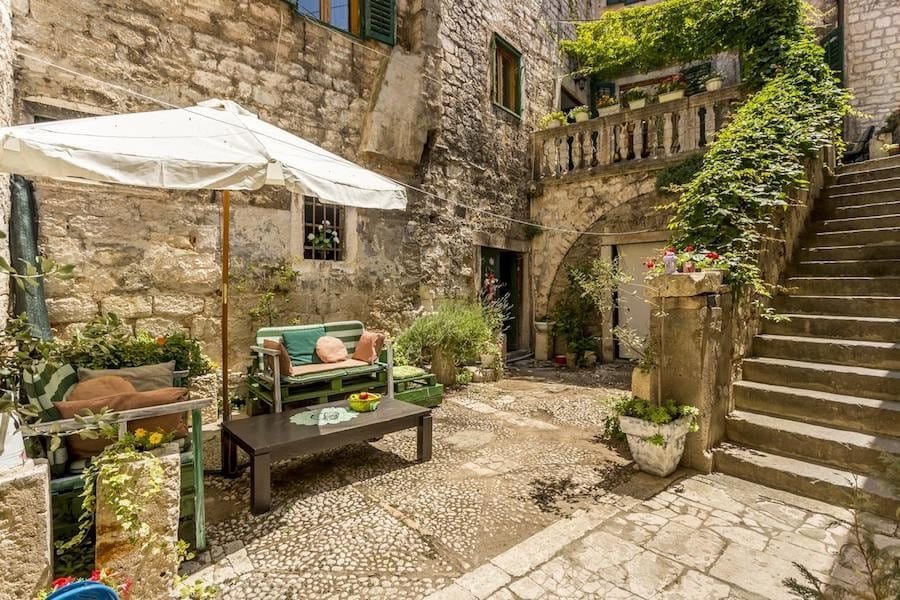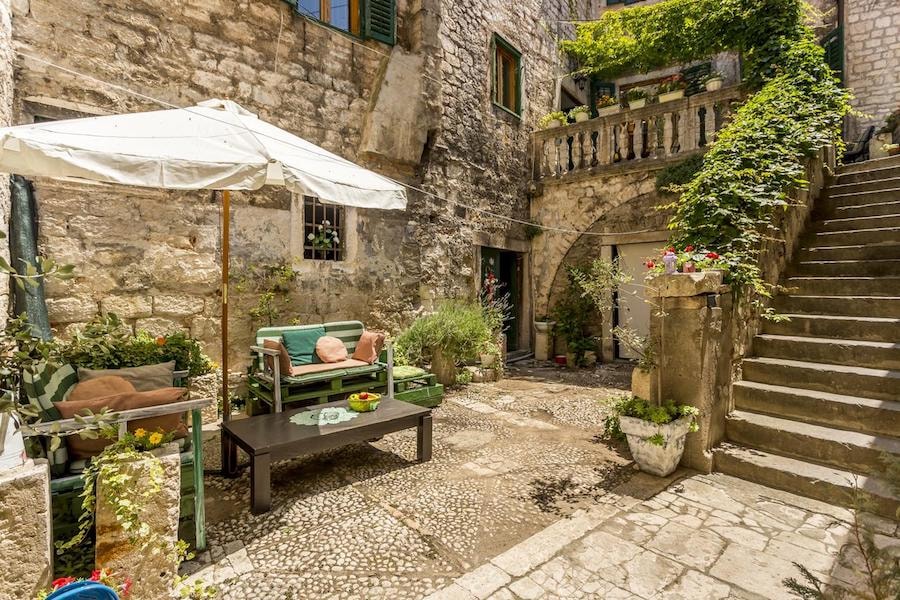 The building where these apartments sit is actually protected as part of the Old Town's history, so you're really staying in history when you choose this apartment. The property has free Wi-Fi to fit in with its still-modern feel, and each room has a city view. Rooms also have a flat-screen TV, a fully equipped kitchenette, and there is a common area for lounging, a shared terrace, and a garden area.
The nearest beach is just 5 minutes away on foot, and the property is so central that you will pass by St James Cathedral as you exit the apartment!
Bulat Sea View Apartments – 3 Stars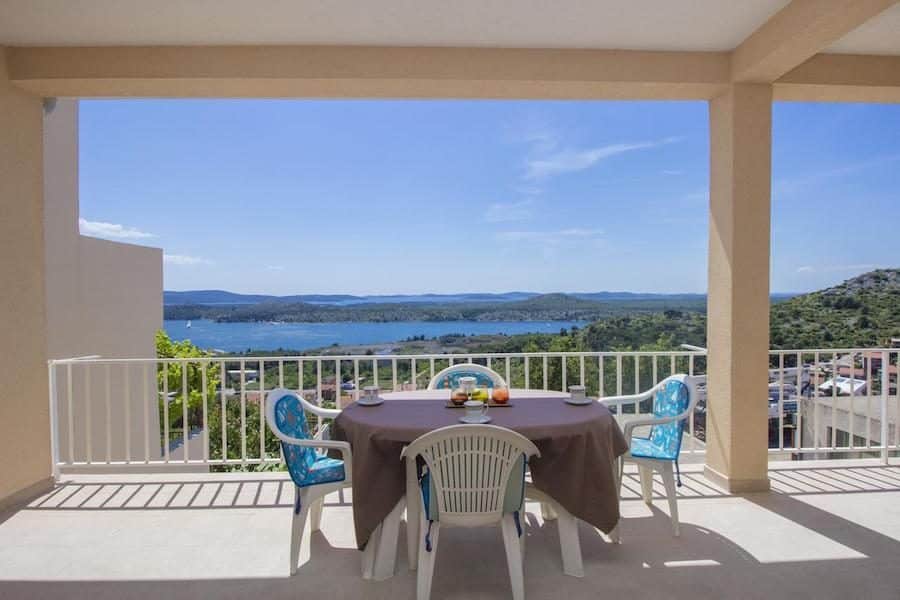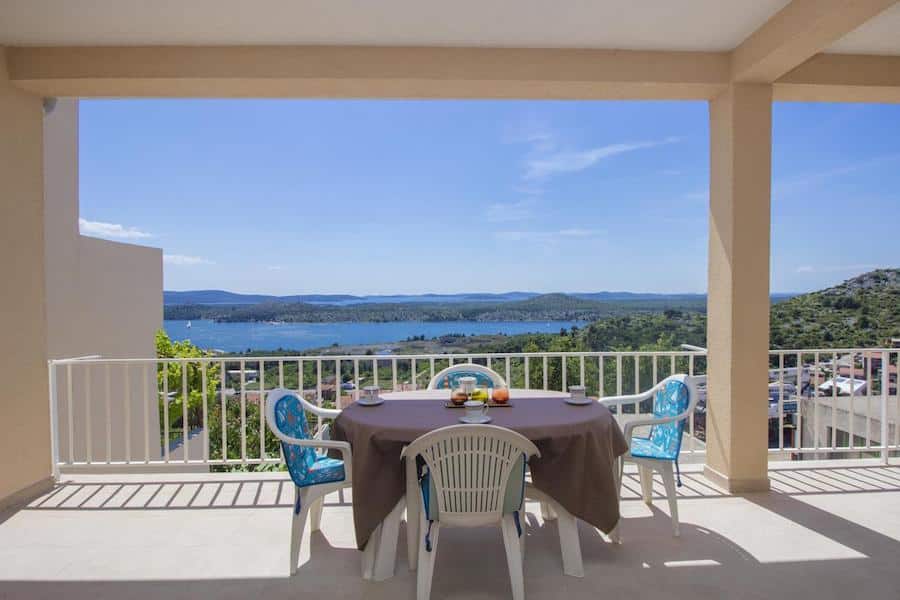 Just a short distance away from the center of town, you will find this particular apartment block. As the name would suggest, every apartment has a sea view! Wi-Fi is also free across the property, and you can make use of that view with the on-site barbecue facilities on offer.
Rooms are large and fully equipped with everything you will need during your stay, including a kitchen, flat-screen TV, and air conditioning. This is an excellent apartment choice for those who want to be close to the sea but equally as close to the center of town.
Where Is Šibenik?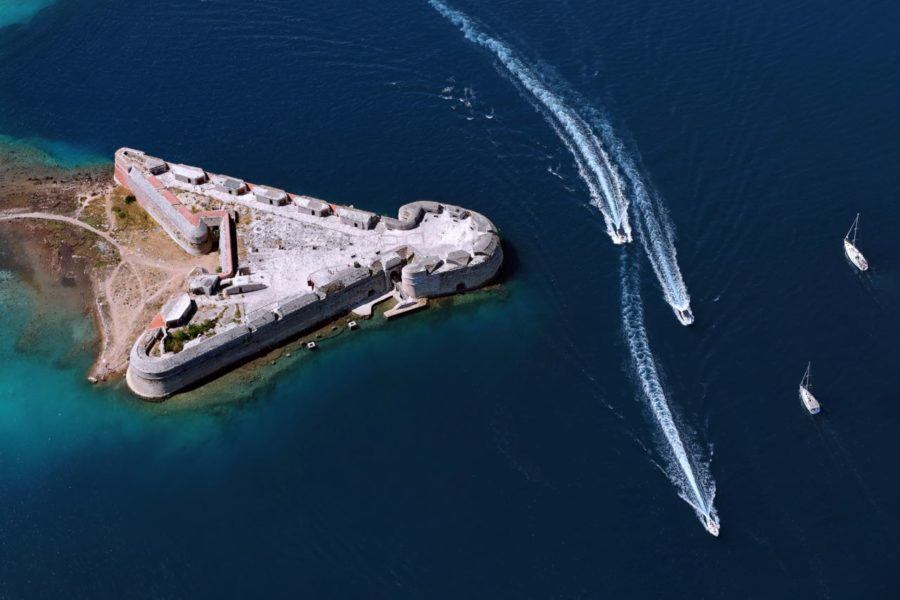 Šibenik sits between the major towns/cities of Zadar and Split. For this reason, it's super easy to get to and from Šibenik via road.
You can fly into Split and hire a car, book a transfer, or take a bus, with the road journey taking just over an hour. The same goes for trips from Zadar too.
Rent A Car In Šibenik
Renting a car is the ideal way to explore any region, and there is so much to see and do around the Šibenik area that car hire is a perfect choice. Head to Krka Falls, venture over to Zadar or Split, and check out the small, secluded beaches that line the area. There are many car hire companies in the area to check out.
Šibenik Transfers
For low-cost, high-quality transfers across Croatia and into Montenegro and Bosnia and Herzegovina, check out Octopus Transfers.
More Šibenik Travel Blogs