Best Hotels In Croatia For 2022: Luxury, Unique & Award-Winning
Are you looking for a spot of luxury? You've come to the right place!
Croatia is packed with beautiful landscapes, impressive architecture, a rich history, and countless natural treasures, as well as some of the best vacation spots in Europe. Taking that one step further, did you know that Croatia has numerous luxury hotels, even castles, which can transform your regular vacation into something genuinely opulent and ultra-special?
Croatian Unique Hotels has just named 16 of the country's hotels and given them ultra-luxurious status. Of course, being the responsible types we are, we want to let you know about these extraordinary hotels. They are, after all, the best hotels in Croatia to stay at in 2022!
Boutique Hotel Kazbek, Dubrovnik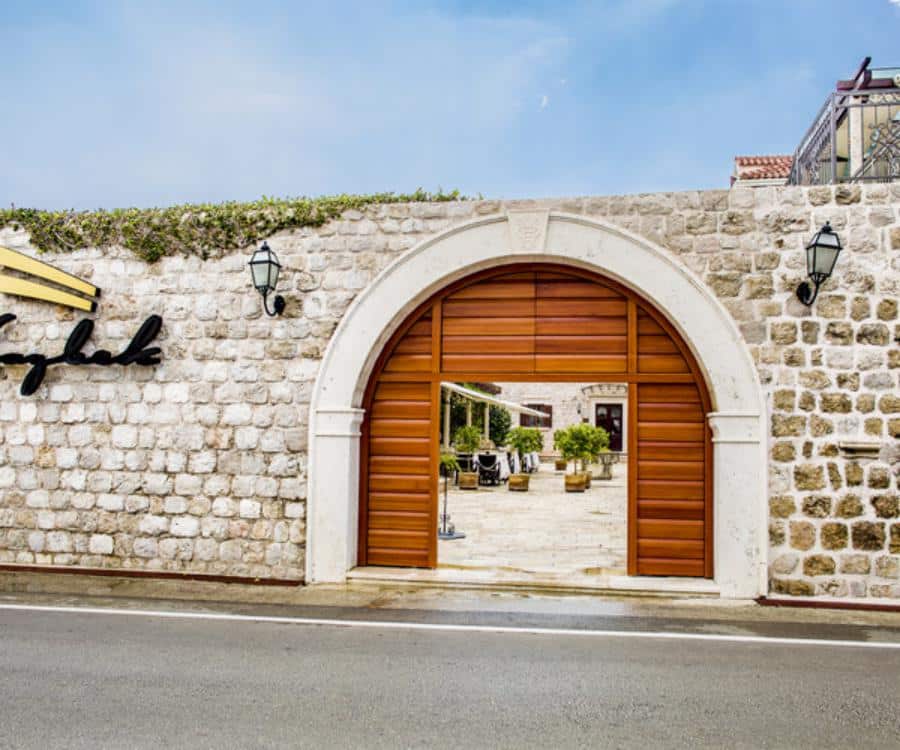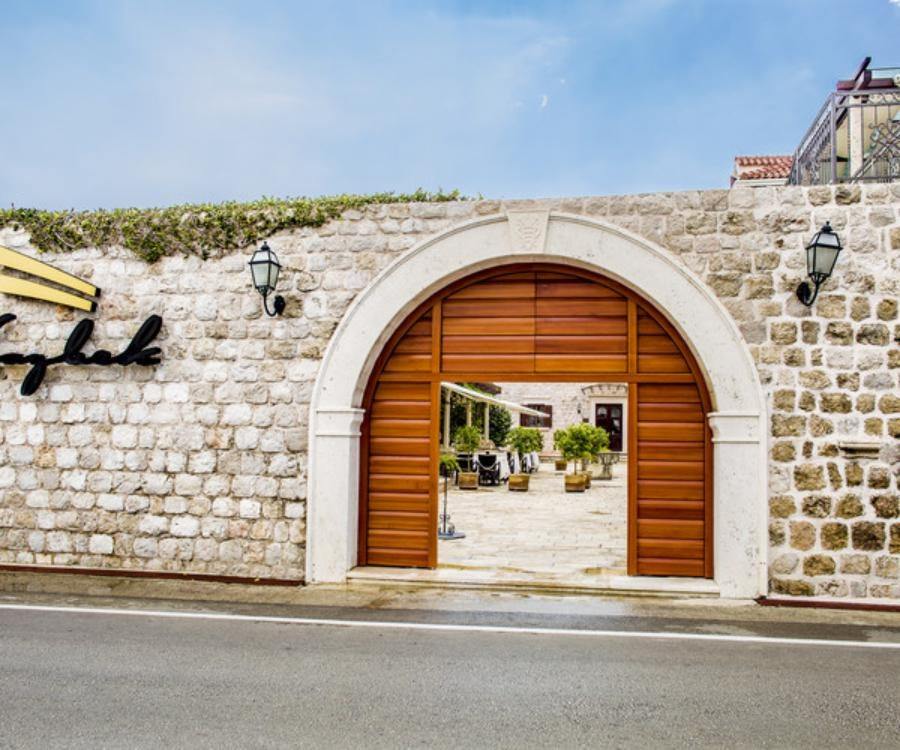 Kazbek is a beautiful five-star boutique hotel earning its place on the Croatian Unique Hotels list with ease. In the heart of Dubrovnik, its phenomenal location makes it easy for guests to step out of the hotel and enjoy everything the city has to offer. The property is a home of historical importance, built in 1573 by a local noble family, and now restored and converted into a hotel.
The property is non-smoking, for comfort, and features a beautiful mixture of old and new. Located in the Bay of Gruz, you are a stone's throw away from the water's edge, with stunning views of the Old City. There are only twelve rooms on the property and one large suite; all rooms come complete with Smart Room Technology.
The Kazbek Restaurant is as stylish as the hotel itself serves local cuisine and has a relaxed atmosphere. Head to the courtyard terrace for stunning views, and work your way through the impressive cocktail list!
Book Pucic Palace Here
The Pucic Palace, Dubrovnik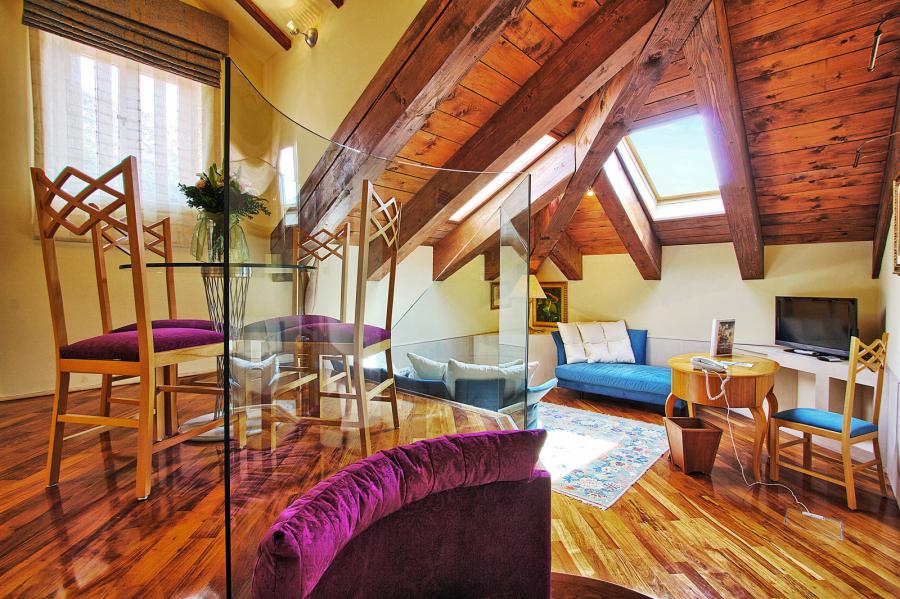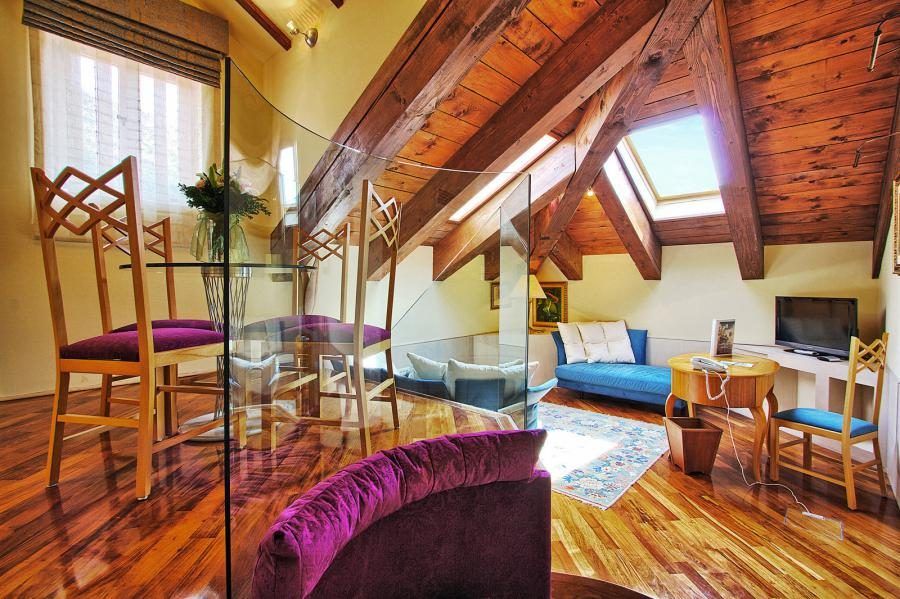 If you are looking for luxury right in the center of the city, this place is for you. Located in famous Gundulic Square, you are in the lively Dubrovnik Old Town where all the action takes place.
The building itself is known for its nobility, and the views from the terrace bar will completely take your breath away. Just outside the hotel, you will find a busy local market every morning, taking you into the realms of traditional life, before disappearing onto the terrace for al-fresco dining and a chilled out vacation feel. On top of that, the beach is also just minutes away.
Pucic Palace is a beautiful blend of old and new, where you'll find Italian mosaic tiles on the walls, light décor, and huge bathrooms with mod-cons. It's almost going back in time, but having everything you need at your disposal. Choose from rooms or apartments, as well as three top-class dining options.
Book Pucic Palace Here
Villa Dubrovnik, Dubrovnik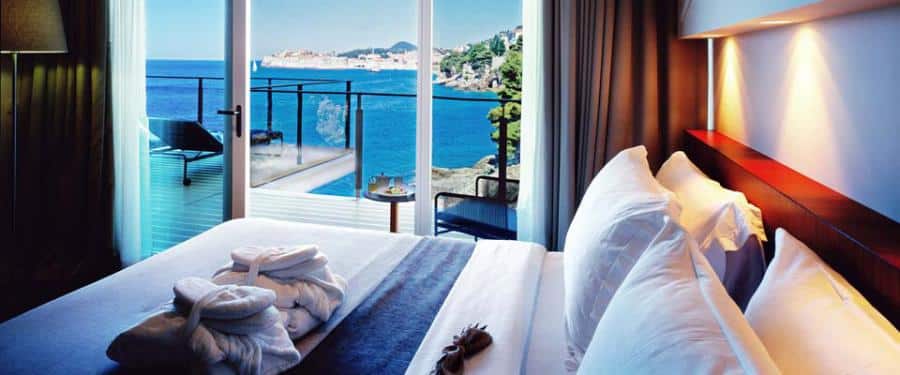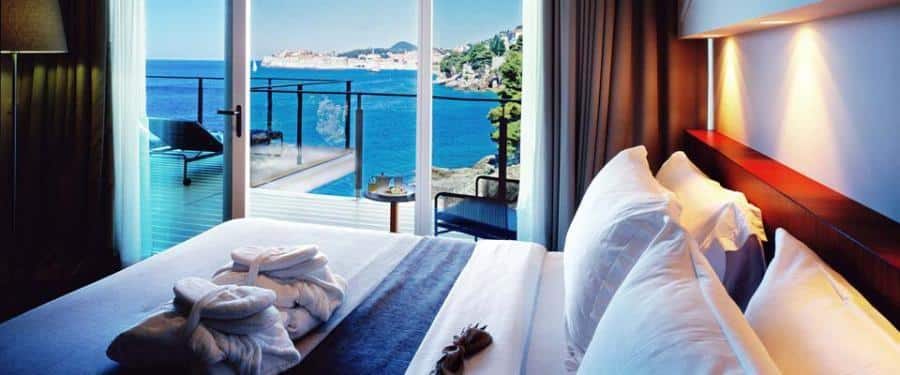 Overlooking the water's edge, you will find the sophistication of Villa Dubrovnik. If you're looking for a romantic getaway, this is it! All around you, there are orange and lemon trees, colorful flowers, and the blinding blue of the Adriatic. The hotel is also perched high on a clifftop, overlooking the city and surrounding area.
The building was renovated recently and offers you everything that a Croatian Unique Hotel should. There are 56 residences available and on-site restaurants, including the Restaurant Pjerin, Al Fresco Bar Giardino, Prosciutto & Wine Bar, and the Library Lounge. There is a spa, too, offering a vast selection of treatments to make your stay even more pleasurable.
Additionally, Villa Dubrovnik is also popular among business travelers, as the hotel has absolutely everything they might need during their stay.
Book Villa Dubrovnik Here
Adriana Spa Hotel, Hvar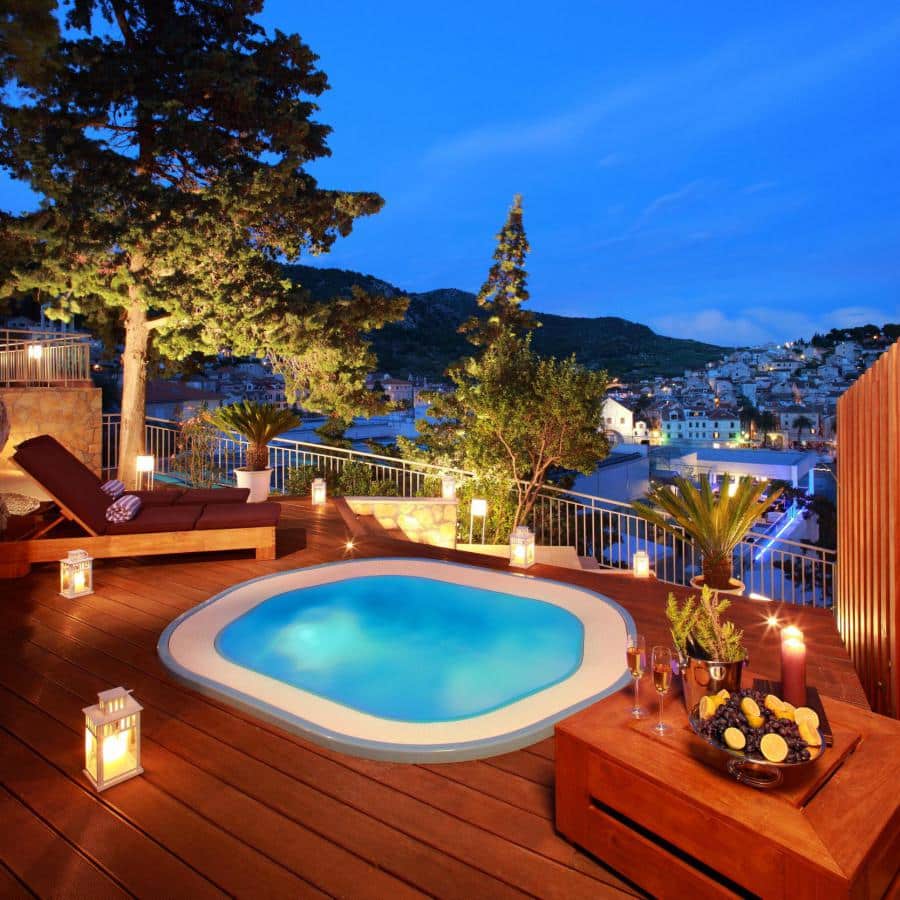 In the charming heart of Hvar, you will find the modern and opulent Adriana. This is another spa hotel, but what sets this one apart is its fantastic attached beach club for serious summer fun.
Rooms all have a plush, clean décor, with clean lines and modern vibes, as well as everything you could need to make your stay as comfy as possible. On-site, you'll find Spa Oasis, with holistic therapies and many treatments on offer.
The Top Bar, literally on the hotel's roof, has a panoramic view over Hvar Town, the Adriatic, and the nearby Paklinski Islands. The rooftop gardens are ideal for chilling out, while the Butchery & Wine Restaurant is a marina-front steakhouse. Enjoy your evening meal and finish off your day with a few drinks before heading to the land of nod in this world-class Croatian Unique Hotel.
Book Adriana Spa Hotel Here
Kempinski Hotel Adriatic, Istria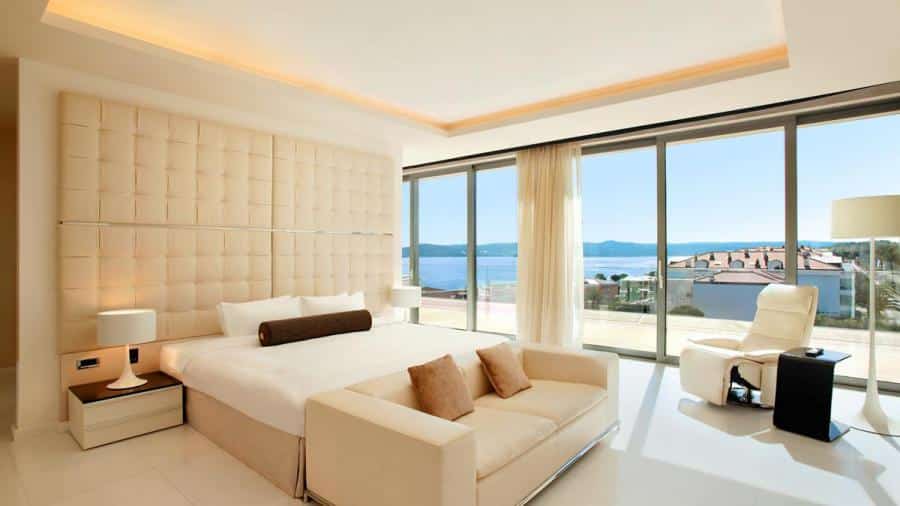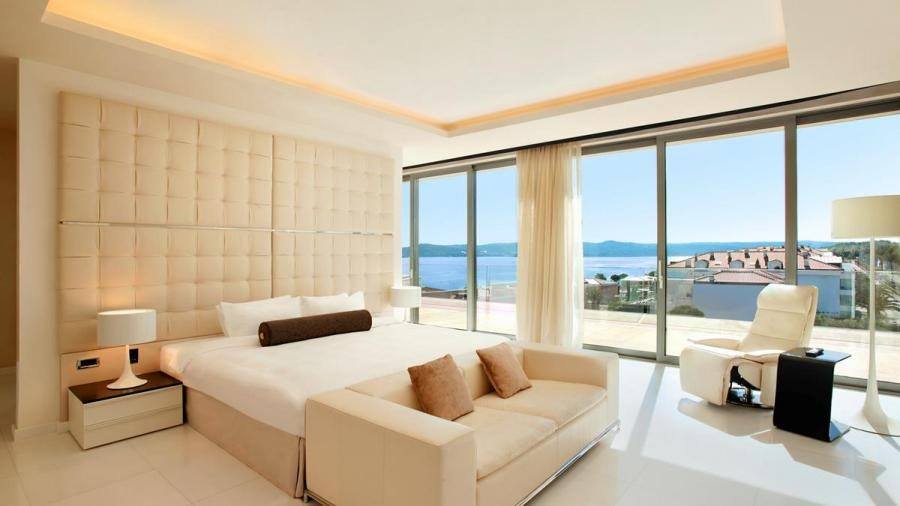 This is a remarkably modern five-star hotel. If you love golf, the Golf Adriatic course is the first 18-hole championship course in the whole of Istria. There is also an attached spa, which offers many treatments and ultimate relaxation.
Located in the countryside, ideal for getting away from it all, this hotel is pure luxury, with 186 rooms and suites. The beach is private and secluded, and the surrounding olive groves really set the scene of being in idyllic Croatia.
When it comes to cuisine, the Dijana and Kanova Restaurants are fantastic, serving a delightful fusion of Mediterranean and traditional Istrian dishes. You're getting modern tastes, with total and utter elegance thrown in for good measure.
Book Kempinski Hotel Here
Relais & Chateaux Wine Hotel Meneghetti, Istria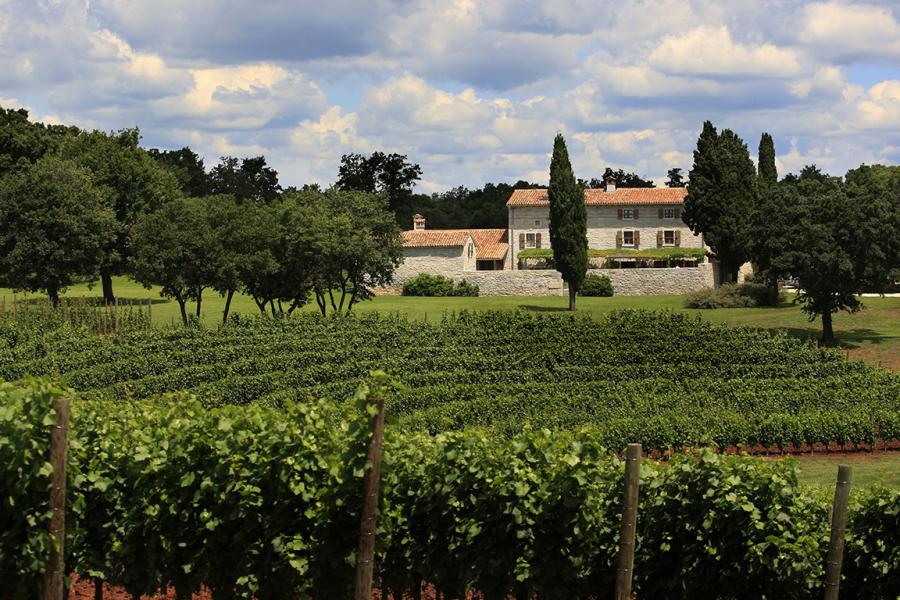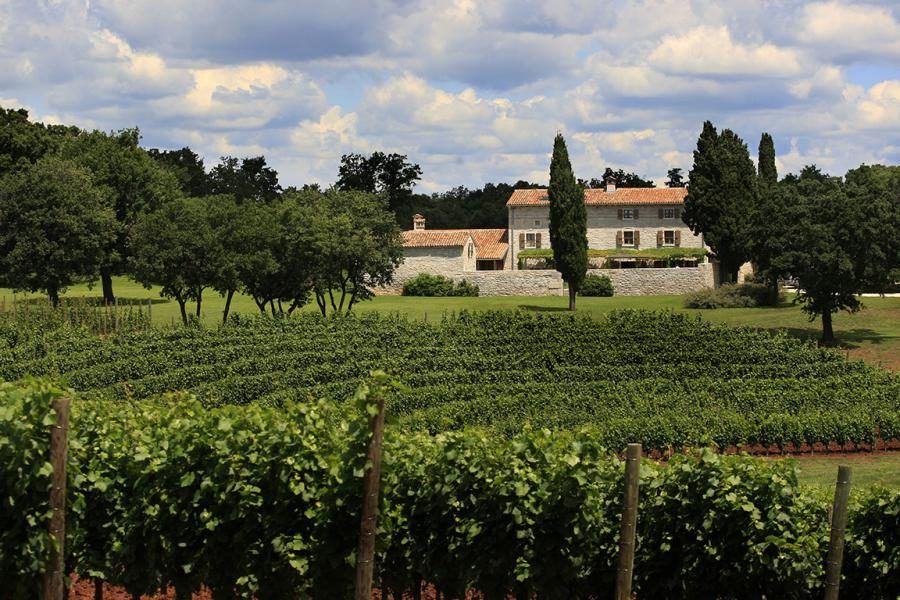 If all the modern properties on the Croatian Unique Hotels' list are not for you, this hotel might just be right up your alley. Meneghetti is set on ancient Roman grounds and is a 20th-century Istrian estate. There are six rooms, three suites, and 15 residencies, making it a calm and quiet affair, never crowded or loud.
The neighboring olive groves and vineyards will give you a real countryside feel. The hotel itself lies directly opposite the beautiful Brijuni Islands, only two kilometers off the coast.
The rooms are charming and sophisticated, with low, beamed ceilings and carefully crafted furniture. If you want to get away from it all, there isn't a better option. Also, the on-site spa and winery don't hurt either!
Book Meneghetti Here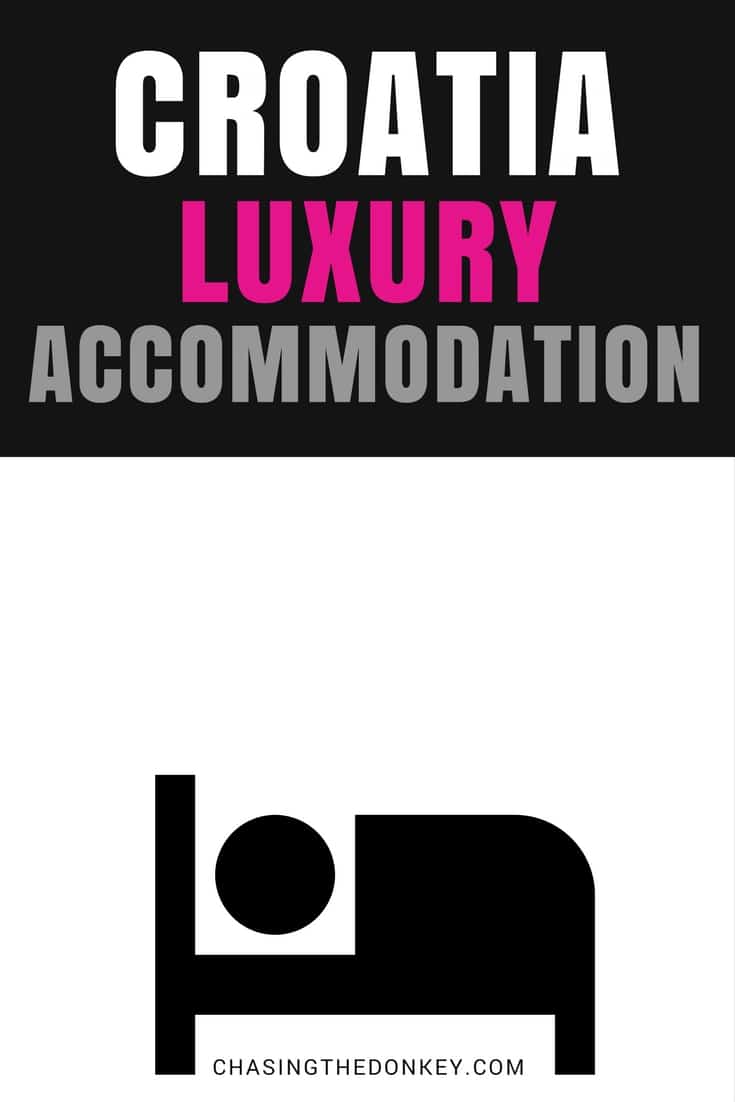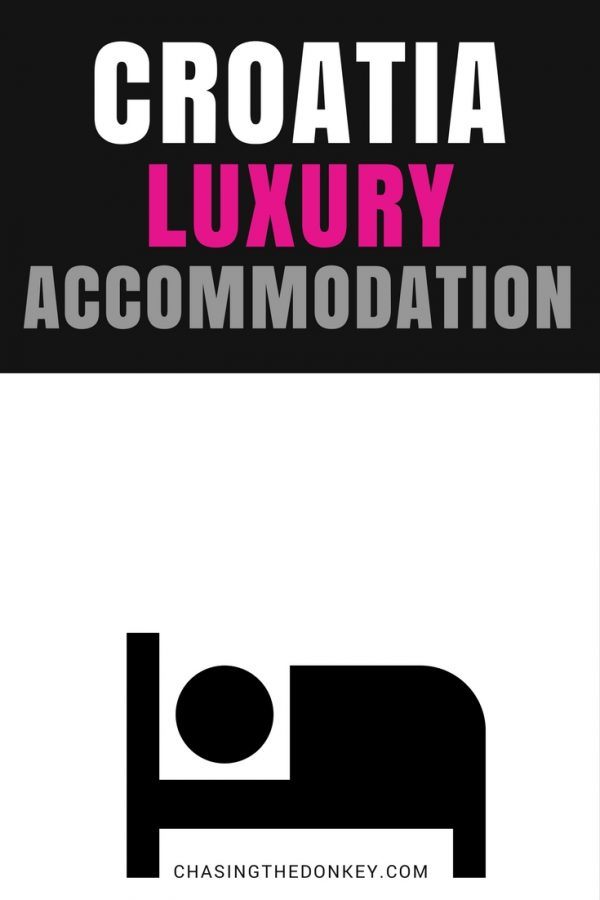 Boutique Hotel San Rocco, Istria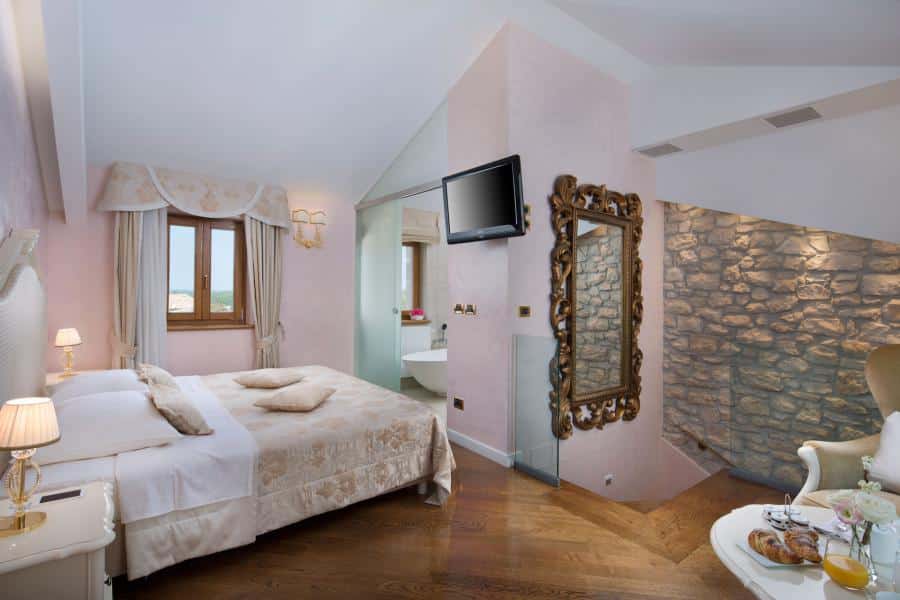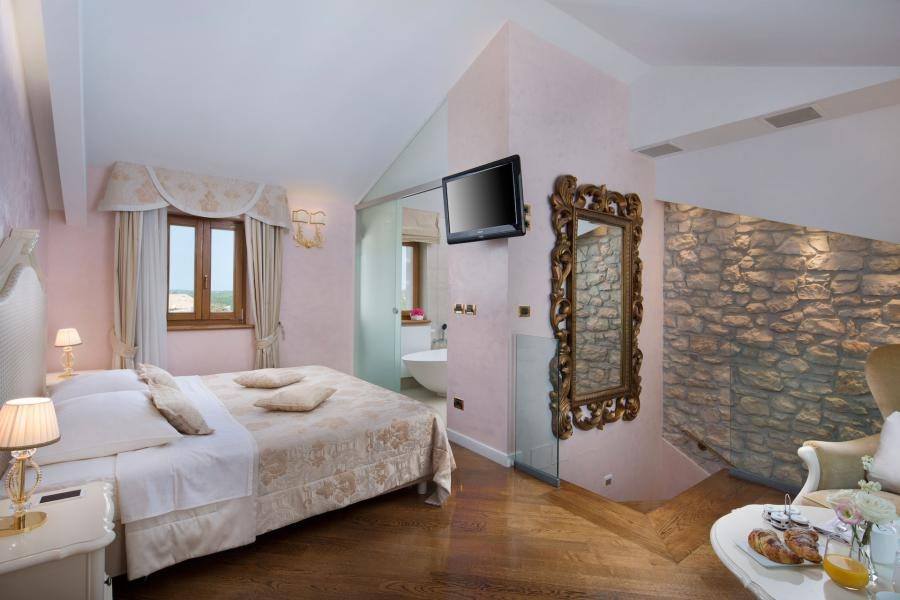 San Rocco is described as a "heritage hotel," and when you lay eyes on it, you'll understand why. Each room is carefully decorated to give a real taste of authentic Istria, and with just 14 rooms on offer, again, you can expect a peaceful and relaxed stay.
The on-site Restaurant San Rocco only uses seasonally grown and caught produce and products, providing you the chance to enjoy healthy, local food and experience the taste of Istria. In terms of relaxation, using the on-site spa is an absolute must. The hydromassage tub is a very popular extra, with stunning views right over the Istrian countryside.
If you are concerned about how small this hotel is, compared to some of the biggest, five-star options, don't be. The charm really lies in its size and the gorgeous estate. Even though this may be smaller than other hotels, the fact remains that it's still one of the best hotels in Croatia.
Book San Rocco Here
Valamar Isabella Resort, Istria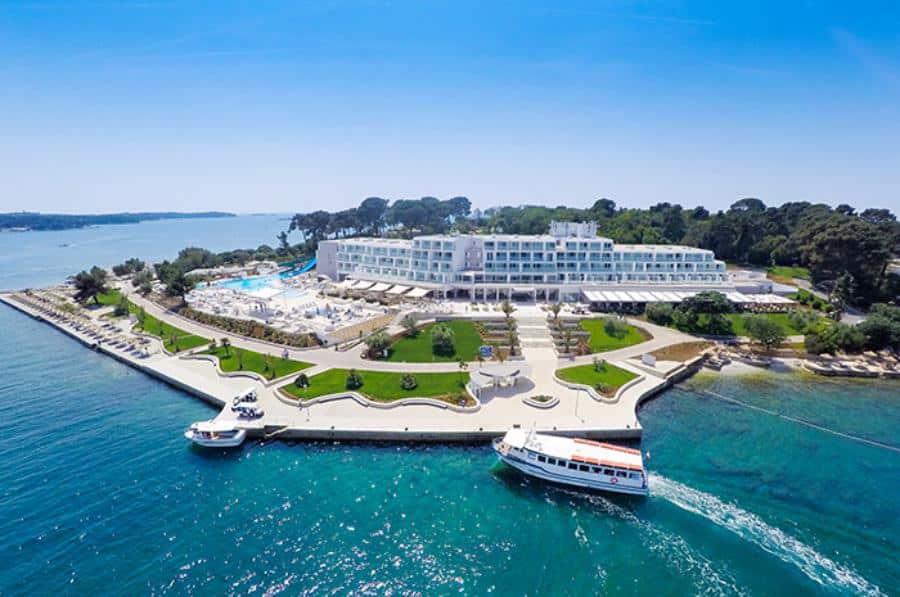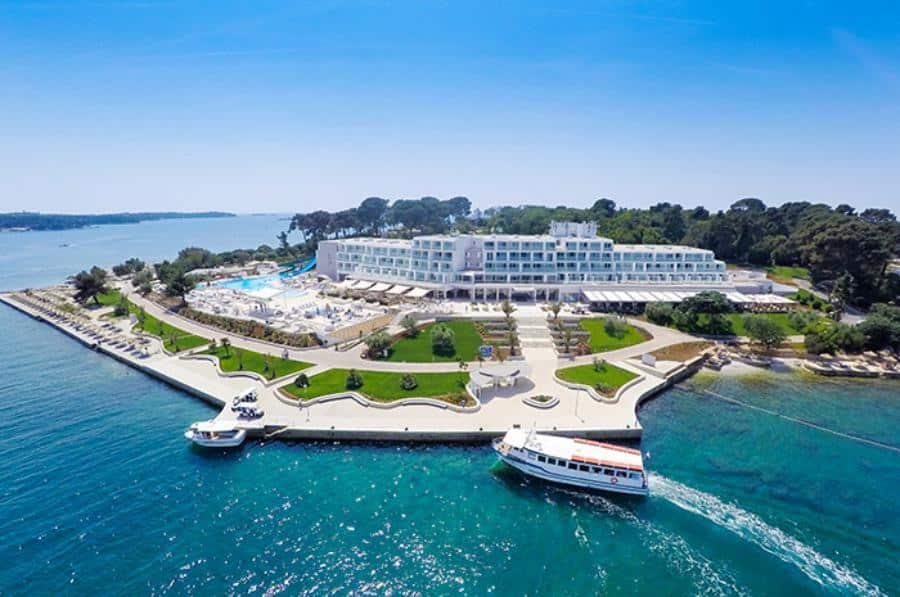 Families will love the Valamar Isabella Resort, packed with facilities and attractions for everyone, without being loud or "in your face." This is a four/five-star hotel, situated set close to the water's edge, on Sveti Nikola's island. The views toward Porec are fantastic, and you are assured a fun, relaxing holiday.
Because Valamar Isabella Resort lies on its own private island, without traffic, a relaxing summer beach vacation really doesn't get any better than this. Staying here is like being a castaway (spoiled with luxury and amenities), yet you're only five minutes away from the mainland by boat.
There are family rooms available, a huge outdoor pool, an indoor pool, with a big water slide for the children. There are several restaurants on site as well, including Isola, Oliva Grill, and Momenti Restaurant.
Lesic Dimitri Palace, Korcula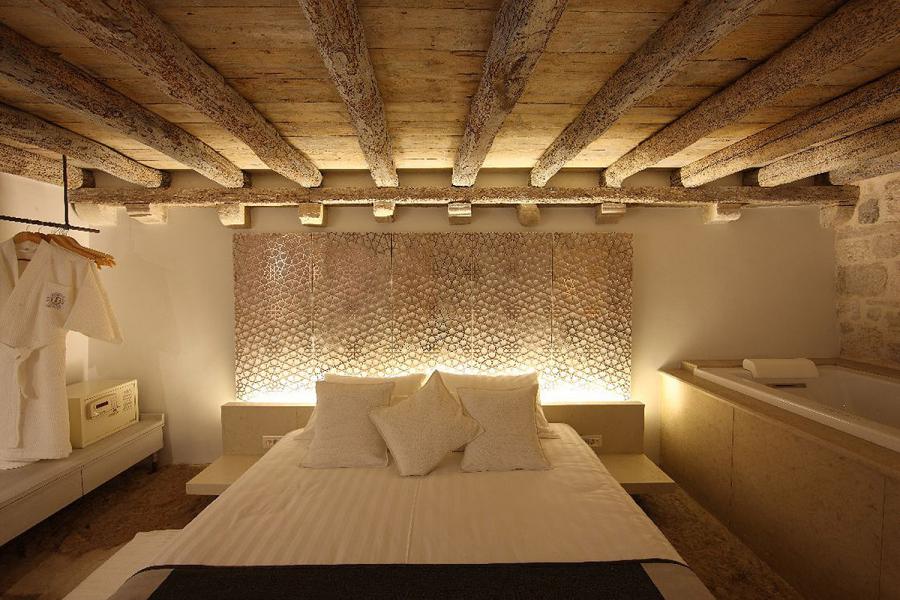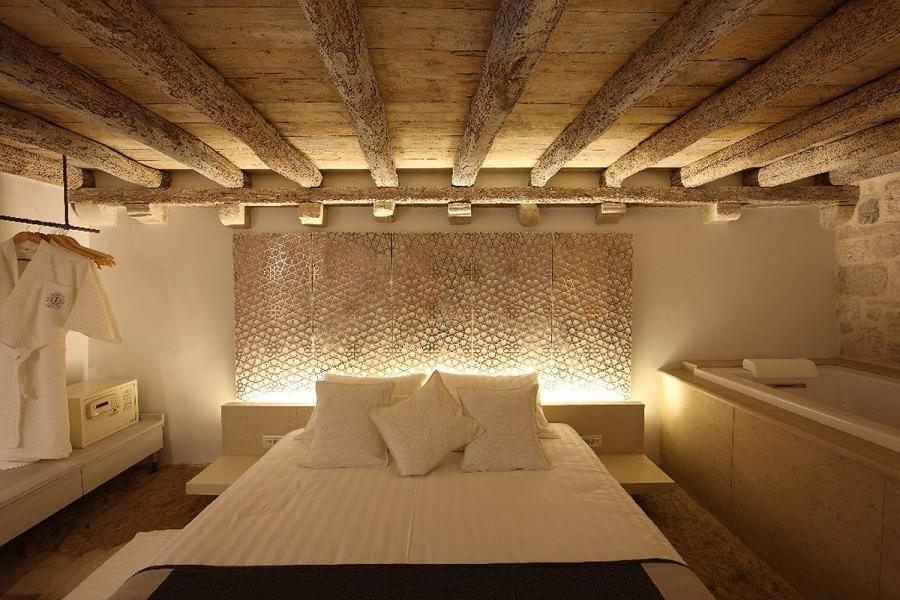 This hotel's tagline is "Where the Silk Road begins…" and that should tell you a lot about its history. This former palace is set in the middle of the Korcula Old Town. Here, you find culture, history, and opulence (there's that word again), all wrapped up in a boutique hotel.
The décor is inspired by the journey of Marco Polo, Korcula's most famous person. Additionally, this is also an 18th-century Bishop's palace, offering luxury accommodation for the more discerning visitor. It's a beautiful hotel, with an on-site restaurant, private dining options, as well as self-catering, if you prefer to do it all yourself.
Book Lesic Dimitri Palace Here
Alhambra, Mali Losinj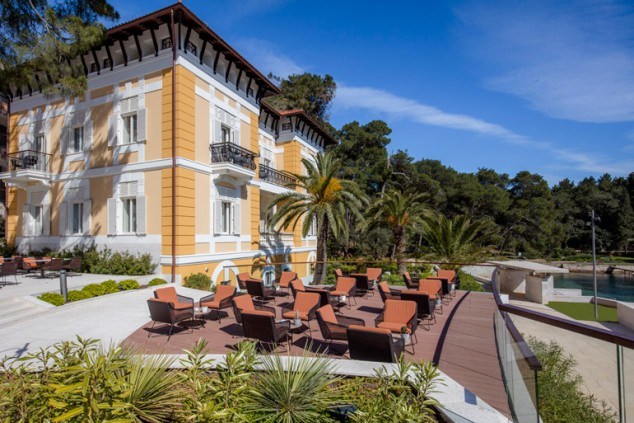 Part of the bigger Losinj Hotels & Villas Group, the Alhambra is exquisite. Located in Cikat Bay, Pine and palm trees surround you as you enjoy the views of the crystal-clear Adriatic sea, giving you a real "get away from it all" feel. The rooms feature tasteful décor, and there are 51 deluxe rooms and suites on-site.
The terrace restaurant offers a half-board option, as well as a large lounge bar and wine cellar. There is an indoor swimming pool, private beach, spa, and, for the more connected among you, fantastic Wi-Fi.
Book Alhambra Here
Bevanda, Opatija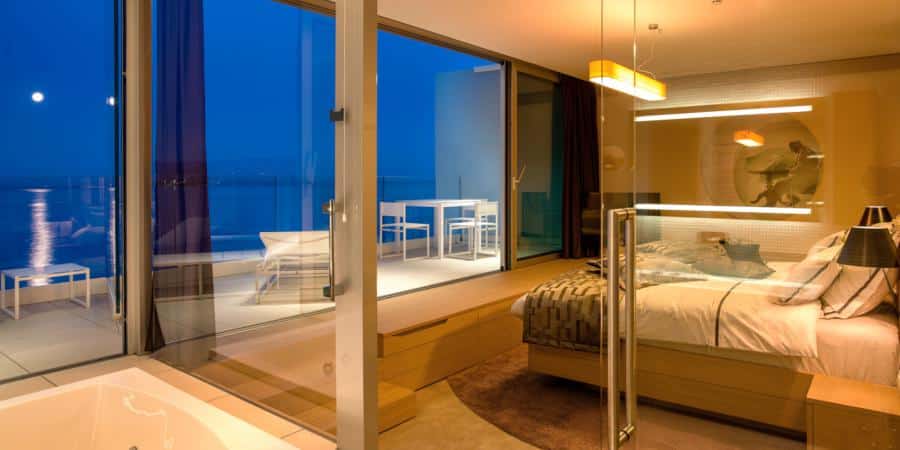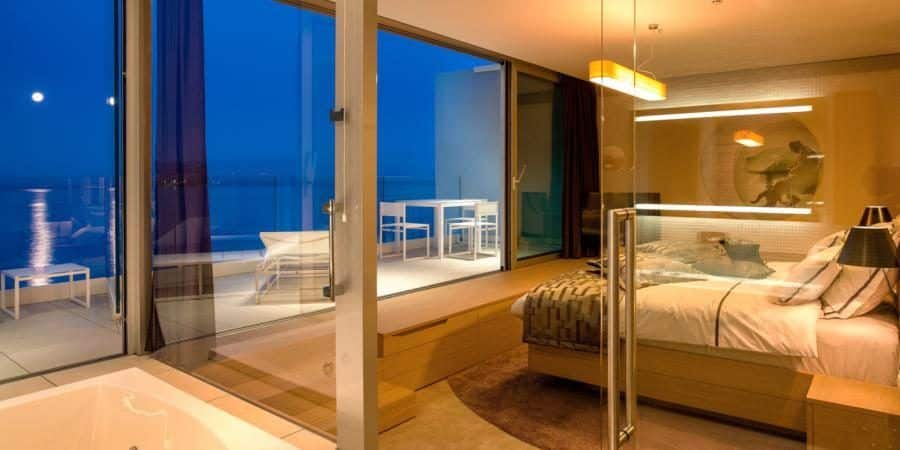 This is another phenomenal five-star hotel, one of the very best hotels in Croatia. Hotel Bevanda was based on a famous restaurant dating back to 1971, founded with the same name.
There are ten rooms, all very elegant in their décor, and each one is named after a famous guest. The design is bespoke and quite different from the other hotels on our list, with modern touches and furniture.
The on-site winery is brilliant, as is the top-class restaurant, which serves mouthwatering Mediterranean and local cuisine.
Book Hotel Bevanda Here
Design Hotel Navis, Opatija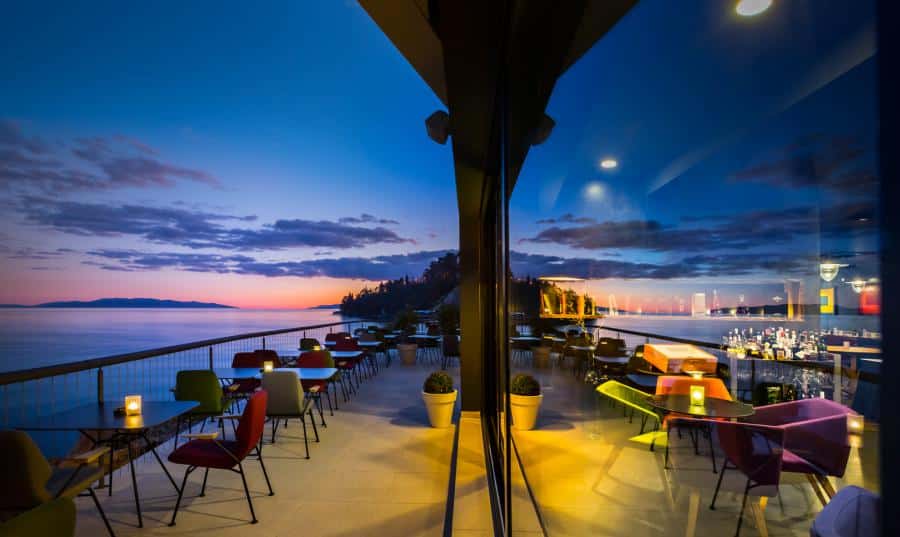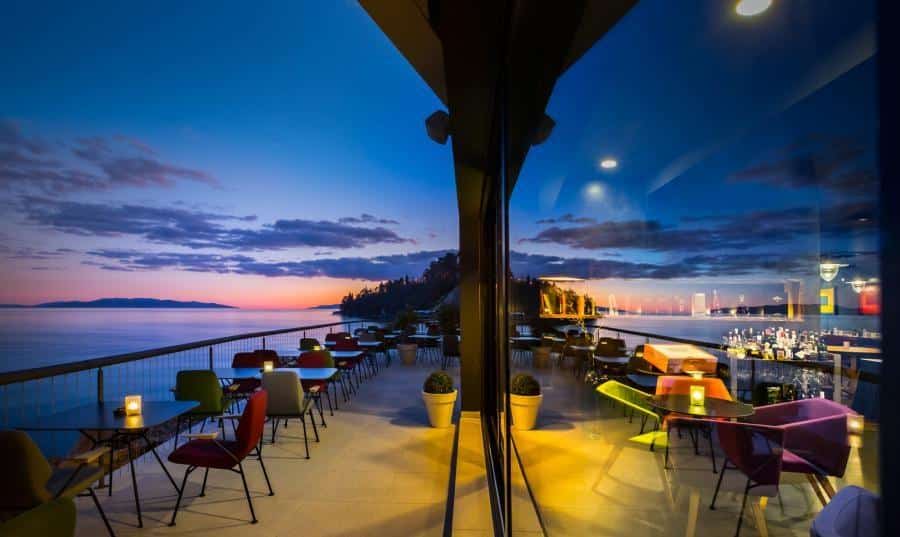 The views are truly breathtaking from this hotel, situated right on the water's edge. Honestly, though, it's challenging to imagine a better setting for a hotel than this.
The a la carte restaurant is famous in the region, an atmospheric venue where you can enjoy delightful cuisine while overlooking the sea. The 40 rooms and four suites are all designed in a bespoke manner, and each one of them has a terrace with a sea view. The sunsets are simply amazing here!
Other fun amenities include an outdoor and indoor pool and a large lobby bar too. The décor in this hotel is simple and stylish, as you may expect from one of Croatia's best hotels.
Book Design Hotel Navis Here
Vestibul Palace, Split


Right in the middle of Diocletian's Palace, you will find a hotel that will make you feel like you're traveling back in time, back to a time when opulence was the flavor of the day. When you're looking for a luxury hotel in Split, you can't really find anything better than Vestibul Palace. The location alone should be enough to make you book a room right away. You will find a mixture of Roman, Gothic, and Renaissance influences here at this great hotel, with handcrafted furniture to add to the glamour.
The Magnus Restaurant has a fantastic wine list, with some exceptional local wines. The food is organic and grown locally, offering you the chance to taste authentic Dalmatian cuisine.
Book Vestibul Palace Here
Heritage Hotel Life Palace, Sibenik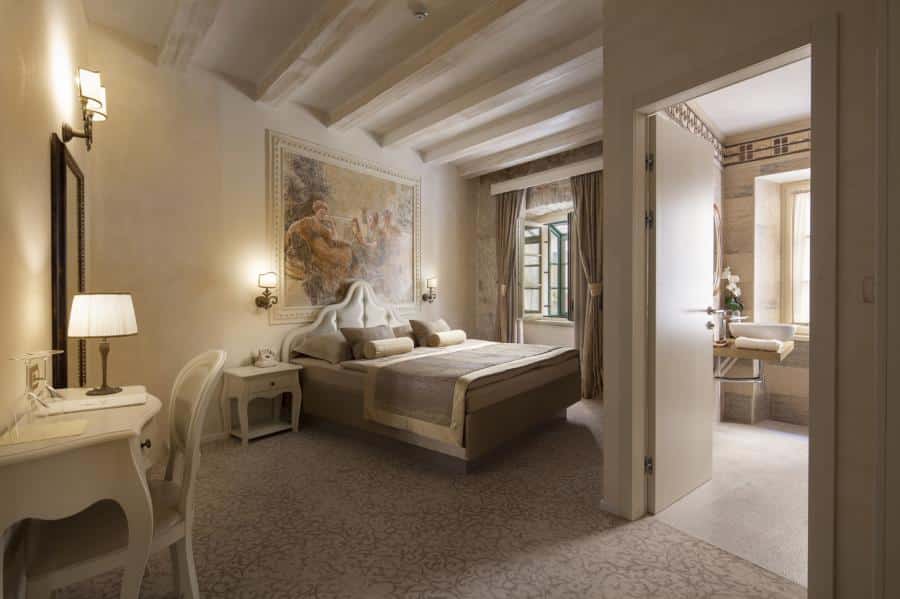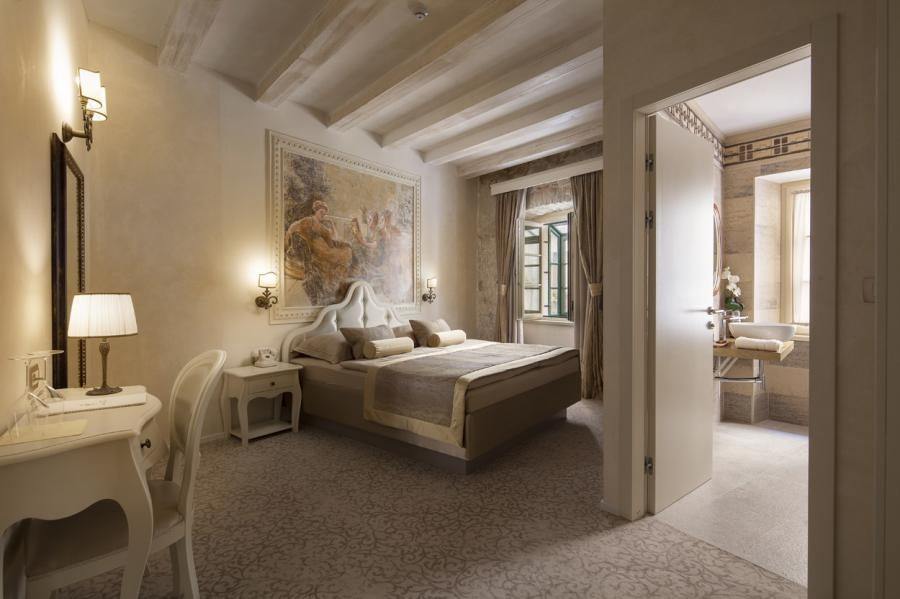 Palace is the word! This is another fabulous hotel in the heart of Split, one that takes you on a journey through history. Although the whole place has all the modern comforts and amenities you could want from a hotel, they have also managed to maintain the old world charm. The rooms are the height of old-world style, with art and a muted décor, which works perfectly.
The hotel has a wellness center and spa for your ultimate relaxation. Jump and the hot tub or head to the sauna, both of which will help you kiss your cares goodbye. Afterward, get your caffeine hit at the Life Palace Café and Patisserie – cakes to die for!
Book Life Palace Here
Castle Martinis Marchi, Solta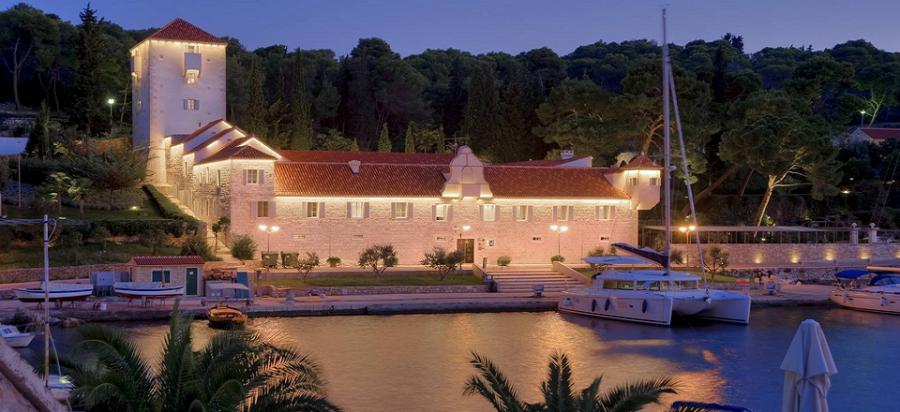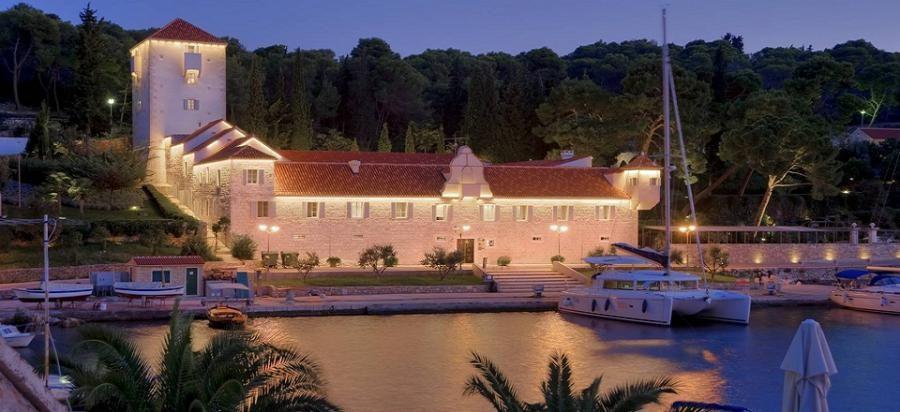 A castle with a modern hotel twist? That's exactly what Castle Martinis Marchi is! This is a wonderful place to stay; boasting has six suites within the castle. Of course, this means that you will never feel crowded, and you're unlikely to bump into anyone else. Perfect for a quiet and relaxing vacation with a loved one.
Every piece of furniture is carefully crafted, everything featuring a stylish and minimalist design. The heated pool, sauna, steam bath, and sun terrace are all fantastic, and the on-site restaurant is an incredible addition, offering some of the best local cuisines in the area. There is also a very extensive wine cellar for you to sample a few glasses while checking out the private marina.
Book Martinis Hotel Here
Bastion Heritage Hotel, Zadar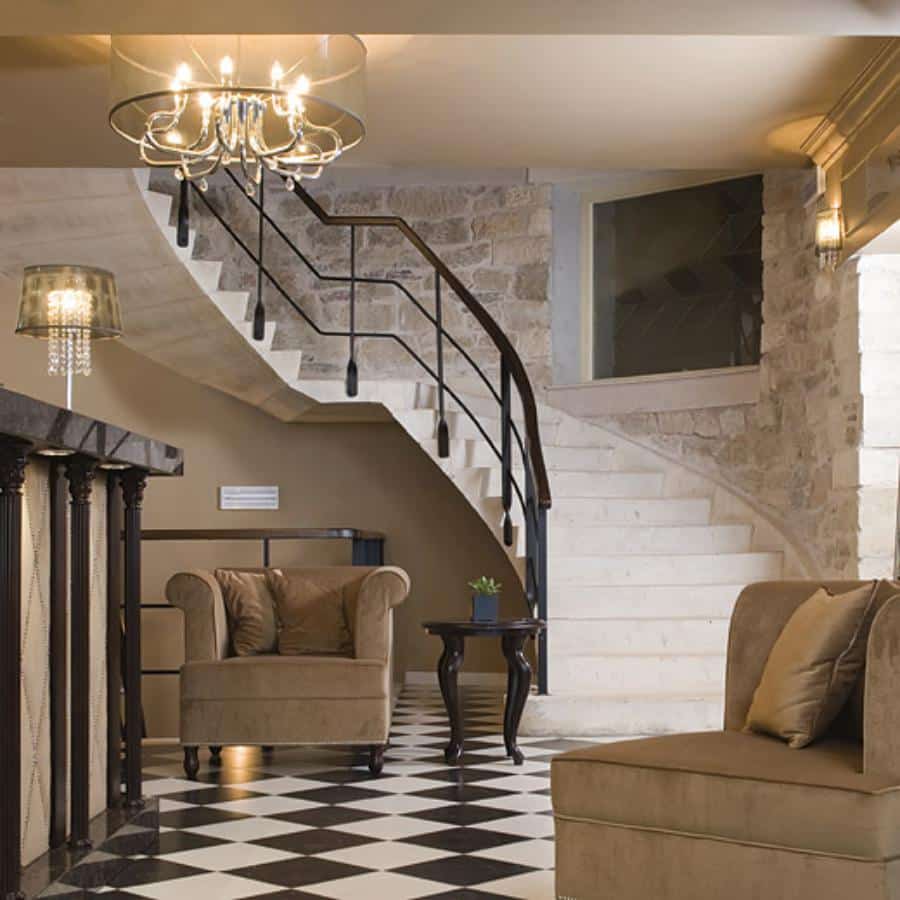 Hotel Bastion is housed in the renovated remains of an old fortress dating back to 13th-century medieval times. The hotel is close to everything, so you don't have to wander too far.
There are 21 double rooms, two connecting rooms, four suites, and one luxury suite, all with Smart Room Technology. The lobby bar is also renowned for offering fantastic sunset views, after which you can enjoy the wonderful ambiance on the terrace. The on-site spa is also another plus point, or perhaps you would rather work through the terrace's cocktail menu!
The hotel's restaurant caters for everything you could want in terms of food, including local and international dishes. If you feel like you've indulged a little too much, you can (try and) work it back off in the wellness center!
Book Bastian Hotel Here
Do you feel the need to escape to luxury? So, tell us, which one of these 'best hotels in Croatia' will you choose in 2022?
More Accommodation Options In Croatia