Some posts contain compensated links. Please read this disclaimer for more info.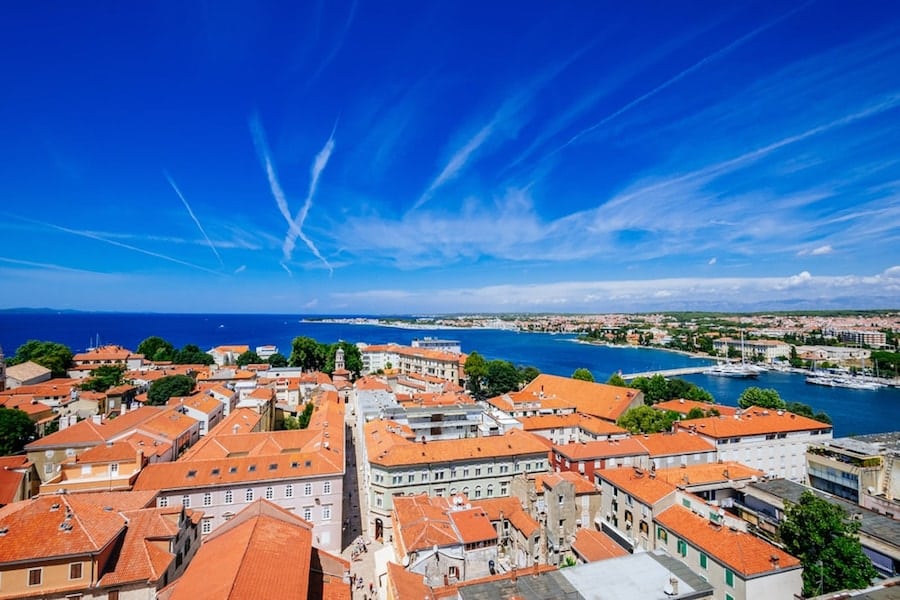 Where To Stay In Zadar (Best Hotels In Zadar Included!) For 2022
Zadar, the Croatian beauty on the Adriatic Sea, is one of the main ports of entry to this land of history and culture. You're planning to visit Zadar and have already made your list of things to do in Zadar. Now comes the part where you're looking for the best places to stay in Zadar, Croatia, for your trip.
If you're staying just a night or two, it's best to stay in the Old Town area, which is the Zadar city center. You'll have easy access to all the Zadar restaurants and cafes once you're done seeing the famous Sea Organ, the ruins of the Roman Forum, Saint Anastasia's Cathedral, and the People's Square.
But staying in the heart of Zadar city may be slightly noisy at night and, of course, cost more. So if you're looking for some peace and quiet, try to find accommodation near the harbor.
We've put together a list of the best hotels in Zadar, Croatia, from Booking.com.
Luxury Hotels In Zadar, Croatia
Let's start this lengthy guide to Zadar accommodation with the best of the best! If you want a piece of luxury in Zadar, then these are the best places to stay in Zadar and play.
Falkensteiner Hotel & Spa Iadera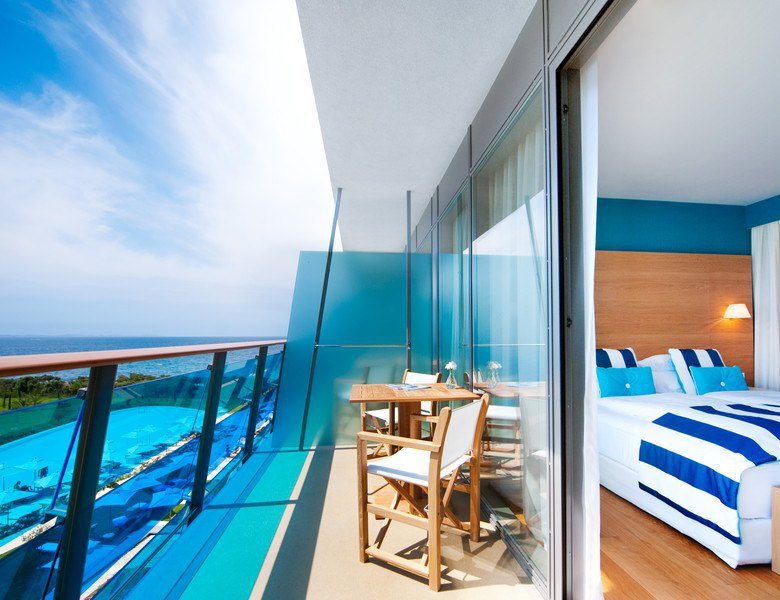 The Falkensteiner Hotel & Spa Iadera is not on the list of Zadar luxury hotels because it's 12 kilometers out of Zadar, in Petrcane. But if you're looking for a luxury hotel that is only a 20-minute drive away, this is the place to be.
The hotel is located on the Punta Skala Peninsula and has its own private beach. Some of the suites and rooms have breathtaking views of the Adriatic Sea. And if you prefer to swim in a pool, you have the choice of swimming outdoor or indoors. The Acquapura Spa is perfect for a massage or a Turkish Hamman bath. And if you want to stay fit while traveling, the hotel has seven tennis courts, three multi-sports courts, two beach volleyball courts, two padel-courts, and more.
The onsite restaurants, lounges, and beach huts offer various Alpine-Adriatic cuisines to satisfy every palate.
The rooms look perfect in their navy-style linen and furnishings. Every room is equipped with a flat-screen TV, safety deposit box, laptop safe, minibar, study desk, free WiFi, and air conditioning. The balconies in the sea view rooms have great views of the ocean day or night. Pick these above the park view rooms!
The Falkensteiner Hotel & Spa Iadera is located 23 km from the airport, making it the ideal location for holidays in Zadar.
4-Star Zadar Hotels
Don't let the lack of the 5th star put you off these Zadar hotels. When looking for accommodation in Zadar, these places hit that sweet spot between luxury and affordability.
Hotel Bastion, Zadar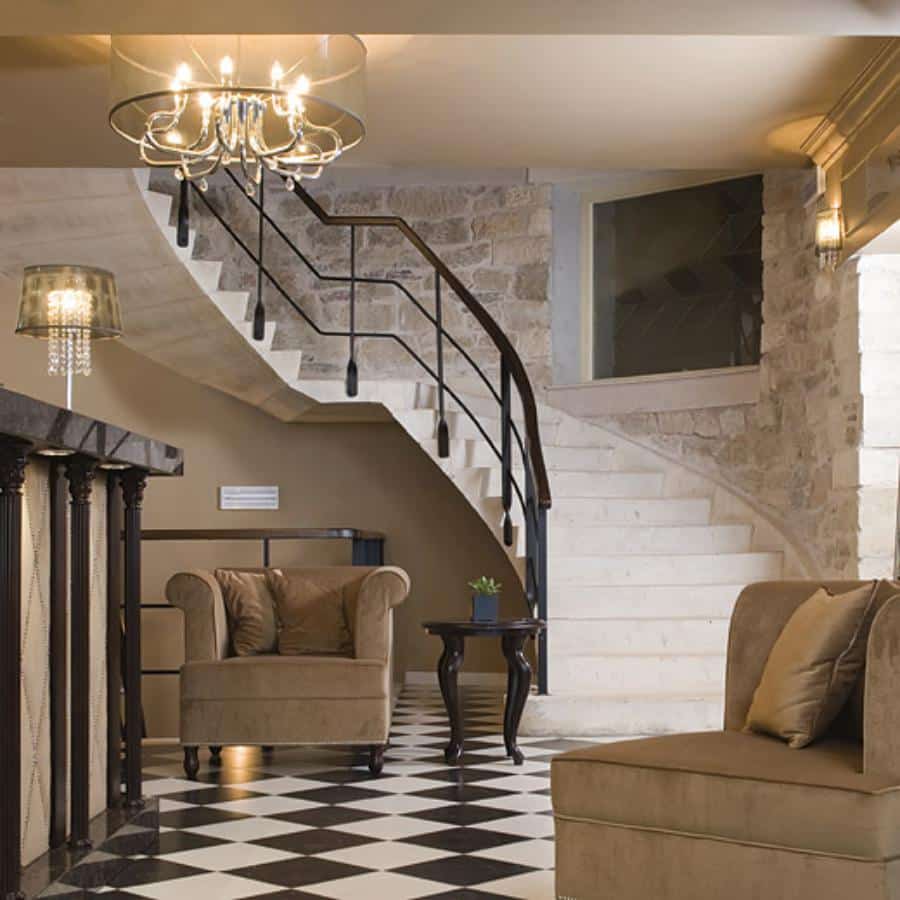 This boutique hotel Zadar by Relais & Chateau is situated on the Venetian Castellum in the Zadar Peninsula. The area known as the Kampo Kastel has been an essential part of the city since the 12th century.
Built on the remains of the medieval Kastela, Hotel Bastion has two lovely terraces that serve Mediterranean cuisine. The Kirtal aperitif bar serves cocktails and a buffet breakfast, while the famous Kaštel restaurant serves delicious Mediterranean cuisine.
The rooms are well-equipped with 'smart room' technology and feature unique handmade art deco furniture. They feature satellite TVs, bedroom safes, minibar, free WiFi, and air conditioning. The hotel's hot tub and sauna are perfect for relaxing.
And getting around is easy with the Arsenal, The Sea Organ, Luka Zadar, Roman Forum, and Greeting to the Sun is less than 300 meters away.
Check Rates or Find More Zadar Hotels Here
Almayer Art & Heritage Hotel And DéPendance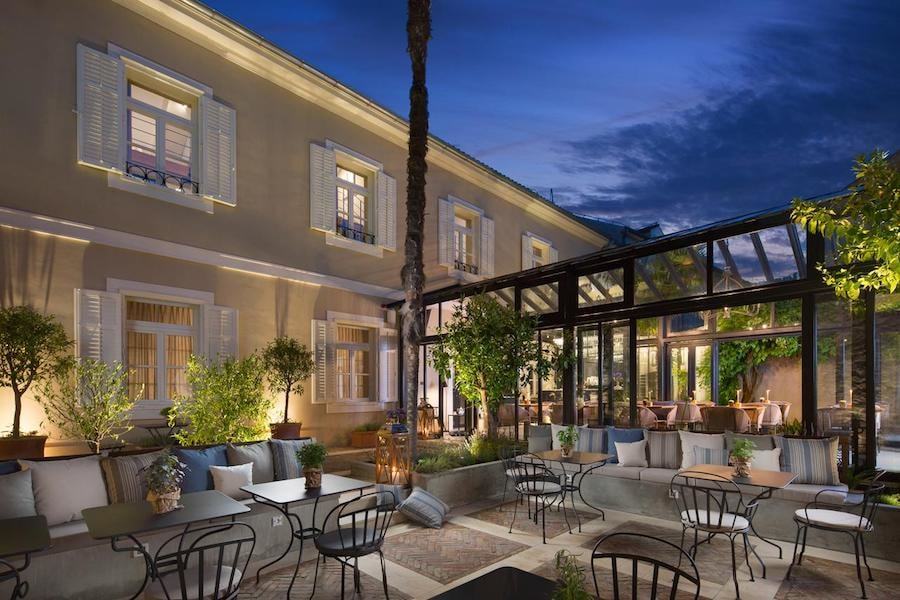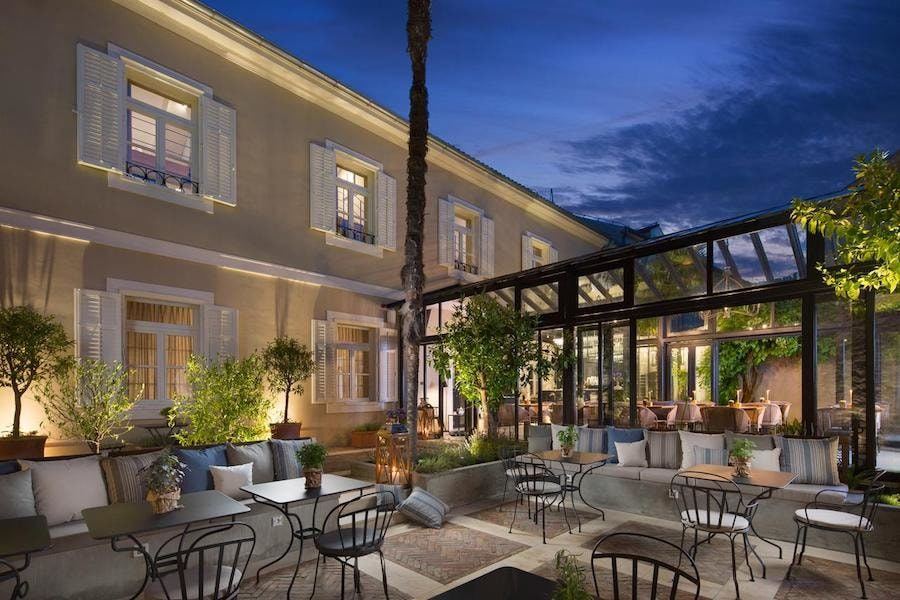 This Zadar accommodation Old Town will not disappoint. It's located less than 100 meters from the Church of Our Lady of Health and The Sea Organ. It's also 250 meters from St. Donatus Church, the Roman Forum, Greeting to the Sun, and the Cathedral of St. Anastasia.
The rooms include free WiFi, a safety deposit box, air conditioning, flat-screen TV, and a minibar. The larger rooms include a seating area. The hotel also features a garden and terrace, while the onsite restaurant serves a sumptuous buffet breakfast. The Almayer Art & Heritage Hotel and Dépendance is an excellent hotel Zadar for easy access to the attractions.
Check Rates or Find More Zadar Hotels Here
Art Hotel Kalelarga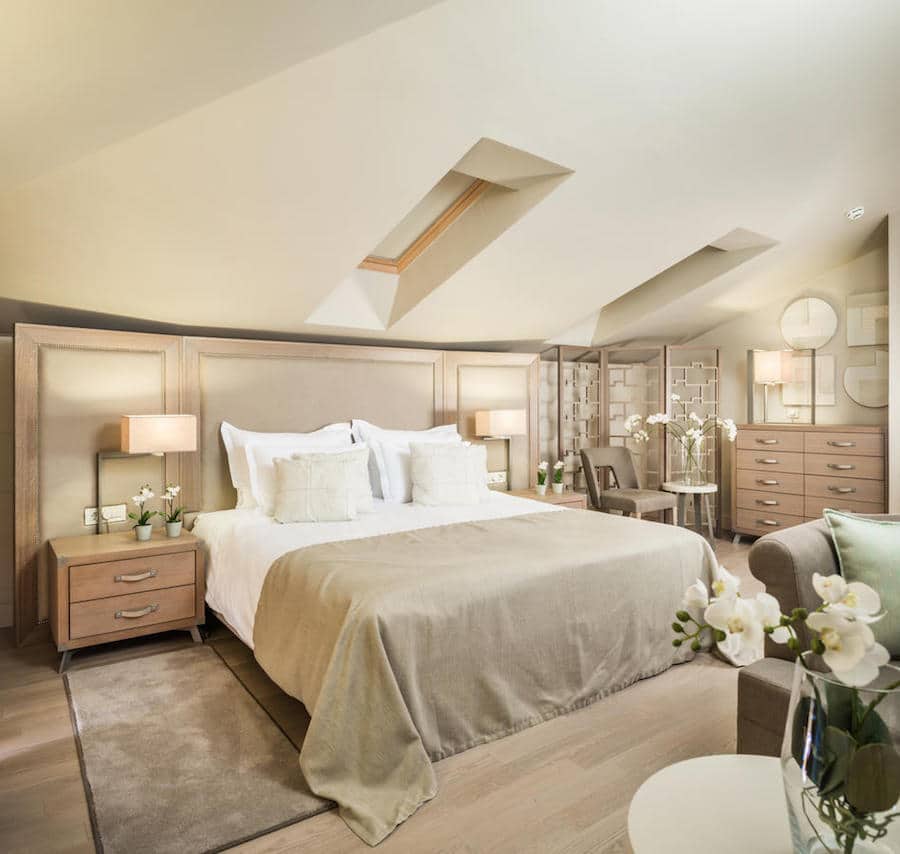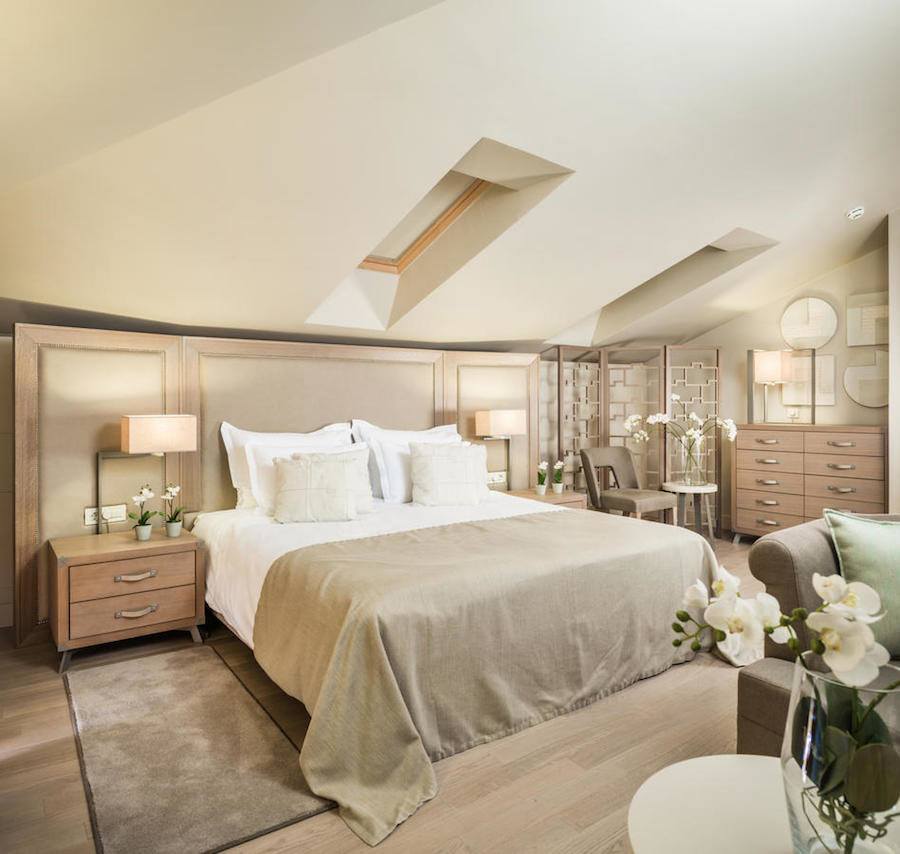 As the name suggests, Art Hotel Kalelarga is a modern, chic art design hotel located on the most famous street in Zadar: Kalelarga. You will feel pampered in luxury while staying in one of the hotel's ten rooms, each designed with the idea that functionality, color, shape, and stone can all co-exist. The stone found in the rooms is meant to resemble that of Kalelarga street, bringing harmony to the atmosphere of your stay in Zadar.
Enjoy room service of fresh pastries and coffee on the days you want to relax in bed or opt for packed lunches while exploring nearby Five Wells Square, the Sea Organ, or the Cathedral of St. Anastasia. Unwind with hand-selected wines in the evening while enjoying conversation on the hotel's restaurant terrace—a perfect combination of artsy charm in the heart of the old city.
Check Rates or Find More Zadar Hotels Here
Falkensteiner Family Hotel Diadora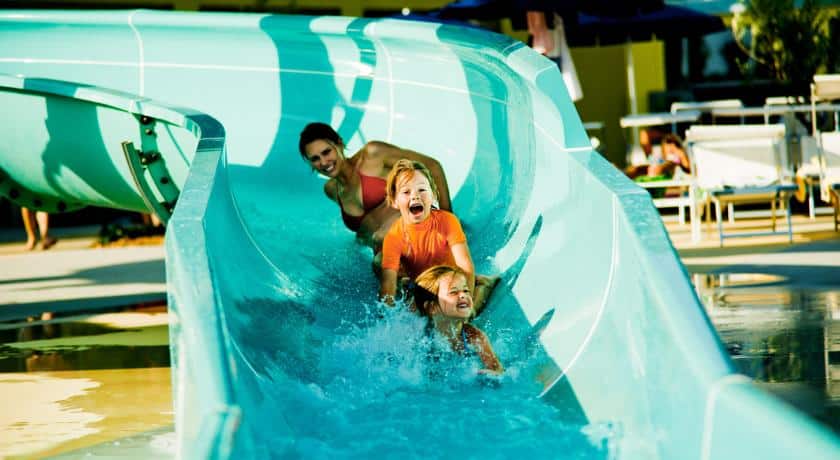 A short distance from the Falkensteiner Hotel & Spa Iadera in Petrcane, Punta Skala is the Falkensteiner Family Hotel Diadora. If you're traveling with family, this is the best place to stay in Zadar, just 14 kilometers away from the Old Town and one of the top places to visit near Zadar.
Rooms include free WiFi, flat-screen TV with satellite channels, air conditioning and heating, sofa, safety deposit box, and a minibar. Family rooms can only accommodate two adults and two children up to 12 years of age.
Guests can enjoy Mediterranean and international buffets for breakfast, lunch, and dinner. The hotel also boasts of its front cooking stations and separate children's restaurants. The meals at this hotel are full board but not all-inclusive. This means that guests can enjoy free wine and beer during meals, but not at odd hours.
Activities onsite include a gym, spa, softball and tennis courts, outdoor and indoor swimming pools, and more. Children aged 3 to 12 have the vast Falkyland amusement park at their disposal. There is also a children's arcade called 'Las Vegas,' a toddler's garden, and a cinema. The kids can spend hours at the children's water world or take free swimming lessons, giving the adults time to relax.
A daycare center is also present on site. The entire hotel is geared towards taking the stress out of family holidays, and there's no need to worry about packing buggies or bottle heaters when you're staying here.
Check Rates or Find More Zadar Hotels Here
Falkensteiner Club Funimation Borik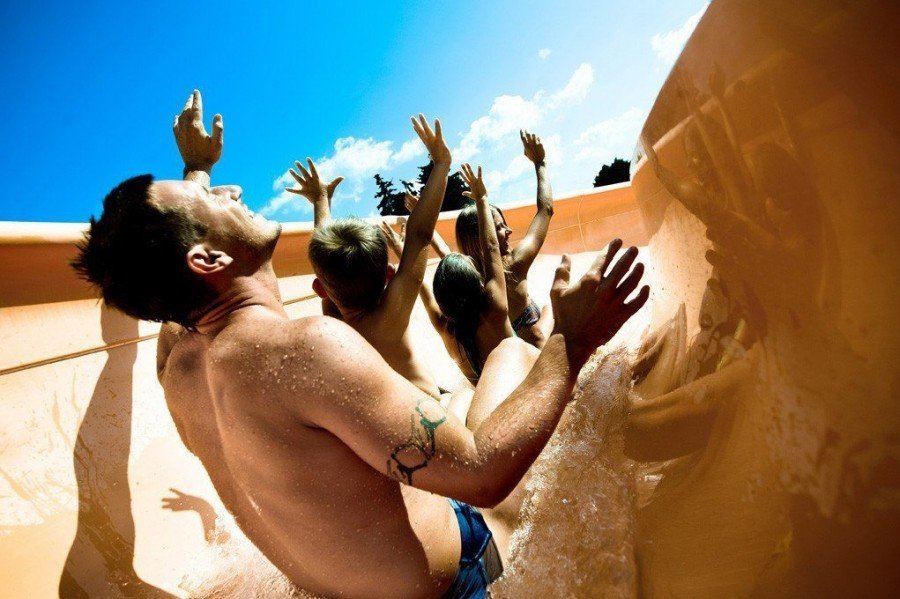 Close to the Borik Marina is this Zadar hotel with a pool, the Falkensteiner Club Funimation Borik. The hotel provides all-inclusive holidays catering to individuals, couples, and families.
The family rooms can accommodate two adults and up to 3 children under 11 years of age. All of the rooms are spacious and air-conditioned, have free WiFi, flat-screen TVs with satellite channels, a safety deposit box, and a minibar. The rooms also include slippers, towels, bathrobes, hairdryers, and a tumble dryer. Although all of the rooms have balconies, the sea view rooms have picture-perfect views of the Dalmatian Coast.
Taste delicious snacks and cocktails at the pool bar. Or enjoy a range of dishes from Croatian and international cuisine in the all-inclusive meal plan.
Enjoy a sauna, massage, or a soak in the hot tub at the wellness center while the children are let loose in Falkyland. Individuals can play water sports, tennis, and volleyball, or just spend some time reading in the solarium. The Falkensteiner Club Funimation Borik is a beachfront hotel in Zadar, Croatia. So guests also have easy access to a wide range of water sports, including surfing and diving.
With all its attractions, Old Town is just a short 12-minute drive away, making a stay at this hotel an excellent value for money deal.
Check Rates or Find More Zadar Hotels Here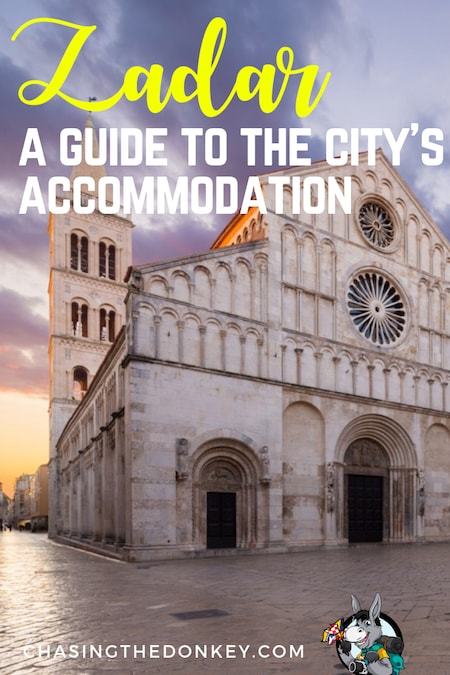 Comfortable Yet Cheap Zadar Croatia Hotels
Want to save a little more but still get excellent value for money? Then these hotels in Zadar are calling your name.
Hotel Porto, Zadar
Looking at the Zadar map, you'll find that Hotel Porto is one of the affordable places to stay in Zadar that are closest to the airport. Hotel Porto provides a free airport shuttle. They are located a 10-minute drive from Zadar Town and within walking distance of the nearest bus stop.
This budget accommodation in Zadar has rooms featuring free WiFi, satellite TV, air conditioning, and heating. The buffet breakfast at Hotel Porto is amazingly vast and delicious. This Zadar accommodation with a pool is perfect for a budget trip to Zadar.
Check Rates or Find More Zadar Hotels Here
Hotel Donat, Zadar
Located at the beaches near Zadar, about 3.5 kilometers from the Old Town, Hotel Donat is one of the hotels near Zadar that provide an all-inclusive service. If you're still looking for where to stay in Zadar, you'll find this one perfect. Their all-inclusive plan gives you a Croatian breakfast, lunch, and dinner. Add to this the free beer, wine, soft drinks, and water from 10 am to 10 pm. You'll save on meals and have more left to spend on to actually visit Zadar Croatia attractions.
This Zadar cheap accommodation has rooms with WiFi, air-conditioning, and heating. Family rooms also have mini-fridges. There is an outdoor pool and direct access to the beach. Water sports activities are available at a cost.
Check Rates or Find More Zadar Hotels Here
Hotel Delfin, Zadar
Located in Zadar's Ziklo area, the 3-star Hotel Delfin provides guests with a comfortable en-suite room, complete with air-conditioning, satellite TV, and complimentary internet. Most rooms have a balcony with a sea view.
Located just ten meters from the Adriatic Sea, the covered outdoor restaurant terrace is a great place to rewind after a day of sightseeing. Simultaneously, the public bus stop right outside the front door offers easy access to the Zadar city center.
If you're figuring out where to stay in Zadar as a couple, this is a great choice away from the busy downtown. Previous guests recommend it as one of the best Zadar hotels for a two-person trip.
Private Accommodation In Zadar
Do you want more room and stretch out into some private accommodation during holidays in Zadar? Yeah, us too! We often stay in them now with the kids.
You should be sure to consider apartments when looking for places to stay in Zadar. Though apartments are hit and miss, so do your research. Find vacation rentals through places like Booking.com. Hosts are helpful and will give you local info, such as where to eat.
You can also find other cheap Zadar apartments for rent when you arrive, though all the good ones get booked up fast, so start with these options:
Luxury Residence Zadar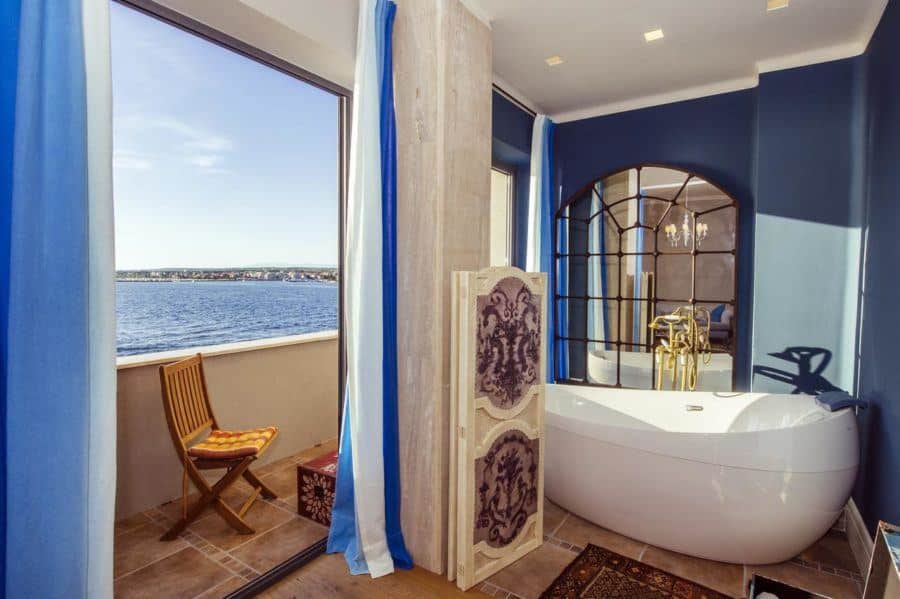 This luxury apartment in Zadar is right in the heart of the old town, the perfect setting for your Zadar holiday. The air-conditioned and luxurious apartment is located less than 200 meters from Greeting to the Sun, The Sea Organ, and the Church of Our Lady of Health. About a km away is the closest beach, the Uskok beach. Enjoy the view of the sea when you wake up. The balcony and even the bathtub has excellent views!
The apartment has a fully equipped kitchen, a washing machine, and a flat-screen TV. Free WiFi and free parking make it a steal.
Check Rates or Find More Zadar Hotels Here
Central Palace Apartment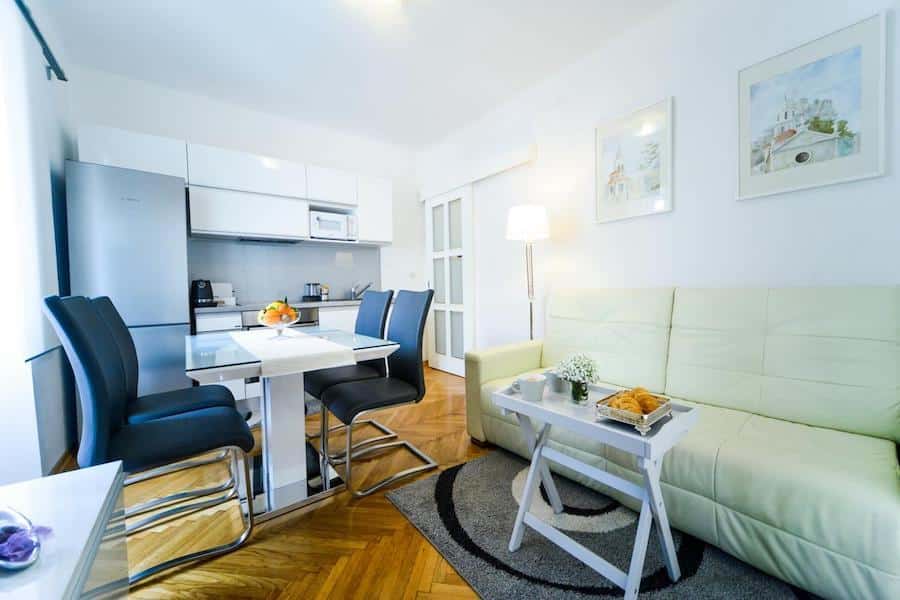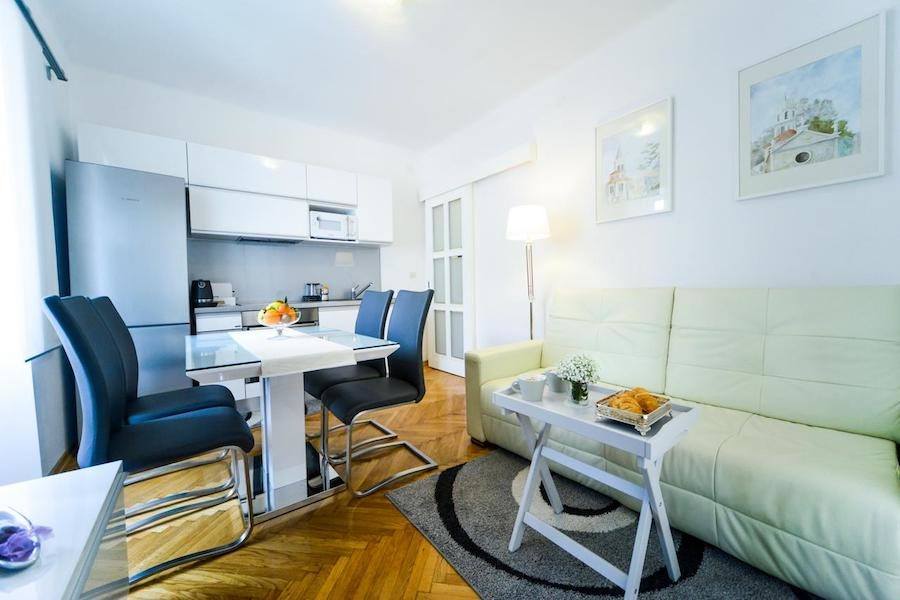 Private accommodation in the heart of Old Town Zadar, this apartment offers accommodation for up to four people in a modernly decorated space. If looking for a home away from home, this quaint apartment is full of great features.
The beautiful, sandy Kolovare beach is just a short walk away, as is the ferry port, Sea Organ, Greeting to the Sun, and other fabulous bars, restaurants, and a market in the Old Town neighborhood. Air-conditioning, free WiFi, a washing machine, a flat-screen TV and a fully equipped kitchen (dishwasher and all!) are available.
Check Rates or Find More Zadar Hotels Here
Suites One, Zadar
Less than 200 meters away from St. Donatus Church, these Zadar apartments are a short distance from St. Donatus Church. Seating and dining areas are present in all of the suites. The suites also include refrigerators, stoves, coffee machines, dishwashers, ovens, and more. Family options are also available. Clean and well-appointed, this accommodation in Zadar city center will steal your heart.
Check Rates or Find More Zadar Hotels Here
Falkensteiner Senia Apartments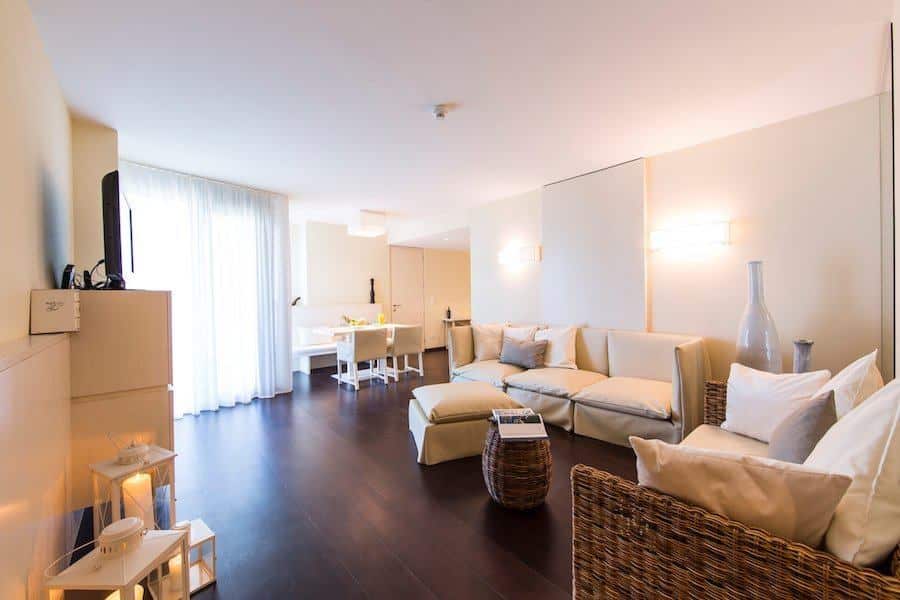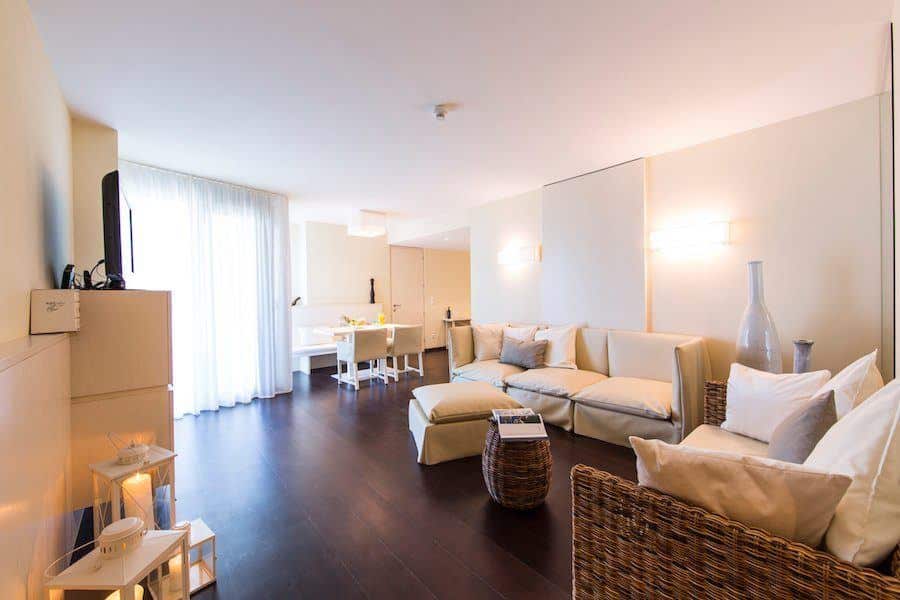 The stylish and modern Falkensteiner Senia 1-bedroom, 2-bedroom, and 3-bedroom Zadar apartments are perfect for stays with the family. Each apartment includes a flat-screen TV, microwave, dishwasher, stovetop, coffee machine, sofa, oven, wardrobe, refrigerator, and kitchenware. Some of the rooms have an outdoor seating area to enjoy that perfect breakfast. Guests have access to 2 heated outdoor pools and can also use the spa, sauna, and facilities at the nearby Falkensteiner hotels at a surcharge.
The apartments are a 25-minute drive from Zadar Old Town and within walking distance of the Petrcane beach. If you're looking for affordable privacy in the Punta Skala region, the Falkensteiner Senia Apartments are the place to be.
Check Rates or Find More Zadar Hotels Here
Zadar Hostels And B&B Zadar
For those super budget-conscious, these cheap Zadar accommodation options are perfect.
Boutique Hostel Forum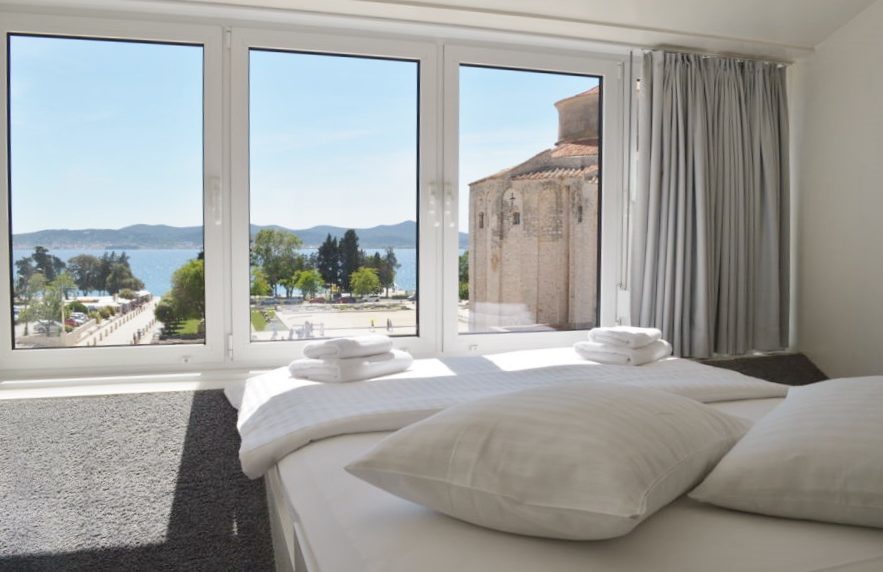 In the heart of Zadar, Boutique Hostel defies just being a bed to crash on at the end of a long day. Recently winning Best Hostel in Croatia offers you en-suite rooms with all the usual amenities free of charge. You can choose between dorms or private rooms- which come with their own minibar and TV- this hostel has all the comforts of a hotel for a much cheaper price tag.
The building itself was built just after WWII, and the outside is very serious looking. The designers decided to combine this with a lively interior, and the size of the property meant some serious space issues. The building's dimensions measuring 75 by 5 meters meant fitting people in was going to take some genius. Luckily they found that, and they took the time to make sure that you'd find your own space in this tiny space and be able to socialize with others all at the same time.
Homage has been paid to the Roman Forum, with the room numbers being in Roman Numerals and the grandstand in the Common Area. They've made this hostel into an architectural and design paradise using geometry, bright colors, patterns, and mirrors. You have to see it to believe it!
Check Rates or Find More Zadar Hotels Here
Windward Hostel Zadar – Zadar
This hostel is located centrally in Zadar and is surrounded by bars, restaurants, and cafes for your evening's entertainment. You are also within reach of many attractions too.
The yachting-themed hostel itself is small but clean and has excellent WiFi and onsite parking. Rooms are all air-conditioned and non-smoking, and there is a shared outdoor terrace for soaking up the sun and socializing. Rooms are spacious, and you can choose between dorms sleeping up to eight people (mixed) or a private room with a double bed. Private rooms book up quickly, so be sure to book ahead of time if possible. Shared bathrooms are clean and quite large also.
This hostel is ideal for exploring the local area as a base and is a quiet and comfortable place to rest your head in the evenings.
Check Rates or Find More Zadar Hotels Here
Drunken Monkey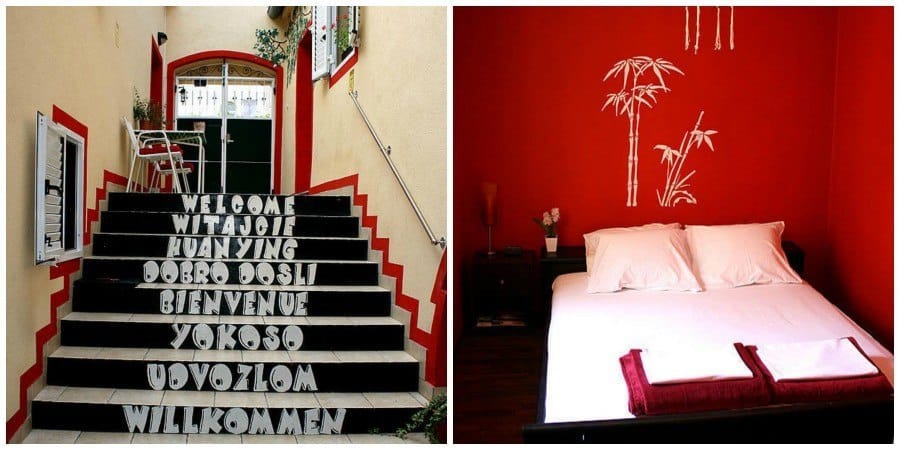 In the Arbanasi district, this hostel is not central, but it is incredible. It's around a 20-minute walk along the waterfront to the Old City Gates, but five minutes away is the sea. Being out of the Old Town, the hostel can accommodate you with lots of space.
The dorm rooms are said to be spacious and well thought out, with beds against the walls, giving you room to sort your things out in the middle of the floor. The Drunken Monkey has a bar open till midnight, serving hot drinks, smoothies, and alcoholic beverages, but no food- you can visit the sister hostel, The Lazy Monkey if you feel the need for breakfast. The hostel has a garden complete with lounge chairs, a hammock, a barbecue, and a splash pool!
Who doesn't love when a hostel has a splash pool? If you can drag yourself back out into the world, you could go for a walk down to the beach. Being away from the central areas, this one isn't overcrowded with tourists, and if you continue from there for 10 minutes, there is a fantastic and affordable beach bar!
Check Rates or Find More Zadar Hotels Here
Sky Hostel – Zadar
Sky Hostel is located within the city center, within close reach of most major attractions. The local buses also run close by. Zadar Airport is just 11 kilometers away from the property also.
Rooms are either mixed dorms with four beds or female-only with four beds. Bathrooms are shared and very clean, and there is free WiFi throughout the property. There is a coffee machine in each room, and some rooms have a balcony area for chilling out. There is also a seating area in each room.
Breakfast is served at the hostel daily, and around the property, you'll find countless bars and restaurants too. This hostel is an excellent choice for those who want to stay somewhere that isn't too overcrowded but still has plenty of life. There are also many things to see and do around the hostel too.
Check Rates or Find More Zadar Hotels Here
Dandelion Boutique Hostel
Only 15 minutes from the city center, the Dandelion Boutique Hostel is a popular Zadar accommodation among backpackers, independent travelers, and those who just like to meet other people.
Accommodation is available in several 4-person dorms, as well as a larger 10-person dorm. Each dorm has its own private bathroom with a shower and hairdryer. Communal amenities include free WiFi, air-conditioning, and free parking. A complimentary breakfast is offered every morning, while you can also buy fresh produce and other foods at the supermarket across the street.
One of Zadar's most popular beaches, Kolovare, is about a kilometer from this top-rated Zadar hostel. The bus station is a similar, easily walkable distance away.
Zara Palace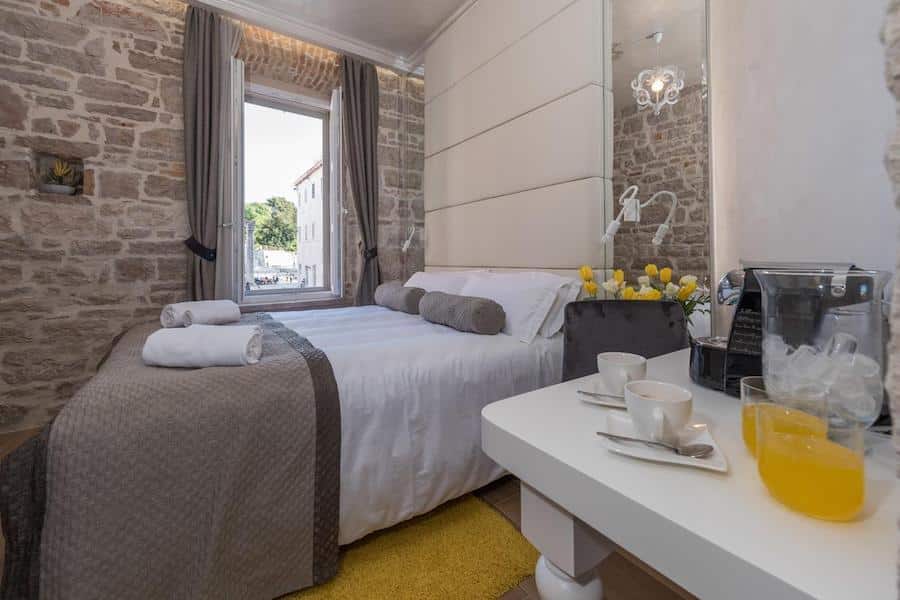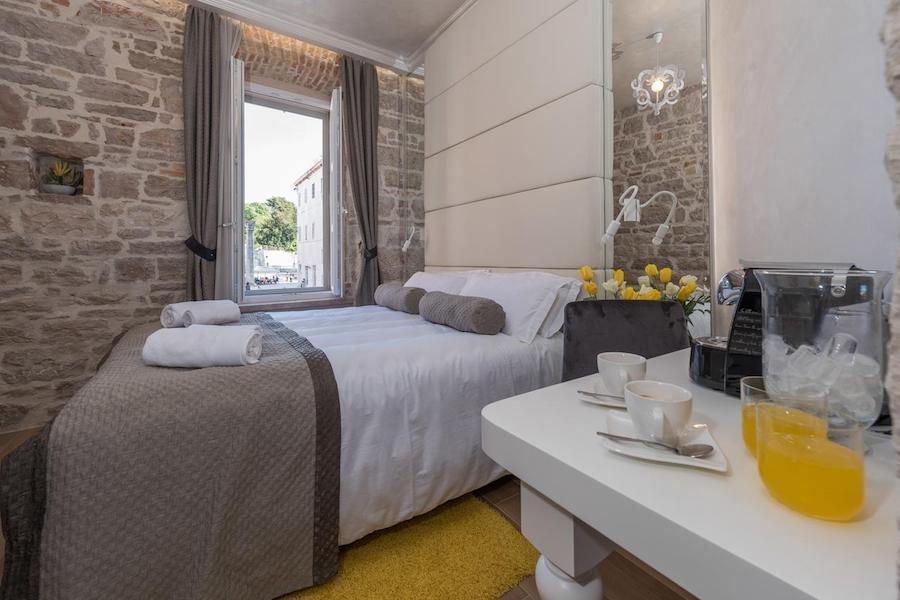 Other hotels in Zadar old town include the Zara Palace – design rooms. Zara Palace is on the list of great hotels in Zadar city center with views overlooking the city. Every room has views of the city. The rooms are cozy and feature flat-screen TVs, heating, air conditioning, a safety deposit box, minibar, and free WiFi. The rooms are also soundproofed and have coffee machines.
This Zadar hotel is within walking distance of Zadar People's Square, the Museum of Ancient Glass, Knight's Palace, the City Gate, Five Wells Square, the Museum of Illusions Zadar, the Captain's Tower, Zadar Archaeological Museum, and the Old Port of Fosa.
If you're looking for where to stay in Zadar, Croatia, within walking distance of all the main places of attraction, Zara Palace is will not disappoint.
Check Rates or Find More Zadar Hotels Here
Here is some additional information to help you with your Zadar travel.
Where Is Zadar Located?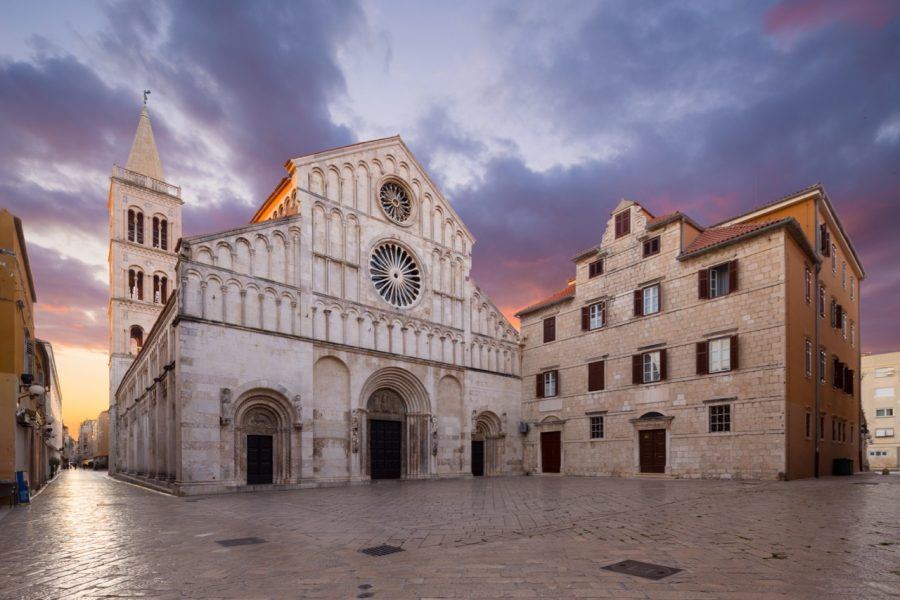 Zadar lies on the West coast of Croatia, on the Dalmatian Coast in South-Eastern Europe.
What To See In Zadar?
Let's answer the question of what to visit in Zadar.
See the Roman ruins and the pillar of shame
Hear the mournful memories of the Sea Organ
Visit St. Donat's Church that was built in the Byzantine style in the 9th century
See the World Heritage Venetian Walls
Visit the Museum of Ancient Glass and see objects from Roman times
Visit the ornate Zadar Cathedral
See the stone land gate built in 1543
See the Romanesque Church of St. Chrysogonus
Enjoy Kolovare Beach
See the famous Sea Gate
Other Accommodation Guides For Croatia