Some posts contain compensated links. Please read this disclaimer for more info.

Best Albanian Riviera Hotels To Stay At In 2021
Caesar was here. That's a good enough reason for me to visit the Albania Riviera. What about you?
Did you know that when Ceasar landed on the Albanian Coast to pursue Pompey the Great, he crossed the Llogara Pass? This 1027 meter high pass has the most spectacular views of the Ionian Sea of the Albanian Riviera. It became famous after a Top Gear episode featuring a high-speed chase police chase here.
The Albanian Riviera is also famous for its turquoise waters and long sandy beaches, UNESCO heritage sites, and quaint old villages. July and August are peak seasons in Albania because of the warm sunshine, while Spring and Fall are the best time to visit with average temperatures and lesser crowds.
To plan your visit to Albania, we've put together our list of the best hotels along the Albanian Riviera with good access to the Albania tourist attractions.
Best Hotels In Ksamil, Albania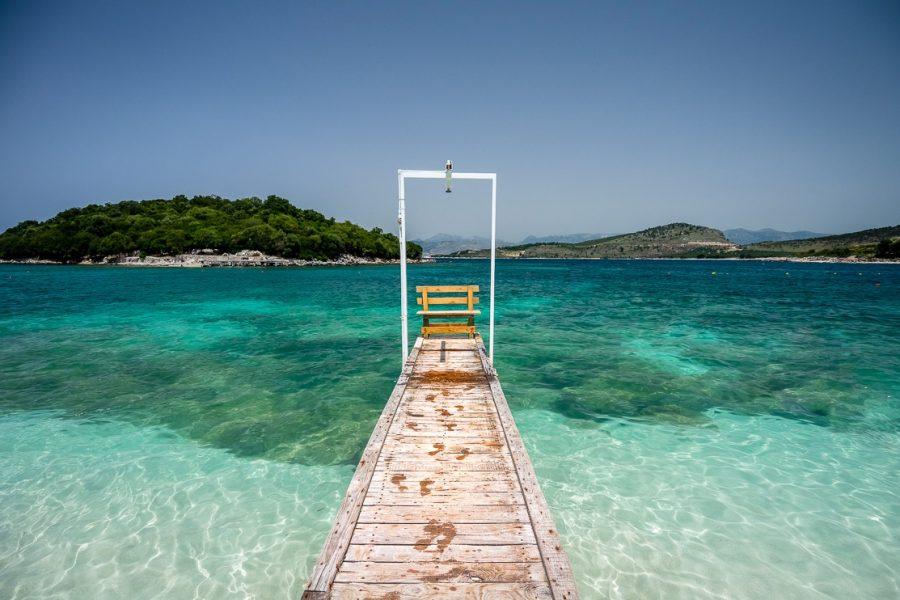 Ksamil, the "Ionian Pearl," is a village in the far south of the Albanian Riviera. If you're looking for somewhere to stay on the Albanian Riveria with perfect sandy beaches, aquamarine waters, and proximity to heritage sites and national parks, this is it. Ksamil is a short distance south of Saranda, and it's literally part of a national park.
The village is in Butrint National Park, one of Albania's greatest historical attractions and a UNESCO World Heritage Site. Around Ksamil, you can see and visit numerous archaeological sites dating from the Iron Age to the Middle Ages, including amazing Roman ruins.
Additionally, this is one of the best places to stay in the Albanian Riviera for nature, history, and beaches. The area has some of the greatest sandy beaches in the Albanian Riviera, such as Pasqyra Beach and Manastir Beach, while Ksamil's waterfront has restaurants and a wonderful walking path. The iconic Ksamil Islands are visible, too.
Here are some of the best hotels on the Albania Riviera at Ksamil beach.
Poseidon Hotel
Just 100 meters walk from the Ionian Sea; this is one of the 5-star Ksamil hotels with mountain views from the balcony of every room. The best hotel in Ksamil, the Poseidon hotel, has a garden and a terrace and offers guests free WiFi.
The air-conditioned rooms in this hotel luxury Ksamil are 30 m², soundproofed, and include one large bed and one bunk bed. Rooms also come equipped with flat-screen TVs, heating, dining table, mosquito nets, closets, clothes racks, bathtubs, refrigerator, ovens, and free WiFi.
The hotel is within walking distance of supermarkets, restaurants, and cafes. Butrinti Lake is 0.6 km away, while Mt. Sotira is just a km away.
Check Rates or Find More Albanian Riviera Accommodation Here
Hotel Sole Mare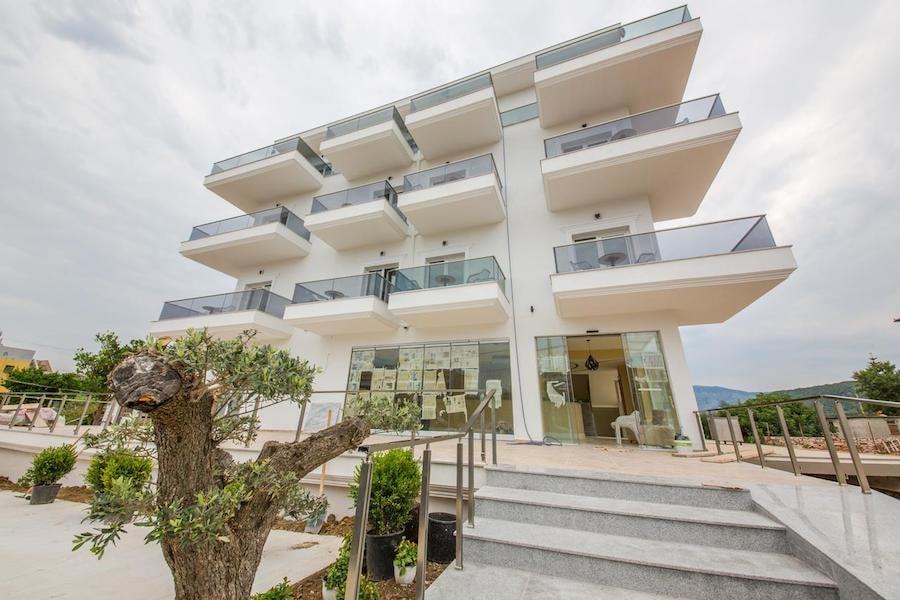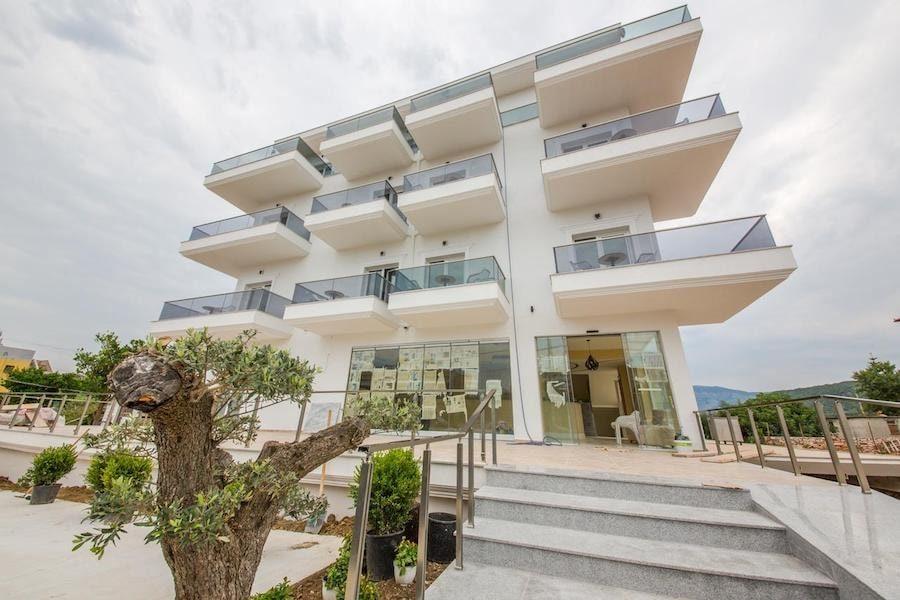 Opened in June 2018, this is not a Ksamil beach resort. But the 4-star Hotel Sole Mare has been meeting guests' expectations for quite some time.
Guests are treated to a continental breakfast in a nearby hotel and can avail of free parking on site. All of the rooms have a balcony, with some featuring incredible views of the Ionian Sea.
Every room is compact and well decorated in pine colors with marble flooring. The soundproofed rooms feature air conditioning, flat-screen satellite TVs, minibars, desks, slippers, clothes racks, hairdryers, and free WiFi.
Pick a room with sea views to wake up to shades of beautiful blue. This is the perfect accommodation on the Albanian coast that is close to the best beaches in Ksamil!
Check Rates or Find More Albanian Riviera Accommodation Here
Villa Klinti
Located about 500 meters from Ksamil beach, Albania, the Villa Klinti is an excellent choice for budget travelers. The restaurants and supermarket are all within 200 meters of this 3-star villa hotel, while the Butrint National Park is 2.4 km away.
The rooms or suites can accommodate between 3 to 5 guests. The triple rooms feature a balcony, closet, bathtubs, flat-screen TVs, refrigerators, cutlery, small dining table, electric kettle, kitchenware, coffee machine, and clothes rack. The junior suite also includes a seating area. The triple rooms are 35 m², 4-person rooms are 45 m², and the 5-person rooms are 50 m².
BBQ facilities are available, along with free parking and free WiFi.
Check Rates or Find More Albanian Riviera Accommodation Here
Best Hotels In Saranda, Albania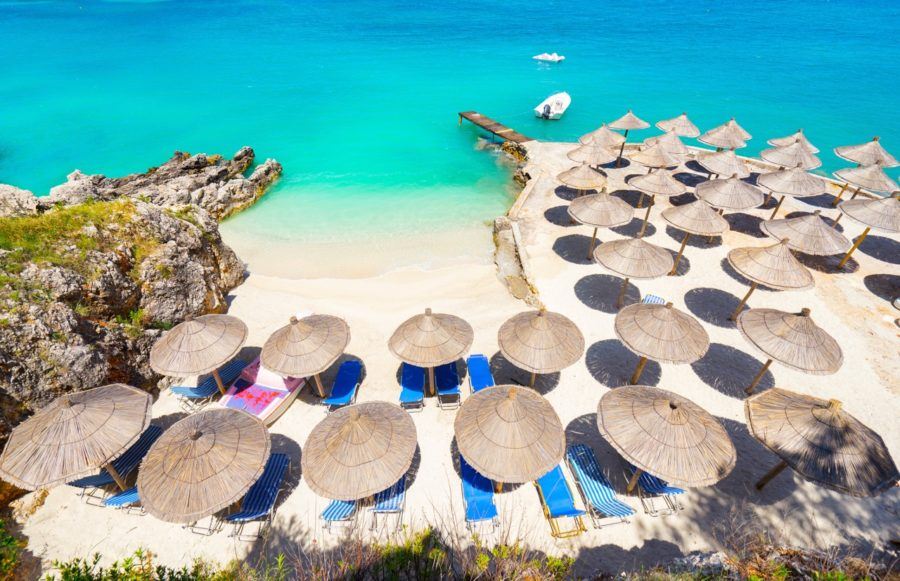 The town that connects all towns, Saranda, is the unofficial main stop in the southern Riviera. Stay here for easy access to beautiful places like Ksamil, the Blue Eye, and Gjirokaster.
Saranda is the largest city in the region, a beautiful place to stay on the Albanian Riviera nestled in a wide gulf. Set in between the coastal hills and the crystal-clear sea, with the Greek island of Corfu beckoning in the distance, Saranda is a dream-like beach destination in the Balkans.
Thanks to its long and rich history, which goes back to Ancient Greece, the city has its share of wonderful archaeological and historical sites. The city's many cultural influences over the centuries are still visible to this day. Saranda still has a significant Greek population nowadays. And indeed, Greece is really not too far away: it's just a quick ferry ride to Corfu from Saranda.
Besides lots of history and culture, Saranda also has several excellent beaches. In summer, it can be quite busy here, though, but one of Saranda's main drawcards is its proximity to most other Albanian Riviera highlights. One of the most popular things to do in Saranda is not actually in the city; it's going on day trips to gorgeous places like Butrint National Park, Dhermi, Llogara Pass, and Gjirokaster.
In short, Saranda is a great base to explore this stunning region in southern Albania. There are numerous excellent Albanian Riviera hotels to choose from here. Let's check out some of the best.
White Residence Apartment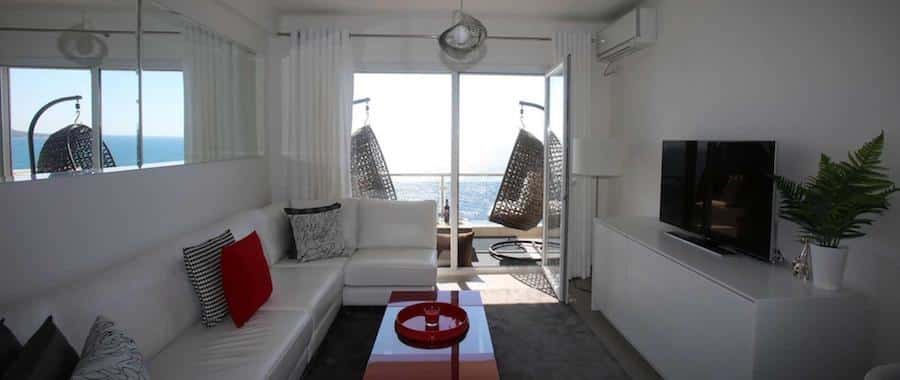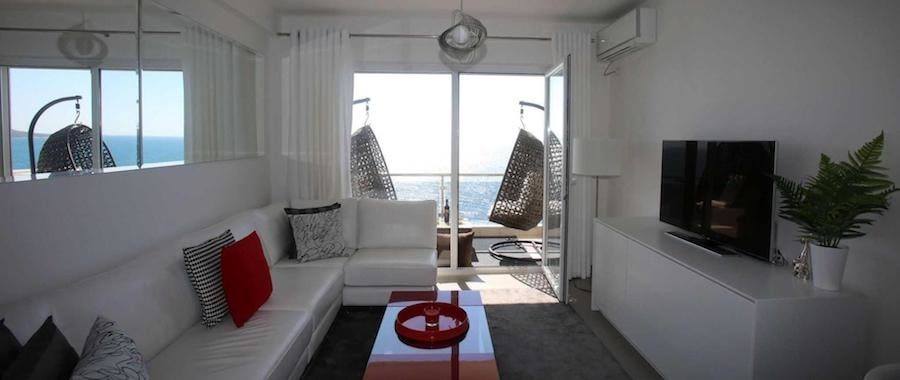 About 2 minutes walk from the beach, this accommodation on Butrinti Street in the Albanian Riviera is perfect for staying away from the city. Elegantly furnished in white, the apartment offers world-class comforts and the property as an onsite bar.
Each 69 m² apartment is wheelchair accessible, has a kitchenette that includes a refrigerator, microwave, stovetop, dining area and kitchenware, and a balcony with good views. The apartments include air conditioning, heating, hairdryers, washing machines, flat-screen TVs, sofas, baby safety gates, clothes racks, and free WiFi.
This self-service Saranda, a 5-star hotel, is close to Mango Beach and Santa Quaranta Beach and within walking distance of restaurants serving Albanian and international food. Staying here also gives you perfect privacy on your Albania holidays.
Check Rates or Find More Albanian Riviera Accommodation Here
Hotel Seaside Saranda
Just a 2-minute walk from Mango Beach, the Hotel Seaside Saranda has rooms for individuals and families of all sizes. It is located just a 15-minute drive from the Greek border and a 30-minute boat ride to Corfu; it is one of the good Saranda Albania beach hotels. Seaside Saranda Hotel Albania organizes trips to Corfu upon guest requests. There is also a bus stop in front of the hotel with easy access to Saranda city center.
The spacious rooms at this hotel in Albania Saranda include a balcony with either sea or city views. Rooms come equipped with air conditioning, heating, cable TV, minibars, safes, hairdryers, refrigerators, and closets. Triple and quadruple rooms are available for families.
The open-air restaurant atop the terrace of this Saranda beach hotel serves Mediterranean delights. Enjoy dinner here overlooking the sea.
Check Rates or Find More Albanian Riviera Accommodation Here
Hotel Butrinti and Spa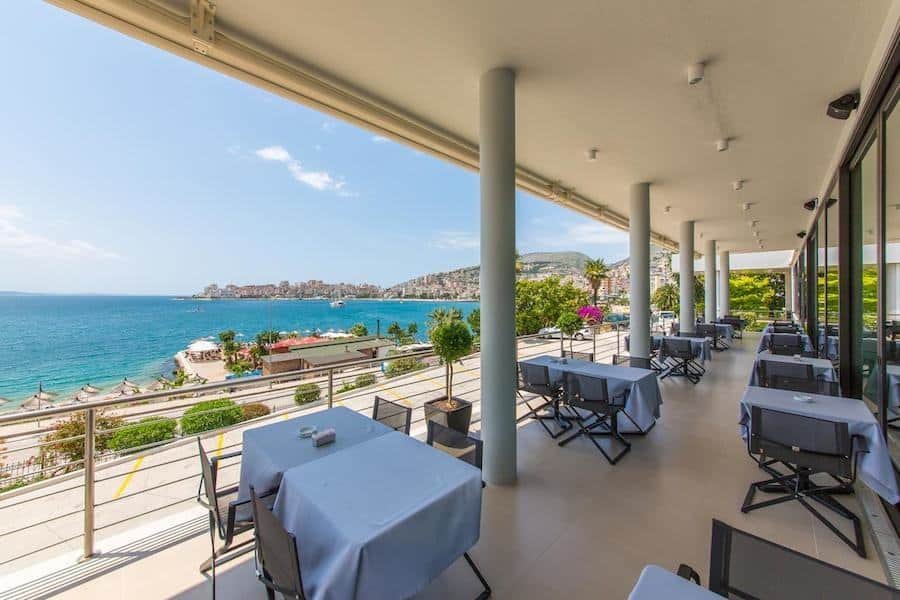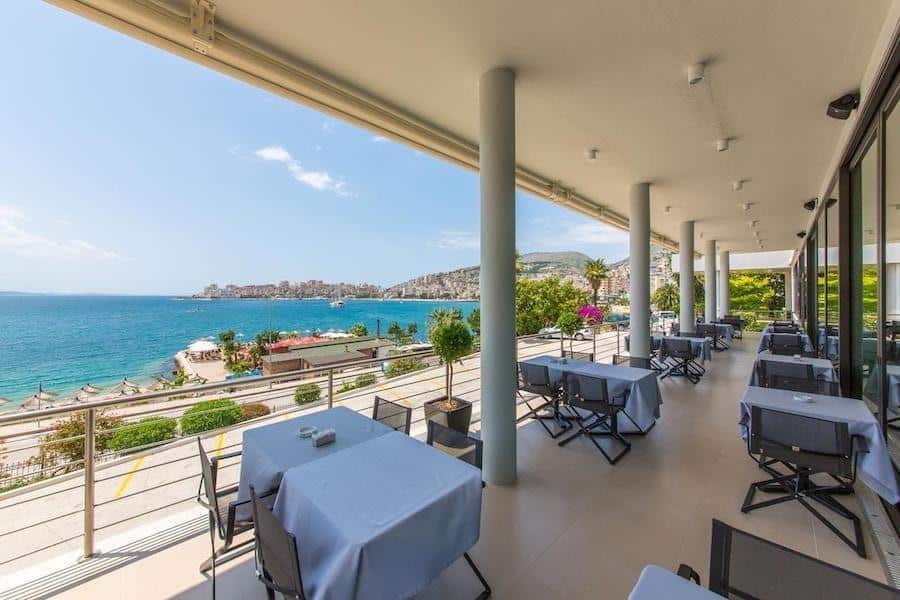 Perfectly located, this 5-star hotel in Saranda, Albania, also has a seasonal swimming pool with a bar to enjoy cocktails. It is one of the best hotels in Saranda and is located just 100 meters from the pebble-covered Saranda Beach.
Guests at Butrinti Hotel, Saranda, can enjoy continental breakfasts every morning. They also have access to free parking. Spa facilities include a Jacuzzi, sauna, hot tub, fitness center, and spa lounge.
The soundproofed rooms at Hotel Butrinti, Saranda feature free WiFi, air conditioning, heating, safes, minibars, telephones, desks, flat-screen televisions. Some rooms have balconies and views of either the city or the sea where you can enjoy your morning coffee. Ask for the rooms with views of the turquoise Ionian Sea!
Check Rates or Find More Albanian Riviera Accommodation Here
Villa Erdeti
Subtle and darker shades mix together to beautify the rooms at this cheap hotel in Saranda, Albania. Set right next to the sandy Saranda beach, Villa Erdeti is one of the cheap hotels in Saranda.
The rooms here are equipped with TVs, air conditioning, sea-view balconies, refrigerators, dishwashers, and closets.
The nearest airport is the Ioannis Kapodistrias Airport on Corfu. This hotel in Saranda Albanian great for a stay with a small budget, quiet surroundings, and lovely hosts.
Check Rates or Find More Albanian Riviera Accommodation Here
Best Hotels In Himare, Albania
Built in and around the ruins of old towns, Himare has a lot to offer, from castle ruins to charming village settlements. Also spelled Himara, the town of Himare is in the northern part of the Albanian Riviera. So, this would be a great place to stay for a few days and immerse yourself in this part of the region. There's lots to explore and experience here.
First, there are amazing beaches in and around Himare. The town has its own beaches, which are great spots to hang out and relax in the morning or afternoon. Other nearby beaches that are worth checking out are Filikuri Beach to the south and Livadhi Beach to the north.
Just behind and above Spile Beach sits the old town of Himare. Home to historic buildings, winding lanes, coffee houses, old churches, small shops, and impressive Himare Castle, this area is entertaining to explore on foot.
Within an easy drive from Himare, you'll find great destinations like Porto Palermo, Dhermi, and Llogara National Park. Trips to Saranda and Ksamil are possible as well.
If you're picking quiet and charming Himare as your place to stay on the Albanian Riviera, we've got some recommended hotels for you below.
Castle Hotel Himare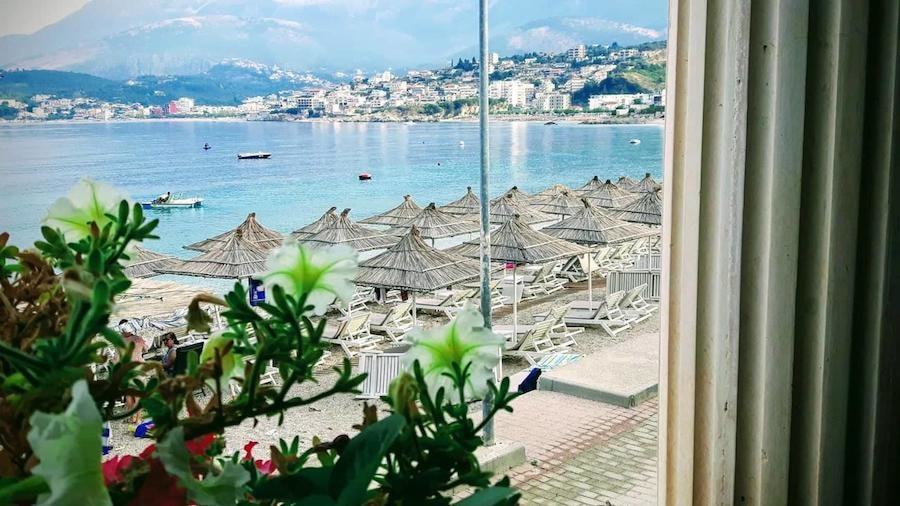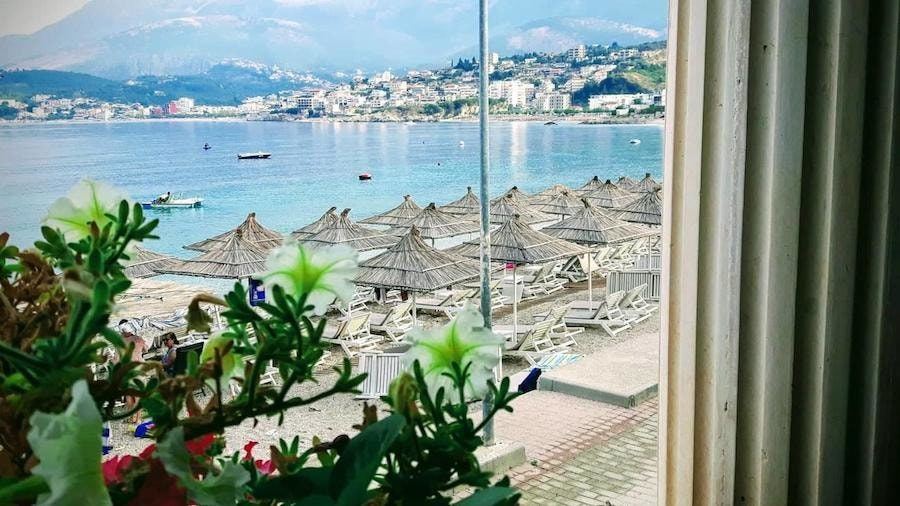 The beachfront Castle Hotel Himare has a bar that overlooks the sea. The guests love the rooftop bar and the dinners at the Castle Hotel Himare.
The air-conditioned rooms have a balcony, free WiFi, and free onsite parking. They include amenities such as flat-screen TVs with cable channels, bathtubs, closets, and baby safety gates. The rooms either have views of the mountains, the garden, or the ocean.
The Castle hotel Himare is one of Albania's best beach hotels that's light on the pocket and has easy access to the beach.
Check Rates or Find More Albanian Riviera Accommodation Here
Himara Hostel
Set in a traditional house with a garden, the Himara Hostel is one of the best Albanian Riviera hostels to spend your time in. It's just an 8-minute walk from Himare Beach and has all the amenities you need. Each room extends either onto a patio or terrace. Guests have access to shared bathrooms and a shared kitchen where they can prepare their meals.
Rooms include free WiFi, free parking, hairdryers, fans, and heating. Cheaper dormitory rooms are also available. Restaurants, cafes, and supermarkets are nearby. The sea is a 400-meter walk away, while the nearest beaches are Spille beach, Livadhi beac, and Potam beach.
Check Rates or Find More Albanian Riviera Accommodation Here
Elysium Hotel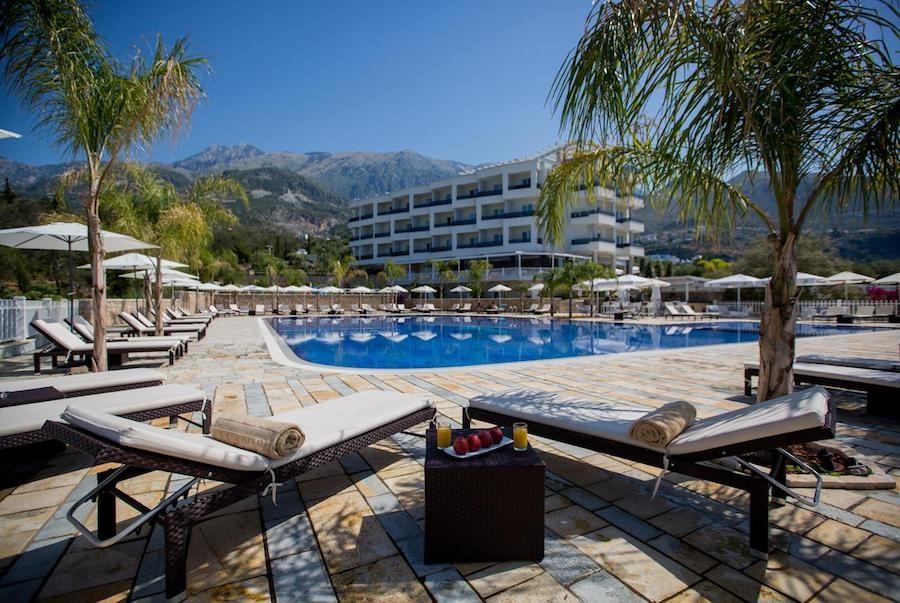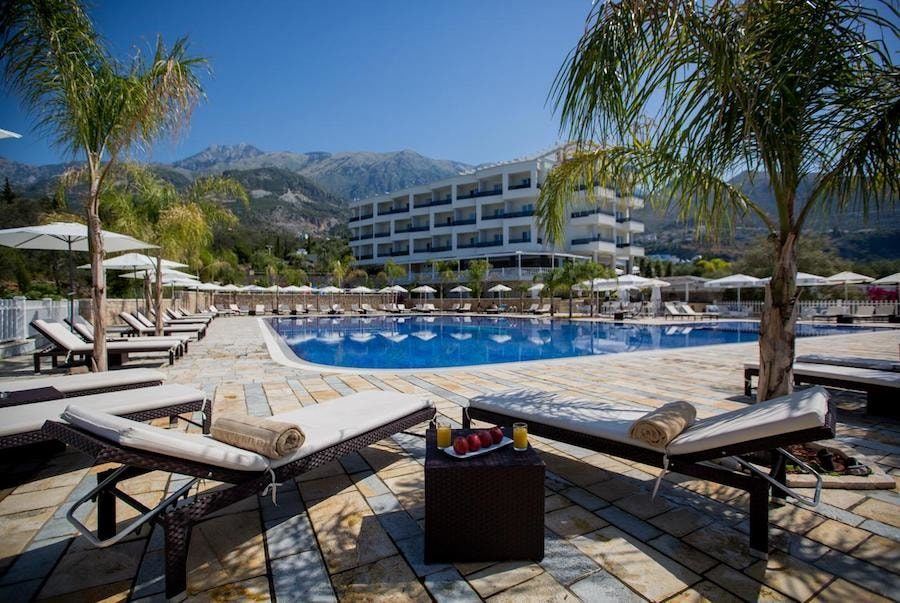 Another of the great places to stay in Albania is the Elysium Hotel. It's one of the 5-star hotels in Albania on Dhermi Beach, nestled behind the olive groves. Located just 500 meters from Dhermi beach, Albania, the hotel offers free parking for guests and the use of the large outdoor swimming pool.
The rooms at this Albanian Riveria accommodation have wooden parquet floors that match their curtains. They also include air conditioning, heating, soundproofing, minibars, TVs, refrigerators, safes, laptop safes, dryers, sofas, and clothes racks. Wifi is also free!
The hotel also has larger 30 m² double rooms with a sofa bed that can accommodate two children. The buffet breakfast is well stocked. The hotel offers free parasols and sun loungers on the beach nearby. Guests can also use the onsite bar for recreation.
This is one of the best Albania resort hotels to stay at!
Check Rates or Find More Albanian Riviera Accommodation Here
Stone Beach
On the western slopes of Mount Gjivlash, Qeparo are the Stone Beach apartments. These apartments are great for private holidays in Albania. Apart from free WiFi, all of the apartments have a sea view, including a kitchen, and access to one of Albania's best beaches.
The soundproofed apartments include air conditioning, heating, flat-screen TVs, sofas, well-equipped kitchens, dining areas, outdoor furniture, and access to a small private pool. The apartments range from 65 m² to 114 m² in size and can accommodate up to 6 individuals.
The Stone Beach apartments are the accommodation on the Albanian coast that includes both privacy and gorgeous views of the Mediterranean Sea.
Check Rates or Find More Albanian Riviera Accommodation Here
Drymades Resort, Dhermi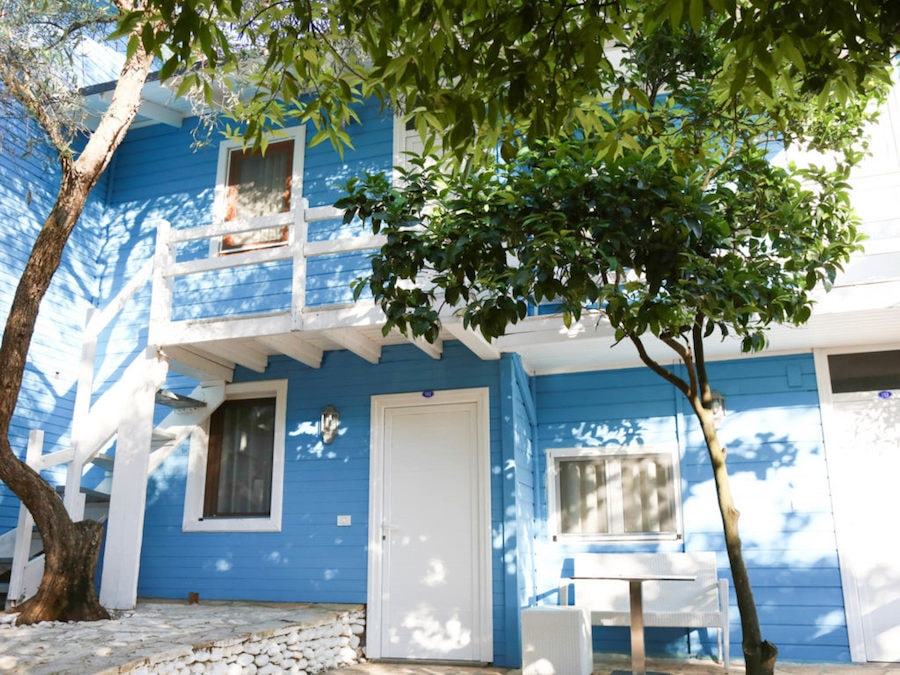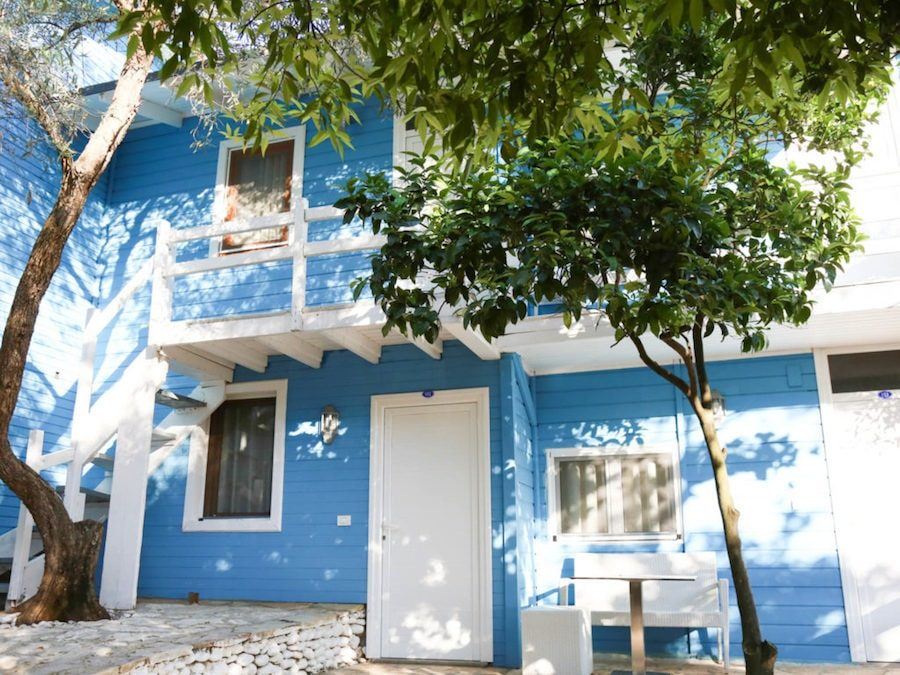 Colored blue and white, this lovely 4-star residence in Dhermi is often listed on the best places to stay in Albania lists. Guests at this Albanian Riviera hotel can enjoy the onsite restaurant serving Greek, Italian and Mediterranean dishes.
Rooms are air-conditioned, heated, and soundproofed. They include free WiFi, balconies, minibars, showers, radios, flat-screen televisions with cable and satellite channels, hardwood floors, mosquito nets, dryers, hypoallergenic linen, and clothes racks. Family rooms or bungalows are also available.
Guests have access to a bar, garden, pool, children's playground, and lounge beds on the beach. They also love the proximity to the beach, local restaurants, and markets. A stay at the Drymades Resort is perfect for watching the sunset!
Check Rates or Find More Albanian Riviera Accommodation Here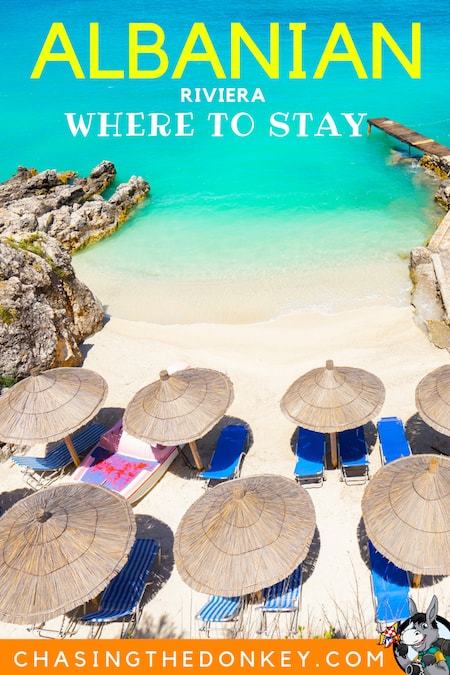 Best Beach Resorts In The Albanian Riviera
Okay, so now that we've covered the best hotels in each popular part of the Albanian Riviera, let's shift our focus slightly. Maybe you're not looking for accommodation in any specific town in the Riviera, per se? Perhaps instead, you just want to stay at an amazing beach resort somewhere in the Albanian Riviera? If that's the case, we've got the ultimate list of Albanian Riviera beach resorts for you here!
Onassis Residences, Qeparo
Folie Marine Beach Hotel & Club – Soleil Resort, Jala
Bougainville Bay Resort, Saranda
What To See In Albania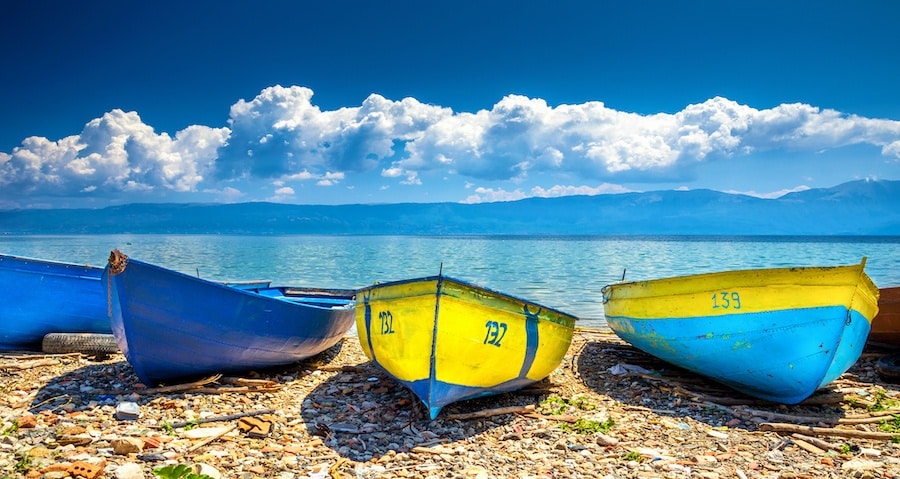 Here's a quick list of what to see in Albania during your trip to the Albania Riviera.
Stay in Ksamil, the "Ionian Pearl"
Visit the nearby Syri i Kalter or Blue Eye
Walk among the ruins of Himara Castle
Visit Butrint National Park and the UNESCO Roman ruins within
Visit the town and fortress of Gjirokaster
See the beautiful Panormos or Porto Palermo Castle
Spend some time in the charming Qeparo village
See Borsh, Albania's longest beach at 7 km
Visit the secluded Kakome beach and Gjipe beach
Enjoy the nightlife in Dhermi and Sarande
Paraglide Llogara Beach. Enjoy paragliding from Llogara Pass down to Palasa Beach
Drive along the Llogara Pass
Hike or spend the night in Llogara National Park
Discover the rich plant life at Karaburun-Sazan National Marine Park
Gorge on byreks, baklava, and tave kosi, and drink raki
If there are other Albanian Riviera Hotels you'd suggest, please let us know in the comments below.
MORE ALBANIA TRAVEL BLOGS