Some posts contain compensated links. Please read this disclaimer for more info.
The Beauty Of The Blue Eye In Albania
Albania is a beautiful country, with plenty to see and do during your time. But, one place you simply have to visit if you head to nowhere else is the Blue Eye, or Syri i Kalter, as it's known in Albanian.
If you're keen to check out this famous spot for yourself, you'll need to know plenty of information beforehand. Handily for you, we've got everything you need to know in one place.
What Is The Blue Eye?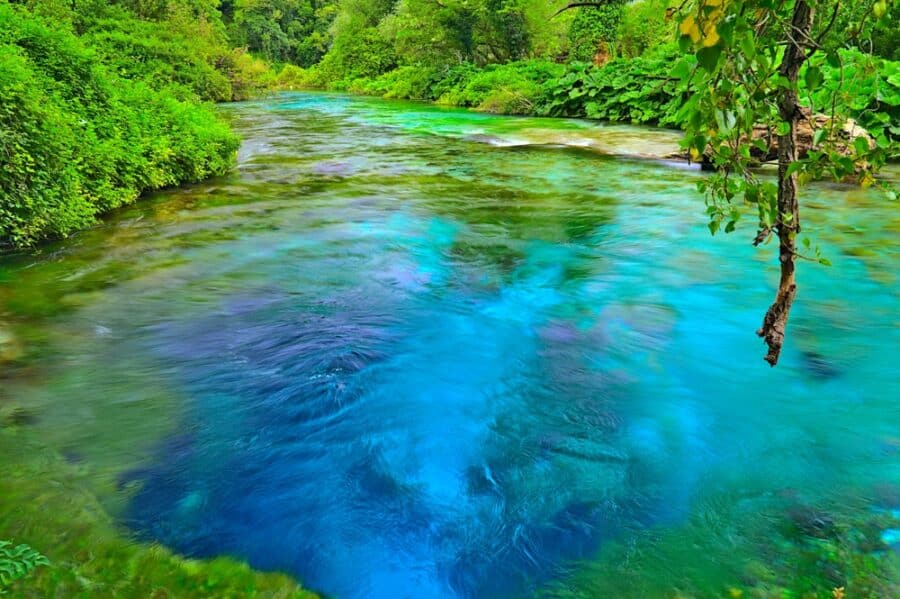 The Blue Eye, or Syri i Kalter, is a beautiful freshwater spring that is surrounded by lush greenery. From above, the water looks just like a bright blue eye, hence the name. The outer part – the iris – is a stunning bright blue, and the inner dot – the pupil – is a dark cave spanning far down under the water.
The water is so stunningly clear that you can see right to the bottom, although we don't actually know how deep it is as nobody has ever actually been to the bottom! Officially known as a vertical karst spring, it's thought to be around 50 meters deep at least, but again, there is no official reading – that's simply as far down as any diver has actually been able to go. The water is also freezing cold, which is excellent for cooling off during a hot summer's day.
Put simply, once you see the Blue Eye, you literally won't be able to take your own eyes off it.
Why Is The Syri i Kalter Special?
Aside from how it looks, the Blue Eye is special for other reasons too. Of course, we get to see the force of Mother Nature at work here. You'll notice that water bubbles up from the bottom at a super-fast rate – at over 18,000 litres every second. The water then feeds into the Bistrice River which winds its way out into the Ionian Sea.
There is also a legend about The Blue Eye locally that's interesting to learn before you go. Legend says that a snake that used to feast upon children roamed freely around this part of Albania. But one day, the snake slithered up to a donkey and his owner, an older man. The snake thought the donkey looked like a good snack, but the old man pulled a clever trick just before he decided to consume him.
He set the straw around the donkey and the animal itself on fire, trapping the snake as he ate the donkey. The snake's eye, crying out in pain as he burned to death, fell down the high mountain and landed on the ground, creating what we know as the Blue Eye today.
When Is The Best Time To Visit Syri i Kalter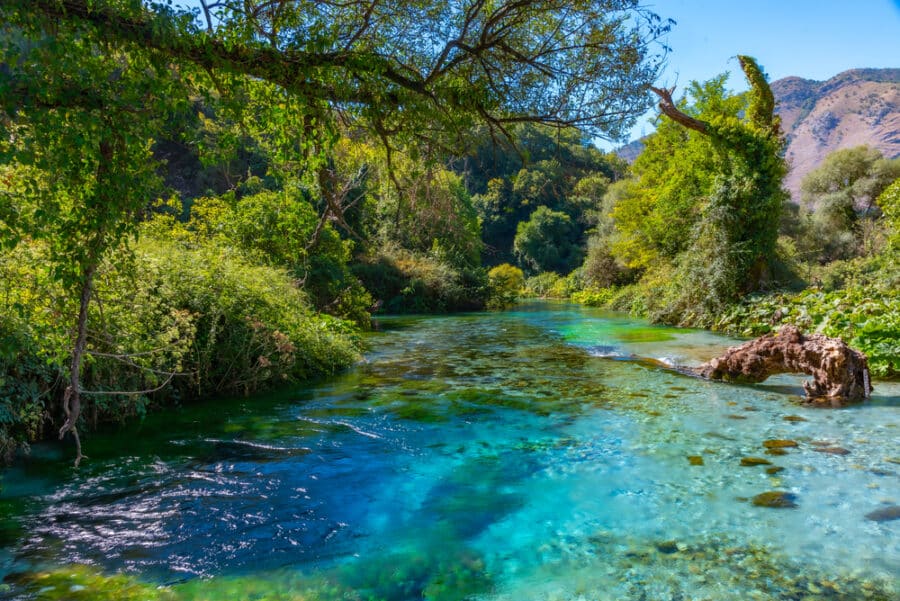 As you can imagine, the Blue Eye is extremely popular so the months of July and August are always extremely busy, not to mention hot. The area is also not so large, so you'll find crowding seems a lot worse due to this. So, if you want to avoid crowds, you're best to stick to the shoulder months, perhaps June and September, to get good weather and less crowds.
However, there's no denying that sticking your feet in the freezing cold water during a boiling hot summer is one of the most refreshing sensations you'll ever have in your life! The water is never higher than 10 C, which is a stark contrast to the air temperature during the summer.
Important Information Before You Go To The Blue Eye In Albania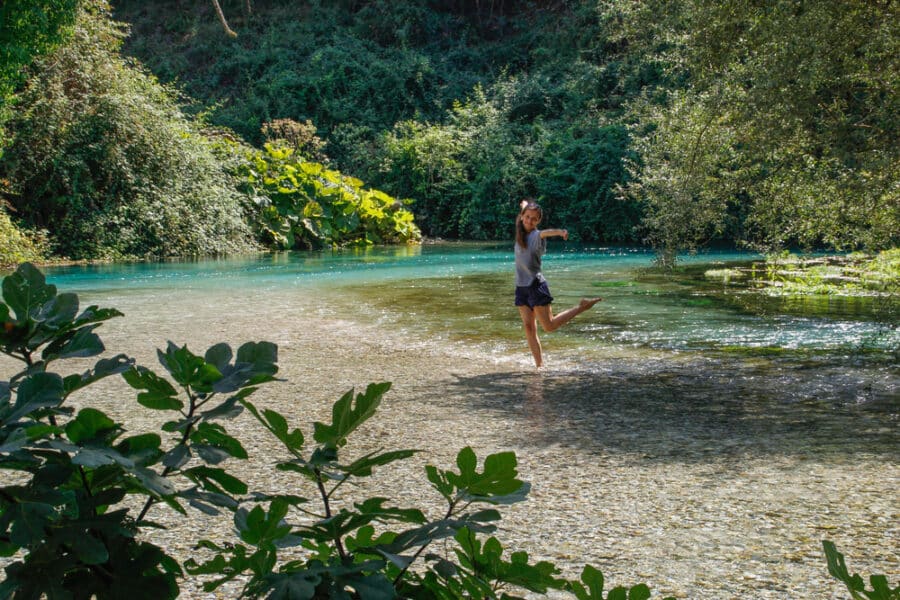 Here is some basic information to help you plan and get the most out of your visit.
The Blue Eye is open daily from 7 am until 7 pm
It is located in Muzine village, around a 40-minute drive away from Saranda.
There is a 100 LEK charge for each car that enters
Every person is also charged a 50 LEK admission fee
There is a local restaurant on site that serves delicious traditional food, but if you want regular snacks, you're better off taking your own – remember to bring your litter with you!
There are cabins, showers, and toilets available
As far as swimming goes, if you're following the rules to the letter, then you're not supposed to swim in the Blue Eye. You can dip your feet in, but that's officially it.
BUT, and this is a big but, many people do swim in the Blue Eye, and nobody has ever stopped them. Disclaimer – you make your own decisions, but you know the rules!
There is a large viewing platform right over the eye, and you can see the entire outline of this stunning sight from there and take some great photos. The viewing platform is also where you'll see people diving straight into the middle of the eye. Again, you're not supposed to, but do with that what you will!
However, how long you can stay in the water is another matter, as it's freezing and a few seconds is probably all you'll manage!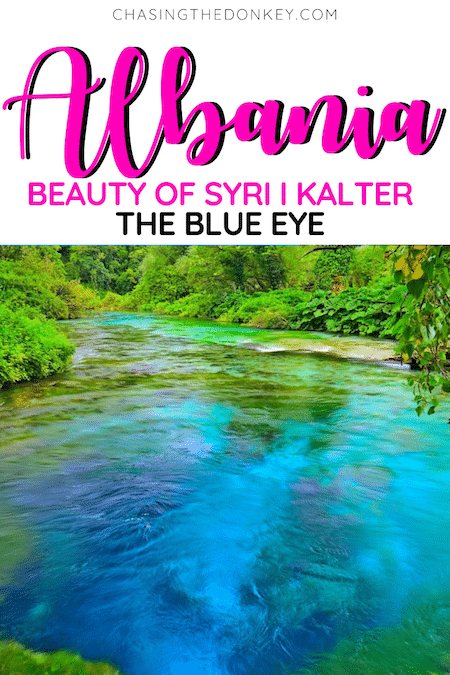 How to Get To The Albania Blue Eye
If you're staying in Saranda, as most people visiting during the summer tend to do, then you won't struggle to get to the Blue Eye. There are a few options, and the drive is only around 40 minutes. However, remember that this could be more due to traffic during the summer months.
The Blue Eye is near Muzine, a beautiful village in the south of the country, and it has easy road links with both Saranda and Gjirokaster.
Bus To The Blue Eye
While you can't get directly to the Blue Eye by bus, you can get pretty close and then walk the rest of the way if you're feeling energetic.
The furgon, a kind of van/bus hybrid, travels from Saranda and Gjirokaster and back again and will take you within close vicinity of the eye. It's a cheap option, and you can get the bus in the center of Saranda, buying your ticket from the driver. Tell the driver where you want to go, and they'll give you a head's up when it's time to get off.
Once that happens, you'll need to follow a signposted path, around 2km in length, that takes you directly to the Blue Eye itself. Handily, the path is pretty shaded.
Head To Syri i Kalter By Car
Driving is the best way to reach the Blue Eye and cuts out the need to walk down the 2km path. You can rent a car from Saranda or Gjirokaster and be at the Blue Eye in around 40 minutes from Saranda and around an hour from Gjirokaster. You simply take the main highway between the two towns, and you'll see signs for the Blue Eye around 22km away from Saranda.
Once you turn off the main road, you'll follow a forested road which is unpaved for 2km, and then you can park up. You'll be charged 100 LEK for the car and then a 50 LEK per person admission fee.
Get A Taxi To Albania's Blue Eye
Of course, you could take a taxi and save yourself the car admission fee too. Be sure to arrange a price with your taxi driver and a pick-up time beforehand. You can expect a return fee of around 30 Euros, but again, be sure to set your price.
So tell us, when will you visit the Blue Eye in Albania?
MORE ALBANIA TRAVEL BLOGS FOR YOUR TRIP
Share