Here is your detailed transportation guide that shows you how to get from Corfu to Albania. In my guide, I also show you how to travel from Albania to Corfu.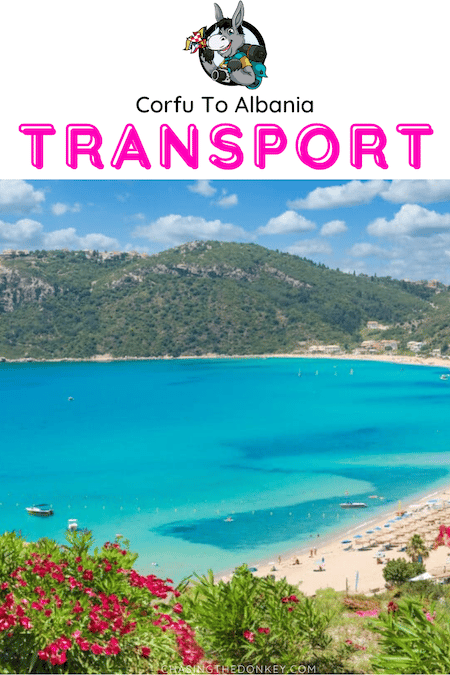 Did you know that Corfu, a Greek island, is only 35km away from the coast of Albania? It's true! That means you can easily visit both within the space of one holiday.
Of course, to do that, you'll need to know how to get from Corfu to Albania and back again. Thankfully, we're on hand to help you out.
If you're visiting Corfu during the summer, you'll no doubt love spending ample time on the beach and enjoying the heat, nightlife, and great shopping.
Corfu Town is also a fantastic designation, packed with things to see and do and a pretty old town with colorful buildings and historic architecture to check out. But, sometimes, it's good to get out and see something else. In that case, hopping over to Albania could be a good choice.
Albania is a seriously up-and-coming holiday destination, and you only have to search online to see why. Tirana is the capital, and it's an excellent spot for anyone who loves history and entertainment.
Capital cities are always vibrant places to go! However, the country is more than that. The Albanian Riviera sits on the glittering Ionian Sea and has a real holiday vibe. Sites like Saranda have become seriously popular over the last few years.
TRAVEL COMPANIES WE USE AND TRUST
Red Tape And Paperwork You Need To Know About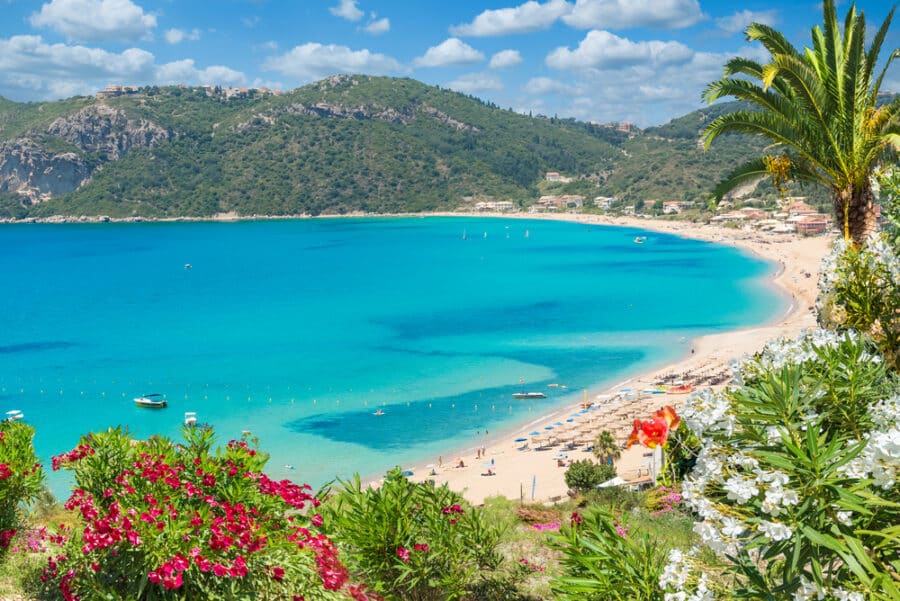 So, what are your options if you want to learn how to get from Corfu to Albania and back in the opposite direction? You have two – ferry or fly. The latter isn't the most sensible, but if you're not a water fan, it's still a choice you can take.
Whatever option you choose, you need to remember one significant thing – Corfu is 1 hour ahead of Albania. So, when catching ferries and planes, factor that into your plans. It would help if you also remembered that you're leaving one country and entering another, so you'll need your passport and any visa that pertains to your country of origin.
Taking The Ferry From Corfu To Albania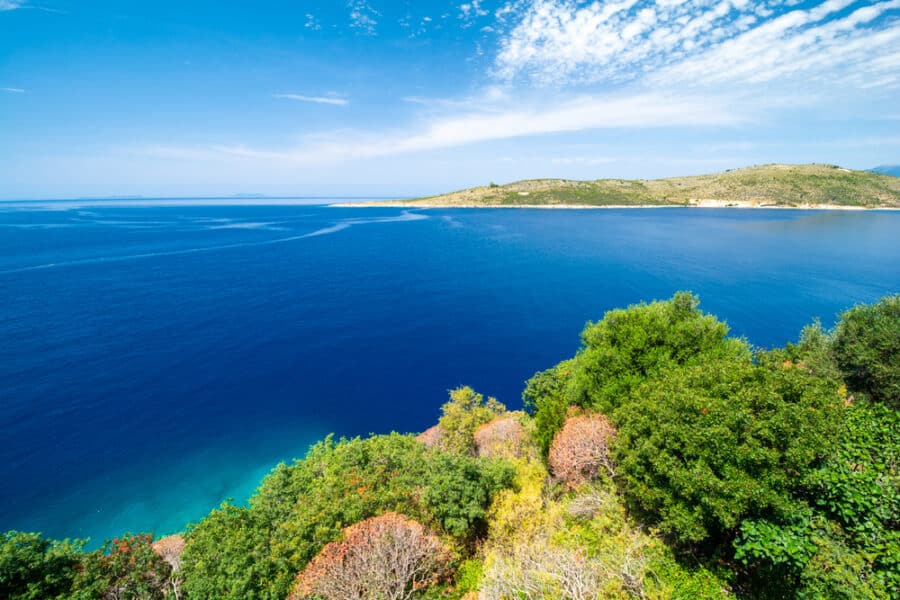 Using the ferry is a super easy and quick option for traveling between Corfu and Albania, particularly to Saranda Port in the south of Albania.
Where Is The Ferry Port In Corfu
The Port of Corfu is located in Corfu Town and is 30 minutes from the Old Town on foot. However, you may also opt to take a taxi or one of the city bus lines that go directly there.
Once at the port, head all the way to the end until you reach passport control, where you can grab some snacks and await your ferry.
Which Ferry Company Should You Choose
There are several ferries every day, with more during the high season. Several ferry companies serve this route, but Finikas Lines and Ionian Seaways are the main two.
The ferry takes 70 minutes, although you can pay more for a speed boat (Flying Dolphin) and arrive in half an hour. You should always check times online before traveling, as these occasionally change.
Where Is The Ferry Port In Saranda
Saranda's ferry port is located on the west side of the city. You will find bars, restaurants, hotels and most of the main attractions in Saranda all within walking distance of the port.
Seasonal Ferry Timetables
Overall, between Corfu and Saranda, ferries run once daily during the low season, between January and April, with one service back between Saranda and Corfu. The first ferry leaves Corfu at 9 am and leaves Saranda at noon.
There are several services per day in both directions during the high season. The first ferry leaves Corfu Port at 8.40 am and the last at 7 pm. The first ferry leaves Saranda Port at 6 am, and the last is at 6.30 pm. However, there are only three ferries in either direction on Mondays, regardless of the month.
Do keep in mind that there is an hour time difference between Greece and Albania – Greece is one hour ahead. It's important to note, as you don't want to miss your ferry!
Can You Take A Car On The Ferry
Yes, cars are allowed on the ferries, but if you are renting a car, you will need to check with the rental agency as not all agencies allow cars to cross borders.
The cost of a car is €42 each way and the price is the same regardless of whether it's high or low season.
Ferry Tickets – Where To Book & What They Cost
During low season an adult ticket from Corfu to Saranda costs approximately €19 each way.
During high season an adult ticket from Corfu to Saranda costs approximately €24 each way.
You can book your ticket online up to 24 hours before departure, or you can head to the port office itself and book your ticket in person.
Taking A Flight From Corfu To Albania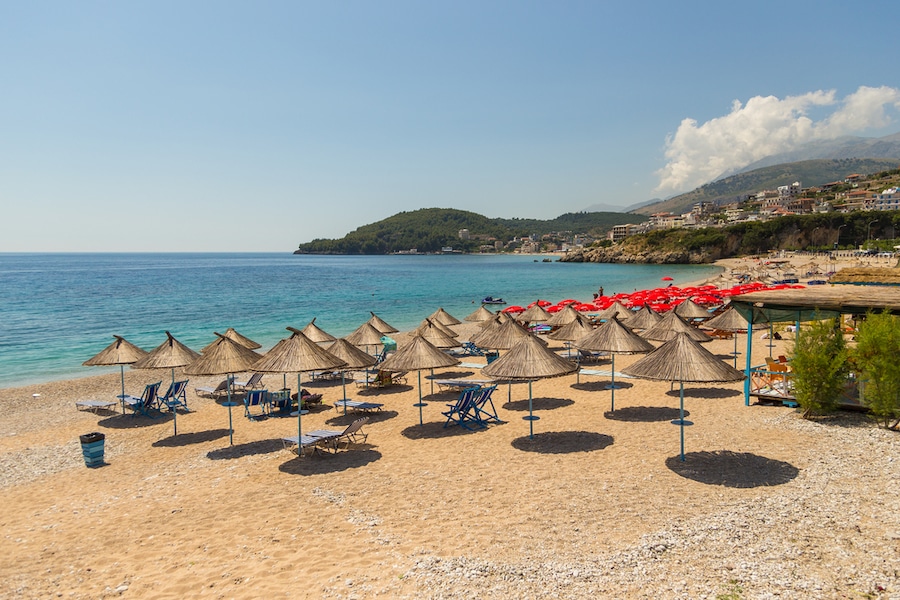 If you don't have sea legs, then you can fly. However, it's essential to recognize that you're going to add a lot of time to your journey as there are no direct flights to Corfu and Albania. That's because the distance is so short.
You can fly from Corfu to Tirana Airport via another airport, usually Rome, which will take between 3-4 hours. Many low-cost airlines serve the two locations, including EasyJet, Wizz Air, Aegean Airlines, and Ryan Air.
Regardless of how you travel, do remember that you're traveling between different countries, and you should have all your paperwork organized before you go.
TRAVELING BETWEEN CORFU AND ALBANIA FAQs
What are the transportation options between Corfu and Albania?
You can travel between Corfu and Albania by ferry. There are ferry services connecting Corfu with ports in Albania, such as Saranda and Vlora.
How long does it take to travel from Corfu to Saranda by ferry?
The ferry journey from Corfu to Saranda usually takes around 30 to 45 minutes, depending on the specific ferry service.
Where do the ferries depart from in Corfu and Albania?
In Corfu, the ferries to Albania usually depart from Corfu Town (also known as Kerkyra). In Albania, the ferries arrive in the ports of Saranda or Vlora.
Do I need a visa to visit Albania from Corfu?
Visa requirements for visiting Albania from Corfu depend on your nationality. Check with the Albanian embassy or consulate for the latest visa information.
Can I take a day trip from Corfu to Albania?
Yes, day trips from Corfu to Albania are possible. You can take a morning ferry to Saranda, explore the town and nearby attractions, and return to Corfu in the evening.
Is it necessary to book ferry tickets in advance?
During the peak tourist season, it's advisable to book ferry tickets in advance to secure your preferred travel dates and avoid any last-minute availability issues.