We may earn commission from affiliate links →
How To Get From Zagreb To Zadar (& Zadar To Zagreb)
Zagreb has come to life over the past five years with its world-famous Advent markets, unique Museums, and incredible coffee culture. Zagreb is Croatia's capital and has become increasingly popular as the entry point into Croatia, with more and more flights landing in this exciting city. Many tourists spend a few days in Zagreb before making their way around Croatia.
If you're headed to the coast from Zagreb, the first major city to hit your radar is Zadar. With Zadar so close to Zagreb, one of the most popular questions we get asked is how to get from Zagreb to Zadar. That is closely followed by how to get from Zagreb to Zadar via Plitvice Lakes National Park.
This is because these are, without a doubt, two of the most popular cities in Croatia. The great news? Traveling from Zagreb to Zadar and Zadar to Zagreb is easy, with many options available.
How exactly do you get from Zagreb to Zadar, and how to get from Zadar to Zagreb? Let's explore.
How To Get From Zadar To Zagreb Map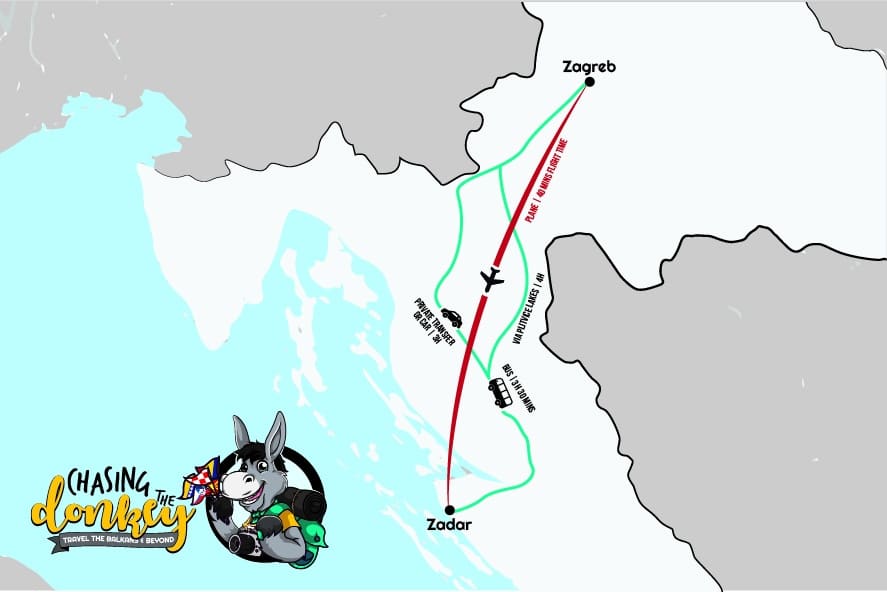 Just reverse the instructions to get from Zadar to Zagreb! We will cover the primary modes of transport from Zagreb to Zadar.
PLAN AHEAD TO GET THE BEST DEALS
How Far Is Zagreb From Zadar?
The distance from Zagreb to Zadar is 285 km and the drive taking the most direct route, along the A1 motorway, will take 3 hours. The route will take you from Croatia's capital through continental Croatia, Lika, to coastal Croatia through the Velebit Mountains.
Many people like to drive from Zadar to Zagreb, taking the old highway and stopping for a visit to Plitvice Lakes National Park, which is right along the route. This makes for super-efficient travel! Of course, you can choose to drive, take the bus, train, or plane, or take a private transfer from Zagreb to Zadar. Let's check each option out, one by one.
Zagreb To Zadar Drive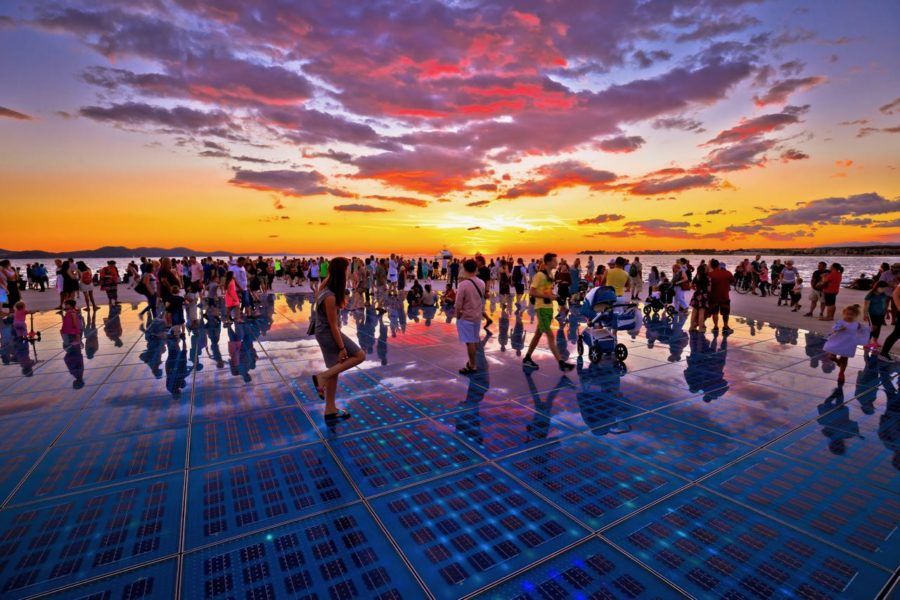 If you want to drive from Zagreb to Zadar or from Zadar to Zagreb and do it as quickly as possible, then the A1 motorway is your best bet. All you need to do is leave Zagreb, enter the A1 highway at Lucko and follow the signs to Zadar. There are tolls on this motorway. A one-way trip will cost you 17 euro.
As an alternative, you can choose to go along the old highway from Zagreb and Zadar. This takes longer as the speed limits are much lower, but it's also a pleasant drive. Plus, you can incorporate some stops along the way, like Karlovac, the watermill village of Rastoke, and Plitvice.
Zagreb to Zadar Car Rental
There are many Zagreb car rental companies, and you will find just as many in Zadar. Almost all of them offer one-way travel options making your trip planning easy and not having to return to your point of hire. In summary, driving from Zadar to Zagreb is very easy; the fastest way is down the motorway (paid route), or you can use the old road, which has no toll and is slower.
Zagreb To Zadar Bus
By far, the cheapest option is to take the Zagreb Zadar bus. Numerous Zadar to Zagreb bus services (40-50) operate both through the day and even through the night. The earliest Zagreb bus departure is at 12:30 am, and we will have you in Zadar at 3:30 am. A direct bus takes 3 hours, depending on traffic.
If you are traveling in the summer, we recommend booking your ticket ahead of time, as this is a very popular and busy route. You can check the timetable and buy tickets for Zagreb Main Bus Station and Zadar Main Bus Station or online.
As far as the buses go, they are comfortable, and some have WiFi onboard, with a bathroom break along the way. Prices vary according to the bus company you use, but they are 14 – 27 euro in general. Getting from Zagreb to Zadar by bus is the cheapest way of traveling between Zadar and Zagreb.
Zagreb To Zadar Transfer

If you want a comfortable, convenient, and hassle-free journey, book a private transfer from Zagreb to Zadar or a Zadar to Zagreb transfer. A private transfer from Zadar to Zagreb will pick you up at your Zadar Hotel (door-to-door service), take care of your luggage, and you'll be whisked off in a new vehicle equipped with free Wifi and bottled water. Along the way, feel free to make a couple of photo stops before your driver drops you off at your Zagreb Hotel. No waiting for buses, other people and you can stop when and where you like.
Many travelers travel from Zagreb to Zadar via Plitvice Lakes National Park. You save a lot of money by incorporating a Plitvice Lakes stop into this transfer. Plitvice is along the "old road" route, and it keeps you from having to backtrack to visit the National Parks once you are in Zadar.
In summary, Zagreb's taxi to Split is the best way to get from Zagreb to Zadar regarding convenience and comfort.
Zagreb to Zadar Train
While catching a train from Zagreb to Zadar is possible, it's not recommended. The trains are in poor condition and take FOREVER! The bus and private transfer are much better options. If you are keen on having a less than pleasant train journey from Zagreb to Zadar by train, you can check out the Croatian Railways website's timetable and ticket prices.
Zagreb To Zadar Flight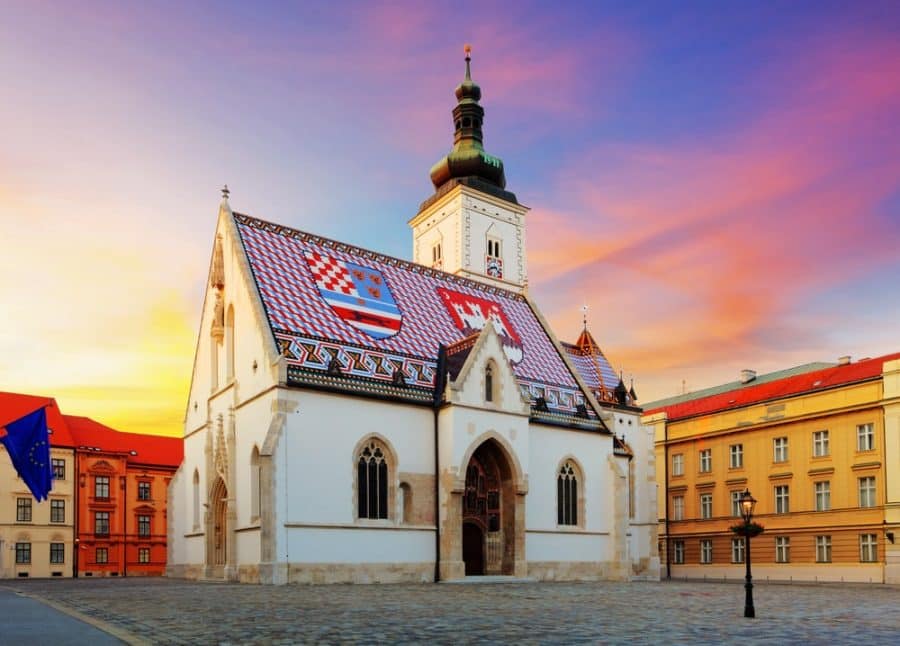 Flights between Zagreb and Zadar or flights from Zadar to Zagreb are your best option if you are short on time and need to get to Zadar or Zagreb quickly. Flights are direct and take around 40 minutes, which is significantly quicker than all the other options! There can be a downside, a poor flight connection. During winter, there is one flight per day; in summer, that increases to 2 flights per day.
Zadar to Zagreb flight is more expensive than the other public transport options. The other factor when determining your costs is that Zagreb Airport is located around 30 mins from Zagreb, while Zadar Airport lies about 20 minutes from the center of Zadar. Lastly, by taking the flight, you miss the opportunity to stop in Plitvice Lakes and Rastoke.
Zagreb To Zadar Via Plitvice Lakes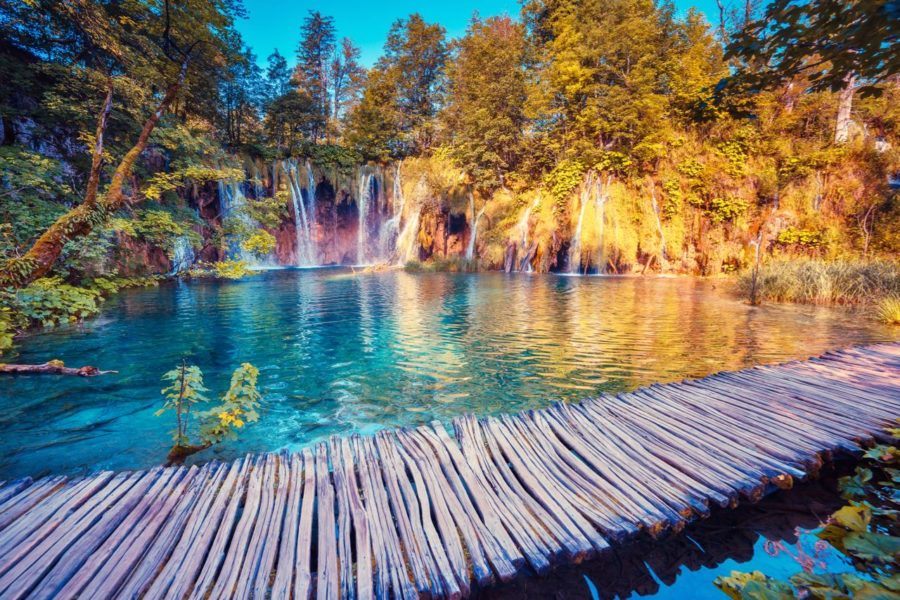 Most travelers are now opting to drive from Zagreb to Zadar and stop at Plitvice Lakes National Park simply because it's both a time and cost-efficient way of visiting Plitvice Lakes and incorporating your transport across the country. It's real bang for your buck! Plitvice Lakes is Croatia's most famous National Park and a must-see site. This UNESCO-listed National Park and its 16 interconnected lakes and falls are impressive. You can also make a short stop at the charming watermill village of Rastoke along the route.
If you need to travel from Zagreb to Zadar via Plitvice Lakes, your best options are:
Zadar to Zagreb via Plitvice transfer – Here, you get a professional driver, a new vehicle, and a safe and comfortable ride with an agreed fixed price.
Taxi from Zadar to Plitvice Lakes and then a cab from Plitvice Lakes to Zagreb – This is an expensive option, and that meter is always running. Many vehicles are old and run down, making the private transfer much better.
Bus from Zagreb to Plitvice and then Bus from Plitvice to Zadar. This is the cheapest but most inconvenient option.
Unfortunately, the only time and cost-effective option for a Zagreb to Zadar via Plitvice Lakes transfer is by using a private transfer service. All other options require public transport. Suppose you want a quote for a Zadar to Zagreb via Plitvice Lakes private transfer; contact Octopus Transfers Croatia.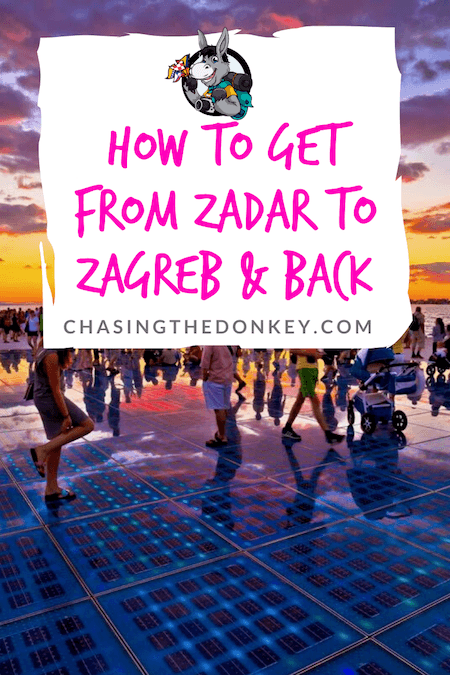 How To Get From Zagreb Airport To Zadar
Zagreb Airport To Zadar Transfer
Without a doubt, the most time-efficient and comfortable way of getting from Zagreb Airport to Zadar is by private transfer. Your driver waits for you in arrivals, collects your bags, and your on your way to your accommodation in Zadar. With a private transfer, the prices are much lower than a taxi and, best of all, fixed and agreed upon when you make the booking online. For a free quote, contact Octopus Transfers.
Zagreb Airport to Zadar Bus
You have regular bus services heading to Zadar from Zagreb's central bus station. There are no direct bus services from Zagreb Airport to Zadar. There is, however, a Zagreb Airport bus that takes you to the Zagreb central bus station, which takes about 20 minutes. This is an excellent option if you are on a budget and have time to spare.
What Sites Are There Between Zagreb And Zadar?
There are several interesting places you can make a stop and visit when traveling from Zagreb to Zadar, especially if you have a bit of time up your sleeve. Here are some ideas:
Share