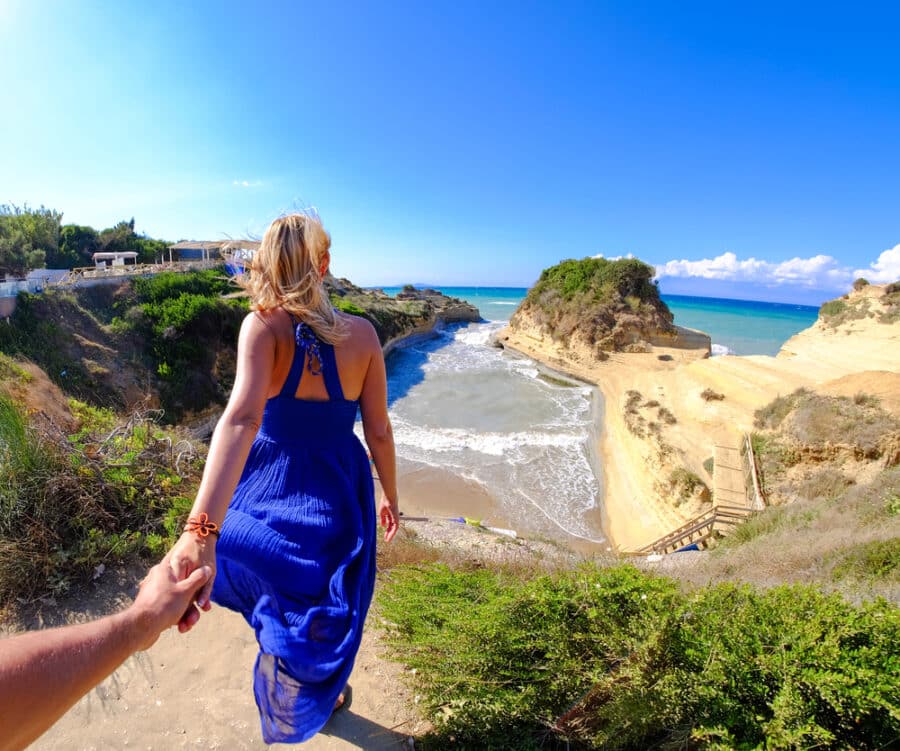 Here are the best honeymoon hotels in Corfu. This is a detailed list of the best luxury places to honeymoon in Corfu for you. These romantic Corfu hotels will not disappoint.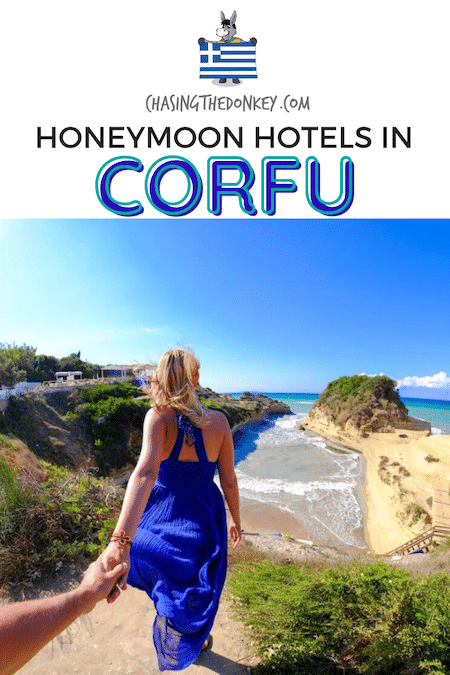 When you plan a trip to Corfu, the first matter that might arise is where on the Ionian island to stay. How can you find the best place to stay in Corfu quickly and easily?
Corfu is a classic green island destination, even in winter! Whether you are visiting to explore its rich history, hike in the hills, or soak up the sun on one of its magnificent beaches, Corfu has a range of resorts and accommodations to suit, making a Corfu honeymoon a top idea.
Before you know it, you'll enjoy the bright sunshine and cultural experiences, eating fabulous Greek food and raising a glass of Ouzo, Metaxa, or kumquat liqueur to celebrate your nuptials.
Atlantica Grand Mediterraneo Resort – Adults Only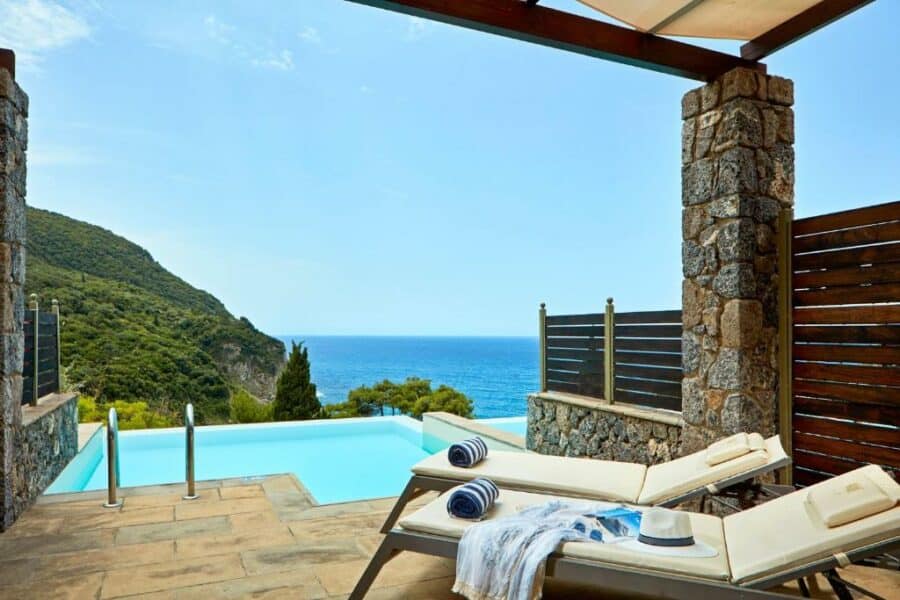 The Atlantica Grand Mediterraneo Resort – Adults Only is located in Komptsion and provides accommodations with a seasonal outdoor pool, free private parking, a fitness center, and a garden. Ermones Beach is less than 1 kilometer away.
The 5-star resort's accommodations have garden views, and visitors can access a balcony (some of which have private pools) and a sauna. The hotel provides airport shuttles, a shared lounge, free WiFi, and a 24-hour front desk. Buffet, continental, or Full English/Irish options are available daily for breakfast. A restaurant on-site serves Greek, Italian, and Mediterranean food. You can also ask for vegetarian, dairy-free, and gluten-free options.
.
Domes Miramare, a Luxury Collection Resort, Corfu – Adults Only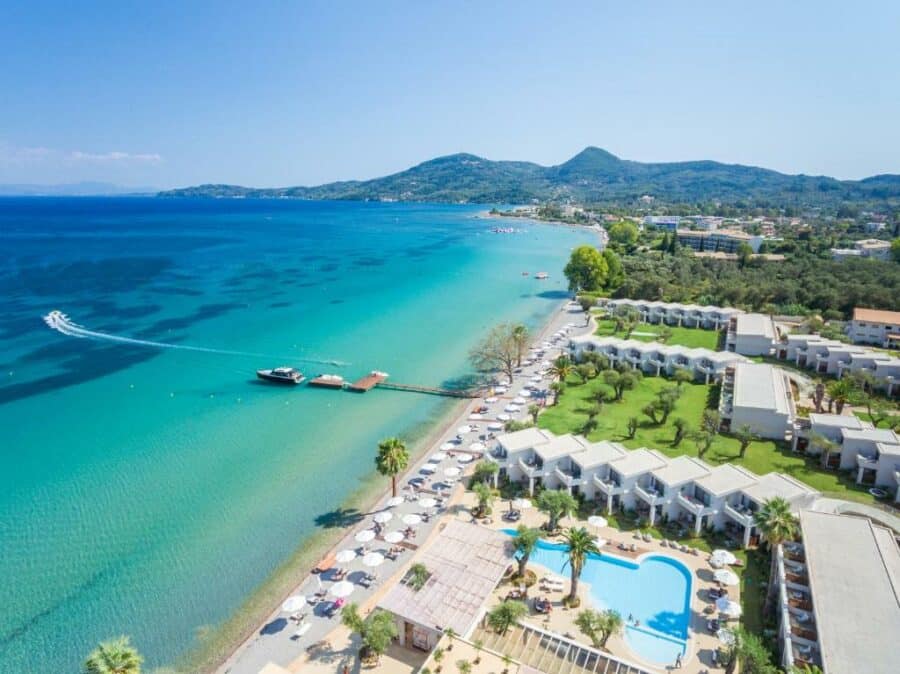 Domes Miramare, a Luxury Collection Resort, Corfu – Adults Only, is located in Moraitika, 1.5 kilometers from Agios Ioannis Peristeron Beach. It offers accommodations with a restaurant, an outdoor swimming pool, and a fitness center. A bar, a common area, and a garden are just a few of the amenities.
Apart from the regular rooms, guests can also choose luxury villas at the resort. This option includes VIP services such as your personal villa manager, concierge service, a private VIP beach area, and access to the hotel gym. Drinks and snacks are also included in this package. The resort offers boat excursions, where guests can go on a boat adventure to Corfu's Old Town, a nearby hidden green cove, or well-known historic places.
.
TRAVEL COMPANIES WE USE AND TRUST
Grecotel Corfu Imperial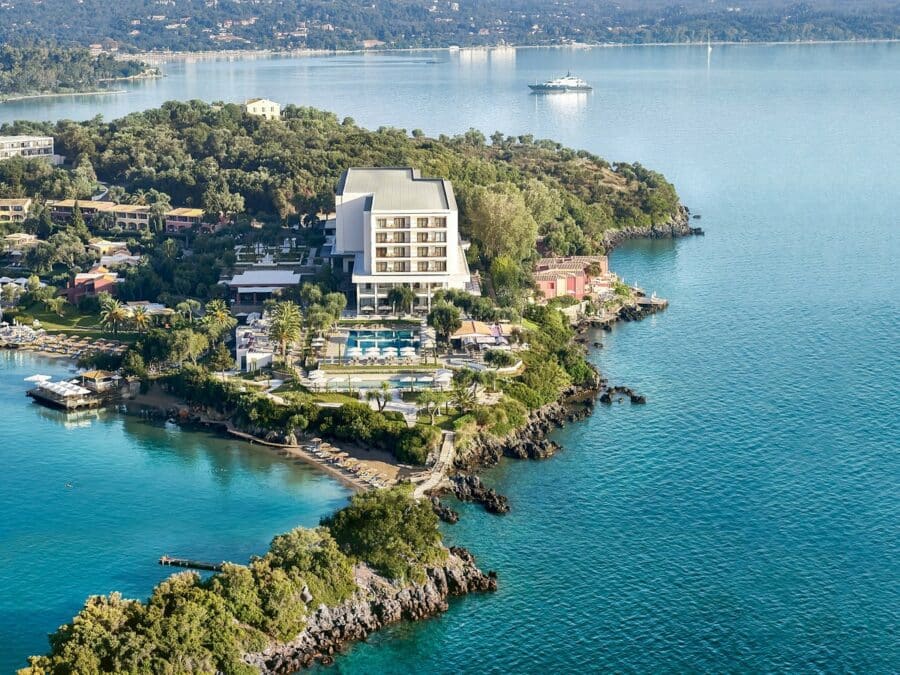 Visitors to Kommeno Bay should consider staying at the Grecotel Corfu Imperial, which offers a luxurious location and various valuable services to make their stay more enjoyable. For your convenience, Grecotel Corfu Imperial offers boutiques, room service, and concierge services. The hotel also has complimentary breakfast and swimming pools.
There is free parking close to Grecotel Corfu Imperial Hotel for those arriving by car. If you're searching for a Mediterranean restaurant, consider dining at Apovrado, Restaurant Panorama, or Taverna Greco. They are all conveniently close to Grecotel Corfu Imperial.
.
Kontokali Bay Resort and Spa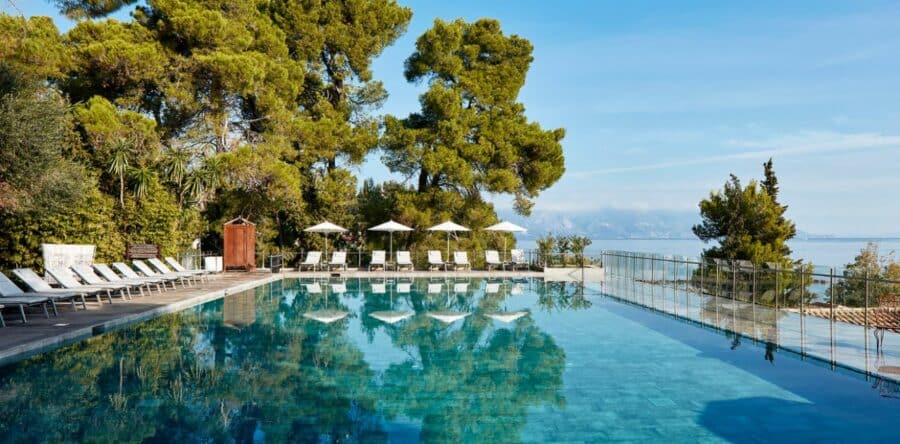 Kontokali Bay Resort & Spa is a luxury hotel in Corfu tucked away on the beach amid beautiful trees and gardens. The hotel was created to provide seamless integration with the surrounding environment by making it simple to move indoors to the outdoors and creating recreation and wellness areas that are ideal for relaxing. Guests can choose between standard hotel rooms or bungalows, with spectacular views of the beach and the sea.
Since its doors opened in 1971, Kontokali Bay Resort & Spa has strengthened its dedication to sustainability, authenticity, and honest hospitality.
.
Ikos Dassia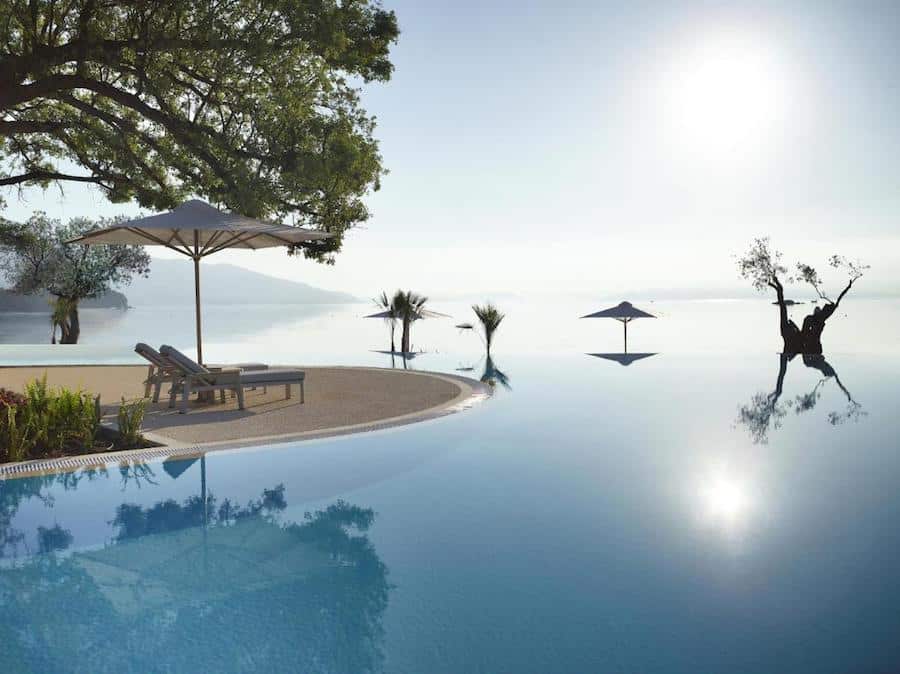 Ikos Dassia is a brand-new five-star resort with a large sandy beach constructed in a lavish, modern Mediterranean design. It is situated on the oceanfront at Dassia Beach on Corfu Island. Ikos Dassia follows the prestigious "Infinite Lifestyle" concept, which sets the greatest standards for quality, hospitality, entertainment, architecture, and fashion.
The resort offers 411 generously sized rooms and suites, two main structures with bedrooms and the resort's main amenities, as well as unique bungalow-style rooms, eight restaurants, ten bars, two wellness centers, indoor and outdoor pools, and an open-air theater. Some other exciting amenities are a wide variety of sports and watersports facilities, fitness centers, mini clubs, and children's amenities.
.
La Grotta Verde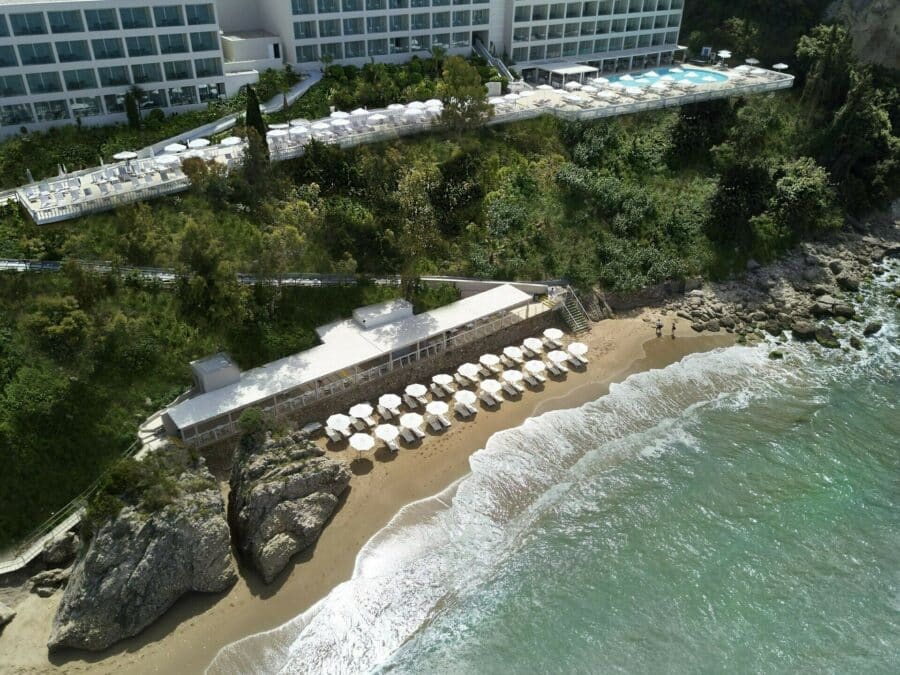 La Grotta Verde is located just outside the village of Agios Gordios, which is considered one of the prettiest locations in Corfu. You will be greeted by unique accommodation, rooms with excellent services and facilities, and a private furnished balcony overlooking the Ionian Sea.
The beach is right in front of the hotel, but there are also two outdoor pools and one indoor pool with fresh water. The hotel has four restaurants so every guest can find a meal to their taste. If you want to stay active during your vacation, you can try your skills at something new or engage in your classic and favorite choices. Choose between daily yoga, aerobic, fitness & Pilates courses. Snorkeling adventures await you at the hotel's diving center if you want something more unique.
.
MarBella Nido Suite Hotel & Villas- Adults Only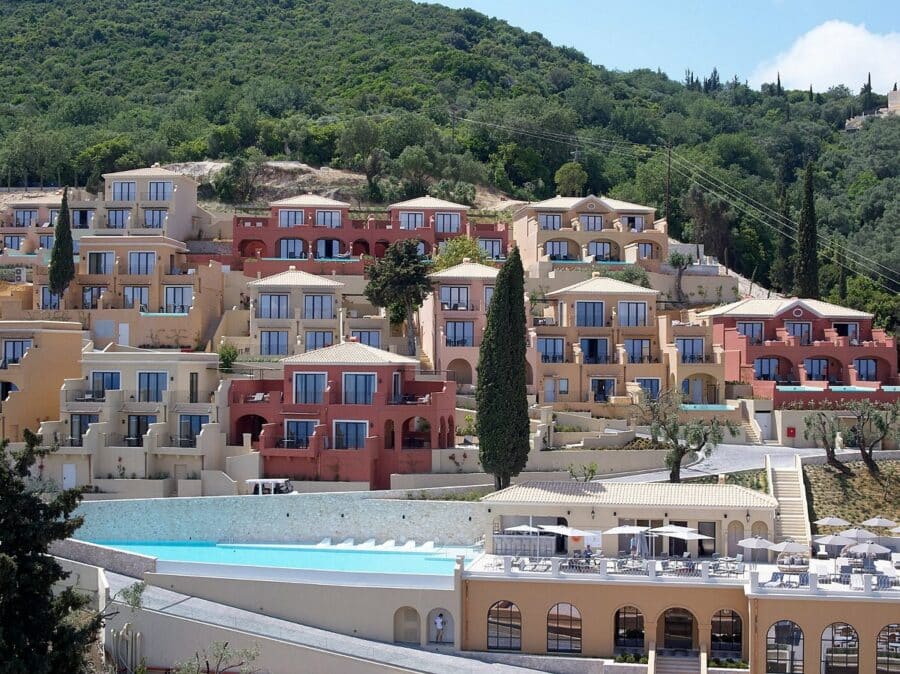 The MarBella Nido Suite Hotel & Villas-Adults Only in Agios Ioannis Peristeron, Corfu, is a member of the Small Luxury Hotels of the World. It offers a wellness center, an arranged beach area, and an outdoor pool with a sea-view terrace. The restaurant, which is tastefully decorated, is open to visitors and has a bar inside. At the MarBella Nido Suite Hotel & Villas-Adults Only, the suites and villas include exquisite interior design, floor-to-ceiling windows, parquet flooring, and luxury furnishings.
MarBella Nido Suite Hotel & Villas is 16 kilometers away from Corfu Town. The apartments feature views of the Ionian Sea, and some have private pools or whirlpools. The facility has a front desk open the whole day.
.
Philoxenia Hotel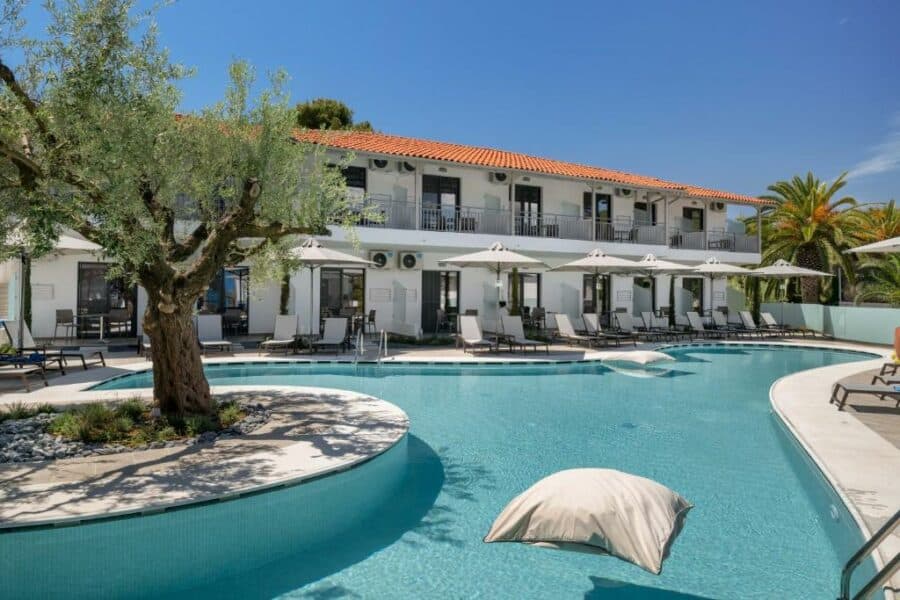 Philoxenia Hotel is located in the pine forest, just 300 meters from Psakoudia's sandy beach in Chalkidiki. It offers bright and airy accommodations. The hotel Philoxenia's spacious, elegantly furnished air-conditioned rooms feature light wood furnishings.
The hotel is 25 miles away from the famous Petralona Cave. Their balconies or patios have a pool, forest, and garden views. There is a pool and free WiFi available by the pool. Take a coffee, beverage, or light meal from the poolside snack bar, and enjoy the lovely gardens around the pool. Additionally, there is a Mediterranean restaurant where local ingredients are used and a deluxe breakfast buffet.
.
Rodostamo Hotel & Spa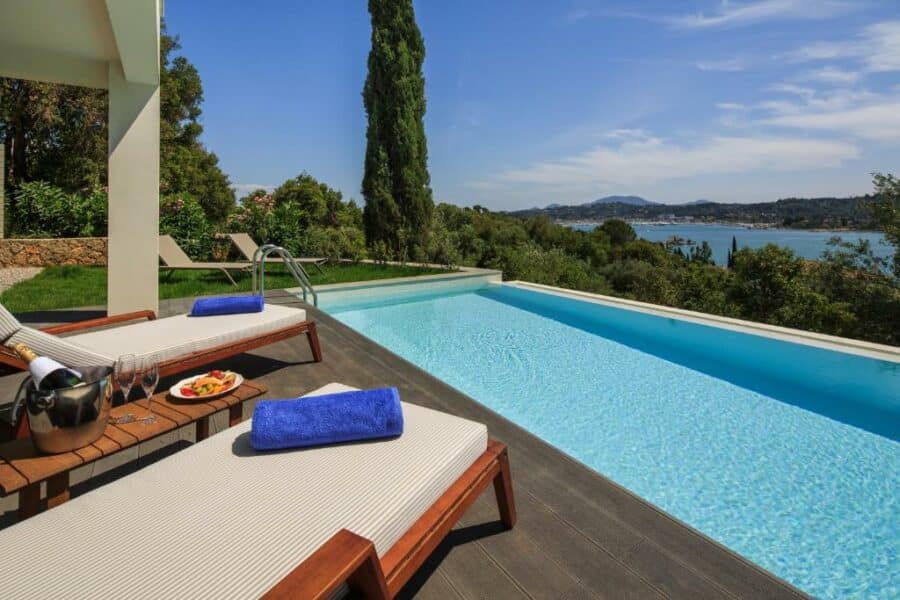 Two of the island's most well-known and sophisticated tourist destinations, Gouvia and Dassia, are within a two-kilometer radius, and Ipsos and Barbati are a little beyond. In the eastern part of the island, in the Kommeno district, the Rodostamo Hotel spreads over 33 acres. Its location, which looks out over the cosmopolitan harbor of Gouvia and the lovely bay of Kommeno, is ideal for people wishing for peace and quiet away from the city lights (though yet very close to them).
This five-star hotel has undergone a comprehensive renovation and tries to provide its customers with high-quality services and relaxing moments. This hotel offers luxurious accommodations in various rooms, suites, bungalows, and villas, all with clean, minimalistic lines and contemporary details. Most bungalows have an outdoor Jacuzzi, while all villas have heated private pools with sun decks and loungers.
.
San Antonio Corfu Resort – Adults Only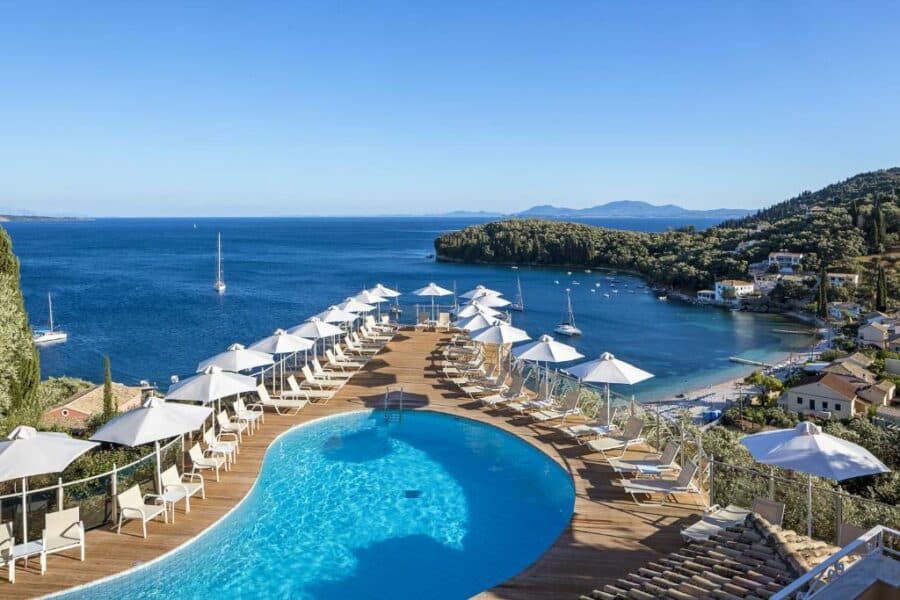 San Antonio Corfu Resort – Adults only is set on a hillside between olive gardens just 20 meters from Kalami Beach. It offers rooms and suites with views of the Ionian Sea and has two pools. One of the most beautiful swimming pools on the island is located right amid the resort, hanging over the magnificent bay. Using fresh, regional foods, the breakfast buffet is available to guests to start their day. WiFi is available anywhere for free.
The busy small town of Kassiopi, a dynamic, multicultural destination for dining, shopping, and lively nightlife for all ages, is only a short ride away from the resort. You can engage in a variety of water sports and activities there. On your demand, the hotel can arrange for scuba diving, horseback riding, daily trips to nearby tourist destinations, and boat excursions to the beaches. Additionally, they can taste delicious meals at the restaurant or sip cocktails at the pool bar or the beach bar.
.
Batelo Hotel – Adults Only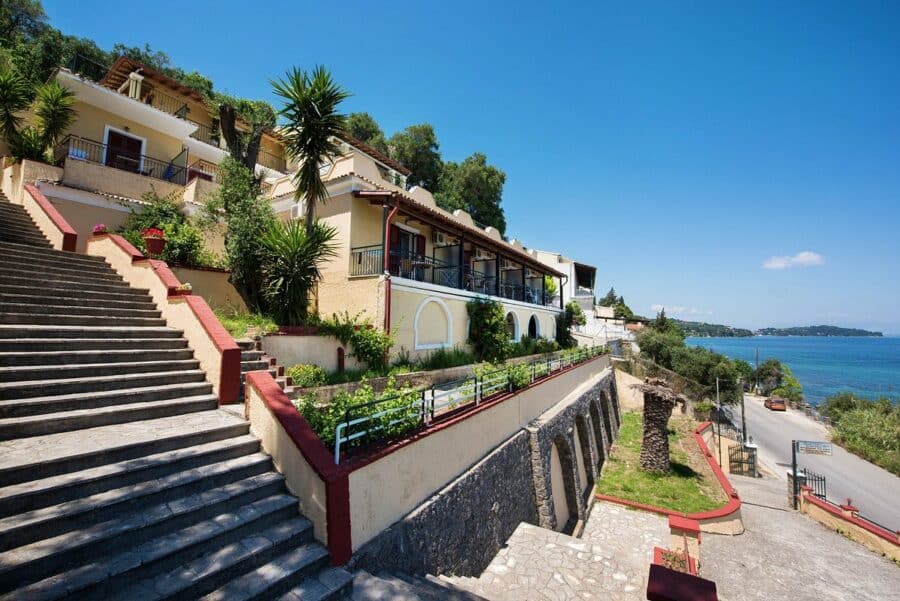 Each room in the hotel is brightly designed, creating a joyful atmosphere where visitors can relax and have one-of-a-kind experiences while viewing the sunset and waves. The Batelo Hotel Adults Only offers air-conditioned rooms with a balcony or terrace overlooking the Ionian Sea and is located just 10 meters from the water.
Its location makes it perfect for exploring the area because the distance to the village center is only 800 meters. The hotel is also within 20 minute's walk from Achillion Palace. The staff may organize a car rental to visit the beautiful Corfu Town, which is 10 kilometers away. You can also take a bus to Corfu Town since the bus stop is in front of the hotel.
.
Why It Is A Good Idea To Book A Corfu Honeymoon

Romantic, breathtaking, home to unique traditions, alluring landscapes, pristine beaches, romantic whitewashed villages, delicious food and wines, dreamy hotels, and romantic Corfu resorts for couples. Corfu offers all the elements you've always dreamed of when thinking about the perfect honeymoon.
A honeymoon is one of the most important trips in your life; it marks the beginning of a new life and is a fantastic way to celebrate love and commitment. What better idea than making it memorable by choosing one of the most romantic scenarios you can find in Europe… and in the world!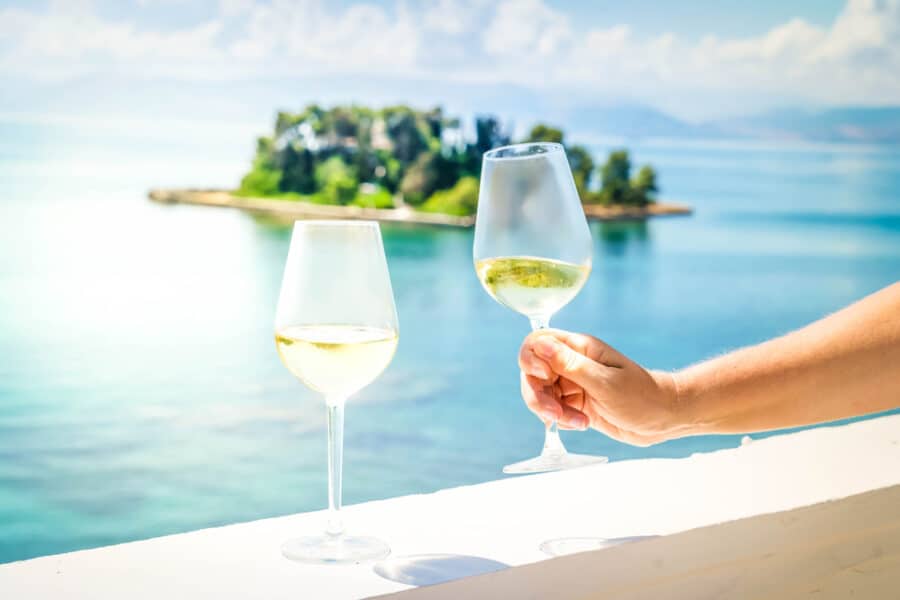 Choosing one, or even a few islands, to start this new phase of your life always sounds like the perfect idea… Do you know why? Because it is indeed an excellent idea!
Dozens of whitewashed islands scattered around the striking deep blues of the Aegean offer endless possibilities for an unforgettable honeymoon in the magnificent Mediterranean.
HONEYMOON IN GREECE
We have written several other guides to honeymoon in Greece, so why not bookmark these also:
Maybe you are thinking of a honeymoon in Turkey? Then these will also be for you:
HONEYMOON IN CORFU TIPS
Coming soon is our Corfu for couples guide, until then maybe you want to know…
When is the best time to visit Corfu: The best time to honeymoon on any Greek island is during summer when it is super sunny, and everything is open, and the ferries are running full schedules. That said, if you want to save a little money and enjoy slightly lower temperatures, consider the shoulder seasons of May and September.
How to get around in Corfu: We recommend renting a car. There is so much to see on Corfu island, which will give you more freedom. Do not worry; the roads in Corfu are in suitable condition for foreigners to drive on.
How to get from Athens to Corfu: The fastest way to get you and your partner to Corfu from Athens is to fly from Athens to Corfu (Ioannis Kapodistrias Airport – CFU).
What to do in Corfu: Oh, so many things to do; we have a complete guide for you here.
Best beaches in Corfu: Some of the best beaches on the west coast of Corfu are Paleokastritsa Beach, Issos Beach, and Agios Georgios Pagon. In the north, they are Sidari and Kalami Beach. The east coast of Corfu can boast of Ipsos Beach and Barbati Beaches. If you head south, then look at Agios Gordios Beach and Dassia Beach.
Chasing the Donkey - Balkan travel blog includes affiliate links. If you decide to make a purchase through these links, we receive a commission without any additional cost to you. We appreciate your support helping to keep this site free. Find our disclaimer & privacy policy here.