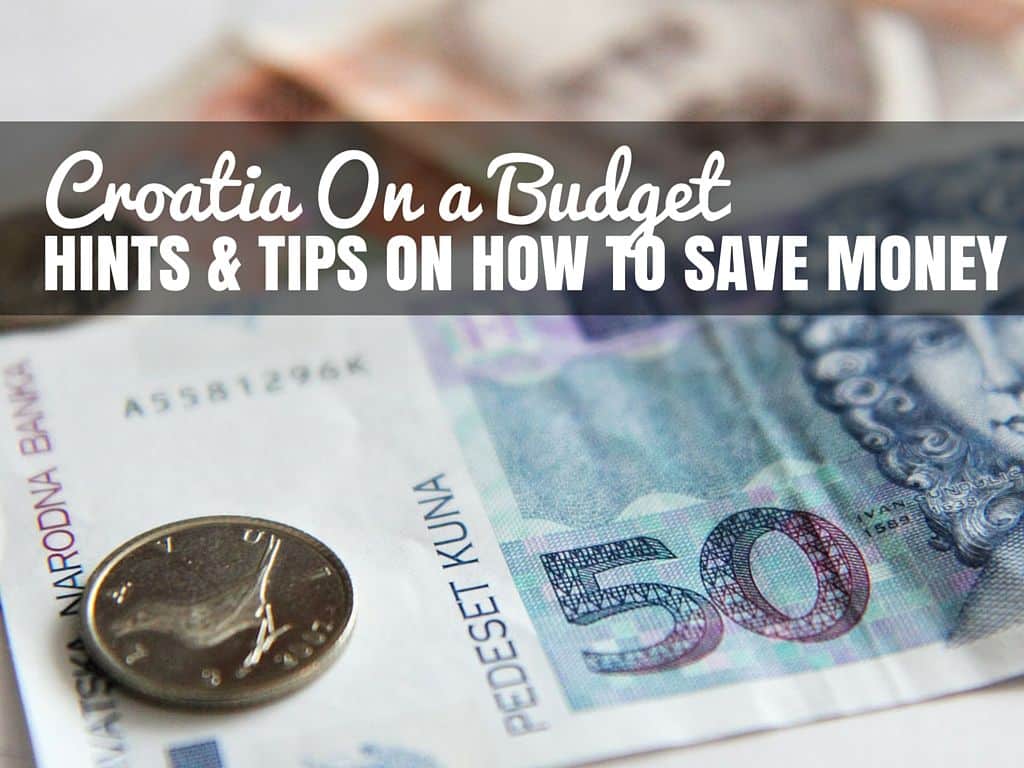 How to Travel Croatia on a Budget. Tips, Ideas & How to Save Money While Here
Croatia is often referred as a dream come true holiday destination, because of our fantastic weather, the amazing people, breathtaking nature and prices which are known to be some of the best in Europe.
With budget flights to Croatia from all over Europe on the increase, Croatia is a great destination for budget travelers. Here are a few tips on how best to travel Croatia on a budget.
We hope these tips will be handy if you are planning the trip to our Croatian treasure!
Croatia on a Budget Tip #1 –

Transport
You need to get from point A to point B – so how do you do that traveling Croatia on a budget? The cheapest way is by bus.
Buses in Croatia
There are numerous bus lines which connect thousands of Croatian destinations, as well as destinations throughout the rest of Europe. The buses in Croatia are modern, with most having free wi-fi services and electric plug-ins so you can stay connected while on the road. Gone are the days of trying to cram as many passengers onto the bus as possible. Buses are now being built to maximize passenger comfort and provide a better experience. These days buses have headrests, more space between seats (hooray for me, I can actually fit), more room for your personal travel bag, are air-conditioning (an absolute necessity), and have toilets. Most of the drivers speak English, which can be very handy.  You can even save 5% just by buying your tickets online!
The best parts for me is that taking the bus gives you an opportunity to relax and soak in all the beauty Croatia has to offer and its the best option for budget travel in Croatia.
Of course, buses are not for everyone. Car rental can be inexpensive if you book early, and take a small vehicle – just be sure to make sure there is room for your bags. Those small cars have small trunks!

Another way to save money is a private transfer – if you are in a group a private transfer can work out the same or cheaper than you all hauling ass on a hot smelly bus.

Croatia on a Budget Tip #2 –

Accommodation
Naturally, if you are planning a trip to this country, you are going to need a place where to crash after a long day of tours and wandering. We were always hotel travelers and found them the best place to stay, but, now that we travel so often more and more we find local apartments or places on Airbnb.
Croatia doesn't have a ton of international hotel chains, but the ones we do have charge accordingly. If you are traveling Croatia on a budget you should look for deals via specialized booking sites early and look for sales.
There are some basic tips you should consider if you want to book a nice hotel on the cheap:
Always search and book hotels using incognito mode in your browser – this way you will escape from the traps of dynamic pricing.

Remember, that the majority of hotels offer early booking discounts, so it is crucial to start looking for a hotel room as soon as you decide to travel. Also, this discount works on bookings made up until the end of March, though you will also find last minute sales all year round.
Don't be afraid to book your room directly with the hotel via their website or phone and ask for all inclusive options.
Book accommodation out of the main city. Look for places in the backstreets or the next suburb away.
Camp. Ditch the comforts of a swanky hotel and get out camp and get back to nature.
Stay at hostels. Though not for everyone these offer an excellent way to meet people and travel cheaply.
Croatia on a Budget Tip #3 – 

Go In the Off Season
If you want to visit Croatia on a budget, you should really take a better look at the calendar and plan your trip accordingly. 
When it comes to tourism in this country, it has a very seasonal demand. The peak season runs from July until August and at this time of the year, prices are at their highest levels – in most cases so high that even as locals we stay home and don't travel. No matter where you are staying or where are you going in those months it hurts the wallet.
Instead, if you want to travel Croatia on a budget, go in Spring and Autumn, and you will save money instantly. Moreover, April and May and are relatively warm and the lack of tourists means you can see Croatia just like a local. September is still swimming season, so you can laze by the beach as you save your pennies.
Croatia on a Budget Tip #4 – Choose Your Location Wisely
As we all know, Dubrovnik is probably the most famous town in this country, so naturally, there are always tons of tourists and sky-high prices. While in smaller cities you can enjoy the same beauty, yet spend less.
To save money in Croatia, stay away from the Old Town in Dubrovnik, and instead, look to the broader Dubrovnik Riviera or Konavle Region. Instead of staying at Split, look for a stay in Trogir or Omiś. Or even skip those two major players and instead stay in Zadar – from there you can get to Split in a few hours on the bus and be close for day trips to many national parks including Plitvice Lakes. Just use Google Maps to look for the smaller towns surround the big cities you've got on your wishlist to save.
Croatia on a Budget Tip #4 – 

Food 
Everybody needs to eat, and this can be one of the biggest expenses when traveling. Of course, we alway recommend you eat traditional Croatian restaurants – but to save money you need to eat where locals eat and not at places that are always full of tourists. 
Many restaurants offer what is known as marenda (or you may see it as gablec) which is just traditional Croatian meals prepared at a fixed price. These are created to make a person full for a day – and bonus is they always taste yummy!!
Also, consider making your own food. You will always find local markets in each town, all packed with fresh vegetables and fruits, and if you have a hotel with a fridge or if you choose to rent an apartment you'll even have a kitchen where you can cook. You can indeed save a ton of cash by cooking some of your meals – we have some great Croatian recipes you can try here. 
Your money will go a long way at the supermarkets if you also consider eating breakfast at your hotel (or making it yourself) and then take picnic lunches with you while out and about – be sure to splurge on dinner, you can't miss trying all that tasty Croatian cuisine. 
Bonus Tips
Be sure not to scrimp on travel insurance it's the one thing that you simply must arrange before you come here as Croatia's hospital system isn't cheap (or effective). Also, the guys at Just a Pack have some more great budget travel tips for Croatia that should check out before you come.
Plus, if you wanna travel across Europe on a budget you can find more tips here.
Travelling Croatia on a budget can be done; you just have to plan ahead. What other budget travel tips do you have?