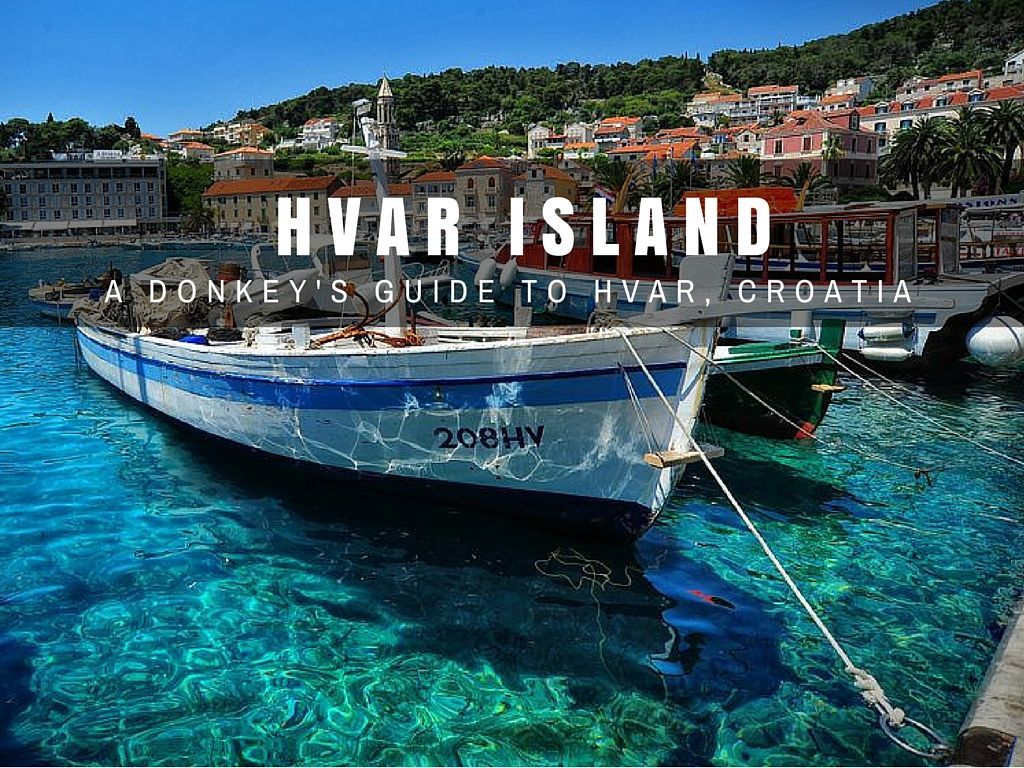 Hvar Island Travel Blog: Things to do in Hvar Croatia
A bright spot on the Mediterranean, Hvar Island offers a luxurious island lifestyle that most people dream about. Hvar Island's history has been dated back to around 6000 BC. Throughout the centuries, Hvar Island has become a favorite and treasured vacation spot. Hvar's long history has developed into a both posh holiday destination mixed with a relaxed Mediterranean lifestyle, topped with a rich cultural and historical heritage. Oh, and let's not forget it's popularity with nature lovers.
Hvar Island is known for its excellent climate; it boasts about being illuminated in over 2,800 hours of sunshine each year. With warm summers and mild winters, rich culture, beautiful views overlooking the Adriatic Sea, it's no wonder that Hvar Island attracts so many holidaymakers. Before heading to Hvar for the vacation of a lifetime, be sure to pick up the essential items for travel to ensure you have the most comfortable holiday.

Things to do in Hvar
After all the talk about Hvar Island, now let us show you what you can see and do on Hvar Island. Hvar is known for four main towns;
Hvar Town
Stari Grad
Vrboska
Jelsa
Franciscan Monastery & Museum
The Franciscan Monastery & Museum in Hvar Croatia is home to beautiful artwork and historical, detailed architecture that rivals any other artwork on Hvar Island. Built in the 16th century by a family of stonemasons, the Franciscan Monastery overlooks a gorgeous shady cove and a 300-year-old cypress tree in the garden – marvel at its unusual shape.
In the museum, you will find, historic coins, charts, and documents. The two most famous pieces in the museum are an edition of Ptolemy's Atlas printed in 1524, and The Last Supper painted by Matteo Ingoli. Our Lady of Charity, the attached church, have more works of art including three polyptychs from 1583 done by Francesco da Santacroce.
We always says people must see this, even if you have just one day to spend on Hvar – don't skip it! you have just one day to spend on Hvar – don't skip it!
Fortica
If you look up the hill from Hvar town, you will see a fort perched up on the hill. That fort is Hvar's Fortica. It was built at the beginning of the 16th century while under Venetian rule and then again in  1557. You can get to Fortica by walking through the park northwest of St. Stephen's Square. Once you climb to the top of the walls, you will be able to see panoramic views of the city of Hvar and the surrounding Pakleni Islands.  These days the fort holds a collection of amphora and other exhibits from antiquity and the Middle Ages. Don't forget to take you camera and get a killer photo.
Local tip. Enjoy a cup of coffee or a cold drink at the café at the very top and absorb the view, the price is worth it.
St. Stephen's Square and Cathedral
In the center of town, you will find St. Stephen's Square overlooked by St. Stephen's Cathedral. The square is surrounded by winding stone streets and was created by reclaiming an inlet that was part of the Bay. It is 4500 square meters and is where the town comes alive. It dates back to the 13th century. The city center started developing in the north before it spread to the south. You can find parts of the square in the North dating back to the 15th century. The stunning cathedral was built during the 16th and 17th centuries after the previous cathedral was destroyed, by the Turks. From the nave, you can see parts of the first cathedral.
Take a Wine Tour of Hvar Island
Either on your own or with a tour group, a tour of Hvar's best wineries should be on the top of any wine aficionado's things to do list! Hvar is known for the famous Plavac Mali grape variety – a red related to Zinfandel. Where should you go? We suggest:
Renaissance Theatre
Theatre was a major part of the renaissance – they were popping up all over Europe during this period. One of Hvar's greatest theaters is the Renaissance Theatre, built in 1612 which still stands today. Some say that this Theatre was the first theater in Europe to open to the upper and lower classes. While performances stopped being staged there in 2008 and most of the theater is under renovation, you can still visit the theater. Inside you will find frescos and baroque loggias, remnants of the period when the arts flourished.
Secret Hvar
Hvar Island is filled with beautiful attractions, some of which are off the beaten path. These attractions are not found in the city, but off the main roads and buried deep within Hvar's culture. If you are interested in seeing the attractions and locations forgotten by time, try taking this route of Secret things to do in Hvar suggested by Paul, a local. 
Explore Šćedro Island
Šćedro sits along the southern part of Hvar Island – a smaller island that is a protected nature park. Spend the day here dipping your toes in the waters of the many coves of Šćedro. Although you won't find Šćedro teaming with people, you won't be the only one – during the day many boats take anchorage here to exploit its beautiful bays. Explore further a foot, up, up, up the hill. There you will discover the abandoned stone village of Nastane. During the summer season, boat tours take daily trips to Šćedro.
Hvar Lavender Festival
The Island of Hvar has an excellent natural gift, Lavender. The Lavender Festival brings many to Hvar Island each June. Lavender is the symbol of Hvar, and as such, the island has a great vibe during the lavender season. Along with presentations on lavender distillation, the usual handmade souvenirs to take home to stuff in your smalls draws, you can also try dishes made with lavender in the little village of Velo Grablje during the festival.
Scout For the Oldest Olive Tree on the Island
Placed under heritage protection in 1964,
the oldest olive tree on Hvar
is almost unknown outside the eastern village of Zastrazisce which it neighbors. Experts have put it at 2500 years old which – if true – would make it one of the ten oldest olive trees in the world. See if you can find it. Here is a clue.
Carpe Diem Hvar –  Full Moon Party
Depending on your age, you will want to head towards, or very far away from the Carpe Diem Full Moon Parties. Located at Stipanska, you will need to take a short boat ride to get to the beach party. If you're up for it, you can party all night long under the moonlight with the world's best DJ's.
Local tip: Just remember the water taxis stop running at 2.30am so if you are at the Carp Diem Beach Club past 2.30am – make your own boat transport arrangments.
Dormouse Festival
Eight or so years ago a local association from the village of Dol decided that they would create a festival to celebrate the unique culture and traditions of their village. It was named the Puhijada. One of the elements of this festival celebrates their love of the Dormouse or Puh as we call them in Croatian. The people of Dol have maintained the tradition of hunting and eating dormice, which they have been doing since ancient times. The Puhijada culminates with a with a mega dormouse BBQ and lots of Croatian wine. This is my kind of festival. The Puhijada is on in early August of each year.
Moor at Palmižana Marina
Are you exploring Hvar while sailing Croatia? Then, we suggest mooring at Palmižana Marina on the island of Saint Klement – not just because Hvar Town's Harbor has a measly 15 spaces, but because there are several remarkable beaches you can enjoy – on this small group of Croatian Islands, known as the Pakleni Islands. With four restaurants, a cocktail bar, and an art gallery all within a few min walk from ACI marina you'll see why we recommend it. Try Palmizana or those on Marinkovac.
Grapčeva Caves
A rarely mentioned attraction in Hvar is the Grapčeva Caves, which date back to the Neolithic period. Tours go just several times a week, so book in early to secure your spot.
Get Active
Adventure enthusiasts will love Hvar. You have a wide variety of choices; our top three suggestions are: 
Cycling. Besides the pristine pebbly beaches, quaint towns and gorgeous vistas, Hvar provides a broad range of spectacular terrain for those on bicycles. Read a guide to self-guided cycling on Hvar.
Kayaking. One option is to take a sea kayak tour from Hvar Town to the Pakleni Islands.
Scuba diving. With countless hidden coves and crystal clear waters, Hvar Island is a scuba divers' paradise.
Spend Easter on Hvar Island
Each Easter, Hvar Island holds a Passion procession through seven churches. This tradition began over 50 years ago – the songs sung are considered to be the oldest Passion songs in Europe. This is on my 'must-do-in-2016-list'.  I follow it on the TV and social media each year; it's a beautiful display. Easter is a key religious period for Catholics (roughly 90% of Croatians), and the procession on Hvar was added to the UNESCO Intangible Heritage list.
Here is an excellent guide to the six simultaneous processions in Jelsa, Pitve, Vrisnik, Svirce, Vrbanj and Vrboska – detailing the 22-kilometre walk that begins at 10 pm on Thursday preceding Good Friday.
Day Trips from Hvar
Hvar is glamorous and culturally diverse, but we all like to explore while on holiday in Croatia – right? So here are just a few ideas of day trips you can take from Hvar.
Pakleni islands. The Pakleni archipelago is just a quick boat ride from the town of Hvar. You can get there on a day tour or by water taxi
Hvar to Dubrovnik. Boat trips leave daily to the Pearl of the Adriatic or you can get a private boat transfer.
Zlatni Rat Beach. Day trips to Bol to see the famous Zlatni Rat leave daily
Small-group traditional squid-fishing. A family-friendly style trip that the whole family can enjoy.
Are you an adventurous foodie? Then a Blue Cave and Gastronomy Tour is something that must be added to your itinerary. This is THE foodie lovers tour for anyone keen to also explore.

Water activities. When you're on an island like Hvar, you have to take part in some of the water activities. The swimming is great, but a half day small-group sea kayak adventures will allow you to take in the sun, take in the beauty of the Adriatic Sea's pleasant blue waters. The route is often shadowed by the tall pine trees, giving a balance of sun and shade. Then, maneuver through the narrow straits and along islands where you can enjoy your lunch on one of the small hidden pebble beaches. While you're there, have fun swimming and snorkeling.
Finally, we always recommend getting to know how the locals live and the history of the area. You can achieve this by joining this fun, yet informational walking tour of Hvar. Wander Historic stone streets with your small group (up to 6 people, to keep it personal) and your guide to discover an abandoned village, while still taking part in the local culinary culture of the Dalmatian coast that has survived the country's many different internal and external influences.
Make Sandcastles at Grebisce Beach
Hvar's best sandy beach for families is Grebisce which is located on the north side of the Jelsa harbor – it's nothing flash, but the kids who want to make sandcastles will love it. Just remember to pack the baby powder for when you're ready to head home.
Map of Things to do in Hvar Croatia
Hvar Beaches
Dubovica Beach
Dubovica is one of the most famous beaches on Hvar Island. It lies on the south side, right before you enter Stari Grad. One of the main focal points along the beach are the beautiful, old stone buildings. The crystal clear water of Dubovica Beach and mild climate of Hvar Island attracts many visitors year round. Along the pebble beach, you will find a restaurant filled with delicious food. Getting to the shore requires a small hike, but once you are there, you will love every second of it.
Lucisca Beach
On the south side of the island, you will find Lucisca Beach. It is located near Hvar Town, and the trip there will provide excellent views. Lucisca Beach is a peaceful beach that many love to go swimming at during the summer. Parking can be hard at the beach, so most visitors arrive by boat. While there, enjoy a relaxing day laying out on the beach or going for a swim, or be adventurous and go for a hike or explore the beach's many caves.
Saint Nedilja Beach
This rocky coastline on the southern Hvar shore has cliffs that rise out of the Adriatic like nothing else. From here, you can also reach the is Šćedro Island.
Jerolim
Jerolim Beach is quite an unusual beach. It is a nudist beach. In fact, it was named one of the top nudist beaches of the world by CNN. Nature is prevalent throughout this beach. Not only is the actual beach outstanding, but nature all along the coastline is as well. You can find several bars along Jerolim Beach, some of which you can lounge around and wait for your drinks in hammocks. This laid back beach atmosphere is what many long for when looking for a beach retreat.
Hvar Beach Map
Hvar Accommodation
When you've decided if visiting abandoned villages and ancient sights  or exploring gorgeous lavender fields is more your style -next up, is where to sleep? Here are just a sample of Hvar accommodation options:
Hvar Hostels
If you are on the lookout for Hvar accommodation on the budget side – Hvar Island has a few hostels that you can choose from. Two Hvar hostels our friends recommends are:
Helvetia Hostel. Located in Hvar's old town, the Helvetia Hostel is very close to the Riva waterfront promenade. From the hostel terraces, you will be able to see incredible views of the bay. Helvetia Hostel provides dorms as well as private rooms. This hostel is perfect for being close to everything you need to have a great trip. You can easily get to taxis and boats to take you anywhere you need to go outside of the old town.
Guesthouse Dvoshko. The rooms at Guesthouse Dvoshko are nothing like dorms. On all four of their floors, they offer double bedrooms, twin bedrooms, and 4-6 bedrooms. Here, you have free access to Wi-Fi, free parking, and a free pick-up service. If needed, there is also a laundry facility on site and luggage storage available. Guesthouse Dvoshko is located close to the main beach and offers beautiful scenery for guests to behold from the outdoor seating area. 
Hvar Apartments
Hvar Apartments book out fast – so don't leave your search too late. Especially if you have a big group. Vacation rentals can be found on sites like Booking.com, or you can take a more personal route and use an Airbnb host. Hosts are helpful and will give you local info, like – where to eat in Hvar. Use this link to get up to €35 credit when you join Airbnb. Other cheap apartments for rent can also be found when you arrive if you are not picky!  Start your Hvar apartments search with ones like:
House Novak Bonaparte
The House Novak Bonaparte offers a spacious two bedroom, one bathroom apartment that sleeps, four people. It is located in a historic building overlooking the waterfront promenade. In keeping with the historical theme of the building, House Novak Bonaparte is partially furnished with antique furniture and paintings. Fully restored in 2011, this apartment comes with a washing machine. You can easily get to restaurants and shops from House Novak Bonaparte- they are only a short walk away. Parking is not free and a short distance away from the apartment.
Blue Fantasy
Blue Fantasy is right in the heart of the city. Being near the city center makes it easy to get to shops and restaurants. It is also just a short distance away from the beach as well. This modern apartment is located on the upper level of a house. There are two double bedrooms, one single bedroom, and two bathrooms. The kitchen is fully equipped, it has air conditioning, Wi-Fi, and it has a balcony that overlooks the beautiful Pakleni Islands.
Best Hvar Hotels
Moving through the list of Hvar accommodation options, and we come to hotels. There will be something to suit your budget – Hvar hotels start low and go up, up, up – think Beyonce & Jay Z up.
3-star Hvar Hotels
Villa Nora Hvar
The Villa Nora Hvar Hotel is only steps away from the main beach. The friendly and accommodating staff will make your visit as nice as possible by transporting you to the hotel and serving you promptly during your stay. The Villa Nora Hvar has free internet and free breakfast. To accommodate your entire family, the hotel is pet-friendly, so even your four-legged friends can stay and have the trip of a lifetime alongside you!
Aparthotel Pharia
The Aparthotel Pharia can be found in the west part of Hvar. It is in a quiet, peaceful location. Here, you can choose to book a room with a kitchenette or an apartment. This hotel is right on the beach, and only a short walk away from the city center. The Aparthotel Pharia comes with free parking, free breakfast, and free Wi-Fi. There is even a bar for you enjoy a few drinks.
Hotel Croatia
The Hotel Croatia is ten minutes away from the city center and ten minutes away from the port. This hotel, built in 1936, was remodeled in 1997. It is set in the middle of beautiful foliage that creates a fantastic environment for you to relax in. This small hotel offers an intimate setting that you are sure to enjoy. The Hotel Croatia offers free breakfast, free Wi-Fi, free parking, and room service. For your convenience, there is also a restaurant and bar located in the hotel as well as a fitness center and gym.
4 star 

Hvar Hotels
Hotel Park Hvar
The Hotel Park Hvar is located in the heart of Hvar with an excellent view of the south port. It has everything you could want in a hotel. Every room in the Hotel Park Hvar has air conditioning, floor heating, satellite TV, a safe, a mini bar, and massage showers and bathtubs. And for your convenience, you will find free Wi-Fi and self-serve laundry in the hotel. At night, if you don't feel like venturing out, there is a restaurant located in the hotel that offers plenty of dishes.
Hotel Podstine
The Hotel Podstine is a small hotel that provides visitors with a peaceful stay. Located on the beach and only a short walk from the city center, you can check out the city at any time and head back to the hotel for some peace and quiet. You never have to leave the hotel if you don't want to. At the Hotel Podstine, you will find a pool, tennis court, restaurant, and bar. Also for your convenience, you can use the hotel's various amenities including shuttle service, meeting rooms, internet access, and free breakfast.
5 star Hvar 

Hotels
Adriana Hotel Hvar
The beautiful Adriana Hotel sits on a promenade overlooking the city center. It has a panoramic view of the city and the sea that is sure to knock your socks off. The Adriana Hotel was built to help you relax. With deluxe rooms and specially designed spa suites, anyone can sit back and relax without a care in the world. The seawater swimming pool sits atop the hotel and is open year round. Also for your relaxation, you can find multi-level garden terraces, a restaurant, and bar located in the hotel. Your time here can be enjoyed with your furry four-legged friends with free Wi-Fi and room service.
Amfora Hotel 
The lush surroundings of the Amfora keep you laid back and relaxed for your entire trip. From the hotel, you can see the peaceful bay, and you are only a short walk from the city center. The rooms are modern and up to date. While there, visit the hotel's pool, spa, and restaurant to relax more than you ever have. Your stay at the Amfora includes free parking, free Wi-Fi, shuttle bus service, and room service.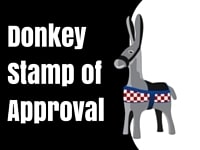 Amfora Hotel Hvar
Hvar Island Luxury
Eat and Drink
If you are like Mr. Chasing the Donkey – food and drinks are high up on the list of important things to do on holidays. I am not saying that I don't agree – I would just rather shop. Hvar restaurants are like the Hvar hotels – mixed for all kinds of budgets. Let's start the list small, and go up, up….up.
50 Hvar
If you're looking for food that is not along the lines of typical of the Dalmatian Coast, you should check out 50 Hvar. 50 Hvar offers one of the best burgers on Hvar Island. It is located on the beach, and you can choose to eat outside on the beach or a small rooftop terrace overlooking the city. Visitors enjoy the friendly staff and atmosphere. 50 Hvar is a place that anyone can enjoy. Check the website.
Fig Café Bar
This small, hidden away gem is a lovely place to spend your night eating and relaxing with friends. The Fig Café Bar has a beautiful atmosphere with plenty of string lights to light up the night. They offer a wide variety of foods from local traditions to back home favorites. The staff are very warm and welcoming and encourage you to take your time and enjoy your visit. See Facebook.
Divino
Got your wallet ready, let's go to Divino. If you're looking for a classy eating environment with a view, Divino is your place. Divino is located on the waterfront and has a beautiful view that overlooks the Palenki Islands. Being so close to the city, Divino is easy to find. The friendly staff will see to it that you have a relaxed evening full of delectable foods and spirits. Divino offers authentic local dishes and the best wines of the area. Divino is a place where you can kick back and relax for a little while. Check Facebook.
Cocktail & Coffee Bars
Caffee Bar Sidro. Caffee Bar Sidro has some of the best coffee on Hvar Island. The Bar is located right on the port, so it's easy to find. It is open all day and even kicks on through the night. The other big plus is that the Cafe is right on the waterfront, so you can sip your coffee while enjoying the beautiful view.
Carpe Diem. Carpe Diem is a Hvar classic; it is open from breakfast until well into the night. Visitors love the wide varieties of food and drinks offered here. From pancakes and coffee to the best mixed cocktails around, you can find it all at Carpe Diem. But at night, the place really comes alive. With music spun by local DJ's, Carpe Diem is the hub of nighttime activity. Crowds love the music and cocktails and make an evening of it partying away at one of Hvar Island's hottest clubs.
Map of Food on Hvar Island
Photos of Hvar Island
Hvar Island. Photo Credit Davor Strenja
Hvar Island. Photo Credit Davor Strenja
Music Festivals on Hvar Island
Not for everyone, but we get asked about them a lot – so here are just two music festivals you can enjoy in Hvar this summer.
FOR Festival
This beachside music festival brings throngs of music lovers every year. The FOR Festival sells 2000 tickets every summer. This four-day music festival features a wide variety of musical performances. The musical performers perform at a converted monastery, and the party continues when the sun goes down at Carpe Diem Beach on Hvar Island long until the sun rises again. If you are looking for a day filled with live music up close and personal as well as all day and night parties, FOR Festival, is the place to be.
Ultra Europe
Known as the "Destination Music Festival," this electronic music line-up will travel across the stunning islands of Croatia. It should be in Hvar again in 2016.
Other Festivals on Hvar Island
 Jelsa Festa Vina
If you are looking for a taste of Hvar Island, look no further than the Jelsa Fest Vina. Every year, during the last weekend in August, this spectacular wine fair takes place. The Jelsa Festa Vina showcases the best wines on Hvar Island as well as other specialty drinks. The festival is full of music and dancing with live concerts in the city center. Jelsa Festa Vina attracts people from across the world and hotels are often booked up for the entirety of the festival.
Forska Festa Pulene
In late October, a gathering of boats can be found in the harbor of Hvar Island. The Forska Festa Pulene, also known as the Traditional Sailboat Festival, has become a widely popular event that celebrates the history of sea vessels on Hvar Island. Pulene comes from the term pulena which is the wooden statue on the front of boats that were implemented to satisfy the gods. Enjoy this celebration through lectures and exhibits, and be sure to view the replica of the historic boat of St. Jerolim.
Traveling Around 

Hvar Island
You have several options for transport on Hvar, each with their own merits and drawbacks:
Car hire. This is the option we always choose, with a car seat and an adventurous spirit we like to be on our own timetable and not be tied down to a bus schedule. Keep in mind that car ferries between Hvar Island and other islands are limited – so buy tickets for ferry transport early. Car rentals can be arranged on Hvar ahead of time – car rental is available all year round here, or you can book a car from the mainland and take the car across on the ferry (no special papers are needed).
Buses. There is a local public bus network that can get you around the Island of Hvar. Inexpensive and reliable. Bus times are here.
Local drivers and taxis. These are all over Hvar – and local drivers will make 1:1 arrangements with you for specific pickups. Because Hvar is a tourist island, you won't have any issue communicating with them in English.
Traveling to Hvar Croatia
Air: The nearest airports to Hvar Island are in Split, Zadar (160km) Dubrovnik (230kms), and Brac. To get to Hvar Island from these airports, you will need to take a bus, taxi, or a ferry or rent a car.
Bus: Croatian buses run all throughout the country. If you are traveling by bus to Hvar Island, the connections in Zagreb and Split are the most convenient
Ferry: There are plenty of ferry lines running along the coast of Hvar Island. The International ferry line travels from Italy to Hvar Island on a regular basis. Regardless, you will have to take a ferry at some point to get to Hvar Island.
Train: The nearest train station to Hvar Island is in Split. From here, you can take the ferry to Stari Grad or Hvar City
Car: There are plenty of locations for you to rent a car, including taking the car from Split to Hvar. If you are traveling to Hvar from Zagreb, take highway A1.You can also the coastal road via Rijeka if you have time to explore. 

One of the main roads through Croatia to Hvar Island is Highway A1. From Highway A1, you can find ferry ports in Drvenik or Split

Parking: Many hotels on Hvar Island have free parking included in your stay, but not all do. Parking in the city can be limited and can cost, so adjust your budget accordingly.
How to Say Hvar?
I wracked my brain on how to answer this question – which I know many of you were wondering – so took the advice from Hvar: An Insider's Guide Book which says to either 1) ignore the 'H' altogether and just say 'Var' or 2) insert an 'A' and come up with Ha-var making you sound like a tourist or 3) try the correct pronunciation.
The above book was written by a local (and friend) Paul; it's the most comprehensive guidebook on the Island and well worth the $15 price tag.
Facts About Hvar Croatia
If you

give birth on a Jadrolinija ferry

 from Hvar, your child will get free travel on the ferry for life.
Ivan Vucetic – criminologist and anthropologist, was born on the island of Hvar (later emigrated to Argentina, and was known as Juan) was the pioneer of scientific dactyloscopy (identification by fingerprints), and his methods of identification are used worldwide. You can find more facts about Croatia here.
It feels like we left so much out of this guide – and that's because we did. The list of things to do on Hvar island is vast. You'll have to go and see for yourself. What else would you suggest people see on Hvar? Let us know in the comments below.
More Hvar Island
Land and Sea Luxury Exploration