Privacy & disclaimers →
5 Secret Things To Do On Hvar Island, Croatia
Written by Paul Bradbury, Hvar local, an expat from the UK, and updated by the Chasing the Donkey team.
Hvar Island is blessed with it all. There are beaches, sunshine, heritage (including UNESCO heritage!), history, gastronomy, and nature; all packed together on a small island off the Dalmatian coast. With such a variety going on, it can be no surprise that there are plenty of things to do on Hvar, no matter your interests (even for sports fans!).
A quick search on Google will give you plenty of options and overviews of things to do on Hvar, many of which repeatedly include the same activities and places. But what about finding places and things to do that are similar to those top recommendations but a little more hidden?
So, if you're asking yourself what to do on Hvar that's less known but still amazing, here are five things and places on the island of Hvar that live in the shadows of their more famous neighbors.
1. Sveti Klement On The Pakleni Islands – Palmizana Or Vlaka?
From Hvar Town, there are many small islands to visit. One of them is the Pakleni Island of Sveti Klement. Since the Meneghello family founded tourism on Sveti Klement in 1906, a full five years before Jelsa opened its first hotel, the Bay of Vinogradice (better known as Palmizana) has become one of the most popular places to visit on a trip to Hvar Island. There are now four restaurants, a cocktail bar, an arboretum, and an art gallery in this idyllic south-facing bay. Moreover, it's only a short walk from the ACI marina, another reason the bay is so popular. This small group of Croatian islands is simply stunning.
If you want to explore the north side of Sveti Klement, on the other hand, take a taxi boat from Hvar Town to the small settlement of Vlaka, just as the Romans did. Here, you will find the ruins of a Roman villa Rusticaando a mud bath still available for use.
Wine lovers will delight in the vineyards of Andro Tomic, just one meter above sea level, the source of his excellent Sveti Klement reds and whites. This is some fine Croatian wine, one of Hvar Island's main claims to fame.
TRAVEL COMPANIES WE USE AND TRUST
2. Jerolim – Amo Beach Or Kordovon?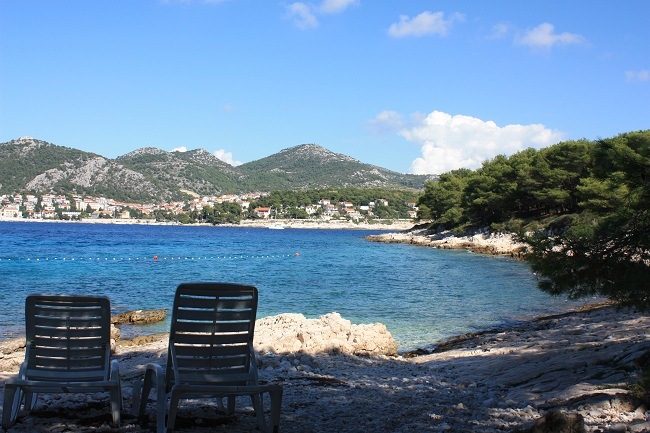 Jerolim is a Croatian island with a tiny waist and one whose charms attract increasing international attention. For example, CNN named Jerolim the world's top FKK beach in 2011, and Vogue Australia did a model photoshoot on this small Pakleni Island in 2013.
For many, Jerolim is the Amo Beach Resort facing Hvar Town, but for those in the know, take a walk through the woods…
At the island's thinnest point, just to the left of Amo as you arrive, there is a short path through the woods to one of the undiscovered gems of Dalmatia, Mare's place at Kordovon. One of the most accepting places in the country, Kordovon is FKK, gay-friendly, and a family destination all in one.
The unique art in the trees made from driftwood sets the tone, and here you will find Croatia's only public toilet, which's also a piece of art.
3. The Battle Of Dolac – Ivan Or Gromin?
Southside beaches, everyone has their favorite on Hvar Island.
What is your favorite Hvar beach? Perhaps the most popular resort of all is Ivan Dolac, whose steep Plavac Mali sloping vineyards descend to some of the finest family beaches on the island. But for those looking for a quieter Dolac, there is another option…
Turn left at the orange church on the winding road in Zavala as you descend to the beach, and take the unsealed road for 3 kilometers until you come to one of Hvar's prettiest and least-visited villages: Gromin Dolac.
Plenty of gorgeous old stone here with pretty beaches to match. And there's almost nobody to share it with, the ultimate seclusion. You definitely need to add this to your things to do on the Hvar list.
4. Natural Hvar – Lavender Or One Of The World's 10 Oldest Olive Trees?
The island of Hvar has an excellent natural gift: lavender. The annual 7th Lavender Festival is one of the island's main events. When it takes place, everyone on the island is encouraged to take the old road from Hvar Town to Brusje and Velo Grablje, where the spectacular sight and aromatic smell of lavender in bloom await.
But while lavender is Hvar's most famous natural gift, there is a remarkable other natural treasure that has been overlooked… Placed under heritage protection since 1964, the oldest olive tree on Hvar is almost unknown outside the eastern village of Zastrazisce, which it neighbors. Experts have put it at 2,500 years old, which, if true, would make it one of the ten oldest olive trees in the world.
5. Plavac Mali – Hvar Wine Or Hvar Beer?
Hvar is the island of Croatian wine. With a 2,400-year-long history, the oldest surviving Plavac Mali vineyard in the world, and wines exported all over the world, to California and China, to Russia and Singapore, Hvar's wine pedigree is unquestionable. But did you know about Hvar's award-winning beer producer?
One of my favorite stories on Hvar, a Polish Hvarophile found her man on the island and brought her passion for beer with her, opening the first Hvar micro-brewery a couple of doors away from Hotel Podstine in Hvar Town. She soon won her first award for her brews, which include wheat beer and stout. A true hidden gem for beer lovers.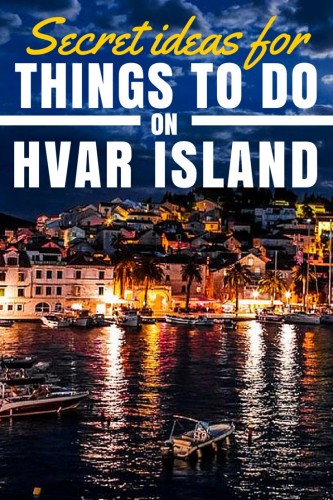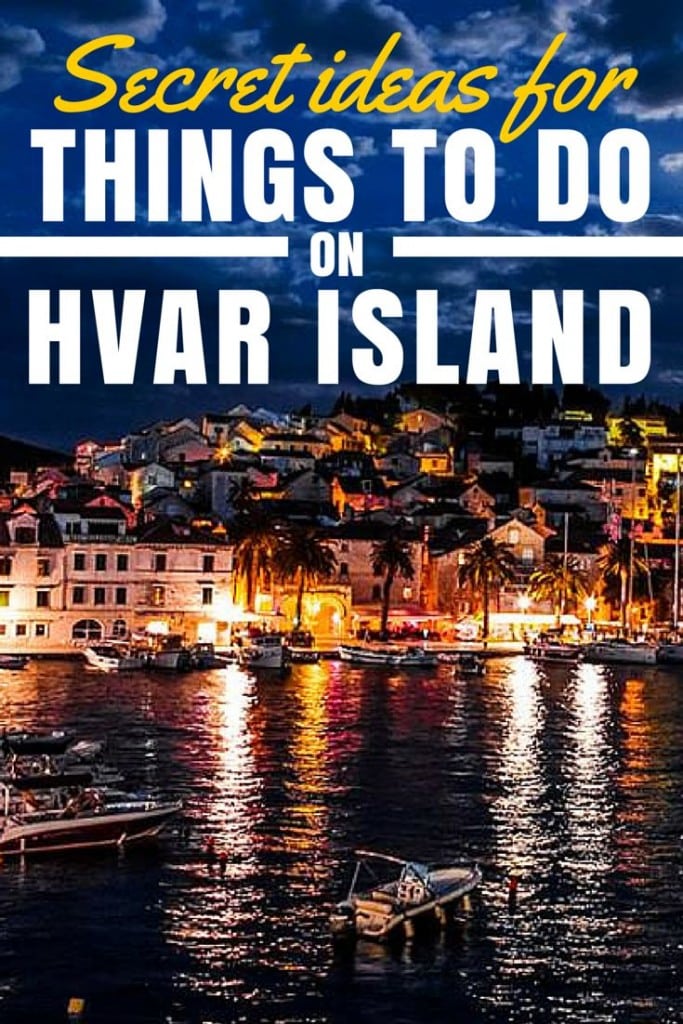 More Things To Do On Hvar Island
The Dalmatian coast, with its plentiful islands, is lined with many coves and places to explore. Hvar Island, a popular beach resort, attracts thousands of people daily, especially in the summer. These great ideas are for side trips, extra activities, or day excursions.
When you're on an island like Hvar, you must participate in some water activities. The swimming is excellent, but a half-day guided kayak tour of Hvar island is not to be missed. It will allow you to take in the sun and enjoy the stunning beauty of the Adriatic Sea's pleasant blue waters.
The coast's tall pine trees often shadowed the route, giving a balance of sun and shade. Then, maneuver through the narrow straits along with islands where you can enjoy lunch on one of the small hidden pebble beaches. While you're there, have fun swimming and snorkeling.
Are you an adventurous foodie? Then a Blue Cave and Gastronomy Tour is something that must be added to your itinerary. This is THE foodie lovers' tour for anyone keen also to explore.
If wine and great food are more of your thing, opt for a wine and gastronomy tour. You'll visit actual wineries, learn how the wine is made, and appreciate the local wine. In addition, you can sample fresh cheese and meat prepared in the region as part of your dinner.
Finally, we always recommend getting to know how the locals live and the area's history. You can achieve this by joining a fun yet informative walking tour of Hvar. Wander historic stone streets with your small group (up to six people, to keep it personal) and your guide to discover an abandoned village while still taking part in the local culinary culture of the Dalmatian coast that has survived the country's many different internal and external influences.
Check out this guide to 24 hours in Hvar. It's not enough time, but if it's all you have, it will help you make the most of it!
Hvar Accommodation
When you've decided on which things to do on Hvar, whether it's visiting abandoned villages and ancient sights or exploring gorgeous lavender fields, next up is where to sleep. We have loads of Hvar accommodation suggestions here – and a few selected below.
Hvar Apartments
Hvar Apartments get booked fast, so don't postpone your search until it's too late. This is especially true if you have a big group. You can find vacation rentals on sites like Booking.com, or take a more personal route and use a guesthouse. Hosts are helpful and will give you lots of local info, like where to eat in Hvar, places to go, and things to do on Hvar Island. You can also find other cheap apartments for rent when you arrive if you are not too picky!
3-Star Hvar Hotels
Villa Nora Hvar
The Villa Nora Hvar Hotel is only steps away from the main beach. The friendly and accommodating staff will make your visit as pleasant as possible by transporting you to the hotel and serving you promptly during your stay. The Villa Nora Hvar has free internet and complimentary breakfast. The hotel is pet-friendly to accommodate your entire family, so even your four-legged friends can stay and have the trip of a lifetime alongside you!
Aparthotel Pharia
The Aparthotel Pharia lies in the west part of Hvar, in a quiet, peaceful location. Here, you can choose to book a room with a kitchenette or an apartment. The Aparthotel Pharia comes with free parking, complimentary breakfast, and free Wi-Fi. There is even a bar for you to enjoy a few drinks, which is always a popular feature among holidaymakers! This hotel is right on the beach, only a short walk away from the city center.
Hotel Croatia
The Hotel Croatia is ten minutes away from the city center and ten minutes from the port. This hotel, built-in 1936, was remodeled in 1997. It is set in the middle of beautiful foliage that creates a tranquil environment for you to relax. This small hotel offers an intimate setting that you are sure to enjoy. The Hotel Croatia provides complimentary breakfast, free Wi-Fi, parking, and room service. For your convenience, there is also a restaurant and bar in the hotel and a fitness center and gym.
4-Star
Hvar Hotels
Hotel Podstine
Hotel Podstine is a small hotel that provides visitors with a peaceful stay. Located on the beach and only a short walk from the city center, you can check out the city any time and head back to the hotel for some peace and quiet. You never have to leave the hotel if you don't want to, though. At Hotel Podstine, you will find a pool, tennis court, restaurant, and bar. Also, you can use the hotel's various amenities for your convenience, including shuttle service, meeting rooms, internet access, and free breakfast.
5-Star Hvar
Hotels
Adriana Hotel Hvar
The beautiful Adriana Hotel sits on a promenade overlooking the city center. It has a panoramic view of the city and the sea that is sure to knock your socks off. Built to help you relax, the hotel's deluxe rooms and specially designed spa suites allow anyone to sit back and relax without a care in the world. The seawater swimming pool sits atop the hotel and is open year-round. At the same time, also for your relaxation, you can find multi-level garden terraces, a restaurant, and a bar located in the hotel. Your time here can be enjoyed with your furry four-legged friends with free Wi-Fi and room service.
Amfora Hotel
The lush surroundings of the Amfora keep you laid back and relaxed for your entire trip. You can see the peaceful bay from the hotel and are only a short walk from the city center. The rooms are modern and up to date. While there, visit the hotel's pool, spa, and restaurant to relax more than ever. Your stay at the Amfora includes free parking, Wi-Fi, shuttle bus service, and room service.
Which things to do on Hvar is now on your to-do list?
More Hvar Island Information
3 Day Hvar & Dubrovnik Catamaran Tour
Cast Away Camping On Hvar – Social Distancing Ideas For Croatia
Private Boat Tour To Discover Hvar's Hidden Beaches
Discover Dalmatia With AndAdventure Tours
More Ideas For Things To Do In Croatia
Top Croatia Travel Guides & Books
The Ultimate Guide to Croatia
See which tours of Croatia we Recommend