Hiking In Croatia: 9 Most Beautiful Trails To Explore
Written by Res Marty, an expert advisor in camping and hiking.
From gorgeous cities to ancient sites, sparkling coastlines to stunning islands, it's easy to see why Croatia is the preferred travel destination for most people. On top of that, it's full of beautiful trails and gorgeous treks, making it a great destination for hikers and backpackers.
So, if you are planning to go on a hiking expedition in Europe, then Croatia should be at the top of your list. Whether you are a casual hiker, a seasoned trekker or a beginner, Croatia has a vast selection of hiking trails for you.
But, with so many gorgeous treks in Croatia, we know that choosing the best ones for your expedition can prove to be an overwhelming task. Fortunately, we've done the heavy lifting for you. In this article, we will take a closer look at the 9 most beautiful trails to explore in Croatia in 2022.
Plitvice Lakes Loop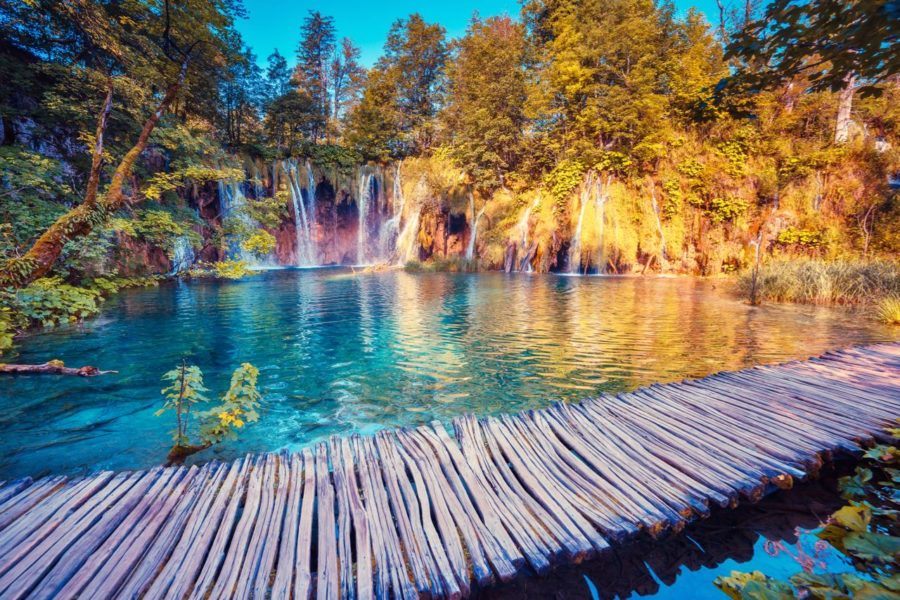 Located halfway between Zagreb and Zadar, Plitvice Lakes is one of the most popular national parks in the country. This UNESCO-recognized natural feature is parked with beautiful woodlands, spectacular views, gorgeous waterfalls and approximately 16 interconnected lakes. It's also filled with plenty of wildlife such as bears, deer, wild boars, hedgehogs, martens, voles, and mink, just to name a few.
The hike starts near Entrance 1. It will then take you on a tour of around all the bigger lakes in this loop. You will also come across several beautiful waterfalls along the way. This loop will also pass close to the Gustav Janecek Memorial. You can also stop by for a swim in one of the lakes, especially during those hot days.
Due to its popularity among hikers, there's a high chance you will come across crowds along the way. To minimize such issues, it will be highly advisable to hit the trail as early as possible, probably around 7 am to 8 am at the latest. There are several hotels around Entrance 2 as well as a campground if you are planning to spend the night.
Also, there are several other trails you can explore in this area, especially if you are a seasoned hiker. But, if you are a beginner or you've never been in this area before, then this loop is the most recommended. And the best part is, within three to four hours, you will have finished traversing it.
Trail length: 12km
Difficulty level: Easy
Hiking time: Approximately 3 to 4 hours
How to get there: Rental car, bus or private transfer
Velebit Hiking Trail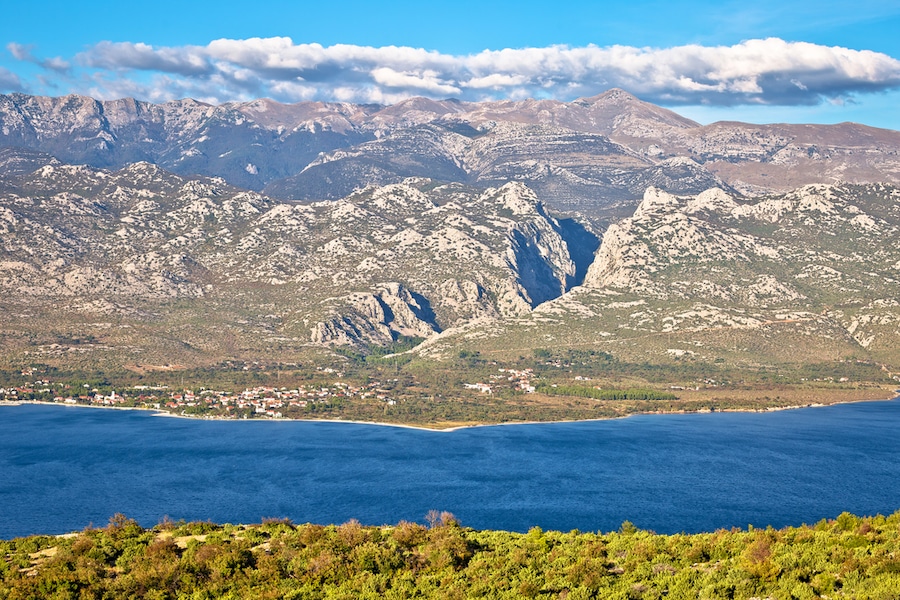 The Velebit Hiking Trail is one of the best hikes in Croatia if you are looking for a multi-day hike. The entire trail is around 100 kilometers. You will hike through small, rural towns, rugged peaks, and rolling green hills. Also, you will have an opportunity to spend your nights in mountain huts, which are spread along the way. However, the available space in these mountain huts is quite limited. Therefore, make sure you book well in advance.
It's worth mentioning this hike is quite demanding. So, make sure you pack enough food supplies in your hiking backpack. You should also remember to pack proper hiking gear since you will be out on the trail for several days.
The entire trail is properly maintained and easy to follow. Also, it's clearly marked. Hence no bushwhacking will be needed. You can begin your hike in Babic Sica, which is the trail's information center. From there, you can hike upwards to the Zavizan hut, which will only take you a few hours. Once you are there, you will then have ample time to explore the nearby peaks.
The best time to hike this trail is during the summer. During this time, the weather is stable and friendlier. You will be required to pay an entry fee of around $7 for the Velebit national park.
Trail length: 100 km
Estimated hiking time: 9 days
Level: Hard to moderate
How to get there: Bus
Walls of Dubrovnik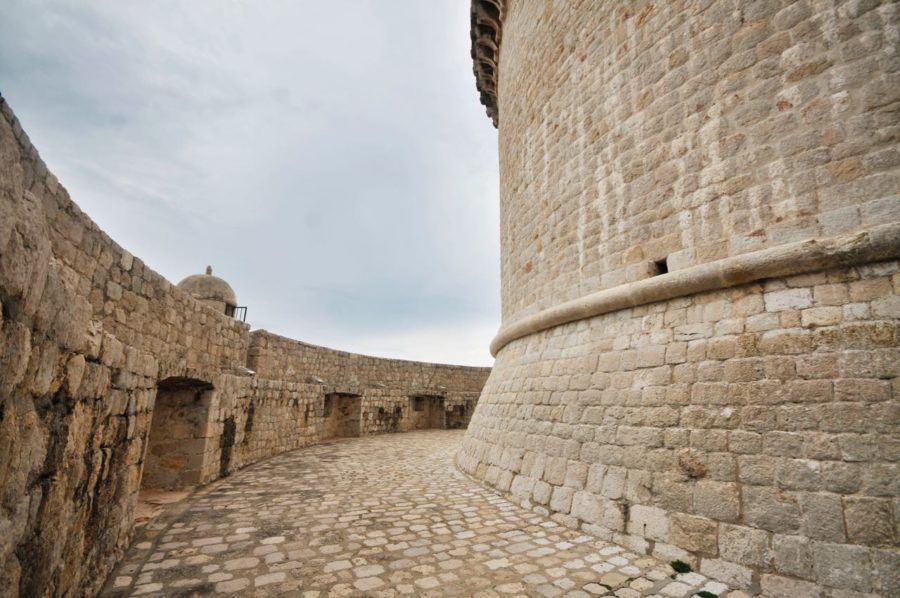 If you are looking for a traditional hiking trail, then you should check out this loop trail around the Walls of Dubrovnik. Accessible all year round, this loop trail is mainly used for hiking, nature trips, walking as well as bird watching. It offers breathtaking views of the old town, church towers, rooftops, lanes as well as stunning cliffs.
Besides the beautiful views you will catch along the way, what makes this trail so popular is its ease of access. Also, it's not challenging. Anyone with a good physical condition can tackle it within two hours or even less, depending on the pace.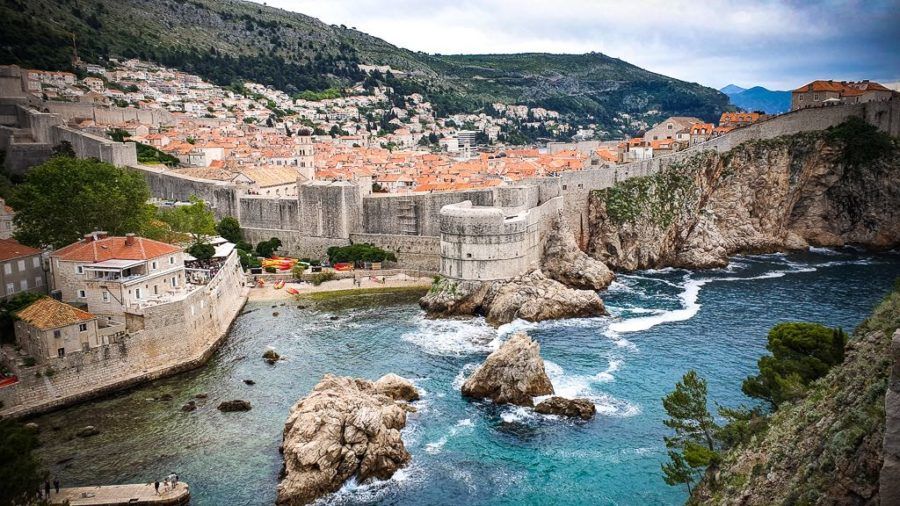 You can start or end your hike at the Gate of Pile, which is the old town's main entrance. It will be highly advisable to walk this trail early in the morning or later in the afternoon when the conditions are a bit friendly. Also, these are the best hiking times, if you are looking to avoid crowds.
If you will be staying around Dubrovnik, then you should include this hike in your itinerary. It will provide a great means of exercising, as you experience the stunning views along the way.
Trail length: 2 km
Difficulty level: Easy
Hiking duration: 2 hours
How to get there: Car, bus, or flight
Via Dinarica White Trail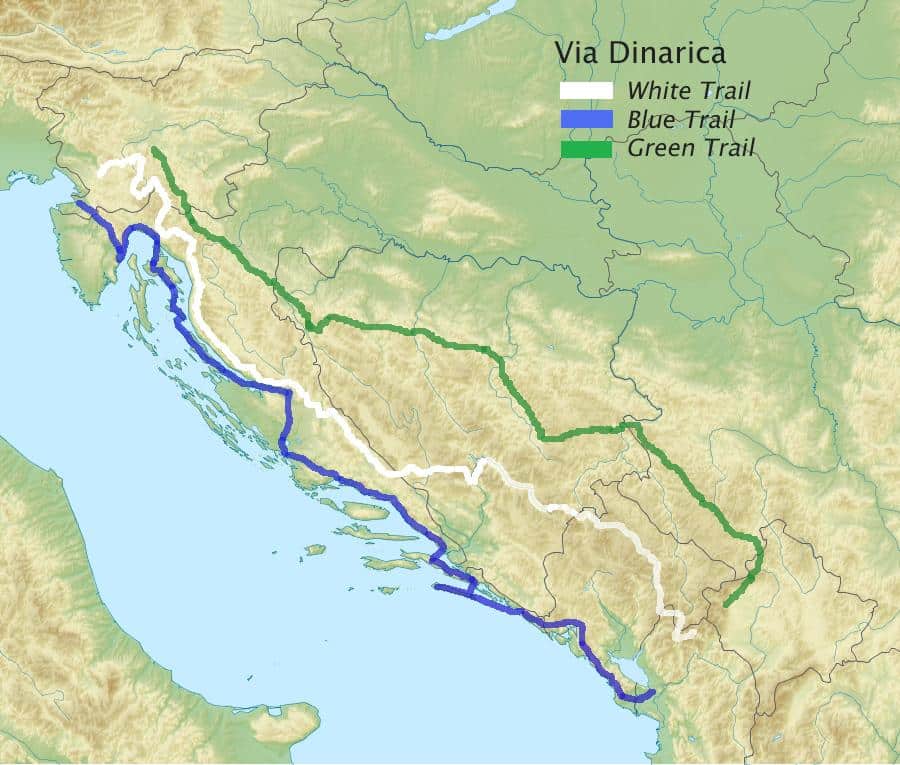 The Via Dinarica is one of the newest hiking trails to be established in Croatia. But, it's filled with spectacular views every mile along the way. It runs from the south of Slovenia, all the way to the north of Albania. You can opt to tackle the entire trail or just a section of it, depending on your hiking experience as well as how long you will be around.
If you are a seasoned hiker and you have the time to spare, then you can tackle the entire trail. It connects all the most beautiful sections of the Dinaric Alps. Also, it connects some of the most beautiful mountain regions in the country. Besides the White Trail, you can also opt to tackle the Blue Trail (mountain trail) or the Green Trail (forest trail), depending on your preferences.
As earlier mentioned, this trail is relatively new. Hence, some of the sections along the way are poorly marked and badly maintained. But, as long as you have a reliable GPS and a well-detailed map, then you are good to go. Remember to bring your camera, as you will have plenty of opportunities to capture memorable, beautiful photos.
Trail lenght: 1,261 km
Difficulty level: Hard
Hiking duration: 410 hours
How to get there: Bus or car
Milna Coastal Walk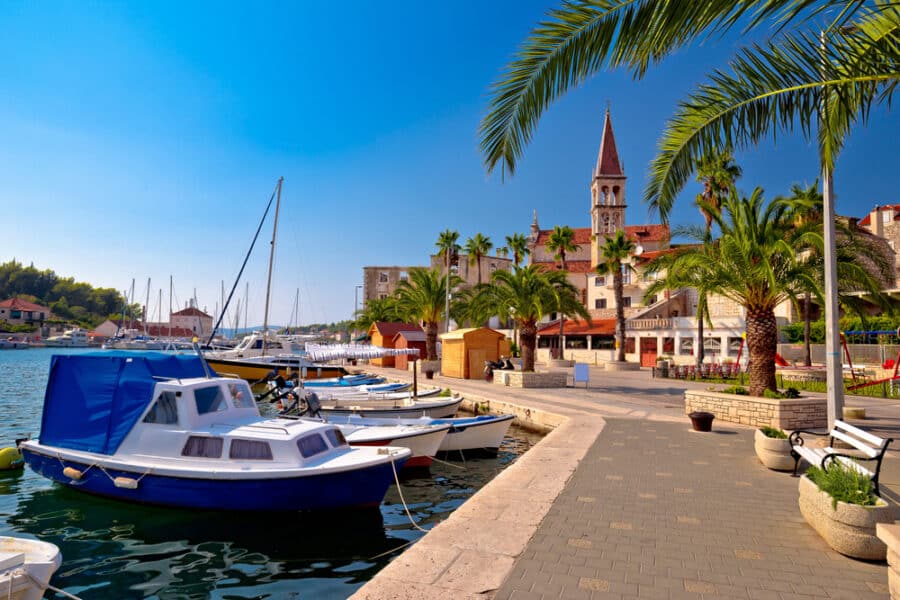 If you love hiking in coastal areas and sandy beaches, then you should check out the Milna Coastal Walk. This trail is located in Hvar Island, which is one of the best coastal getaways in Croatia. Hvar Island is a short distance from Split. And, a ferry ride will get you there within two hours or even less.
Thousands of hikers come here every year, to savor the region's hidden beaches, gorgeous seas, and rugged coasts. The trail starts at the harbor based in Hvar Town. You will then follow a paved coastal walkway, which will take you to Mustado Bay. This walk should take you around 30 minutes or so. There's an eatery along the way, where you can stop to refuel. There's also a beach along the trail, where you can take a quick dip.
From Mustado Bay, the trail becomes increasingly rugged, occasionally shifting between the coast and the woodland. After around 20 minutes, you will come across a bay, where you can go for a swim and relax. There's also an eatery here, which doubles up as a bar and restaurant. From here, the trail will take you through woodlands, beaches, and bays. Eventually, you will find yourself at Milna.
Trail length: 7 km
Hiking duration: 2 hours
Difficulty: Intermediate
How to get there: Ferry or high-speed ship
Plješivica Mountain
If you are an experienced hiker and you are looking for a hiking trail that will stretch you to your limits, then you should check out the Plješivica hiking trail. The entire trail features rocky terrain, which is quite challenging. Hence, make sure you come with a comfortable pair of hiking boots. You should also consider bringing a pair of walking poles.
Most sections of this trail go through dense forests, which provide adequate shade. Therefore, it will be an ideal hike for those hot summer days. As the trail nears the end, you will come across an old military facility, which is quite impressive.
The views along this trail are nothing short of spectacular. Also, the trail's end is close to Croatia's border with Bosnia and Herzegovina. Hence, you will also enjoy striking views of rolling landscapes and lush-green forests in both countries.
Trail length: 12 km
Hiking duration: 5 to 6 hours
Difficulty: Hard
How to get there: Train, bus or taxi
Vidova Gora Trail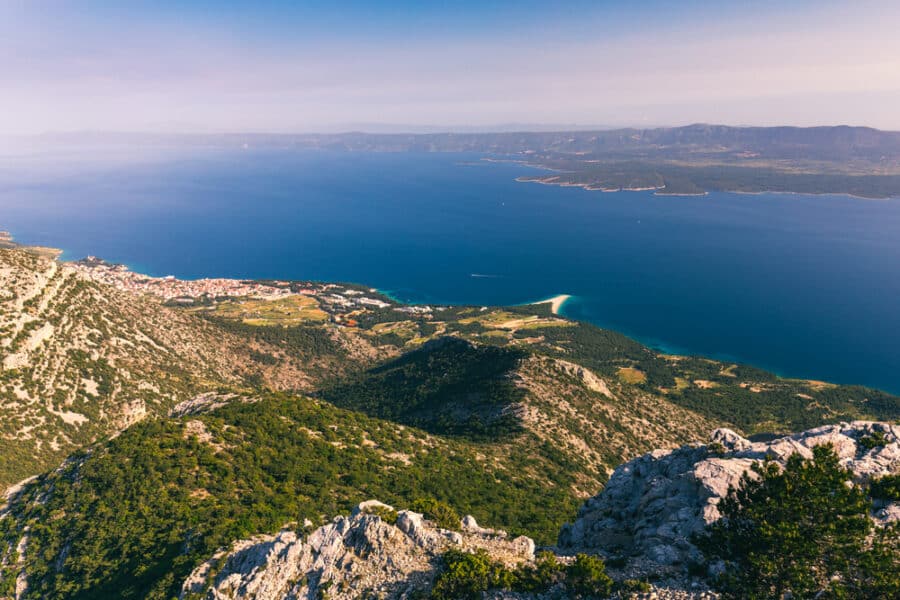 The Vidova Gora trail is yet another challenging trail. But, it's highly rewarding, if you can manage to go the entire length. If you will be hiking this trail during the summer, you should make sure you carry adequate water as well as sun protection, since, there's minimal shade. Also, you should ensure you start your hike as early as possible, to minimize sun exposure.
You will start your hike on a gravel road, in the village of Bol. From there, the trail will take you through a rough mountain path, with lots of local sheep and wildflowers to keep you company.
The summit of the Vidova Gora mountain is simply spectacular. Considering it's the highest peak in this region, it will give picturesque views of the entire Adriatic region, from the sea and the islands as well as the mainland.
Trail length: Approximately 11 km
Hiking duration: 3 to 4 hours
Difficulty: Intermediate to difficult
How to get there: Bus or private car
Mljet Island Hike Through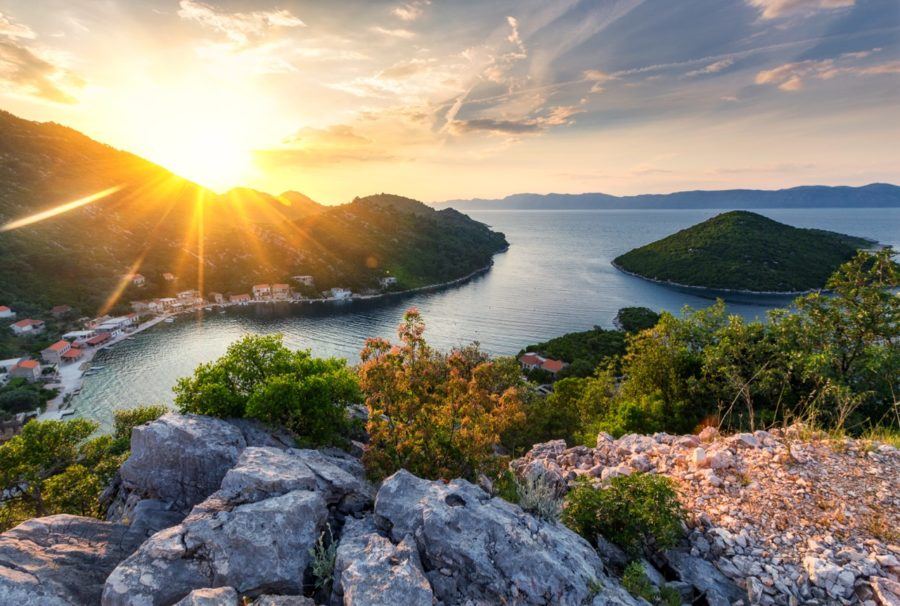 Mljet Island is, without a doubt, one of the most beautiful islands in Croatia. It also provides a great hiking experience, thanks to the spectacular views it serves the entire route.
The trail runs from Sobra all the way to Pomena. You can cover the entire trail within two days, depending on your hiking pace. Most section of this trail runs through lush, green forests. Therefore, you will be shielded from the scorching rays of the sun. You can also opt to climb to one of the summits if you are looking for scenic views.
Unlike some of the other trails in this region, this one is easy to get onto. You simply need to board at Prapratno, which will take you directly to Sobra. As much as this trail is relatively new, it's well-marked throughout.
One of the best things about the island of Mljet is that more than 70% of its surface is covered with forest. So, regardless of where you look or go, you will be surrounded by nature. This island is worth a visit, whether you are a seasoned hiker or not. There are lots of great, short hikes, which you can discover. You can also opt to explore the Odyssey's Cave, which is quite popular with vacationers.
Length: 33 km
Estimated hiking duration: 2 days
Difficulty level: Moderate to advanced
How to get there: Ferry
Vošac Peak Hike
The Vošac peak hike is one of the most challenging hikes in Croatia. The mountain is located in the Biokovo Nature Park, which is quite a popular hiking destination in Croatia. Here, you will come across several paths, winding up into the mountains and hills, filled with pine trees and olive groves.
The trail starts at Makarska, where the climb upwards begins right away. Most sections of this trail feature loose stones. Therefore, make sure you carry appropriate shoes. After around 5 to 6 hours of climbing, you will make it to the peak, where you will enjoy the beautiful views below.
As noted above, this hike is challenging. Hence, make sure you come prepared. If you are not in good physical condition, then it will be highly advisable to explore other hiking options. Also, remember to pack enough water, especially if you will be hiking during the warm months.
Hiking length: 30 km
Hiking duration: 5 to 6 hours
Difficulty: Hard
How to get there: Car or bus
Wrapping It Up
As you can see, your options are almost endless when it comes to hiking trails to explore in Croatia. You simply need to choose a trail that aligns best with your hiking experience and personal preferences, pack the right gear, and hit the road. Happy hiking!
Share