What You'll Find On This Page
S is for…. 

Sailing Croatia holiday guide
You've dreamt of sailing Croatia since you first heard about its magical deep turquoise waters, and the enchanting landscape that is the Adriatic coast. We know because that was us too. Croatia has discoveries across every inch of land and has one of the most interesting archipelagos in the world.  
The absolute best way to enjoy Croatia is to set sail. We recommend these boat rental Croatia experts, but before you rent your boat, there were a few things to consider before setting sail on your Adriatic adventure.
After sailing Croatia a few times ourselves, we've prepared this guide to help you plan your unforgettable Mediterranean sailing experience.
When is the best time to set sail
The sailing season in Croatia is April – September and the best period to enjoy your Adriatic sailing experience, depends what type of holiday you're looking for.
May and June
Winds are predominantly westerly in the summer, so if sailing is your primary interest then Croatia is a place for you during the early summer and spring with light to moderate winds.
July and August
Periods of calm prevail, therefore it's ideal for those who like smooth waters. Perfect for for enjoying water sports, or relaxing with the family.
September and October
These months are just right to set your sails and trim your jib with prolonged periods of Bura (strong northerly wind) and the Scirocco (humid east-southeast wind). While the Croatian wind at this time of year can make sailing challenging, you'll be in great hands with an experienced skipper. Just be sure to charter a vessel that has good heating and prepare yourself for strong winds and rough seas.
During Winter, while you can't sail Croatia, there are still plenty of things to do in Croatia on the mainland. We recommend visiting the Zagreb highlights, or take part in Advent in Zagreb or why not visit Istria for the White Truffle festival.
Choosing a sailing route
3 of the biggest destinations for those on sailing charters are the areas surrounding, Kornati, Split & Dubrovnik, each offering you something different….read more
What vessel is best for you
There are 4 types of boats available for charter in Croatia: sailing boats, motor boats, catamarans and gulets. When we took our first sailing trip along the Adriatic, I was unsure what type of boat would best suit our needs ….read more
Where are the Marinas located
Croatia has 50 marinas on the coast  with over 13 thousand moorings. These are available all year, however only a select number of marinas are charter bases.… read more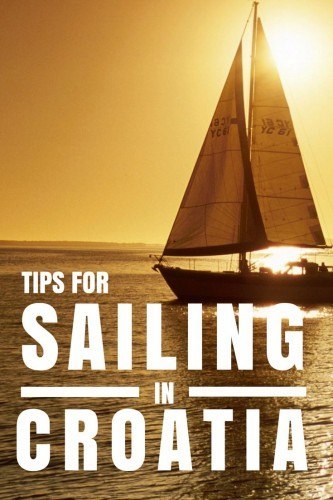 What you can experience along the way
Beginning in the North of Croatia,  close to Rovinj or in Croatia's 'Pearl of the Adriatic' also known as Dubrovnik you're blessed with a big range of choice as to where to sail, and where to stop along the way….read more
With this Sailing Croatia holiday guide, we're sure that setting sail in Croatia will be easy!