Written by Christina Grance of Live A Wilder Life
Island hopping is one of the most popular activities for visitors to Croatia. It is not hard to see why when you look at the Adriatic Sea's glorious turquoise water.
While island hopping in Croatia is amazingly fun, there's something to be said for taking time to explore the varied islands staggered along the mainland of southern Croatia. Before spending three days in Dubrovnik, we knew we wanted to visit one of the many Dalmatian Islands along Croatia's coast.
While Hvar is a favorite for many, we wanted something quieter and off the beaten path. We chose to visit the island of Vis, the harder to get to but oh so worth it.
Vis is the perfect place to slow down. Wild and untouched, it's the ideal place for solo travelers looking for quiet rejuvenation, couples wanting a romantic holiday, or families looking for a nature-based getaway. You won't find any big resorts or packaged hotel deals on this picture-perfect island. You will find crystal-clear beaches, scenic fishing villages, sprawling vineyards, and delectable cuisine.
It's no wonder that Mamma Mia's producers decided to film the second installment of the movie on Vis, opting for this charming island over Greece.
While Vis has managed to stay under the radar, there are plenty of things to do in Vis that will keep you interested the entire time you are there. Don't confuse peaceful and idyllic for boring, though! We suggest at least three days to get a small glimpse of the island, but if you can stay for a week, why wouldn't you?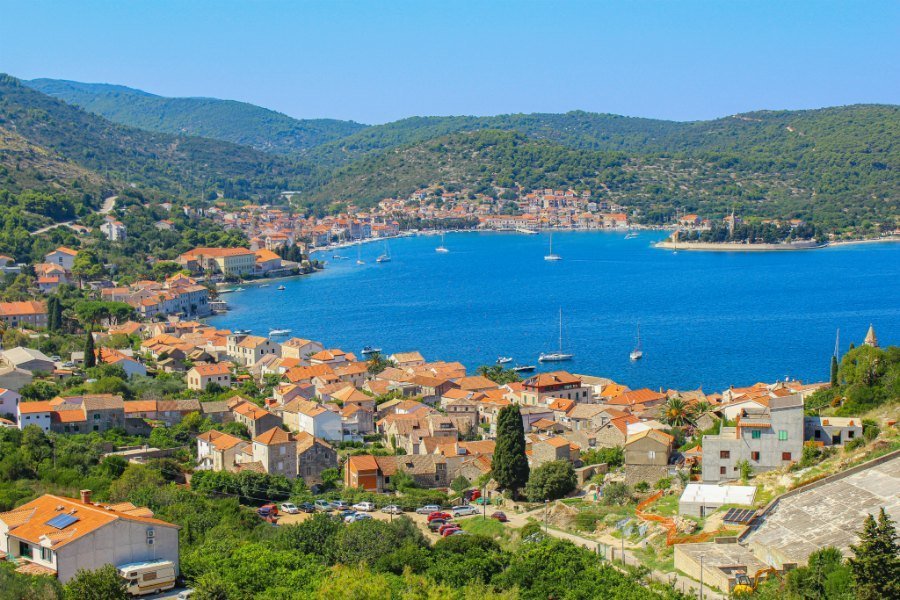 We've outlined everything you need to know, including things to do in Vis and everything you need to know to enjoy your time on the island.
History Of Vis Croatia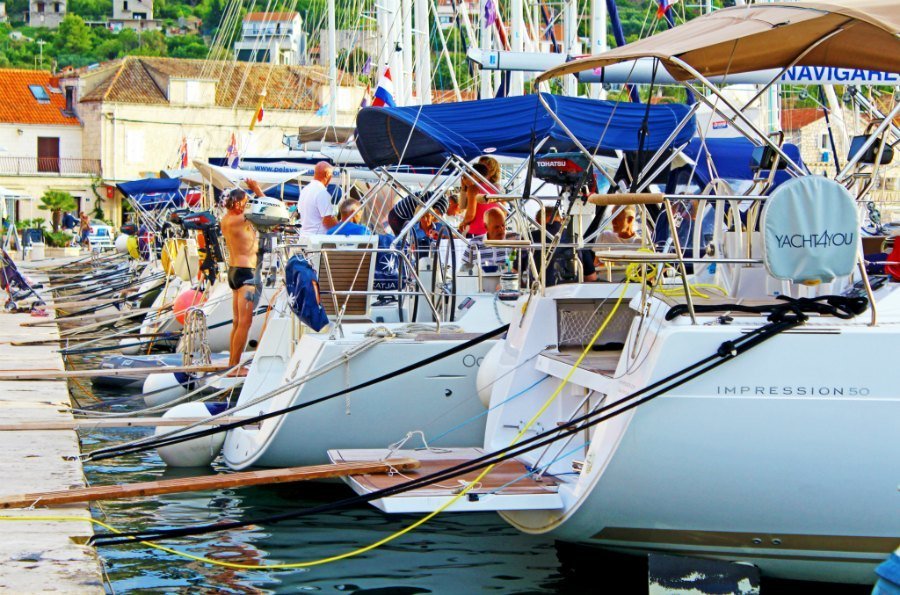 Vis is the oldest established town in Dalmatia, founded in 397 B.C. Vis has retained its small island charm because it has only recently opened its island doors to tourism.
Until 1989, Vis served as a Yugoslav military base, effectively cutting off any foreign visitors for 30 years. This seclusion led to a halt in development and population. Now that it's opened its doors to the tourism industry, visitors have slowly been trickling in and discovering this under-the-radar gem.
Things To Do In Vis Island
There is no shortage of Vis activities to keep you busy; here are just a few. Including where to eat, the best places to sleep, and of course, the best beaches on Vis!
Swim At Stiniva Bay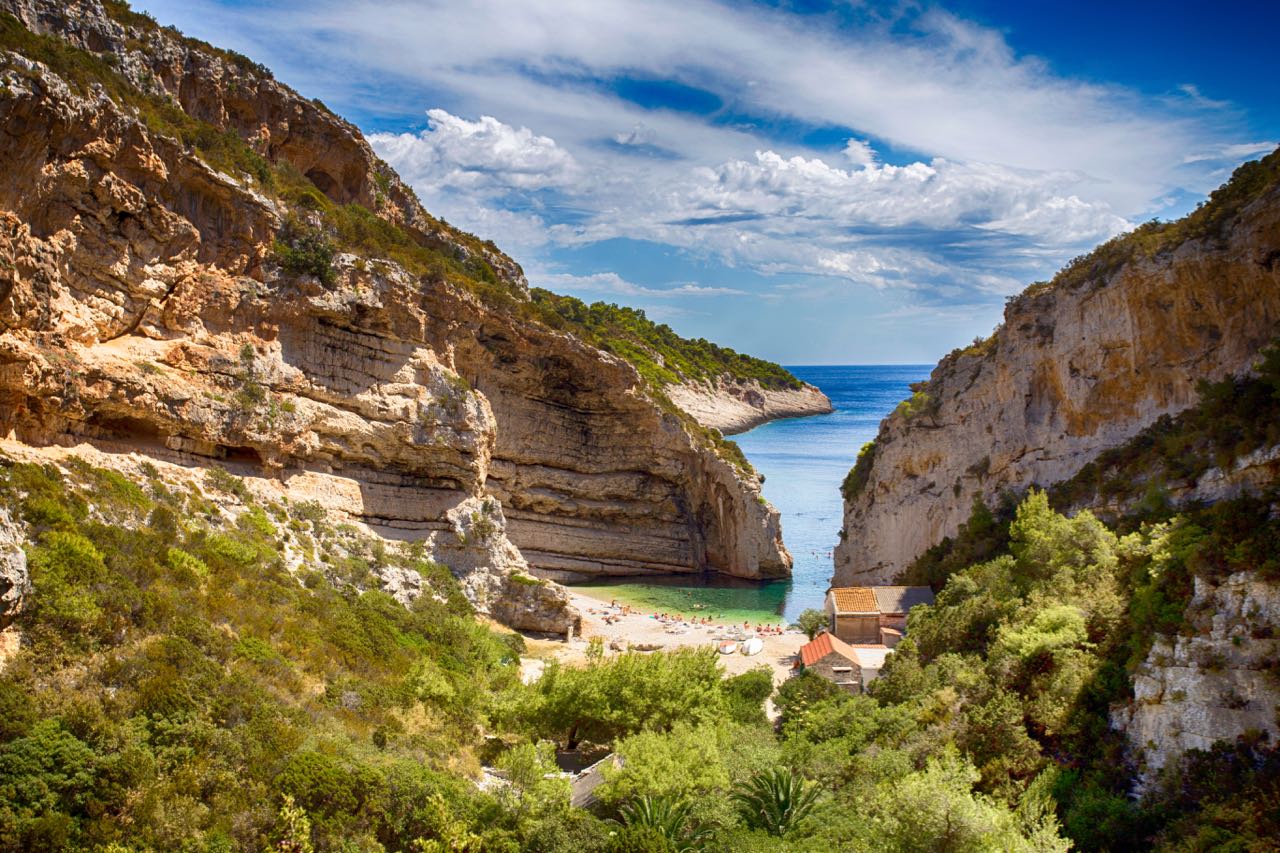 Vis Island is home to Stiniva Beach, awarded by European Best Destinations as one of the best beaches in Europe. Stiniva beach is an almost completely obscured white pebble cove flanked by two towering cliffs with a small opening out to sea. It is a sight to behold and part of what makes it so captivating. It's a great spot to go cliff jumping as well!
Getting to Stiniva Beach is half of the adventure. One option is to hike down the 20-30 minute path to the beach. There is an ominous sign at the top of the hike that says, "Warning! Descend at your own risk." We did it and really didn't think it was too bad. We even saw young children doing the hike. It is steep and rocky, though, so flip-flops are guaranteed to make this a rough hike. Proper walking shoes and a hat are a must.
If you prefer a more mellow entrance to the beach, you'll need to hire a boat in Vis Town or Komiza or go on a guided tour to visit this secluded beach. If you decide to go on a tour, we suggest making a trip with a full day of excursions to different coves to get the most out of your time.
Due to its small size and popularity, it can get quite crowded on the beach. The best times to visit will be early in the morning or late in the afternoon.
Visit The Best Beaches Of Vis Island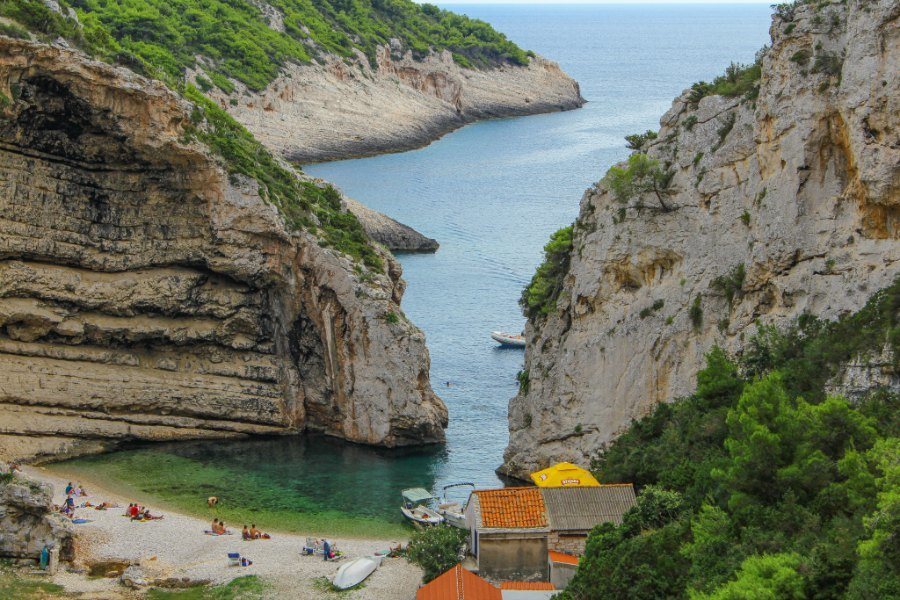 Like most of Croatia, most beaches on Vis are pebble beaches, so don't forget to bring your water shoes. While Stiniva Beach is the most famous beach on Vis Island, there are plenty of other amazing coves and pebble beaches that offer the same fantastic beauty…without the crowds. Here are some great beaches in Vis.
Srebrna Beach
This pebble beach is another popular beach for tourists and locals alike. Dubbed "Silver Beach" for the unique color of its rocks, this beach is open to the sea, giving it gentle waves throughout the year. There is no food supplied at the beach, so come prepared with snacks and drinks. When you arrive at the beach, you can choose to head towards Bilbos, a nudist beach, or Teplus, a more family-oriented clothing beach.
Stoncica Bay
The first beach after leaving Vis Town is the family-friendly Stoncica Beach. It stays shallow for about 30 meters, and its sandy bottom makes this beach a great option if you're traveling with kids. Also, it offers plenty of shady sections and a snack bar for hungry bellies.
Milna Beach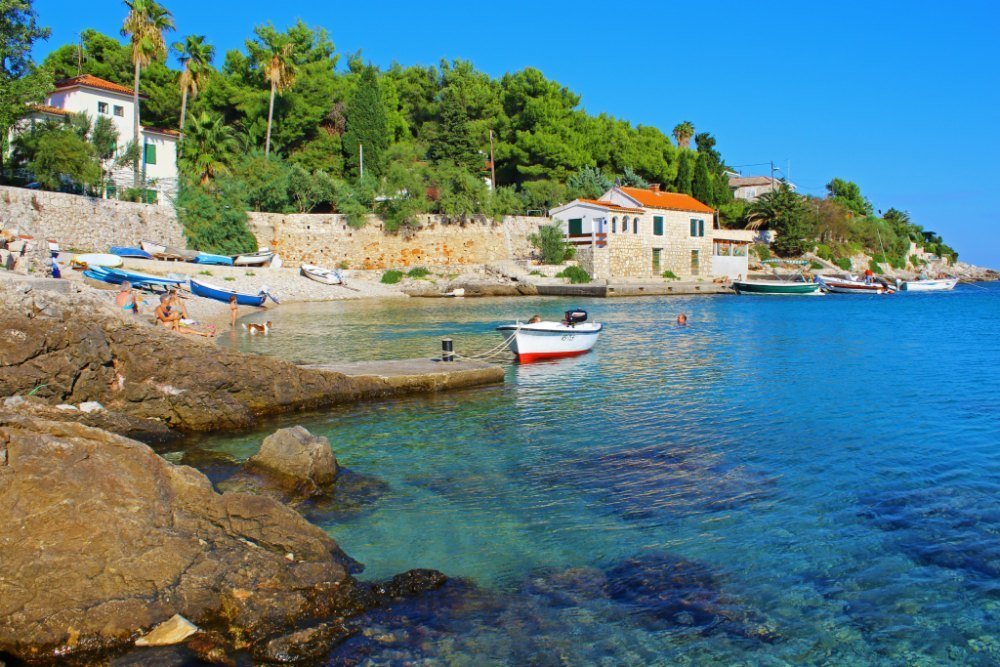 Located right off the main road, this is an excellent option if you want a beach that offers easy access with no walking required. It's a sandy beach that stays shallow for about 30-40 meters. It has a small area to sit and sunbathe in and is another wonderful option if you travel with kids. There is no shade on the beach, so you will need to bring your umbrella or sunhat. When we visited, there were beach chairs and umbrellas you could rent.
Zaglav Beach
Our favorite beach on the island is the sandy beach, Zaglav Beach. Located next to Milna Beach, you'll need to park at Milna Beach and take the 15-20 minute trail starting at Milna Beach. It's a beautiful cliff sidewalk with wild rosemary, sagebrush, and stunning ocean views. The beach is sandy with gentle water and has a small bar offering refreshments. Like Milna Beach, there is no shade protection, so you'll need to plan accordingly. If you visit in the shoulder season, you will likely have the beach almost entirely to yourself.
Did You Know?
Since the spring of 2019, there are two UNESCO Global Geoparks in Croatia. The newest addition to Croatia's numerous UNESCO-protected areas is the Vis Archipelago. Among the most remote islands in Croatia, they're also the oldest islands in the Adriatic. They're formed by some of the oldest rocks in the Adriatic Sea, the main reason for their UNESCO designation, which you can read all about here.
Visit The Blue Cave And Green Cave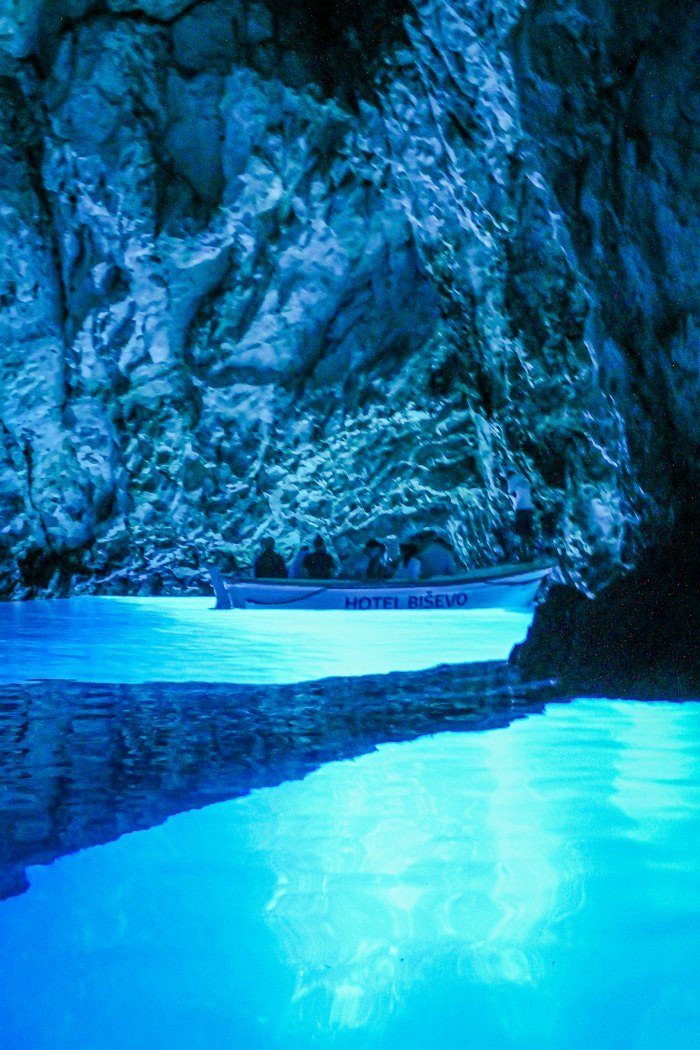 The Blue Cave is a unique phenomenon that occurs for about two hours daily. Located in Bisevo, a neighboring island close to Komiza, the blue grotto is a natural wonder where the sun's rays pass through a small underwater opening and illuminate the cave in luminescent blue light.
You can get a 20-minute boat taxi from the Komiza Harbor to Bisevo, where you can purchase tickets, or buy a tour of Komiza that will include other sights like the Green Cave Porat Beach. The Blue Cave is a top-rated tourist site, and if you are visiting during the high season of July and August, the experience may be underwhelming due to the long wait and the short time (five minutes) spent in the cave.
It's a much better experience during the slower season of June and September. If you are visiting during the high season, it's best to see the cave as early as possible. It won't be as vivid blue, but it will be a more satisfying experience.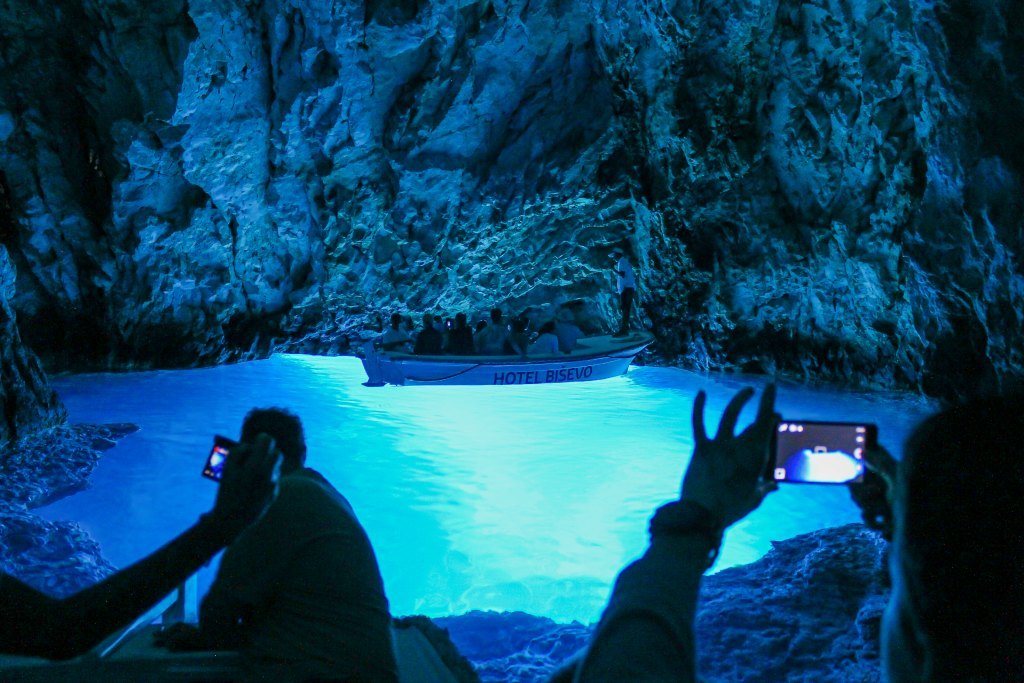 Another great option is to see the Green Cave on nearby Ravik island. The cave is called the green cave because of the emerald reflection cast onto the walls from the sun hitting the algae-covered rocks below. The green cave may not offer the vivid blue experience of the Blue Cave, but unlike the blue grotto, you can swim and snorkel in the cave's waters.
Visit Komiza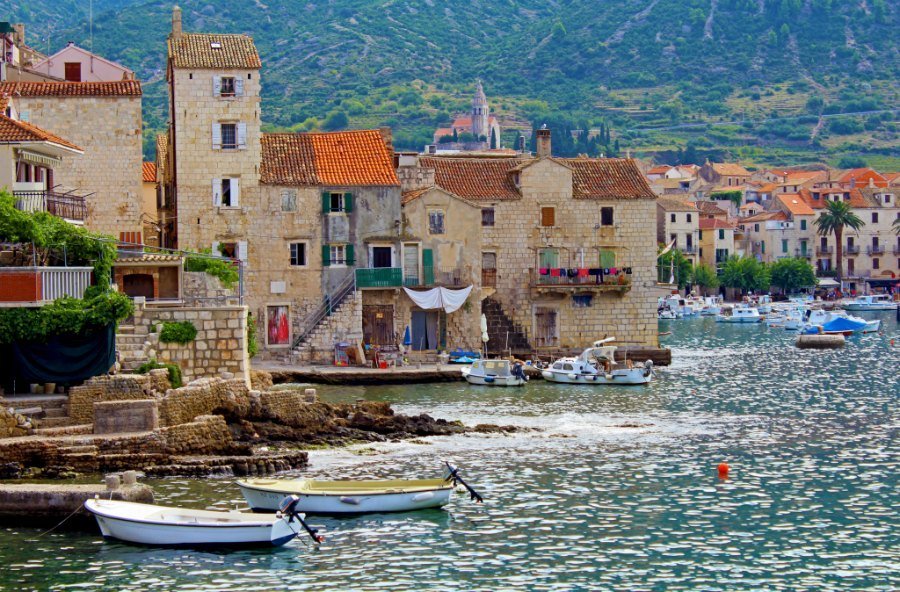 Located on the island's western side, Komiza is a charming fishing village located at the base of Mount Hum. Located about 15 minutes from Vis Town, you can easily combine a trip to Komiza with a tour to see the Blue Cave.
It's a charming old town with cobblestone streets that zig-zag their way through art galleries, bohemian clothing stores, and open-air cafes. Spend a morning or afternoon strolling the streets, dining waterside, or swimming on the pebble stone beach.
Wine Tasting Local Vis Island Wines
Traveling through Vis, you're bound to see that much of the land is dedicated to vineyards producing the island's two excellent wine varieties. Vis produces two original local wines, the robust red Plavac Mali and the dry white Vugaga. You can try them at most restaurants on the island or organize a wine tour where you will be taken on a guided walk through the vineyards, free-flowing wine tastings, and a delicious lunch.
Visit Tito's Cave
For those who like to immerse themselves in the history of a place, a hike on Mount Hum will lead you to Tito's Cave. Tito's Cave is where the famous resistance leader Tito hid out during World War II, where he believed he strategized and plotted attacks. Since Vis Island was a naval base during the days of the former Yugoslavia, it houses many hidden bunkers, forts, and military buildings. The caves can be seen as a part of a guided military tour but can also quickly be done on one's own. There is no entrance fee to see the cave.
Scuba Dive Ship Wrecks Off Vis Island
While Vis isn't known for its outstanding coral reefs, it does offer an abundance of shipwreck sites due to its rocky coastline. ISSA Diving Center, located in Komiza, can take you to different crash sites, including two plane wrecks from WWII. With such a significant amount of dive sites, everyone from the beginner diver to the most experienced can find something to explore.
Hire A Boat On Vis Island
A great way to hit up all the sights on Vis is to do a boat tour around the island of Vis. If you don't plan to rent a scooter on Vis, doing a boat tour as a full-day trip will allow you to hit up many of the spots mentioned above. You can easily find tour guides in Vis Town or Komiza. Most tours will stop at the Blue Cave, Green Cave, Stiniva, and other secluded bays.
Sunset Stroll From Vis Town To Kut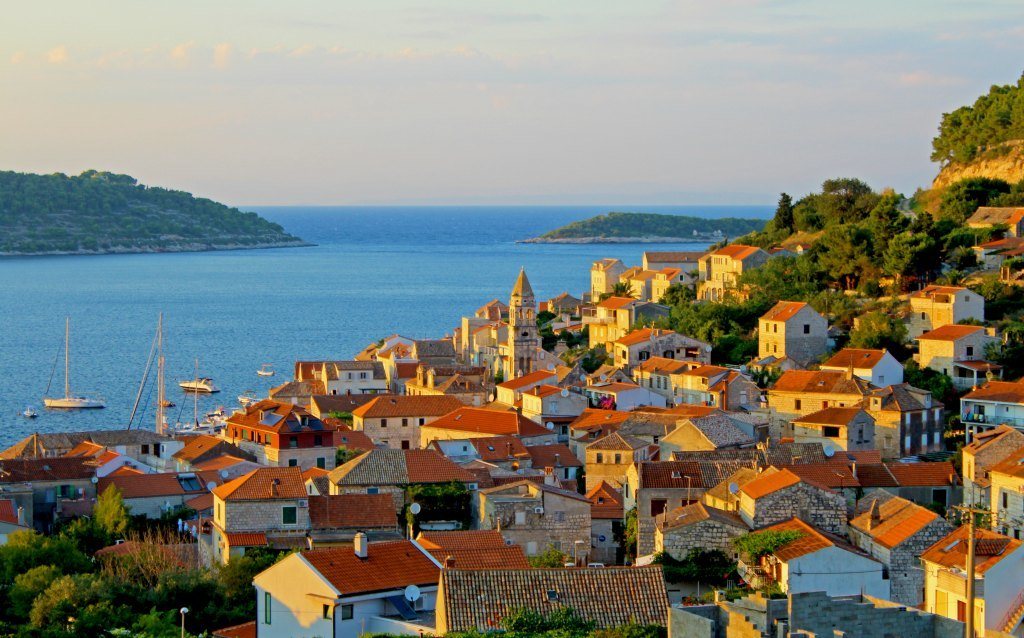 A fantastic way to cap the evening is to take a sunset stroll from Vis Town to Kut or visa-versa. A well-lit path along the water makes for a simple stroll complete with artsy boutiques and hip cafes. The walk is a casual 20-minute stroll, but with ample opportunities to stop at restaurants and boutique stores, it can easily be a simple evening out.
How To Get To Vis Island
The most economical way to get to Vis is from Split on the Jadrolinija Ferry. The ferry ride takes 2 hours and 20 minutes, and the fast catamaran takes 1 hour and 25 minutes. Tickets can be purchased online or in person at the ferry dock.
If you are traveling in the high season, it's best to get them beforehand for peace of mind. Generally, the ferry from Split leaves three times a day, and in high season, it runs four times a day. The schedule varies by day and season, so it's always best to check online or in person for accurate timetables and fares.
When To Go To Vis
The high season in Vis, Croatia, is July to August, when all of Europe is on holiday, and everyone is basking in the heat of the Mediterranean. A wonderful time to visit, but crowds and prices will be at their highest. Vis is a popular spot for sailors island hopping through Croatia.
During the day, the boats will anchor near the island and enjoy the unspoiled charm of Vis. If you can, it'll be more economical and less crowded if you can visit in the shoulder season of June or September. We visited in September, and it was still hot enough to enjoy the water, and many times we had the beach to ourselves.
How To Get Around Vis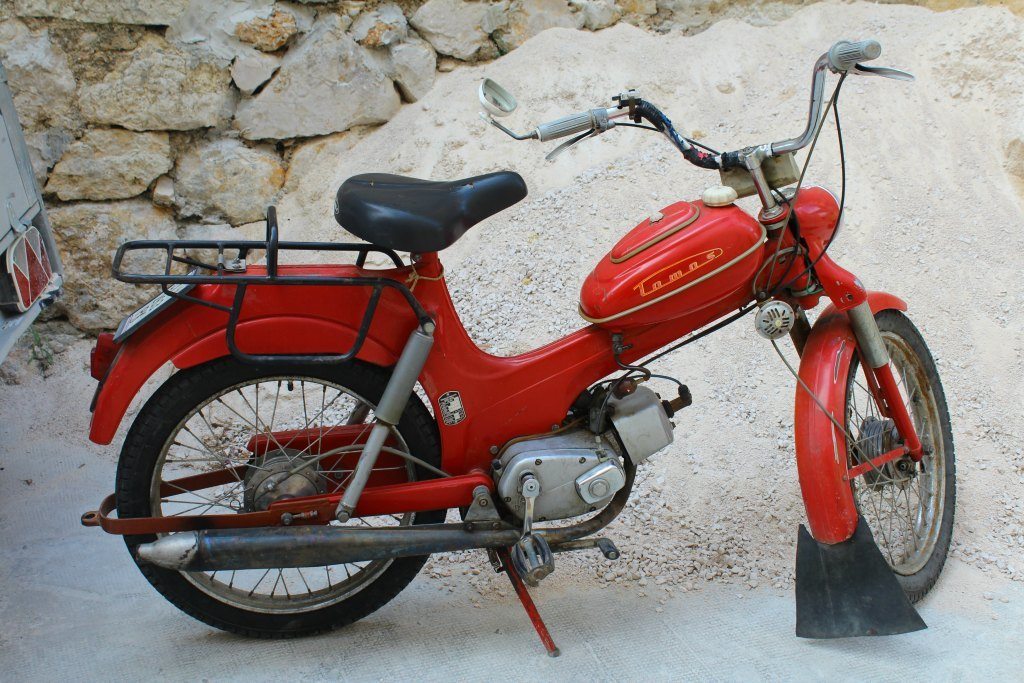 Vis is a small island that can be easily looped in a half-day, seeing that the entire island is 90 kilometers in size. By far, the best way to get around the island is by renting a scooter in Vis Town or Komiza. Exploring Vis on a scooter is more economical and allows you to explore the island's wild interior on your own time.
As long as you take proper precautions, getting around the island should be easy and fun! In addition to renting a scooter, you can also rent a car in Vis Town. While some people enjoy biking in Vis, it is hilly terrain, so biking should be left to those who enjoy mountain bike riding.
Where To Stay In Vis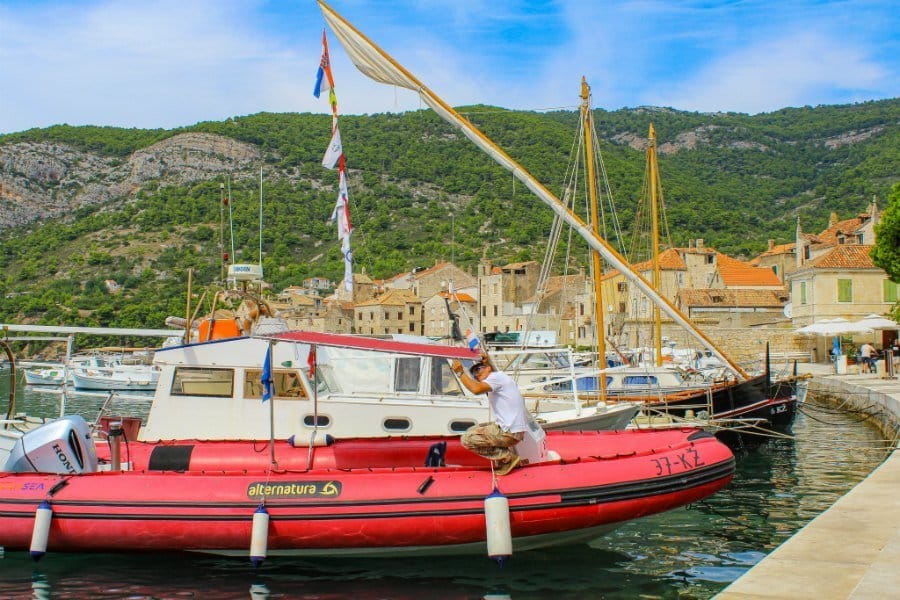 When deciding where to stay in Vis, the most common question is, "Should I stay in Vis Town or Komiza?" Both are fantastic options, and you can't go wrong either way.
The pros of staying in Vis: proximity to the harbor for when you arrive on the ferry and subsequently leave the island on the ferry. Vis town also offers some of the best dining on the island, and everything is accessible with an easy walk.
Komiza, on the other hand: is located slightly further away (15 minutes from Vis) but is quieter and, for many, offers a charming ambiance that can't be beaten. We opted to stay in Kut, which is the old section of Vis Town and, in our opinion, a good mix of both Vis town and Komiza. Set slightly away from the main strip, Kut has a simpler feel with great restaurants and the always necessary local gelato shop.
Since Vis isn't an overly touristy island, there are a small number of hotels and villas that offer everything from simple budgets to luxury villas. Here are some popular options for where to stay in Vis.
Hotel San Giorgio

:

Considered the best hotel on the island, this small family-run hotel is located in Kut in a beautiful stone house surrounded by lush greenery
Seafront Rooms Koluna: An elegant bed and breakfast situated in Komiza. Overlooking the port of Komiza, the rooms offer balconies with a sea view.
Guesthouse Bellevue: A great mid-range guesthouse in Vis Town that includes a small outdoor pool. Its location next to the harbor and restaurants makes it an excellent choice for someone who wants the convenience of proximity.
Another great option is to stay in an apartment or house. We opted to stay in an apartment and were so happy with that choice.
Where To Eat In Vis
Food on Vis is not surprisingly influenced by the sea, so that you will find many seafood-inspired style dishes. The best restaurants are located in Kut, the old section of Vis Town. Some excellent restaurants to try are:
Fort George:

Located outside of Vis Town, Fort George is a hip modern restaurant housed in what was once a British Fort named after the British King, King George III. The ambiance is top-notch, and the food is Mediterranean-inspired with a contemporary twist. Fort George boasts beautiful ocean views and is the perfect place for a cocktail or dinner at sunset. They also offer free transportation to guests staying in Vis Town.

Konobo Kantun: Konobo Kantun offers a small menu that delivers a big flavor. Fresh seafood and traditional dishes make this charming restaurant a popular spot for visitors to the island. Focusing on what they do best allows them to create delicious savory food.

Konobo Rokis:

Any self-proclaimed foodie will have to visit Konobo Rokis while visiting Vis. The family-owned tavern is an essential place to try out the traditional Croatian dish. Peka. Peka is a slow-cooked meal done under a metal dome. To dine at Roki's, you must call in advance to book a table and put in your order at the time of making your reservation. They offer four choices of lamb, veal, fish, or octopus. It's advised to call ahead a few days in advance during high season if you want to secure this delectable dining experience. The restaurant is small and simple but incredibly ambient and cozy.

Karijola:

If you're looking for some delicious pizza on the island, Karijola, located along the water, is the place to go. The popular pizzeria offers wood-fired pizza with fresh ingredients to satisfy your post-beach pizza craving. It's a perfect place to go after a sunset harbor stroll between Kut and Vis Town.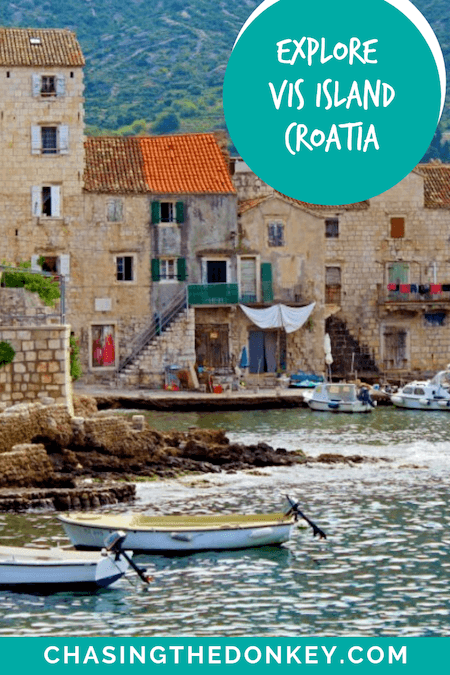 Vis is a spectacular place to kick back and enjoy the elegant beauty of the Adriatic Sea. We hope you enjoy the beauty of the lovely Vis Island as much as we did!
More Croatia Travel Blogs