Turkey is huge. Seriously, it's massive.
You can expect to find many natural wonders within a country that size. In Turkey's case, they're dotted all over the land, with something jaw-droppingly beautiful at every turn. However, for visitors heading to the Antalya region in Turkey, a hugely popular area for beach holidays, many natural gems really have to be seen to be believed.
The Antalya area in Turkey covers many of the country's top beach resorts, and it's no surprise that millions of visitors visit Antalya International Airport every year. The plus point about heading to Antalya Turkey is that the summer is a little longer than other resorts, such as the Dalaman region because it is situated slightly to the east.
For sure, beach time is a must, and Antalya's beaches are natural wonders in their own right, but if you're keen to see some of Mother Nature's best work, check out the top things to do in Antalya, as well as what to see in Antalya, below.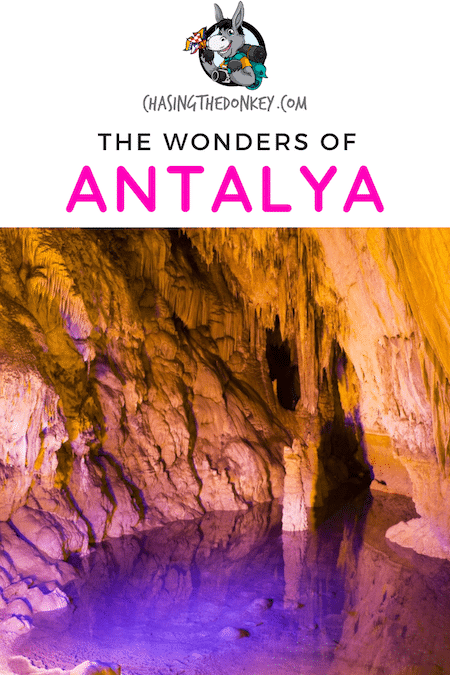 Best Time To Visit Antalya Attractions
Many people don't realize that Antalya is a year-round destination. Sure, you're not going to be swimming on the Antalya coast in January, but the winters here are very mild compared to the rest of Europe and also compared to much of the country.
That means you can have delightful days during the winter, allowing you to walk around in a t-shirt and cardigan or light jacket and enjoy what the greater Antalya region has to offer. Some of the best things to do in Antalya Turkey are available throughout winter, too.
From June to September, all Antalya attractions are bustling. This is the peak summer season, and you can expect crowds in abundance. While you can certainly head out to see some of the natural places to visit in Antalya, including a famous Antalya waterfall or two, during this time, there is a downside, too. Actually, there are two – firstly, crowds.
People will be jostling for space, which doesn't make for the most relaxing day—secondly, the weather. Antalya during the summer can easily hit 40 degrees C, and you're very unlikely to see rain.
Many of the natural gems have some amount of natural shade, but not all of them, which means you will be exposed to the sun for most of the day when exploring these Antalya tourist attractions.
For that reason, the shoulder seasons of April to June and late September to mid-November are ideal for exploring the numerous natural activities in Antalya. If you're planning a holiday in Antalya, Turkey, these are the months we recommend visiting.
Between mid-November and the end of March, the availability of hotels in the Antalya city center and along the coast does drop a little. However, there is plenty to choose from, including Lara Beach's seriously upmarket 5-star options. Many of the Antalya Old Town hotels and beachside restaurants will still be open at that time. Winter is also a great time to visit if you prefer a more authentic vibe.
When visiting during these times, you'll be able to explore with a greater degree of comfort in terms of space and weather. However, it all comes down to your general availability and preferences – we're all different!
TRAVEL COMPANIES WE USE AND TRUST
How To Get Around Antalya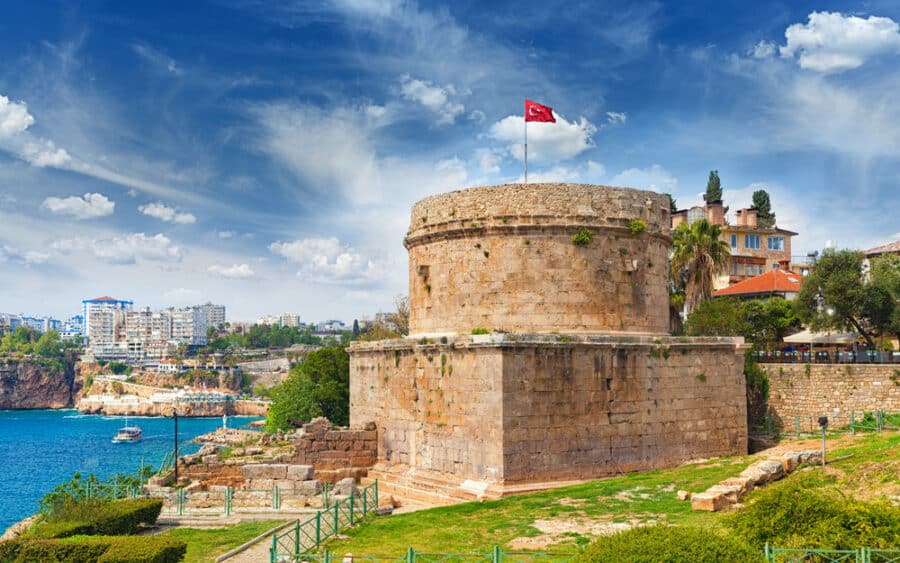 Distances between the best places to visit in Antalya can be large, but the good news is that getting around isn't difficult.
The main natural attractions can all be reached on an Antalya excursion from the main resorts in and around the city, which are usually exceptionally well-priced. You typically get your lunch within your tour price, admission to the attraction, and return transport.
If you prefer to do things independently, you can hire a car and drive to different attractions very quickly. Overall, the roads in Turkey are very high quality, but if you are going somewhere a little off the beaten track, i.e., an Antalya waterfall or a cave, you may find that the final section of your drive is full of twists and turns. Take your time and drive slowly.
The other option is public transport, which often means catching a dolmus (a small minibus). These can become quite crowded, especially during the summer, and tend to go "around the houses," as locals use them to get to and from towns and villages. However, by doing that, you'll see beautiful scenery and get an authentic experience.
What To See In Antalya – Of The Natural Kind
So what natural wonders are there to see in Antalya? What to do in Antalya beyond the urban attractions and busy beaches?
Plenty!
Here are some of the best places to visit near Antalya for nature lovers to put on your Antalya itinerary.
Lots of Waterfalls!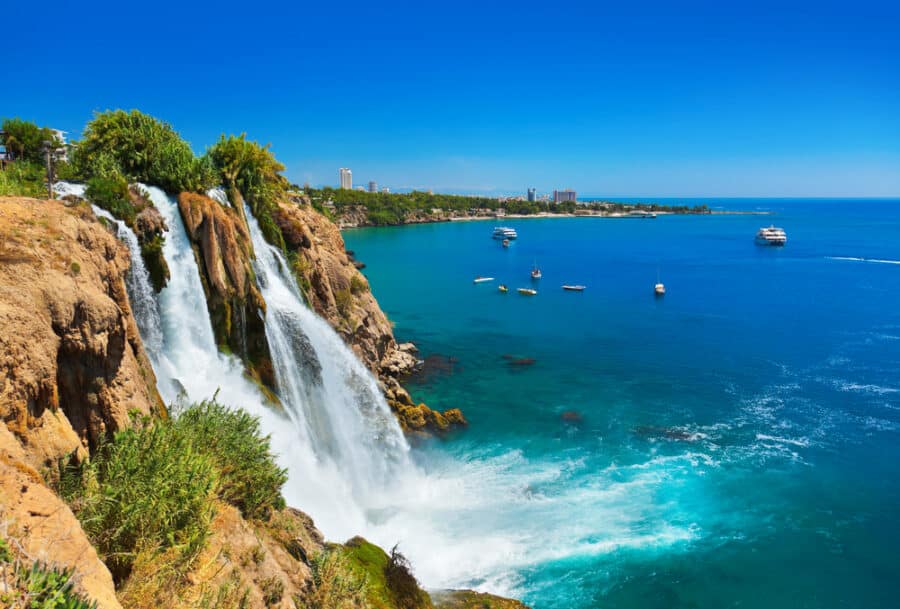 There are many beautiful waterfalls in and around Antalya, many of which are open to visitors all year long. If you only have two days in Antalya, or perhaps just one day in Antalya, seeing an Antalya waterfall or two should be a priority.
Kursunlu Waterfall
Kursunlu Waterfall is an excellent spot for bird lovers, as there are over 100 different species that call this area home. It's almost like a tropical getaway!
Manavgat Waterfall
Manavgat Waterfall is another excellent place in Antalya, which is widely known to be one of the best in the region and is located around 3km out of central Antalya. At 3 meters high, the waterfall is a pretty powerful one, and the spray is very cool on a hot day! You can enjoy a picnic area, and there are restaurants around the waterfall, including a fantastic seafood restaurant.
Duden Waterfalls
One of the most famous waterfalls in Antalya is Duden Waterfalls. Located just 15 minutes from Antalya Airport, you'll find two attractive options to check out. Upper Duden and Lower Duden are both open to visitors.
Upper Duden has a sheltered pool where you can swim and cool down under the shade of the trees, but Lower Duden is probably the most stunning in terms of raw power. The waterfall cascades down the 50-meter-high cliffs into the sea below, and you can hear the roaring as it does so. It's genuinely one of the most remarkable things to see in Antalya.
Köprülü Canyon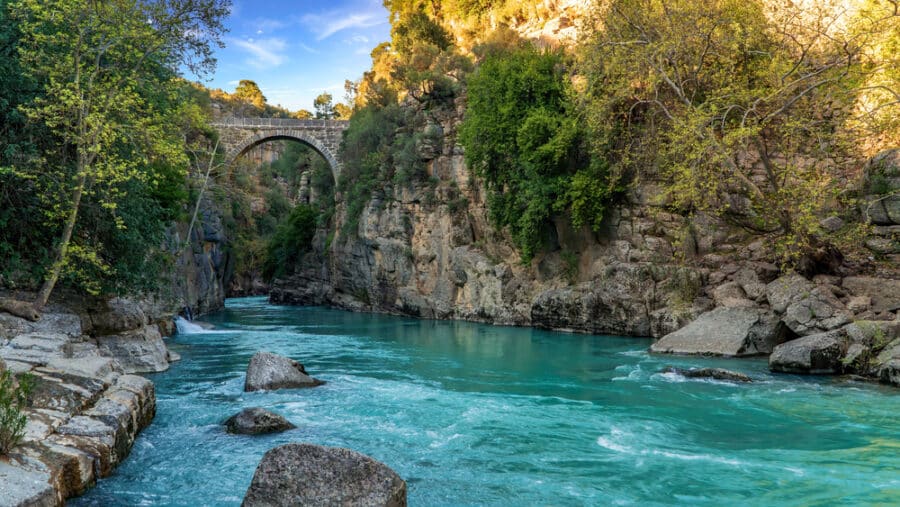 Köprülü Canyon is a canyon and a national park in the Province of Antalya. It's one of the top Antalya sightseeing places, especially among outdoorsy visitors and lovers of stunning natural scenery.
This vast national park is located in Manavgat, a short distance from central Antalya. To get from Antalya to the park, you'll drive through the mountain passes, a road packed with jaw-dropping scenery. The canyon is enormous, around 14km long, and runs along the Koprucay River.
Within the canyon, you'll find all manner of flora and fauna, wildlife, shady spots, and simply beautiful spots that you'll definitely want to capture on camera. This area is also known to be a special spot for trees, with giant oak trees, red pine, cedar fir, and black pine. You'll also find a beautiful cypress forest here.
Suppose you want to enjoy something a little wild and energetic. In that case, you can try white-water rafting within the canyon or wander around the many archaeological sites, including Roman bridges from back in the day. You can camp here, hike, and enjoy the chilled-out vibe.
Altinbesik Cave National Park
Altinbesik Cave National Park is home to the 3rd largest underground water cave in the world. However, it's known for far more than that. You'll find countless indigenous trees, flora and fauna, and plenty of wildlife, including wild goats, foxes, wolves, and wild boars.
The cave itself is the highlight, and when you enter, the first 200 meters are permanently submerged underwater. From there, you head down to a steep section which is arguably the most beautiful part, covered in white travertine.
The top section is always dry, but the rest is often wet, and you'll find large ponds dotted around. As a result of the water, the cave is humid and never really dips below 16 C.
The park is located in a small village called Urunlu Village, which is downright beautiful in its own right. You'll find many trips that head to the caves, but you can drive from the Antalya city center, which will take you around 2.5 hours.
Termessos National Park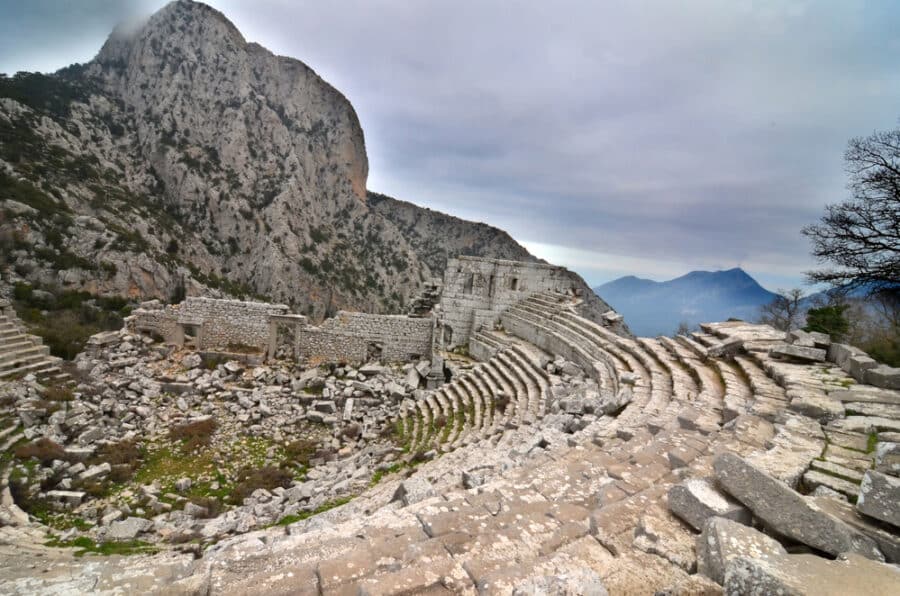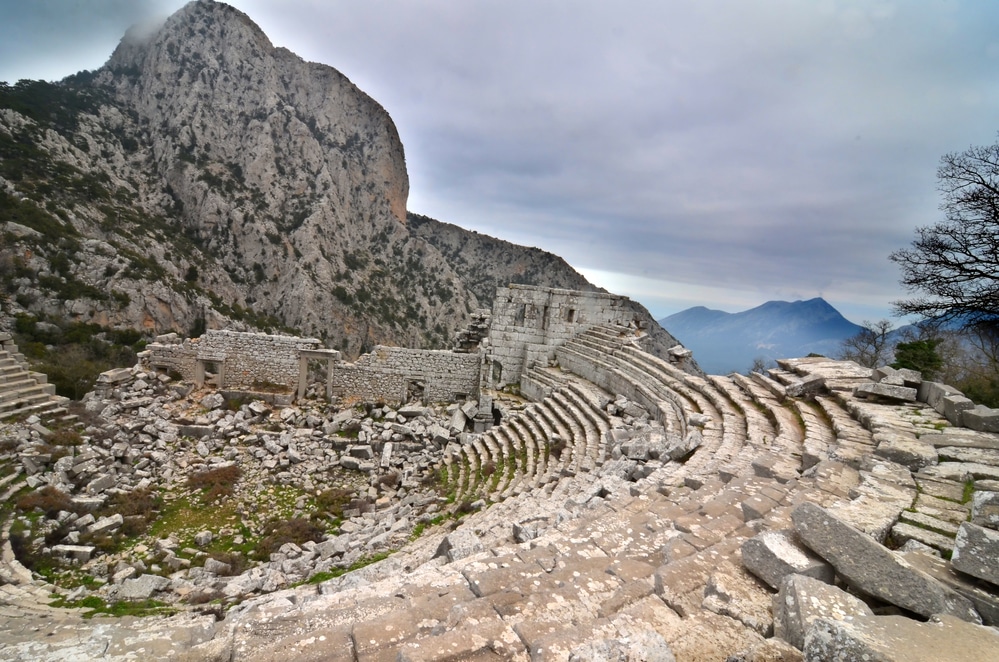 If you're a fan of soaring mountains and the fantastic scenery that accompanies them, you have to head to Termessos National Park. Located around 34km from the Old Town of Antalya, this park is right at the bottom of the imposing Taurus Mountains.
Gulluk Mountain is undoubtedly one of the highlights, along with Mecene Gorge. Check out the fragrant trees, beautiful flowers, and rocks that seem to have characters all of their own. This is also a spot for endangered wildlife, including roe deer, wild mountain goats, and the great black eagle.
The park is also located very close to Termessos Ancient City, and you can spot the ruins from the site itself. If you love walking in nature, this is easily one of the best places to visit in Antalya for you, and there is also a huge ancient amphitheater, dating back to Roman times, that you must check out.
Because it offers fascinating history and spectacular landscapes, this is easily one of the top Antalya Turkey tourist attractions you should visit.
Dim Cave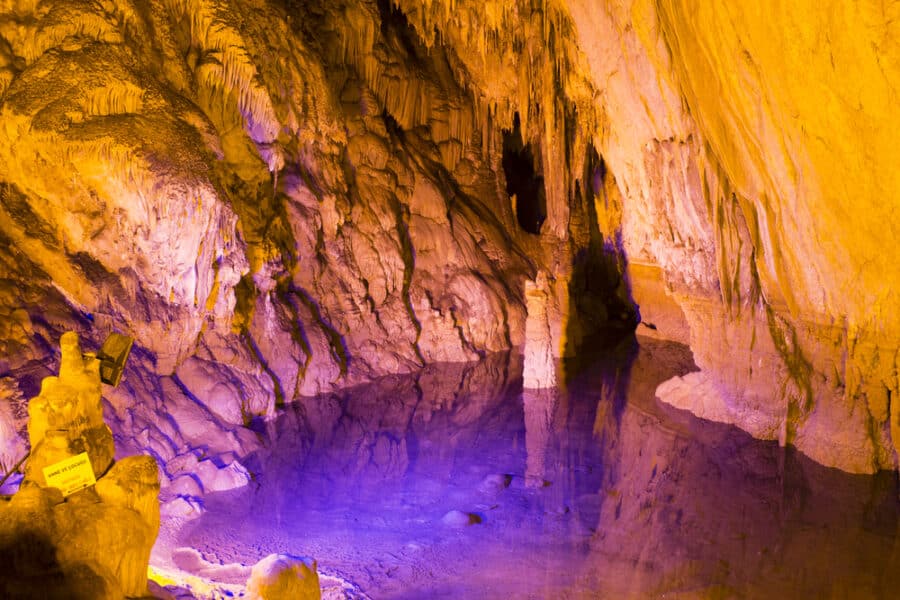 While reading this guide on what to do in Antalya, Turkey, you may be shocked to know we've added another cave.
Yes, another cave!
This one is located in Alanya, one of the beach resorts in the Antalya province, just under 2 hours from Antalya city center.
Dim Cave comprises limestone, and you'll see erosion that has taken place over centuries, creating a fantastic shape and character. The complex has two caves, estimated to be over a million years old! You can walk through the caves, and they're very well-lit. You'll also be able to visit the small underground lake.
Remember to take a jacket or cardigan with you when you visit the caves, even if it's the warmest month of the year – it is much cooler underground. The only downside is that the caves have many steps that lead down to them and within them, which could cause a problem for anyone with mobility issues.
Chimaera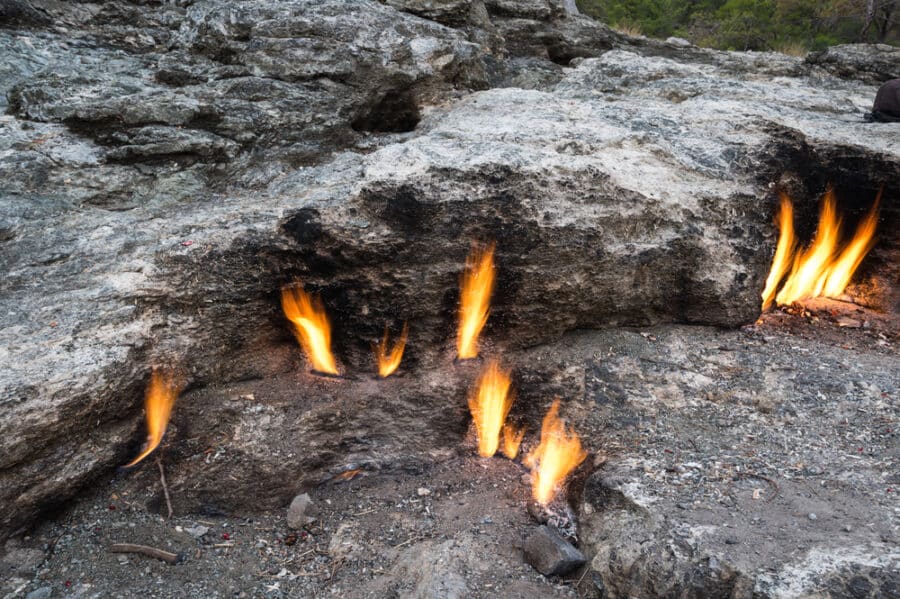 Around 1.5 hours away from Antalya city center, you'll find Cirali. Not only is there a stunning beach here, but you can also visit a phenomenon that will have you shivering for all the right reasons!
Grab some comfortable walking shoes and head up the mountain to Cimaera, a spot where fire constantly jumps out from between the breaks in the rocks. The story is that Chimaera, a mythological Greek monster made up of a goat, lion, and snake hybrid, was fought and conquered here by Bellerophon, a hero of the time.
Of course, the legend is that the fire jumping up from the rocks is due to the monster's lasting presence, but it's actually because of methane trapped between the rocks!
On the way, you'll also be able to visit a temple that is dedicated to the God of Fire from Greek mythology.
Final Thoughts On Antalya, Turkey
The entire Antalya Province is packed with beautiful natural areas to check out, and during one visit, you'll never make it around them.
Distances around the Province are relatively large, but by knowing the best places to visit in Antalya for nature, you can direct your time and attention towards the area that will open your eyes to the beauty and wonder of Antalya in Turkey.