Some posts contain compensated links. Please read this disclaimer for more info.

Best Packable Down Jackets For Your Winter Vacay In 2022
When you're heading off to Europe during the winter months, you need to be ready for anything. The country you're heading to dictates typically the type of weather you will experience. The temperature shouldn't put you off; it just means you need to know what to pack!
One of the best ways to stay warm (and fashionable) is to purchase a high-quality down-filled jacket. We suggest a packable down coat to save room in your bags, keep warm, and look stylish.
A down jacket is a regular jacket with extra insulation in the form of feathers from duck or geese. Such a packable down parka feels luxurious, soft, and warm, and the feathers help create air pockets that trap the heat inside, therefore keeping the chill-out.
We've Reviewed The Best Down Jackets For 2022
We have done all of the hard work for you! Here is a comprehensive guide to help you find the best down jacket for travel for you.
Best Packable Down Jackets For Women
2022 Best Packable Down Jackets For Women Comparison Chart
We took a look at the best packable down jacket for women reviews. Afterward, we compared the features and price and made this easy-to-use table to help you review and decide which is the best winter travel jacket with down for you.
Click on any heading to sort the table accordingly to help you find your right jacket.
Rab Neutrino Endurance Jacket – Women's Packable Down Jacket 800 Fill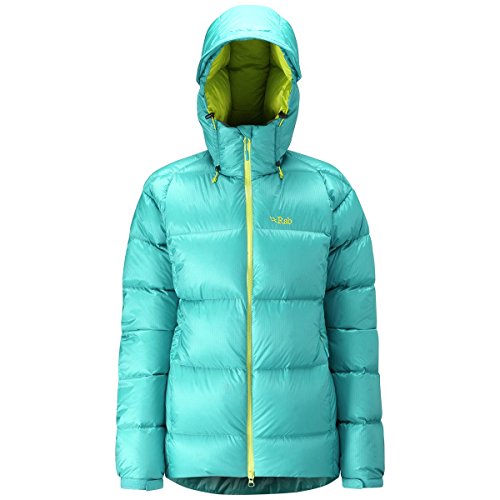 This women's packable down jacket with hood is available in several different colors and is designed with the ladies in mind, fitting the female form perfectly. If you were worried that a down coat wouldn't be shapely, this jacket proves you wrong. The outer is made of high-quality Pertex Endurance material, with European goose down, measuring 800 fill quality.
The hood is also down-filled to give extra warmth and is also helmet-compatible. There is one zipped internal jacket to keep your phone safe. Moreover, it is lightweight, too, at just 585g.
Why we love this women's 800 fill down jacket: The jacket is stylish and created just for women, giving it shape, which other jackets can lack.
What you should keep looking for a more suitable packable down winter coat: The fill quality of this jacket is middle of the road, so if you are looking for a super-warm coat, you would need to look for another women's parka.
Sierra Designs Women's DriDown Waterproof Packable Down Jacket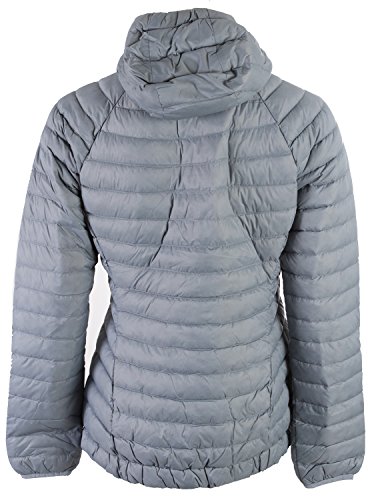 This women's down jacket is ideal for a woman who wants to get out and see a new European city during the winter months, when it may rain and be a little on the cold side. Of course, if you're thinking about heading out into the mountains for skiing or something more outdoorsy than that, this jacket might not be warm enough.
Made of 100% nylon, the jacket is filled with Duck DriDown, waterproof, with insulated hand pockets and two pockets on the inside. There is also a waterproof collar.
Why we love this down winter travel jacket: This is a stylish option for urban exploration and sightseeing.
What you should keep looking for the best packable down jackets: There is no hood.
Patagonia Women's Ultralight Down Jacket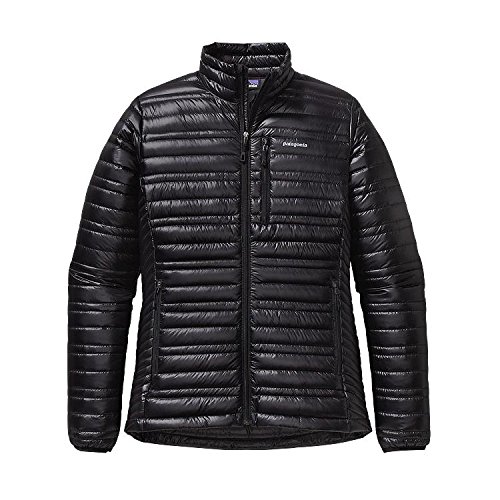 This women's ultralight down jacket comes from a big-name brand, so you know you are getting quality from the get-go. Available only in black, this jacket is made of nylon ripstop material and is waterproof. The construction is a baffle finish, which is why this is a slightly more expensive product. Its slim-line fit makes it flattering for women. The fill quality is 800, meaning it is warm enough for heading out on cold winter days.
Why we love this waterproof down jacket: Light, packable down jacket, making it great for travel.
What you should keep looking for a more suitable down jacket: Only available in black.
Patagonia Downtown Loft Down Jacket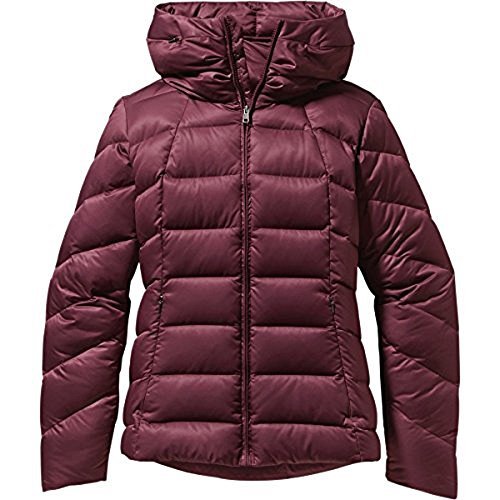 This fashionable Patagonia packable down jacket is available in three different colors and is of high quality for a day out in the cold. However, if you're heading off to the nearest mountain, the fill power of 600 is a good middle-of-the-road choice. The coat is made of duck down and polyester, making it warm and waterproof. It has two zipper pockets and a hood.
Why we love this down Patagonia travel jacket: Available in many different fashionable colors
What you should keep looking for the best women's packable down jacket: Not suitable for extremely cold temperatures
Arcteryx Cerium LT Hoody Warm Packable Women's Jacket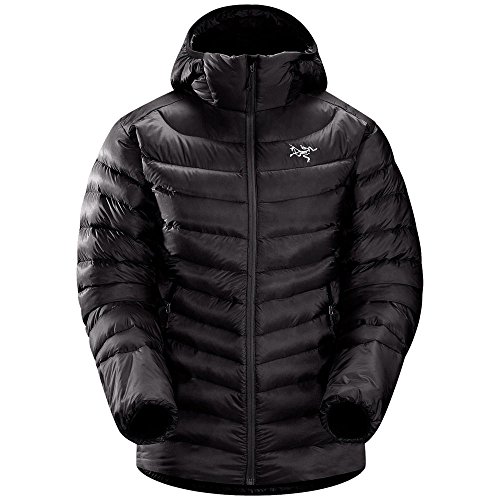 This lightweight, packable down hooded jacket is available in lots of different colors, slim, and incredibly flattering for women. The lightweight and durable fabric has a down rating of 850, which is very warm and would be enough to head out on a hiking adventure. There is an adjustable storm hood and two hand pockets with a zipper closure and elasticated cuffs to keep arms super-warm.
Why we love this packable down jacket with hood: One of the best winter jackets for women and warmest down coat.
What you should keep looking for a more suitable packable winter jacket: If you are not looking to go out into freezing temperatures for long periods, e.g., you want a coat for heading out sightseeing, this one might be too warm.
Mountain Hardwear Ghost Whisperer Down Travel Jacket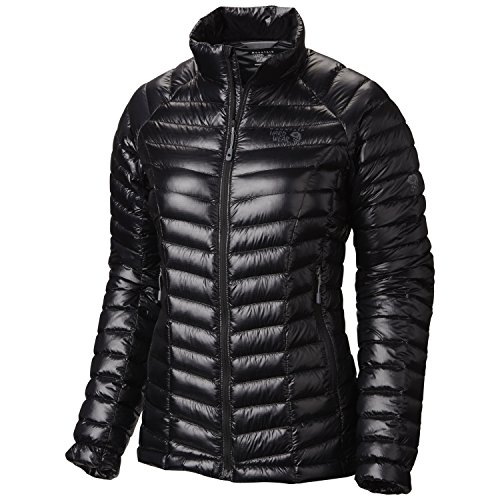 This women's down jacket is available in countless colors, and the price changes depending on the color option you go for. Made of nylon, the down feather jacket is waterproof and is filled with duck down to a level of 850, which is very warm and suitable for hiking adventures for the day. The jacket is lightweight and has a drawcord to keep warmth in even more, as well as two handwarmer pockets at the front.
Why we love this collapsible down jacket: Available in countless colors and looks super-stylish.
What you should keep looking for a more suitable down jacket: Slimline fit may not be comfortable for wearers who like more room to breathe.
7Encounter Women's Lightweight Down Filled Packable Hooded Puffer Jacket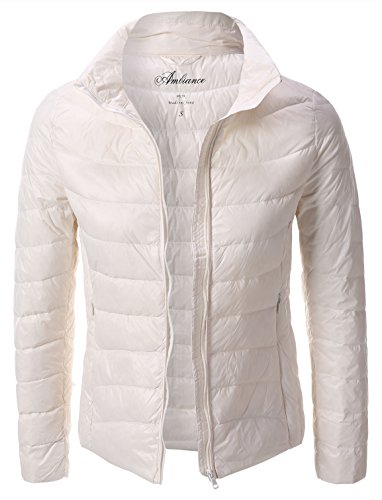 This exceptionally fashionable down coat comes in three different stylish colors: white, gray, and black. The jacket is made of a shell and nylon combination, which keeps the wearer warm and dry, with a down and feather fill mix.
It has a fashionable standing collar and an invisible front zippered pocket. This lightweight, packable puffer jacket also comes with a free tote bag, which means you can store it away when you're not using it, keeping it in the best condition for when you need it.
Why we love this lightweight puffer jacket in a bag: Some women say that this is the best packable puffer jacket because it combines style with warmth.
What you should keep looking for a more suitable down jacket: If you want a brighter jacket than the muted colors this one comes in, this may not be suitable for you
The North Face Transit Travel Down Jacket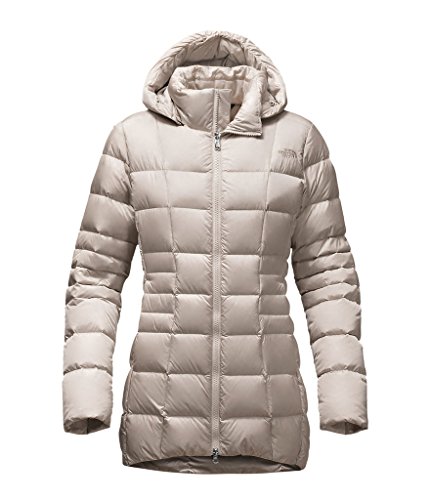 The North Face is one of the biggest and best winter jacket brands in the outdoors world, and this one is undoubtedly a quality option. If you are looking for a long parka jacket for going about your business during the winter months, the down weight of 550 will be enough for you.
This packable down coat is also available in five different neutral color options for serious fashion kudos. There is a two-way front zip, and everyone will see that you have gone for the big North Face brand, thanks to the logo on the front and back.
Why we love this packable winter coat: Big-name brand and detachable hood adds up to a quality product
What you should keep looking for more suitable lightweight down filled jackets: This long parka jacket is not the cheapest option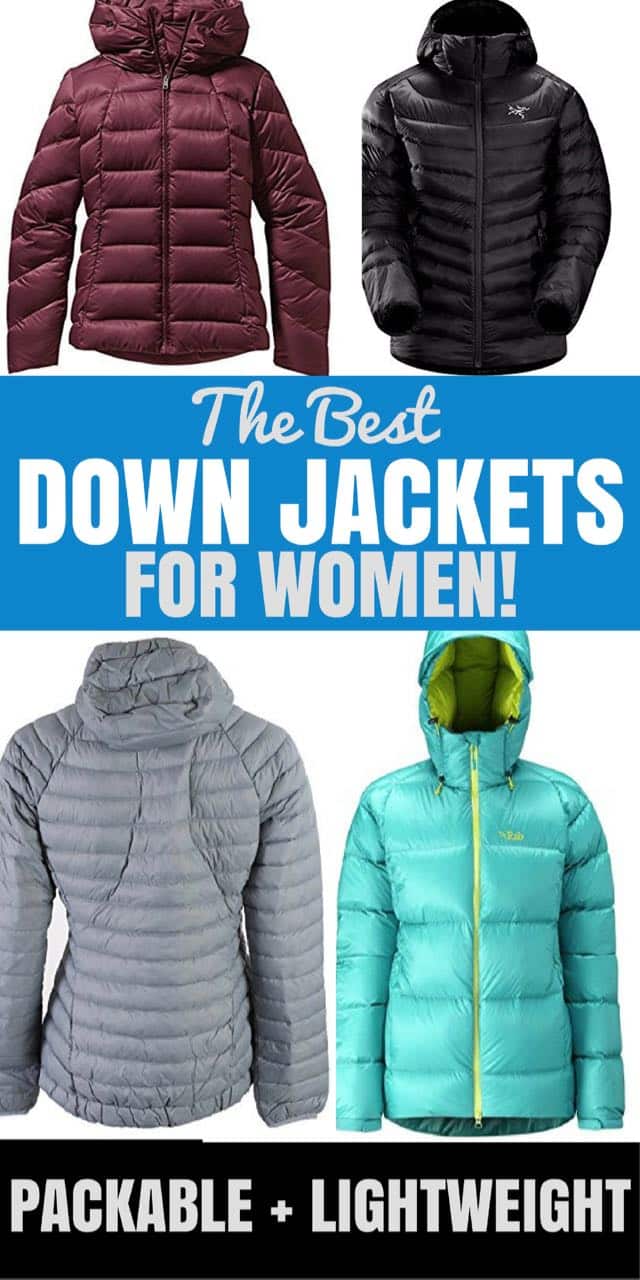 Best Packable Down Jackets For Men
Now for the men, let's keep you warm with these awesome men's packable down jackets for travel.
2022 Best Packable Down Jackets For Men Comparison Chart
We took a look at the best packable down jackets for winter. Afterward, we compared the features and price and made this easy-to-use table to review and decide the best packable down jacket for men.
Click on any heading to sort the table accordingly.
Rab Neutrino Endurance Men's Packable Down Jacket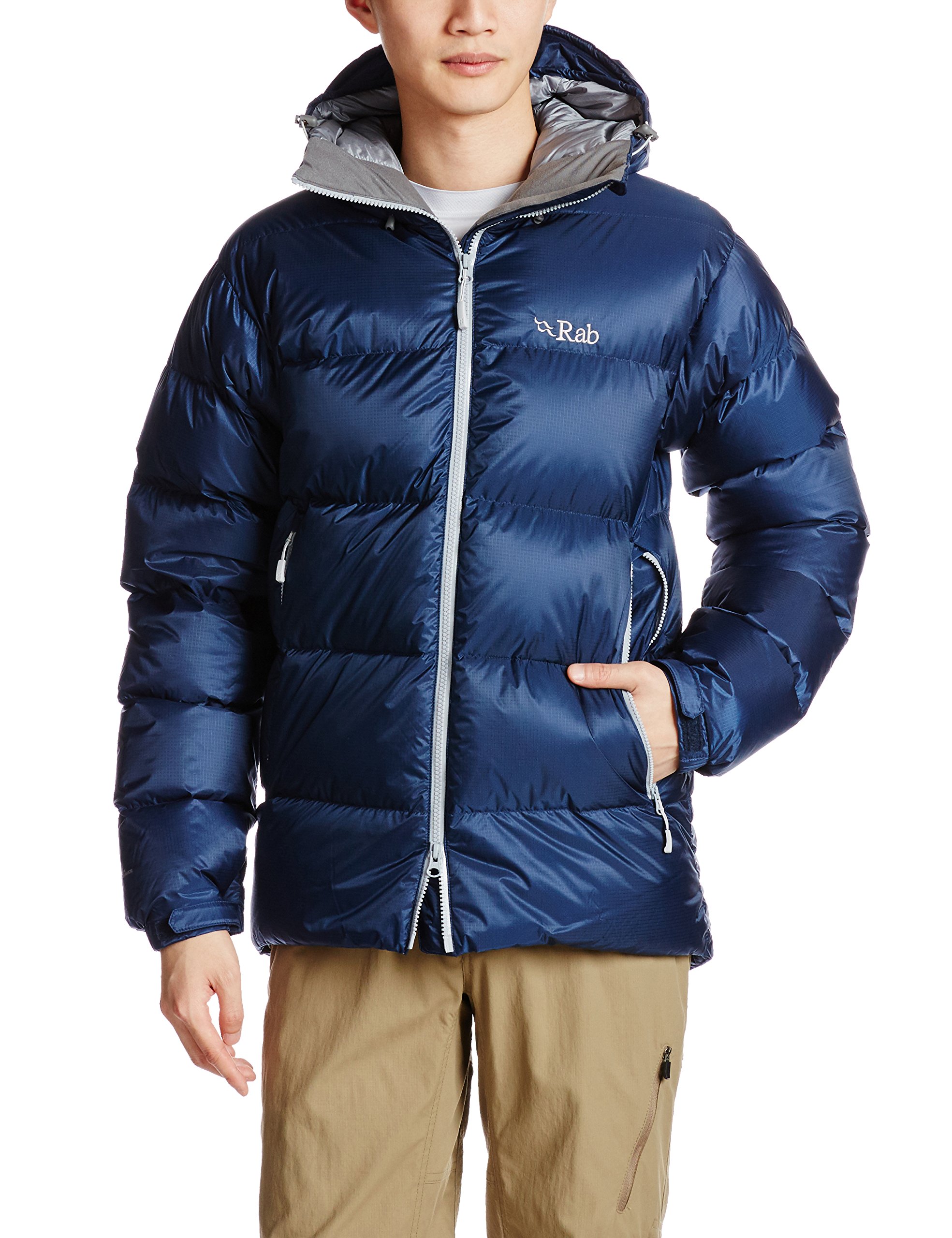 This jacket is an ideal fashion choice for men who want to look the part, but who also want to be warm when out and about. Available in six different colors, the weight overall is 635g, which is quite lightweight for a good quality outdoorsy jacket.
Filled with European goose down, this packable hooded down jacket has a down-filled hood and is also compatible with helmet wear. The padded 'baffle' design also looks not only fashionable but also gives you peace of mind that you're certainly going to be warm and cozy!
The outer material is Pertex Endurance, so you can be sure that this jacket will keep you dry, warm, and it is ideal for heading out on longer hiking trips in the great outdoors. There are handwarmer pockets that zip up, and there is also an internal pocket for keeping your phone or other valuables safe and within easy reach.
Mountain Hardwear Ghost Whisperer Hooded Down Jacket – Men's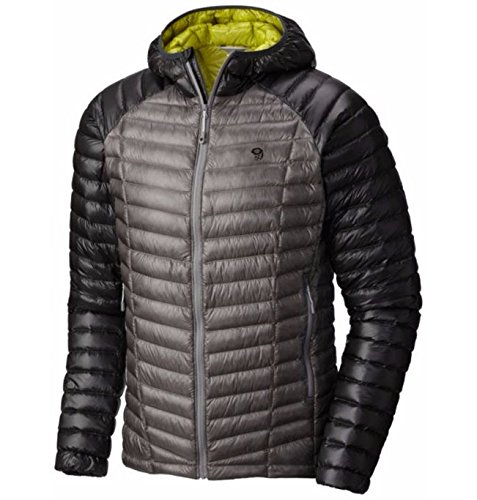 This is a stylish, lightweight jacket, which is available in a huge 13 different colors, and will keep you warm while you're out and about, checking out your new destination. The outer is made of quality nylon, and the interior down is Nikwax Hydrophobic Down, which is designed to stop moisture from seeping into the jacket and keep you extra warm.
The quilted pattern on the outside is designed to be smaller, so it keeps warmth in, rather than allowing draughts to make their way in. There is a toggle on the hemline so that the jacket can be adjusted for a bespoke fit, and there is an elastic binding on the cuff to keep your arms extra warm too.
Arc'Teryx Men's Cerium LT Men's Layered Packable Puffer Jacket With Hood
This jacket is available in five different colors, some of which are bright and some are muted, for a bespoke appearance! The more brilliant colors are ideal for being seen in dark conditions, while the standard colors are great for fashion wear. The outer is made of a combination of nylon and polyester, so it's sure to keep you warm, and the outside is quilted nylon taffeta.
This is a lightweight choice, which is ideal for your travels and is perfect for wearing while you're out sightseeing in colder temperatures. The jacket is a short length, e.g., it finishes at the waist, and again, this is a fashionable choice.
The jacket is filled with a white goose down and is warm, as the fill weight is a large 850. The hem and cuffs are both elasticated so that warmth is trapped inside, rather than disappearing while you're out and about!
Cotopaxi Fuego LT Men's Foldable Puffer Jacket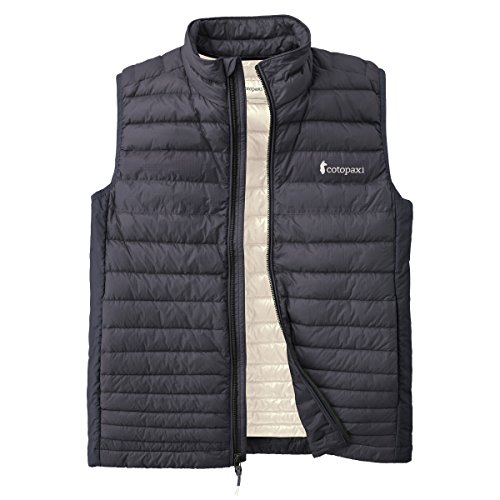 This is an ideal choice for men who want to look fashionable while out sightseeing or even hiking. The jacket is super-warm and made of durable ripstop nylon, which is designed to keep out the cold wind and is also very water-resistant.
This jacket is super breathable, as it is designed to let out hot air and keep you cool, but keep you warm when you need it the most – quite an intelligent jacket! The fill is 950, which is very warm, and the goose down is also designed to be water-resistant.
Another plus point is that this jacket is very lightweight, at just 283g, or 10oz, and the appearance is very fashionable. If you're looking for the smallest packable jacket, this is one worth taking a closer look at.
Rokka&Rolla Men's Ultralight Packable Compact Puffer Jacket
This beautiful, quilted winter jacket for men features a front zipper closure, a standing collar for neck warmth, two zippered side pockets, and elastic sleeve cuffs that can help keep your hands warm. Its unique technology of finer yarns and high-density synthetics ensures breathability and extreme lightness while also being skin-friendly and comfortable.
In terms of materials, this awesome men's down jacket is made of 100% nylon. The interior filling consists of 90% white duck down and 10% duck feathers. An interesting extra feature of this packable down jacket is that it can be converted into a travel pillow thanks to a pouch accessible through the collar.
Additionally, for the style-conscious travelers among you, this jacket comes in six different color combinations, from black-red to green-purple to light blue-black.
Eddie Bauer CirrusLite Down Jacket For Men
One of the leading brands of stylish outdoor clothing, Eddie Bauer, is also a good option when you're looking for the best packable down jackets. Their CirrusLite down jacket has 650 fill premium down insulation and a nylon shell that keeps it all together and is water-resistant. Not unimportantly, their down is sourced responsibly and comes with an official certification.
This jacket is also super-easy to compress, and an included pouch makes for convenient storage. There are two zippered side pockets, as well as an interior pocket. Elastic cuffs at the waist and hem are designed to minimize heat loss, while the high neck collar also offers extra warmth on those cold and windy winter days.
The Eddie Bauer CirrusLite down jacket for men comes in five colors: orange, dark blue, black, gray, and red.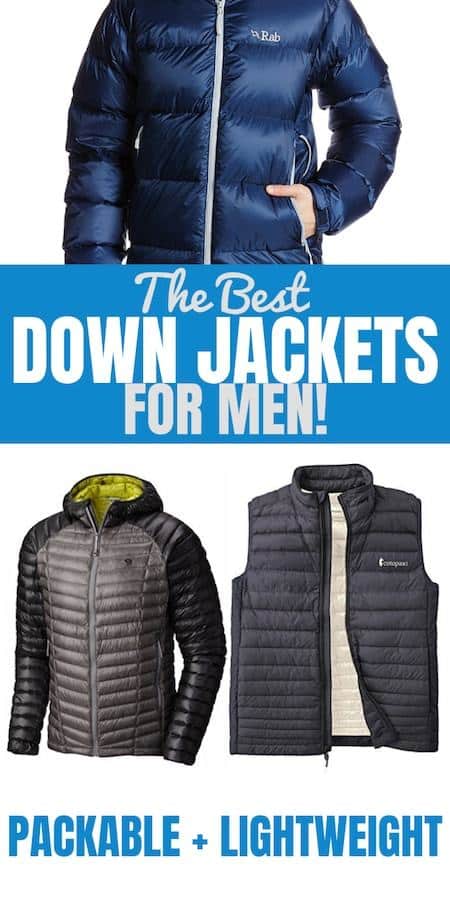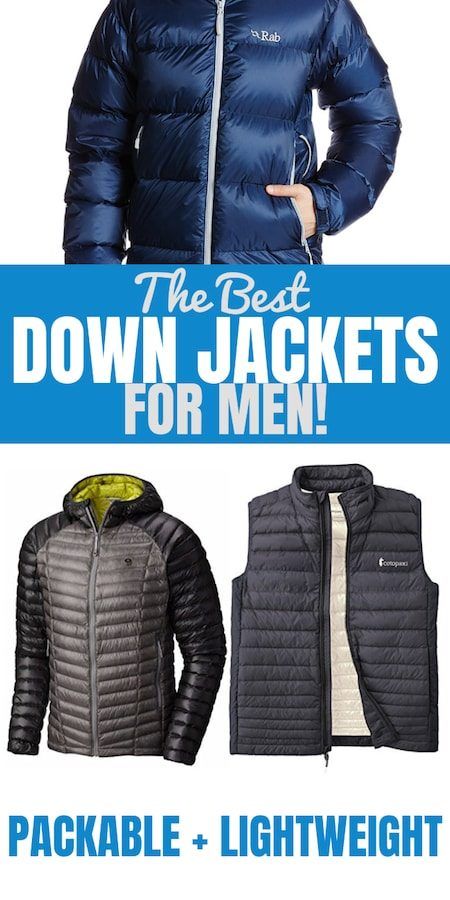 What To Look For When Buying A Down Jacket
Type Of Down
For this, you need to look at what is known as the "fill power." This means how much down is actually inside the jacket, whether it is made of duck down, goose down, or something else!
400-450 fill is a medium warmth, whereas 750-900 is classed as very warm and of an excellent standard. It's really about knowing where you're going and what you're going to need. If you buy a jacket that is too thick, you're going to be too warm, while if you go for too thin, you will be cold.
Construction
There are two types you need to look at, sewn through and box baffle. In a sewn-through down travel jacket, the jacket's outer is stitched to the inner lining directly, so the down is separated into patches. This means the down won't clump together, but there is the risk of cold spots occurring because of where the feathers are pinched when sewing.
This is the most common type of down jacket, and therefore the cheapest. On the other hand, box baffle is more expensive, and this means that each separate 'baffle' has a separate down section. This means there is less chance of cold spots and a warmer jacket overall.
Weight
If you are packing your jacket rather than wearing it, the down jacket's weight becomes an essential factor. The good news is there is a lightweight, warm jacket for travel and all other occasions. The important thing is to select the correct down fill level in your ultralight down jacket.
Color & How It Matches Your Wardrobe
What color of packable goose down jacket will you opt for? It's always best to go for a neutral color, such as black, navy, gray, etc., while avoiding colors that might not work with everything else you want to wear.
Material
There are various materials that the outer layer of a down coat can be made from, affecting the price and warmth. Therefore, you need to check out down jacket reviews to make sure you pick the best packable jacket down coat for your needs. Softshell is a standard material because it is extra waterproof and combines the down inner for warmth.
Suitability
What do you need the travel down jacket for? What is the down coat designed for? Is it the warmest down jacket, best packable jacket, a women's down jacket, the best ultralight down jacket, or are you looking for the best hiking jacket? There are a plethora of choices and styles to meet your every need. Check out reviews to find out the honest answer to that question before you make your purchase.
Down Jacket FAQs
We know you've got questions about how to choose the best down jacket – so here goes;
What Is The Difference Between Traditional And Hydrophobic Down?
Hydrophobic down is a more modern style of down that handles wet weather better. It is designed to repel moisture. On the other hand, traditional down has always had a slight issue when it comes to getting it wet. This is the primary difference between the two and the fact that hydrophobic down also dries faster.
How To Clean A Down Jacket?
You need to check the washing instructions of each jacket to answer that question. Still, if your jacket is machine washable, rather than being dry clean only, you should turn the jacket inside out and wash on a cold, gentle cycle with only a small amount of laundry detergent.
The gentler, the better. After this, you should repeat the process three more times without detergent to ensure there is no residue left inside the down.
Are Packable Down Jackets Waterproof?
Generally speaking, most down jackets are made with a waterproof outer material, such as hard and soft shell, but you need to check each coat you are thinking about buying first. The fact a down jacket is 'down' does not mean it is automatically waterproof.
What Is Down Quality?
When you purchase a quilt for your bed, you check out the quality of the down if you are going for a down quilt, and the same can be said for a down jacket. There will be a rating, and you need to check that this suits your needs and isn't too thick or too thin.
The higher the down quality, the thicker the jacket overall, and therefore the warmer it will be. There is a sliding scale starting at around 400 and going up to 1100. The higher the number, the better the quality, and the warmer the down parka.
BONUS INFO: Winter Packing List For Europe
Consider this your go-to guide on what to pack when you head off to the wonders of Europe this coming winter.
What To Pack For A Winter Vacay
A warm jacket
Waterproof jacket
Umbrella (or one of our favorite rain jackets)
Sunglasses – Yes, the sun still shines when it is freezing!
Walking boots/boots which do not let in the water and are suitable for snow and or rain
Thick socks
Scarf
Hat
Gloves
Warm clothes – It's impossible to give a long list of clothes to take because it depends on your size and preferences. However, you need to think along the lines of jeans, thick leggings, shirts, sweaters, and basically layers! It's easy to be cold one minute and quite warm the next, so layering will help you be comfortable in all different conditions. A hoodie is an excellent way to keep warm and stay fashionable.
Night clothes – Again, think about warmth, but remember that you are not going to Siberia! A pair of pajama bottoms and a T-shirt will probably be enough, provided you are staying in a hotel that has central heating. If not, you need a sweater to sleep in.
Sun Lotion – If you are heading out on a bright sunny day, do not be fooled into thinking that you're not going to get a sunburn, especially if you are at a high altitude.
What To Leave At Home
Basically, anything for the summer or warmer months. While you will probably wear short sleeves at some point, you will likely need to wear a cardigan or hoodie over the top because when you sit, you will be cold. If you visit the Mediterranean coastline, even during the winter months, it is warm, but not warm enough to go without a coat. Think layers, and you will be able to stay comfortable.
How To Pack For Winter In A Carry-On
Are you planning a trip this winter and already dreading the baggage fees and overpacking that is sure to come with adding bulky clothing to a suitcase? When you think about winter clothing, you think about bulky warm sweaters, many many layers, hats, gloves, oversized puffer coats, and heavy winter boots that take up a ton of room. All of these are recipes for disaster for your carry-on packing dreams.
It doesn't need to be like that; however, with a few key pieces, some advanced planning, and a suitable method, you can be well on your way to your next winter destination with just a carry-on.
We've put together some of our favorite tips and tricks to get you fitting those warm winter clothes into a carry-on in no time!
The Secret Weapon
My secret to packing carry-on only is to pack a base layer that will keep you warm no matter what goes on top. This cuts down on the need to bring a ton of layers or extra thick tops or bottoms. Invest in a lightweight set of merino wool or silk thermal underwear in a neutral color. I prefer black, which can comfortably fit underneath clothes without adding bulk.
These will hug your body, keep you the warmest, and not make you look bulky or unfashionable. The silk versions take up even less space but will look fine even as a base layer for cardigans or shawls.
Limit The shoes
Luckily, in the winter, you don't need to think about strappy sandals versus flip-flops versus active sandals. Bring a tall pair of boots and a short pair of boots, and that is all you need to get around in the winter. If you are planning any adventure activity, of course, you'll need to consider hiking boots or the appropriate footwear.
Be honest with yourself when it comes to packing sneakers or trainers. Are you going to use the hotel gym? Have you ever in the past? With only two, maybe three pairs, plan to wear the bulkiest ones on the plane, and you are probably saving even more space than during your summer travels!
Plan Ahead
Planning is essential to packing a carry-on no matter what season you're traveling in, but it is imperative with winter travels. An extra tank top takes up a lot less space than an extra sweater.
First, remember that you will wear thermals under most of your outfits, so you will be able to get a few extra wears per top and bottom than you typically would. This can definitely help you cut down on the total number of outfits needed for a trip.
Next, plan out your outfits. Pick clothing that can be interchanged into a few different options. For a week-long trip, you should only need 4-5 tops, 2-3 bottoms, a dress, two outerwear options, two shoes, and other necessities. Choosing primary colors and patterns can help to ease your mixing and matching as well!
Choose A Jacket You Love
Something you don't need to keep in mind during the summer months is that your coat is essential for your travels. It will have a prominent place in any outside pictures taken during your travels in the winter. Therefore, make sure you like it and the way you look at it to avoid disliking the photos afterward.
Skip The Big Bulky Jackets
Even for the coldest destinations, with smart packing, you can skip the oversized, knee-length puffer jackets. These only add bulk and annoyance to your trip as you'll only be able to wear them on the coldest days and then will have to lug them around on non-freezing days.
If you choose a lightweight down jacket, you can layer more underneath to make up for the lack of thickness. That way, you make the clothes you were already planning to bring work double time. And this, of course, gives you more outfit options, less weight, and less stress!
Pick Warm Yet Stylish Accessories
To spice up your one coat and make it look a little different from day to day, pick warm and stylish accessories to interchange. Scarves, gloves, and hats can add a punch of color and transform your outfit entirely, even with the same coat on. To save room on bottoms and possibly squeeze in an additional option, try out some fun patterned tights.
Buy Accessories When You Get There
If it isn't cold yet at home, you can save significant space by waiting until you arrive at your destination to purchase gloves, hats, and scarves. Go for a cheap version and just leave them behind when you go. Alternatively, you can use these items as your souvenir shopping, and they can be pieces that contain memories for years to come.
You're now set. Enjoy your winter wonderland vacay!
We also have a lot of packing and travel product tips, including the following.