Best Toddler Travel Bed & Travel Crib Reviews + Comparssion Travel Bed Chart
When you're traveling with a child, you need to know that you have covered all bases in terms of making sure your little one is safe, secure, and comfortable on the road.
A sleep-deprived child does not make the best travel companion. So, choosing the right way to help your child sleep is imperative. Enter the travel toddler bed or travel cot.
You could go for a travel crib, or you could opt for a portable toddler bed. Both are a travel bed which is only suitable for toddler-aged children because it doesn't have high sides. For that reason, these types of bed are not suitable for babies, particularly active toddlers!
Why Do I Need A Toddler Portable Bed?
A travel bed for toddler is easy to fold up and take with you wherever you go, and many are even suitable to pack in your carry on luggage, so you know that you can take your child's bed with you with ease. Of course, having somewhere for your child to sleep which is familiar to them is a good way to help them settle much quicker, without having first to check out whether the hotel you're going to has a crib in the room, or trying to settle your child in an unfamiliar bed.
Benefits of a Toddler Travel Bed
You can familiarize your child with the kids travel bed before you start your travels, and that will help them settle much easier while you're away
You don't have to check ahead of time that the hotel has a toddler bed in the room, or possibly pay extra for one (I hate paying extra)
A portable toddler bed folds up super small, so you can easily fit them into your carry-on luggage, or into the trunk of your car
There are many different types of toddler travel beds so that you can find the right bed for your child using this guide below.
Best Toddler Travel Bed / Best Travel Crib Comparison Chart
We took a look at the best toddler travel beds and compared the features & prices and made this easy-to-use table to help you review and choose the best portable crib for you.
Click on any heading to sort the table accordingly.
Best Travel Shoes Review

Image

Name
Type
Size
Material
Max Weight Limit
Price
KidCo Peapod Infant Travel Bed
Popup
14.7x4x15.1"
Mesh & Nylon
1-3 years

Intex Kidz Travel Bed + Hand Pump
inflatable
66x42x10"
plush
3+ years and 77lb
Regalo My Cot Portable Bed
fold out
48x26x7"
steel and plastic
2-5 years and 75lb
AeroBed Mattress for Kids
Infaltable
50×25"
heavy duty PVC
150lb
The Shrunks Toddler Travel Bed
inflatable
60x37x9"
PVC and plush
150lb
Bestway Dream Glimmers Airbed
Inflatable
52x30x18"
plush
3-6 years
Negatives of a Toddler Travel Bed
Toddler travel beds don't have sides, so your child can easily get out and roam around if they are particularly active or unsettled
If you opt for an inflatable bed, you will need to inflate and deflate it whenever you move locations
Your child may not settle that well on this type of bed, it's a very personal issue
Not suitable for younger children
What Ages Are A Toddler Travel Beds Suitable For?
Children aged two years and upwards are generally suitable for sleeping on a toddler travel bed. However, you also need to use a little common sense here – if your child is a very active child, who doesn't settle well, then this type of bed may not be suitable for them at that age. You should also check the actual bed itself and read the manufacturer's instructions because they do vary according to age limits.
The general rule is 2 – 5 years, but most children will be able to sleep on this type of bed for a little while longer than that.
How do I Know if My Child Can Sleep on a Toddler Bed?
If your child is within the age range, the best option is to try them on a toddler bed and see if they settle. If not, you then know not to purchase one. If a friend or a family member has a toddler travel bed, borrow it for a few nights and see how you go.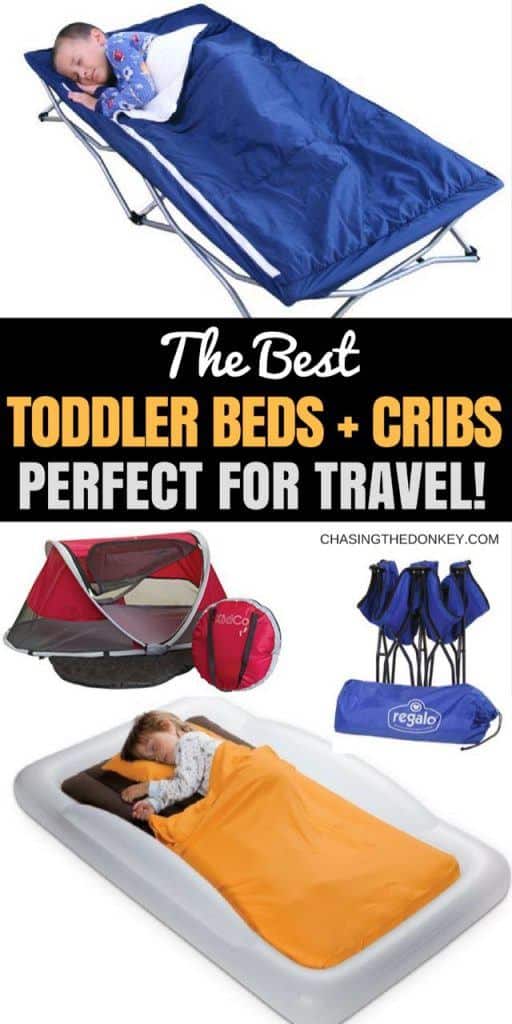 What Features to Look for When Buying a Toddler Travel Bed
There are quite a few different types of beds fo kids on the market from a toddler air mattress to a portable baby bed to a baby travel cot and into the various types of toddler travel beds. Its very important you understand your needs prior to making a purchase.
Weight
You need to check the weight of the baby travel bed because if it's too heavy, you might have issues taking it with you on planes in your hand luggage. If you're heading off on a road trip, the weight of it might not be the biggest issue, but if you want to be flexible with your choices, a lightweight bed is probably the best option.
Size
What is the size of the kids travel bed? Obviously, this is something you need to think about, especially if you have a particularly tall child!
The Maximum Weight
Every travel cot has a maximum weight marked on it, so check this out before you make a purchase.
Comfort
Check reviews for the comfort level of the toddler portable bed you're looking at buying before you make a decision. Generally speaking, inflatable beds are more comfortable than anything sturdier, but they may lack support, so this is something you need to think about.
Travel bag included?
Is there a bag included to help pack the travel cot away?
Ease of transportation
How small does the kids travel bed pack down to? Do you need to deflate it or does it fold up? How easy is the bed to move around and how quickly can you dismantle it?
Best Toddler Travel Bed & Travel Crib Reviews
What Are The Best Toddler Travel Beds?
KidCo Peapod Infant Travel Bed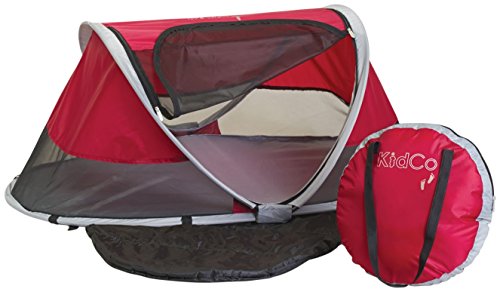 This is a popup style of infant travel bed which comes with a mesh cover to stop insects biting, and also to shield your child from bright lights while they're trying to sleep. Available in a bright yellow and black décor, this is a very sturdy travel bed for baby and one which is extremely lightweight, at just 2.5lb, making it easy to fold up and store in the accompanying carry bag, without adding weight to your journey. The infant travel bed also zips up at the front with a large panel opening, and unzips quickly and easily, to stop your child getting out and roaming around.
Intex Kidz Travel Bed With Hand Pump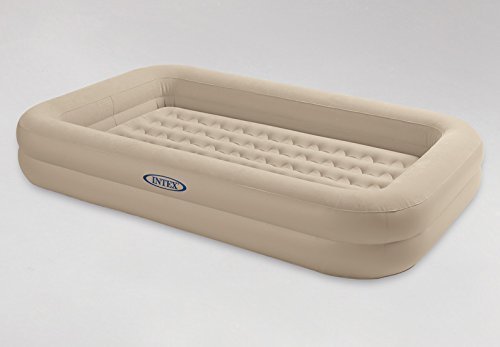 This toddler travel mattress is an inflatable type with a hand pump, which is quick and easy to inflate and deflate. The plush outer comes with a removable mattress, which is easy to clean. The bed is literally like a blow-up mattress with slightly raised sides, so it isn't going to contain a very active child, but it is certainly perfect for those who settle on this type of bed, with a 52×28" sleeping area. At just 3lb weight, the bed is also super-lightweight and easy to transport around wherever you go.
Regalo My Cot Portable Bed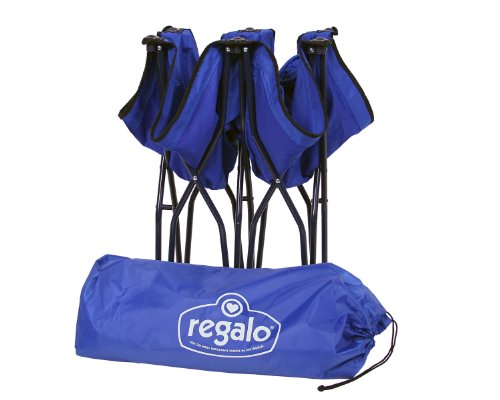 Available in three different colors, this toddler travel crib is ideal for those on a budget and is also ideal for camping and sleepovers too. Made of steel fold up bottom section and then plastic cover on the top, this is a quick bed to fold up and back down again, and super-easy to do also. The bed comes with a case to transport it in and also comes with a detachable fitted sheet, which is machine washable. If you need a travel bed for toddlers and you're on a budget, this is a great option.
Aerobed Mattress for Kids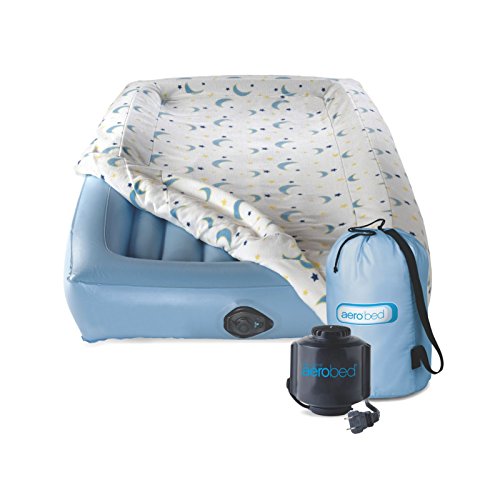 This is a great travel mattress for older toddlers who settle well on an air-bed type of set-up. Made of heavy duty PVC this bed has 4" safety surrounds to stop children rolling out of bed, and it also inflates in under a minute with the included AC pump. The bed deflates in under 15 seconds. This toddler travel bed also comes with a fitted mattress pad which is thick and washable and decorated with a cute star and moon design.
The Shrunks Toddler Travel Bed Portable Inflatable Air Mattress Bed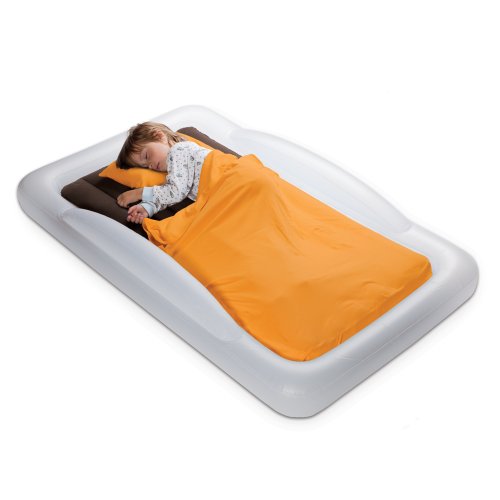 This is one of the biggest named brands in the toddler travel bed world, and that gives you confidence in your purchase, without spending a fortune in the process. This is an inflatable travel mattress which has a sheet-tuck feature and fits cribs sheets which are standard size – this means you don't have to worry about the sheets 'pinging' off and coming loose. The bed comes with a carry bag, repair kit and the electric pump which is very powerful and inflates the bed in less than one minute.
Shrunks Wheeled Travel Bag
This is a wheeled travel bag that allows you to store all your toddler travel bed belongings, such as the sheets, pillows, blankets, and electric pump. This bag is designed to store Shrunks products, so it is specially sized to fit in their products, and these are a great range to look at. The handles of the bag close together with Velcro for ease of carrying, and there is a retractable handle so you can pull the bag along and it carry on or during road trips.
Regalo My Cot Deluxe With Sleeping Bag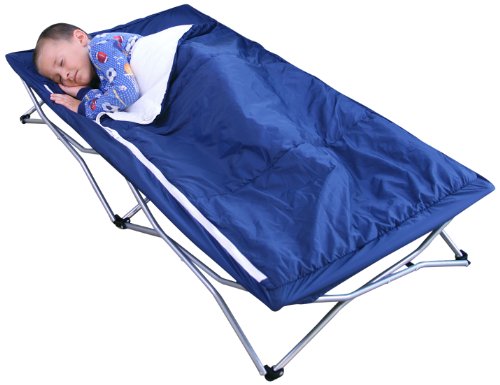 This toddler travel bag is a fold and go type, with steel bottom section that folds up easily, and canvas top with an incorporated sleeping bag. This means you don't need to worry about packing bedding on top of everything else. The bed can also be used indoors or outdoors and is very strong. This toddler travel bed is also very lightweight, so can easily be folded up and taken on longer journeys, such as camping or road trips, etc.
Bestway Dream Glimmers Airbed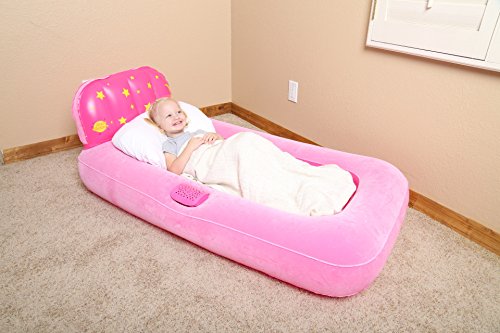 This kids travel bed has something a little different about it, namely a set of multicoloured alternating lights, which helps lull your little one to sleep. Available in both blue and pink, the lights are battery operated, and the bed itself is comfortable and plush. The bed pumps up easily and quickly, in less than one minute, and is super-lightweight for travel.
We also have lot of packing and travel product reviews and tips including
Best Travel Hair Dryer
Best Compression Socks For Flying
Best Family Passport Holder
Best Spinner Luggage
Best Travel Umbrellas To Keep You Dry
Best Baby Carrier For Travel Review
Best Packable Ultralight Down Jacket + Bonus Ultra Light Winter Packing List
Best Travel Blenders on The Market
Long Haul Flight Essentials: Carry on Packing List to Travel Lighter
Best Travel Pillow for Long Haul Flights:
The Best Travel Flat Iron Reviews
Travel Cross Body Bag: The Best Cross Body Bags For Travel
Best Travel Pants For Women
Best Shoes For Travel
Ultimate Guide to Buying The Best Travel Wallet
Ultimate Guide to Buying Packing Cubes
What to Wear on a Long Haul Flight
Croatia Packing List: What to Pack for Croatia
Our Guide to Travel Necessities
Smart Luggage Tracker Tags