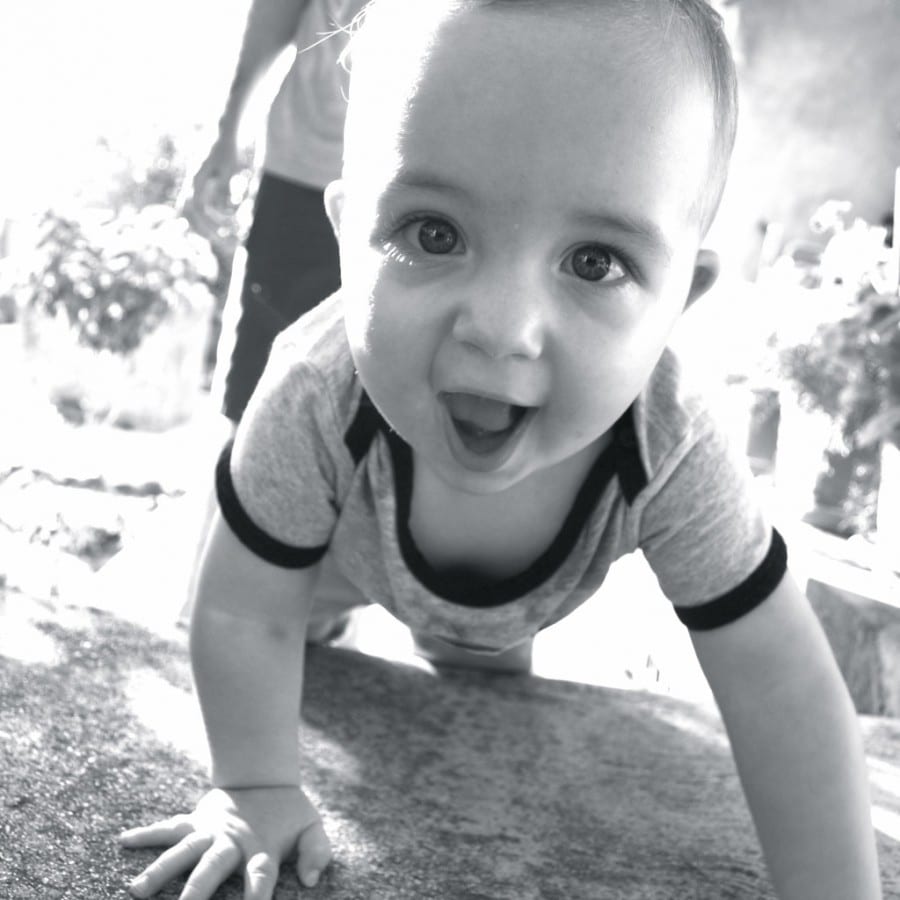 Traveling with a curious and active 1-year-old can be both exciting and challenging. As parents, we understand the need for engaging and portable toys that keep our little adventurers entertained and happy while on the move. Whether it's a long car ride, a plane journey, or a restaurant outing, having the right travel toys can make all the difference.
In this post, we've carefully curated a list of the top travel toys specifically tailored for 1-year-olds, designed to captivate their young minds and spark their imagination. From sensory play to interactive learning, each toy serves a unique purpose, providing a delightful mix of entertainment and educational value.
Join us as we explore a collection of travel-friendly toys that are not only easy to carry but also promote fine motor skills, cognitive development, and imaginative play. Let's make your family adventures even more enjoyable with these must-have toys for your little ones on the move!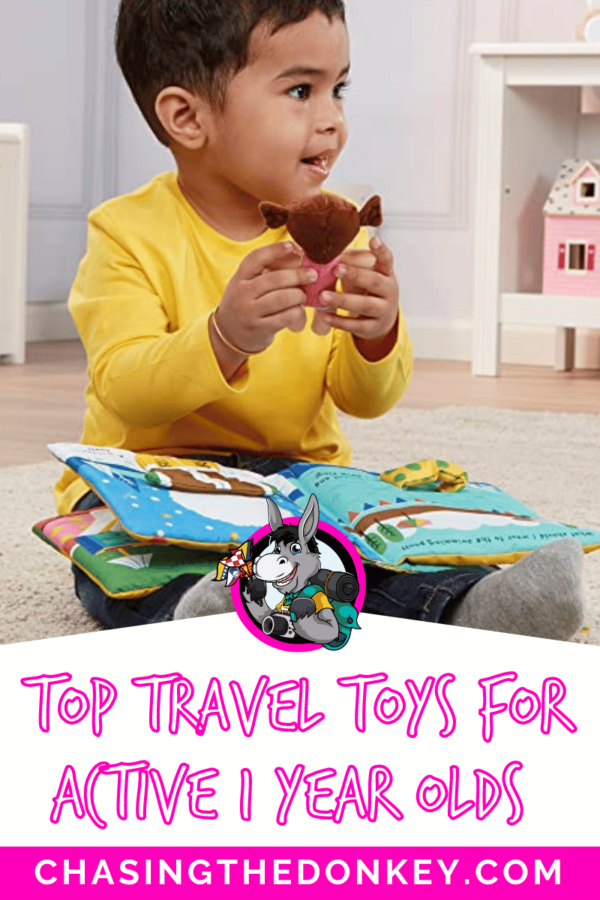 General Travel Toys For One Year Olds
1. Montessori Travel Busy Board
Compact Fun for Tiny Explorers!
Rating: ★★★★★ (5/5 stars)
The Montessori Travel Busy Board has been a game-changer during our family trips! Its ideal for 1-year-olds, and has a compact design that is perfect for on-the-go entertainment, and my toddler absolutely loves it. The board offers a diverse range of sensory activities, from buttons and zippers to gears and buckles, promoting fine motor skills and cognitive development. The quality is exceptional, ensuring durability and safety. Highly recommended for little adventurers!
.
The Montessori Sensory Silicone Toy has become an instant favorite in our household. The soft, silicone material is perfect for teething toddlers, providing relief while stimulating their senses. Its versatile design encourages exploration and imaginative play. We love how easy it is to clean and sanitize, making it a go-to toy for daily use. A must-have for every parent seeking a safe and engaging sensory experience for their little ones!
.
The Melissa & Doug Soft Travel Dress Up Baby Doll is a delightful companion for our little one. Its soft and huggable design is perfect for cuddles on the go. The included travel dress-up accessories add to the fun, sparking creativity during playtime. However, it would be even better if the doll came with more outfit options. Nevertheless, it's a great travel toy that brings comfort and joy to our child during long journeys.
.
The My First Crayola Double Doodle Board has been a hit with my toddler, especially during car rides and flights. The dual-sided design offers endless drawing possibilities without any mess. The triangular crayons are perfect for little hands learning to grip. My only wish is for the board to be a bit sturdier, as it can bend easily. Overall, a fantastic travel companion that encourages creativity and keeps my child entertained for hours.
.
The Creative Toddlers First Coloring Book, paired with the MASSRT Toddlers Unbreakable Washable Coloring set has been a wonderful addition to our travel essentials. The triangular crayons are easy to hold and prevent rolling off surfaces. The coloring book features large, captivating images perfect for little artists. The best part is that the crayons are washable and durable, ensuring peace of mind for parents. An excellent set for creative expression during journeys!
.
6.Put-And-Peek BirdHouse Toy
Peek-a-Boo Joy for Curious Minds!
Rating: ★★★★☆ (4/5 stars)
The Put-And-Peek BirdHouse Toy by Manhattan Toy has been a hit with our toddler. The engaging peek-a-boo doors and colorful bird friends provide interactive fun. It's well-made and encourages cognitive development through exploration and observation. However, the doors can be a bit tricky for younger children to open independently. Despite this, it's a delightful toy for playtime both at home and on the go.
.
7. Nesting/Stacking Cups
Versatile Stacking Fun for Little Learners!
Rating: ★★★★★ (5/5 stars)
The mushie Nesting/Stacking Cups have been a fantastic source of learning and play for my child. The cups are made of high-quality material, ensuring durability and safety. They come in a variety of attractive colors and sizes, promoting fine motor skills and spatial awareness. My little one loves stacking them up and nesting them inside each other. A versatile and entertaining toy that is perfect for travel and everyday play.
.
The Fire Kids Tablet paired with the BuddyPhones Bluetooth Limiting Headphones has been a lifesaver during long car rides and flights. The tablet offers a vast selection of kid-friendly content, keeping my child engaged and entertained. The toddler-friendly headphones are comfortable, and the volume-limiting feature ensures hearing protection. The combination provides peace of mind for parents while allowing kids to enjoy their favorite shows and games.
.
The Yoto Mini Portable Player paired with the Yoto Toddler Book Cards has been a revelation in our travel activities. The player is intuitive and easy for young children to use. The book cards offer a vast library of audiobooks and music, including classics like "Hungry Caterpillar & Other Stories." It's a brilliant way to introduce children to the world of storytelling and music while being compact and travel-friendly. Highly recommended for curious minds!
.
The Toddler Collapsible Snack Container with Catcher Lid has been a game-changer during our outings and travels. The silicone material is safe, and the collapsible design saves space when not in use. The lid effectively prevents spills and keeps snacks fresh. It's dishwasher safe, making cleaning a breeze. An absolute must-have for parents of toddlers who love snacking on the go!
.
TRAVEL COMPANIES WE USE AND TRUST
Travel Toys For Road Trips
Having travel toys for 1-year-olds on a road trip is a great idea! These toys engage their young minds, promote development, and keep them happily occupied. With sensory elements, interactive features, and portability, these toys minimize fussiness and make the journey enjoyable for both kids and parents.
The Melissa & Doug Wooden Magnetic Animals paired with the Artisan Professional Classic Aluminum Cookie Sheet have been a fantastic combo for car rides. The magnets adhere perfectly to the cookie sheet, keeping them in place and preventing any loss. The set is well-made, and the variety of animals sparks imaginative play. A mess-free way to entertain kids during travel, and the cookie sheet doubles as a convenient storage container!
.
Travel Toys For Airplanes
Travel toys for 1-year-olds on plane rides are a lifesaver!
They entertain curious minds, ease restlessness, and promote learning. With compact designs and interactive features, these toys keep kids engaged during flights, making the journey smoother and more enjoyable for everyone. Say goodbye to boredom and hello to happy and content little travelers!
.
The Fat Brain Toys PipSquigs Suction Toys and PipSquigs Ringlets are a hit with our little one during flights. The suction cups easily stick to tray tables and windows, providing endless fun and sensory stimulation. They're easy to clean and can be combined in various ways for imaginative play. A wonderful in-flight entertainment option that keeps kids engaged and happy.
.
The YUBX Highway Easy Peel Washi Tape with Wooden Play Cars has been a creative solution to entertain our child on flights. The tape sticks well to tray tables, creating instant highways for the wooden cars to zip around. While the tape could be a bit more adhesive, it's still a fun and imaginative activity for airplane journeys.
.
Travel Toys For Restaurants
Having travel toys for 1-year-olds at a restaurant is a brilliant idea! They keep little ones engaged and content during mealtime, reducing fussiness and distractions.
With interactive features and portability, these toys offer sensory stimulation and promote fine motor skills development. Parents can enjoy a peaceful dining experience while their child explores and plays. It's a win-win situation that makes restaurant outings enjoyable for the whole family!
The Tegu Magnetic Wooden Blocks with Carrying Cases have been a savior during restaurant outings. The blocks' magnetic feature keeps them in place on tables, offering hours of building fun for my child. The carrying case is compact and convenient for travel. A brilliant way to keep little ones engaged while waiting for meals.
.
15. Disposable Restaurant Table Mat
Clean and Fun Dining Experiences!
Rating: ★★★★★ (5/5 stars)
The Disposable Restaurant Table Mat has been a fantastic addition to our restaurant visits. The colorful alphabet design keeps our children entertained while protecting them from any unclean surfaces. The disposable feature makes cleanup a breeze. A must-have for dining out with toddlers!
Overall, these items have made our family travels and outings much smoother and enjoyable, providing endless entertainment and learning opportunities for our little ones.
.
Wrap Up On Travel Toys For A One-Year Old
Traveling with a 1-year-old doesn't have to be a daunting task when you have the right tools to keep your little one engaged and entertained. Our handpicked selection of top travel toys for 1-year-old kids offers a perfect balance of fun and learning on the go.
From sensory boards that stimulate exploration to interactive puzzles that promote cognitive development, each toy on our list serves a specific purpose in enhancing your child's travel experience. The portability of these toys ensures that your little adventurer will stay captivated during long car rides, flights, and even restaurant outings.
As parents, we know how essential it is to provide our children with the best opportunities to learn and grow, even during travel. These toys not only encourage creativity and imagination but also help develop fine motor skills and early learning concepts.
So, whether you're planning a family vacation or a short outing, these travel-friendly toys are here to accompany your child on every adventure. By investing in these thoughtful and engaging toys, you're sure to create cherished memories of fun-filled travels with your little one, making each journey a joyous exploration of the world around them.
BEST TRAVEL TOYS FOR A 1-YEAR-OLD FAQs
What are the best car toys for a 1-year-old?
For 1-year-olds, soft plush toys, teething rings, and lightweight rattles can be great car toys that are safe and engaging.
Are travel toys for 1-year-olds expensive?
Travel toys for 1-year-olds can vary in price. There are affordable options available, and it's possible to find budget-friendly toys that are suitable for travel.
Are travel toys for 1-year-olds needed?
While not essential, travel toys can be beneficial for keeping 1-year-olds entertained and engaged during long journeys. They can help make the travel experience smoother for both the child and parents.
What are the best travel toys for one-year-old?
Some of the best travel toys for 1-year-olds include soft books, stacking cups, interactive toys with lights and sounds, and sensory toys like squishy balls.
Do car toys for 1-year-olds make a lot of noise?
Car toys for 1-year-olds can vary in noise levels. Some toys may have sounds and music, while others are designed to be quieter and focus on tactile or visual stimulation.
What are the best toys for 1-year-old on an airplane?
When traveling on an airplane, lightweight and compact toys like small stuffed animals, mini board books, and soft building blocks can be excellent choices for 1-year-olds.
Best airplane toys for a 12-month-old who is deaf?
For a 1-year-old who is deaf, toys that focus on visual and tactile stimulation are ideal. Soft toys with different textures, brightly colored objects, and interactive toys with lights can be great options.
Happy family travels!
MORE BABY & TODDLER TRAVEL GEAR
Chasing the Donkey - Balkan travel blog includes affiliate links. If you decide to make a purchase through these links, we receive a commission without any additional cost to you. We appreciate your support helping to keep this site free. Find our disclaimer & privacy policy here.