Best Travel Pillow for Long Haul Flights: Reviews
If you've checked out my blog post about long haul flights, you already know what you need and don't need. One debatable item about what to bring on a long haul flight is a travel pillow. Necessary or not? I say yes – lugging about a travel pillow isn't for everyone, in fact, my guess is you have come across a lot of chatter about the travel pillow.
Along with many other useful extras, travel pillows are a must-have for long haul flights in my humble opinion. But, there are so many on the market, you might not have the first clue where to start!
Well, consider this your go-to guide (with reviews) on everything you need to know about picking the best travel pillow for your long haul adventure.
Why Buy a Travel Pillow?
There are many reasons for purchasing a travel pillow, and there are also many different things to take into account before you pick the one you want, including the shape. The best travel pillow for your needs will not only be cost effective, but it will also be small, easy to transport, and, of course, ultra-comfortable.
Why Should You Buy a Travel Pillow?
If you want to be comfortable during a flight, then you need a travel pillow, it's really that simple. Pillows give you support for your neck, head, and shoulders, and they also cut down on the chances of developing a tension headache during the flight, because they are offering the best type of support. You will be able to sleep much easier if you use a pillow – because you know from experience that there is nothing comfortable about the back of an airplane seat, and certainly no comfort to be found on the hard window surface!
If you find a travel pillow which is easy to transport, then it really won't add any bulk or weight to your cabin baggage.
Of course, you need to check out the specifics, before you decide which pillow is best for you.
Our 2017 Best Travel Pillow for Long Haul Flight Comparison Chart
Click on any heading to sort the table accordingly.
\
How to Choose Which Travel Pillow is Best For You
There are certain factors you need to take into account, so let's talk about each one in turn.
Travel Pillow Shape
There are several different shapes of travel pillow, including U-shape, J shape, wedge-shaped, cylinder-shaped, collar travel pillows, and cushions. U-shaped pillows are probably the most popular ones, the type which are literally a U shape and wraps around your neck with a space below your chin. A J-shape travel pillow is very similar, but it also offers support for your chin and stops your head falling forwards or sideways.
A wedge-shaped pillow gives support for the back and the spine, so if you suffer from back pain, this is a good option for you. Collar travel pillows go around the neck like a collar, and there is a fastening strap to keep it in place. If you're sat in the middle of the plane, e.g. with someone either side of you, this is a good way to stop yourself nodding off on someone's shoulder!
You can purchase a regular travel pillow, which is a smaller version of what you would have on your sofa.
Costs of a Travel Pillow. Spend up Big or go Cheap?
Obviously, this is going to be a factor, and this is something you need to weigh up against your particular budget. There are many different pillows available for many different prices, so there is something for everyone.
I have had a cheap travel pillow that worked like a charm and sadly have spent money on ones that were a total waste. Don't let cost be too much of a factor.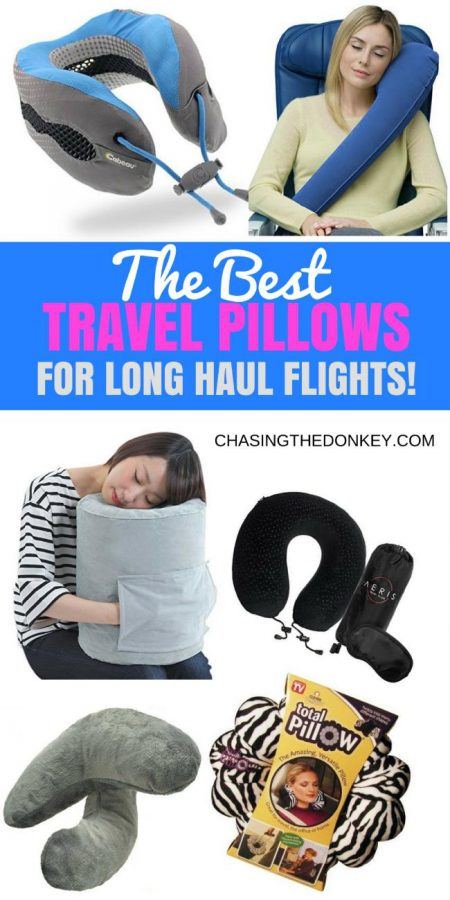 Material
Inflatable travel pillows are usually coated with a plastic type of feel, and this can make you sweaty (gross), or feel a little uncomfortable; for that reason, you might want to wrap something around it before you use it.
Foam travel pillows are comfortable, and they offer support, but you need to check out the quality of the foam because some are firmer than others. Do bear in mind that memory foam travel pillows might be comfortable, but it can make you sweat!
Some travel pillows are filled with beads, which actually do provide the support you need, but they weigh a little more – can you handle carrying the extra weight?
Down pillows are very lightweight on the other hand, but they don't give you the best support – hmm, see it's a tough choice.
The other two options are polyester and wool. These are both quite cheap options, and they clean easily, but they don't offer the same sort of support as a bead filled cushion.
Usage – How Often Will Your Travel Pillow Get Used?
Check out reviews to see how long certain products last for and remember that you do get what you pay for. Spend more money on a fancy travel pillow if you travel loads, or have a medical issue. Be a bit tighter with the pennies if you are going on a once a year flight.
How Much Room Will The Pillow Take up?
Probably the smallest travel pillow is going to be the inflatable type, but you will need to inflate it when you get on the plane. Most do fold up quite small and usually come with an accompanying bag to store it in. Again, check out dimensions before you purchase. I usually just hang mine off my travel cross body bag that I take on the plane with me.
Can the pillow be hung off your bag saving you the hassle of carrying it? Can you squish it into your carry-on bag?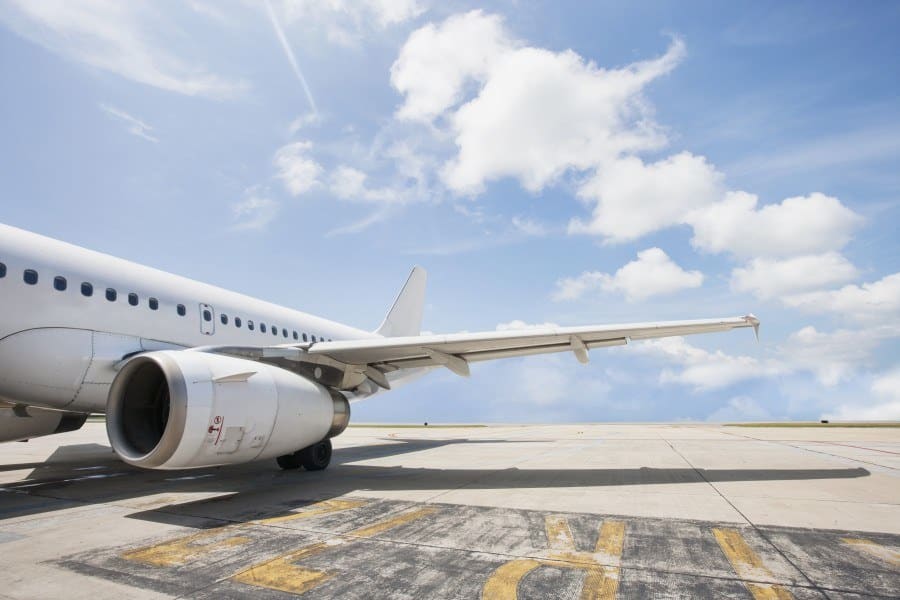 Pillow Flexibility
Can you use the pillow for other uses apart using it on your long haul flight? Regular travel pillows which are shaped in a square, like a bed or a sofa pillow, are obviously very flexible in use, but many people also use their U-shaped pillow for car travel too!
Do Kids Need Travel Pillows?
You can certainly buy child-only travel pillows, which are obviously smaller than the regular kind, and give your little ones the neck, head and shoulder support they need while napping or simply relaxing on the flight. If you need one – it's obvious so do they.
The best travel pillow for kids – is one that is designed for children. Adult travel pillows are too big for them. So, please do remember to purchase a specific child travel pillow, because an adult one is not going to cut the mustard, and could cause more harm than good.
Two kids travel pillow reviews ones are listed below for you.
Our 2017 Best Travel Pillow Reviews: Best For Long Haul Flights
J-Pillow Travel Pillow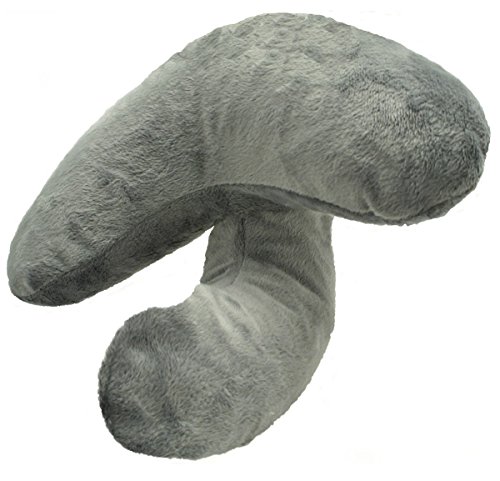 As the name would suggest, this is a J shape of travel pillow, which is a little different to the regular U shape you typically see on the market. This is a very highly rated pillow and one which is certainly very plush and soft to the touch. The downside? The bulk of it; because it is quite large, you're going to have to carry it, or attach it to the outside of your cabin bag, with the handy snap fastener.
The pillow is best used when you are seated in the window seat because it gives superior support and comfort. You can wash this pillow also, which isn't always the case, and that keeps it super-hygienic, and therefore longer-lasting. Regarding weight, this pillow is 7.5oz, which is certainly lightweight, and it comes in an attractive navy blue color.
Check Price & Read Reviews Here
Trtl Soft Neck Support Travel Pillow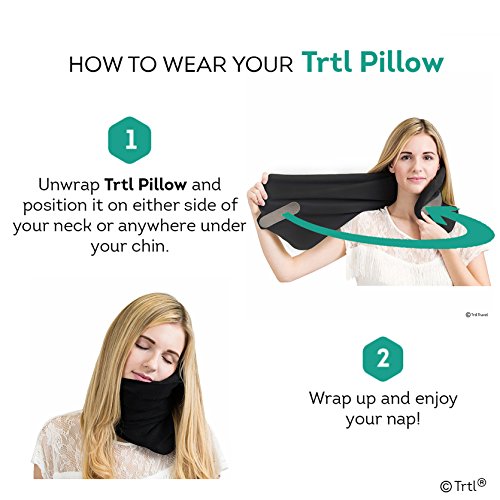 This is a good priced product for the quality you get, and comes in four attractive colors, if travel fashion matters to you!
This is a U-shaped pillow, which is designed to hold your head in place; if you're sat in the aisle seat, this is an excellent way to keep your head in place! This is a super-lightweight choice, at just 3.5oz, so it is certainly not going to make a difference to your cabin bag weight, and the memory foam filling is super comfortable. Of course, we know that memory foam pillows can make you sweat, so it might be a good idea to place a scarf around it if this something which concerns you.
You can easily attach the pillow to the outside of your cabin bag, with a tie fastening, making it easy to transport.
Check Price & Read Reviews Here
Cabeau Evolution Cool Travel Pillow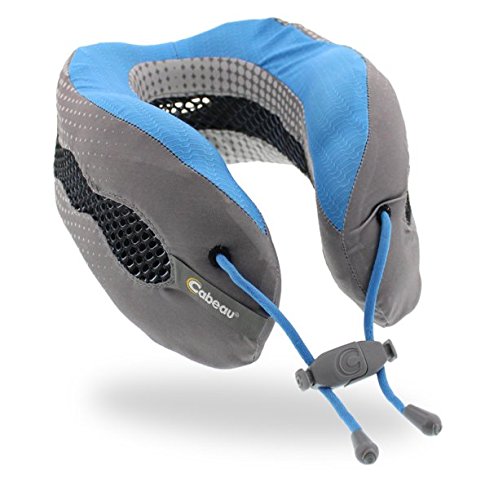 This is certainly not the cheapest pillow on the market, but it is a high-quality travel pillow, so you do need to weigh up the pros and cons. The pillow comes in four different colors and is accompanied by a travel bag which allows the pillow to squash down quite small, for ease of travel.
The pillow is contoured, which is what sets it apart in many ways; this offers superior comfort and support during your journey, and it is made of dual density memory foam. The pillow has a cooling vent which avoids sweating problems, and you can also remove the cover and machine wash it, to keep it fresh and clean.
Weight-wise, the pillow weighs 15.8oz, so not the lightest, but certainly not the heaviest either.
Check Price & Read Reviews Here
Aeris Memory Foam Travel Neck Pillow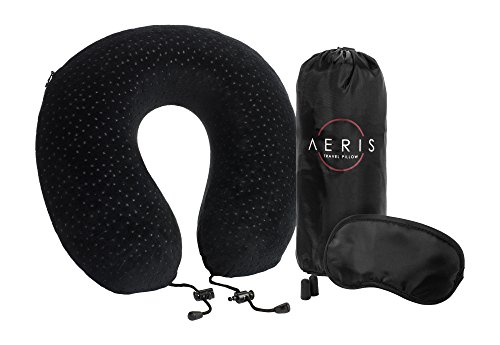 This ultimate travel pillow is an exceptional choice for regular travelers who like U-shaped pillows. This obviously means that your neck and head is supported throughout your journey, and this product comes with four color choices. The pillow is memory foam, and the cover can be removed and washed, to keep it fresh and clean.
The pillow comes with ventilation holes, to avoid sweating which can be a problem with memory foam, and also comes with a travel bag, to save you space; the pillow squashes down to half its original size. Weight-wise, the pillow weights a good 12.3oz, making it an average weight.
Check Price & Read Reviews Here
Travel Rest U-Shape Travel Pillow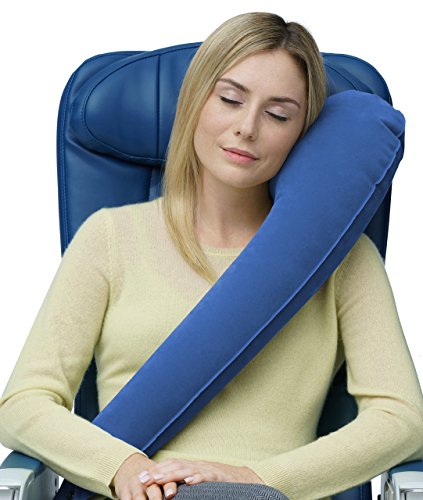 The Travel Rest pillow is certainly one of the highest quality options on the market and one which is available in colors. The shape is what sets it apart, as this might be a U shape pillow, but it can be adapted to offer full support, whether traveling or simply for resting. If you often fall asleep and your head falls forward, this is a great source of support for you. You can have it down your side to offer support, wear it as a messenger bag-type of a pillow, or you can tie it to the seat/loop it over the head rest.
The pillow is memory foam, and the cover is removable and machine washable also. The cover is velour-style and offers a little luxury on the go. Weight-wise, this pillow weighs 6.6oz.
Check Price & Read Reviews Here
SmartTravel Pillow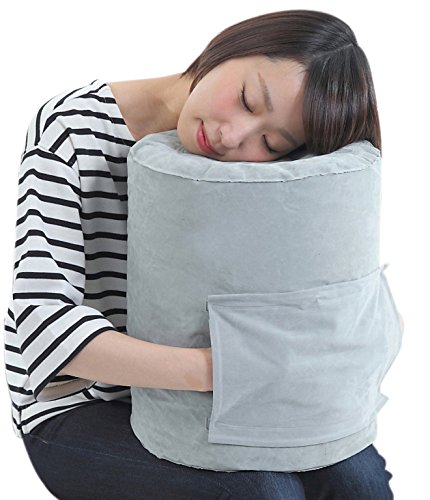 This is one of the most versatile pillows on the market – you can even use it as a footrest! This is an inflatable pillow, which has a suede outer for comfort and to stop those typical sweating problems that come with inflatable products.
Ultra-lightweight, at just 3.2oz, this is not going to take up any room in your cabin bag, and certainly, won't affect your weight allowance. The pillow comes in two sizes, M or L, which depends on your height as to which you should go for. The pillow also inflates in just 30 seconds, so no need to wait!
Check Price & Read Reviews Here
Clever Comforts Total Pillows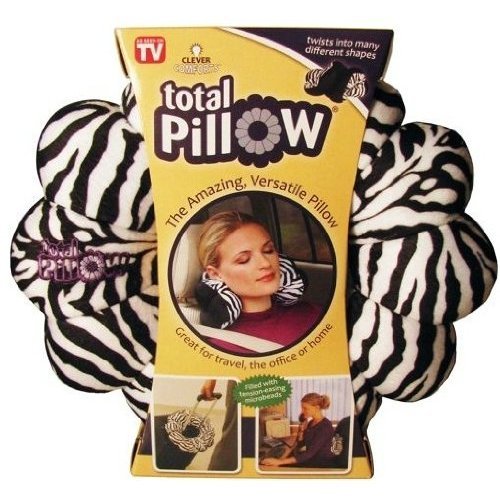 This is another multi-functional choice, as you can use this in the office, at home, or on the go. This particular pillow is packed with microbeads, which might make it a tiny bit heavier, at 4.8oz, but that is certainly not the heaviest on the list by a long way. Microbeads are also the best in terms of offering firm support too, and also locks into positions easier, without flipping backward.
Choose from various colors, and this is a low price product also. If you're on a budget, and you want good quality comfort, this is a choice to go for.
Check Price & Read Reviews Here
AirComfy Inflatable Neck and Back Lumbar Pillow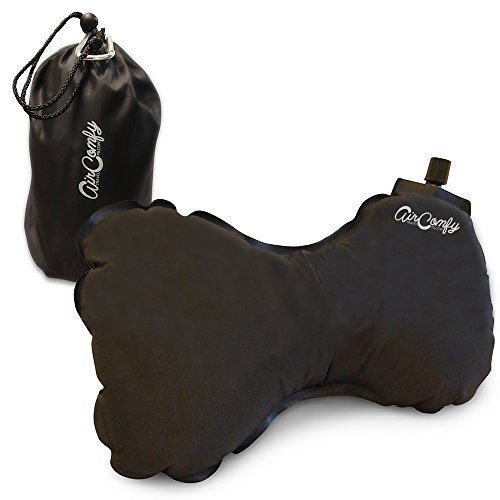 This travel pillow is fantastic for offering support to the lower back but can be used for the head and neck also. You can simply strap the pillow in place, and it won't move, or you can wedge between you and the plane window!
This is an inflatable pillow which wipes clean easily, and you can buy a pillowcase to fit it as a separate purchase. The fact this is inflatable means it is super small (it comes with a travel bag), and it is very lightweight, at just 2.4oz.
Some may not like the fact this is inflatable and doesn't come with a pillow case included, but it certainly offers premium support and comfort during a journey, so that is something you need to weigh up.
Check Price & Read Reviews Here
Skyrest Travel Pillow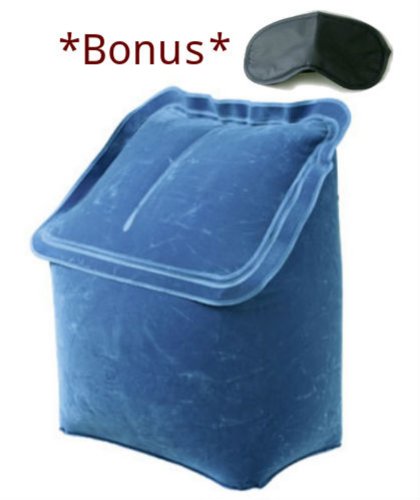 Finally, we have a pillow which is just as comfortable as your bed! If you are a stomach sleeper at home, this will give you the comfort and support you need to get some rest during your flight.
Inflatable, and packing down to a small size for easy transportation, this particular pillow is around 10oz in weight, which isn't the lightest. The outer lining is suede style, to avoid sweating and to give extra luxury and comfort to your journey. Simply wedge the pillow on the tray rest in front of you and lean forwards, for a genuinely comfortable time!
Check Price & Read Reviews Here
Critter Piller Kid's Neck Pillow

This cute and furry neck pillow will certainly thrill your little ones, whilst also keeping them comfortable and supported during a flight or car journey. Safety is more than covered, with a removable zipper tab, so there's no worries about them unzipping the pillow and removing the feather filling, and the outer material is hypoallergenic for sensitive skin. Throw the pillow in the washing machine to keep everything clean and hygienic, and the plush 'fur' plumps up easily when left to dry.
This particular pillow is recommended only for children over 3 years of age.
Check Price & Read Reviews Here
Disney Minnie Mouse 3D Character Travel Pillow

We've picked out the Minnie Mouse option here, but this is not the only one you can choose from, as little ones will love either Darth Vader, Mickey Mouse, or Spiderman around their neck during their travels!
Fantastic value for the price, this pillow is a U shape variety and it comes with a soft outer and poly-fill inside, to mould to little heads and necks! Not the most lightweight choice, because of the filling, but it is one which does fit to the outside of luggage, so it's easy to carry on any journey. The pillow is also machine washable, to clean any stains or spillages.
Check Price & Read Reviews Here
Trunki Yondi Travel Pillow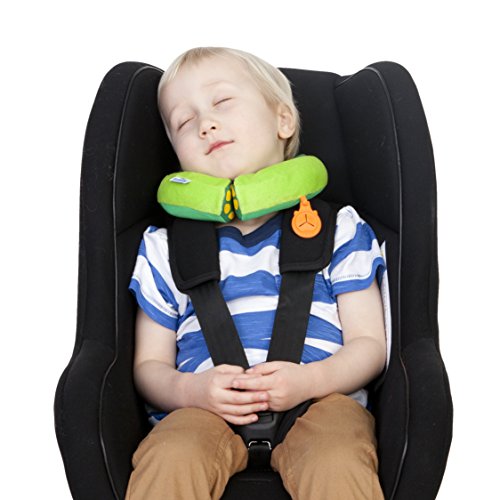 This big named brand is a fantastic choice, which sits around the neck like a collar, giving major support to every single part of the head, neck, and chin, as well as the upper back. This is a very lightweight choice, and the microbead filling is also there for ever support.
Brightly coloured on the outside, kids will love the feel and look of the product, which is suitable for children aged 2 years upwards. The collar style means that if they fall asleep you don't have to worry about their head rolling forward, and that is peace of mind for you during the journey also.
Check Price & Read Reviews Here
Conclusion on Which Travel Pillow Is Best For Your Long Haul Journey?
Which product wins? Well, it totally depends on your requirements and where you find comfort. Regarding ratings and affordability, the Clever Comforts option is great for those on a budget, but if you aren't so bothered about how much it costs vs comfort, then the SmartTravel Pillow is another good option.
When purchasing a travel pillow for your next long haul flight, certainly shop around to find the best product for you, not only concerning cost, but also in terms of how to carry it, how heavy it is, and how comfortable it is overall.
We also have lot of packing and travel products tips including
Best Travel Hair Dryer
Best Compression Socks For Flying
Best Family Passport Holder
Best Travel Umbrellas To Keep You Dry
Best Toddler Travel Bed Reviews (aka Travel Crib)
Best Baby Carrier For Travel Review
Best Packable Ultralight Down Jacket + Bonus Ultra Light Winter Packing List
Best Travel Blenders on The Market
Long Haul Flight Essentials: Carry on Packing List to Travel Lighter
The Best Travel Flat Iron Reviews
Travel Cross Body Bag: The Best Cross Body Bags For Travel
Best Travel Pants For Women
Best Shoes For Travel
Ultimate Guide to Buying The Best Travel Wallet
Ultimate Guide to Buying Packing Cubes
What to Wear on a Long Haul Flight
Croatia Packing List: What to Pack for Croatia
Our Guide to Travel Necessities