Guide To The Best Travel Necessities
Yippee, travel, I can't get enough.
Ever.
We're constantly being asked about what travel products we recommend and which travel items are a must!
There are so many things you can travel without – but there are some must-have travel necessities.
We've updated our trip essentials checklist, so you'll find the key travel necessities below. Happy shopping, travelers!
Travel Luggage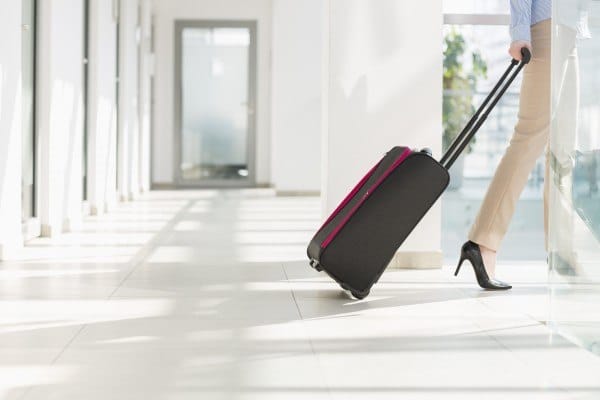 No travel necessities list could start any other way: suitcases and bags. Depending on your travel style, budget, and direction, there is no one-size-fits-all travel bag.
That said, we still have loads of suggestions:
Travel Pillows

A travel pillow is one debatable item about what to bring on a long-haul flight. Necessary or not? I say, yes! Lugging around a travel pillow isn't for everyone, and I guess you have heard a lot of chatter about the best air travel pillow.
There are many reasons for purchasing a travel pillow, and there are also many different things to consider before you pick the one you want, including the shape. The best travel pillow for your needs will be cost-effective, small, easy to transport, and, of course, ultra-comfortable.
If you want to be comfortable during a flight, you need a travel pillow. It's that simple. Pillows give you support for your neck, head, and shoulders. Additionally, they also cut down on the chances of developing a tension headache during the flight because they offer the best type of support. You will be able to sleep much easier if you use a pillow. You know from experience that there is nothing comfortable about the back of an airplane seat, and indeed no comfort on the hard window surface either!
Travel Backpacks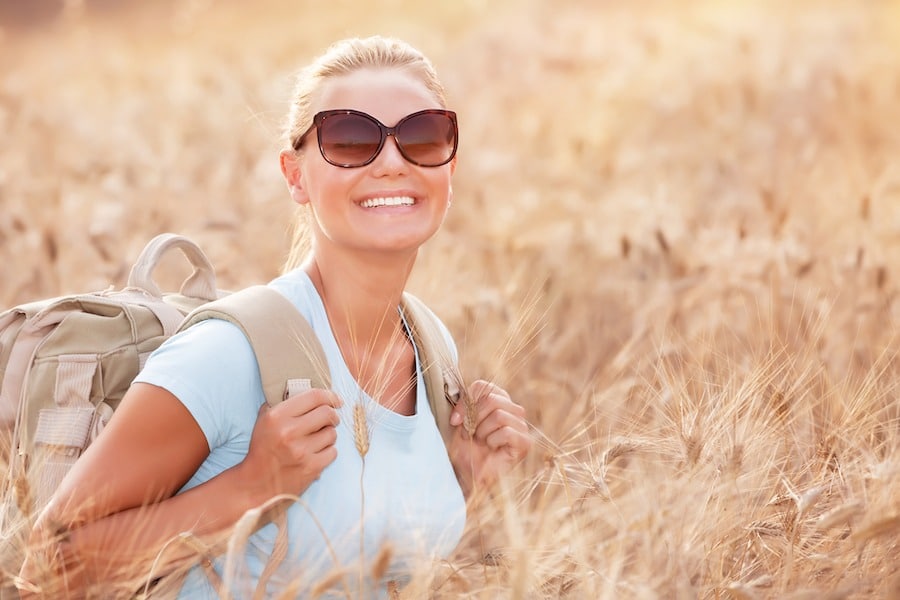 Once you have your main suitcase sorted, it's onto one of the essential things to take traveling: travel backpacks. We like those with security features/ I guess you could say we are very security-conscious with our gear.
Choose a backpack that suits your body type (you don't want it too big), and choose one with pockets and features that will hold all your everyday items.
Travel Wallets
Suitcases and backpacks done! Now, it's time to get a kick-ass travel wallet or add it to your list of travel necessities because these are among the essential things to bring when traveling abroad.
You must know that your belongings are safe when heading off on any trip. Think about it rationally. You are carrying the things that are important to you on your person, and that means that unless you bring a safe with you, you will have to figure out a way to keep your important documents very safe and secure.
Thankfully, there are ways you can do that – get a travel wallet.
Travel Clothes
Travel Pants
If you travel any amount, you should consider purchasing a good pair of travel pants. Good quality travel pants are made from durable materials, are easy to care for, quick-drying, and offer security features such as zipped pockets.
They should be stylish enough to go from day to night and offer a variety of colors. Travel pants should be lightweight for comfort and ease of packing.
Your traveling pants should fit well and be suited to the type of travel you will do. If you're packing light, consider pants that convert to shorts quickly and easily. Travel pants come in many styles for all budgets. Try to shop for a pair or two before your next trip.
Travel Bras
As the name suggests, a travel bra is, first and foremost, a bra. All women need a bra. We need to be comfortable, we don't need to feel like we can't move, and we need to be supported. Some bras, however, serve a second purpose: keeping your credit cards, passport, and other small and essential items safe. This is through small, hidden pockets that are sewn into the bra. Clever, right? No, it won't cause bulk or discomfort because it's all designed to be super-streamlined.
Packable Down Jackets
When heading to Europe during the winter, you need to be ready for anything. The country you're heading to typically dictates the weather you will experience. However, even within that country, there are micro-climates you need to consider.
One of the best ways to stay warm (and fashionable) is to purchase a high-quality down-filled jacket. Of course, this shouldn't put you off at all. It just means you need to know what to take! We suggest a packable down jacket to save room in your bags, keep warm, and look stylish.
A down jacket is a regular jacket with extra insulation in the form of feathers from ducks or geese. Such a packable down parka feels luxurious, soft, and warm.
Travel Clothes That Do Not Wrinkle, Or At Least Do Not Need Ironing
Who doesn't love a checked shirt? You can choose between a white canvas with a black stripe, or you can go for the opposite, with a black canvas. This particular option is ideal for day or night, and it's a material that won't crease in your case and needs ironing every time you want to wear it.
This shirt has a fashionable pointed collar and is buttoned up, so you can wear it with something underneath if you want to add layers. Made from 100% polyester, the material is crease-free, easy to wash, and durable. The long sleeves will also keep you warm during the cooler weather but can be rolled up if you feel a little warm.
This crepe mid-wrap dress is ideal for ladies who want to be super-fashionable while on the go. The polyester and elastane mix means it's not going to end up creased in your case, meaning you can grab it and wear it whenever you please. The dress is easy to dress up or down; you can opt for boost or heels for the evening, or throw on a pair of canvas shoes or sneakers for the daytime.
You can choose between black or a navy shade, and it has a bleed middle section in a slim fit design and long sleeves. This is a super-flattering dress and one which will take you through countless on-the-road occasions!
Women's Travel Accessories
SHOLDIT Women's Infinity Clutch Wrap Scarf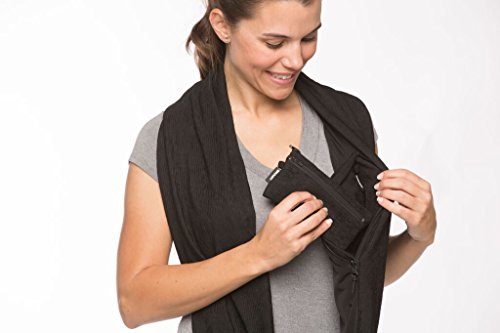 Travel with a feeling of security by keeping your valuable flight documents, passport, cell phone, money, and other personal items close. Keep your valuables close and look fabulous doing it! This unique infinity scarf is both a cute accessory and a useful gadget with a zippered pocket for storing all of your valuables. It is convenient for airline travel and other public transportation, but it's also perfect for a day or night around town.
Organization & Space-Saving Travel Necessities
If you added a small suitcase or backpack to your travel shopping list, you want to add one of these handy space-saving travel necessities.
Packing Cubes
When it comes to packing, nobody particularly loves the overall process. It's time-consuming and stressful, and what do you do if you forget something important? On top of that, you have the problem of finally arriving at your destination, opening your case, only to find that your carefully packed belongings have found their way down to one end of your case, in a bit of a jumbled mess.
This is where packing cubes for travel come in very handy. They help organize and save room in your bag.
Smart Luggage Tags
Lost luggage is probably one of the most worrying things about air travel. If your baggage is lost in transit, you will get it back at some point, but how long will it take? It could be a few hours or days, and while you're waiting, you're without your belongings and perhaps even a few of your valuables.
There are a few ways to counteract this issue, and one of the most successful is using luggage trackers.
Luggage Scale
Are you traveling via a low-cost carrier? Have baggage restrictions? Then you need a luggage scale.
Luggage scales are designed for weighing luggage, whether it's your suitcase or your carry-on bag, rather than scales that you stand on. The most common design is a hook scale. You hook your suitcase onto these scales and lift, giving you an accurate measurement of how much your case weighs. This type of luggage scale is typically a hand-held scale.
Toiletries Bag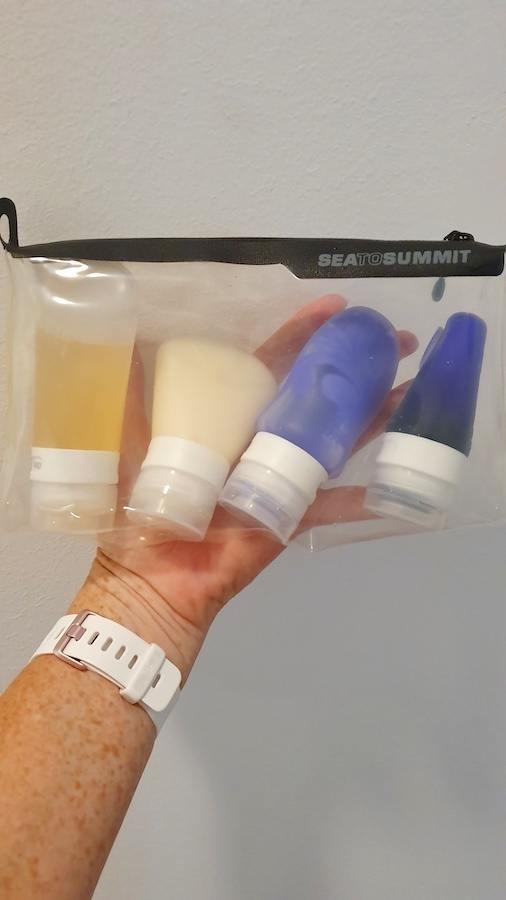 If you're a regular traveler, you no doubt understand the issue of toiletries, perfumes, and other liquid items and how to store them safely and effectively. Taking large bottles can be space-consuming, and that's where the Travelling Light Zip Top Pouch by Sea to Summit comes in very handy!
The pack also comes with four included silicone bottles, which can be used and refilled with whatever you need. The pouch itself can also be used for many other purposes, and it has a 1-liter space capacity, with a zipper to the top section that is strong and secure. The pouch is also waterproof, so no worries about leakage.
Hanging Travel Toiletry Bag
When traveling anywhere in this big wide world, you need the right luggage and accessories for the job. Ensuring that your belongings are separated into the right groups and knowing that everything is protected and not going to cause a rather unwelcome liquid explosion in your suitcase is vital.

This travel toiletry bag is brilliant. The flat design allows you to pack it right on top of your duffel bags, saving space and hassle while on the go. We love the guaranteed-for-life warranty that comes with this nylon, coiled zipper pack. Hold your toiletries in four easily accessible compartments and use the removable hanging hook to make it into a countertop kit once you arrive at your final destination. Period.
Small Toiletries Bottles
I can recommend the Kitdine Portable Soft Silicone Travel Bottles Set. These BPA-free silicone travel bottles that are TSA approved for carry-on baggage can easily be filled with your shampoo, conditioner, lotion, and other liquids. They're perfect for flying. The bottles are soft, flexible, durable, and can withstand temperature changes. The lids have a great seal, so there is no need to worry about liquids leaking during transport. We absolutely love the high quality of these travel bottles and the flexibility they provide for bringing our favorite toiletry products on airplanes.
Family & Kids Travel Ideas
Family Passport Holders
If you have several passports to look after at once, it's easy to lose one. Passports are not thick these days; they are slimline and hugely important! For that reason, having a safe and secure place to keep all your passports is a must.
A family travel wallet literally does that for you. It holds all your passports together, so when you arrive at the check-in desk, you just pull out your family passport organizer and have everything on hand.
These family passport holders often also include a space for travel itineraries and other documentation you may need during your time away and make for a great family travel document organizer.
Baby Carrier
If you are a new parent, or perhaps you're having your second, third, or even fourth new addition to your family, you will want to ensure that you purchase the right baby equipment for your child. For instance, you're going to want to get out and about as much as possible, so traveling with a baby will be part of a typical day.
Therefore, you need to figure out your options for transporting your new bundle of joy. Have you thought of a baby carrier or, as some like to call them, an infant carrier?
There are so many baby carrier types available on the market it's hard to know where to start, so we made this guide to help you.
Kids Entertainment
When you're traveling with your kids, finding ways to keep them entertained is going to be one of your main priorities. Whether it's a long-haul flight or a cross-country road trip, you need to consider what you can take to occupy your kids and how accessible it'll be in your luggage.
Pack a tablet and some headphones with their favorite shows or an audiobook downloaded, so you have something to keep them entertained that doesn't make too much noise. You can also find travel versions of many games, or they can be played on the tablet. For slightly older kids, a pack of cards is a good idea. It won't take up too much space, but they can play many different games.
Travel Strollers
Having all the right equipment for your bundle of joy is crucial if you want to make life easier. When it comes to travel, this is even more vital. After all, how are you supposed to enjoy your travel adventure if you're continually juggling with the wrong stroller?
Put simply, you can't!
That is why ensuring you get all the right kids' gear for your travels is vital. An umbrella stroller for infant travel is one piece of equipment that will serve you for much more than just travel.
Portable Highchairs
Noise Canceling Headphones For Kids
Kids Suitcases
Garment Bag
A carry on garment bag counts as a carry on luggage that you can take into the plane's cabin as part of your hand luggage, and inside, you can store clothes. Within the bag are certain compartments and hangers, so your clothes don't get crumpled or mixed up.
These bags are ideal for business travelers, but overall, they're an excellent idea for those trying to travel light and not pay inflated check-in baggage fees.
Staying Connected
Kindle Paperwhite, 6″ High-Resolution Display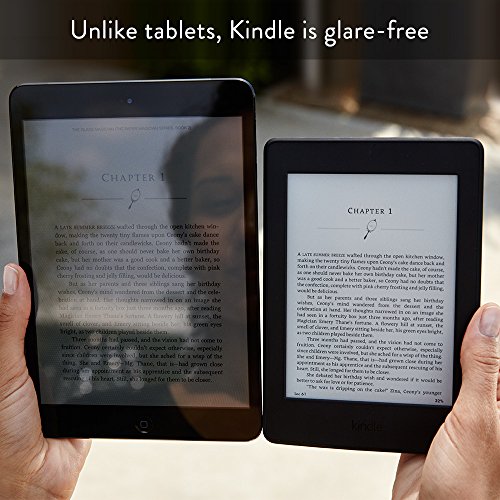 When I have free time…. err, when the Baby Donkey finally goes to sleep for the night… I love to read. My Kindle Paperwhite is another one of those travel necessities I can't leave home without, as holidays are the perfect opportunity for me to soak up some sun and catch up on the latest top-selling books.
What do I love about this version of the popular e-reader? The resolution is much higher than older versions, giving each page a crisp look. The white background of the page gives the appearance of an actual book. A built-in backlight adjusts using sensors that detect the natural lighting around you. The screen glare has been eliminated, and a new font has been developed to create less eye strain. The battery charge lasts forever. Well, maybe not forever, but a solid 4+ weeks! Plus, thousands of titles are at my fingertips at any moment, and 4GB of storage is available for keeping books on the device.
So much to love about this Kindle and so little time to read all the books on my list. Guess I need to start planning my next holiday!
Belkin SurgePlus 3-Outlet Mini Travel Swivel Charger Surge Protector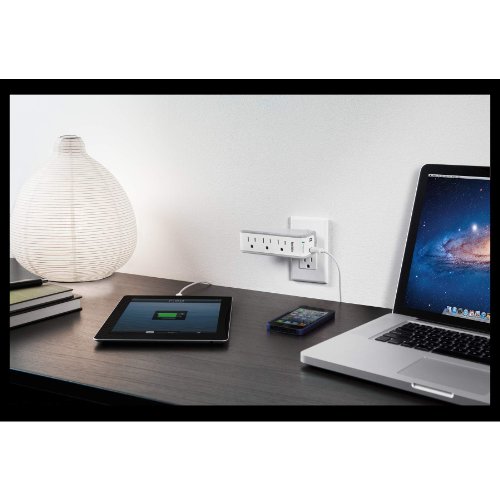 Charge all your electronic devices – and I know you've got a few – without worry while traveling. This 360-degree rotating surge protector offers three outlets and two USB ports for your national or international travel needs. So cheer up and charge up. There's no reason to be stuck with low battery life on holiday! Often overlooked, this is a great travel gadget that you need to take along with you on your next trip, one of those underrated things to take while traveling.
Camping
Scrubba Portable Laundry System Wash Bag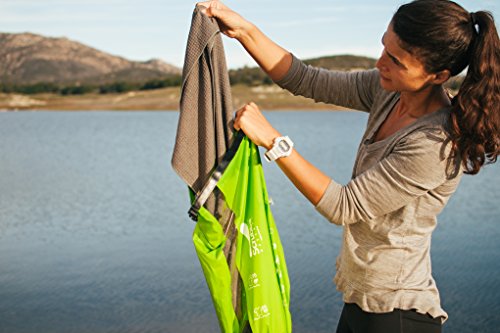 It might seem odd, but this portable, 5oz washing machine has saved our sanity many times. It is self-proclaimed as the "modern take on the old-fashioned washboard," and we love it! For those who need to pack light or simply want to eliminate the hassle of finding a laundromat while traveling, drop your clothes in the Scrubba along with water and detergent.
Rubbing the bag activates small nodules inside to help remove dirt and odor from your clothing, leaving them clean and ready for another day of adventure. Also, note this bag can double as a dry bag. So lose the stink and the stain while camping, backpacking, or on holiday.
Microfiber Towel By ECOdept

These fast-drying, antibacterial, microfiber towels are favorites to take on our camping expeditions or trips where water activities are involved. Baby Donkey loves the super-soft feel of the material, and we love the large size (52″ x 32″). We've used these towels both at the beach and after showers and have been pleased with how absorbent they are. The towels come with space-saving packs, so there is no need to worry about them taking up precious room in your luggage.
A definite must if a towel is on your list of things needed for travel this year! This towel is made of 100% microfiber material and is the best towel in the game at absorbing water and drying quickly. It's the perfect towel for the road.
Active Roots Travel Towel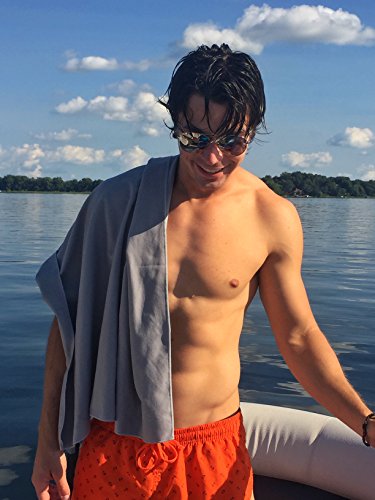 Another excellent travel towel is one like this, as this travel towel folds up into a tiny and portable mesh bag. It is a multi-purpose towel that can be used as the perfect camping towel, backpacking towel, yoga towel, beach towel, gym towel, pool towel… Simply put, it has you covered.
Active Roots Camping Hammock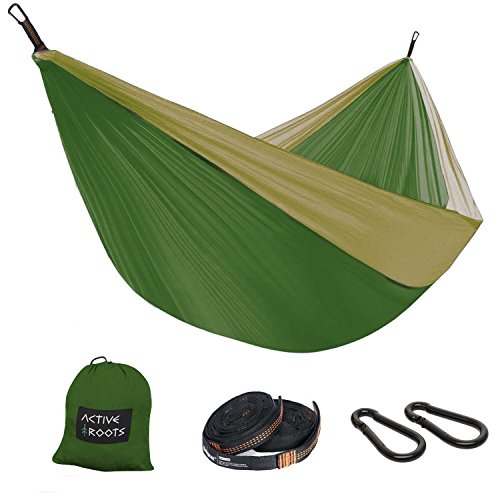 There's nothing as liberating as sleeping outside under the stars; the best way to do that is in a hammock. This durable yet lightweight hammock can carry up to 500 pounds of weight, plenty to support both you and your partner. What's so great about this particular hammock is its size and carrying capacity and the fact that it folds up into a tiny ball that you can stuff in a little sack.
The whole package doesn't weigh more than 2 pounds, significantly less than a tent with poles. And that's precisely why so many backpackers and hikers prefer hammocks over tents. When it comes to hiking and other adventures, a hammock like this is one of the unmissable travel necessities.
Phew, so many great things for you to consider. We hope we did not overwhelm you! Tell us which travel necessities are going on your list.