Our Guide to The Best Travel Necessities for 2018
Yippee, it's a new year, which means new travels. We've updated the list – so below is our list of the key travel necessities for 2018. Happy shopping travelers!
Travel Luggage
No travel necessities list could start any other way – suitcases. Here are our best picks for 2018.
Osprey Sojourn Wheeled Travel Luggage, 28-Inch/80 Liter
The price for this travel bag had me raising my eyebrows, but I'm completely won over – it's no ordinary bag! As a convertible wheeled pack, roll this beauty along like all other travel luggage at the airport, and should, your destination have a little more complex terrain (cobblestone streets, gravel, etc.), enjoy the bag's extra large wheel feature for smooth off-road rolling. Should you find yourself in a situation where even the off-road wheels aren't enough, have no fear. This bag converts into a travel backpack, complete with foam shoulder straps and a mesh lumbar and hip belt. Roomy, durable and lightweight, there is so much to love about this piece of travel bag.
Bluesmart Smart Carry-On Travel Luggage

Ever wondered if your carry-on or checked luggage will meet the weight limits? Ever realized your phone has no remaining charge, and not a single airport outlet is available? Ever reached your final destination and your luggage is nowhere in sight? These are such common travel frustrations, and all have been solved by this nifty luggage brand. The Bluesmart Carry On Luggage has a built-in scale to let you know its weight, 3G, and GPS capabilities to track it's location should it ever go missing, and a USB recharging dock for all of your devices! Leave the hassle of luggage behind with this new, connected, smart carry-on.
Travel Backpacks
Once you have your main suitcase sorted, it's onto the next travel necessity – travel backpacks. Warning, we like ones with security features – I guess you could say we are very security conscious with our backpacking gear.
Kelty Redwing 32 Liter Backpack

Mr. Chasing the Donkey and I love a great day trip, and that always means hauling along a few items for the Baby Donkey and his set of travel headphones he never leaves the house without. We love this sized-down version of Kelty's best-selling Redwing bag for storing all the gear we need for a day out exploring. This travel backpack can be loaded from the top or via side panels and has amazing U-zippers to keep everything safely stored. Lightweight, durability and comfy straps with ventilation make this a trusty backpack for a great price.
Kelty Redwing 50 Pack Black

For those in need of a serious travel backpack, Kelty has made one heck of 50L bag in its popular Redwing line. The pack is incredibly spacious, holding enough gear for staying out in the wilderness or backpacking through Europe for multiple days. With a lightweight frame, lots of features for assisting with air-flow, and amazingly comfortable AirMesh shoulder, waist belt, and lumbar straps, the bag is designed for longs days of use. With lots of zippers, compartments, and hybrid loading features, organization is attainable and re-packing the bag is easy. Mr. Chasing the Donkey and I agree – this pack is an incredible value for the size and function it offers making it one of the best travel backpacks.
Pacsafe Camsafe V25 Anti-Theft Camera Backpack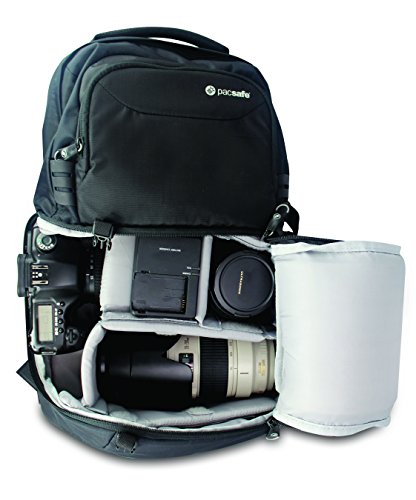 If you're like us, you love to capture beautiful photographs of your travels. And, if you have that gorgeous camera with all the bells and whistles for snapping those incredible shots, you also have the stress that comes with hauling expensive equipment around the world. Leave some of the stress behind by storing your camera in this durable, lightweight backpack that comes with some really cool anti-theft technology. Features like stainless steel wire mesh in the fabric protect against slashing the bag, and smart zippers have security hooks making it virtually impossible for pickpockets to snag your gear. It's not only great for cameras but tablets, laptops, wallets, passports and other valuables. Love, love, love this product!
Pacsafe Venturesafe 150 GII Anti-Theft Cross Body Pack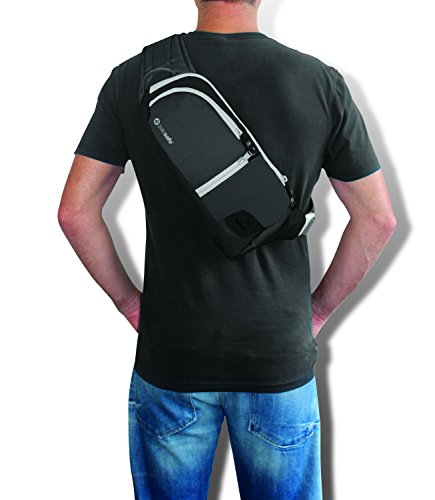 Made with the same stainless steel wire mesh in the fabric as the Pacsafe Camsafe, enjoy the same security against slash and run theft in this cross body travel pack that can be worn either across the back or chest. This travel pack features wire-reinforced straps with extra buckle support, ensuring it doesn't leave your body if you don't want it to along with an RFID-blocking pocket to keep your credit cards, IDs, and wallets safe from unwanted hackers. With a 2.2 liter volume and lightweight, durable comfort, we love to use this travel pack as a small carry-on, on long hikes or as a day pack for Mr. Chasing the Donkey when we are out exploring new towns. We think this is one the best travel backpacks for this application.
Pacsafe Luggage Venture Safe 25L GII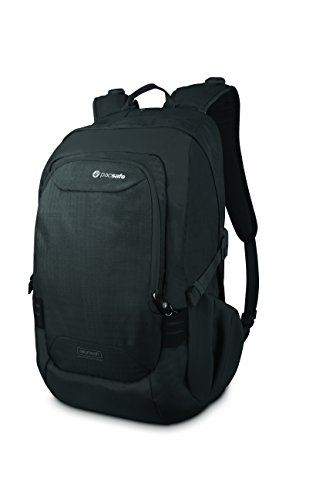 Ok…we can skip explaining all the great fabric, zipper, strap and RFID technology on this guy – it's the same as the Pacsafe Cross Body Pack and Camera Backpack already mentioned! This travel pack is unique from the others in that it is a 25L backpack – your traditional daypack design. Loads of compartments make organizing easy, and a sleeve designed for laptop storage, or a 3L hydration pack gives this bag added versatility. We think this is one of the best day packs simply because of all the security features.
Pacsafe Luggage Metrosafe 200 Gii Shoulder Bag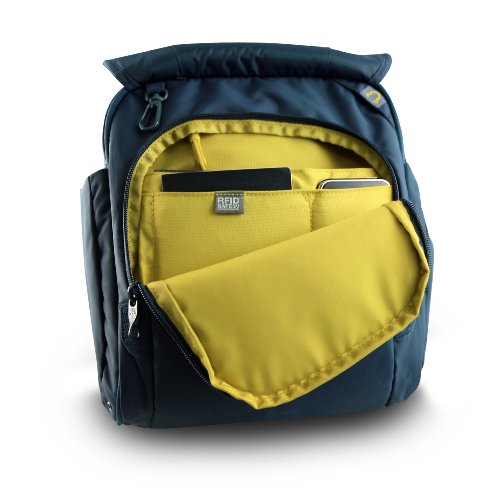 Just one more Pacsafe bag for this section, we promise! If you are looking for a smaller, sleeker shoulder bag that can still protect your belongings with the excellent Pacsafe fabric, strap and RFID technology, this is your best bet. A padded sleeve holds iPad/tablet sized devices and multiple organizational pockets within the roomy, central compartment are available. The bag is lightweight, making it easy to carry all day. Plus, with the sleek design and adjustable straps, this bag can sub as a travel purse worn either across the body or carried as a travel handbag. Guys, don't let this description chase you away – the bag is convertible enough to look just as sleek on men as women.
Overland Equipment Donner Bag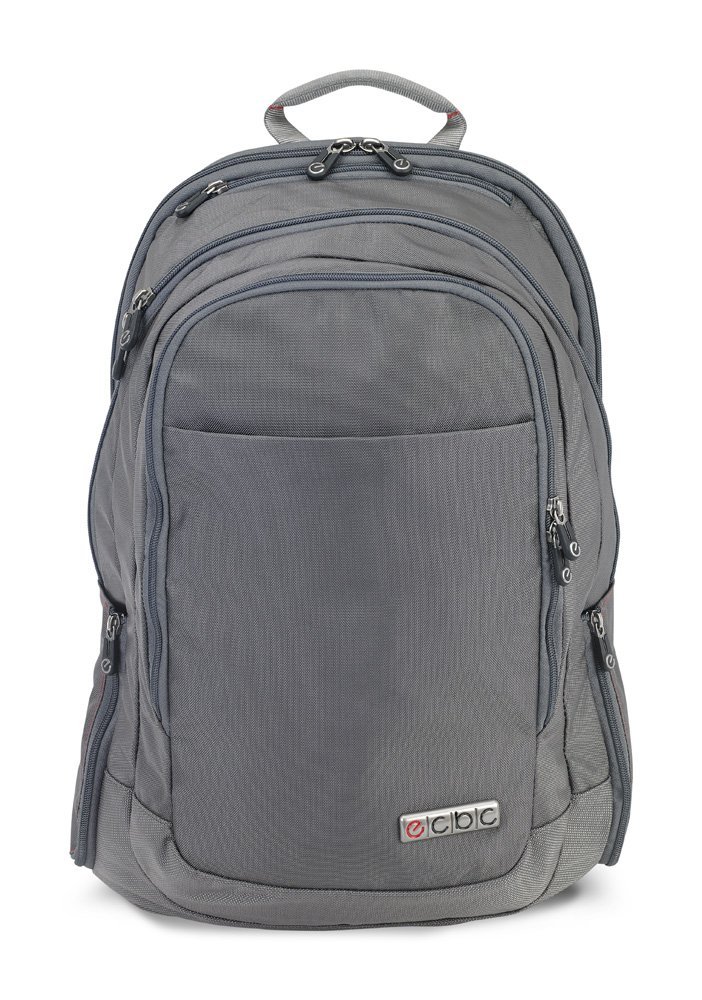 This classic shoulder bag is practical and durable, yet incredibly stylish. A side pocket for your water bottle, a 6-pocket front organizer to make searching for your lip balm, phone and keys an easy task, and a roomy interior makes this bag perfect for a day around town or on tour. If you don't have enough stuff to fill a full-size backpack but want the flexibility of bringing a few essentials along on your day trip, you can't go wrong with this purchase.
ECBC Lance Daypack for 17″ Laptop, Grey (B7103-30)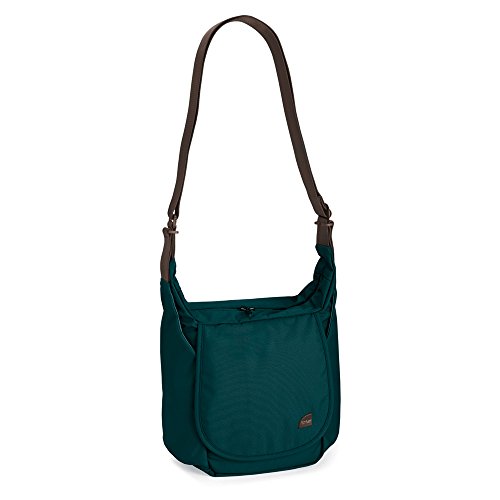 Travel Wallets
Suitcases and backpacks done – now its time to get yourself a kick-ass travel wallet or at least add it to your list of travel necessities.
Zoppen Multi-purpose RFID Blocking Passport Travel Wallet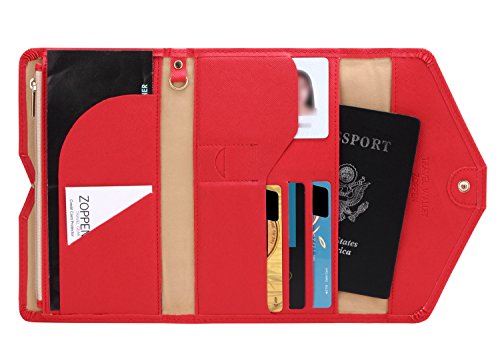 Stay organized and protected with this awesome RFID blocking travel wallet. This slim, chic travel wallet comes in loads of fun colors and will ease your stress by keeping all your important items safely stored in one place. Hold your phone, passport, credit cards, ID, sim card, travel tickets, money, key, and pens all in specified compartments. How's that for organization?! The added bonus of RFID blocking will keep your items safe from hacker's scans.
Dash Co. RFID Blocking Slim Travel Wallet
If you're looking for a super slim and minimal travel wallet, Mr. Chasing the Donkey loves this one. It weighs less than an ounce, is incredibly durable and offers three compartments for organizing cash and cards. The awesome RFID blocking feature keeps your information safe while on the go. A no bulk solution to your traveling wallet needs.
Camping
Scrubba Portable Laundry System Wash Bag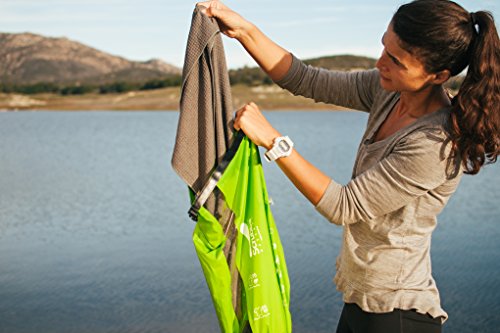 It might seem odd, but this portable, 5oz washing machine has saved our sanity many times. It is self-proclaimed as the "modern take on the old-fashioned washboard" and we love it! For those who need to pack light or simply want to eliminate the hassle of finding a laundromat while traveling, drop your clothes in the Scrubba along with water and detergent. Rubbing the bag activates small nodules inside to help remove dirt and odor from your clothing, leaving them clean and ready for another day of adventure. So lose the stink and the stain while camping, backpacking or on holiday. Also, note, this bag can double as a dry bag.
Microfiber Towel by ECOdept

These fast-drying, antibacterial, microfiber towels are favorites to take on our camping expeditions or trips where water activities are involved. Baby Donkey loves the super soft feel of the material, and we love the large size (52″ x 32″). We've used these towels both at the beach and after showers and have been pleased with how absorbent they are. The towels come with space-saving packs, so no need to worry about them taking up precious room in your luggage. A definite must if a towel is on your list of travel gear needed this year!  This microfiber towel is made of 100% microfiber material and is the best towel in the game at absorbing water and drying quickly. It's the perfect towel for the road.
Active Roots Travel Towel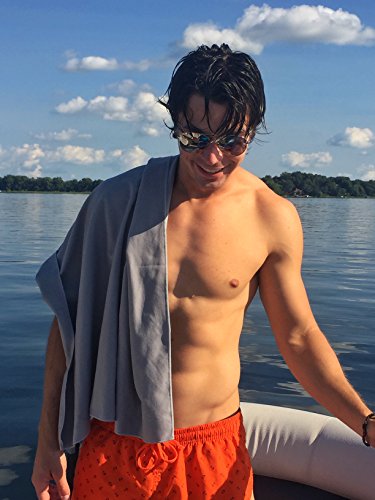 Another great travel towel, is one like this, as this travel towel folds up into an incredibly small and portable mesh bag. It is a multi-purpose towel that can be used as the perfect camping towel, backpacking towel, yoga towel, beach towel, gym towel, pool towel….it has you covered.
Hiking & Camping
Active Roots Camping Hammock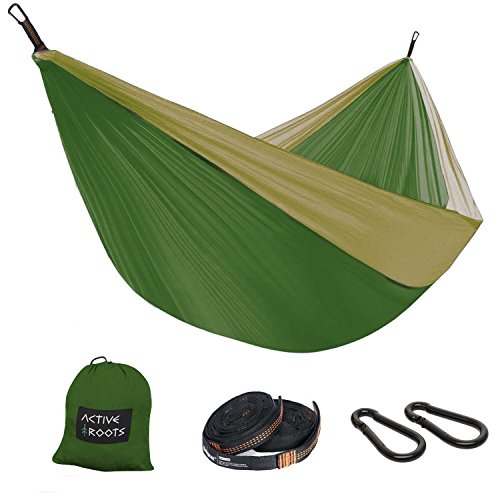 Matador Pocket Blanket
We couldn't decide what category to put this useful little blanket into…camping, hiking, space saving? It could easily fit the requirements for all of the categories. This ultra-compact pocket blanket fits in the palm of your hand once folded and stored – no joke – yet folds out to provide coverage over 63″x 44″ of space! The water, repellent, puncture resistant and weighted corner features make it perfect for protecting gear, food or your pants from the ground. You'll be set for a picnic no matter where your travel takes you.
Aladdin 3 Collapsible Bowl Set
Again, another item we couldn't decide what category it best fit. We've used these brightly colored, collapsible bowls on picnics, for storing snacks while hiking and even on camping trips. The bowls stack together nicely, are BPA free and are leak-proof. Plus, the added convenience of collapsible, flat storage once empty makes them perfect for hauling around. This set includes three different sized bowls – a 32oz, 16oz, and 4oz – along with lids for each. They are great camping accessory.
Space Saving Travel Necessities
If you added a small suitcase or backpack to your travel shopping list – you'd definitely want to add one of these handy space saving travel necessities.
eBags Pack-it-Flat Travel Toiletry Bag
We love the guaranteed for life warranty that comes with this nylon, coiled zipper pack. Hold your toiletries in 4 easily accessible compartments and use the removable hanging hook to make it into a counter-top kit once you arrive at your final destination. The flat design allows you to pack it right on top of your duffel bags, saving space and hassle while on the go. This travel toiletry bag is brilliant.
Conair 1875 Watt Dual Voltage Folding Handle Hair Dryer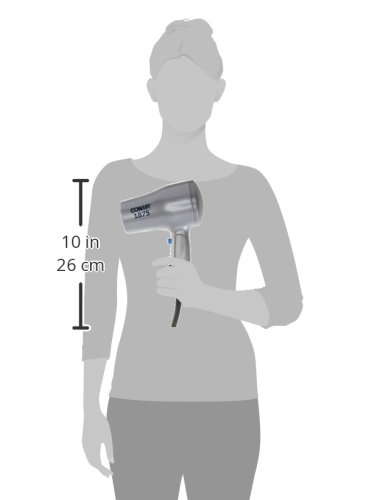 I'm going, to be honest – my hairdryer is one of those travel accessories that goes with me when the place we are staying doesn't provide one. A girl needs her hairdryer, right? I love this sleek, compact version made by Conair! It's dual voltage feature means it can be used worldwide (phew!) and it's folding handle means I can tuck it in my carry-on bag with no fuss. Plus, it has all those must-have features – adjustable, controls, heat & speed settings and a lovely 6-foot cord so I can peek out of the bathroom to check on the Little Donkey and his mischief.
Kitdine Portable Soft Silicone Travel Bottles Set
These BPA-free silicone travel bottles that are TSA approved for carry-on baggage can easily be filled with your own shampoo, conditioner, lotion and other liquids – perfect for flying. The bottles are soft, flexible and durable, and they can withstand temperature changes. The lids have a great seal, so no need to worry about liquids leaking during transport either. We absolutely love the high quality of these travel bottles and the flexibility they give for bringing our favorite toiletry products on airplanes.
Eagle Creek Travel Gear Pack-It Specter Set, Packing Cubes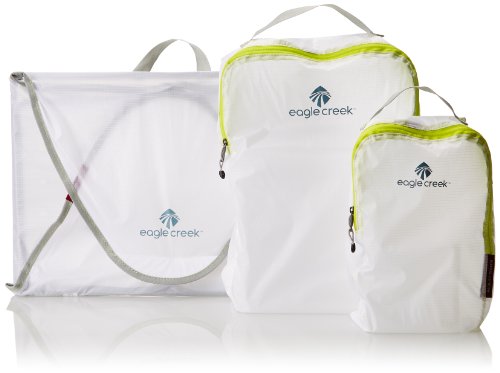 Organizing and packing for a trip can sometimes feel overwhelming, especially when trying to save space in the few bags you are allowed to bring. I was so excited to finally get my hands on a set of these packing cubes! The lightweight packs allow you to fold and compress your clothes for a tighter fit into luggage, saving tons of space. I also love how organized our luggage stays throughout our trips when using the cubes. A brilliant way to pack efficiently and keep our suitcases from looking like a tornado went through!
Staying Safe
GE Personal Security Door Stop Alarm
Safety is important to me. It might not seem like much, but a door alarm can provide the reassurance needed for sound sleep while on the road, especially if you find your hotel is severely lacking in the security/door lock department. This compact, battery powered model sounds an alarm if pressure is put on the doorstop, alerting of unwanted entry and scaring the culprit away. An affordable way for the whole Chasing the Donkey family to get a worry-free night of ZZZ's.
Pacsafe Travelsafe 12L Anti-Theft Portable Safe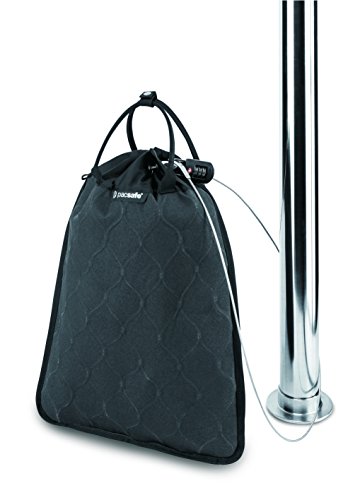 If you haven't figured it out from our "Backpack" suggestions, our Chasing the Donkey family LOVES Pacsafe gear. This portable safe is no exception. With a TSA-accepted 3-dial combination lock, the capability of folding down flat and weighing in at only one pound, we can easily stash this safe in our luggage to use throughout a trip. Secure the stainless steel cable to any fixture in a hotel room, rental car, near the beach or at the bar and know that your camera, wallet, and other possessions are safe while you explore. The fabric is a stainless steel wire mesh embedded into poly canvas…not something thieves will mess with. We love the peace of mind this excellent product gives us while chasing the Little Donkey on a beach day or leaving our laptops in a hotel room without a provided safe!
Men's Travel Shoes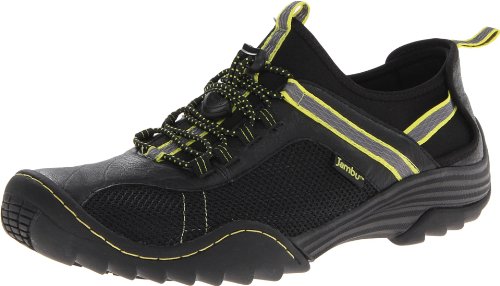 Mr. Chasing the Donkey can't say enough about these casual, all-terrain shoes. The water resistant mesh fabric is flexible, yet sturdy and the nonslip rubber soles provide traction for all types of sport and activity. The bungee straps make the shoes super easy to slip on and off, so no hassle with laces. Not to mention, Mr. CtD receives so many compliments when wearing this around town! Other great stocking stuffers for men who travel can be found here.
Women's Travel Shoes
Jambu Women's Tidal Terra Marine Water Shoe

These cute, stylish and oh so comfortable hybrid shoes are perfect for all types of terrain. If you only want to take one pair of day shoes on your next trip, these are it! Stroll along the beach, get wet in a tide pool, explore cobblestone streets, wander the forest or just grab coffee in town. The memory foam footbed gives feet extra cushioning, making the shoes great for all-day use and the criss-cross design of the straps make the shoe cute but also secure on your foot. Don't let shoes weigh your bags down when you can enjoy a broad range of activities with just one pair. The biggest challenge with these? Trying to pick just one color!
Jambu Women's Spin Ballet Flat

Have I told you yet how much I love Jambu shoes? If you weren't sold on my favorite hybrid pair, these ballet flats might just tickle your fancy. Style and function go hand in hand with these shoes. With, rubber soles, excellent ventilation and a sleek, barefoot-inspired design, your feet will be thanking you after a day of walking and adventuring. These are great shoes to pack in your carry-on, as they don't require much space – a huge bonus when trying to pack light! Not to mention, they are so cute you can easily wear them for casual outings throughout the year, not just on holiday.
Crocs Women's Adrina Flats
The Crocs brand is known for the Croslite material used to make their soft, comfortable, breathable and lightweight footwear. I would venture to say the brand is also known for a look that doesn't suit everyone. Not to worry – Crocs has re-designed their footwear to give a more appealing style with this shoe. Super cute, open-toed flats with a small platform heel (0.5″) are perfect for walking around town or casual water fun. Happy feet and style can go hand in hand with Crocs!
Women's Travel Accessories
SHOLDIT Women's Infinity Clutch Wrap Scarf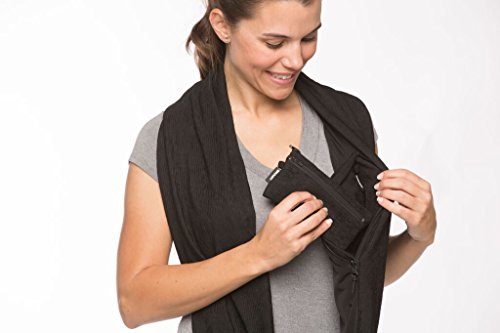 Travel with a feeling of security by keeping your valuable flight documents, passport, cell phone, money and other personal items close. This unique infinity scarf is a cute accessory and useful gadget in one with a zippered pocket for storing all of your valuables inside. Not only is it convenient for airline travel and other public transportation, but it's also perfect for a day or night around town. Keep your valuables close and look fabulous doing it!
Staying Connected
Kindle Paperwhite, 6″ High-Resolution Display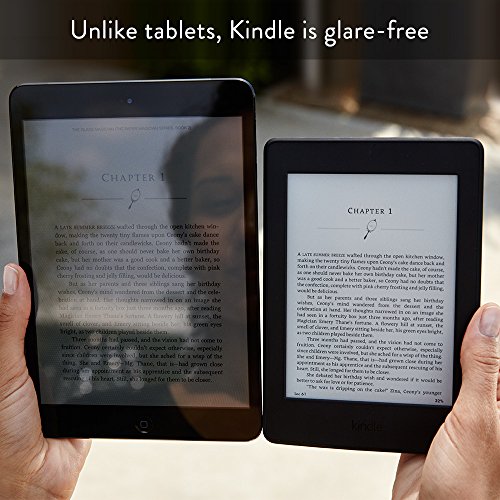 When I have free time….err, when the Baby Donkey finally goes to sleep for the night…I love to read. My Kindle Paperwhite is another one of those travel accessories I can't leave home without, as holidays are the perfect opportunity for me to soak up some sun and catch up on the latest top-selling books. What do I love about this version of the popular e-reader? The white background of the page gives the appearance of a real book. A built-in backlight adjusts using sensors that detect the natural lighting around you. The resolution is much higher than older versions, giving each page a crisp look. The screen glare has been eliminated, and a new font has been developed to create less eye-strain. The battery charge lasts forever – well maybe not forever, but 4+ weeks! Plus, thousands of titles are at my fingertips at any moment, and 4GB of storage are available for keeping books on the device. So much to love about this Kindle and so little time to read all the books on my list. Guess I need to start planning my next holiday!
GoPro HERO4 SILVER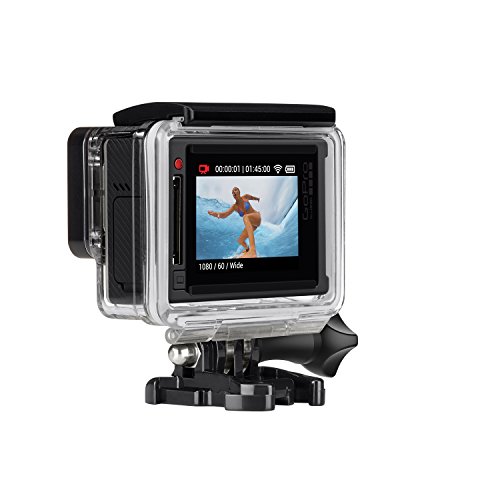 The GoPro is one of the best selling cameras on the market today. This version offers users the first ever feature of built-in touch display that allows for the framing and playback of shots with just a tap and swipe. Capture high-quality 12MP photos in all varieties of lighting, speed and exposure or shoot 1080p60 & 720p120 videos to share instantly on social media via the GoPro App and built-in WiFi/Bluetooth. Wear the camera to capture extreme moments and do so with ease – the camera is incredibly durable and waterproof. There are just too many delectable features this camera offers for the photography, videography and adrenaline enthusiasts that we suggest you take a peek at all the details for yourself!
Bandit Action Camera Premium Pack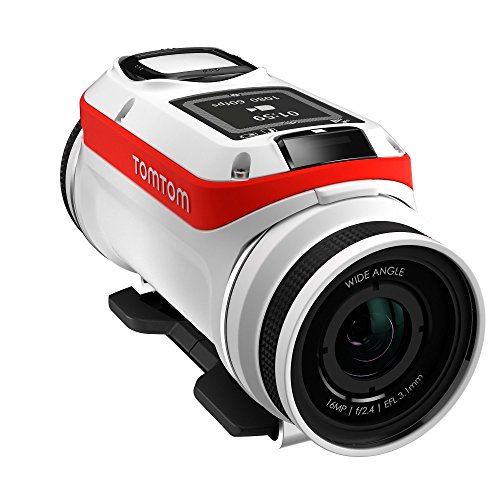 Looking for the GoPro's newest rival? Capture the highlights of your adventure with one of Mr. Chasing the Donkey's favorite pieces of technology – the Bandit Action Camera. Shoot 3 hours of non-stop HD video or take 16 MP photos on this lightweight, small, action cam. The camera has GPS and motion sensors to locate and tag some of the wildest moments of your filming based on heart rate, G-force, speed, altitude, and acceleration. Coolest feature? The built-in media server allows you to edit your footage without needing to download first and use the companion app to share your videos in just moments via smartphone. How's that for communicating with friends and family back home?! So leave your cables at behind, get on the slopes, under water, on two wheels or any other adrenaline junkie adventure, and start rolling.
LifeProof FRE POWER iPhone 6 Waterproof Battery Case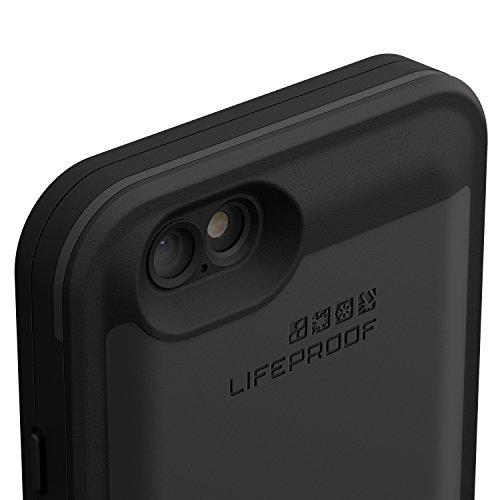 The LifeProof iPhone 6 protector is an absolute must have travel item in our home! We use our phones for navigation, last minute travel plans, emergency contacts and so much more while traveling, and nothing could be more frustrating than damaging a phone while on the road. This protector is water, dirt, snow and drop proof and has a built-in scratch protector. Our favorite feature, a built-in battery, keeps our phones charged with 2x the battery life – perfect when outlets are nowhere to be found. Do not, and I repeat, do not leave home without your iPhone stored safely in this case!
Important to note, this product it is designed for use only with the iPhone 6.
Belkin SurgePlus 3-Outlet Mini Travel Swivel Charger Surge Protector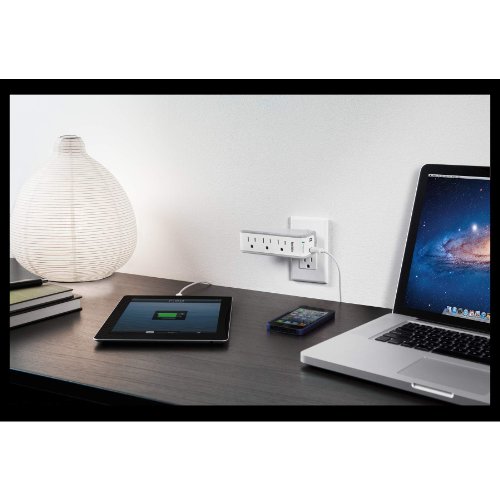 Charge all of your electronic devices – and I know you've got a few – without worry while traveling. This 360-degree rotating surge protector offers three outlets and 2 USB ports for your national or international travel needs. So cheer up and charge up – there's no reason to be stuck with low battery life on holiday! This is a great travel gadget that you need to take along with you on your next trip.
Phew, so many great things for you to consider. We hope we did not overwhelm you – tell us, which travel necessities are going on your list for 2018?
More Packing & Travel Gear Tips
We've written packing lists & guides about: