The Best Travel Bras For 2022
When traveling anywhere in the world, you need to think about many different things before you go. For instance, you need to plan your route, you need to think about visa and passport issues, and you need to pack. Within all of that, you also need to figure out how to keep your most valuable possessions safe. Of course, you also need to be comfortable too!
Did you know that you can combine your comfort with safety at the same time?
Girls welcome to the world of travel bras.
What Is A Travel Bra?
A travel bra is, as the name would suggest, first and foremost a bra. We all need a bra, right? We need to be comfortable, we don't need to feel like we can't move, and we need to be supported. Some bras, however, do serve a second purpose, and that is for keeping your credit cards, passport, and other small and essential items safe. This is through small, hidden pockets that are sewn into the bra. No, it won't cause bulk or add discomfort because it's all designed to be super-streamlined. Clever, right?
On the other hand, some travel bras don't have hidden pockets; they merely are designed to be super comfortable and supportive while you're moving around for long periods and to be packed down small.
If you want a travel bra with pockets, be sure to look at the specs below.
Best Bras For Travel Comparison Chart 2022
We took a look at the best bras for travel and compared the features & prices, and made this easy-to-use table to help you review and choose the best travel bra for you.
Click on any heading to sort the table accordingly.
Best Travel Bra Reviews 2022
The Travel Bra Co Ultra-Light, Wire-Free Bra With Anti-Theft Pockets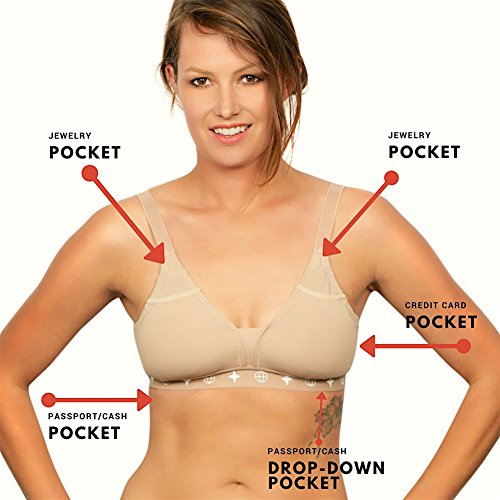 This particular bra comes in a useful nude color, so it is quite versatile regarding what you can wear it underneath. The bra is very light and made of soft polyamide fabric, so it is the best quick-dry travel bra, perfect if you get a little on the sweaty side while out and about. There are five hidden pockets inside the bra, which are ideal for jewelry, cash, passport, and cards.
The bra also has an adjustable chest band, so as you place things inside, you can adjust for your own comfort and support. There are no wires to dig into your chest or sides, and the seams are flat-locked, so they don't bulk out and cause extra lines to appear under your clothes.
Overall, this is an excellent bra for travel, and especially for backpackers.
See How Much It Is, Or Find More Travel Bras Here
Light Support Strappy Seamless 2 Pack

This two-pack of basic sports bras could easily be worn as a fashion piece, as they appear more like a bralette than a functional sports bra. The pack contains two bras in differing colors, such as black and white, dark green and light green, or black and pink. The material is moisture-wicking, so it will keep sweat away from your body and enable you to go about your day feeling comfortable and cool.
The cross-over back straps can be adjustable for your comfort and support and the bras can be washed in the washing machine, as they're made of a nylon and elastane mix.
See How Much It Is, Or Find More Travel Bras Here
Iris & Lilly Microfibre Bras

These cute bralettes are not only supportive and comfortable but they're very fashionable too. Made with an elastane and polyamide mix, the bras are machine washable and soft to the touch. The pack contains two bras, either in a black and beige combination or a black and dusky pink choice.
The straps can be converted from regular straight straps to a cross-over back, by simply linking the straps together between your shoulder blades. The thin cup inserts can be removed to give you a bespoke fit, according to your needs.
See How Much It Is, Or Find More Travel Bras Here
Aurique Women's Seamless Colour Block Sports Bra
Our Pick For The Best Sports Type Bra For Travel (and also for working out!)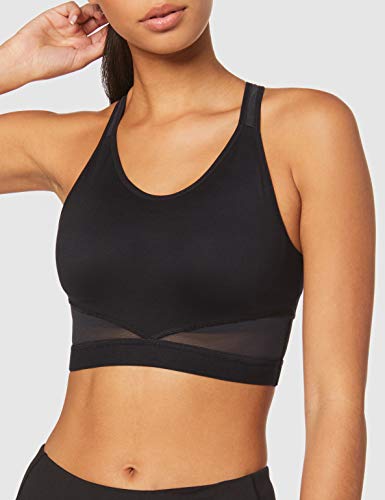 Sports bras don't have to be boring, as this one shows! The brand is made of polyester, polyamide, and elastane for a little extra stretch during wear, available in two different color block options, including a black, blue, and white choice. The bra has a round front and back, with an elasticated midsection to hold everything in place. This bra is designed to have a slight amount of support without being too tight during exercise.
See If It Is It Instock Or Find Other Bras For Travel Here
Amazon Brand – Iris & Lilly Women's Sports Bra With Padded Cups
This particular sports bra is ideal for those who prefer padding in the cups, giving extra confidence and support. Available in four different color options, the bra is fashionable enough to be worn alone but can equally be worn under a top. The cups are made of foam and have a firm amount of support, ideal for women with a larger chest size. Made of a polyester and elastane mix, the bra doesn't have under-wiring and is machine washable.
See If It Is It Instock Or Find Other Bras For Travel Here
Genie Bra Women's Twin Pack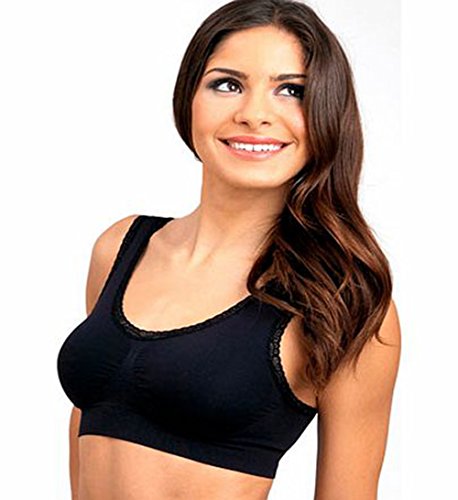 This is a twin pack of super comfortable bras, which are ideal for travel. Made of a nylon and spandex mixture, the bras are easy to clean and are seamless and wire-free. There is ruching in the middle of the bust section, and the waistband/chest band is elasticated for extra comfort. The color options are nude and pink, so ideal for most outfits.
This bra doesn't have any anti-theft storage pockets, but it is fantastic for being comfortable and supported while you're traveling around. However, a hidden pouch is designed for a pad to be inserted for extra oomph; nothing is stopping you from using this as a concealed pocket for something important!
See If It Is It Instock Or Find Other Bras For Travel Here
Genie Women's Cami Shaper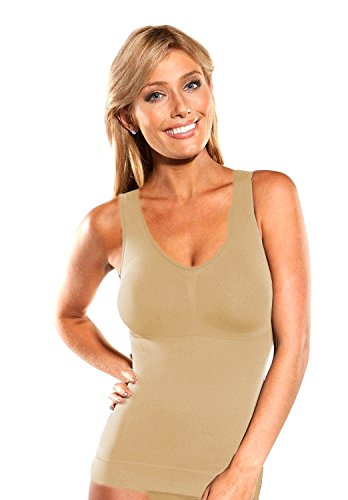 This is the ideal travel bra for those who like to be super-supported, comfortable, and also for those who want to appear a little slimmer in the midriff area at the same time! Again, there are no additional storage pockets within this bra, but it is an excellent choice for traveling in general.
This is more of a bodysuit type of bra, and it is made of a nylon and spandex mixture. A slimming technology element is built in and an elasticated comfort band to ensure you don't feel too restricted.
There are also pads included, so you can add a little extra volume if you want to. Overall, this is a versatile choice as you can use it for travel as a bra, or you can use it as a camisole to wear on the outside too! The shaper element also adds confidence whilst traveling.
See The Price Or Find More Travel Bras Here
Patagonia Women's Barely Bra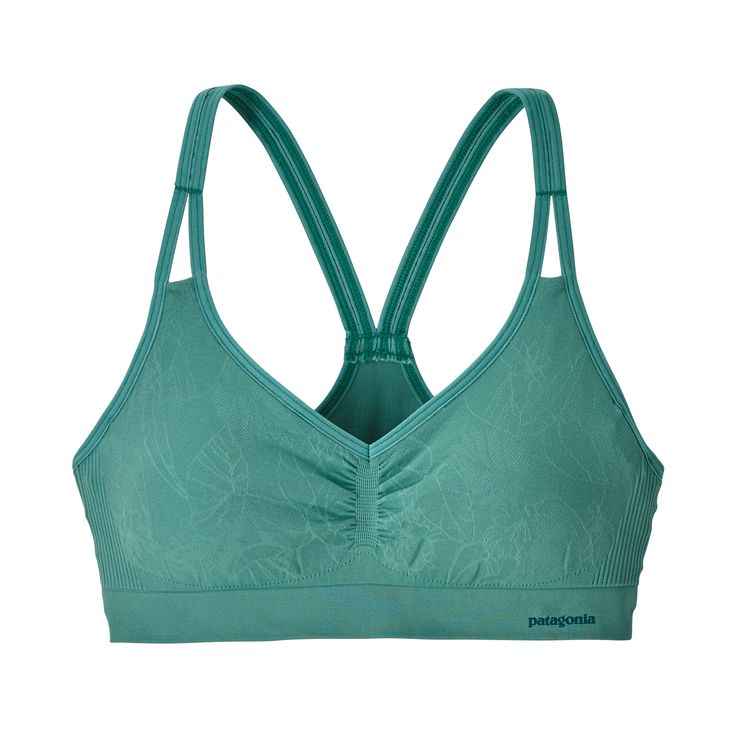 Patagonia is a distinguished name in the sports world, and this particular bra doubles up as a fantastic travel bra too. Again, super comfortable and supportive, this specific bra has a racerback style and is made of a nylon and spandex mixture, so your skin can breathe.
There is an internal cup pocket, which can either be used to insert pads for an extra boost, or you can use it to add something important you want to keep safe – the choice is yours! There is under bust support in the form of a panel and a gathered section to add shape.
Overall, this is a comfortable choice for travel and active use.
Look At The Cost Or Find Other Bras For Travel Here
Lululemon Black Ta Ta Tamer III Bra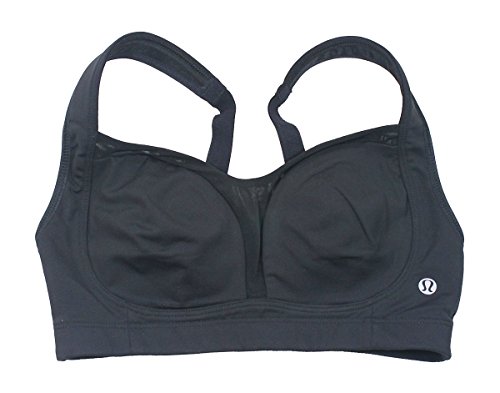 This is a super-comfortable bra that could easily double up as a sports bra at the same time. The color options are limited, as there is only black on offer, but this is a versatile color, so there shouldn't be too many issues with this.
The bra is made of polyester, and it has sweat-wicking included to act as a second skin and to take moisture away from the skin. There is also a little Lycra to keep the shape.
There are adjustable straps for comfort and versatility, and there is a criss-cross design to the back so that it won't show through any strappy style tops. The bra also closes with a hook and eye design.
See The Price Or Find More Travel Bras Here
Under Armour Women's Armour Mid-Sports Bra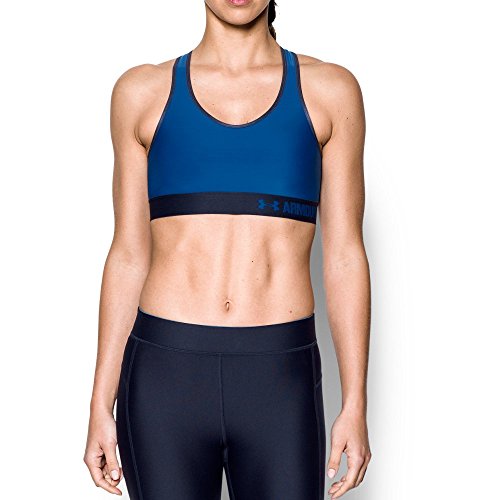 This is another sporty bra that could easily be used for travel, and it comes from a big name brand at the same time. This bra is best for A to C cups made of a polyester and elastane mixture only (sorry busty babes).
There is compression to the bra section, as it is specially designed for sporting activities, but that also makes it ideal for hiking and other active travel types.
The bra fits by pulling over the head, and it has a racerback. There is a soft elastic band underneath so that it doesn't move and stays where it is supposed to. The bra is also designed to give a 'second skin' feel.
Check The Price Or Find Other Bras For Travel Here
Boody Body EcoWear Women's Shaper Bra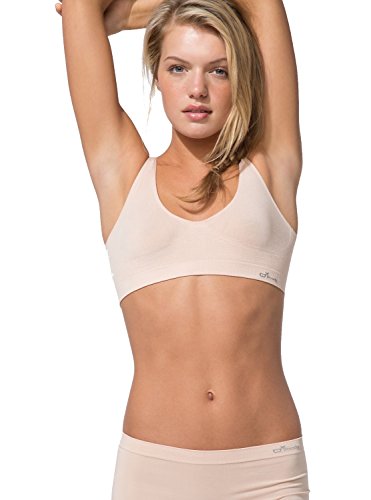 If you're a little environmentally conscious, this is a fabulous bra to go for. This is a sports bra and travel bra combined, and it is made of bamboo, which has been organically grown. There are no buckles, wires, or clasps to make wearing this bra at all uncomfortable, and it is designed for total comfort in mind.
The sprays are made of a contoured material that is ribbed for support and comfort, and the material is breathable and moisture-wicking.
Whilst this bra might not offer a huge amount of support and doesn't have any space to store items, it is a grand choice for smaller chested women who want to be comfortable and dry during their travels. You can also choose from white, black, or nude.
Check The Price Or Find More Travel Bras Here
Panache Women's Non-Wired Sports Bra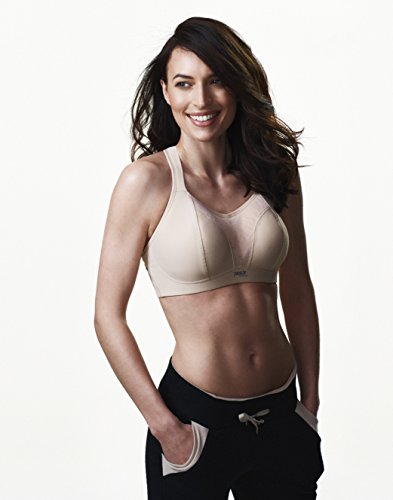 This is a great travel bra for those who are likely to be active during their travels. Made of polyamide, polyester, and elastane mixture, the bra has a conventional hook and eye closure, and it has molded inner cups that are free of seams. There are mesh inserts and cushioned straps also, which can be adjusted for extra comfort too.
This is an adjustable design as it can convert into a racerback design if you so wish. There are several color options, too, so you can work according to your outfit. Again, this is an exceptional sport and travel bra for active travel and for those who want additional support.
Check The Price Or Find Other Bras For Travel Here
Exofficio Women's Crossover Bra
Our Pick For The Best Comfortable Bra For Travel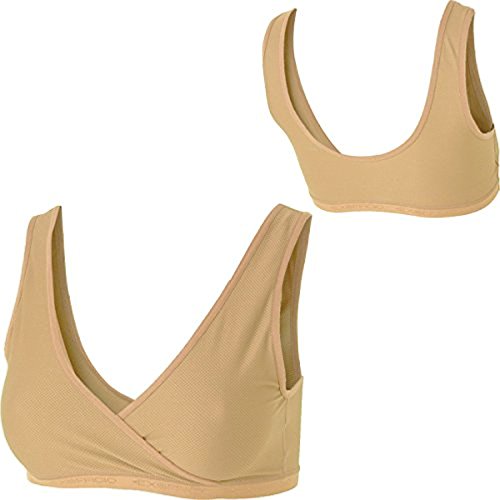 The bra is lightweight and odor-resistant also. This is a terrific bra for general travel. While it won't offer you a massive amount of support for extreme activities, such as hiking and the like, it will be comfortable and supportive for getting from A to B.
If you want to be super-cool during your travels, this particular bra is a solid option. The front is a crossover design, so while it does come down quite low, it is still quite supportive and won't show through a similarly low cut in the front of a top.
The bra is made of a nylon, Lycra, and spandex mixture, and it has a moisture-wicking element, so you stay dry and comfortable at all times on your travels.
See What It Costs Or Find More Travel Bras Here
Hanes Women's Ultimate Comfy Support Wire-Free Bra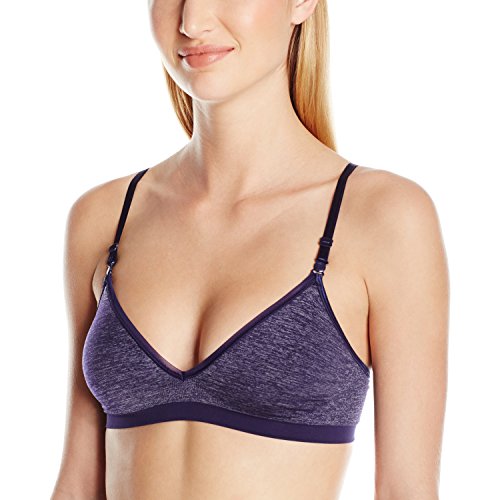 For the price, this is a great value bra for travel. Made of a mixture of nylon, polyester, and spandex, the bra comes in a range of different colors so that you can find the ideal choice for your needs.
The bra closes with a regular hook and eye mechanism, and it is suitable for machine washing. There are no seams and no wires, and the cups stretch four different ways, thanks to an elasticated band around the middle. The straps are also adjustable for comfort.
This conforming bra for travel isn't particularly strenuous, but for travel that also needs support. In contrast, extreme sports will need more in the way of support, and this particular bra offers everything you need for regular travel and perhaps for low impact hiking trips too.
Check The Price Or Find Other Bras For Travel Here
Anita Women's Extreme Control Sports Bra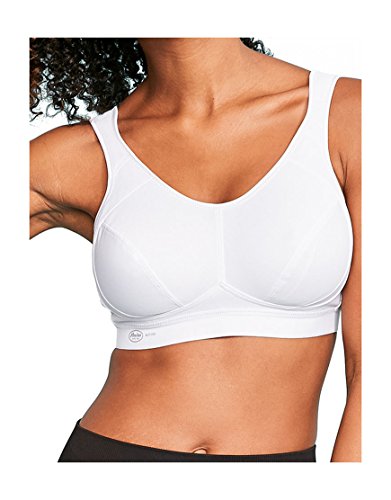 This is one of the best bras for active travel and comes at a great price. With a very sporty appearance, it is available in several color combinations. It is a mixture of polyester, nylon, elastane, and cotton to give extra support when you need it the most.
There are hooks and eye closings at the back, and secure elasticated straps, to give extra support and control during strenuous activities.
This bra isn't adjustable, which is something to consider if you prefer to have more versatility. Still, for regular wear during demanding conditions, it is a great value option to look into.
Check Availability Or Find More Travel Bras Here
Hanes Women's Comfort Evolution Bra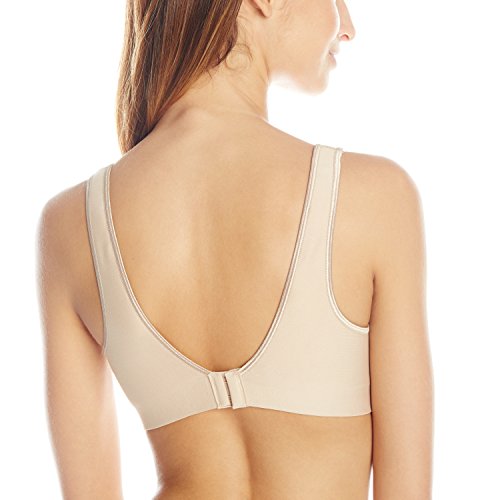 This is another from the Hanes range, and it is built with comfort in mind; this makes it ideal for travel! The bra looks pretty and is made of a combination of polyester and spandex.
The back closes with a regular hook and eye, and it has no wires. The neckline is a sweetheart design, which adds to the attractive appearance.
The cups are molded for comfort and also for extra support, and you can choose from a few different colors, including nude, back, or white. This is an ideal bra for regular travel needs.
Price It Or Find Other Bras For Travel Here
ECOSUSI Portable Travel Case Underwear Bra Drawer Closet Storage Bag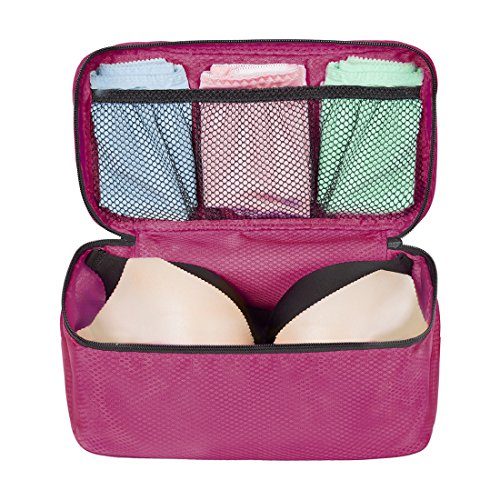 No more lost undies with EcoSusi! This is like a vanity case of old, a travel luggage organizer just for your bras and underwear! Alternatively, use it for toiletries as the bag is also waterproof. Available in different colors, with zipper closure, it is a lightweight option, which is very easy to carry.
What To Look For In A Travel Bra
So, now you know you need a travel bra, what do you need to look for when purchasing one?
budget: Obviously, you shouldn't spend more than you can afford, so shopping around and sticking to your budget is important.
Colour options: Do you wear light-colored clothes more often? In that case, you need a nude or white colored bra. If you are someone who prefers to wear darker colors, you need a black or navy blue option, so the light color underneath won't show through your outfit.
Straps: What kind of straps does the bra have? Does it have thick straps or thin ones? This is a personal preference and something you need to think about when purchasing.
Is it convertible: Does the bra convert into a strapless option? Does it switch so that the straps cross over at the back to avoid strap lines when wearing racerback tops?
Is it suitable for exercising or hiking: How much support does the bra offer? If you're going to be doing sports or hiking, you need a bra that offers more support and padding, compared to regular, getting from A to B travel.
Space: How much space does the bra take up in your bag? Some travel bras can be bulky to pack, because of the space inside for storing things, so consider this. You also need to think about how much space is inside for storing your valuables, if it has this function, e.g.,g how many credit cards or debit cards does it hold? Want to know how to pack bras for travel?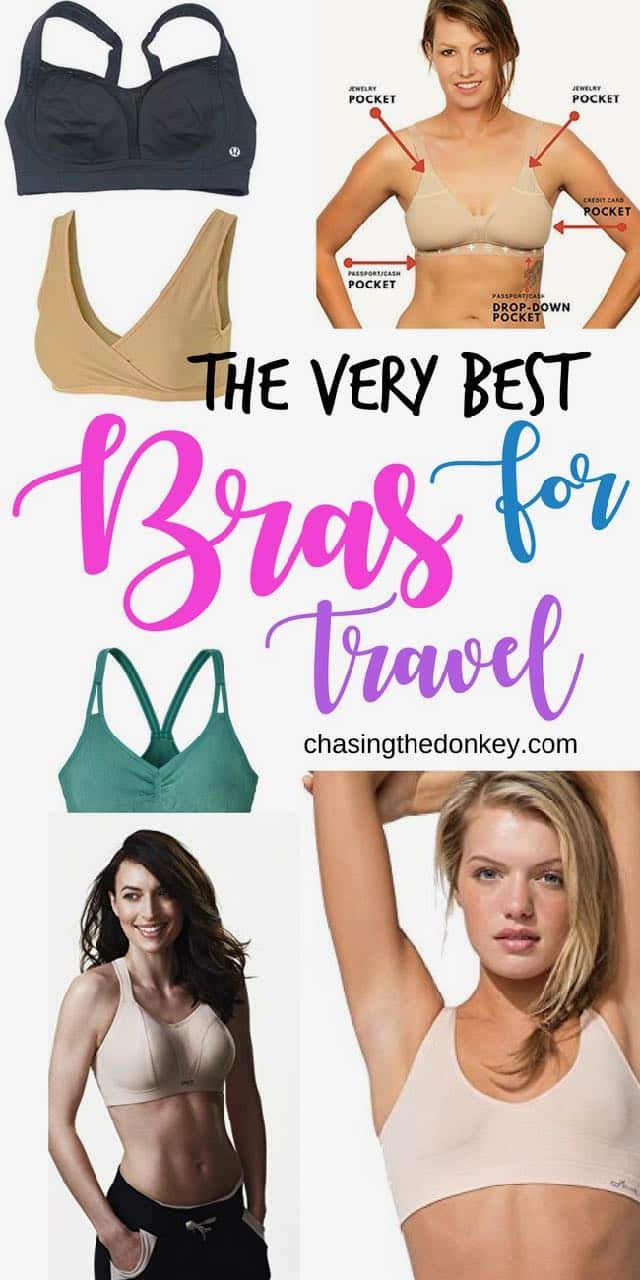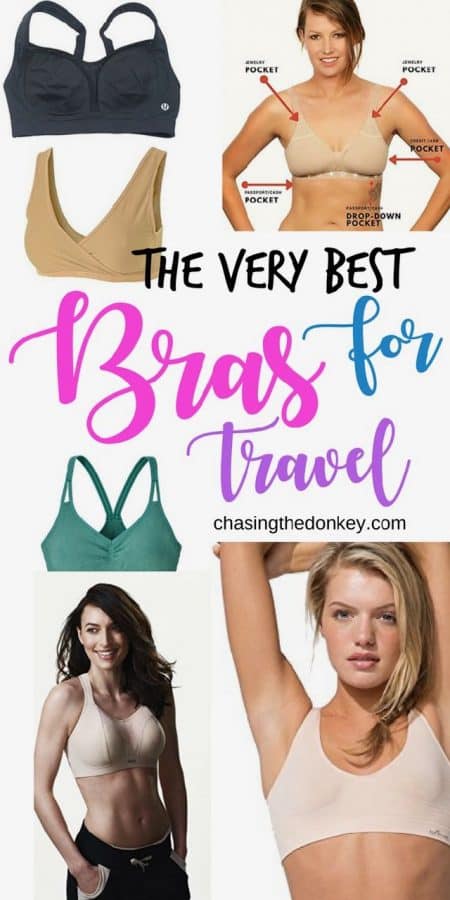 What Makes A Good Bra For Travel?
What really makes a good travel bra? A bra that has all of the above options and one you feel comfortable in. Shopping around is the only way to ensure all of that happens, but there are some excellent bras out there on the market.
Choosing the best travel bra should, therefore, be comfortable, supportive; it shouldn't look bulky or ugly, and it could offer you space to store a small number of valuable items too. If you are doing any strenuous activity, such as hiking, you should also look into a more sports-designed type of bra, perhaps with a little more compression support built-in.
Why Do You Need A Comfortable Bra For Travel?
When we're traveling, we need to be comfortable and supported, and travel is none of those things when you're wearing a cheap bra that offers zero support, and the straps keep falling down. You might be enjoying active travel too, e.g., you might be hiking or exercising, and in that case, you need extra support too.
We mentioned that some travel bras have hidden pockets to keep your small valuables safe, but you can also cut down on the number of small bags you need to take with you by utilizing the space within the bra. For instance, if you're going hiking, do you really want to take extra things in your bag? You might not have space.
For these reasons, a good quality, comfortable, versatile, and supportive travel bra is, therefore, an essential part of your travel armory.
We Also Have Loads Of Packing And Travel Products Tips Including