Privacy & disclaimers →
13 Of The Best Sandy Beaches In Turkey Everyone Will Love
To say that Turkey is packed with blindingly beautiful beaches would be a significant understatement. When you check out the images, you'll completely understand why! During the summer, Turkey sees millions of visitors heading its way purely for a spot of beach time.
The touristic part of the south coast of Turkey stretches from just above Izmir in the west, right over to Antalya. That's a lot of coastline and many, many beaches. Of course, there are beaches in Istanbul and the Black Sea Coast too, but the south is certainly where it's at during summer.
From June to the end of September, you'll be very unlucky if you experience rain. A shower in June or the end of September, possibly, but no more than that. July and August are sweltering, and temperatures are not unusual to hit 40 C.
That means jumping in the sea is the best way to cool down!
Everyone loves a beautiful beach, but most people love a beautiful sandy beach over a pebbly beach. I prefer feeling my toes sinking into the sand than my feet slipping over stones as I walk! I've broken many a flip-flop on pebbly beaches …
So, sand is where it's at for me and many others. This has taken some serious work, but I've managed to narrow it down to 5 of the best sandy beaches along that stunning south coast. Turkey could be a fantastic option if you're keen to get away this summer (and let's face it, who isn't).
This is by no means an exhaustive list, and there are some I've missed that many people will adore, but if I listed them all, we'd be here all day!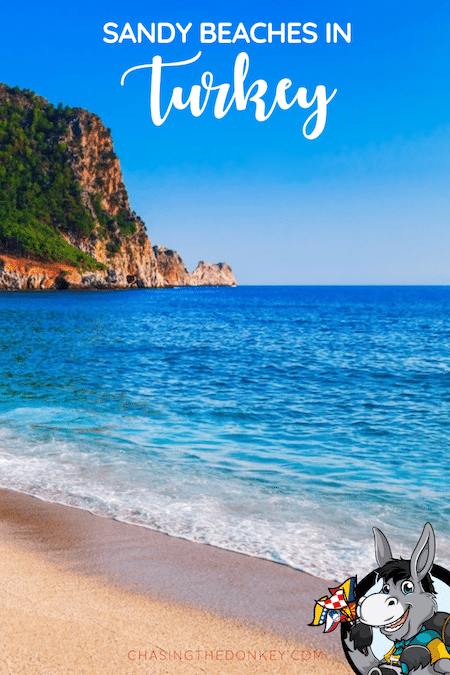 Best Sandy Beaches In The Dalaman Region
Icmeler Beach, Icmeler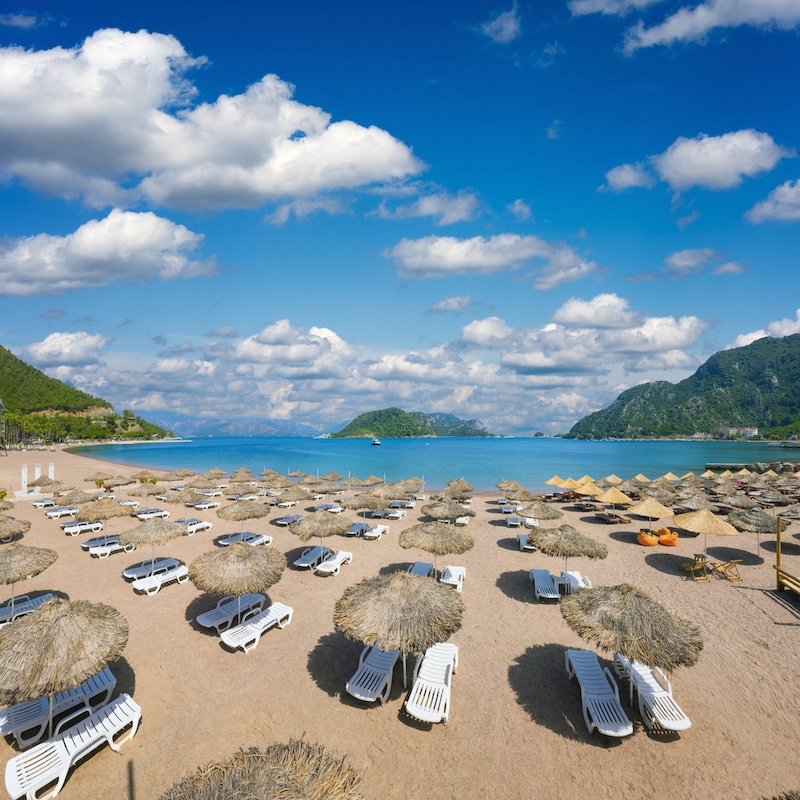 Another beautiful beach in the Dalaman area is Icmeler Beach, located in Icmeler itself and just a 10-minute drive from Marmaris. The beach is wide and sandy, and the sea is clear. Some parts are a little deeper than others, but it's perfectly safe for children for the main part.
The beach is long and crescent-shaped, and some parts are private to restaurants and hotels. If you want to use those parts, you'll need to either be a hotel resident or need to order food or drinks from the restaurant menu. However, that's no big deal, as everyone needs to stay hydrated in the scorching summer sun! There is a public part of the beach where you can just lay down your towel and do whatever you want, without having to buy a drink, but there is very little shade!
The plus point about choosing Icmeler beach for a day in the sun is the facilities and how easy it is to reach. The entire resort focuses on the beach, and although there are small roads you can walk around and explore, life is undoubtedly beachside!
Bitez Beach, Bodrum
Bodrum is a famous part of Turkey, famed for its high-quality hotels and expensive yachts in the harbor. However, Bodrum doesn't have a beach, so visitors have to head a few minutes away from other resorts. Bitez is one of them and one of them and certainly one of the best to choose from.
Located just 6km from the town, this beach is a large arc and backs onto olive and citrus groves. The waters here are shallow and calm, so it's great for families who want a relaxed day on the beach. It's also a good spot for water sports.
The beach is surrounded by cafes and restaurants for refreshments.
Blue Lagoon, Olu Deniz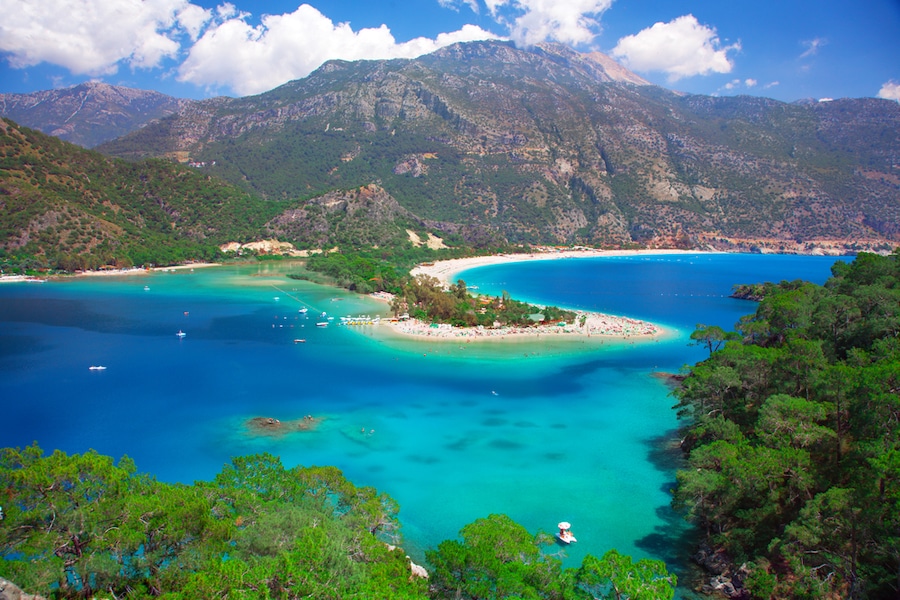 The Blue Lagoon is a famous beach in Olu Deniz; it's one of the most commonly photographed in Turkey. This is also the part of Turkey where the Mediterranean and the Aegean meet, so it's famous in other ways too! The water is so blue it's tough to believe it, and the contrast of the white sand and lush green of the soaring mountains makes for photography gold.
The water here is ideal for families as it's pretty shallow, although there isn't much shade. You'll have to get there early if you want to bag yourself a parasol.
Look up, and you'll see people paragliding from the Babadag Mountains; this is one of the premier spots in the whole of Europe for paragliding, and while it might only be for the brave, it's fantastic to watch others do it.
Iztuzu Beach, Dalyan
Also known as 'Turtle Beach,' this quiet and large beach is located at the end of the Dalyan River, which means you can take a river boat to the beach and pass by the ancient Lycian rock ruins as you go. If you don't fancy that, you can drive from the nearby village of Dalyan.
With 4km of sand to choose from, you're not going to find this space too crowded, even in the summer months. The water is crystal clear, and it's an excellent spot for families who want a chilled-out day on the sand. However, Turtle Beach takes its namesake from the fact it's a nesting spot for endangered loggerhead turtles (Caretta turtles).
There are umbrellas and cafes on site, although this isn't a hugely touristic site in terms of infrastructure. If you want to enjoy good food, it's best to take a picnic and remember to take all of your litter with you.
Cleopatra Island (Sedir Island)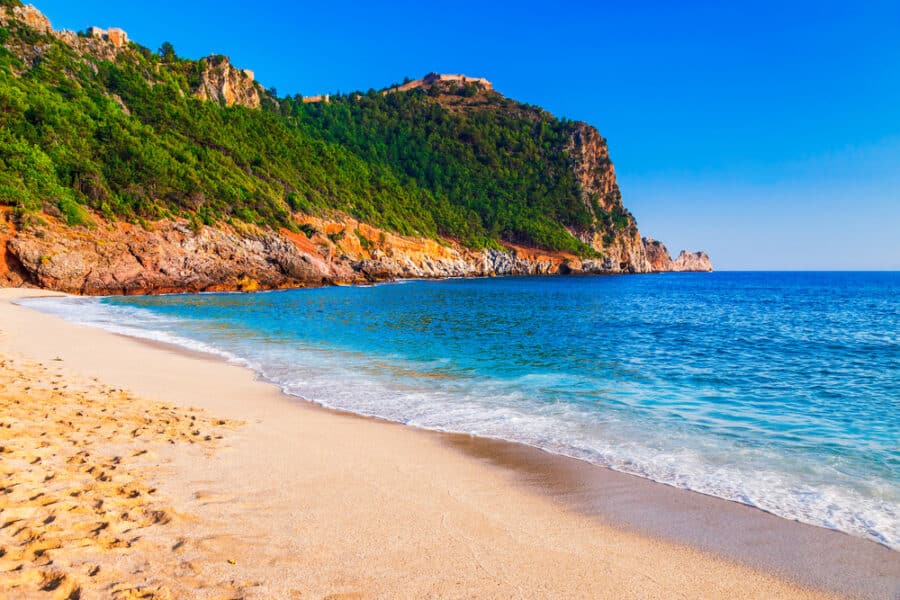 A day trip to Cleopatra Island is for you if you love a little history mixed in with your beach time and adore stunning scenes. This is a beach you'll need to take a boat to get to, and you'll need to pay to get in, but it's more than worth it!
Day trips are plentiful from anywhere in the Dalaman region, so we're talking about places like Dalyan, Marmaris, Icmeler, Fethiye, or Olu Deniz. However, it is closest to Marmaris; it takes just 20 minutes by car to drive to the boat, and then it's another 20 minutes over the water. The scenery, though …
Once you arrive, you'll instantly understand why it's unique. The sand is blindingly white, and the sea is a translucent blue that words don't describe. The other remarkable thing about this beach is that you're not allowed to take any of the sand with you – it's protected!
Legend says that Mark Anthony and Cleopatra regularly met on this island, locally known as Sedir Island and that the sand was ordered from Egypt so Cleopatra would feel at home!
If you get bored of beach time (trust me, you won't), then you can wander around the small island and check out the ruins of a small church and several huts. There is a walking path to follow, with signs in several languages telling you about the history of each section. However, remember to stick to the path as the long grass may hide a few snakes, scorpions, tiny geckos, or the odd stray chicken!
There is a café and shop on site for refreshments, and you can use one of the sunbeds if you fancy a little shade throughout the day.
TRAVEL COMPANIES WE USE AND TRUST
Best Sandy Beaches In The Antalya Region
Kaputas Beach, Kas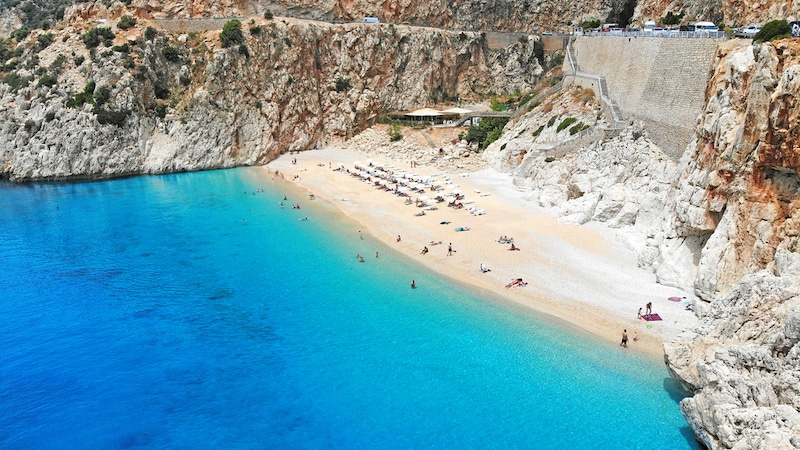 Antalya is known for its beautiful beaches, but arguably one of the best is Kaputas Beach, located between Kalkan and Kas. The only issue with this beach is that it's not as easy to get to as others on the list. To reach Kaputas Beach, you'll need to drive along the coastal road, park up and then walk down 187 steps to the beach. However, the view along the way is nothing short of breathtaking, which kind of makes up for the effort.
The sand is golden, the sea is blindingly blue, and the backdrop is pine forests and high mountains. It's Insta-gold in so many ways. The other good news is that it's a very safe beach for families because the water is relatively shallow. Some cafes and restaurants are just off the coast that has arrived over the last few years, ready to serve you throughout your beach day.
You're unlikely to run into too many crowds on this beach, but during Turkish public holidays, you may find that there are a few more visitors than otherwise. You could call this a semi-hidden gem!
Patara Beach, Kas
Patara Beach is located in Kas, within the Antalya region of Turkey, and it's one of the most famous beaches around. When you see it, you'll understand why. It's also huge, at about 18km long.
This is a beach you should take plenty of photos of, as the natural beauty is stunning. The huge rocks and dunes make for seriously impressive snaps, and the waters here are crystal clear.
The beach is close to the ancient town that dates back to Lycian times, and as such, you'll need to pay a small entrance fee to get inside. As a fun fact, legend also says that St Nicholas was born here – yes, actual Santa!
Konyaalti Beach, Antalya City
Konyaalti is an iconic beach packed with visitors from all over the world during the summer months. Located west of the central city, the beach is 13km long and has mostly sand and a few pebbles. The water is super-clear and fantastic for swimming, water sports, and snorkeling.
The view of the high mountains in the distance is simply beautiful, and they're often snow-capped towards the beginning and end of summer. The beach starts at the bottom of the Old Town and heads right over toward the mountains.
You'll find various entertainment options on Konyaalti Beach, with regular concerts and attractions throughout the summer. There are also many bars and restaurants along the beachfront.
Side Beach, Side
The ancient ruins of Side are a must-visit, but the beach is also something you should put on your visit list. The waters here are unbelievably clear, and the views, especially at sunset, will make you weep with joy.
Most of the beach is owned by different hotels and restaurants, so you can take advantage of parasols and refreshments from whichever bar/hotel you choose. You'll also find water sports here too, including windsurfing.
Cirali Beach, Taurus Mountains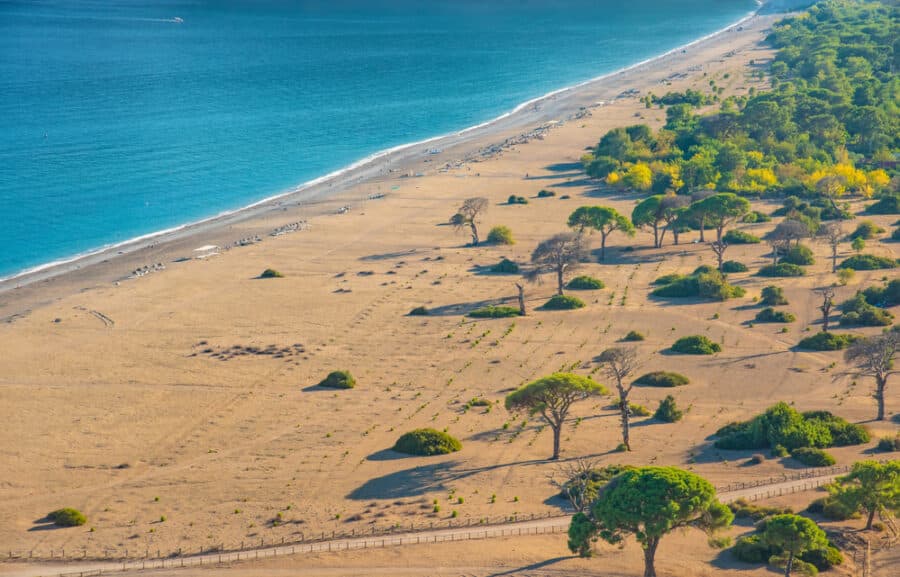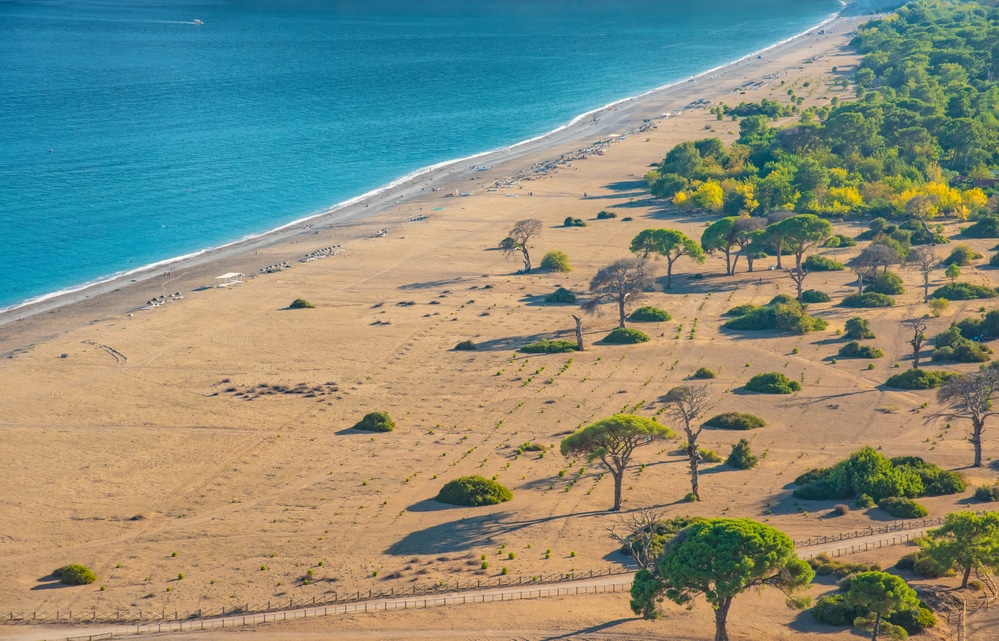 Cirali Beach is a hidden gem that must be seen with your eyes just one hour from Antalya by car. This sweeping beach is unspoiled from mass tourism, and it's a prime spot in the center of the Taurus Mountains that helps you feel like you're a million miles away from anywhere.
Cirali Beach is an excellent place for bird spotters, but it's also great for history buffs, as you'll find the Olympos ruins at the far end of the beach. The water is clear, as you can imagine, and the shallows are perfect for children to splash and play without any worries.
This is a good option if you like your beaches chilled out and quiet. There aren't major restaurants or bars around here, just a few small family-run options and a place where you can take your own picnic and enjoy it.
Kleopatra Beach, Alanya
Located in beautiful Alanya, Kleopatra Beach is reputed to be one of the Egyptian Queen's favorite beaches, bought by Antony for her.
Mountains back the beach; if you look up, you'll see the castle and the cable car leading up to it. The waters are crystal clear and the sands wide, ideal for children who want to build sandcastles! There are also plenty of restaurants and sun loungers/parasols during the summer.
If you love snorkeling, this is a great beach to head to, as the waters are full of colorful fish. As for sunsets – some of the best around!
Lara Beach, Lara
Lara is home to some of the fanciest hotels in the whole of Turkey, including a hotel that is shaped like the Titanic! Most hotels own specific sections of the beach, which are private for residents only. However, a large stretch of sand is also open to the public.
The beach is large and has golden sand and crystal-clear water. You'll find restaurants and bars, water sports, parasols, and sun loungers along the waterside.
This is one of the most renowned beaches in the whole of Turkey, so it's certainly somewhere you should go if you have the time.
Best Sandy Beaches In The Aydin Region
Altinkum Beach, Altinkum
Altinkum is a party spot in Turkey but has one of the most stunning beaches. The waters here are like something you would imagine seeing in the Indian Ocean, and the beach is white sand, large, and windy.
This is a calm spot for families, as the waters are often calm and gentle.
During the summer, there are plenty of amenities, sun loungers, and parasols. Beaches and restaurants line the beachfront, so you can quickly grab some refreshments. The nearby marina is also a great spot to visit after a few hours on the beach.
These five Turkish sandy beaches show you just how beautiful the beaches of Turkey are, but believe me, there are countless more we're yet to share with you!