We may earn commission from affiliate links →
Hidden Gems In Turkey You Should Not Miss
Türkiye is a vast country. Most people don't realize how big it is. It's enormous, packed with world-famous destinations, beach resorts, and ancient cities. There are, however, also many hidden gems in Turkey to visit, allowing you to experience an undiscovered Türkiye that most visitors don't get to see.
Most tourists flock to the most popular places, such as Antalya, Izmir, Bodrum, Marmaris, Cappadocia, Ephesus, and Pamukkale (those places are 100% worth a visit), but that means that some of the most unique and beautiful spots are being overlooked.
Anyone who goes off the beaten path in Turkey gets to enjoy some of the most beautiful villages in Türkiye, an authentic way of life, and some stunning natural scenery.
It's impossible to write a complete list of all the hidden gems this vast country has to offer, but let's whittle it down to a top 7 list to give you some ideas for your next visit.
Map Of The Hidden Gems In Turkey
Mount Nemrut, Adiyaman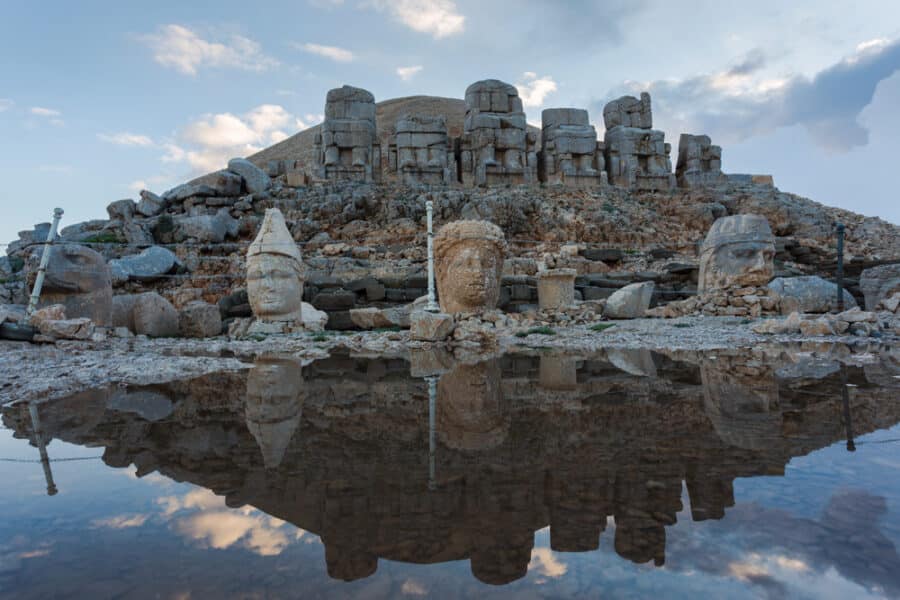 This particular sight is very off the beaten track for most tourists visiting Türkiye for a beach break, but if you want to stretch your legs and see something truly magnificent, it's more than worth the effort.
Mount Nemrut is located in Adiyaman, in south-eastern Turkey, not too far from the Syrian border – do not let that put you off as this is still a popular tourist destination and, as such, safe to visit. The mountain has stunning views, but that's not what it is famous for.
It's most famous for its enormous carved stone heads that sit almost randomly at the top of the mountain and on the path leading to the summit. Nobody is 100% sure how they got there, but the theory is that they were put there to show the power that Alexander I yielded back in the day.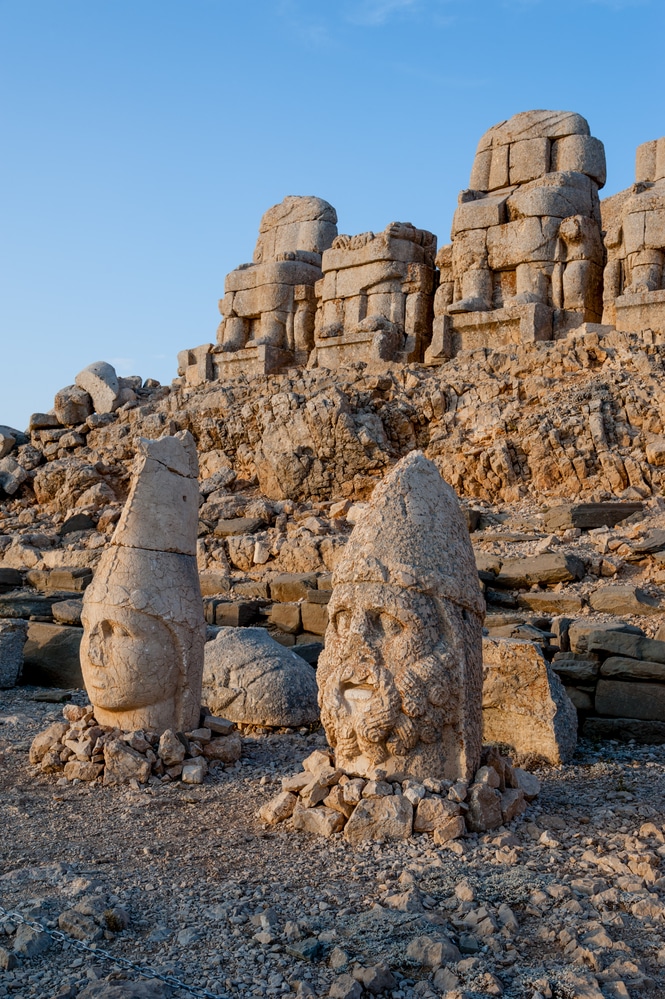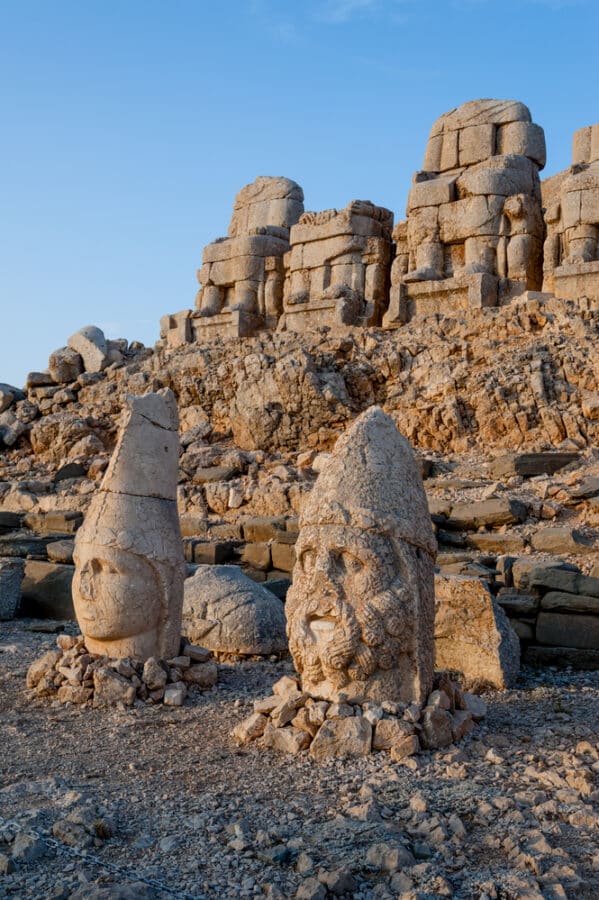 You can see this fantastic and quite jaw-dropping sight at any time of the year; indeed one of those unique places to visit in Türkiye, but this part of the country does have freezing temperatures and a lot of snow during the winter. So, between April and October is the best time to go.
You can fly from Istanbul or Ankara to Adiyaman Airport, and many guided tours will take you to the site from there – as a side point, a guided tour is the single best way; it's best not to attempt it on your own.
PLAN AHEAD TO GET THE BEST DEALS
Subterranean Calcium Travertines of Kaklik Cave in Pamukkale
Kaklik Cave is a subterranean calcium travertine formation located in Pamukkale, Turkey. The cave is approximately 12 meters high and 15 meters wide. It is one of the largest known caves of its kind. The cave was formed by the flow of thermal spring water, which deposited calcium carbonate on the walls and floor over time.
The resulting travertines are a dazzling white color. The cave is open to the public, and visitors can explore its many rooms and chambers. The cave is also home to a variety of animal life, including bats, snakes, and spiders.
Duden Waterfalls, Antalya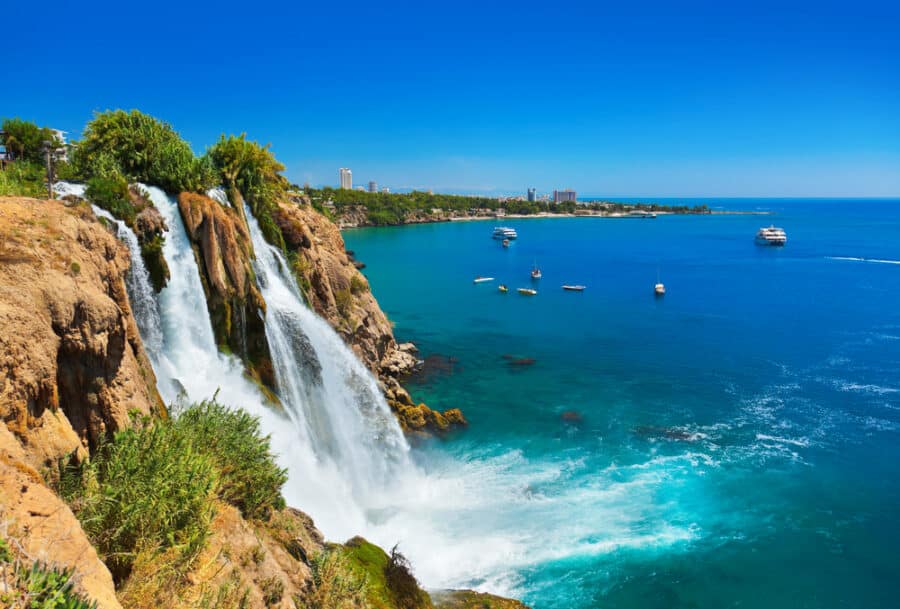 Every year, millions of visitors head to the Antalya region, but few know about the beauty of the waterfalls that are just a stone's throw from Antalya International Airport! These coastal waterfalls are arguably among the most beautiful places in Turkey to visit.
The waterfalls are formed from the cascades of water spilling down Mount Taurus before heading down to the sea. As the light fades and the sun sets, the water begins to glisten and forms beautiful waterfalls that you must catch on film.
Duden Waterfalls are situated in a protected park, so there's plenty of greenery to chill out in, and it's never too crowded, apart from during important national days in Türkiye when locals head out with their family members to spend some time together in the sun.
You can reach the waterfalls on your own steam by hiring a car; they're only around 15 minutes from the airport, or you can book a tour which is probably the easiest way. Tours take you to the foot of the waterfalls, or you can go on a boat trip and see them cascading into the sea for yourself.
Sumela Monastery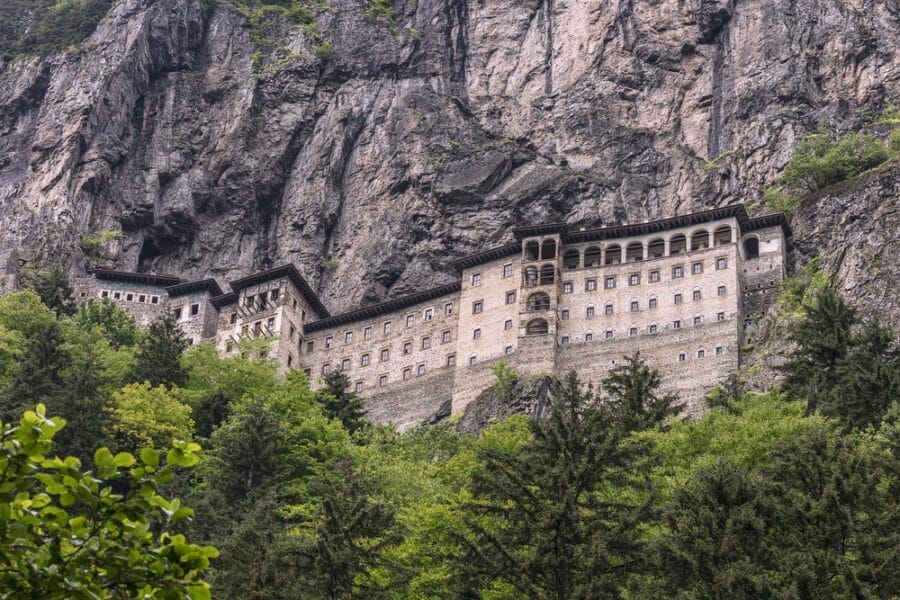 In the region of Macka, you will find Trabzon city and the Sumela Monastery. This crazy high monastery is a 1600-year-old ancient Orthodox monastery of the Panaghia located 1200 meters high on a cliff.
Amasra, Black Sea Coast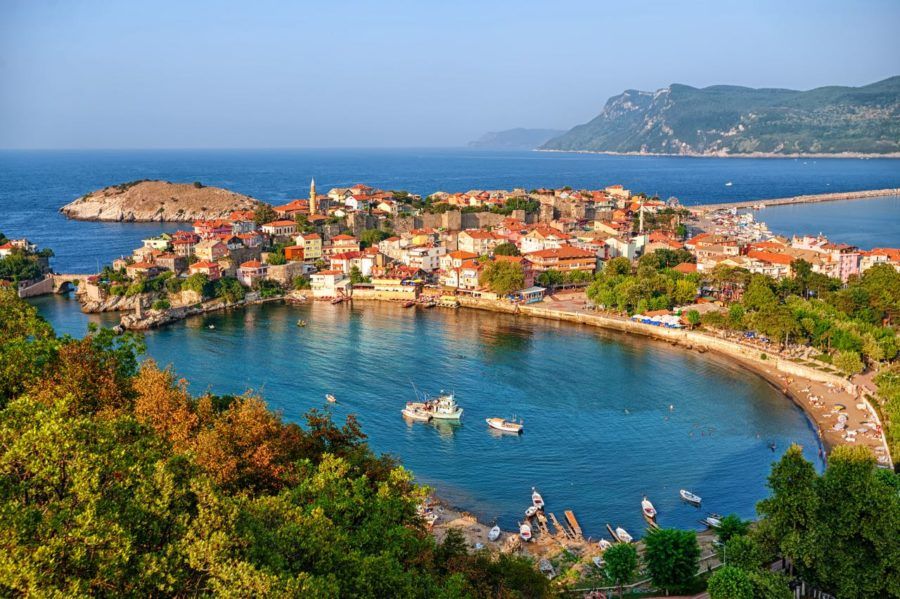 When thinking about a beach break in Türkiye, most people fixate on the south coast, but the Black Sea Coast in the north is magnificent. This spot is off the beaten track for most tourists, but it's pretty busy with locals.
Surprisingly, this is one of the most incredible non-touristy places in Turkey on the coast. Amasra has a truly authentic feel, and despite its small size, it is a fantastic place to visit. There are several beaches and plenty of walking opportunities around the coastline. You can go on a boat trip or head to Amastra Museum and learn more about the local area.
A must-do is to head to a traditional Turkish restaurant and enjoy some fantastic cuisine. The seafood around here is divine and very fresh.
Alacati, Izmir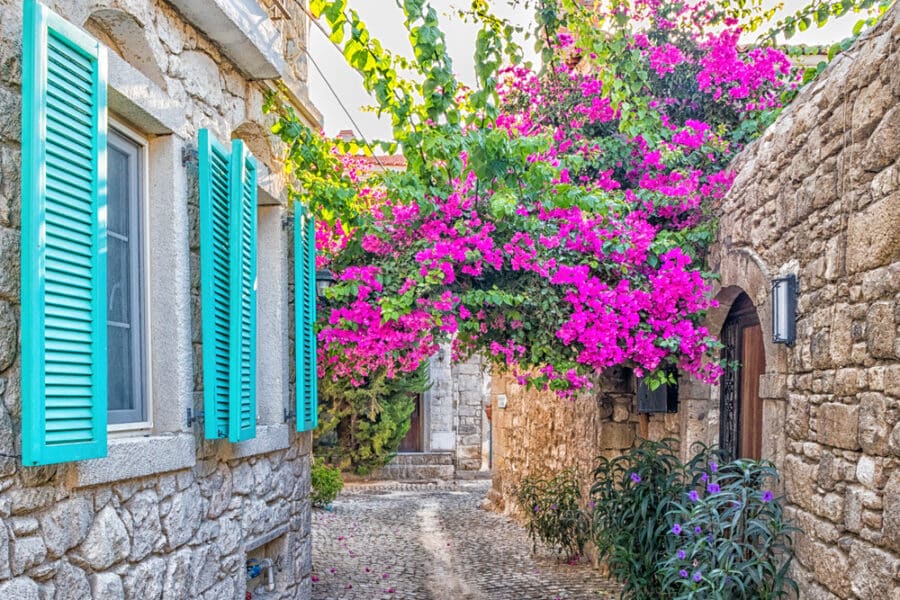 Izmir is a bustling and well-visited city, but Alacati remains a hidden gem. This city suburb has a genuinely charming and authentic feel to it, full of traditional houses with colorful doors and old mills that used to work hard back in the day. If you love food and wine, this is also a place to head for you, as it's packed with small restaurants and cafes with some of the best food you have ever eaten.
Head to the beach to cool down in the summer sun and check out how clear the water is. It's also a place where there seems to be a constant breeze, which makes it an excellent spot for watching professional windsurfers and kite surfers – you can even try it for yourself!
Why not stay for a few days to soak up the chilled-out atmosphere? Alacati is easy to reach from Izmir (around 1 hour, depending on traffic), and you'll also find tours that take you there for the day. If you're looking for less-known Türkiyecities to visit, this is a fantastic option.
Kumköy
Kumköy is an exquisite city located near Antalya. It is known for its stunning beaches and clear turquoise waters. Visitors can enjoy plenty of activities, such as swimming, sunbathing, windsurfing, and more. There are also many restaurants and cafes lining the beaches, making it the perfect place to relax and take in the incredible views.
Kumköy is also home to many historical monuments and sites, such as the Church of St. Nicholas, which dates back to the Byzantine period. Other attractions in the area include the Kumköy Mosque, an ancient amphitheater, and a picturesque lighthouse. There are also plenty of shops and boutiques to explore, making it a great place for shopping.
Kumköy is easily accessible from Istanbul by car or public transport. It is also within walking distance of Kilyos, another popular beach town on the Black Sea coast.
Gobeklitepe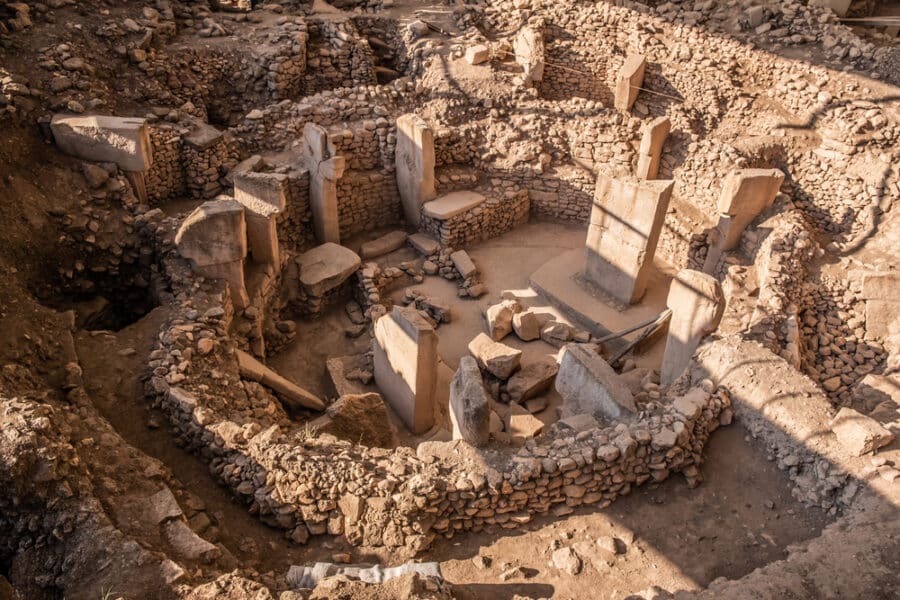 A visit to the ancient Gobekli Tepe temple in Urfa is necessary for anyone visiting Sanliurfa or surrounding areas.
Pigeon Valley Cappadocia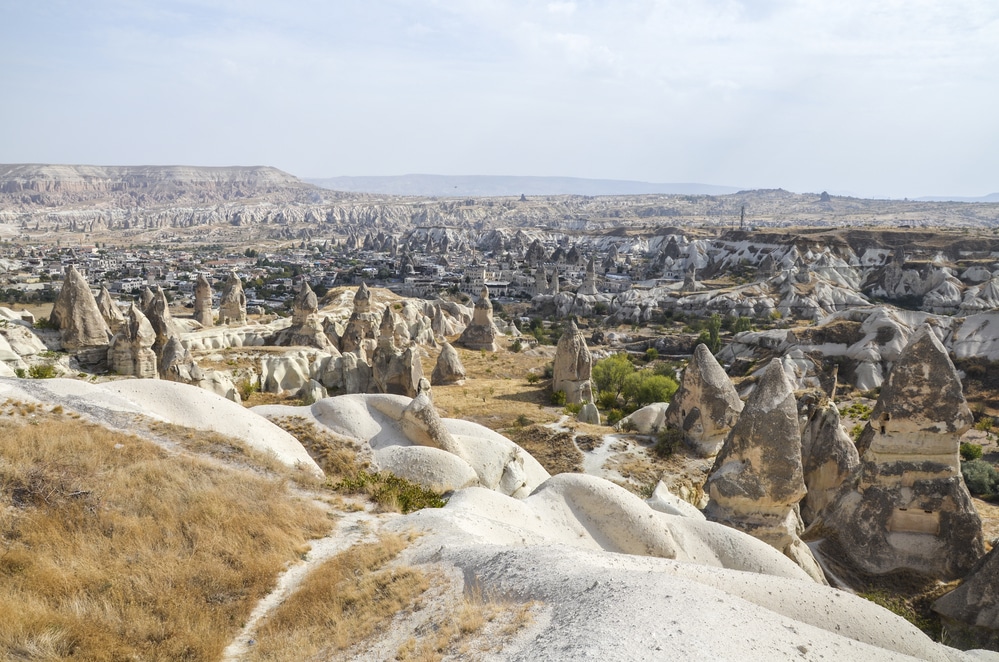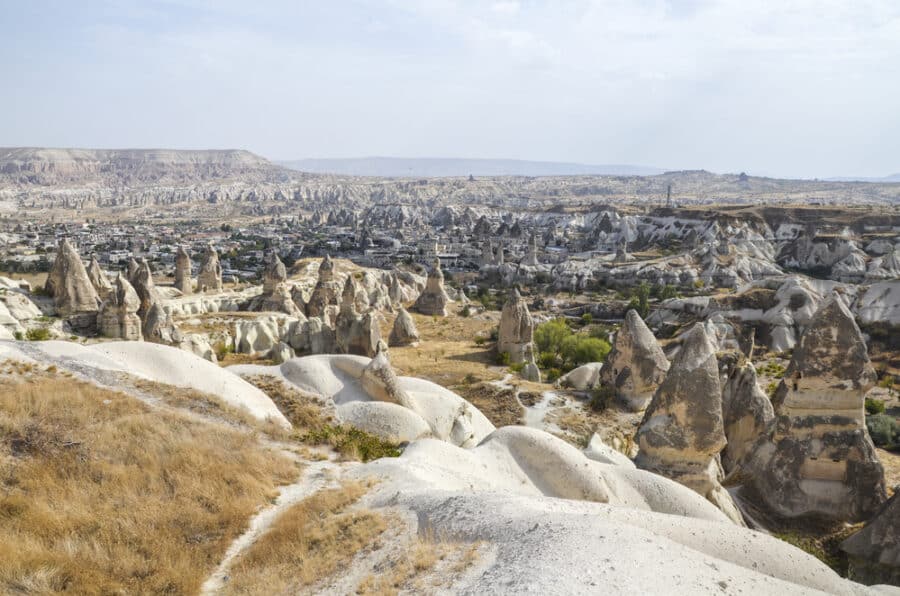 It is unknown who the first settlers of Pigeon Valley were or when they arrived. However, since the human settlement of the Cappadocian territory began with the Hittites and persisted for millennia, it's safe to believe that several civilizations populated the region for a long time.
Although various peoples inhabited Pigeon Valley, the first noteworthy communities were created by early Christian settlers, who favored the area for its defensiveness and seclusion as they fled persecution. We also know that the people of Pigeon Valley started practicing pigeon keeping in the 9th century to produce pigeon guano for their vineyards.
Akyaka, Dalaman Region
If you're visiting places in Turkey off the beaten path and staying in Icmeler or Marmaris, you might not be aware of the literal paradise that is waiting for you, just 20 minutes away by car!
Akyaka is a beach resort but tends to be more for locals than tourists. However, that doesn't mean you can't go as it's pretty busy with foreign visitors during the summer months. The beautiful thing about Akyaka is that it's set at the foot of a high, soaring mountain, the water is beautifully cool no matter what the month, thanks to the almost constant breeze, and you can walk out for a long distance in the shallows before the water seems to have any depth to it!
Aside from the beach, the Azmak riverboat trip is a must-do! This is a shaded, icy cold river paradise you must see to believe. It's almost like the Everglades, but much smaller and thankfully devoid of alligators! Be sure to check out the traditional fish restaurants that sit on stilts at the side of the river, serving local catch from around the region.
It's effortless to get to Akyaka. You can hire a car and drive (only 20 minutes), or you can take the local dolmus bus service, which stops at the bottom of the hill, and you need to walk for 10 minutes in a straight line to arrive in the town. You could also get a taxi from Marmaris if you wanted to splurge a little; this would cost you around 300 lira returns (do haggle your price beforehand), which currently works out at about 30 Euros.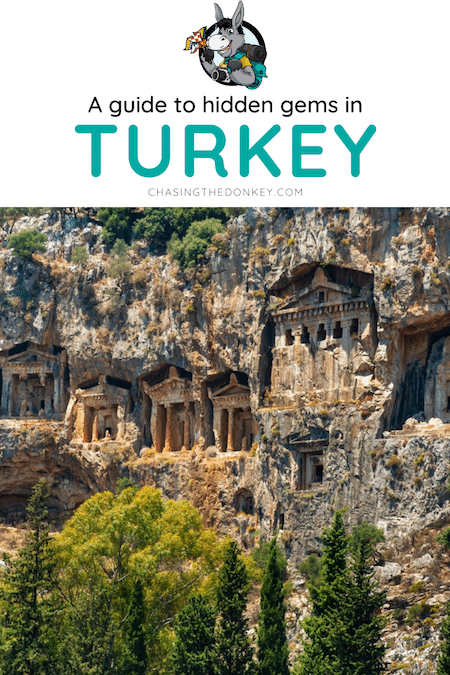 Dalyan Lycian Rock Tombs, Dalaman Region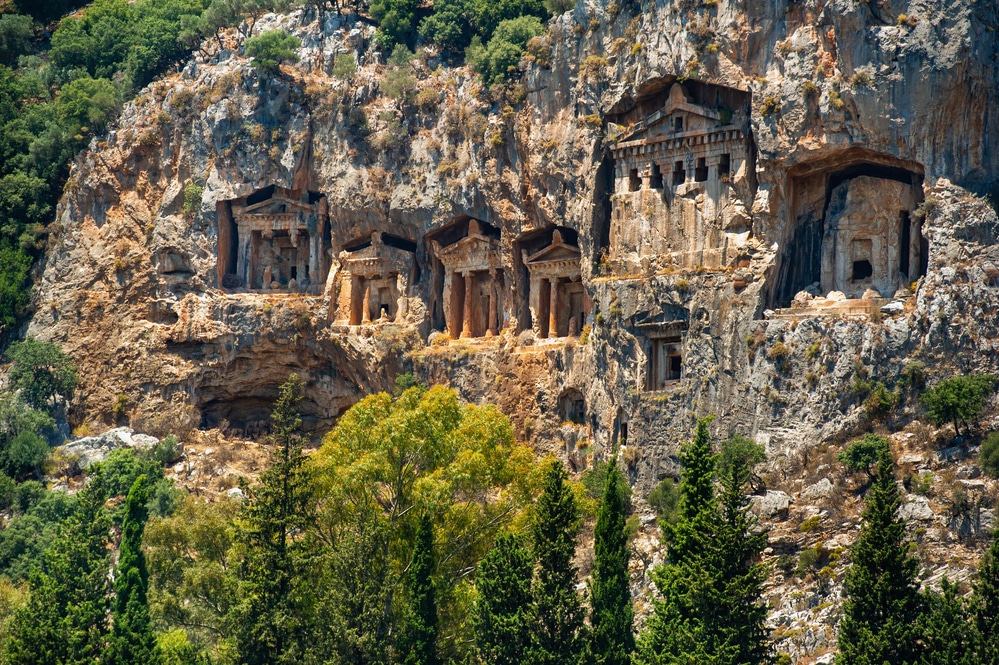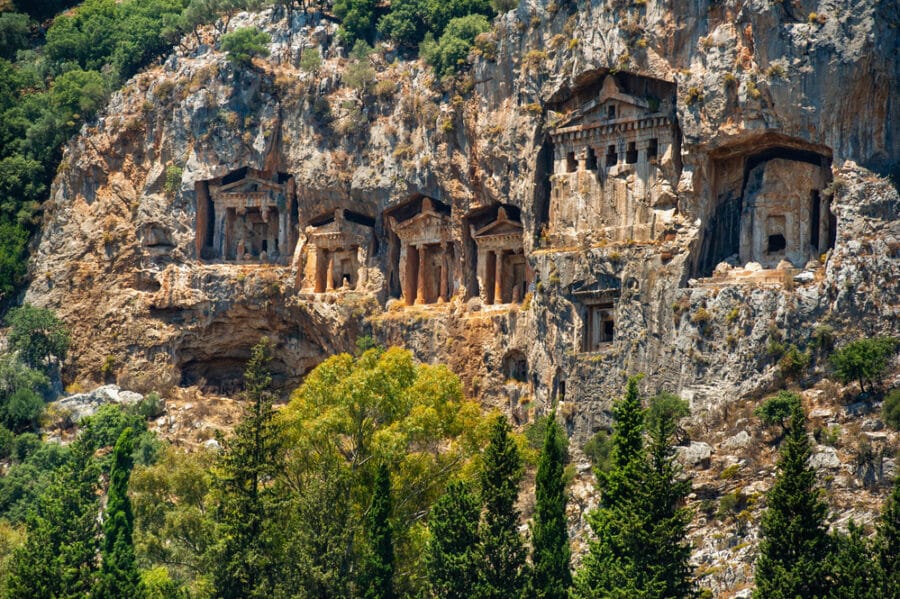 History and beauty collide at the Lycian Rock Tombs, which most people stumble upon by accident! If you're staying anywhere in the Dalaman region, you'll see trips to the local mud baths and Turtle Beach, where the loggerhead turtles lay their eggs during nesting season.
However, they don't tell you that on your way from the mud baths to Turtle Beach, you go on a riverboat tour of the Dalyan River, and as you do that, you sail past what can only be described as a piece of historical beauty.
Carved into the soaring rock face, you will find tombs – literal tombs. These date back to the 4th century and were created by the Lycians, who believed that angels transported the dead to the afterlife. They wanted to make life easier for the angels, so they built these tombs at the highest vantage point.
A mud bath and Turtle Beach trip is a great way to see these tombs, and you also get to see a couple of other areas of interest, all rolled into one price! Trips are available from resorts in the Dalaman region, including Icmeler, Marmaris, Fethiye, Hisaronu, Dalyan, and Olu Deniz. The tour will take you a couple of hours longer if you're staying in Bodrum, but it's well worth it.

PLAN AHEAD TO GET THE BEST DEALS
Incekum, Dalaman Region
First, let's get the pronunciation right to avoid embarrassing mishaps. This is pronounced IN-JE-KUM. With that out of the way, let me tell you why you should go.
If you love beaches, this is a spot for you, but if you love jaw-droppingly beautiful, clear water and white sand beaches, with shady trees in the background and a tractor that takes you from the parking lot to the actual beach because it's so private – this is for you!
You will need to pay a small fee to get into Incekum, but that's a good thing, and it's a meager cost; in 2020, the entrance fee was 25 lira, which works out at about 2.50 Euros. The entrance fee covers the transportation to the beach, down a long country road, ensuring that this stunningly beautiful area remains clean and well preserved. The numbers are also controlled, so it's never too crowded.
I can't explain in words just how stunning this beach is. A day here is never enough. You can reach Incekum by car from Marmaris or Icmeler in about half an hour, but it is a pretty winding road, so if you are car sick, be warned!
There are also stunning sights to see on the way, including a panoramic view over the sea from almost the top of a mountain. Absolutely one of the most incredible hidden gems in Türkiye!
Which of these seven hidden gems in Turkey will you head to first?
Share