Here is your guide to everything you need to know about visiting the Grand Camlica Mosque in Istanbul, including how to get there.
Grand Camlica Mosque, also known as Buyuk Camlica Mosque, is the newest mosque in the city of Istanbul, built with extreme attention to detail.
Located on the Asian side of the city, close to the Uskudar district, this mosque opened on 7 March 2019 and can hold up to 36,000 at any time. The complex is huge and extremely impressive, not only in its beauty but also in its sheer scale. The mosque can be seen from any point in the city.
Camlica Mosque has six huge minarets along the building's perimeter walls, representing the six important pillars of Islam. The main dome is enormous, beautifully decorated, and 72 meters high, deliberately built to represent the 72 nationalities that call Istanbul their home. Not only that, but the main door to the mosque itself is the largest in the world, at five by 6.5 meters. Of course, Istanbul is also prone to earthquakes, so the mosque has been built to withstand such natural disasters.
How To Find The Grand Camlica Mosque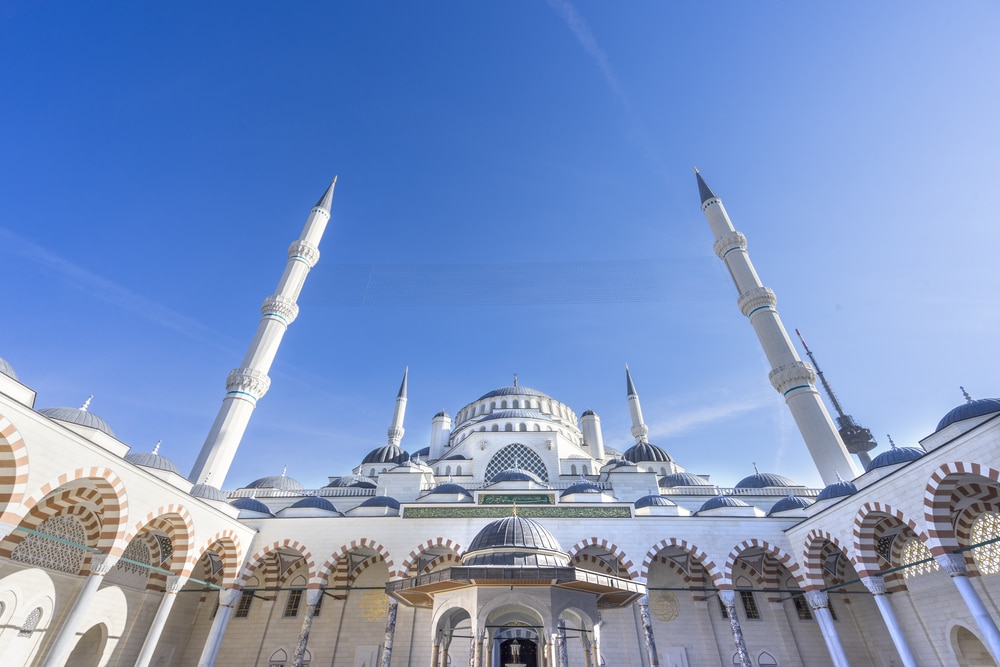 Depending upon your starting point in Istanbul, you can easily reach Camlica Mosque. First, you will need to reach the Asian side of the city. So, if you're on the European side, you will need to use a bus or taxi to cross the Bosphorus Bridge, take a ferry, or use the Marmaray Metro service.
Camlica Mosque is located on a hill aptly named Camlica Hill, and it gives you stunning views to take in.
Once you are in Uskudar on the Asian side, right on the shores of the Bosphorus, you have a few options. You can take the M5 Metro to Umraniye and then get on the 320 bus to Santral. The bus stops at the mosque. Overall, the journey shouldn't take longer than half an hour, but remember that Istanbul traffic can be fierce!
Another option is to take the M5 Metro to Kisikli and then take the 14F bus, which also stops at Camlica Mosque. This journey should take around 40 minutes, again depending upon traffic.
However, you can cut out the stress of Istanbul public transport and take a taxi from either Umraniye or Kisikli and go directly to the mosque.
TRAVEL COMPANIES WE USE AND TRUST
What You Need to Know About The Grand Camlica Mosque
If you'll use public transport of any kind to take your journey, you'll need an IstanbulKart, which allows you to top up your card and scan it at the payment point before you get on the Metro, ferry, or bus.
These are available at the airport, from Metro stations, and also from many small supermarkets.
Once you arrive at Camlica Mosque, take some time to walk around the park outside. You'll see right over to the Asian side, and it's a fresh, green space to spend some time. When you've been in Istanbul for more than a few hours, your ears will indeed be ringing from the noise and traffic, so this is a wonderful moment to stop, take a moment, and breathe in some fresh air. Also, try to visit around sunset if you can, as the view is stunning.
Once you enter the mosque complex, you'll quickly see how big it is. Not only does the complex have a place of worship, but it also holds a library, a museum, an art gallery, and a café. That means you'll need to allow yourself at least two to three hours if you want to explore everything, but if you want to spend time in the park, too, it's best to give yourself at least half a day to get the most out of your time.
When You Can Visit Grand Camlica Mosque
Anyone can visit Camlica Mosque; you don't need to be Muslim to enjoy this fantastic place. However, remember that it is an active place of worship, so you must adhere to some guidelines.
You must remove your shoes before going into the mosque, so ensure you have some socks. You will leave your shoes outside, and they will be kept safe for you until you return. It's also important to wear modest clothing, which means no shorts, skirts, or leggings. If the staff feel your clothing is unsuitable, they will give you a shawl to wrap around your legs or shoulders. However, ensure you cover your shoulders; it's best to wear a baggy T-shirt as that will cover all bases.
Women will also need to cover their heads, so take a scarf in your bag, ready to put on. Again, if you don't have one, the mosque staff can give you something to use, yet it's best to go prepared and show respect.
Once inside, be quiet and never take photographs of anyone who is praying. Simply soak up the atmosphere and the beauty quietly.
You must leave the mosque if you are not Muslim during prayer times (when you hear the call to prayer). However, you will be allowed back in shortly afterward. Remember that Friday is a Holy Day, meaning there will be more prayer calls than on other days of the week.
FAQ About The Grand Camlica Mosque
GRAND CAMLICA MOSQUE FAQs
Can I visit Camlica Mosque if I'm not a Muslim?
Yes! Everyone is welcome to visit this beautiful location.
Where is Camlica Mosque located?
On the Asian side of Istanbul, a short distance away from Uskudar. The mosque is located high on a hill called Camlica Hill.
Is there an entrance fee to the Grand Camlica Mosque?
No, it is free to enter the mosque; however, donations are always welcome and will go towards running the mosque for generations to come.
Who designed the Camlica Mosque?
The mosque was designed by two Turkish architects, Bahadir Kul and Hayati Tabanlioglu, who drew inspiration from classical Ottoman architecture.
How many people can Camlica Mosque hold?
Up to 36,000 people!
Can non-Muslims visit Camlica Mosque during prayer times?
Non-Muslims will be asked to leave the inside of the mosque during the three different prayer times, but you will be allowed back in around 15 minutes later after prayers are complete. You're welcome to explore the rest of the complex during this time – there's plenty to see!
How tall are the minarets on the Grand Camlica Mosque?
The Grand Camlica Mosque is adorned with six minarets, each symbolizing one of the six articles of Islamic faith (iman). Among these minarets, four showcase three balconies, standing tall at 107.1 meters, commemorating the Seljuk Victory at Manzikert in 1071. The remaining two minarets feature two balconies and reach a height of 90 meters. These architectural elements contribute to the mosque's grandeur and carry historical significance.