Privacy & disclaimers →
Off Beaten Path In Istria, Where To Go & What To See
Istria, the triangle-shaped peninsula in northwestern Croatia, is an increasingly popular tourist destination. It's easy to see why. Istria offers a fun mix of Italian and Croatian cultures, gorgeous architecture, superb culinary specialties, and incredible landscapes.
The Istrian coast is lined with resorts and all kinds of tourist facilities. In certain places, it's hard to find some authenticity. Rovinj is an exception, though, one of the last genuine fishing villages in the Adriatic. Rovinj is extraordinarily photogenic, set on a round peninsula and boasting a charming old town center (not to mention easy to get to Croatia's central airport hub in Zagreb).
The people who venture into the Istrian heartland often limit their excursion to Motovun, the region's most popular hilltop town. And yes, Motovun is magnificent as well—definitely worth a visit. However, to get a taste of the "real" Istria, untouched by mass tourism, we suggest you also visit some of the following off-the-beaten-path places in Istria.
Završje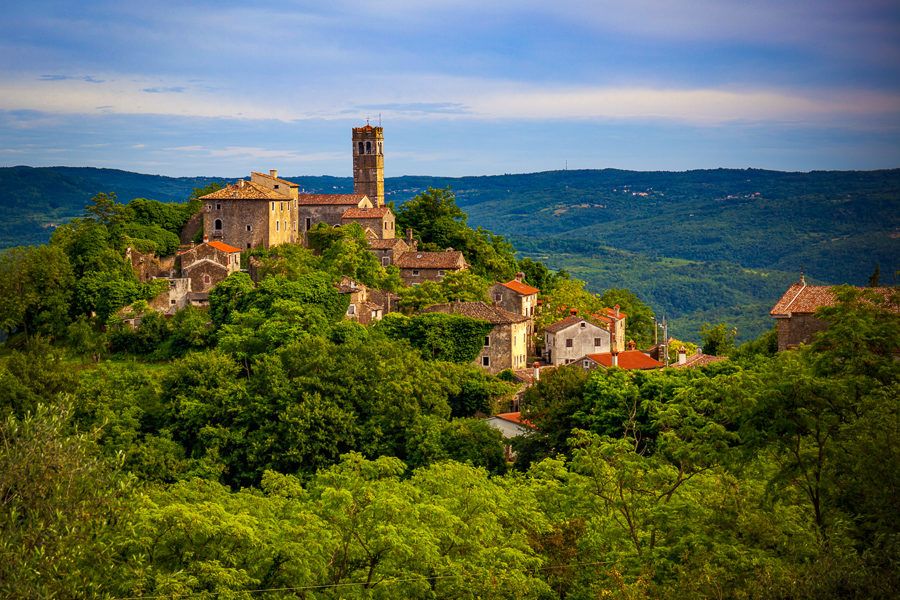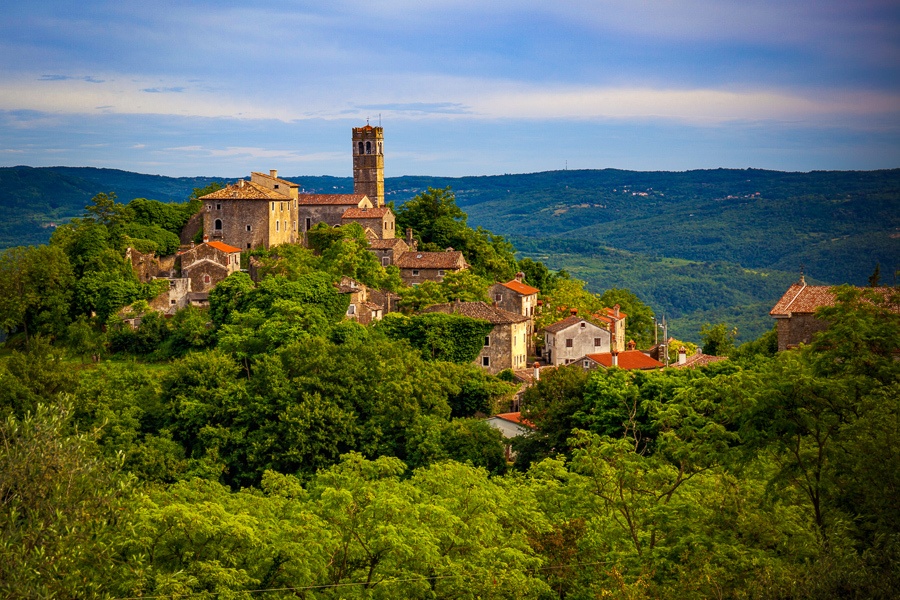 Završje lies in the northwestern part of Istria, not too far from Motovun. Also perched scenically atop a hill, this is a real architectural gem. Built with wood and stone, Završje is one of the most off-the-beaten-path places in Istria. Few tourists ever go there. Those who do, love the experience.
This is not a big town by any means. If anything, it's a village. Built atop a prehistoric fort and strategically important to the Romans, its roots go back thousands of years. Medieval and Venetian noblemen later recognized the town's beauty and significance, adding more fortifications.
Therefore, even though it's less visited, Završje has lots to check out. From its palace and castle to the Church of St. Mary and the Church of St. Rocco, there are plenty of architectural highlights, especially considering its size. Another notable feature is the Three Istrian Musketeers cycling route.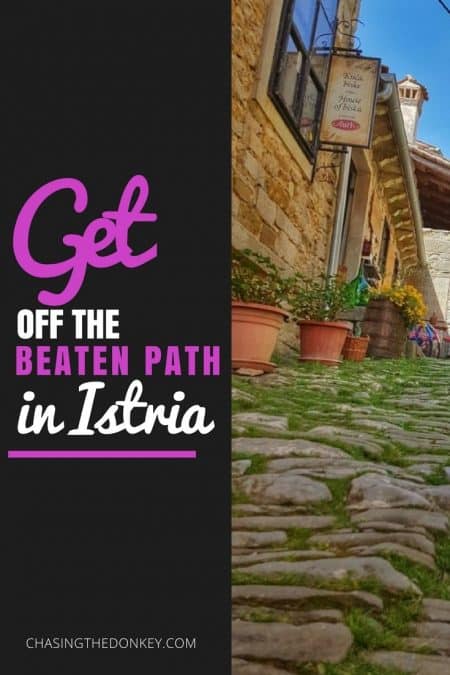 PLAN AHEAD TO GET THE BEST DEALS
Oprtalj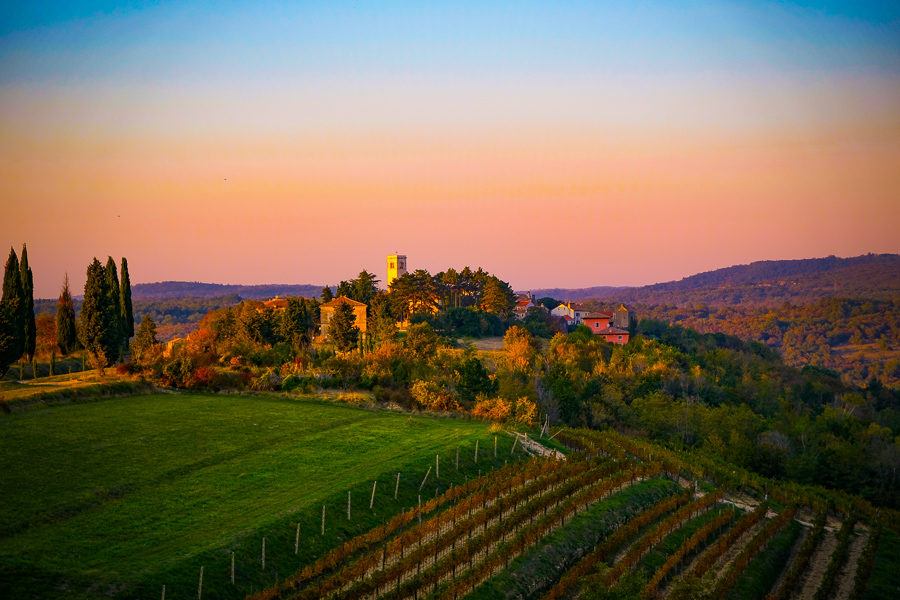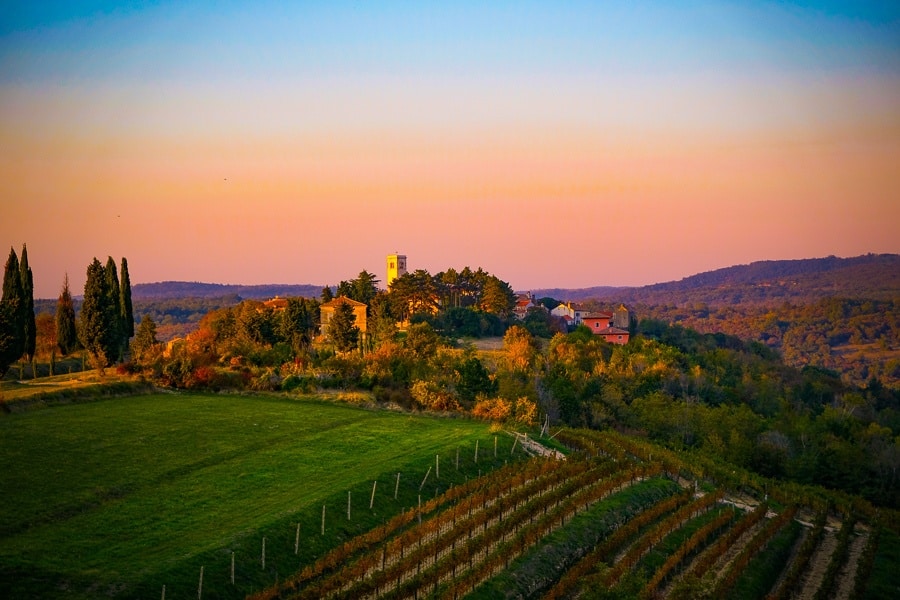 In the same area as Završje, also near Motovun, Oprtalj is another of the Istrian hilltop towns worth visiting. This small town also features fortified town walls, a bell tower, and winding alleyways. It's a fantastic place to immerse yourself in Istria's rich history and fascinating folklore.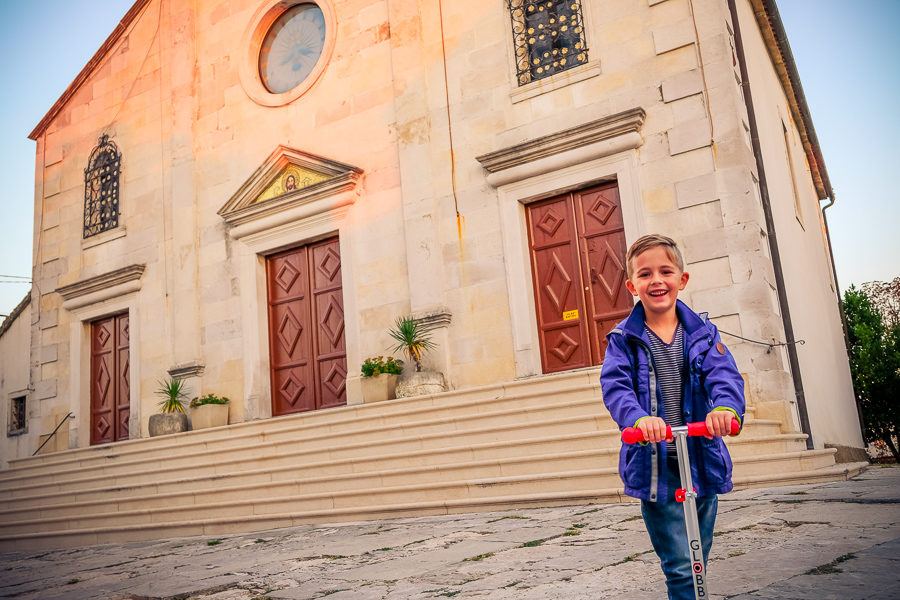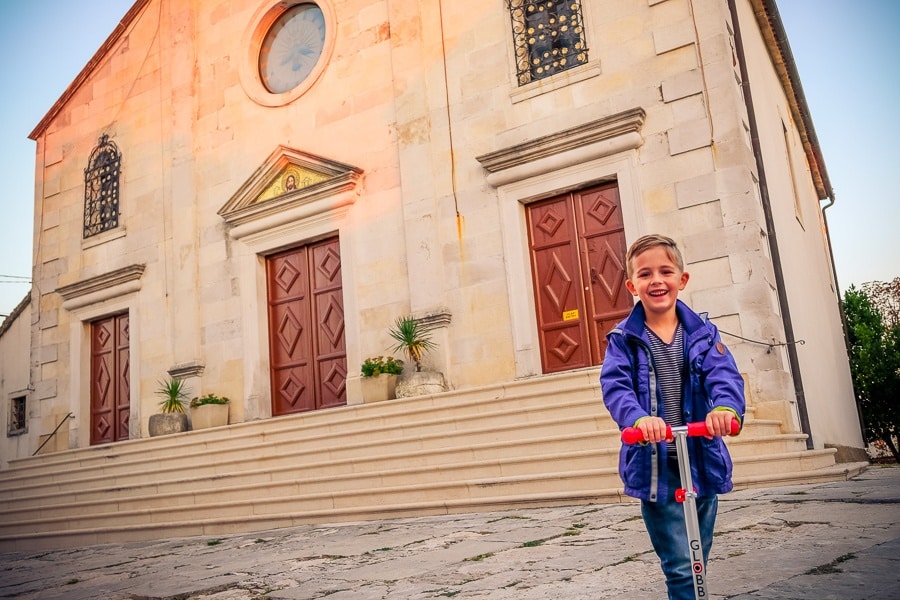 Oprtalj's churches are adorned with works of art. Simultaneously, the restaurant that overlooks the valley below serves traditional dishes—don't forget to try the local truffles if you have not already! Gastronomy plays a significant role in the story of tourism in Oprtalj. It has many farms, and agricultural taverns are places that you should definitely check out when you visit Istria.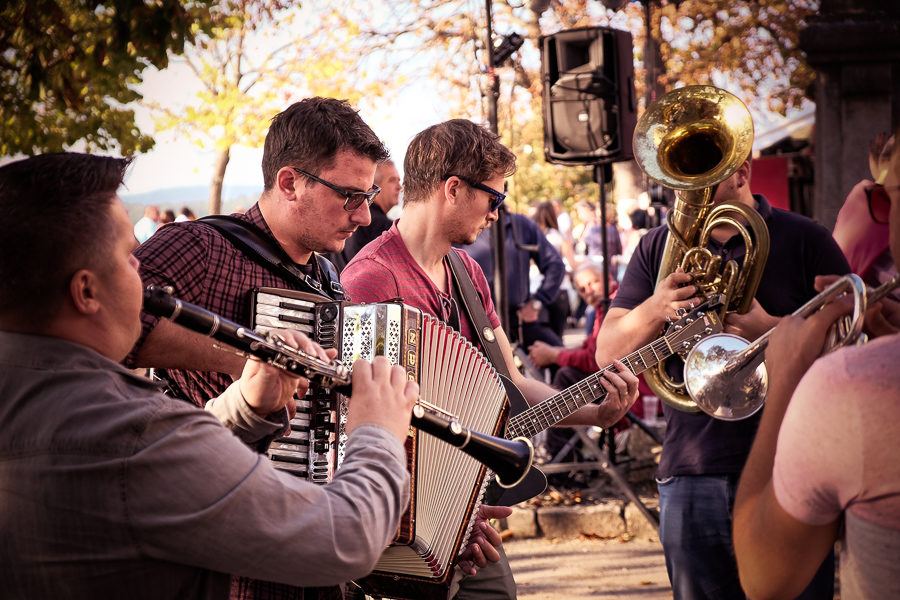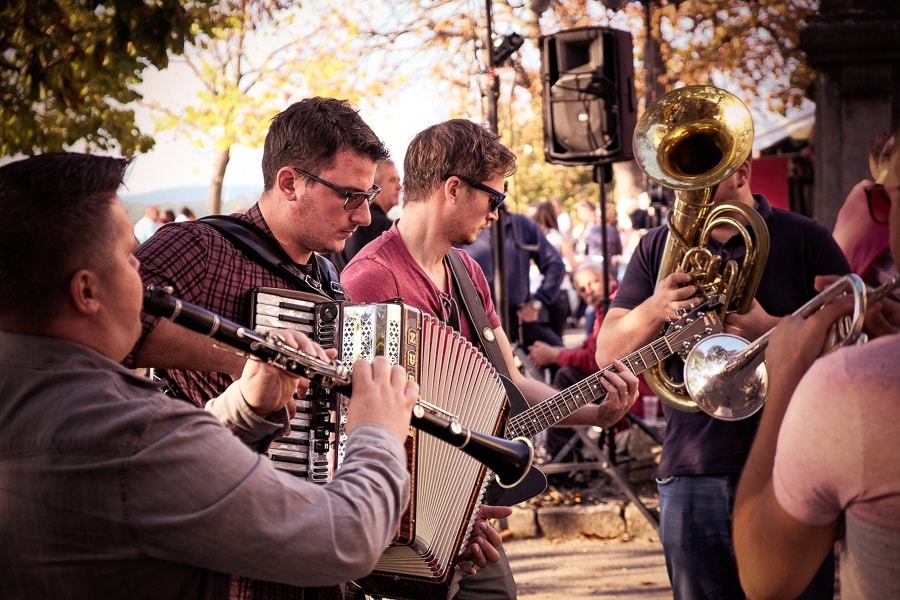 Try to plan your visit to Oprtalj around the town's famous chestnut fair – known as a kestenijada! We spent a glorious day at the fair with the two kids. Between the huge kid's park, music, beer, wine, food, and chestnuts, plenty is to keep you (and the kids) happy for many hours.
The entrance is free, and the prices of food and drinks are very reasonable.
Vodnjan
Located about 10 kilometers north of Pula, Vodnjan is another of those often-overlooked towns in Istria that are well worth visiting. It's a typical Istrian town, its historical town center filled with beautiful old buildings, numerous churches, cobbled streets, and authentic shops.
In terms of tourist attractions, Vodnjan has a lot going for it, including some possible surprises. This historic city dates back over half a millennium and was the first of all Istria towns to get electric city lighting. You can still see that very first electric lamp in town!
Additionally, Vodnjan also has its own collection of mummies. You didn't see that coming, right?! You can see Vodnjan's mummies, which are the preserved bodies of saints, in glass cases at the Church of Saint Blaise. That church, by the way, is also the largest in Istria, housing hundreds of religious relics, including, supposedly, one of the thorns of Jesus' crown, a piece of Jesus' cross, and a fragment of the veil of the Holy Virgin. This makes this stunning church a popular pilgrimage destination in Istria.
Another central claim to fame of this beautiful town is that it has the longest street in all of Istria. Plenty to see and do here for a few hours, in other words!
Pićan
A rather unassuming small town in Istria at first, Pićan has a cultural heritage so rich it would make other similarly sized towns across Europe super-jealous. Its history goes back to Roman times when this was the site of a military stronghold called Petina. Incidentally, the Pićan area's wine was so good it was renowned even in the highest social classes in Rome. Nowadays, you can still sample world-class wine here!
Later on, Pićan was the seat of the Diocese of Pićan, one of the oldest and smallest dioceses in the Christian world, from the 5th to the 18th century. It became a thriving medieval community complete with governors, officers, and various artisans during this period. The 14th-century Town Gate is still the prominent landmark in town.
Other top attractions in Pićan are the Parish Church of the Announcement with its striking Bell Tower, the Church of Saint Michael, and the Saint Helen Viewpoint.
Livade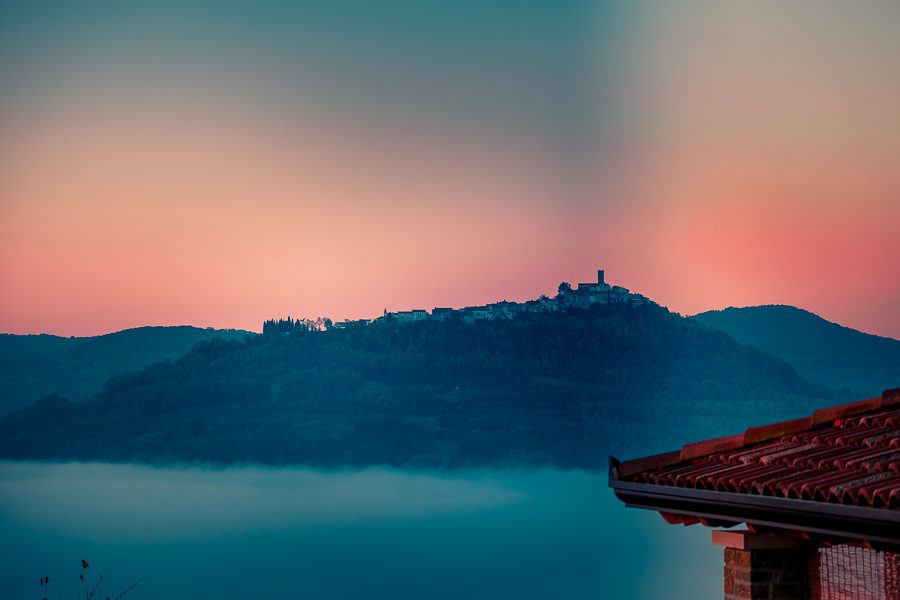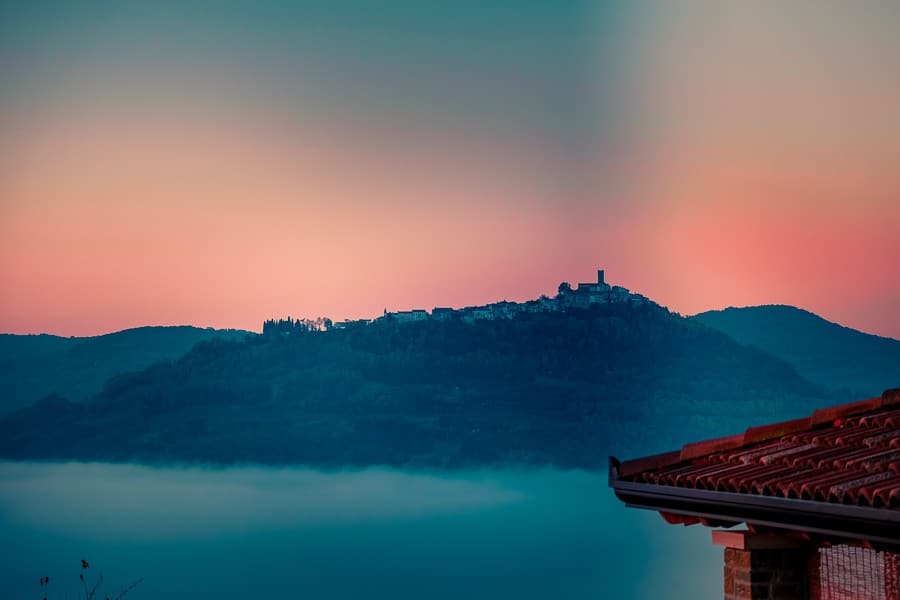 We used Livade as our base for exploring a section of Istria recently. We did so for several reasons:
For its proximity to Motovun and the surrounding villages we planned to explore in Istria
We found a place that has views across to Motovun and that had a heated swimming pool
The Zigante Truffle festival takes place here for ten weekends over September, October, and November – and we wanted to spend time eating and drinking our way around the festival.
Livade is small, but it is a great base for central Istria. There is a market, several coffee spots, and several wonderful restaurants. I totally recommend Konoba Dorjana. A blog reader suggested it to me, and my host also gave it the local thumbs up – we ate two of our best meals there! Try the game goulash as well as the homemade fuži with truffles.
The Zigante Truffle Festival is definitely worth a few hours. There are many exhibits with loads of free samples to try before you buy. There is also a very spacious eating area inside and outside for you to enjoy the dishes on offer.
We loved the truffle eggs, truffle burger, and truffle chips with a truffle mayonnaise! But there was also truffle pasta and truffle tiramisu – if you can believe that!
Speaking of Zigante, Livade is also home to the famous Zigante Restaurant. It's not cheap, but the food is something out of this world, and the experience is worth the extra euro. And trust me, if you like fine dining and truffles, you want to save your holiday pennies and eat here. You can read about what I ate here.
Hum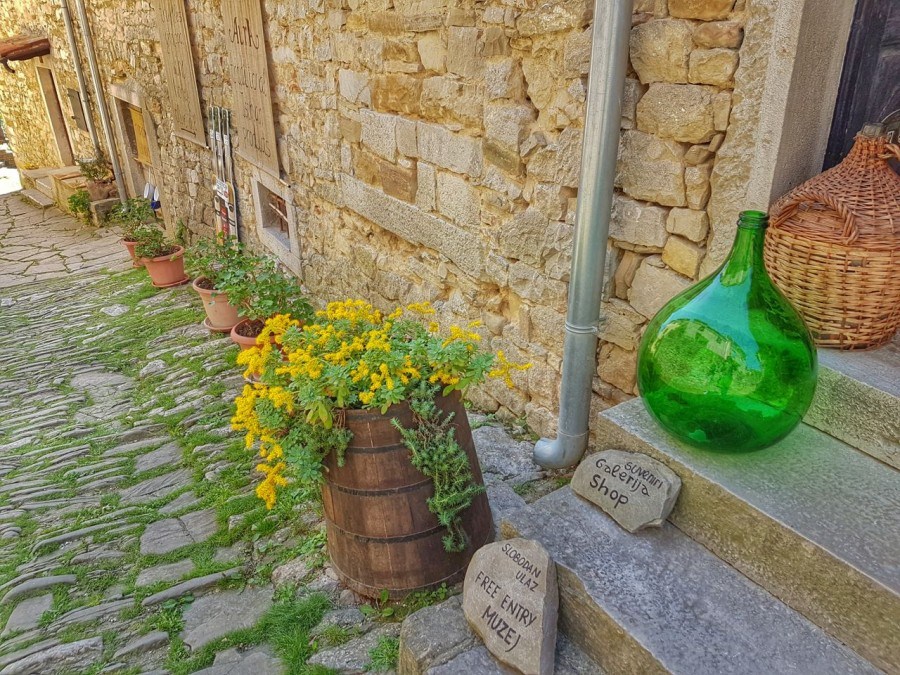 Situated deep in the center of Istria, far away from the coastal crowds, Hum is self-proclaimed as the smallest town in the world—but not officially, as in the Guinness Book of World Records that we can see. Although its population ranges at around just twenty, it is an official town – with a mayor and all.
Just this fact alone would make it an interesting place to visit, but there's more to it than that. This tiny village consists of no more than about a dozen stone houses and is entirely encircled by a stone wall. Surprisingly, such a small place needed to be fortified at a particular point in its history, a testimony to the fact that this region was once much contested, a fertile landscape valuable to several foreign powers.
Attractions in and around Hum include the Glagolitic Alley, a three-kilometer-long walkway lined with massive stone monuments, the Romanic Chapel of St. Jerolim, and the stone streets, buildings, and walls. You may also want to explore the lush landscapes in the area, home to truffle forests, meadows, and hills.
Svetvinčenat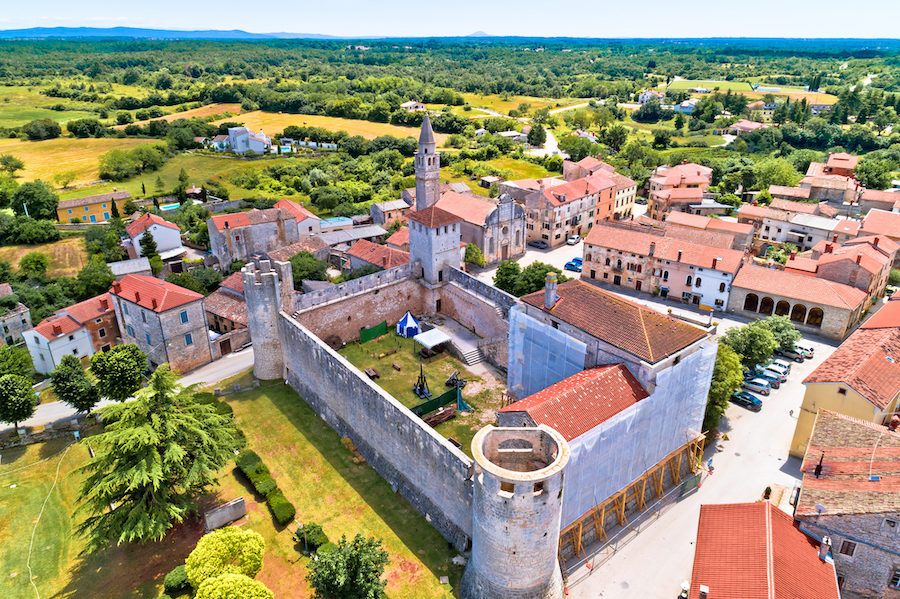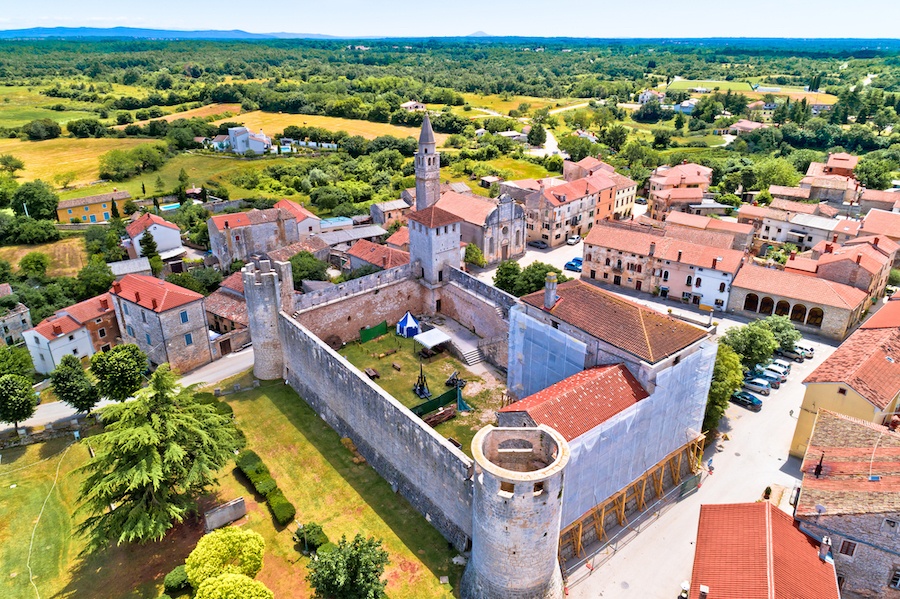 Calling Svetvinčenat a town might be somewhat of an overstatement. Home to just over 2,000 people, this is more like a village than an actual town. Nonetheless, it boasts a centuries-long history and is home to a few fascinating historic attractions, making it a worthy stop on any Istria road trip itinerary.
The village grew around a Benedictine abbey, first mentioned in historical documents dating from the 10th century. Its premier tourist attraction nowadays, however, is the striking Morosini-Grimani Castle, which is one of the best-preserved Venetian buildings in Istria. The Renaissance square is, known as "Placa," is a fun place to wander across, too, while the Church of Saint Vincent has remains of beautiful frescoes.
Dvigrad Ruins
Its name meaning "Two Towns," Dvigrad initially consists of two separate communities, Castel Parentino and Moncastello. Only the ruins of Moncastello remain today. This abandoned medieval town is one of Istria's most fascinating attractions, having been inhabited from Illyrian times through the 18th century.
You can visit the ruins of Dvigrad today and wander through the remains of this medieval town castle. Surviving buildings and structures, although severely ruined, include two rings of town walls, defensive towers, the imposing Church of Saint Sophia, the main town square, and the palace.
Bale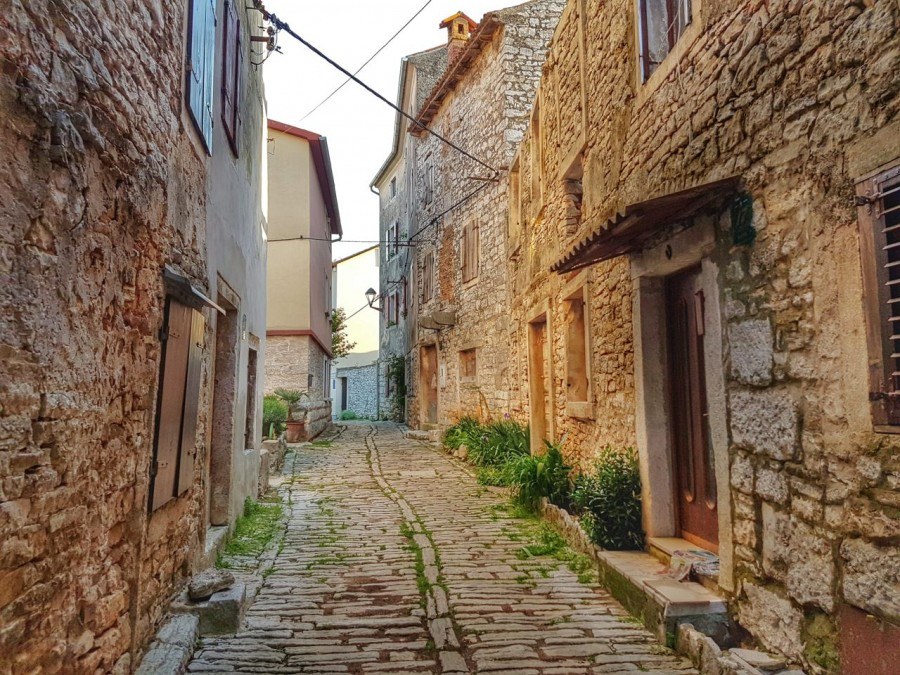 There are many other charming towns in Istria beyond Rovinj, Motovun, and even Porec and Pula. One of the top places we suggest you visit in Istria is Bale.
It is situated in the southwestern corner of the Istrian peninsula, about twenty kilometers from Pula. This medieval town, its origins in the Roman stronghold known as Castrum Vallis, is sometimes regarded as the best-kept secret in Istria.
Constructed entirely from stone, it features a labyrinth of cobbled streets lined with old stone townhouses, a Gothic-Renaissance castle, and the 36-meter-high bell tower of the St. Julian Church.
A laid-back and welcoming atmosphere awaits you in this friendly town, while nearby beaches and the camping area are among the most pristine on the entire peninsula.
Labin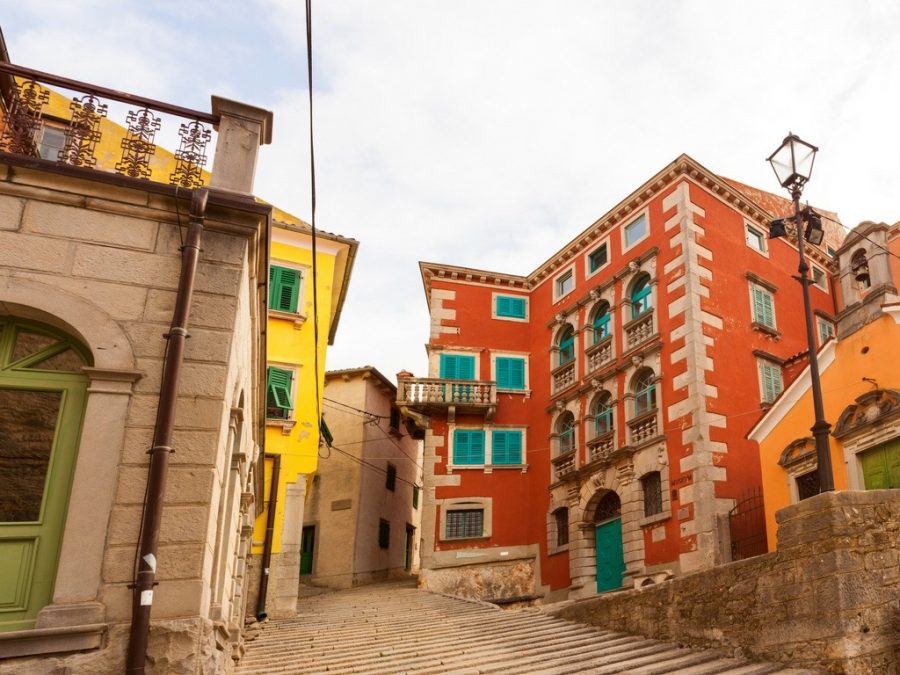 Perhaps the best possible mix of Rovinj and Motovun, two of the most popular tourist destinations in Istria, Labin lies about three kilometers from the Adriatic Sea. Set 325 meters high on a hill, it offers gorgeous views of the Kvarner Gulf, including the coastal resort of Rabac.
Labin is essentially a picturesque hilltop town featuring the colorful architecture that's found most notably in Rovinj. Its steep and narrow, sometimes cobbled streets take you on a fun urban adventure, while countless pastel-colored buildings contribute to the undeniable charm of this less-visited Istrian town.
For such a small town, it packs a large number of attractions. These include the Fortica Fortress and the Mining Museum, but also numerous art galleries and museums. Of course, it wouldn't be a town in Istria, a food-focused region, if there weren't several excellent restaurants as well.
Grožnjan
Known as the "Town of Artists," Grožnjan is a pretty hilltop town typical of Istria filled with studios and art galleries. It's the setting of summer film schools, art, and music workshops.
It hosts an annual jazz festival, which has recently gotten well-deserved international recognition as one of Europe's best small jazz festivals. Additionally, it would do its nickname of artist's town injustice if there wasn't an annual painting festival, too!
This charming town boasts some beautiful medieval architecture in its historic center, fun cobbled streets, and amazing views of the surrounding Istrian countryside.
Vrsar
Another great small town in Istria is Vrsar. This small fishing town lies about 10 kilometers south of Poreč, about halfway down the west coast of Istria. It occupies a small coastal hill, while several small islets lie just off its scenic waterfront. Like many other seaside towns in Istria, Vrsar also has a lovely marina and a vibrant old town.
Its old town consists of winding streets, alleys, and charming stone buildings. There's a beautiful waterfront promenade, too, while various viewpoints offer fine views of the surrounding landscape and are excellent sunset-viewing locations. It makes for a fun destination to stretch your legs for an hour or two while road-tripping around Istria.
Novigrad
One of three towns in Croatia with the same name, Istria's Novigrad is sometimes also called Novigrad Istarski to avoid confusion. This beautiful town lies on a small peninsula on the northern coast of Istria, roughly in the middle between Umag and Poreč.
Its origins go back to the 5th and 6th centuries, and during the Middle Ages, it was the seat of the Diocese of Novigrad. A lot of that medieval history has been retained by the town's layout and general structure. There are still numerous narrow, winding streets in its old town center. Lots of small atmospheric shops still occupy the old buildings.
Other Lesser Known Spots In Istria You Can Explore
There are a few other less famous places in Istria that you also want to take a look at:
Now, tell me, do you feel ready to visit Istria?