Privacy & disclaimers →
Where To Find Oysters In Croatia: Mali Ston & Lim Bay
Whether you've tried them before or not, we all know the reputation that oysters have. They're decadent, luxurious, and an acquired taste, and many say they possess aphrodisiac qualities.
But did you know that oysters in Croatia are one of the best places on the planet to sample these tasty mollusks?
The clean, salty waters of the Adriatic make for the perfect oyster farming conditions. Still, two particular areas stand out amongst the rest – Lim Bay in Istria and Mali Ston Bay in Dubrovnik. These are two well-visited areas, so there's no reason why you can't chow down on an oyster or two when you visit!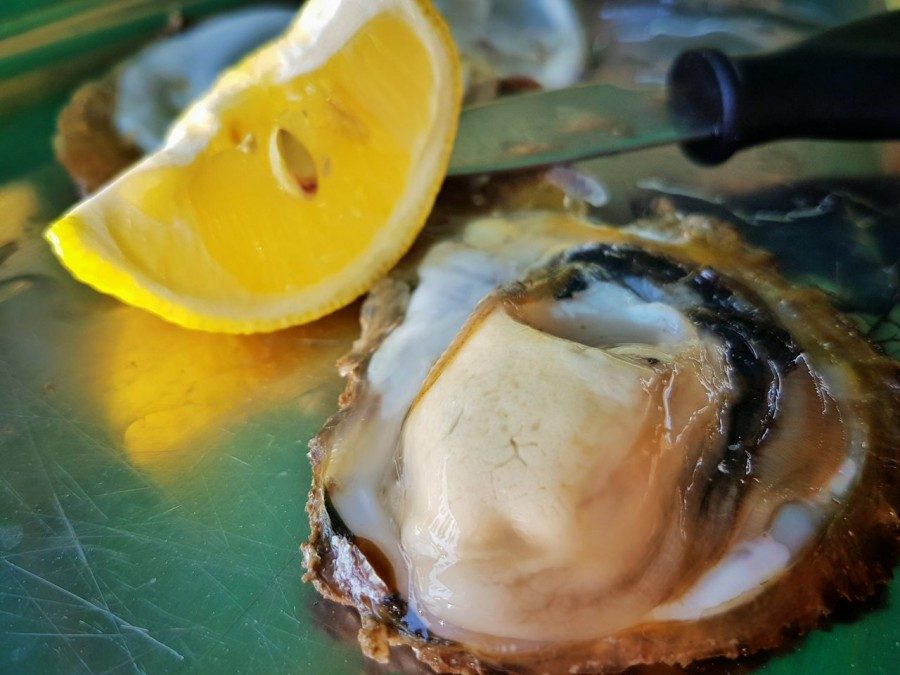 We've been to both places and always tell our foodie-loving readers to add Mali Ston or Lim Bay (or both) to their travel itinerary.
Now, we can't avoid the fact that some people are a little… let's say, squeamish about oysters. Perhaps it's the texture or the fact that they look a little strange, but as your mother will probably have told you when you were younger – you eat with your mouth, not your eyes!
So, why are Croatia's oysters so delicious, and how on Earth are you supposed to eat them?
Let's explore a little.
TRAVEL COMPANIES WE USE AND TRUST
Lim Bay And Mali Ston, Croatia's Oyster Hotspots
The type of oysters you'll find in Croatia are European Oysters, aka Ostrea Edulis. These two places are particularly famous for oysters; once you've tried one, you'll understand why! It's all down to the clean waters, salt, and minerals that infuse the taste even further.
In Mali Ston Bay, only a few farmers are allowed to farm oysters in an attempt to keep everything local, and because those pesky Dorada fish are trying their best to deplete numbers by stealing oysters for themselves!
The Romans loved Mali Ston oysters, and Franz Josef, the former Austrian Emperor, was known to have boxes shipped over to Austria from the area because he loved them so much!
But why?
This area is known for its salt beds and spotless water. These are two much-needed ingredients for meaty and juicy oysters. The Neretva River, which flows not too far away and into the Adriatic, also infuses the oysters with tasty minerals, and the recipe is basically majorly favorable for the tastebuds!
Over in Lim Bay, around 10 minutes by road from Rovinj, it's a similar story. The whole Istria area is known for delicious local foods, including truffles and cheeses, but the estuaries which run around the bay are perfect for oyster farming at its best. Again, this region has been famous for its oyster production since Roman times, and March is the best time to farm these little mollusks, thanks to the favorable weather at that time. If you can time your visit well, you'll undoubtedly get the best flavors.
How Oysters Are Farmed
I learned so much during my visit the Lim Bay. Emil, the local grower, was very kind to explain so much (and he offered wine with the oysters!)
Because oysters in Croatia are so famous, it's interesting to learn how they're farmed. You might think they're plucked from the sea and straight to your plate, but that's not the case! The process takes two long years, meaning you get the juiciest, freshest oysters from birth to maturity.
An oyster net is cast into the sea and left for one year. After one year, the farmer will pull the net out and inspect it. If you visit the two central oyster farming regions we talked about, you'll see large beams rising from the water, holding the nets in place.
The young oysters are thrown back into the sea, and the remaining ones are attached securely to the net and cast back into the sea, awaiting their juiciest state. The net remains in the sea for up to one more year before the net is finally removed and the oysters are ready to eat.
All of this relies upon one thing – the cleanest water possible. Thankfully, the Adriatic has plenty of that!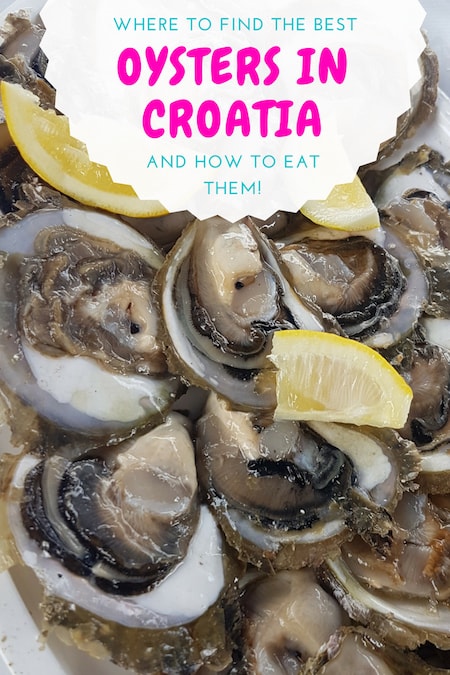 The Correct Way To Eat An Oyster
Perhaps what puts a few people off eating oysters is that the actual process of eating one can be a bit cumbersome.
You basically just have to go for it because there really is no right or wrong way! It's a total myth that you should just slide it down your throat and swallow it without chewing because you're bypassing your tastebuds, and you can't taste anything! Chewing is a must!
When you are served your oysters, you'll have a small fork with them (or a toothpick), so you need to move the oyster around a little to ensure it's not still attached to the shell. It would be uncomfortable if you tried to eat it, but it didn't budge!
You pick up the shell from there and tip it into your mouth! You should chew a couple of times, but don't over-chew it, and then swallow.
Easy!
Oh, and I like to add a squeeze of lemon and a dash of Tabasco sauce!
The Different Types Of Oysters
Croatian oysters are European oysters, but there are a few other types you'll find on your travels worldwide. It really comes down to preference, but you only have to do a little research to find that many people much prefer the European type!
Australia and America are known for their oysters in particular, so what is the difference? Really it's down to a slight difference in appearance and their subtle taste. Australian oysters are a little yellower and have a sharper taste, with a creamy hit. American oysters are a little greyer and very common in restaurants as they grow quickly. These have a brinier taste and a little fisher than the European types you'll find in Croatia.
The Best Spots To Try Oysters In Croatia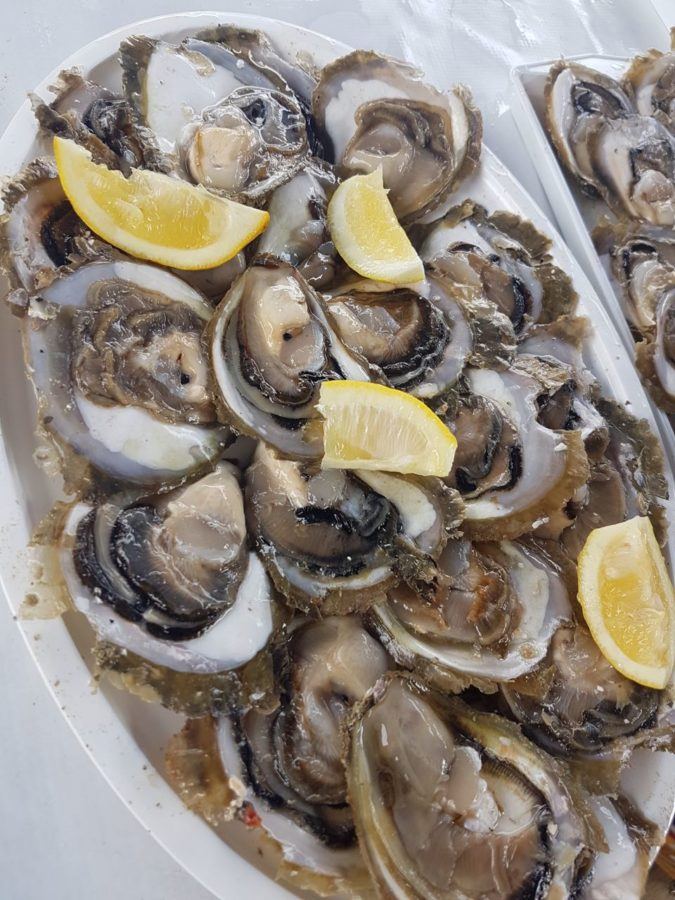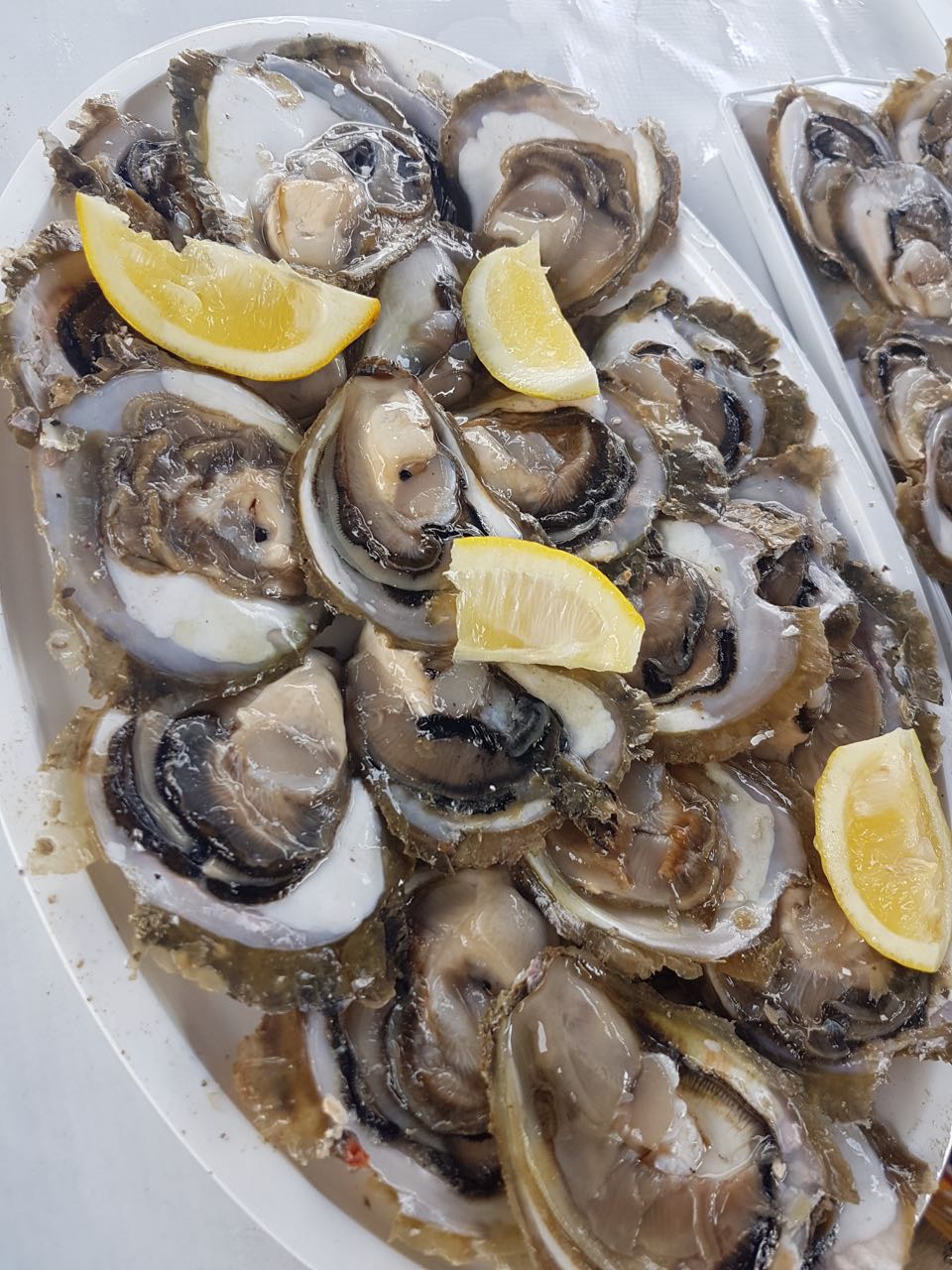 So, now you know all about Croatia's delicious oysters, it's time to discover a few places you can try them for the best gastronomical experience.
Mali Ston Oyster Festival
Head to Ston in March for the annual Oyster Festival and the chance to try some delicious seafood and local wines. The festival celebrates the delicious food of the region and pays respect to the Saint Joseph holiday.
Even Condé Nast Traveller loved the place, writing: people have been harvesting oysters in the bay of Mali Ston (between the slender peninsula Peljesac and mainland Croatia) since Roman times. Their delicate flavor has been lauded for centuries. Wash them down with a glass of the local white wine, Pošip.
Konoba Mandrac, Mali Ston
Right in the heart of the oyster-farming country, you'll find this fantastic restaurant serving the freshest oysters right to your plate. The views over the water are lovely, and the prices aren't too bad either!
Stagnum, Mali Ston
Another one in Ston, this restaurant is always up there with repeat visitors, and it serves a whole host of seafood dishes, not just oysters! Again, the prices are reasonable, and the garden setting is very idyllic.
Bota, Dubrovnik
Check out the sushi as well as the oysters, but this is considered one of the top places to try oysters in Dubrovnik and, in fact, the whole of Croatia, and not too far away from where they're farmed!
Restoran Bota Sare, Mali Ston
Aside from its delicious oysters, the excellent point of this restaurant is that it's very family-friendly. That means if you want to try the famous oysters with the kids by your side, you can do that without going to an upmarket restaurant that might not be so family-friendly. Again, this is the place where oysters are farmed, so you'd expect them to be delicious, and they don't disappoint!
Adriatic Sushi & Oyster Bar, Split
This is another one that's great for families, and it shows that you don't need to stay in one of the main oyster-growing areas to try them out for size! Of course, as the name would suggest, sushi and general seafood are also on the menu, so there is something for everyone.
Have I missed a good place to eat oysters in Croatia? Let me know below.
The next time you're in Croatia, or perhaps if you're planning your first visit, make sure you try out the famous home-grown oysters for size.