When you hear the word Cappadocia, you probably have visions of hot air balloons flying in front of your eyes.
Of course, that's for an excellent reason; this is one of the world's prime spots for ballooning, and millions of people flock to Cappadocia every year for that same experience.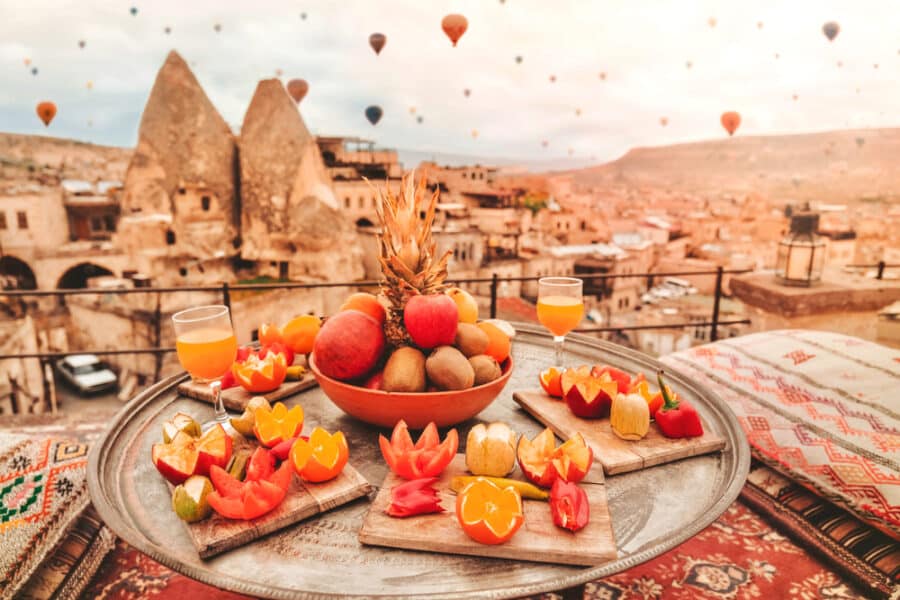 The problem is, what if you don't like heights but still want to visit this beautiful landscape? What if your flight is canceled due to bad weather? What if you can't afford it? Let's face it; hot air balloons aren't the cheapest activities!
The good news is that there is more to do around Cappadocia than simply hot air ballooning. While you should give it a go if you can, don't forget to check out some of the area's other unique activities too.
To give you an idea of what to do in Cappadocia and to whet your appetite, here are a few things you can do around Cappadocia which do not require the use of a balloon.
Head To A Viewing Platform And Take Some Insta-Worthy Snaps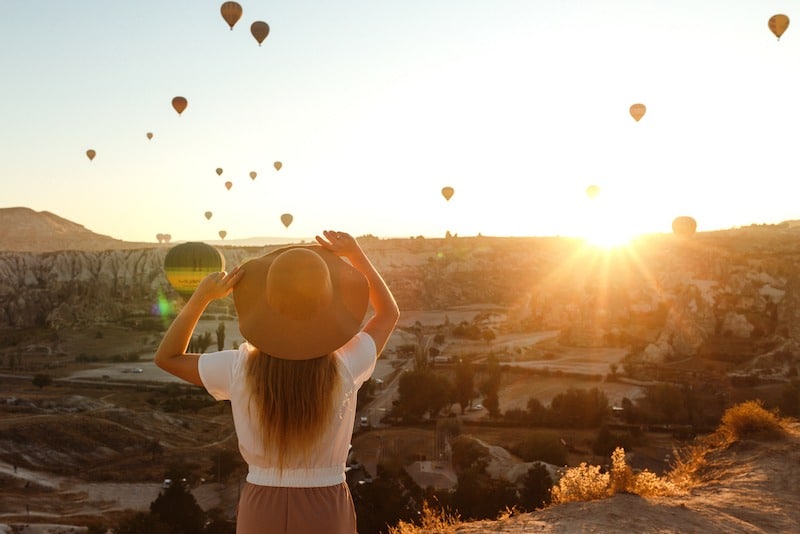 There are many points around the area where you can take some awe-inspiring photos. Some of these viewpoints are free, and some you'll need to pay a small fee, but it's certainly more than worth it.
Head to one of these points at sunset, and you'll have images in your mind that you'll never forget, and certainly make sure you check out the Turkish Eye ornaments hanging from the trees. You'll undoubtedly make everyone back home jealous!
For sunset views, Aydin Kiragi is the best by a mile, and it's a pretty easy place to reach, around 10 minutes on foot from the main center of Goreme. The trails around Cappadocia are very clearly marked so you won't get lost.
TRAVEL COMPANIES WE USE AND TRUST
Visit Uchisar Castle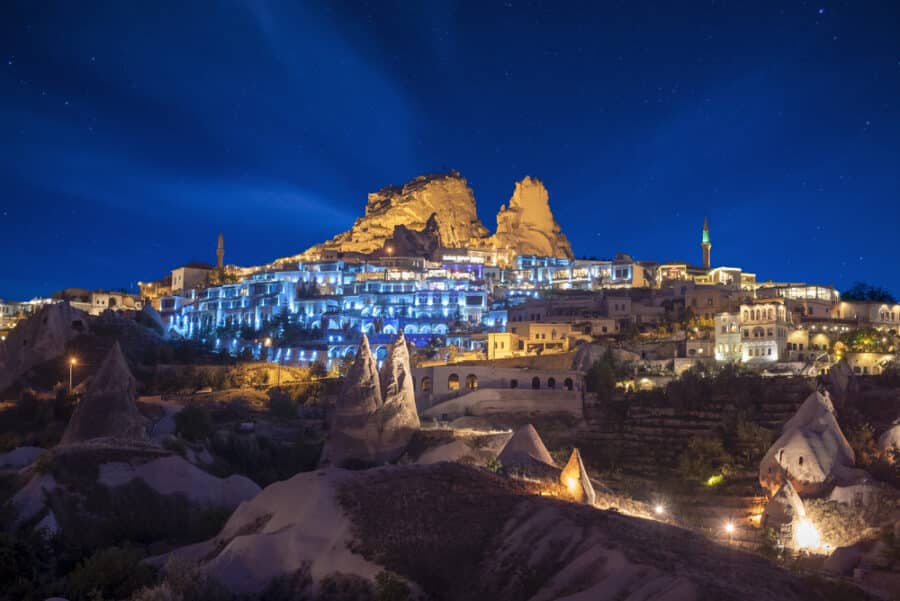 This is not a castle like you will be used to seeing, and it's undoubtedly very dramatic on the eye. This is also the highest point in all of Cappadocia, so expect views to take your breath away.
Uchisar Castle is, like most of Cappadocia, carved out of rock, giving it an awe-inspiring and unique appearance. Around the castle, you will also find Pigeon Valley, a hiking area with more amazing views. Wear your comfortable shoes, however, as the terrain is, as expected, quite rocky.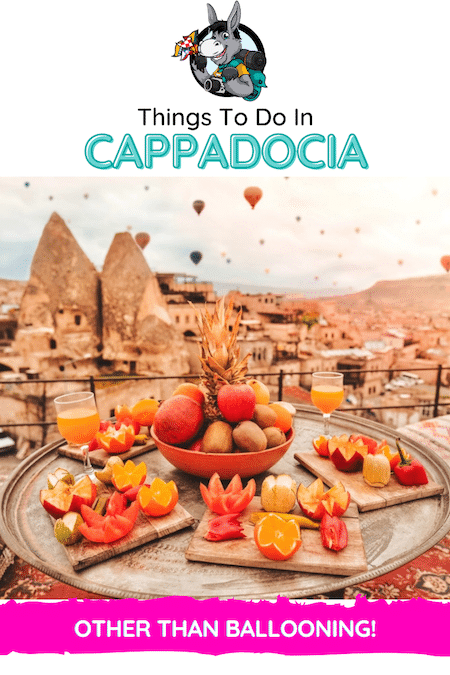 Goreme Open Air Museum
The Goreme Open Air Museum is a must-do, whether you go in a hot air balloon or not! Goreme Open Air Museum showcases the landscape in its best light, and here you can learn all about the history and natural setting you're standing right in the middle of.
This is a UNESCO World Heritage Site, and you'll find churches and other essential buildings cut out the rock, dating as far back as the 10th century. You need a few hours here and certainly make sure you head to the most famous part – the Dark Church. Here you'll find frescoes in all manner of different colors, and if the sun is shining, they'll sparkle in the light.
Explore Derinkuyu Underground City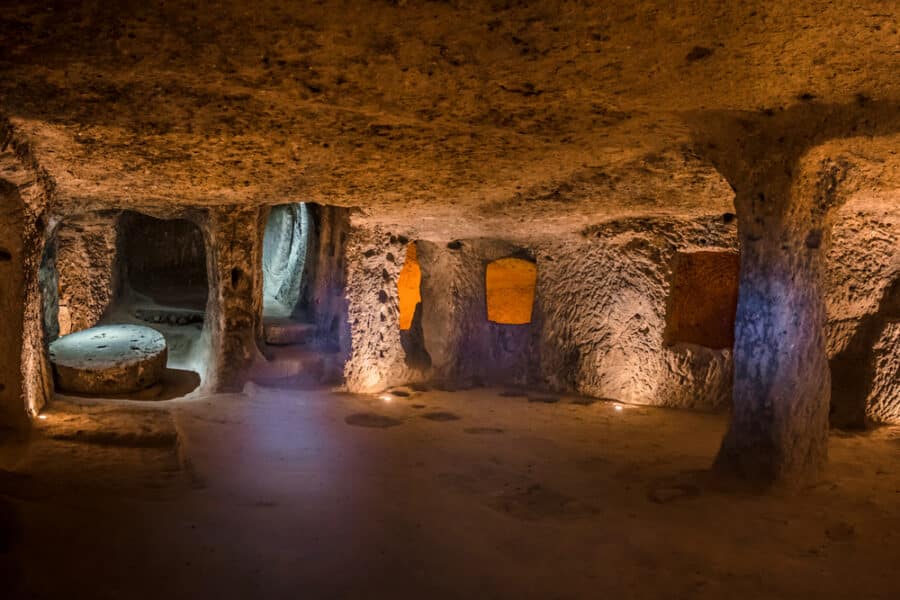 You'll find tunnels and entire cities that exist underground throughout the area. The reason is that this particular part of the country was subject to invasion after invasion throughout history, so these cities were built underground to keep everyone safe. You'll find churches and schools, even cellars and kitchens too.
While there are many of these underground spaces, Derinkuyu is the best preserved and, therefore, the best if you want to get a realistic view of what life was like back in the day. You'll head around 85 meters underground, and you'll be able to get a sense of the scale of the place, even though only 10% of it is actually visible.
However, if you're claustrophobic, this probably isn't the best place for you, as some of the tunnels are pretty tight.
Just go For a Walk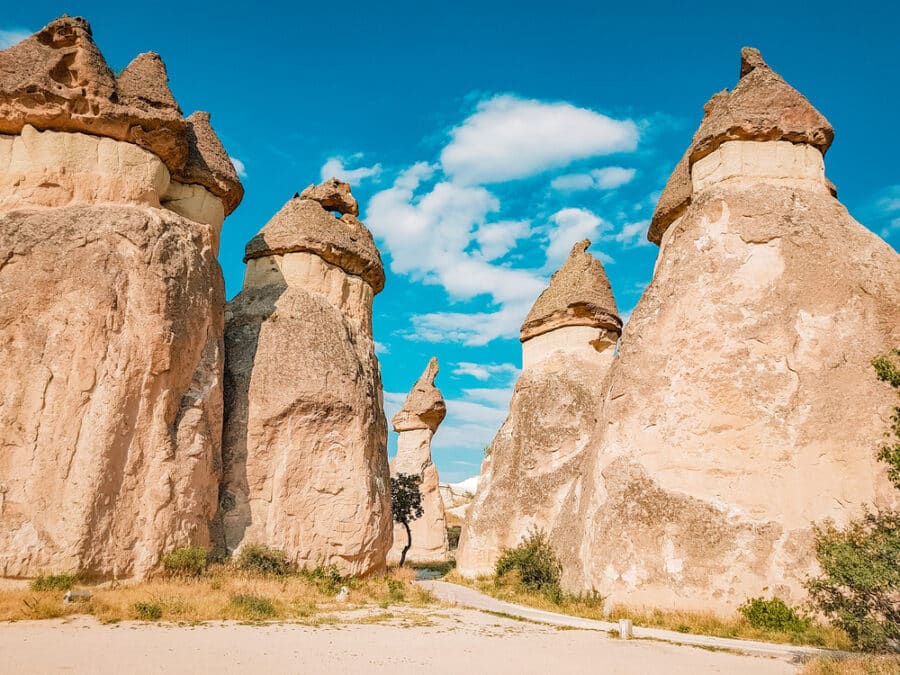 Few areas in the world are as unique as Cappadocia, and walking around this area will show you some of the region's marvels. There are many different walks, and they're all well-signposted. Be sure to check out Devrent Valley, which is full of rock formations shaped like animals, or head to Monk's Valley as, another popular spot.
You'll need to warm up during the winter as the area can get very cold, and it's also likely to snow. However, in the summer, expect very high temperatures, so make sure you wear a hat and suncream and take water with you.
Stay In A Cave Hotel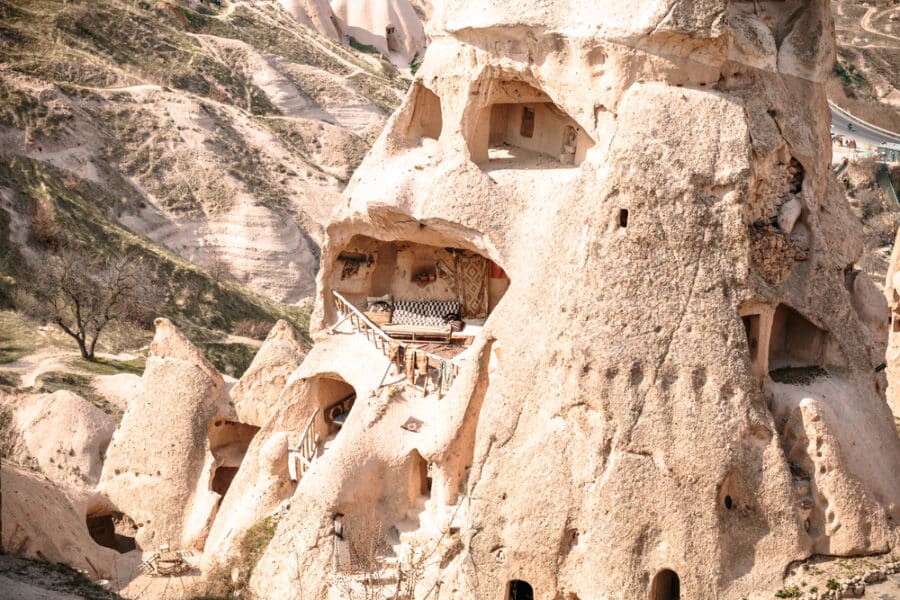 Many of the hotels in Cappadocia are either underground or carved into the rocks, which makes for a pretty impressive place to stay! You'll probably end up spending more by choosing one of these hotels, but if you're not going in the hot air balloon, you can save money and stay somewhere unique instead!
Many of these hotels also have terraces where you can look over the entire area and enjoy a cup of Turkish cay or have a traditional kahvalti or a massive breakfast – you won't be hungry for the rest of the day, that's for sure!
As you can see, Cappadocia is not just a place for hot air ballooning; there is far more than meets the eye in this stunningly beautiful part of the world.