Privacy & disclaimers →
Is Cappadocia Expensive – Cappadocia Cost Summary
Cappadocia is a unique and fascinating region located in central Turkey and one of the most popular travel destinations in the country. It is known for its remarkable landscapes, characterized by fairy chimneys, cave dwellings, and otherworldly rock formations.
Of course, if you want to visit this wonderful area, you need to know how to get there and how much a trip to Cappadocia costs. In this guide, we'll answer your most wondered question "is Cappadocia expensive"? and break down the costs you can expect to pay to visit this rock-cut wonderland – without spending a fortune.
All About Cappadocia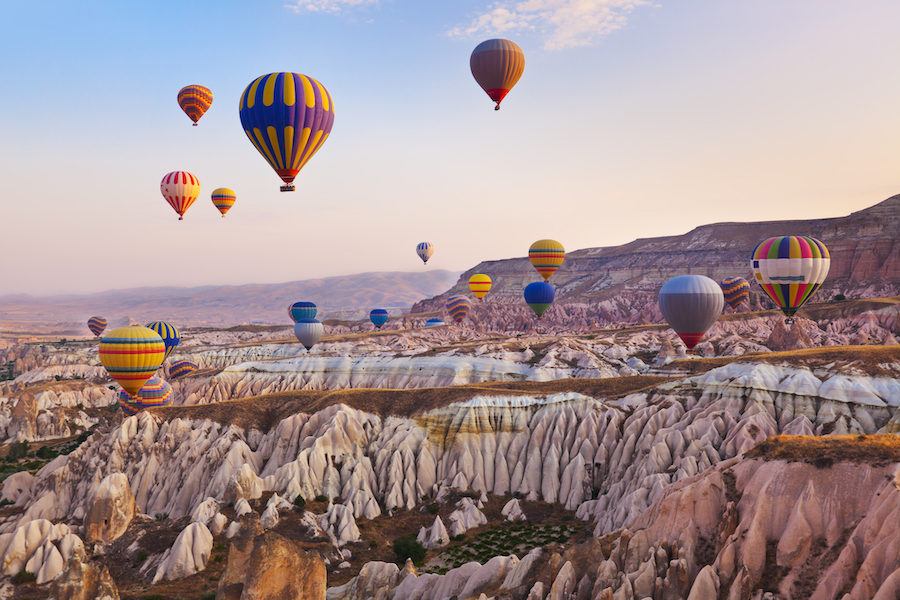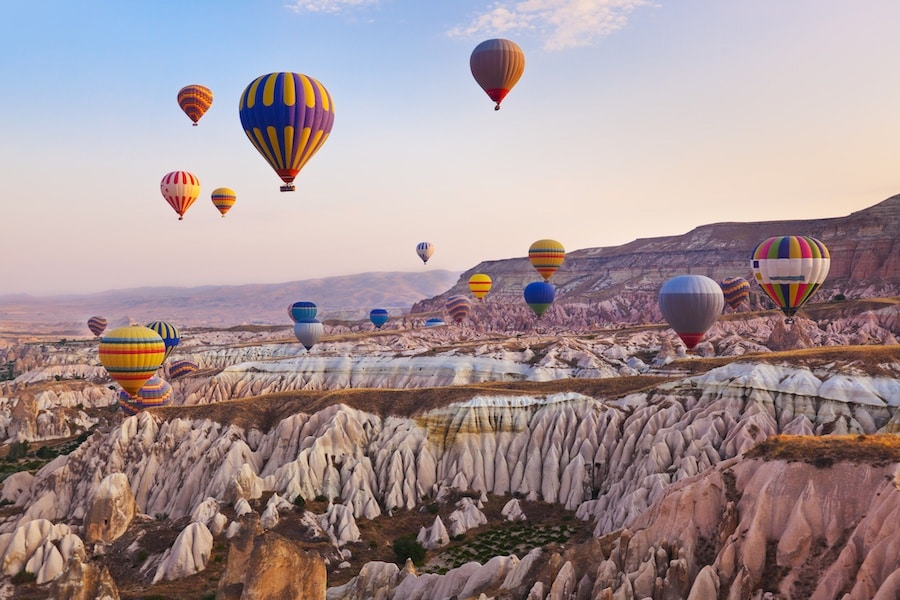 Cappadocia has a rich history dating back to the Hittite Empire, and it's a unique blend of natural beauty and human-made structures. The area was formed by volcanic eruptions and later shaped by erosion and wind, creating a surreal and otherworldly landscape.
Hittites founded the first settlements in Cappadocia in the 2nd Millenium BCE. Later, during the Roman period, the area was an important center for early Christianity, with many rock-cut churches and underground cities built during this time. In the following centuries, Cappadocia preserved its importance as a center for textile production, particularly carpets and kilims.
In the early centuries CE, Cappadocia was part of the Byzantine Empire and continued to flourish as a center of Christianity. In the 13th century, Seljuq Turks, a Turkish nomadic empire, conquered the region and introduced Islam.
During the Ottoman period, Cappadocia continued to be a textile and ceramic production center; the area was a stop on the Silk Road trade route, contributing to its importance. In the early 20th century, the area was settled mainly by Greeks, who later left the region as part of a population exchange agreement between Greece and Turkey.
Visitors can explore the area by foot, bike, or hot air balloon. The rock-cut churches and ancient cave dwellings are some of the must-sees in the area. The region is also famous for its traditional arts and crafts, such as pottery, carpet weaving, and onyx stone carving. Cappadocia is a popular tourist destination and offers a wide range of accommodation options – including cheap hotels in Cappadocia.
PLAN AHEAD TO GET THE BEST DEALS
How Much Does A Trip to Cappadocia Cost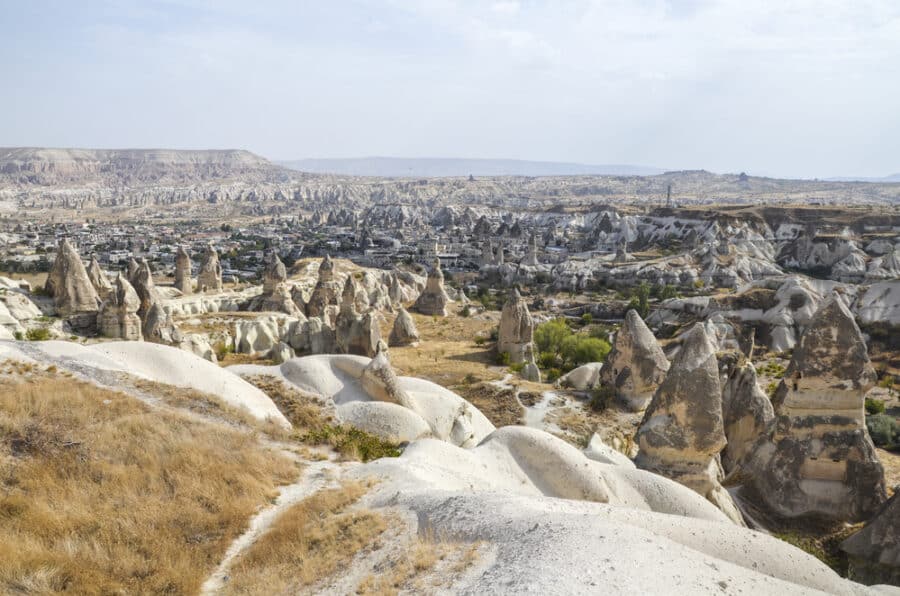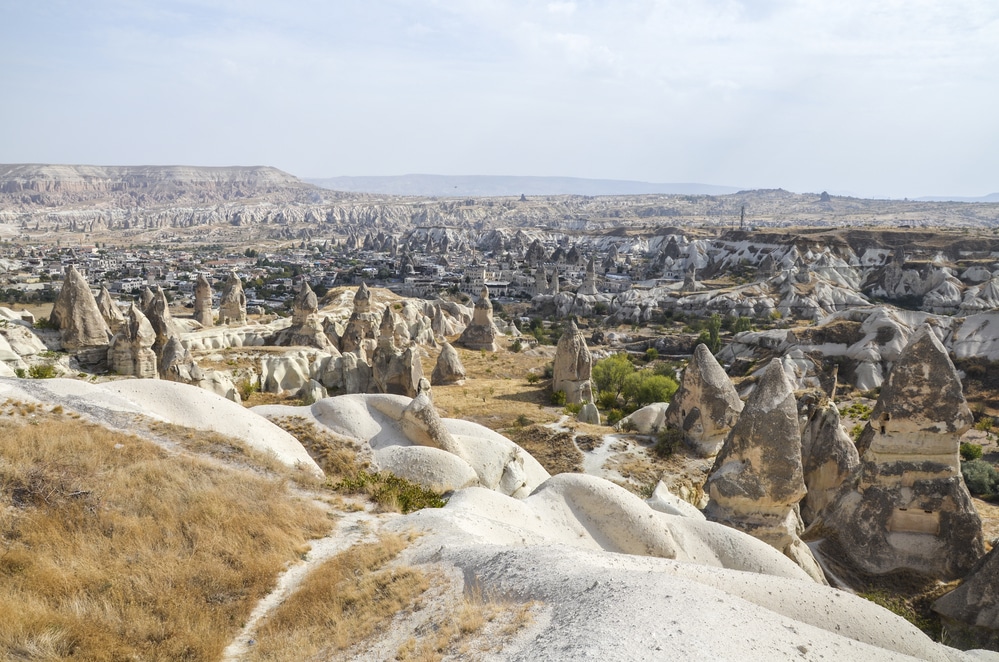 Firstly, there is no city called Cappadocia in Turkey; the term refers to a large region with multiple cities. If we have cleared up this one, we can continue. Nevşehir is the city where you may locate those fairy chimneys and hot air balloons.
The answer to the question about the costs is heavily dependent on the mode of transportation. There will be variable costs depending on whether you drive or fly. This section will discuss several modes of transport and their approximate prices to get to Cappadocia.
Going to Cappadocia by Car
This one would probably be the most expensive way to get to Cappadocia. If you live in a nearby country or have land access to Turkey, you can jump in your car and start the journey. However, getting to Turkey by car would require you to fill your gas tank several times.
A trip from Istanbul to Cappadocia requires about 40 liters of gasoline. On average, you'll need to spare at least a few hundred euros for gas.
Going to Cappadocia by Plane
The easiest way to get to Cappadocia is by taking a plane. There are frequent flights from European cities to Nevşehir or Kayseri (another city within the Cappadocian region) and then take a bus to Nevşehir.
However, most flights to Nevşehir and Kayseri would start at several hundred dollars. A more affordable option would be flying to Istanbul and taking a bus from there, yet you'll have to suffer a 12-hour-long bus drive.
Flight cost from Istanbul to Cappadocia vary significantly between the airlines, the airport you travel to, and the time of year you travel.
Istanbul has two airports:
Sabiha Gökcen Airport (SAW)
Cappadocia has two airports:
Kayseri Erkilet Airport( ASR)
Nevsehir Airport (NAV)
Going to Cappadocia by Bus
Going to Cappadocia by bus is the most affordable method. Bus tickets cost around 30 to 50 dollars in Turkey, and you can take a bus from every city to Nevşehir, so it's also more accessible this way.
Cappadocia Tour Prices
Balloon Ride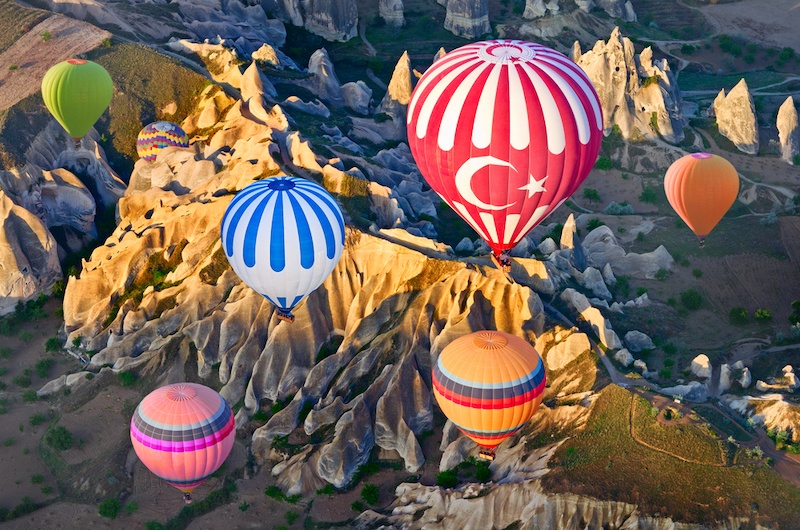 $180-350
This is the most popular thing to do in Cappadocia. A balloon ride in Cappadocia is in the price range of $180 to $300 per person. The balloon tours start in the early morning. From as early as 5 am in the summer to 8 am in winter.
Cappadocia Red Tour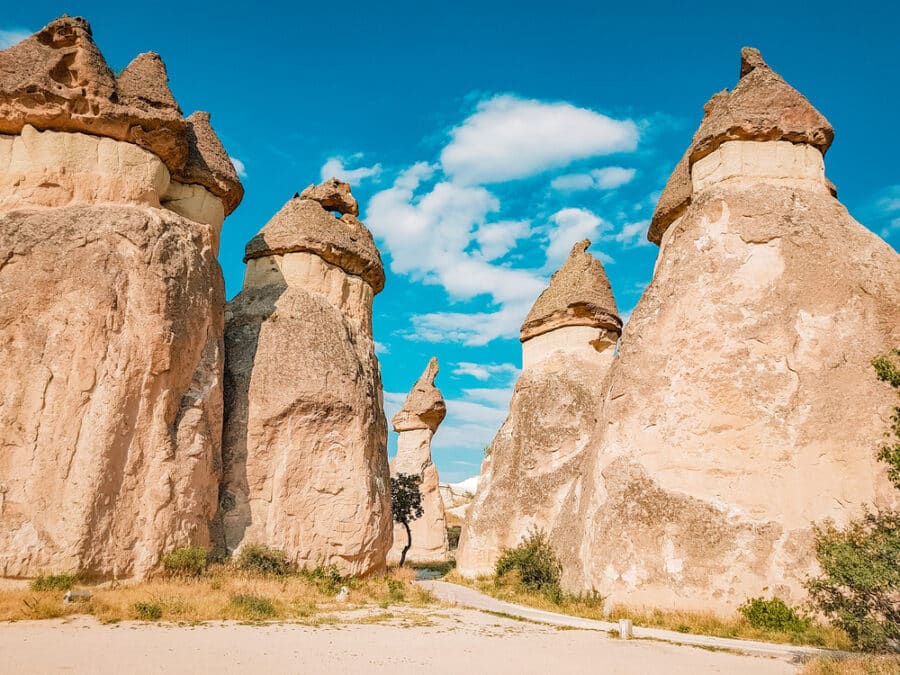 $40-55
For a small group tour, the Cappadocia Red Tour (also known as the Cappadocia North Tour) costs between 40 – 55 dollars per person. Key highlights include the Panoramic View of Goreme, Goreme Open Air Museum, Devrent Valley, Pasabag Valley, Three Beauties Rock Formation, and the village of Avanos.
Cappadocia Green Tour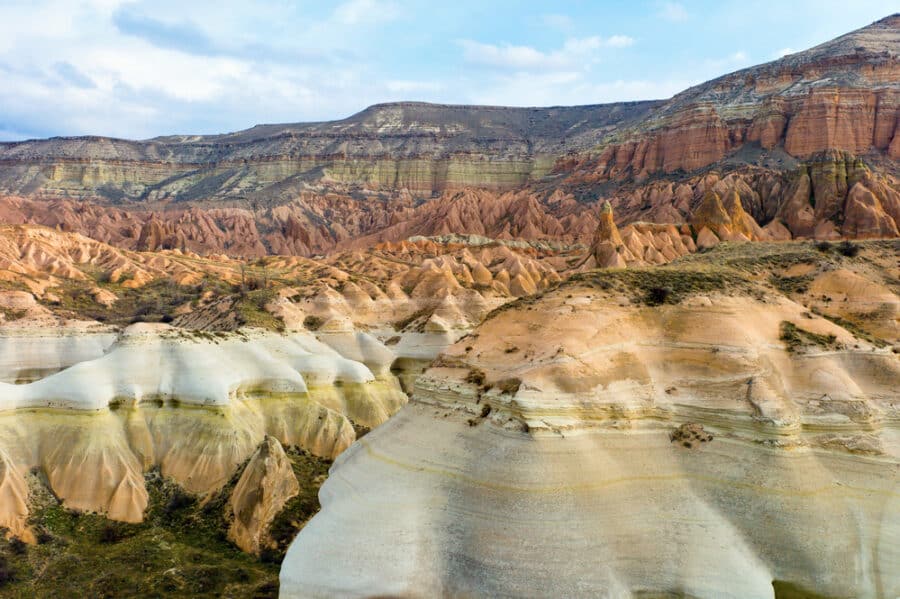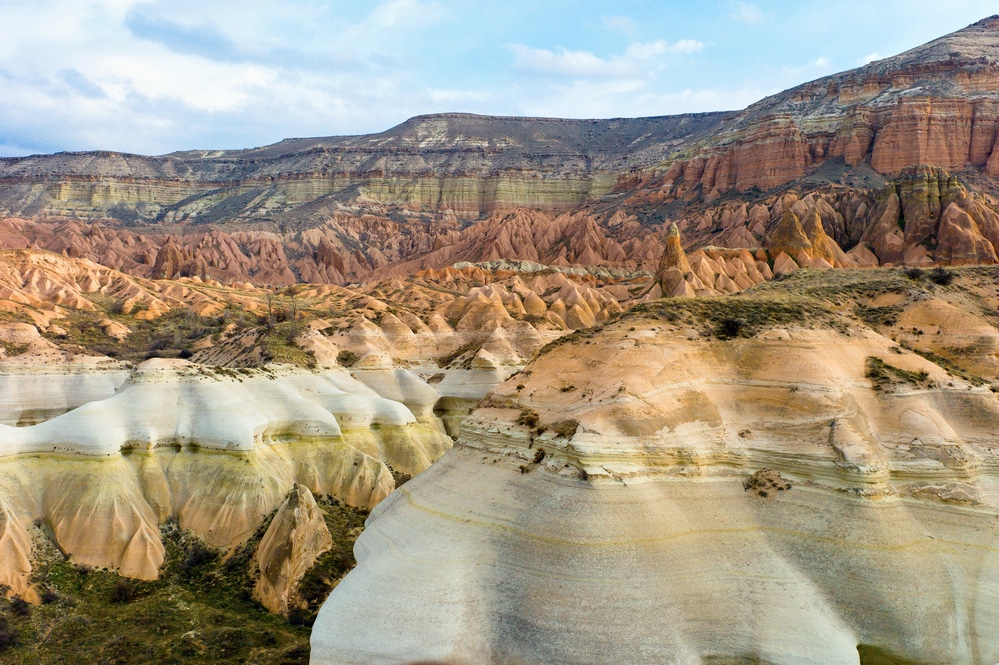 $40-55
This tour is also known as the Cappadocia South Tour, and the price range for a small-group tour of up to 15 people is 40 – 55 dollars. Key highlights include the Red Valley, Love Valley, Cavusin Castle, Cavusin Valley, Valley of Doves, and the underground cities of Kaymakli or Derinkuyu.
Cappadocia ATV Quad Safari
$45-$60
Cappadocia is home to several valleys where you can ride an ATV to see the rock formations. It will cost you between $45 and $60 per person for a 2-hour ride.
Cappadocia Whirling Dervish Ceremony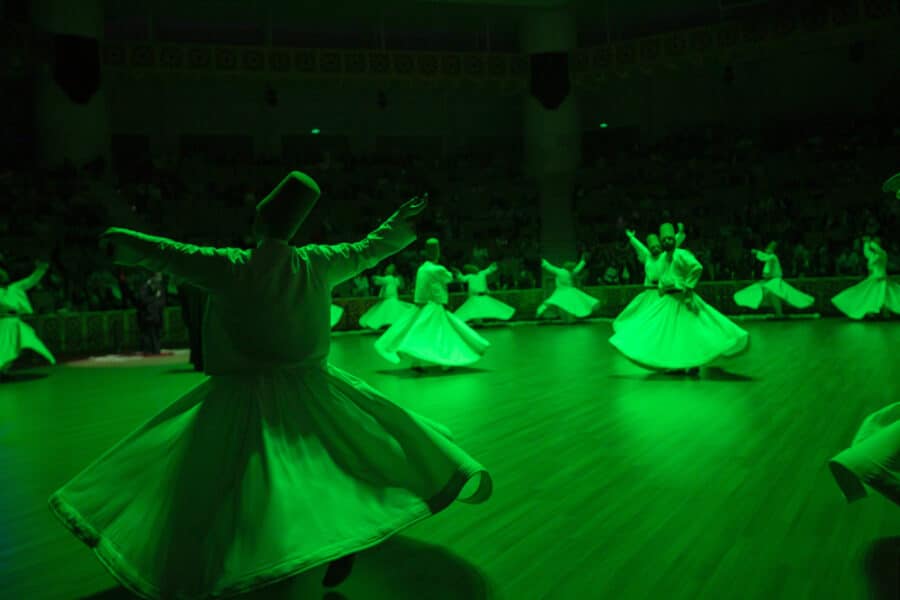 $45-$60
Witnessing a Whirling Dervish Ceremony in Cappadocia will set you back around $45-$60. These ceremonies are performed in the evening, so they can complement day trips in the region.
Cost Of Food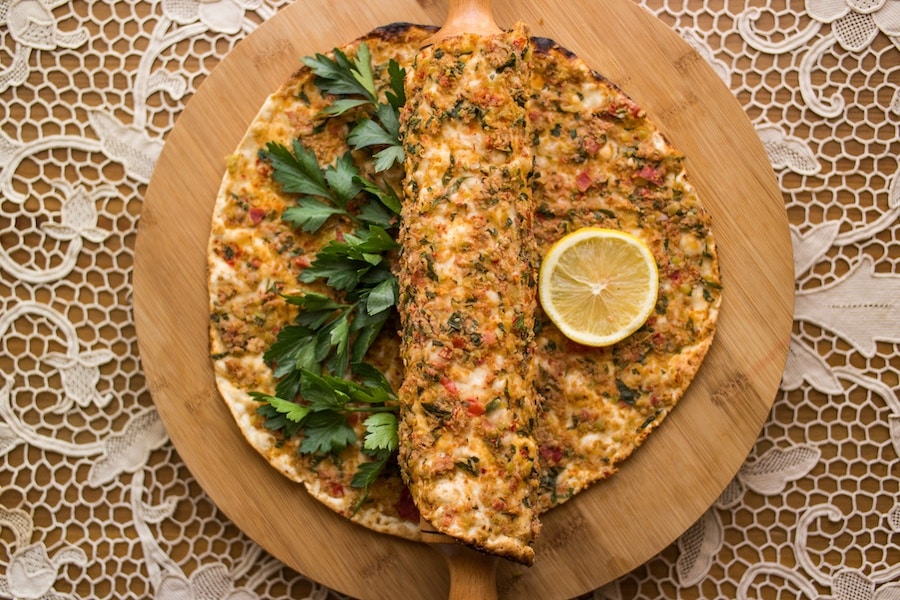 The cost of food in Cappadocia isn't that much different from the rest of Turkey. Budget around 7.50-10 5 euros for dinner per person.
Cappadocia Accommodation Costs
Oh well, this one is hard. It depends on SO MANY factors. The best way to find out how much you will pay is to look at various options for where to stay in Cappadocia.
Anatolian Houses Cappadocia Cave Hotel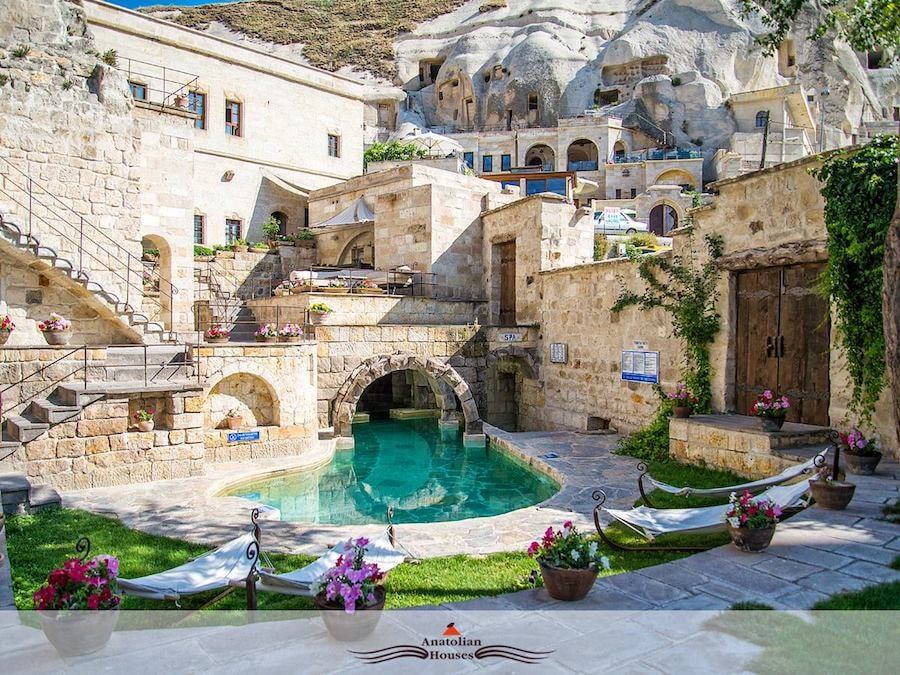 One of the best places to stay in Cappadocia, Turkey, is next to the Goreme National Park. That's where you'll find this fantastic Cappadocia accommodation set in original fairy chimneys. This Cappadocia hotel is filled with over 500 historical artifacts like pots and tiles. A moat-styled outdoor pool and an indoor pool resembling ancient baths are there to relax guests. There's also a gym and wellness center offering dry and wet saunas, a Turkish hammam, and massage therapies at a charge.
FAQS ABOUT THE COSTS OF TRAVEL TO CAPPADOCIA
Is It Expensive To Travel To Cappadocia
The cost of traveling to Cappadocia can vary greatly depending on your choices. The trip may cost from tens of dollars to several hundred dollars.
What Trip Costs Should I Keep In Mind
Some main trip costs to keep in mind when traveling to Cappadocia include transportation (flights or trains), accommodation, food, and activities.
How To Travel Cappadocia On A Budget
To travel on a budget in Cappadocia, consider the following tips:
Travel during the off-season
Stay in budget accommodations
Cook your own meals instead of eating out
Look for deals and discounts on flights and accommodations
Plan your itinerary to minimize unnecessary expenses
Research and find free or low-cost activities in the area
It's also recommended to research and compare prices in advance and budget accordingly.
What Is The Cheapest Time To Go To Cappadocia
The cheapest time to visit Cappadocia is during the shoulder season, April to May, or September to October, when the weather is still mild, and the crowds are smaller. Of course, since Cappadocia is mostly an expensive location, you might expect the prices to be slightly higher than in other areas in Turkey.
What Is The Most Expensive Time To Go To Cappadocia
The most expensive time to visit Cappadocia is usually during the peak season, June to August, when the crowds are larger, and the prices are up. Since it's the tourist season, everything you buy will be relatively more expensive than at other times of the year.
How Long Does It Take To Get To Cappadocia
The amount of time it takes to get to Cappadocia will depend on your location and mode of transportation. If you are flying, it can take anywhere from a few hours to a full day to reach Cappadocia, depending on your departure city and the availability of flights.
Would It Be Better To Book A Cappadocia Turkey Travel Package
If you would like someone to make all the arrangements for you, and know all the costs upfront, then yes, that is a great idea. You'll also have the added advantage of some local insider info.
Is Nevşehir Cappadocia
No, Nevşehir isn't Cappadocia; it's a part of Cappadocia. It shares the area's unique culture with other cities, which are definitely worth a visit too.
So is Cappadocia expensive? No, as you can see, you can enjoy a trip to this magical region in Turkey on a budget. Please note that this Cappadocia cost summary is just indicative pricing at the time of writing.