Privacy & disclaimers →
Croatian Cooking: How To Make Trogirski Rafioli
Once upon a time, there was an imprisoned beautiful lady in the famous Trogir tower, Kamerlengo. Her last name was Rafioli. And while she waited patiently for her sweet liberty, she baked sweet cakes.
One of her favorite and most popular cookies were rafioli.
Then, one day, A nobleman of Trogir liberated the detained dame and took her to her own yard, where she made rafioli for him for the rest of her life.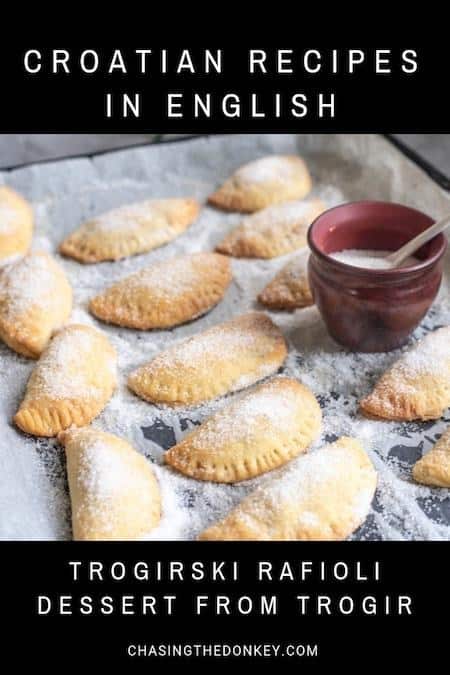 This is the short legend of the history of Trogirski rafioli.
As is usual in Croatia, there is a big number of different recipes for almost the same dish/dessert, and you will also find variations of rafioli from other regions across Croatia – "dalmatinski', "makarski," "imotski," "sinjski" and so on…
Another characteristic of this dessert is that it demonstrates the way of living in that time, whereby they created something so tasty with very few ingredients.
Here is an easy Trogirski Rafioli recipe for you to make at home with ease!
Ingredients
Dough
500 g all-purpose flour (3 1/2 cups)
6 egg yolks
50 g sugar (1/4 cup)
100 g pork fat (1.8 oz)
15g vanilla sugar (1 1/5 tablespoons) or two teaspoons of vanilla essence
25 ml rum (5 teaspoons)
50 ml milk (1/4 cup)
50 ml oil (1/4 cup)
100 ml water (1/2 cup)
Pinch of salt
Filling
500 g almonds (3 1/3 cups)
6 egg whites  
250 g sugar (1 1/4 cups)
100 g pork fat (1.8 oz)
15 g vanilla sugar (1 1/5 Tbls.) [or two teaspoons of vanilla essence]
1 teaspoon rose extract
1 teaspoon maraschino
Zest of 1 lemon
Zest of 1 orange
Juice from 1 orange or lemon
Dusting
Instructions
Combine all of the dough ingredients in a large bowl, and mix until you have a nice, smooth, compact dough
Let the dough mix rest for 30 minutes in the refrigerator
Roast in a pan half the amount of the almonds to highlight their nutty taste
Grind the almonds in an electric grinder or cut them with a knife in tiny pieces
Put everything for the filling mixture, except the egg whites, in a bowl and combine together
Using an electric mixer, beat the egg whites to soft peaks
Gently fold the whipped egg whites into the filling mixture - and set aside
Roll out the dough to a thickness of 2 mm. Using a glass or a cookie cutter, cut out rounds from the dough. Re-roll the excess dough and cut again (I used a glass cup around 8cm wide)
Preheat the oven to 160°C (320°F)
Put one teaspoon of the filling onto the center of teach circle, fold it in half, and seal it by using a fork to seal together the edges of the dough
Bake for about 20 minutes, or until golden brown
Cool on a wire rack, sprinkle them with water and cover them with some caster sugar
Store them in an airtight container and will last you for almost one month (that is if you do not eat them all!)
More Tasty Croatian Recipes