Some posts contain compensated links. Please read this disclaimer for more info.
Croatian Vanilla Crescent Cookies Recipe (Vanilin Kiflice)
Vanilin Kiflice (vanilla crescent cookies) are the real deal in the middle and eastern parts of Europe when it comes to the best Christmas cookies to be found on the table each year!
That said, these are not just for Christmastime, we bake these kiflice year-round. Also known as roščići, these cookies are a shortbread-style of cookie made with the addition of nuts and a generous amount of vanilla sugar, so they are perfect to have ready to serve when unexpected guests arrive – as they store well in an airtight container.
Vanilla crescent cookies were originally from Vienna, Austria. In celebration of a victory over the Turkish empire, the locals created this pastry in the shape of the crescent moon found on the Turkish banner.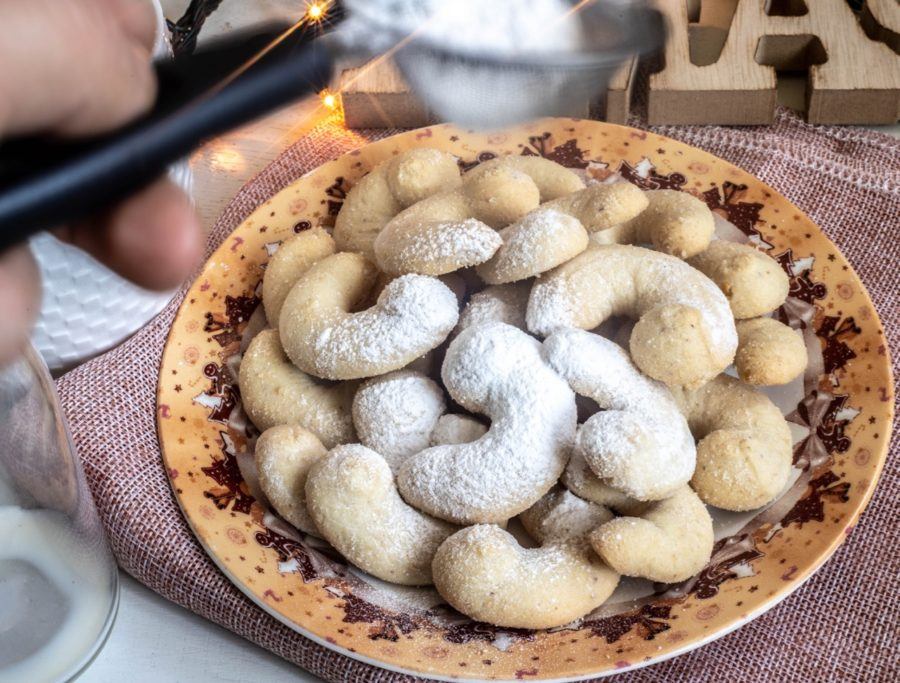 We can say that in every bad thing there is something good, so these tasty cookies are the good following the bad war. Each crescent honors the victorious warriors.
When it comes to nuts in the dough you can also use almonds or hazelnuts if you prefer those – though the walnuts were used in the original recipe and it's what most of us use here in Croatia. If you use blanched almonds just know, that you will end up with lighter color vanilla crescent cookies that you see in the photos.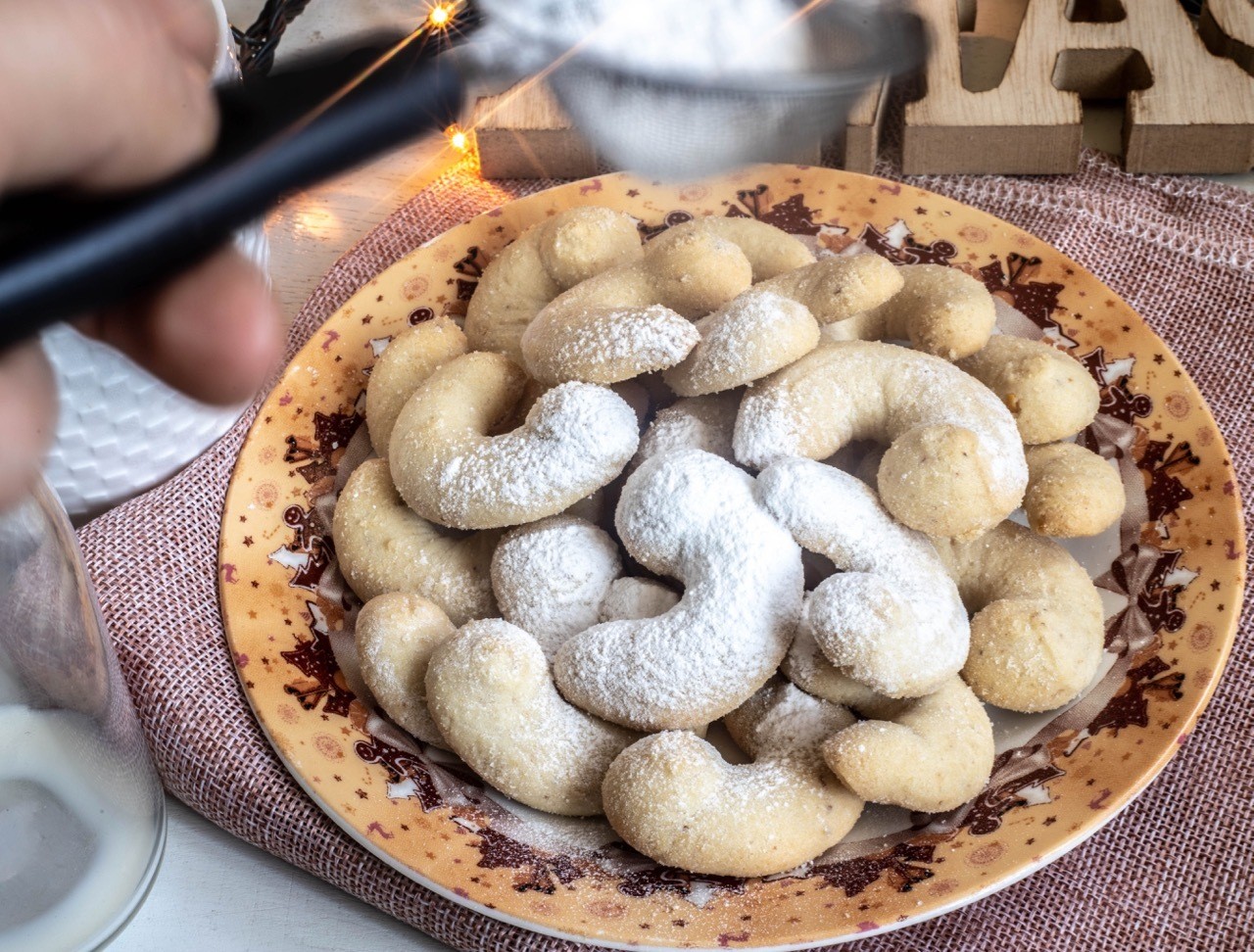 Vanilin Kiflice Recipe (Croatian Vanilla Crescent Cookies)
Vanilin Kiflice (vanilla crescent cookies) are the real deal when it comes to the best Christmas cookies to be found on the table each year! Here is how to make them!
Ingredients
300 g all-purpose flour (2 cups)
200 g butter, softened (14 tablespoons)
75 g white sugar (1/3 cup)
100 g ground walnuts (1/2 cup)
1 large egg white
10 g vanilla sugar (2 teaspoons)
Pinch of salt
Powdered sugar for dusting at the end
Instructions
Place all of the ingredients in a large bowl and knead until combined
Shape the mixture into one piece, and cover with plastic wrap and chill in the refrigerator for at least half an hour (this will make them crisper when they cook!)
Take a small piece of the mixture, and using both hands, shape gently into a 'U' shape - this will take some practice, as the mixture is wet and a bit sticky. Try, try, and try again if you need
Place the "U" shaped-crescents onto a parchment paper on a baking tray and bake in the heated oven 200°C (390°F) for 10-12 minutes or until the edges begin to turn golden
Take out from the oven and let them cool completely before removing them from the tray
Once the cookies have cooled, powder them in the icing sugar
Stored in an airtight container in a cool, dry place, these cookies will keep for several weeks and are perfect for company, and are best served with a cup of tea or coffee
Notes
There is a cookie press in a similar shape, if you would prefer to use it you can.
As you can see in this recipe there is no egg yolk. If you wish to use an egg yolk you can add it to get a dough that is much easier to shape - but, the cookies will not be as light and mouthwatering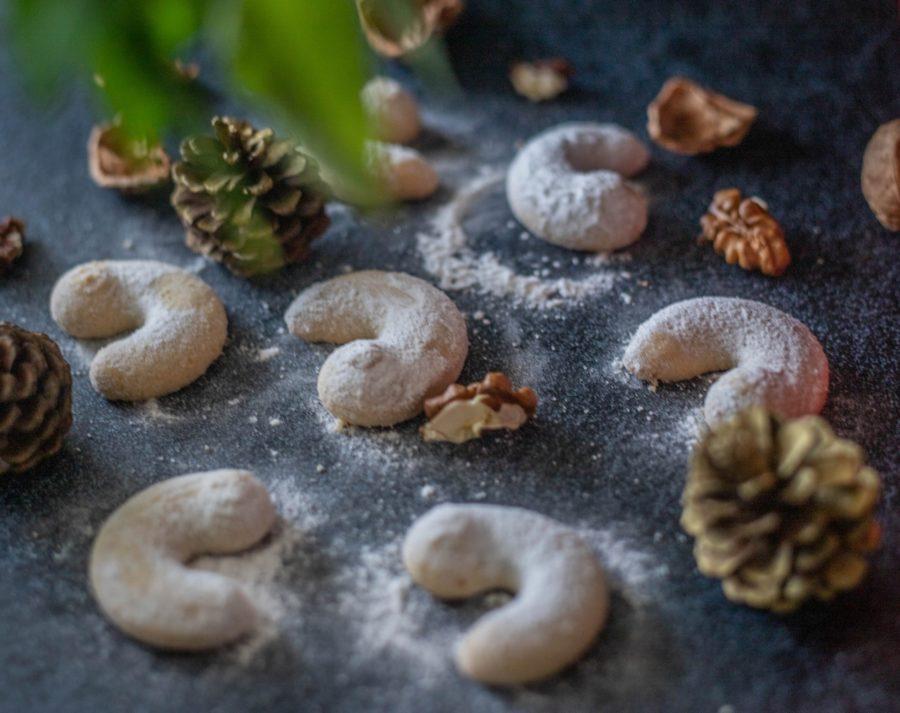 More Tasty Croatian Recipes
Share