How To Make Croatian Šnenokle – Also Known As Paradižot
One of the most popular, and at the same time, one of the easiest to make Croatian desserts is definitely šnenokle, also known as paradižot. Let's explain the name: in central and eastern Croatia, this treat is called šnenokle, and in Dalmatia and along the coast, people call it paradižot.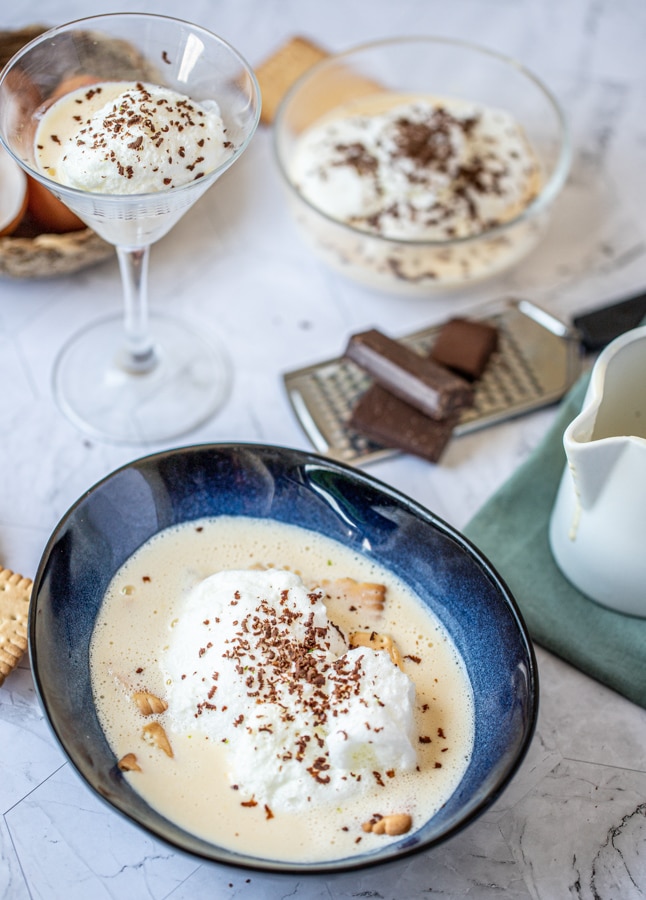 This dish's origins are Austrian, but it is so familiar in Croatia that we consider it a traditional Croatian dessert. Šnenokle are known all over Europe, so that you will find them in British cuisine with the name floating islands. French cuisine is known as "les œufs à la neige," or even in Poland, the Poles call them zupa nic.
The base for this dessert has four essential ingredients: eggs, milk, sugar, and biscuits. You can also use other spices to make them richer in taste and texture, such as vanilla sugar, chocolate, cardamon.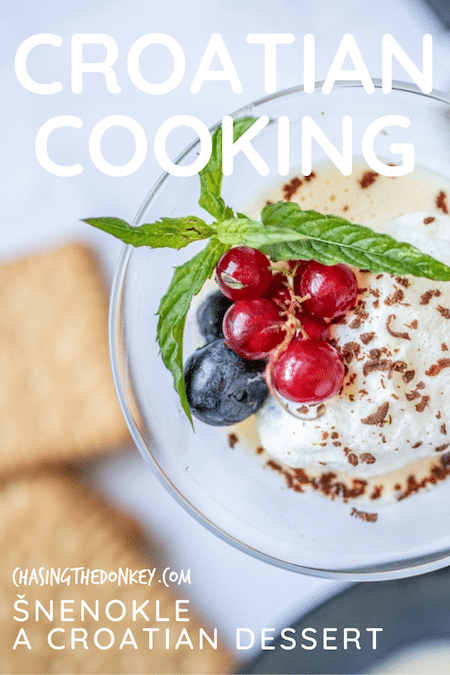 Paradižot are only a seemingly "poor" treat, but they actually consist of a rich yellow cream and soft spoons prepared from whipped and boiled egg whites. This Croatian dessert is eaten with a spoon, and it requires care, speed, and skill to prepare because the delicious egg custard must be smooth in texture and without lumps.
The hardest part of this recipe is to wait for it to cool down, as it tastes best once cooled. So please give it the time required to cool down.
I hope you enjoy this delicate, sweet, and easy dessert!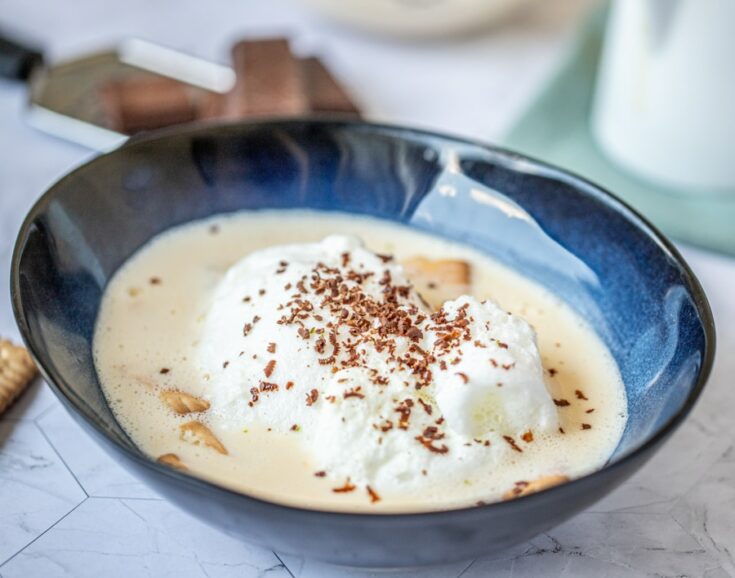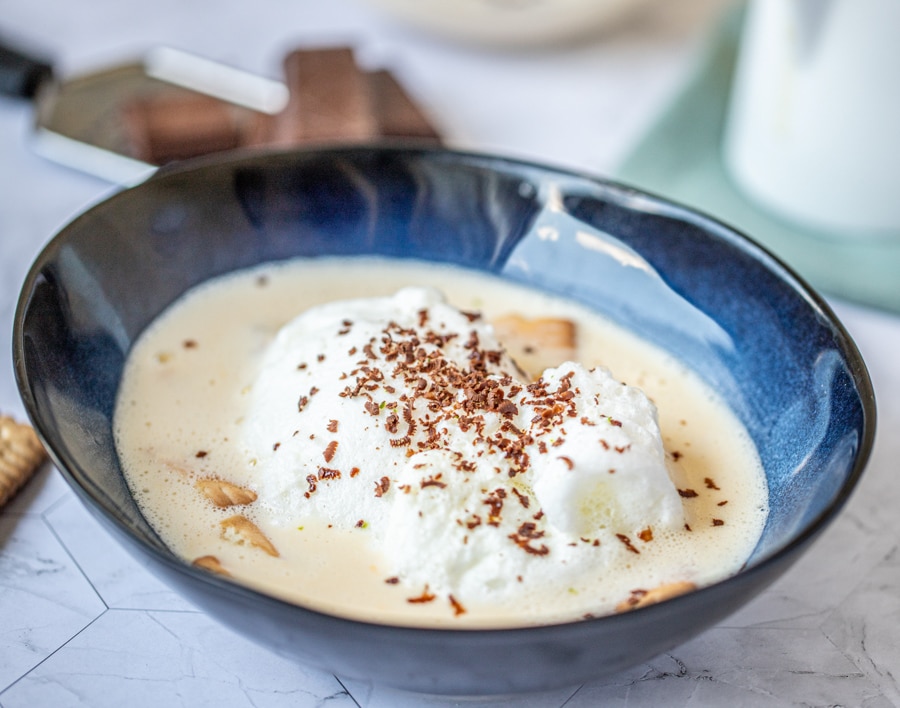 Croatian Šnenokle (Also Known As Paradižot)
This Croatian dessert uses easy to find, low-cost ingredients, but šnenokle, also known as paradižot is oh-so-tasty. Requiring some patience this treat will be loved by all.
Ingredients
500ml of milk
4 eggs
5 full tablespoons of sugar
1 packet of vanilla sugar (1-2 teaspoons of vanilla extract)
1 tablespoon of rum
100g biscuits (we use Kraš Petit Beure)
Dark chocolate
Pinch of salt
Optional extras:
Instructions
Start with separating the egg yolks from the egg whites, into separate bowls.
Beat the egg whites with a little salt until they form stiff peaks. Set aside.
At the bottom of the bowl/s in which you will serve this dessert, break up the biscuits, and sprinkle them with rum.
Place the milk in a shallow saucepan, add the vanilla sugar and let it boil.
Place heaped spoonfuls of the stiffened egg whites into the boiling milk. Cook them for around 30 seconds on each side - do not allow them to cook any longer or they will become chewy and won't be that tasty. They are easier to remove from the milk with a slotted spoon.
As the egg whites spoons are done, arrange them on top of the biscuits.
Whisk the egg yolks with the sugar.
Slowly add the hot milk to the egg yolk and sugar mixture and stir gently to combine and then put it to boil on low heat to thicken a bit (it should remain liquid). Be sure to stir constantly to avoid any lumps forming.
Once heated through, gently pour the mixture around the egg whites over the biscuits.
Grate quality dark chocolate over the top.
Let it cool first at room temperature and then, chill overnight in the fridge.
Notes
Feel free to add some freshly grated lemon zest, fresh berries, and or fresh mint when serving. That, or serve it directly from the fridge as they are!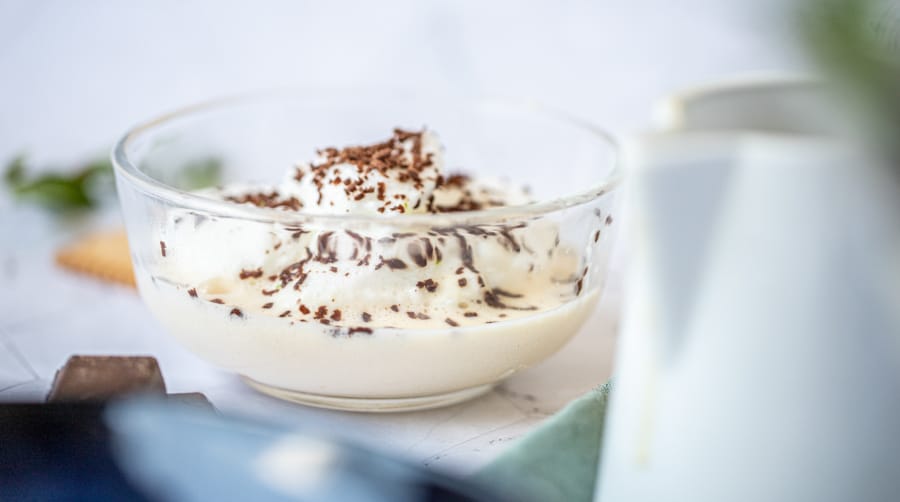 More Tasty Croatian Recipes