Some posts contain compensated links. Please read this disclaimer for more info.
Croatian Recipes: Pašticada Recipe (Dalmatian Pot Roast Or Beef Stew)
Pašticada is the holy grail of Dalmatian Croatian cooking, for me. Here in Dalmatia, this stewed beef dish is prepared with a very special sauce. You may know it as Dalmatinska pašticada, Dalmatian Pot Roast, or even just as beef stew, but whatever you know it as, it requires long and meticulous preparation.
I feel blessed that I was given this recipe to share with you all from the award-winning chef Mario Mandarić who is the head chef at La Gitana restaurant, located on the island of Hvar. This recipe is his personal spin on the traditional recipe.
La Gitana is on my list of places to visit when it opens up in summer. It's located on one of the oldest historical squares in Stari Grad. They offer a blend of traditional Dalmatian hospitality with a mix of originality, both in and out of the kitchen.
A friend of mine who visited the restaurant when it opened last year said it's a "charming rustic restaurant that offers a tasty blend of Spanish and traditional dalmatian cuisine".
Here is what you need for this pašticada recipe
Ingredients
2 kilos; beef, top round (you can also use topside, silverside or rump) You want the back end of the cow.
20 grams; smoked/dried bacon
200 grams; onions
150 grams; parsley root
150 grams; carrot
50 grams; celery root
2 garlic cloves
20 grams; tomato paste
200ml, cooking oil or olive oil
Apple cider
10g, cloves
10 dried plums, diced
6 dried figs
2 apples, peeled and quartered
300ml, red wine
2 tablespoons, mustard
3 bay leaves
small bunch of thyme
rosemary leaves
cooking chocolate (75% cocoa)
salt
pepper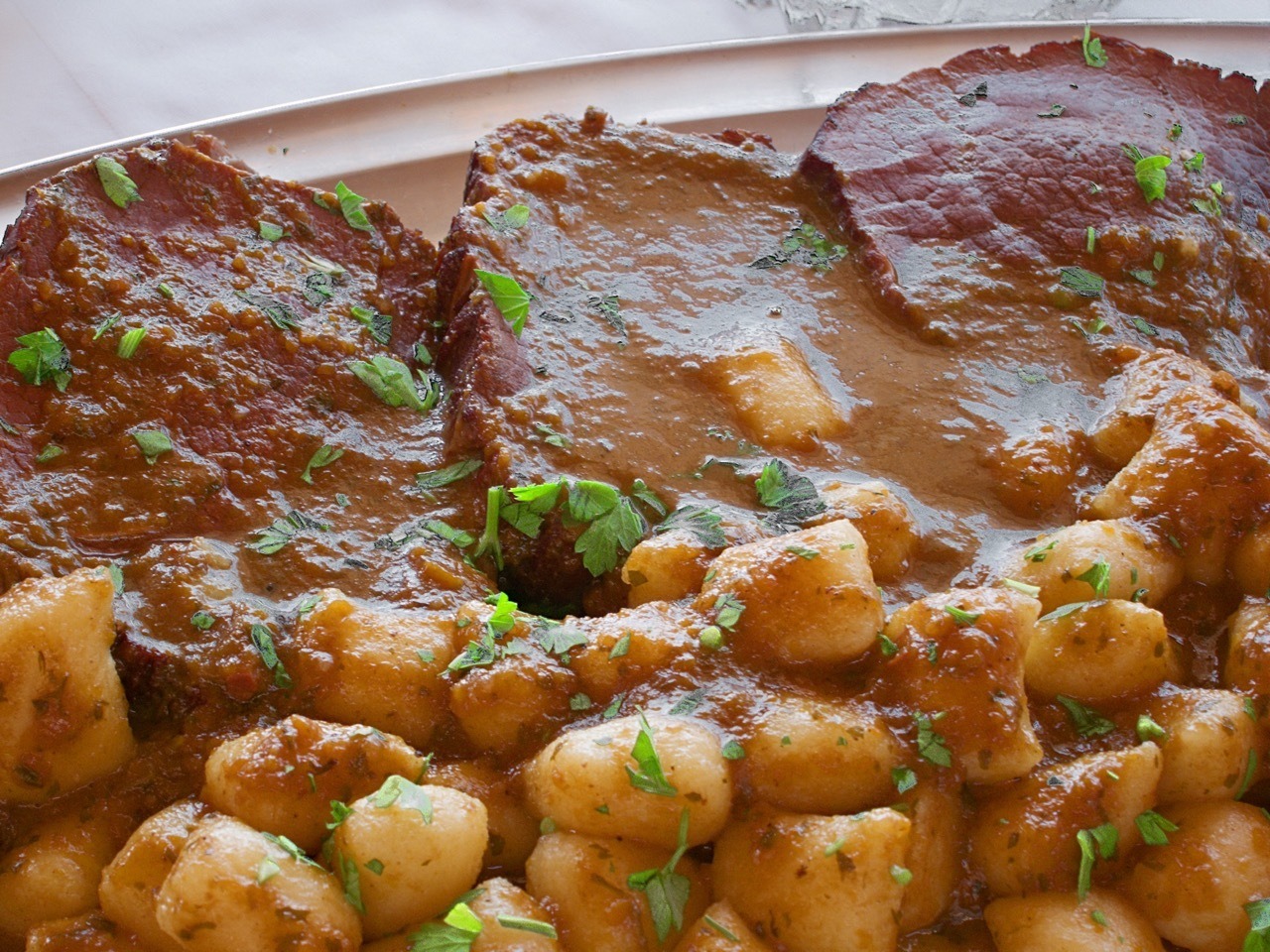 Directions
Wash and wipe the meat and then insert the pieces of bacon in it using a knife. Salt, as desired, spread mustard over the meat and place it in the "pajc" (a container with a mixture of the apple cider vinegar and oil enough to cover the meat). Let it marinate like this for at least 5 hours (overnight, preferably).
Brown the meat in hot oil (all sides). Remove it from the pan and quickly sauté the chopped onion, garlic, and vegetables.
Return the meat to the pan along with the red wine & simmer covered for about 2 hours. If required, add small amounts of red wine mixed with water and touch of sugar (dalmatian prošek works great as a replacement for this) as the meat cooks – it needs to be tender.
When the meat is tender, add tomato concentrate, diced prunes, and figs along with the apple quarters.
At the end of the cooking, stir in the bay leaf, rosemary, thyme & minced cloves.
Add pepper and a little salt, try it and, if necessary, add a little bit of cooking chocolate. Balance the flavor with a bit of red wine and plums in order to get a sweet & sour taste to your liking.
Remove the meat, cut it into slices, and place on a heated plate.
Purée the vegetables with roast the drippings and pour it over the meat.
Serve with gnocchi and a slice of lemon.
Gnocchi Directions
In this pašticada recipe, Chef Mandarić makes gnocchi using a variant of an old, almost forgotten recipe from the island of Hvar. What's special about his gnocchi us that do not contain potatoes. Which is usually the main gnocchi ingredient.
You will need:
2 liters of milk
1200g flour (type 550)
60g butter, cut into small cubes
20 grams of ground nutmeg
Pinch of salt
A few drops of olive oil
Instructions
Pour milk into a medium-sized container and let it boil
Add the nutmeg, salt, butter, and olive oil
When the milk boils, remove it from the heat and gently mixing with a wooden spoon, add flour
When you add all the flour, mix it well enough so that it all merges into a single substance similar to dough. After you achieve that, leave it for 3-4 hours to cool completely
Remove the dough, divide it into two or three parts, shape each of them into a roll, and cut it into identically sized pieces.
Cook the gnocchi in boiling water for 12 minutes and serve as a side dish to pašticada
Do you have a favorite pašticada recipe?
More Tasty Croatian Recipes
Share