Some posts contain compensated links. Please read this disclaimer for more info.
Croatian Peka For Vegetarians
This Expat Eats recipe comes from the Island of Vis. Well kind of…Ispod Peke or Ispod Cripnje to some translates to under the bell, and Croatian Peka it's one of the most fabulous ways of cooking here in Croatia. This vegetarian option is being shared with you from Craig & Xania from Wearactive. They live on the Croatian island of Vis & offer guided activities and accommodation in their beautifully renovated old stone house.
Some time ago, I shared our secrets for cooking Ispod Peke, no huge secret to making a great Peka but rather a skill! If the veggie option does not tickle your fancy, you can see the meaty option we served up along with other recipes in our Croatian Cooking section.
Xania says
On Vis and within Dalmatia, the Croatian 'peka' is everyones absolute favourite dish. A peka is a slow cooked 'under the bell' baked dish. The dish is prepared usually about 4 hours in advance and traditionally on Vis you will be offered lamb, fish or octopus. Because at Wearactive we provide vegetarian food for our guests, Rokis, a fantastic Vis restaurant created a veggie peka.
Oliver Roki, the owner always serves it with a huge grin, shake of the head and a passing comment about the missing flesh. We love it though and our veggie guests really enjoy a slightly adapted Dalmatian dish. Our guests that are not veggie usually come from the restaurant raving about the tasty fish and super succulent lamb!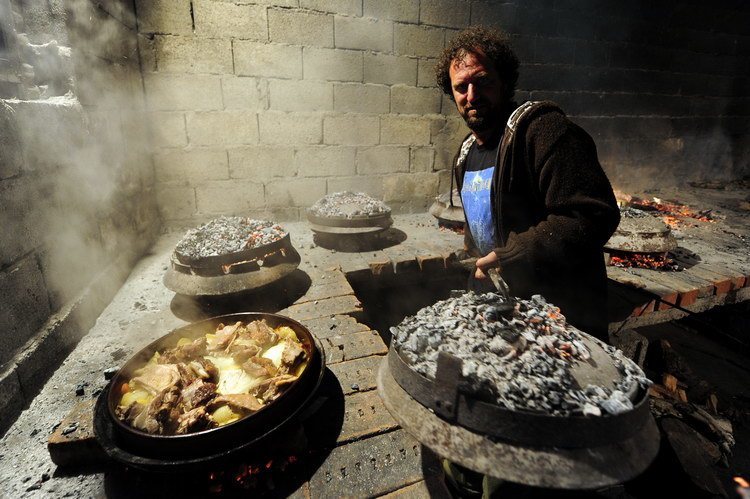 Ingredients
Veggie Croatian peka serves 4
2 quartered onions
1kg quartered potatoes,
3 chopped carrots
5 chopped garlic cloves
1 chopped aubergine/eggplant,
1 chopped courgette/zucchini
4 chopped tomatoes
drained tin of chickpeas
100ml white wine
Olive oil
Seasoning and a handful of fresh parsley and a squeeze of lemon.
Method
Oil the circular baking dish, add potatoes, onions and carrots, garlic and some salt and pepper. Add half of the wine and a good splash of oil. Make the fire and pre heat both sides of the 'Peka' (Croatian cast Iron bell) Put the baking dish inside and cover with the Peka. Add charcoal both below and above the Peka. After 1 hour add the other vegetables, chickpeas and the rest of the wine. Add more charcoal on top of Peka and cook until ready, about 45 mins. Just before serving add a handful of chopped fresh parsley and a squeeze of lemon juice.
Serve hot with bread and a strong Red wine! We always eat the Peka with Rokis Plavac, a Vis island wine.
If you want to enjoy this dish, along with kayaking, swimming & snorkeling on the Island of Vis, talk to Xania & Craig on their Wearactive website or Twitter and book in for some time out with them. We'd love to take the Baby Donkey over to see them this year, so we may see you there.
If you want to see what life on Vis is like, Zora their dog has this to show you…
Share