Some posts contain compensated links. Please read this disclaimer for more info.
Best Balkan Hotels For All Kinds Of Travelers In 2022
The Balkans are often forgotten as a vacation destination in Europe but have recently gained attention from the traveling community – why? Well, it is relatively simple to see why.
With landscapes varying from incredible alpine lakes and the impressive Black Sea to towering mountains and the last jungle left in Europe, from war-torn history with stories written on the walls to folklore about Count Dracula, from medieval castles to surprisingly intact ancient ruins – the Balkans will surprise you in almost every facet of travel.
Not to mention, the people of the region are some of the most humble, accommodating people we have ever encountered in our travels. And the food – don't get us started on the hearty delight that is Balkan cuisine. Foodies will be in heaven.
Though the region has received a negative reputation over the years due to war conflict and communist rule, things have turned around in the Balkans, and those negative issues are no longer present. Now, tourists from Western Europe are starting to see the Balkans for what it is, a beautiful travel destination with unlimited possibilities and extremely affordable when compared to the other half of Europe.
Below, we have offered you a guide to some of our favorite hotels spread across the Balkans region, so you can skip that part of your research when planning your vacation to the Balkans.
Where Are The Balkans?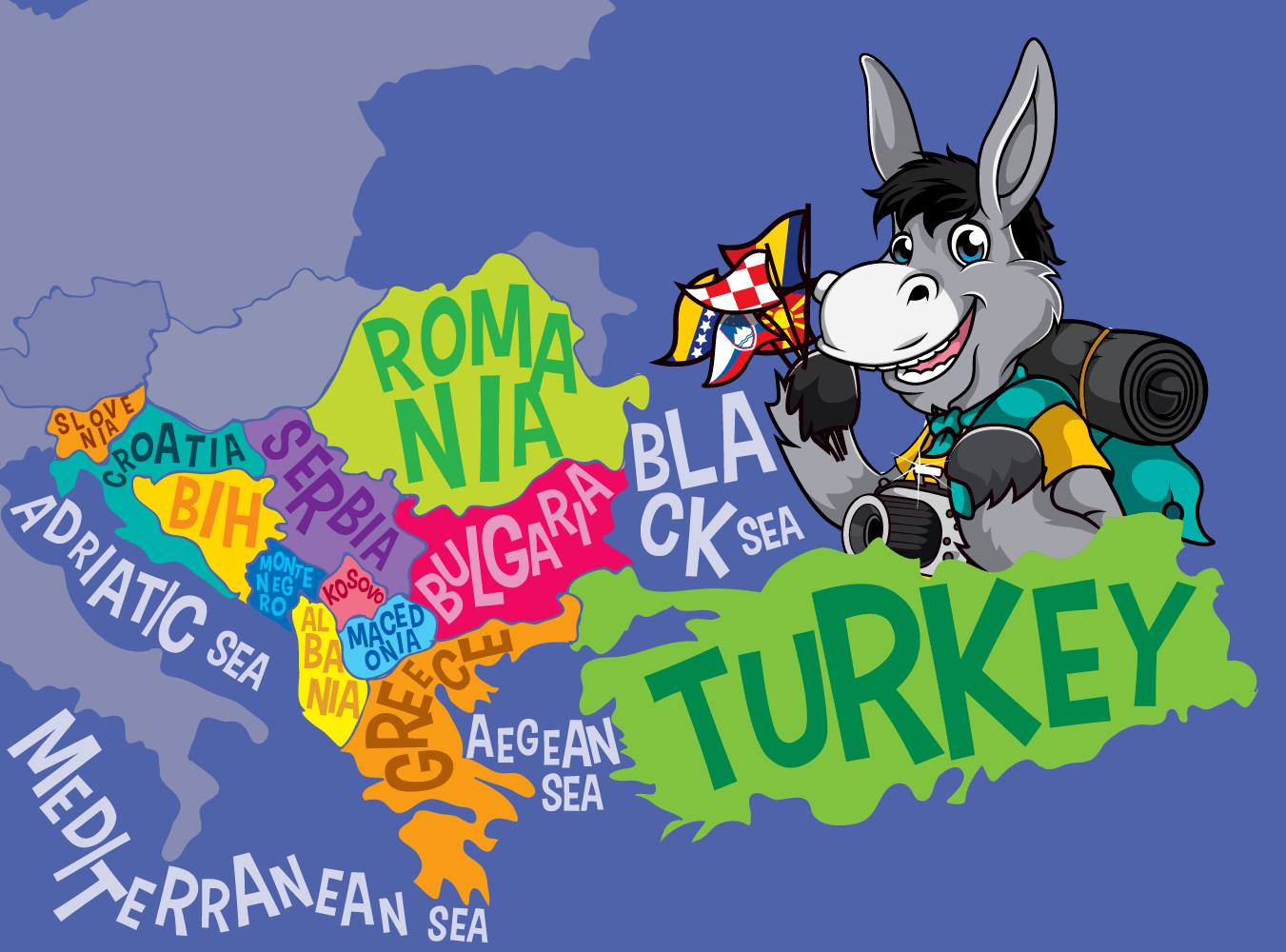 The Balkans region sits in the southeast corner of Europe on what is known as the Balkan peninsula. It got its name from the mountain range, which is the Balkan mountain range.
Usually, the Balkans region is characterized by including Albania, Bosnia and Herzegovina, Bulgaria, Croatia, Kosovo, Montenegro, North Macedonia, Romania, Serbia, and Slovenia. Though, even parts of Turkey and Greece can also fit into that list.
Best Hotels In The Balkans For 2022
We have compiled a list of some of our favorite hotels in the Balkans. Each of these hotels have characteristics that make staying at the property very special. Without further ado, we bring you our favorite hotels in the Balkans.
1. Amanruya Resort – Bodrum, Turkey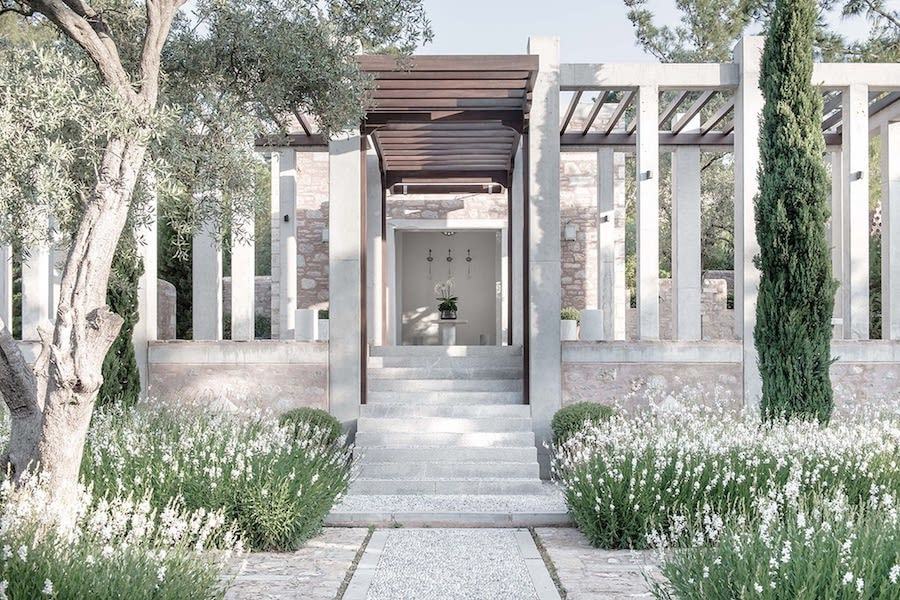 Amanruya has been elected the best spa in Europe by CNN Travel. The multi-story complex overlooks the Aegean Sea and, honestly, looks like a small village.
Guests can enjoy sailing in the waters of the Aegean Sea, horseback riding in the countryside, and excursions to nearby historic sites before returning to comforts better than your own home.
Olive groves surround the property with villas that perfectly combine Ottoman lavishness with the quaintness of the village. Each villa has a terrace with its own garden and swimming pool. Plus, indoor and outdoor showers and a coal fireplace to keep you warm in the wintertime.
The on-site restaurants offer excellent Turkish cuisine, Asian-inspired dishes, and international dishes – accompanied, as well, by breathtaking views.
2. Vila Bled – Bled, Slovenia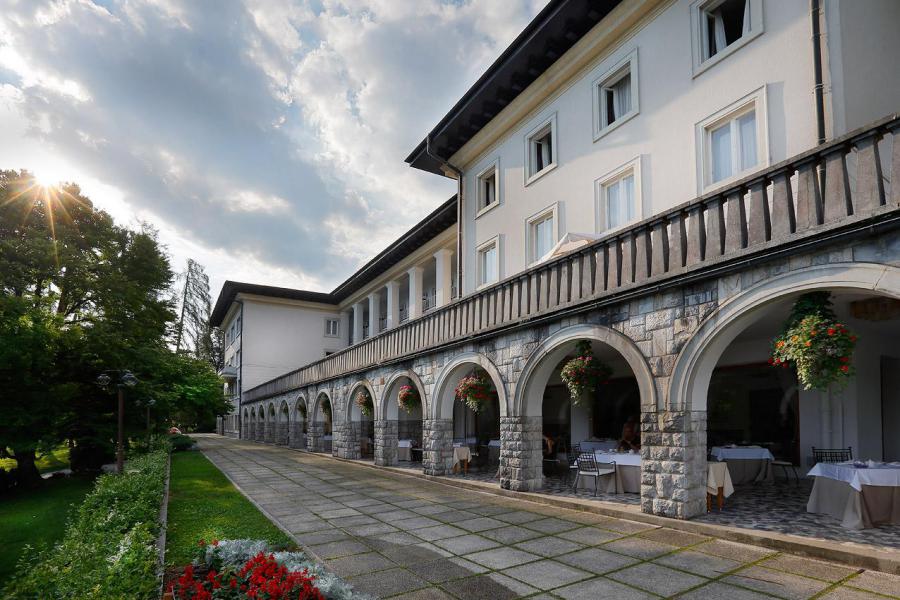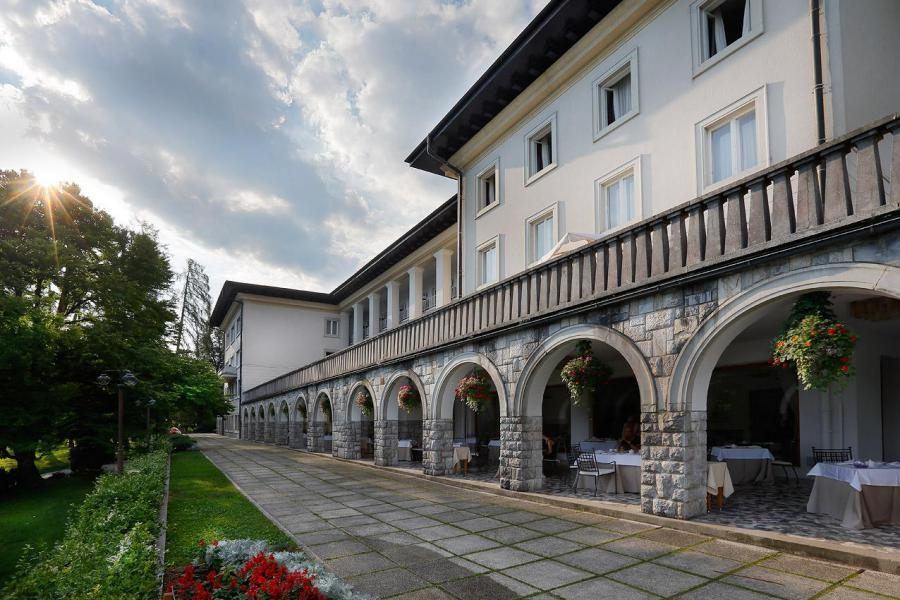 This accommodation, the former residence of President Tito (the Communist leader), offers an incomparable position on the lake overlooking the island.
Surrounded by a park with a serene landscape and with direct access to the water, this small luxury hotel features a paradisiacal spa with several baths and massage rooms, as well as Finnish and Turkish saunas and Jacuzzis.
The on-site restaurant offers a menu of Slovenian and international gourmet cuisine. At the same time, at Cafe Belvedere, guests can dig into all sorts of delicious cakes while enjoying the panoramic view of the island of Bled.
During the summer months, guests can rent an ATV and explore a private beach, play tennis, and enjoy the sunny, cool days that make Bled so special.
3. Kempinski Hotel Barbaros Bay Bodrum – Bodrum, Turkey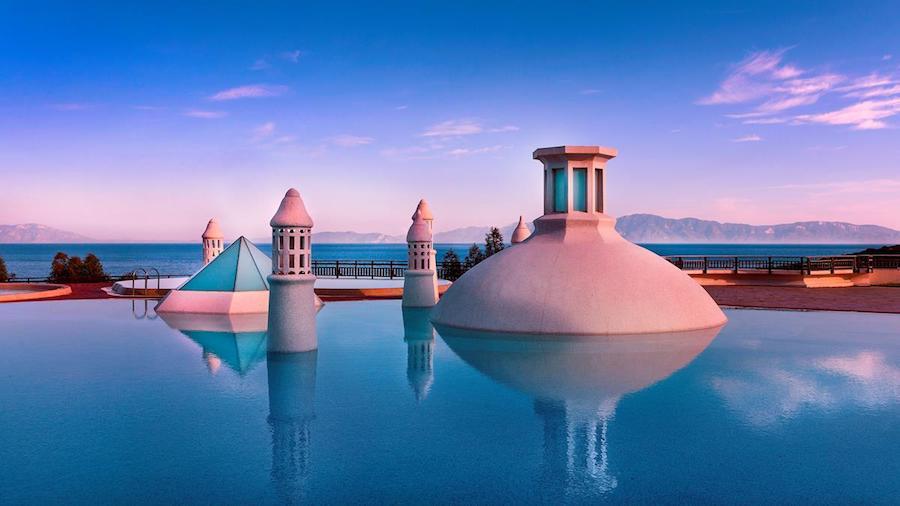 The Kempinski Hotel Barbaros Bay Bodrum is an exceptional spa, perfect for those looking for a secluded holiday. Hidden in an isolated bay in the most remote part of the peninsula, the hotel glows with a remarkable sense of aloneness.
Although the hotel is only a 25-minute drive from the bustling port city of Bodrum – also known as Turkey's French Riviera, the sleepy villages surrounding the coastal region creates a sense of distance and privacy.
The property's defined aesthetics focus on natural beauty, where every effort has been made to create spaces with spectacular panoramic views of the Aegean Sea.
The rooms, all decorated with a neutral theme of beige and olive, with floor to ceiling windows and the huge infinity pool (one of the largest in Turkey), highlight the unforgettable marine landscape of Gokova Bay.
Guests can effortlessly move from the private turquoise water beach to a lavish Turkish bath, where cocktails, snacks, and tropical shisha are served. Not to mention, a visit to the Sanitas Spa to discover the rejuvenating properties of a traditional Turkish hammam is almost a requirement.
4. Hotel Monte Mulini – Rovinj, Istria, Croatia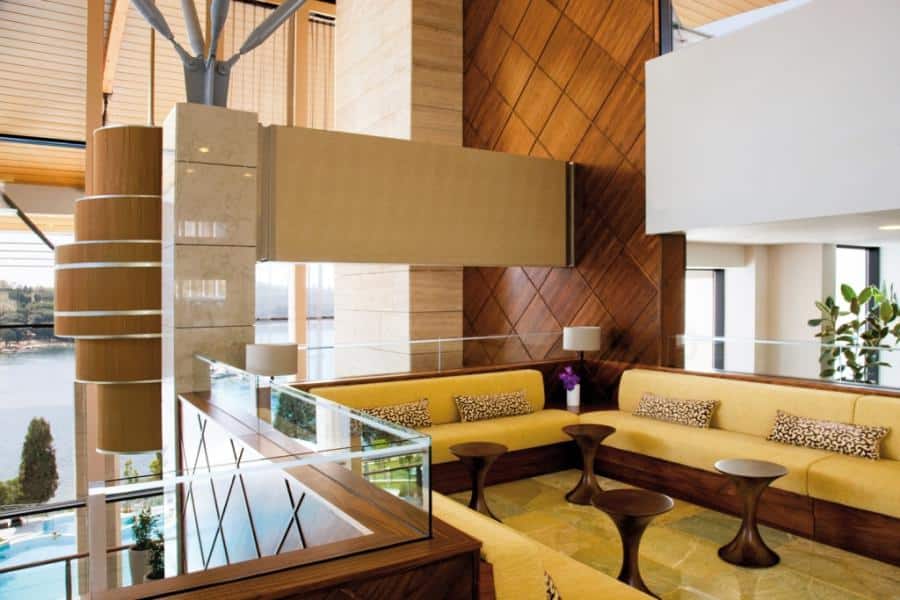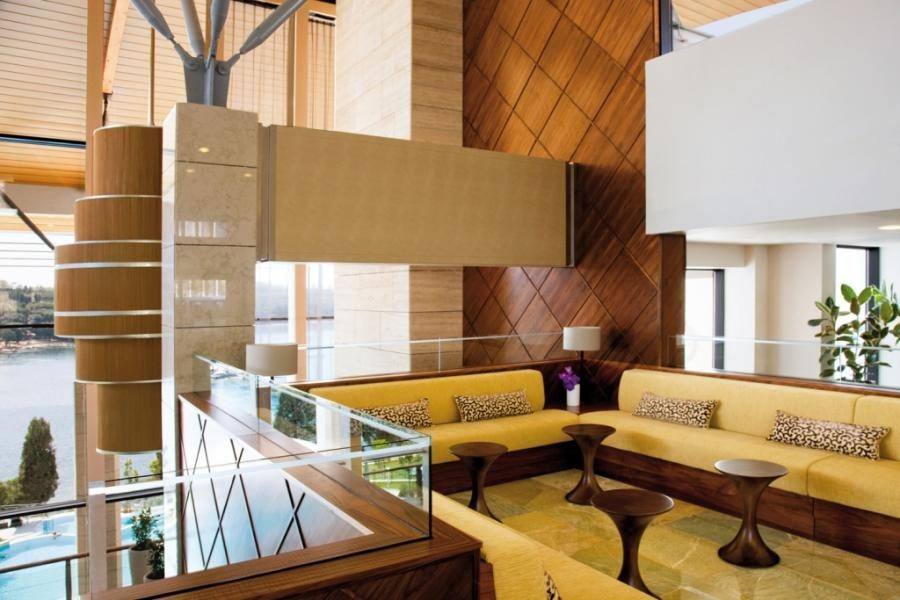 In a beautiful location on the coast, set on the hillside of the bay, surrounded by greenery, and only a 15-minute walk from the historical center of Rovinj is the Hotel Monte Mulini.
The hotel has direct access to the beach and is just a few minutes' walk from the Mulini Beach Club, where you can enjoy free sunbeds during your stay. There is also a large and elegant spa to enjoy in your downtime or as a morning routine. You can choose!
There are two on-site restaurants with à la carte choices, Mediterraneo and Wine Vault, both with a killer reputation for good, authentic food.
5. Hotel Isa Begov Hamam – Sarajevo, Bosnia, and Herzegovina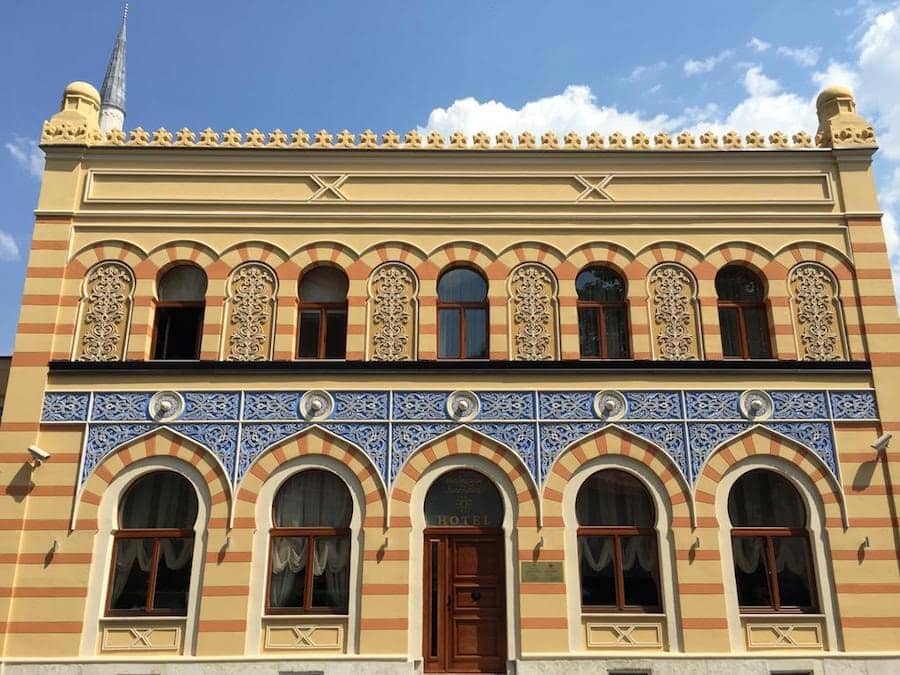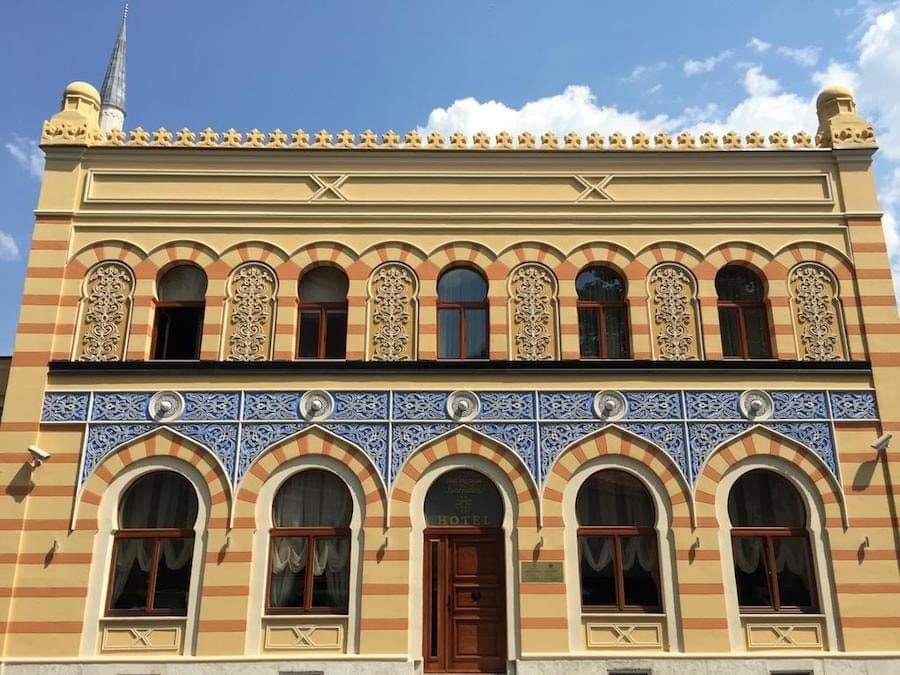 Isa Begov Hamam Hotel in Sarajevo was built more than 120 years ago and believes that the past should be preserved and honored. The boutique hotel features hand-woven carpets and carved furniture to make the experience as unique and authentic as possible. A complimentary hot tub is available for all Hamam guests, and you can also choose from the extensive massage menus.
6. Premier Luxury Mountain Resort – Bansko, Bulgaria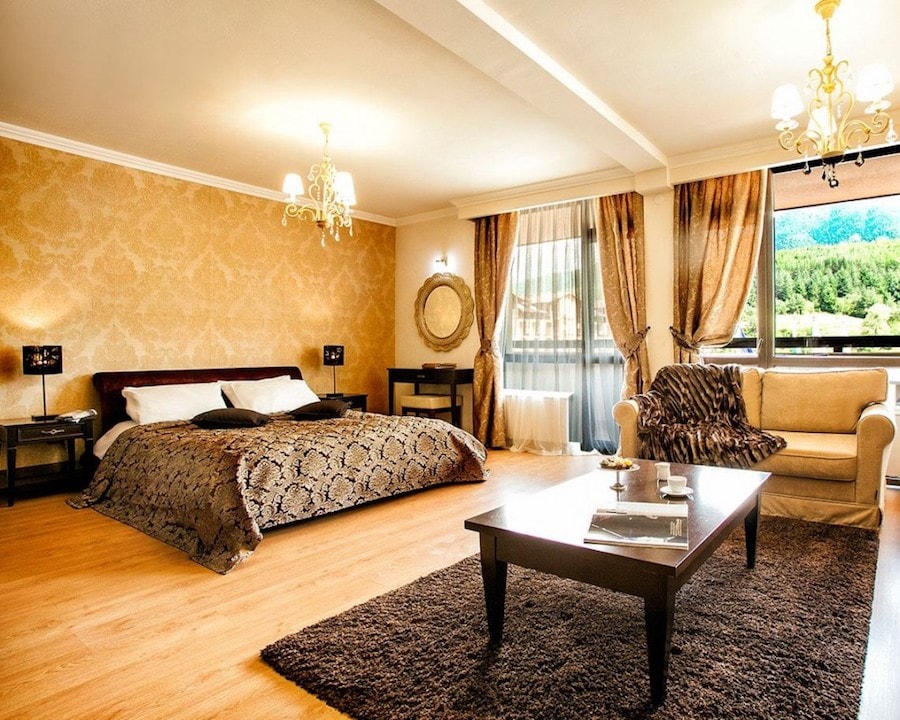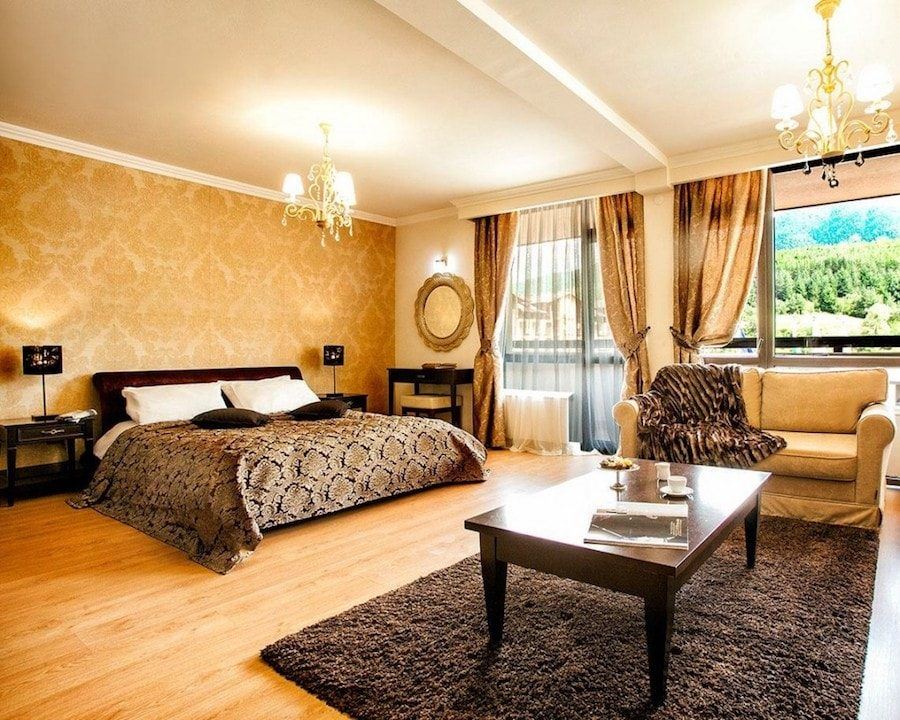 Suppose you prefer the fluffy slopes over pristine beaches and are traveling in the winter. In that case, The Premier Luxury Mountain Resort is located in Bulgaria's best ski zones, in the picturesque town of Bansko.
Surrounded by spectacular mountains and within walking distance of the ski lifts, it offers a haven of natural beauty.
After a day on the ski slopes, you'll want to head to the beautiful wellness center to relax, unwind, and recover. Afterward, you can chow down at one of the two excellent restaurants at the resort – or, if you prefer, you can enjoy your meals in the privacy of your own space, with full room service.
Even if you don't come for skiing, the resort is ideal for diving into total relaxation. In the summer, there are many activities to enjoy, such as hiking through the lush forests, meadows, lakes, and rivers – or you can take a short walk through the city to discover the rich historical and cultural heritage of Bansko.
7. Sani Resort – Kassandra, Greece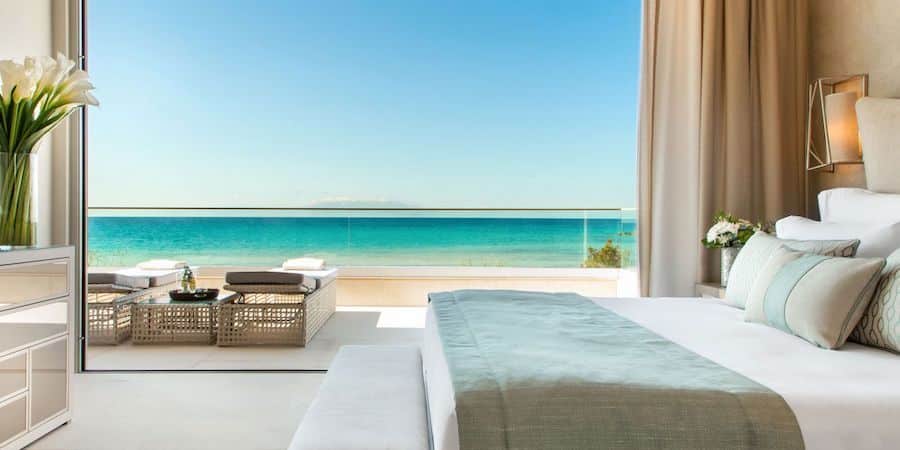 Sani Resort is located in Kassandra, the westernmost peninsula of Halkidiki, in eastern Greece, surrounded by fragrant pines, centuries-old olive trees, and exquisite turquoise lagoons.
Overlooking Mount Olympus, the resort is a quiet paradise overlooking the Aegean Sea, providing you a great escape from the country's tourist islands.
Each of the five hotels, a part of the resort, offers award-winning restaurants, heated swimming pools, private beaches, and luxury spas. Most rooms (villas, bungalows, suites, etc.) offer a magnificent view of the Aegean Sea and living spaces with bright and airy interiors.
The best time to visit the resort is in July and August for the resort's annual Sani Festival. They are committed to putting art and culture at the center of your experience.
8. The Aman Sveti Stefan – Sveti Stefan, Montenegro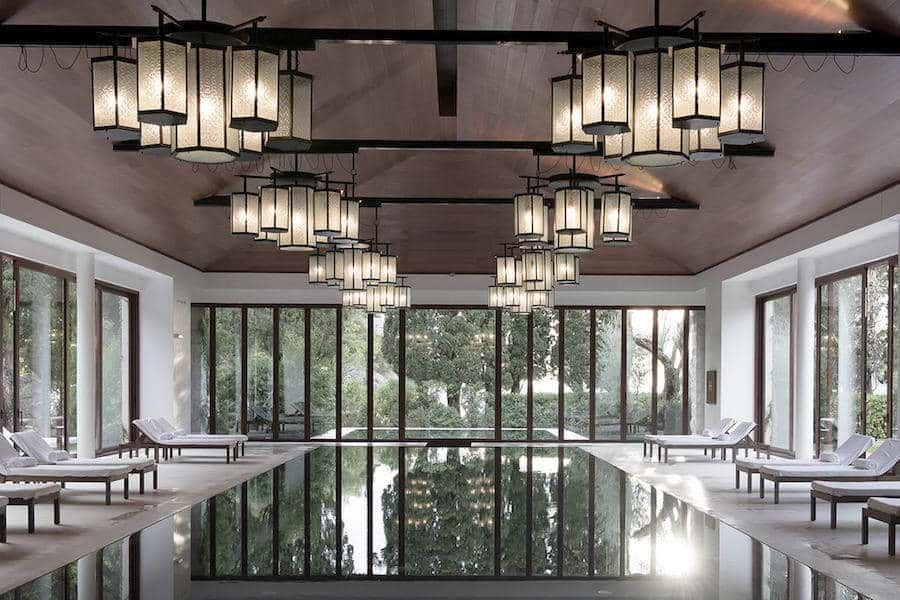 Aman Sveti Stefan is a unique luxury accommodation that combines rustic beauty and historical charm. Located off the coast of Montenegro in the Adriatic Sea, south-west of the capital Podgorica, the resort has a stellar reputation as an unknown hiding place for the rich and famous, having in the past accommodated Hollywood icons such as Elizabeth Taylor and Marilyn Monroe.
The resort was elegantly designed to preserve the romantic and authentic character of the country. Elegant 15th Century stone buildings, accented by stone walls, oak furniture, steel lanterns, and white doors, give a magical touch to the resort's discreet style.
Despite the past-time look, however, the resort's facilities are far from outdated. The Aman Spa, overlooking Queens Beach, offers health and beauty treatments using local and tailored ingredients.
You can also make excursions to nearby attractions such as the historic center of Budva or Kotor Bay, but for most, staying put in the resort makes for a fine vacation.
9. Sun Gardens Dubrovnik – Dubrovnik, Croatia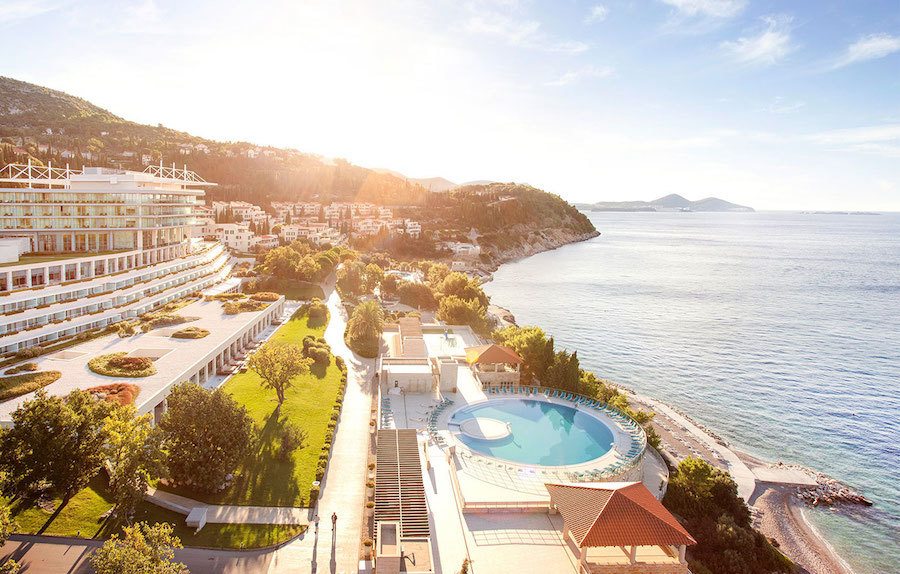 Sun Gardens Dubrovnik, not far from Dubrovnik's historic center but just far enough for peaceful seclusion, offers rooms or suites with private terraces, which are excellent for sunset. It also provides private access to a beach, which you will feel belongs solely to you on some quiet mornings.
The area is surrounded by pine, palm, and olive trees with three swimming pools and several small outdoor bars and restaurants overlooking the Adriatic Sea. Not to mention, there is a sophisticated indoor spa offering a wide range of health and beauty treatments.
10. Boutique Hotel Casa del Mare – Blanche – Herceg Novi, Montenegro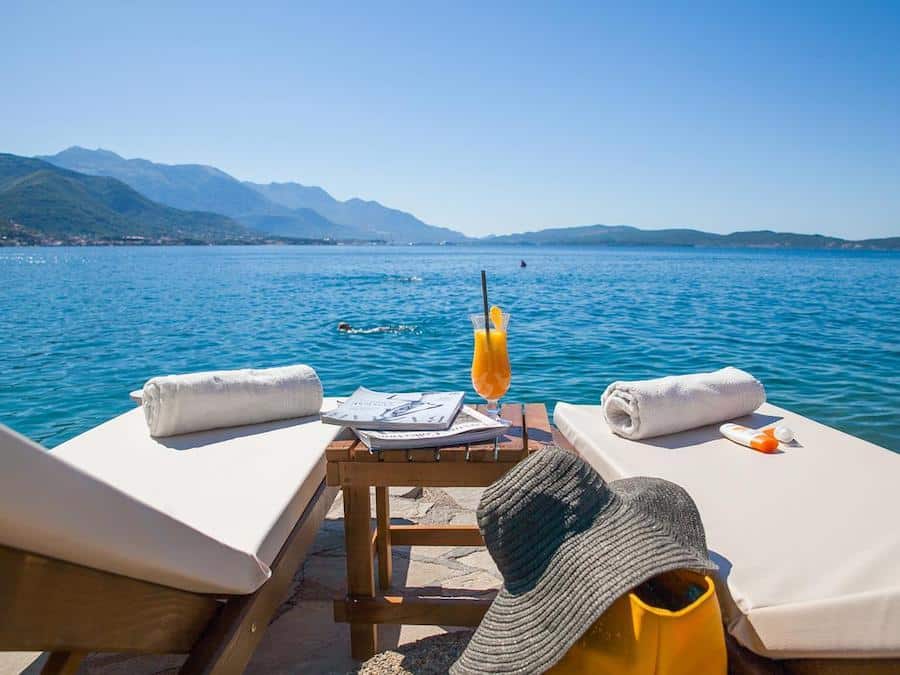 Of course, you can always stay in world-class tourist hotels in busy areas while you are in Montenegro, but if you are looking for a quieter stay, look no further than in the small town of Bijela, halfway between Herceg Novi and Kotor.
Here, the Mediterranean atmosphere of the boutique hotel Casa del Mare – Blanche offers dream-like comfort on the sunny terraces and to-die-for massages, not to mention, it makes our list of best luxury hotels in Montenegro. If you want to enjoy the Bay of Kotor's festive atmosphere, you have the best spots around the bay at your fingertips – Kotor, Tivat, Porto Montenegro, and more. If traveling with a significant other, the hotel can arrange a romantic dinner for two people by the sea.
11. Le Meridien Lav – Podstrana, Croatia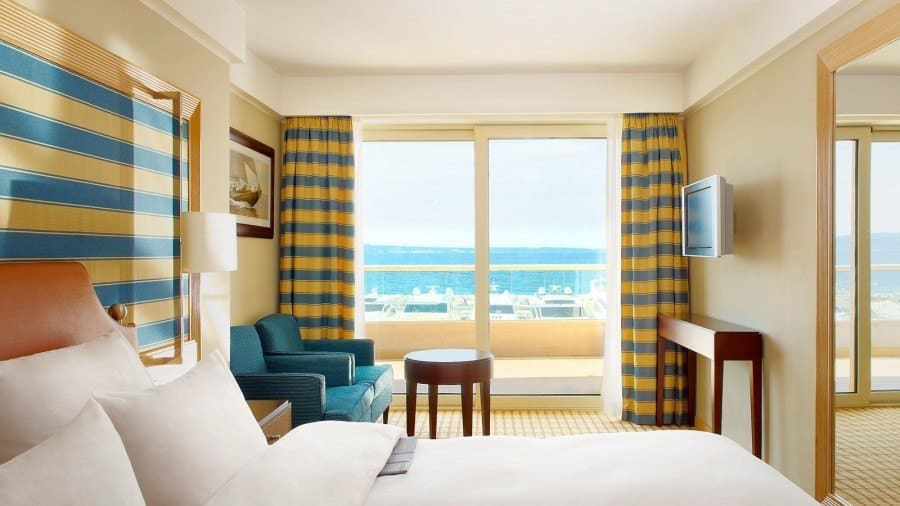 Le Meridien Lav is located just eight kilometers south of Split in Podstrana and enjoys a wonderful location with a half-mile stretch of beautiful beaches, pristine gardens, and breathtaking views of the city and surrounding islands.
This is the largest resort on the Dalmatia Coast, with eight on-property restaurants and bars along the seafront, which feature a wide variety of dishes. At the Diocletian Spa, located in front of a beautiful expanse of sea views, you can relax and enjoy various treatments. Families with children will appreciate the children's club and the family suites, which are perfectly suited to accommodate the whole family.
12. Hotel Excelsior – Dubrovnik, Croatia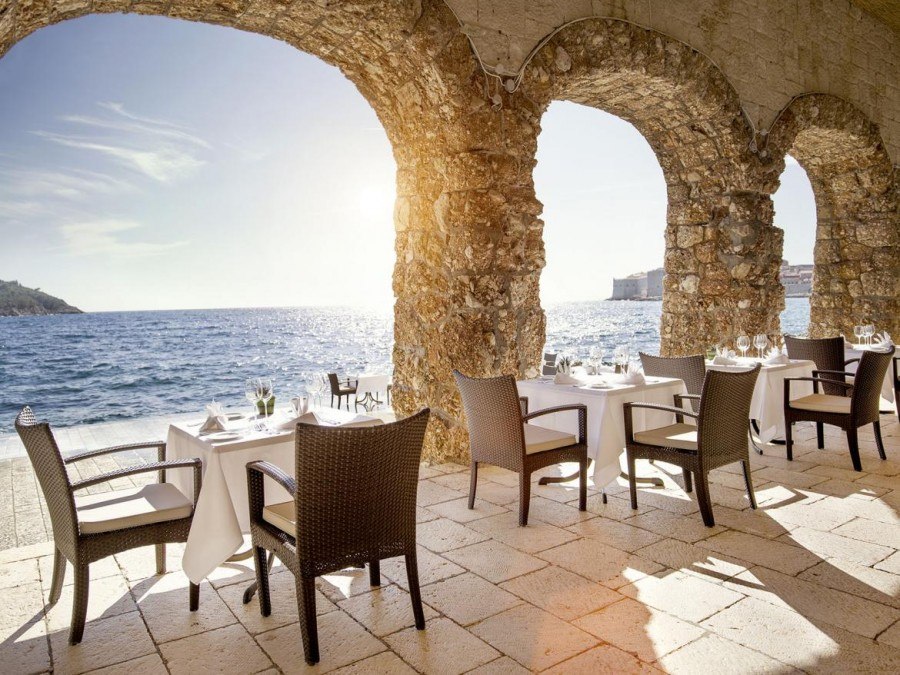 There are several reasons to stay at Hotel Excelsior, including the fantastic sea view and the proximity to the medieval old town of Dubrovnik.
Since 1913, Excelsior has hosted several famous guests such as Queen Elizabeth II, Sir Roger Moore, and Francis Ford Coppola. It consists of the original Villa Odak building and a modern annex, all built on a steep slope. The hotel has just undergone a major renovation that presents a new level of luxury.
13. Phoenicia Grand Hotel – Bucharest, Romania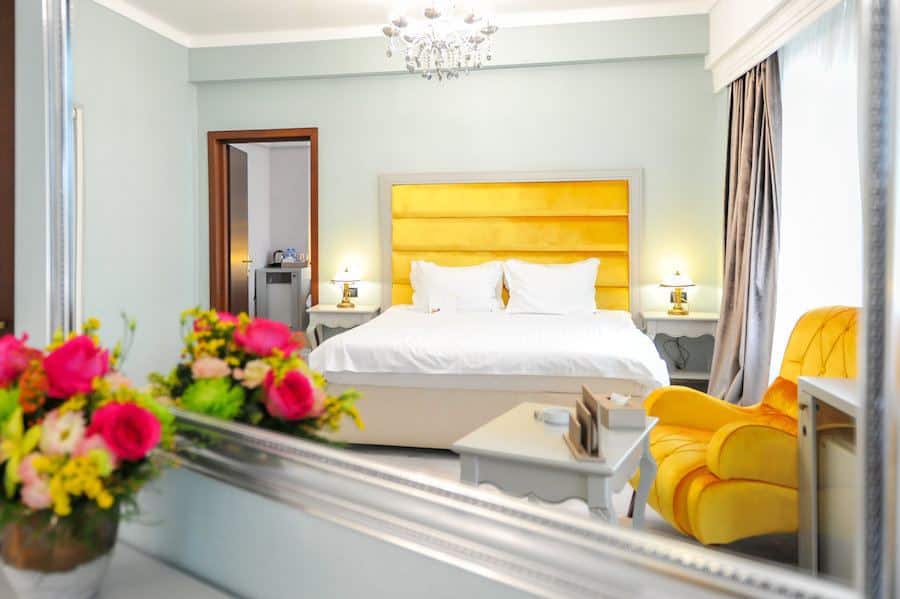 Among the many hotels in the city, the 4-star Phoenicia Grand Hotel is an ideal "home away from home." The concept is to feel like a house more-than a hotel. More than 300 rooms have been designed to look more like a luxury residence rather than a hotel room.
The Spa Center is your key to relaxation after a long day on the streets of Bucharest. All three on-property restaurants will take you on an international culinary journey with menus of Italian, Lebanese, and a variety of other international cuisines.
14. Antiq Palace Hotel & Spa – Ljubljana, Slovenia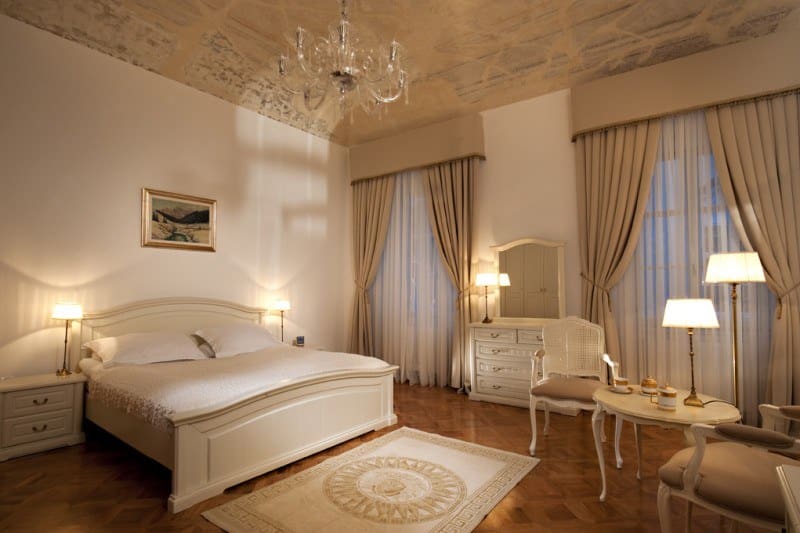 The Antiq Palace Hotel & Spa, based in the heart of the city, was built in the sixteenth century to serve as a noble palace. Discreetly hidden on a charming little street, it radiates a majestic tranquillity and elegance and is a good starting point to explore this small and fantastic village.
All over the property, it retains its sense of aristocratic grandeur with carefully preserved murals, smooth stone walls, and beautiful historical and ancient furniture.
15. Aurora Resort and Spa – Berovo, Macedonia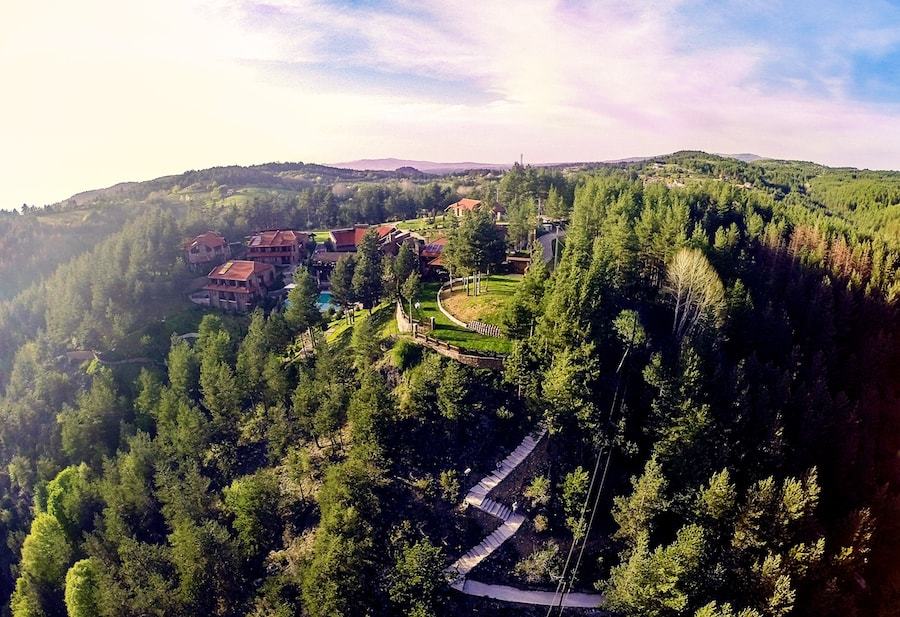 This award-winning spa is one of the best in the Balkans. In 2014, the hotel won the prestigious Spa & Wellness Awards in London. The resort covers more than five hectares of land, overlooking the beautiful scenery of the mountains and Lake Malesh. It is located six kilometers from Berovo at an altitude of nearly 1,100 meters. The hotel is a combination of stone and wood and offers luxury, natural harmony, and many modern amenities. The hotel has a wellness center with an indoor pool, an outdoor pool, a sauna, a hospital, a Turkish bath, a massage center, and a relaxing jacuzzi.
16. Parnassos Ski Resort – Parnassos, Greece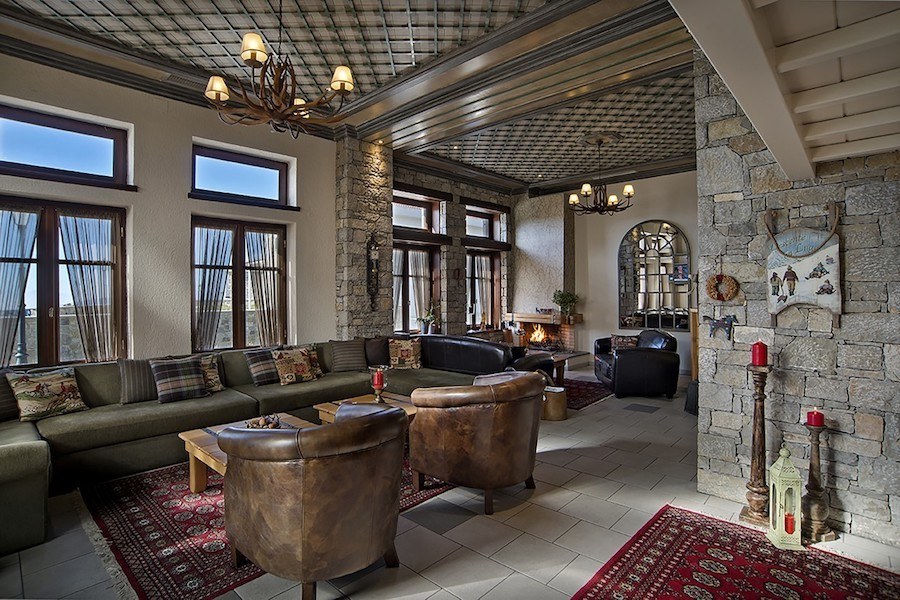 Skiing is probably not the first thing that comes to mind when thinking about holidays in Greece. But it is entirely possible in Greece, and there are many well-equipped ski resorts in this surprisingly mountainous country.
The Parnassos Ski Resort is the ideal choice for a quick ski holiday away from Athens. The trip only takes about two and a half hours, and there are regular ski buses between Athens and Parnassos.
Parnassos is a modern ski resort with 17 lifts, more than 35 kilometers of difficult slopes, ski rental and training courses, and a large cafe. The ski resort's highest point is 2,250 meters, but if you are an experienced climber, you can climb the highest peak in Parnassos, Liakoura, which reaches 2,457 meters high.
17. Hotel Paradise Beach – Vlora, Albania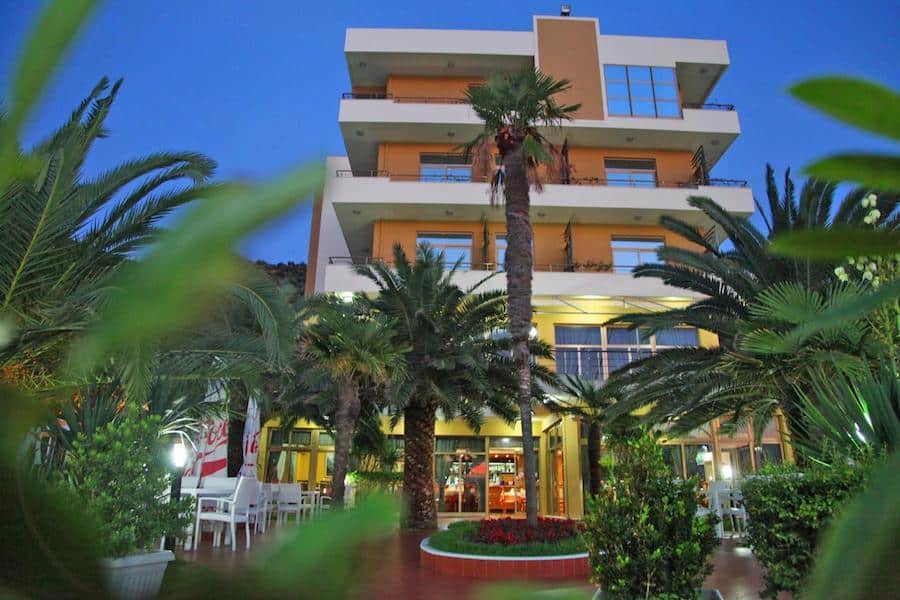 The Paradise Beach Hotel is a luxurious accommodation with modern amenities on the gorgeous southern Albanian Riviera. The area is known for its steep mountains immersed in front of the brilliant blue-turquoise sea.
The coastal road between Vlora and Saranda has been described as one of the most impressive in Eastern Europe, and while staying in Vlora, the Paradise Beach Hotel is the ideal place to check it out.
Two on-site local restaurants offer traditional Albanian cuisine and French and Italian dishes, all prepared by highly qualified professional chefs and paired with a wide selection of the best local and international wines.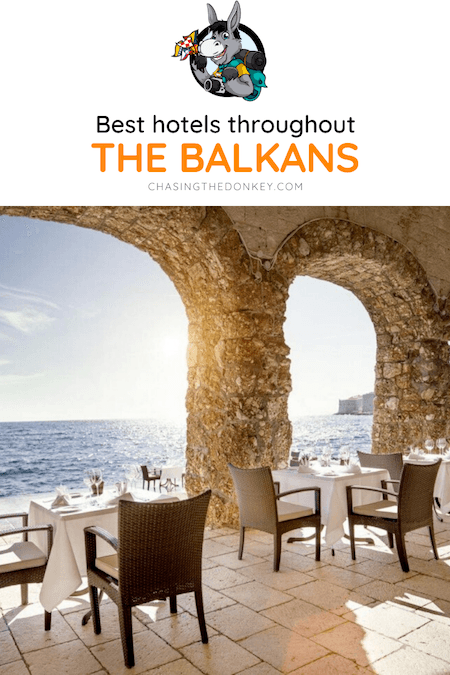 Enjoy Your Stay At These Hotels!
As you can see, there are plenty of humble and extraordinary places to stay in the heart of the Balkans. No matter if you are in the mountains of Transylvania, the luxurious shores of the Albanian Riviera, the sunny coast of the Black Sea, or in the calmness of the quaint Kotor Bay – there is generally a hotel to fit all preferences wherever you go.
This list certainly isn't an end-all-be-all as far as great stays in the Balkans goes. However, if you use it as a guide to putting together an itinerary through the most beautiful places in the Balkans, you are sure to have a great vacation and hotel stays.
If you have any questions regarding where to stay in the Balkans or inquiries about your itinerary, please do not hesitate to reach us!
Share