Privacy & disclaimers →
17 Best Greek Islands For Couples Wanting A Romantic Vacation In Greece
This post is for loved-up couples – of all kinds. If you're designing a couples' Greek island vacation, we've got the low down for Greece for couples. Here are some of the best places in Greece for couples.
LIST OF THE BEST ISLANDS IN GREECE FOR COUPLES
Want to know the best place in Greece for couples? Lucky you, we've got seventeen sites for a couples' trip to Greece.
Alonnisos Island
Astypaleia Island
Folegandros Island
Best Greek Island For Romantic Couples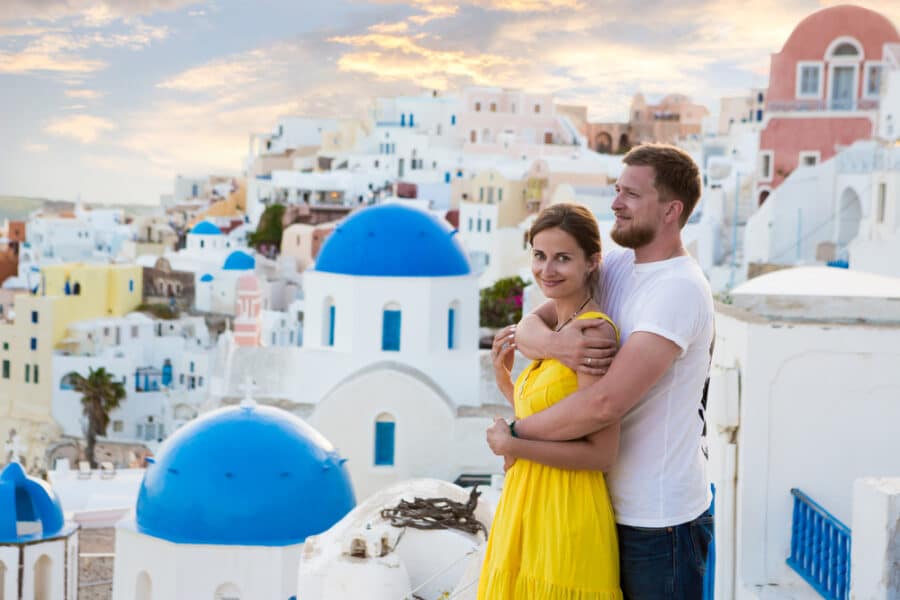 Helllllllo, Santorini! Without question, the most romantic Greek island is Santorini – but you knew that already, right?
Now, let's see what other islands in Greece are suitable for couples.
Best Greek Island For Young Party Couples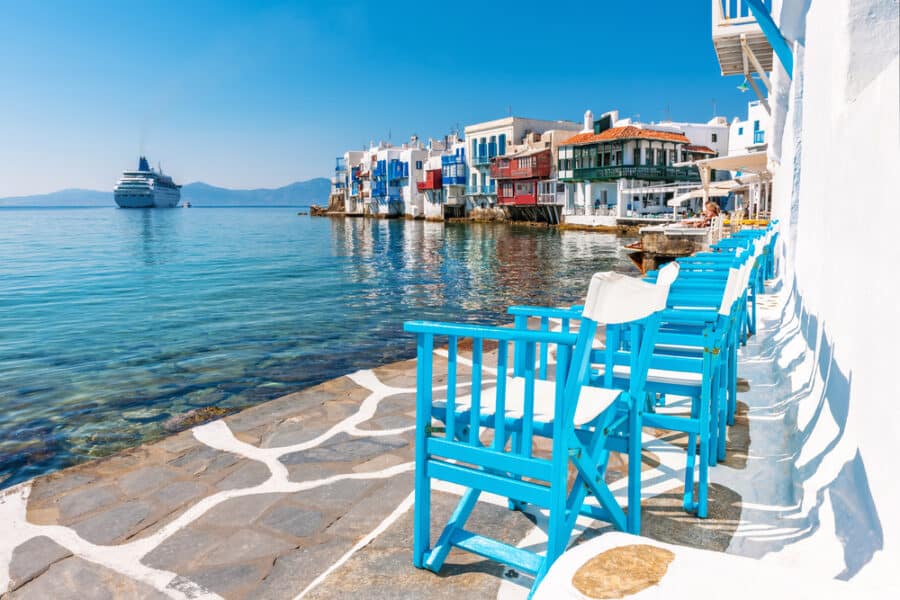 No doubt, the best island for younger couples has to be Mykonos! My husband and I rented scooters in our 20s here and parties for days! Mykonos for couples is a no-brainer.
The cosmopolitan island of Mykonos is an incredible holiday paradise in the Cycladic cluster of islands, and it's one of the most exclusive islands in the middle of the Greek Aegean Sea.
Home to crazy nightlife, discotheques, and beach clubs, Mykonos has rightfully earned the fame of being Greece's top party island.
Not everybody is aware, though, that Mykonos has a few hidden villages that are quiet and relaxing and which can be great for a family holiday.
TRAVEL COMPANIES WE USE AND TRUST
Best Islands In Greece For Couples – Active Couples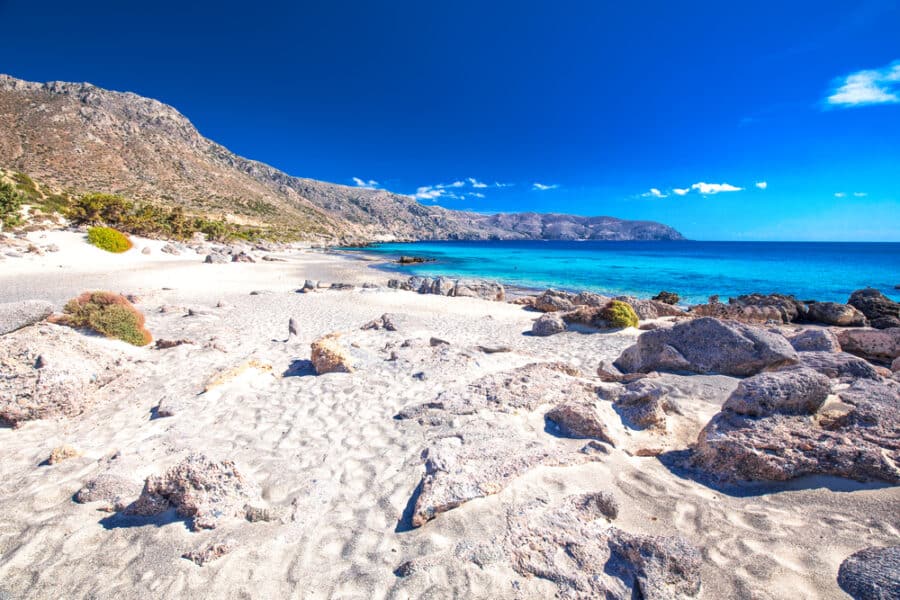 If you want to go hiking or trekking with a touch of hidden beach sunbathing, pack your bags for Crete.
Best Small Greek Islands For Couples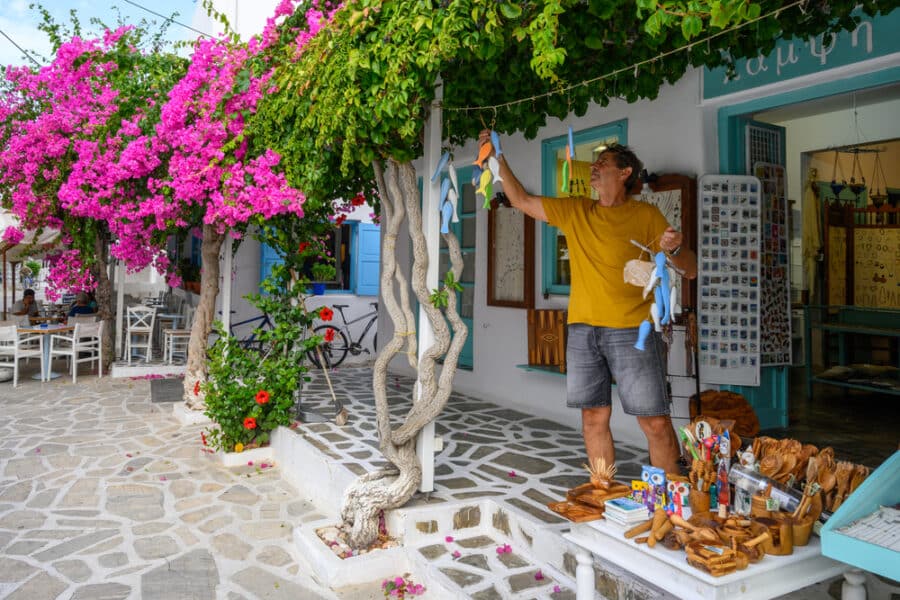 The tiny island of Antiparos is a small Aegean Island located only 10 minutes from the better-known island of Paros. Antiparos was long considered a great day trip from Paros, but as years have passed, many people have started choosing Antiparos for its laid-back vibe and off-the-beaten-path status.
Best Islands For Couples In Greece Who Want To Skip A Party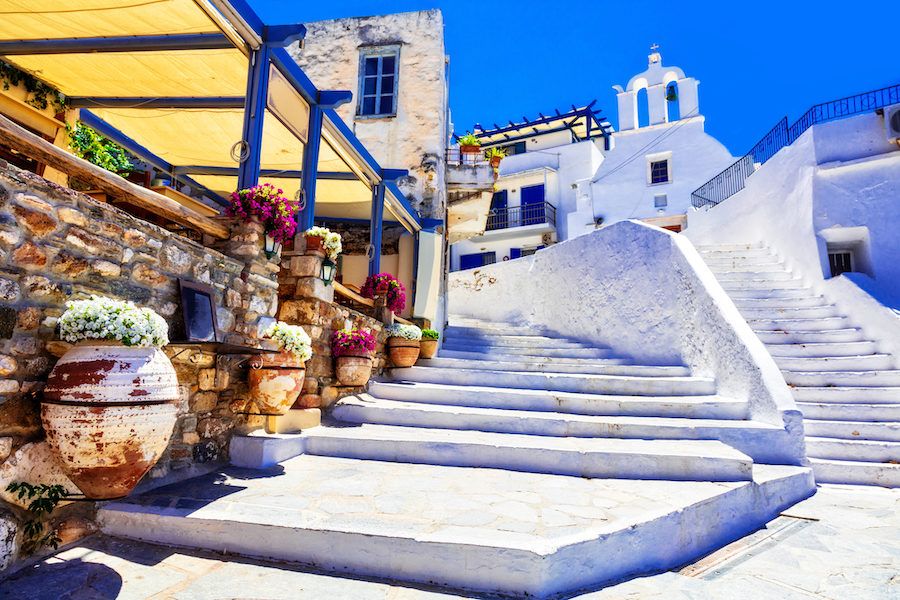 Naxos has to be the best Cyclades island for couples. It is a
small island, but it offers a lot. It's a great couples' destination with amazing beaches, top gastronomy, and rich history.
Best Greek Island For Couples Who Want Total Quiet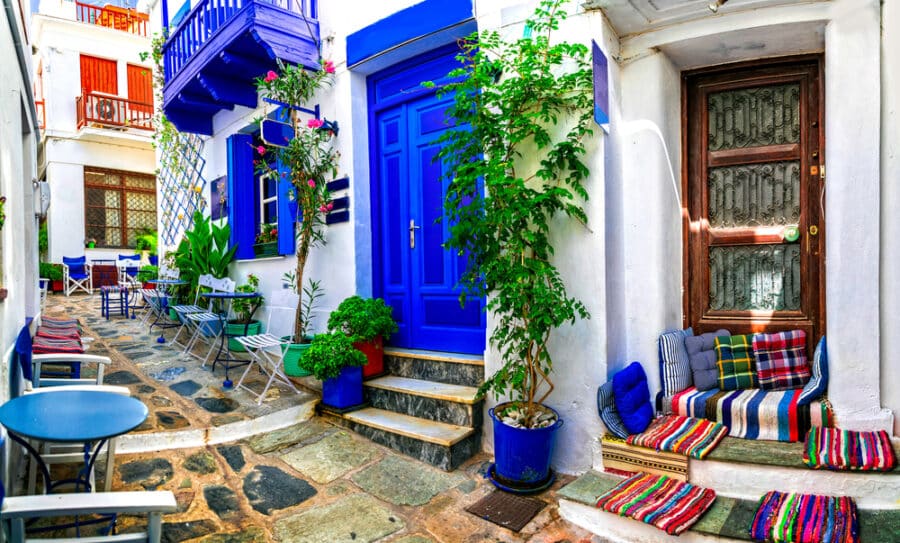 If you're a couple looking to escape the mass-touristic crowds, put Skopelos on your shortlist. Enjoy romantic strolls in the rustic old town, or take your scooter and get loved up in one of the many secret coves.
Best Place To Go In Greece For Couples Who Love The Beach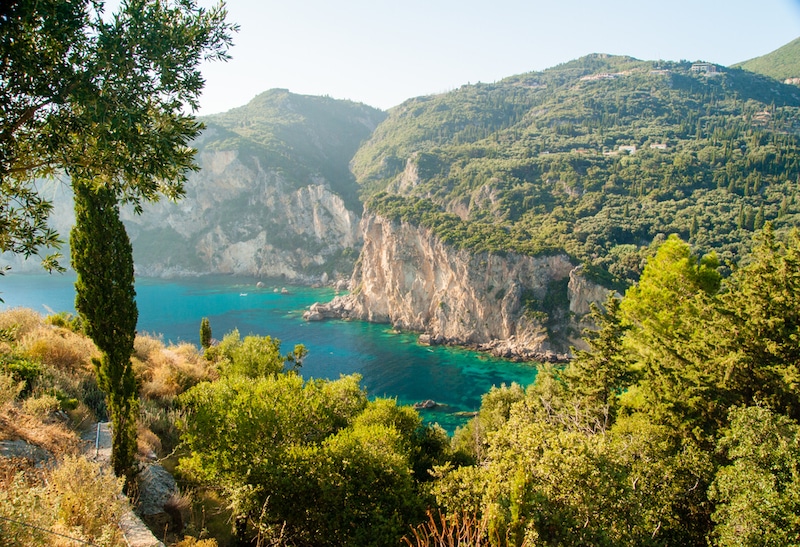 Beach bums should book a couples' trip to the island of Corfu. This Greek island is a classic Green island destination and has some of the best beach resorts in Greece for couples. Whether you are visiting to explore its rich history, hike in the hills, or soak up the sun on one of its magnificent beaches, Corfu has a range of resorts and accommodations to suit every traveler.
More Islands To Visit In Greece For Couples
Alonnisos Island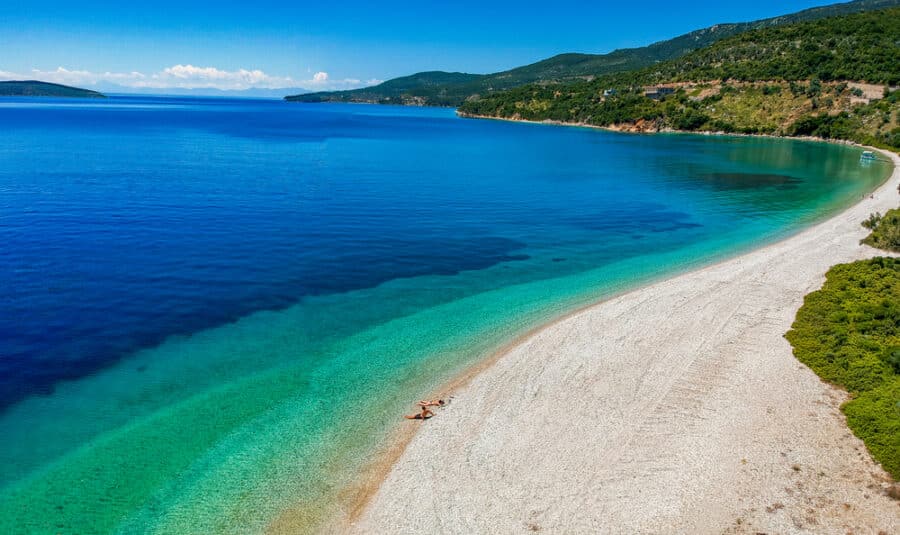 Agios Dimitrios Beach on the island of Alonnisos would make for a very romantic day on the beach.
Astypaleia Island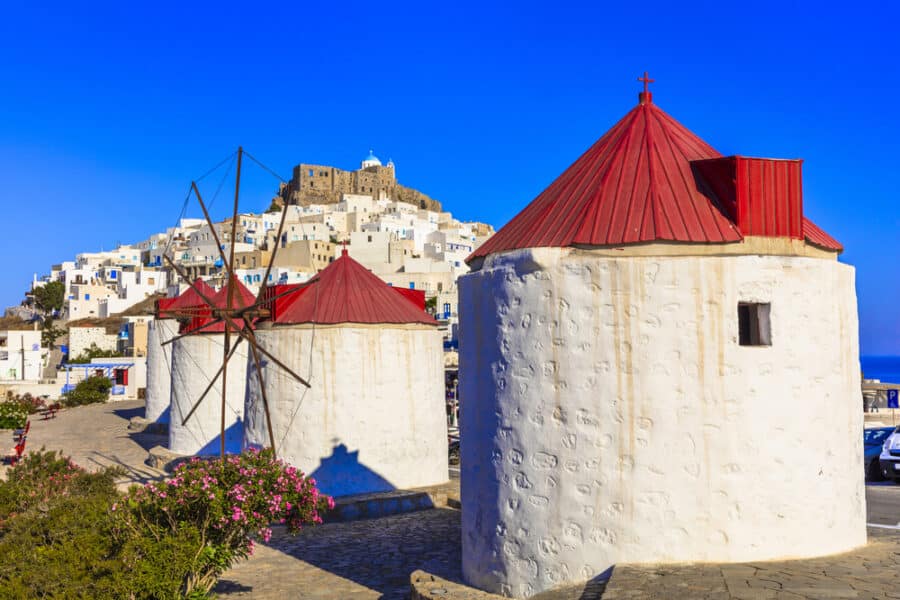 Often considered one of Greece's prettiest islands, Astypaleia is a perfect destination for a peaceful couples holiday. If you are looking for a stunning Cycladic landscape, the island will not disappoint! The picturesque, whitewashed villages on top of the hill dominate the island's landscape.
A row of traditional windmills with red roofs stands next to the other as you approach the Venetian castle and church, crowning the hill on top of the settlement. From here, the views of the surrounding sea are fantastic.
You can reach several quiet beaches with a rental car or hiking. The somewhat odd shape of the Astypaleia, often described as a butterfly, splits the island into two different sections worth exploring.
Hydra Island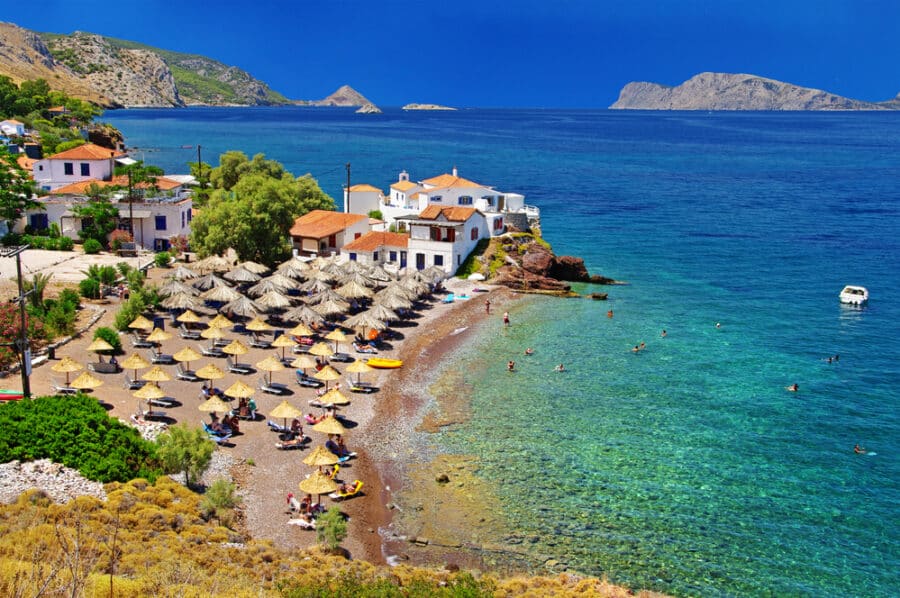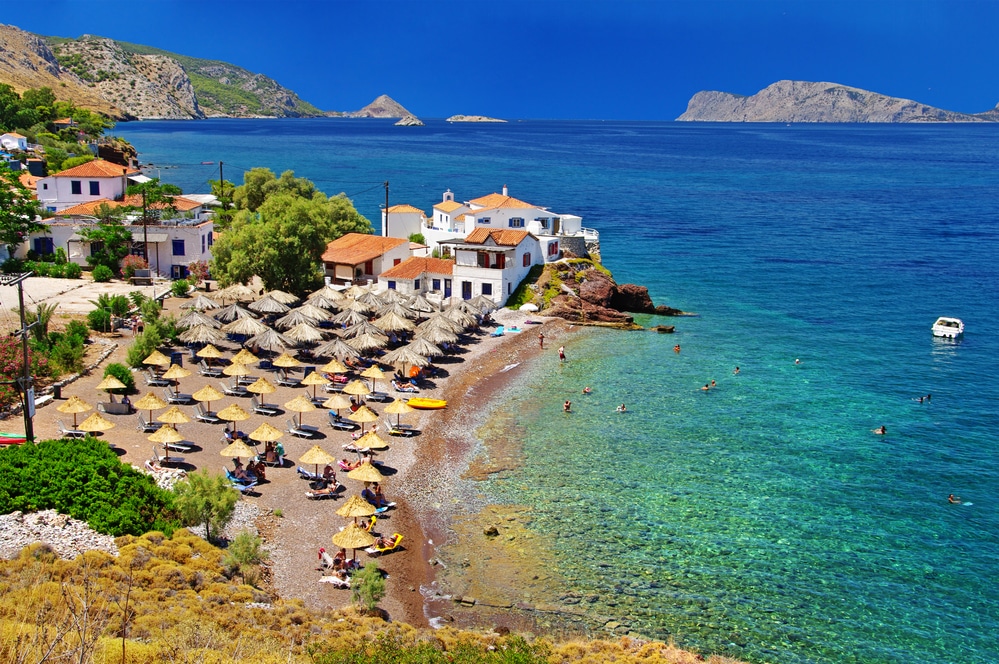 Home to a unique charm and character, the Greek Island of Hydra is located at the center of the Argo Saronic Gulf, just a few nautical miles from Athens.
The island's most remarkable characteristic is that no cars are allowed on the island – perfect for romantic walks, or you can take a donkey and water taxis.
Ios Island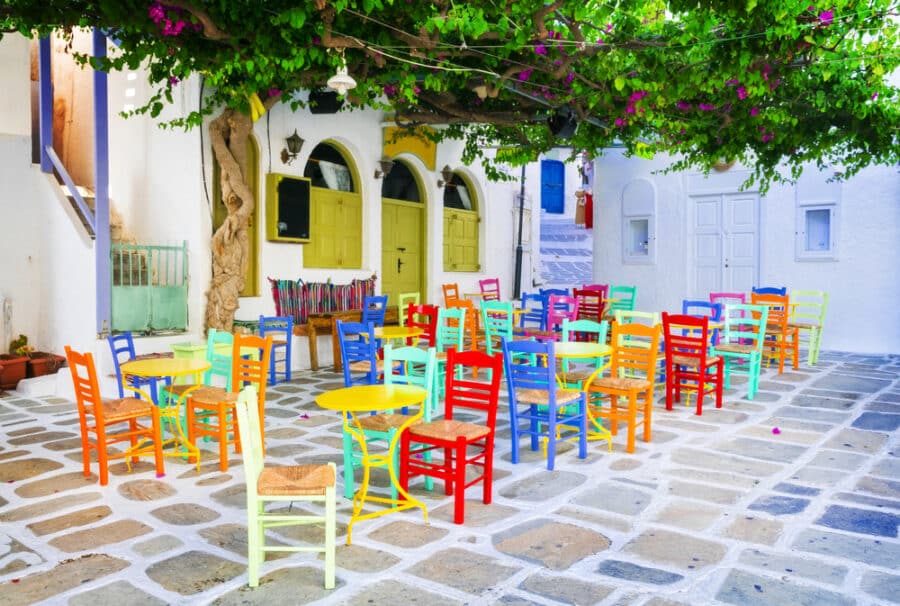 Young, vibrant, and offering plenty of entertainment opportunities, Ios is a trendy
party island in Greece, following right after the much more sophisticated Mykonos. And still, Ios has retained a traditional Cycladic landscape, a rustic lifestyle in some of its forgotten clifftop settlements, and a picturesque scenario made of whitewashed homes and tiny chapels along the cobblestone paths of its main town.
Kefalonia Island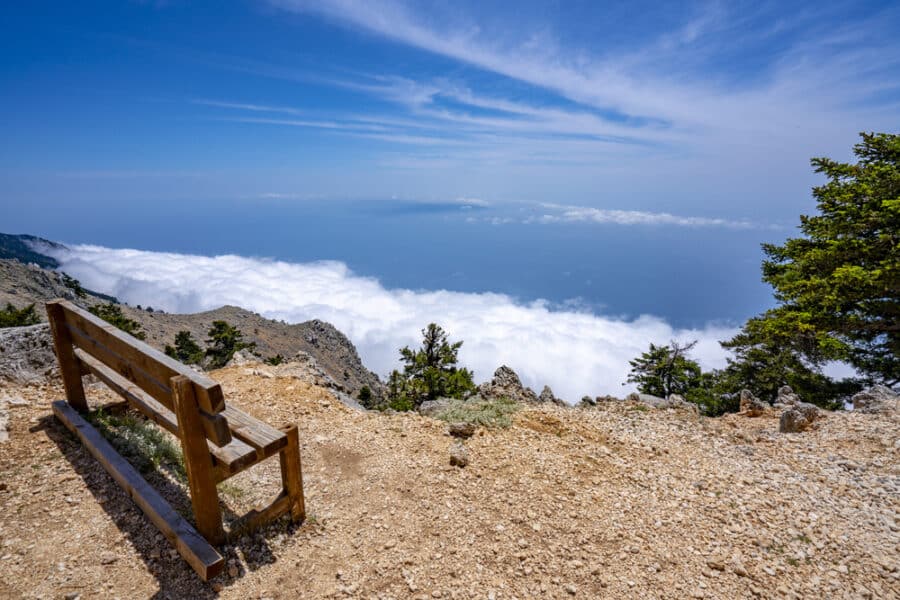 Kefalonia, the biggest island in the Ionian Sea, is a fantastic Greek holiday destination with beautiful deep blue water beaches. Less famous than other destinations in the area, the island features a mountainous but lush landscape with significant natural green regions that couples can explore without the crowds.
Milos Island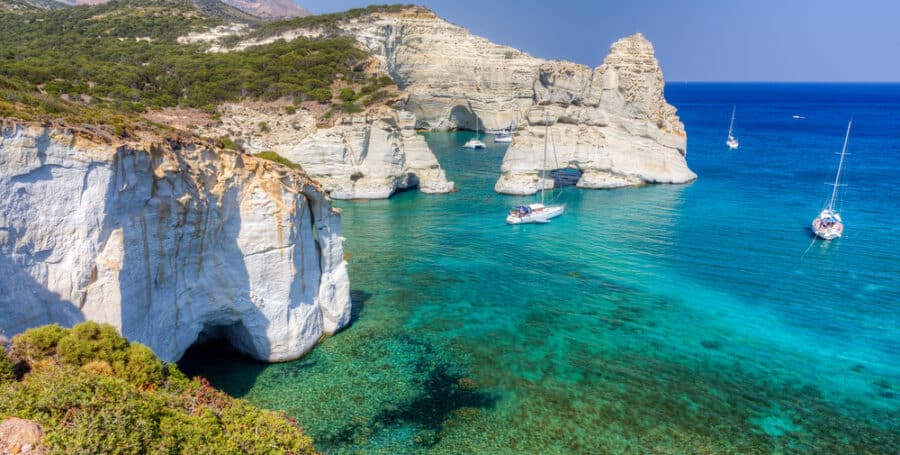 Sharing the exact volcanic origin as Santorini, Milos is one of the many magnificent Greek Islands in the southernmost part of the Cyclades Island cluster. And it's precisely because of its volcanic past that Milos has a stunning lunar landscape and bizarre coastline with some of the most exotic beaches you can find in Greece.
The island features incredible things to do despite being relatively small. You can explore traditional white villages, check archaeological sites, eat delicious food in authentic Greek tavernas, and relax on the island's magnificent beaches.
Paros Island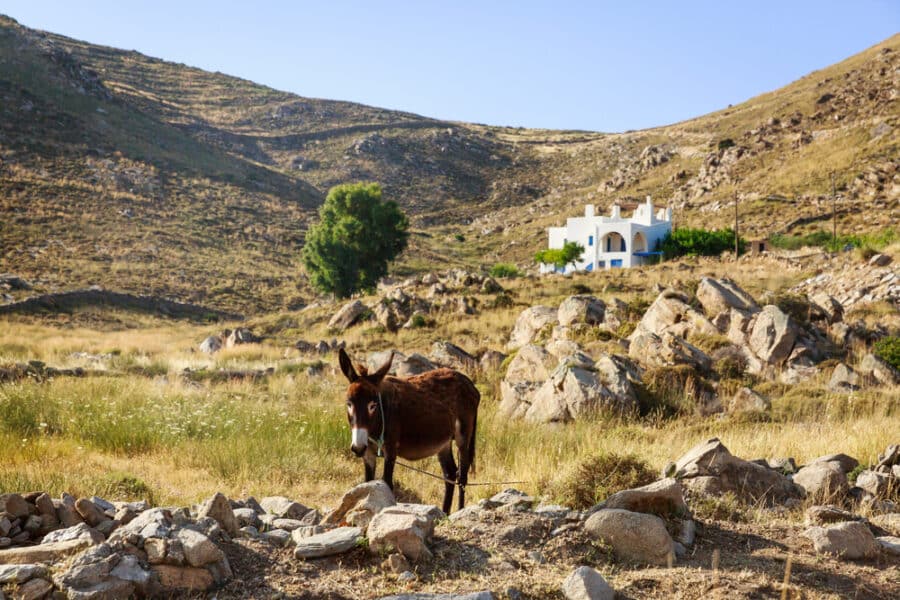 Paros Island, Greece
Zakynthos Island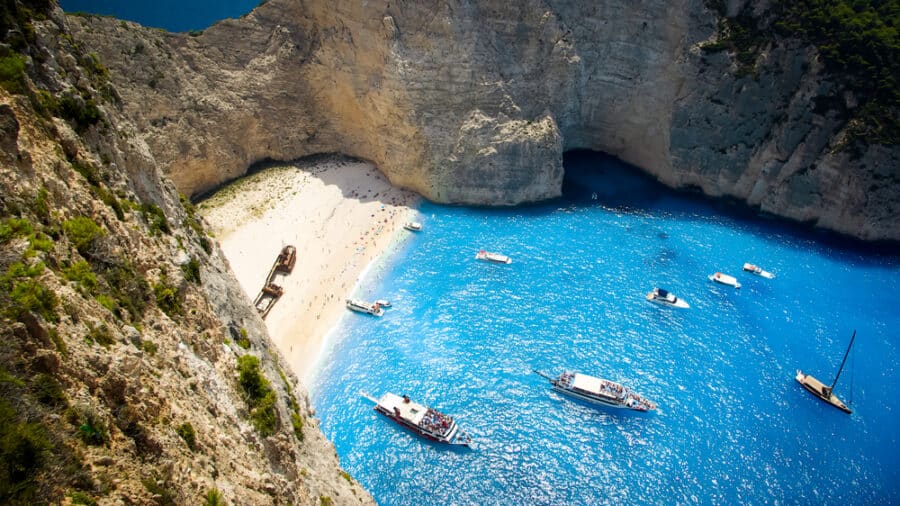 Zakynthos is an exotic island belonging to the Ionian cluster of Greek islands not far from
Corfu. The island, also known as Zante, is a popular summer destination in Europe, receiving thousands of visitors from late May well into September.
The island is often counted among the most visited Greek destinations, with its unique turquoise waters and breathtaking beaches. You most certainly have seen a picture of Zakynthos best-known beach. Navagio (or Shipwreck) beach has been portrayed in endless travel books, Greek Islands guides, and travel websites, which often feature it as one of the most beautiful beaches in Greece.
Greek Island Hopping As A Couple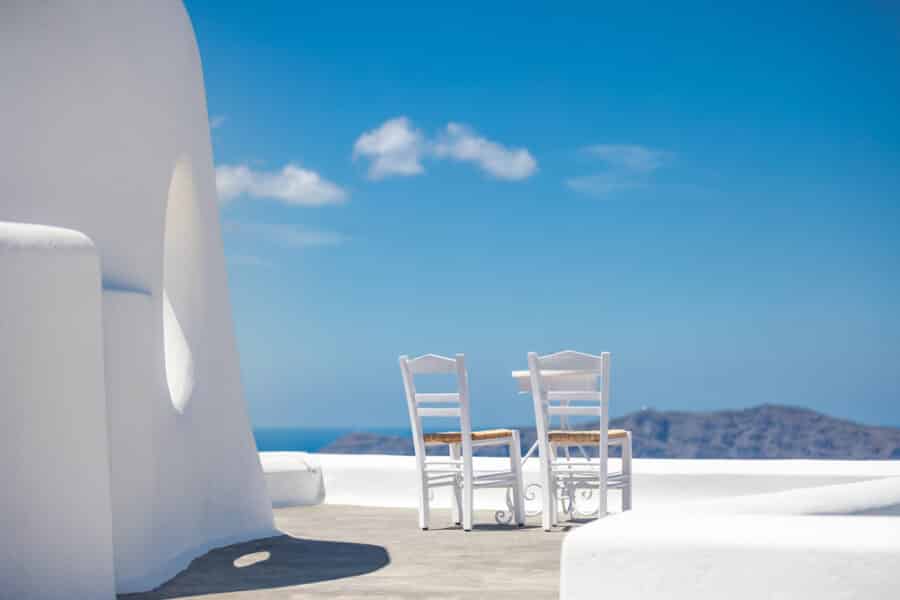 It's going to be hard to choose just one of these Greek islands for your couple's getaway, so don't! Choose a few and island-hop. It may sound like a lot of work, but it is not; here, you can find a guide to island-hopping Greece like a pro.
Best Time To Visit The Greek Islands
When you want to explore the Greek island, the best time to be in Greece has to be between May and October. You can find a complete guide on the seasons in Greece here and the pros and cons when you travel in and out of season.