The easternmost Cycladic island of Amorgos is renowned for its clear waters and charming villages. Famed as the island location in Luc Besson's film "The Big Blue," the island is encompassed by crystal bays, turquoise coves, and incredible views.
Slightly off the beaten track, Amorgos is accessible only by ferry at the island's two ports, Katapola and Aegiali. Once you're on the island, there are so many beautiful spots to explore, and with a variety of beaches, Amorgos Island is the perfect Greek island for a beach getaway.
So, here are our top picks for the best beaches on Amorgos Island.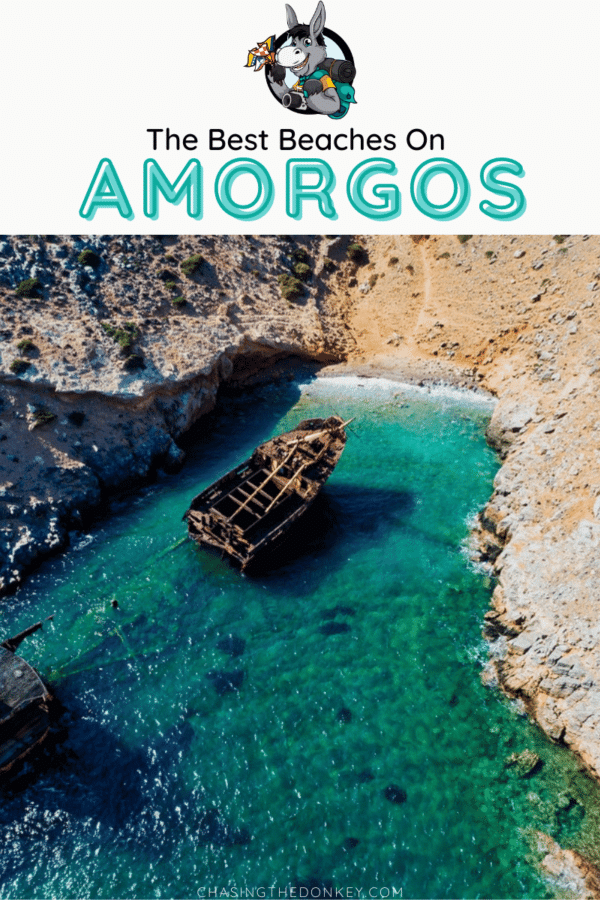 TRAVEL COMPANIES WE USE AND TRUST
Aegiali Beach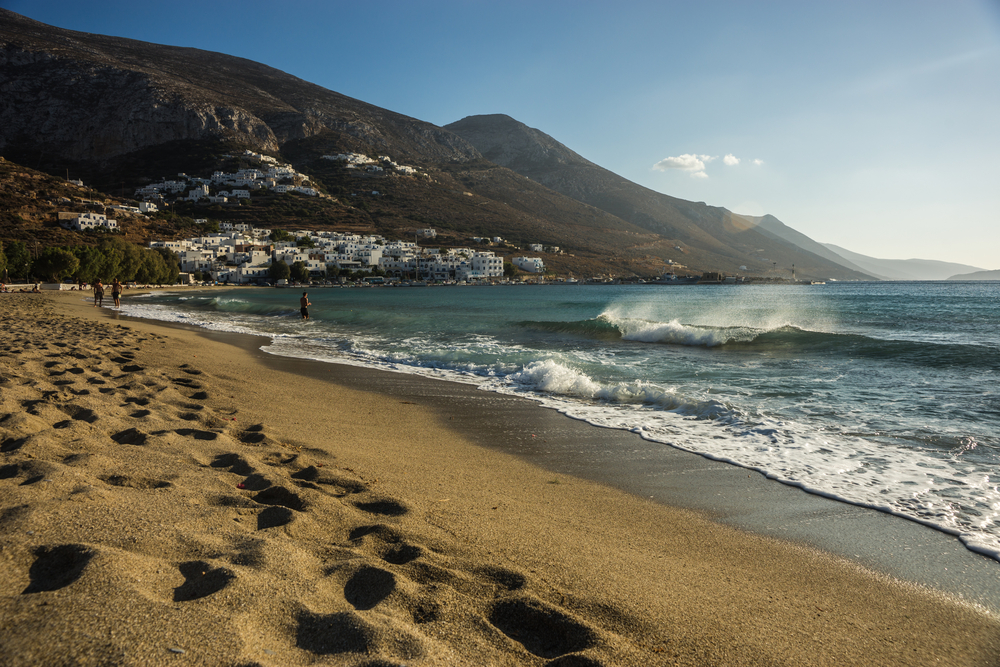 Nestled within the charming village of Aegiali lies the captivating Aegiali Beach. The serene waters of the Aegean Sea embrace this exquisite stretch of golden sand.
Its gentle waves and shallow depths make it an ideal spot for families to enjoy a day of sun-soaked relaxation and safe swimming. With the backdrop of quaint fishing boats bobbing in the distance, Aegiali Beach offers a tranquil escape from the bustling world.
The second most popular beach on the island, Aegiali Beach, is accessible by walking or driving from the town. It is a perfect spot to spend the day.
Ayia Anna Beach
Discover the hidden beauty of Ayia Anna Beach, a secluded gem on the eastern coast of Amorgos.
This enchanting pebbled beach offers a sense of seclusion and tranquility, perfect for those seeking a peaceful retreat. With its crystal-clear waters and stunning panoramic views, Ayia Anna Beach provides an ideal setting for relaxation and reflection.
Only 3km from Chora and a 20 minutes walk from the monastery of Hozoviotissa, the pebble beach offers excellent swimming opportunities.
Ayia Pavlos Beach
Bask in the natural splendor of Ayia Pavlos Beach, a hidden paradise along the southern coast of Amorgos. With its soft golden sands and dramatic cliff formations, this secluded haven offers a truly awe-inspiring setting.
Ayia Pavlos Beach is a haven for adventure seekers and nature enthusiasts, providing excellent opportunities for snorkeling and diving amidst the crystal-clear waters.
Accessible by road, around 10 km from Chora, the beach is excellent for those looking to escape the crowds of the famous beaches.
Nikouria Island
Nikouria is a small, uninhabited island in front of Amorgos, accessible only by boat from Agios Pavlos Beach. This secret gem offers a sense of seclusion and tranquility that is truly unmatched.
With three pristine beaches pristine of crystalline waters, Nikouria Island is a dream come true for beach lovers and solitude seekers alike, as well as a great getaway from the main island.
Boats leave the port throughout the day, each hour, meaning you have flexibility over your day. Take a short boat ride from Aegiali or Katapola to explore this enchanting island and leave your footsteps on the untouched sand.
Kalotaritissa Beach
Located on the southern coast of Amorgos, Kalotaritissa Beach presents an untouched sanctuary of natural beauty. This secluded haven invites you to immerse yourself in its peaceful ambiance, where soft sands meet the shimmering turquoise waters.
With its tranquil atmosphere and unspoiled surroundings, Kalotaritissa Beach offers an idyllic escape for those seeking serenity and relaxation.
Kalotaritissa Beach is in the south of the island, 20km from Chora, and it is reachable by road.
Katapola Beach
Katapola Beach is a sandy beach in the harbor of Katapola, next to the port of this quaint Greek island village.
With its soft sands and gentle waves, this beach is ideal for leisurely swims and sunbathing. The beach is lined by hotels, fish tavernas, and various shops, making it a perfect spot for relaxation and indulgence.
To reach Katapola Beach, you must get to Katopola by car, public transport, or boat, and you are already there!
Levrossos Beach
Tucked away amidst rocky cliffs and embraced by turquoise waters, Levrossos Beach exudes an air of seclusion and natural splendor. This charming beach offers a serene escape where you can unwind and appreciate the untouched beauty of your surroundings.
Whether you swim, snorkel, or bask in the sun, Levrossos Beach provides an idyllic sanctuary. Although there are no facilities on the beach, the beach offers natural shade by way of rows of trees lining the shores.
Accessible by walking or car, you can park nearby and take a leisurely walk down to the beach or hike from the village of Tholaria. The beach is also accessible by taxi boat from Aegiali port.
Maltezi Beach
Maltezi is a secluded sandy beach with clear blue-green water. Boasting a taverna right on the shore and sun beds available for rent, Maltezi is a great place to spend the day. Pebbled shores and crystal-clear waters: this beach is perfect for swimming and snorkeling enthusiasts.
Interestingly Maltezi Beach can only be reached by a hike or boat from the island's main port, Katapola. Crossings take around 10 minutes, and boats depart every 30 minutes throughout the day. The crew often plays traditional Greek music during the crossing as you sail around Katapola Bay.
Although the beach cannot be reached by car, it is popular among families.
Mouros Beach
Located in Kato Meria, near Vroutsi and Kamari, Moros Beach is a small beach with grey pebbles surrounded by massive rocks.
With stunning crystal-clear turquoise water and small caves to explore, Mouros is an excellent place for those seeking some adventure under the sun.
To reach Mouros Beach, drive from Chora to Berry through Arkesini. When the road ends, you can park your car and walk down a path for 10 minutes to the beach.
Paradisia Beach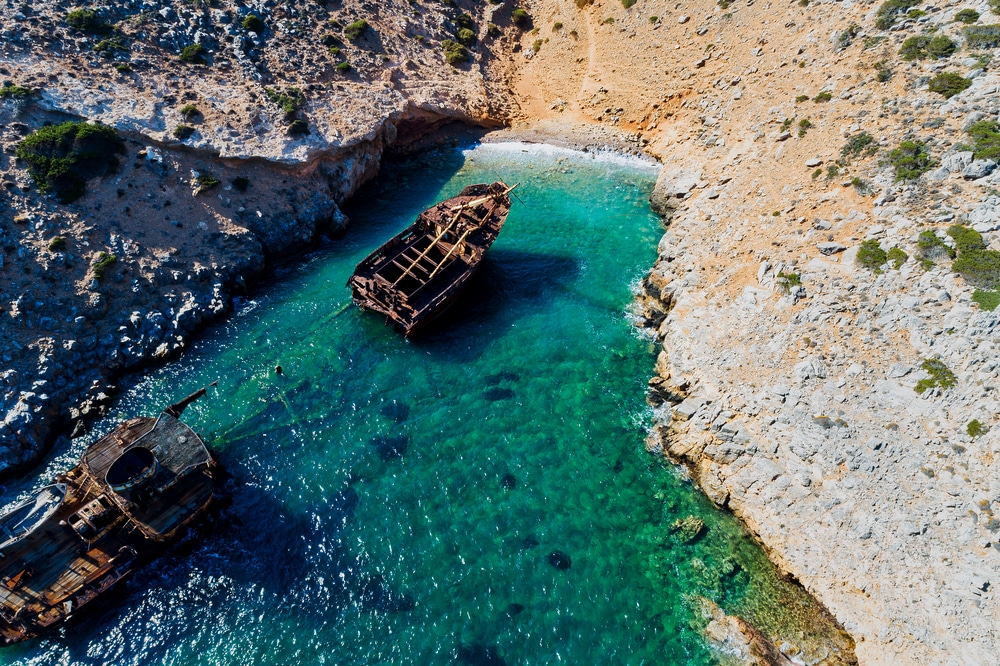 The name doesn't lie. Step into paradise at Paradise Beach, a small beach in the south of Amorgos, located near Kalofana and Ayia Paraskevi church.
This beach is a paradise on Earth with its soft white sands, shimmering turquoise waters, and breathtaking cliffs. Whether you seek a romantic escape or a peaceful retreat, Paradise Beach offers a serene and idyllic setting.
You can access the beach by car and stop by the famous Olympia shipwreck shown in the movie "The Big Blue.
Now you have a list of the best beaches on Amorgos Island, Greece; you're ready to have a brilliant trip.
These are just a few of the beaches of Amorgos; there are, of course, many more waiting to be explored. All you have to do is decide which of these Amorgos beaches you'll swim at first.