Amorgos, known for its crystal-clear waters, sandy shores, and steep cliffs, is an excellent choice for your next summer break. There are several ancient landmarks on the island, including a castle, a monastery, and the ruins of an ancient Minoan settlement. Amorgos' beautiful beaches and blue waters make the island resemble Eden. If you wish to spend your next summer vacation on this idyllic Greek island, start planning your perfect holiday with this exclusive guide we prepared!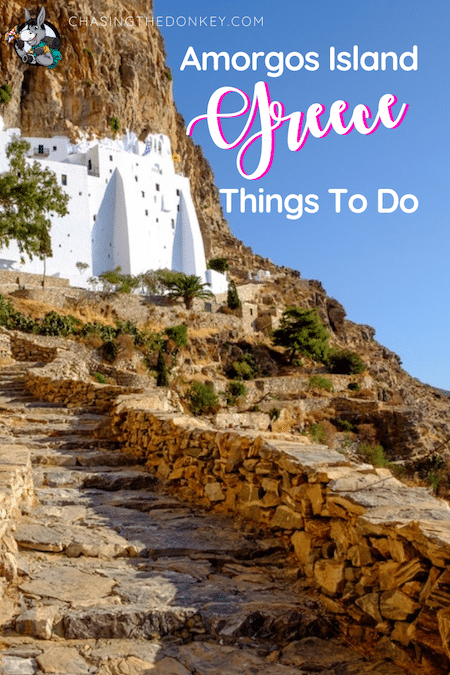 About Amorgos
Amorgos is an island in the Cyclades group with a long history dating back thousands of years. The island's earliest artifacts date back to the 28th century BCE.
Amorgos was famous for its olive and wine production in antiquity and contained the temple of Aphrodite. Many empires, including the Macedonians, Romans, and Byzantines, conquered the island over history. The Ottoman Empire captured the island in 1566 and governed it until 1829.
The island is today renowned for its stunning historical landmarks, breathtaking natural beauty, and crystal-clear water. Despite being a filming location for many productions, notably the 1988 film "The Big Blue," Amorgos is one of Greece's few unspoiled islands.
How To Get To Amorgos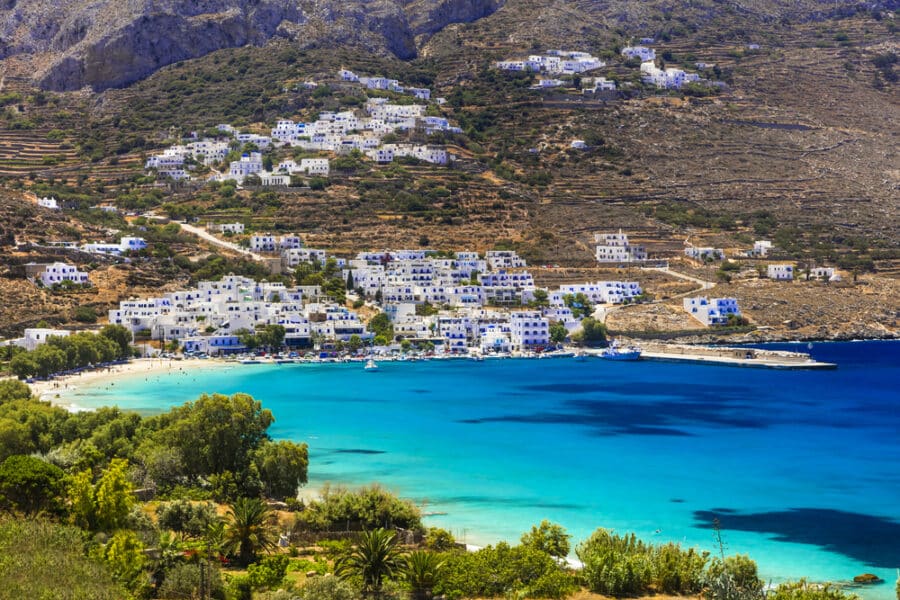 Like many other Greek islands, Amorgos is only accessible from the sea. Although Amorgos Island does not have an airport, visitors can fly to Athens, Naxos, or Santorini and then take a ferry to the island. The ferry route from Athens' Piraeus port to Amorgos, which runs three to four times per week, is one of the quickest methods to reach the island.
TRAVEL COMPANIES WE USE AND TRUST
The Best Beaches On Amorgos
Mouros Beach
Mouros beach is one of the best beaches on Amorgos Island. It is a true paradise, with crystal-clear water that sparkles in the sun and soft, powdery sand that stretches out as far as the eye can see. The turquoise water and sugar-white sand create a spectacular setting, and the warm, fragrant air is full of the sound of waves crashing against the shore. The deep, vibrant blue waters of Mouros Beach are perfect for swimming, snorkeling, and diving, while its wonderful nature makes it an ideal spot for relaxing and unwinding.
Agios Pavlos Beach
Nestled in a secluded cove is Agios Pavlos beach. An oasis of tranquillity, with clear, pale blue water and soft, pale gold sand, the beach offers you the perfect holiday. Gentle waves lap at the shore, and the air is plenty with the calls of tropical birds. The powdery white sand invites you to enjoy a paradise far away from the boredom of city life and spend your time without any interruption from the outer world. Read your book, sunbathe, swim or listen to the songs of seabirds; Agios Pavlos offers you a safe and soothing space.
Nikouria Beach
On the shores of the Aegean Sea, Nikouria Beach is a calm paradise for those who want to soak up the warm Mediterranean sun. With its crystal-clear waters, soft white sands, and rich blue waters, Nikouria has a typical Mediterranean atmosphere. Sometimes, a herd of goats might come by as these islands are their home. As the sun sets over the sea, the sky turns ablaze with orange, pink, and purple hues, creating a truly sensational spectacle; at this point, the best thing to do is to sit back with a glass of wine and watch the world go.
Aegiali Beach
Aegiali Beach is a beautiful and famous beach located on the island of Amorgos in the Aegean Sea. It is near a cute Greek village with olive trees and white-washed houses. The beach is a vast stretch of golden sand and crystal-clear waters, surrounded by native trees and lush greenery. The scenery is dazzling, with the village's white houses nestled amongst the olive groves on the hillside above the beach. Several tavernas serve traditional Greek cuisine. The beach is a stunning and peaceful place to relax and de-stress.
Levressos Beach
Our last beach on this list is Levressos, a small, sheltered cove with golden sands and crystal-clear waters. It is surrounded by rocky cliffs and lush greenery, providing a sense of seclusion and privacy. However, as there are more popular beaches on the island, Levressos is usually a peaceful option with fewer people around. Therefore, if you want a quiet and relaxing beach holiday in Greece, Levressos is one of the best options. The beach is popular with nudists, which means you may see naked people around. Although there aren't any high-quality facilities on the beach, it is only 1 kilometer from Aegialis, which hosts some taverns where you can taste delicious Greek cuisine.
What To Do On Amorgos
Visit The Monastery Of Panagia Hozoviotissa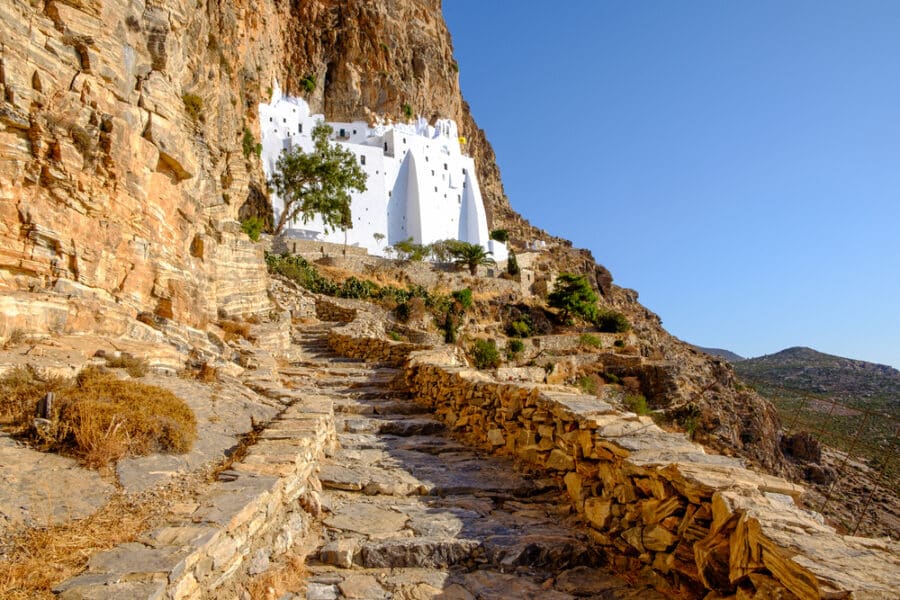 Panagia Hozoviotissa was built in the 11th century on a magnificent cliffside with astonishing views of the surrounding environment. The monastery was erected as a tribute to the Virgin Mary and is recognized for its stunning design and exquisite, white-washed walls.
Explore The Local History With Museums
There are many museums on the little island of Amorgos. However, those interested in the island's history should go to the Archaeological Museum, which houses many old artifacts from the island's prior civilizations. Also, another museum called the Christian Museum of Amorgos draws visitors with unique artifacts from the island's religious heritage. Both museums are must-see attractions in Amorgos.
Discover The Ancient Minoan City
If you wonder what to see in Amorgos, you should visit the ruins of an ancient Minoan city. Located on the lush ground near a water body, the ruins of ancient Minoa provide a fascinating glimpse into the island's archaic past while offering visitors the opportunity to take lots of instagrammable pictures and learn about the island's history and culture. However, if you don't like hiking, you might want to skip this attraction since it will require you to climb some hills and walk for tens of minutes. If you like hiking, it's a must, as it made our list of best hiking spots in Greece.
Where To Stay On Amorgos
Filoxenia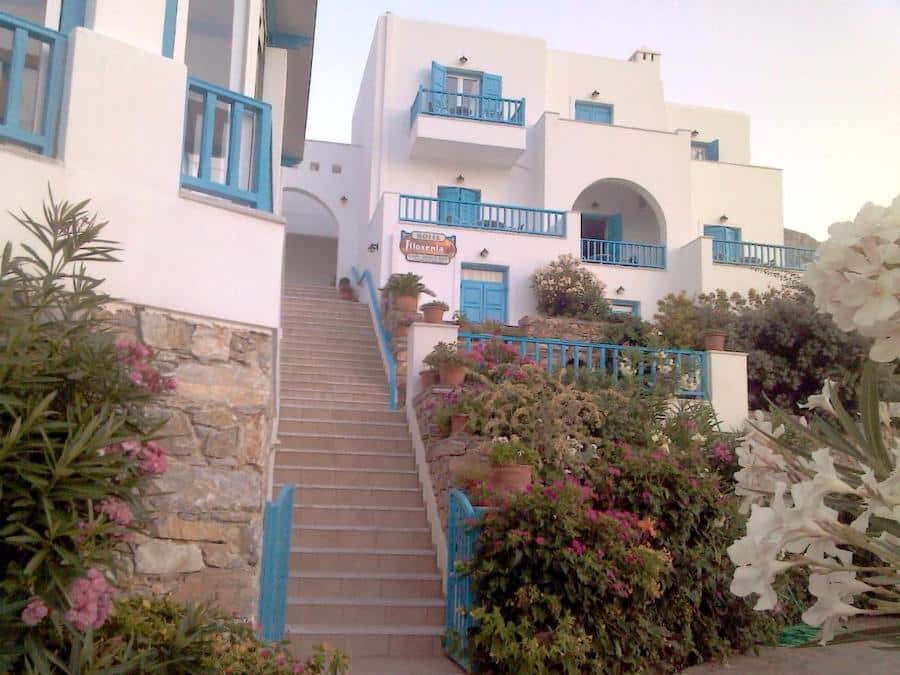 Filoxenia is in a picturesque spot, surrounded by stunning landscapes and spectacular views. It is in Aegiali, a village known for its white-washed houses, traditional streets, and cozy tavernas serving delicious Mediterranean food.
The hotel has a variety of amenities available, including fresh food and clean rooms viewing delightful scenery. Whether you are looking for adventure or relaxation, Filoxenia is the ideal base for exploring the island and experiencing all it offers.
Aqua Petra Hotel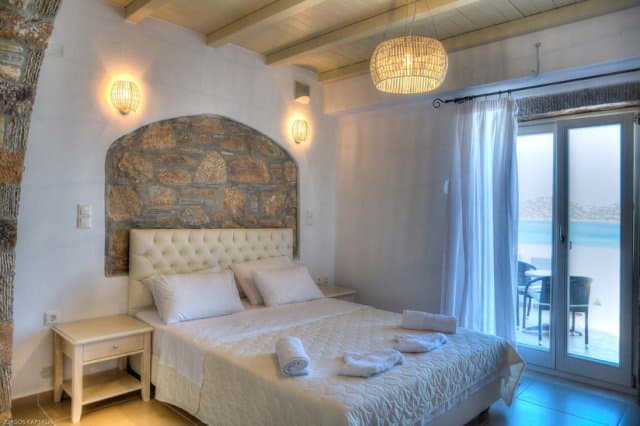 Situated near the beautiful beach of Agios Pavlos, Aqua Petra Hotel is a three-star hotel with high-quality facilities. The hotel is a modern and comfortable place to stay, with a small terrace viewing the sea.
Aqua Petra offers guests complimentary breakfast, and their restaurant makes delicious Greek food with healthy local ingredients. You can get to Agios Pavlos beach within minutes by foot from the hotel, which makes it the perfect base for those looking for a comfortable and relaxing beach vacation.
Vorina Ktismata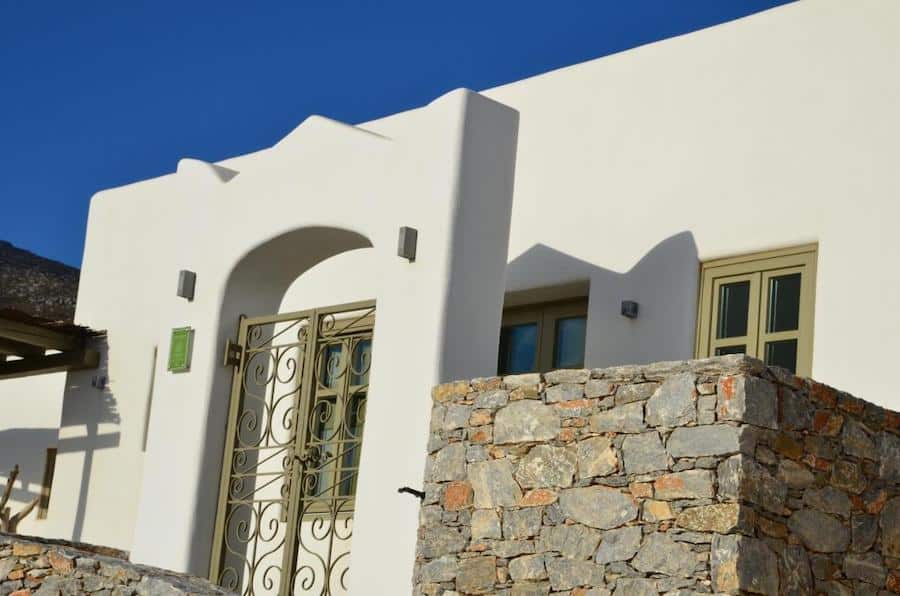 Vorina Ktismata is a lovely place to stay during your Aegean getaway. The hotel, located nearby a picturesque beach, offers guests a stunning sea view. The hotel's rooms are equipped with air-conditioning, ensuring that guests are comfortable during their stay, and the complimentary breakfast they serve in the morning provides their guests with the required energy to discover the wonders of Amorgos.
Vorina Ktismata is only a 10-minute walk from the historic Amorgos Castle, and the old mills of Amorgos are around a 15-minute walk away. The picturesque monastery nearby offers visitors a picturesque discovery with its white-washed walls and exquisite architecture.