Here is your party handbook on where to find the best nightlife in Mykonos. This comprehensive Mykonos nightlife guide will highlight the best places when it comes to having fun and getting a true taste of the Island of Mykonos.
Located in the Aegean Sea, Mykonos is a world-class tourist destination that welcomes 500,000+ high-spirited tourists annually.
Over time, this stunning locale has become famous for having a vibrant, fun-filled nightlife worth experiencing. Whether it's the beachside restaurants, bars, or clubs, there's always fun to be had here.
Visiting for the first time means it's important to discover the hottest spots in town; let's go…
Best Time Of The Year To Enjoy The Nightlife In Mykonos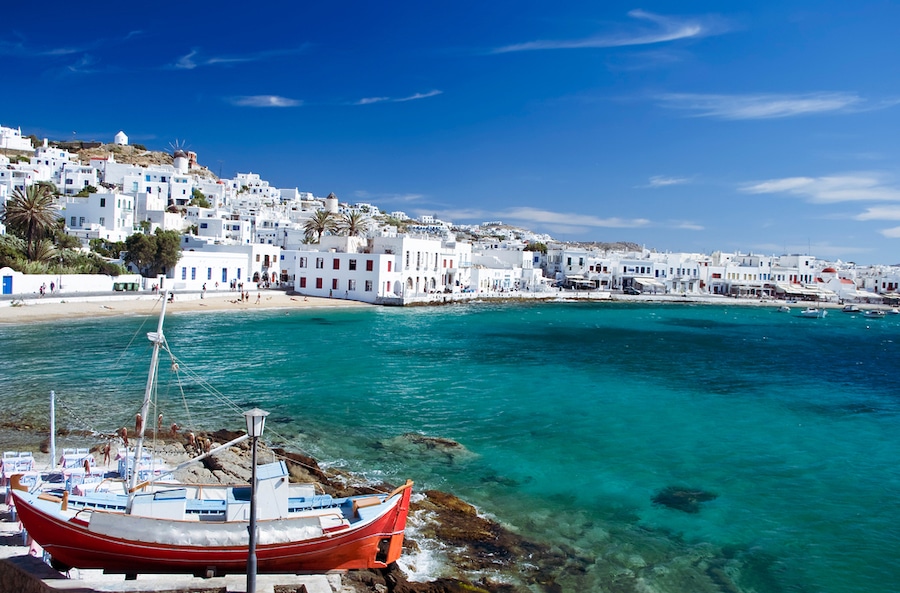 Mykonos is known for its illustrious party scene and continues to welcome some of the biggest names on the planet to its bars and clubs. Everyone loves spending time at these world-famous beach parties, and you will too.
The party scene here tends to be at its peak from late June to the middle of September. At the same time, the indoor party scene continues to remain strong all the way into October.
Best Places To Enjoy The Nightlife In Mykonos
Katerina's Bar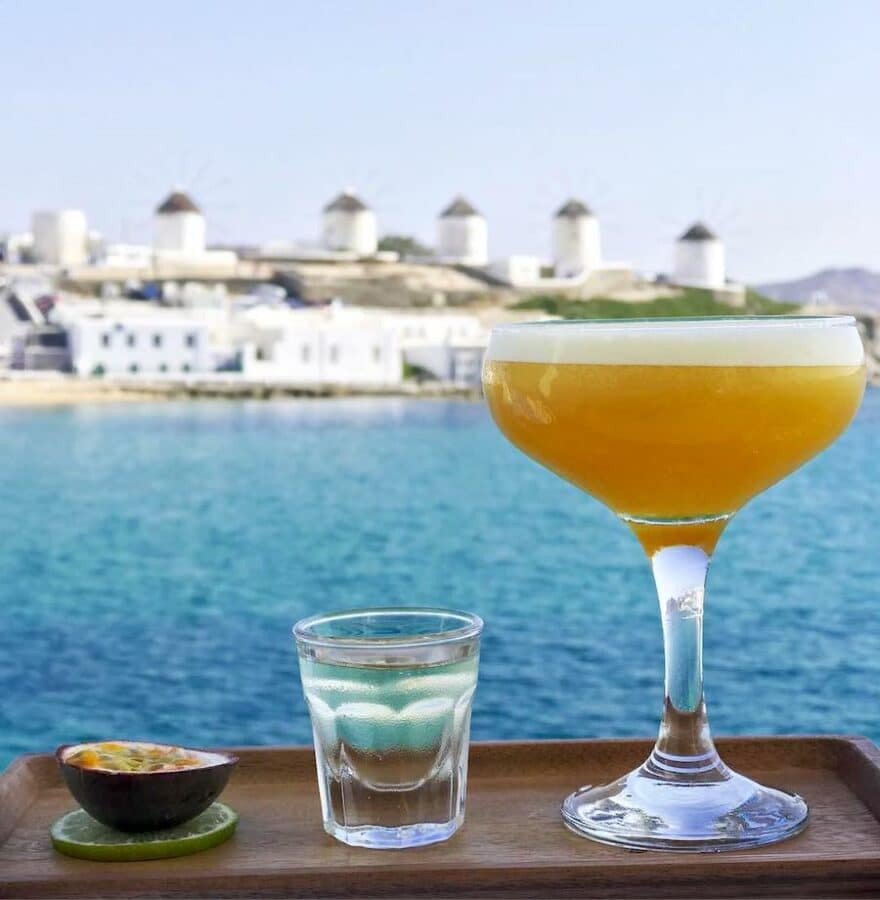 The enchanting aesthetic of Katerina's Bar is impossible to ignore. This place exemplifies the beauty of Mykonos and its architecture. Whether it's the little details associated with the bar's décor or the courteous nature of the staff, this is a first-rate establishment.
This bar is a family-run operation and is known for being one of the premier seafood restaurants in town.
For those wanting to grab a hearty meal with that local Mykonos touch, this is one of the ultimate options on the island. Combine this with the bar's breathtaking waterfront view from its balconies; this is a place anyone will fall in love with.
Address: Ag. Anargiron 8, Mikonos 864 00 | Phone: +30 22890 23084
Alley Cocktail Bar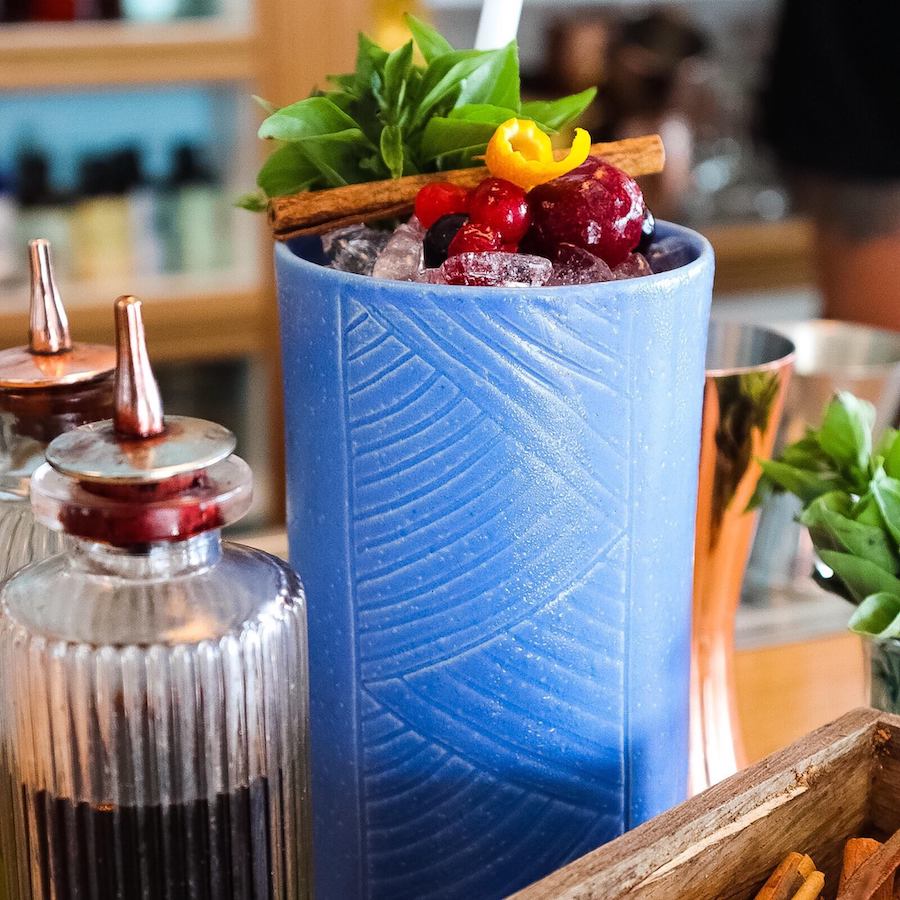 The Alley Cocktail Bar is another local favorite, as it offers some of the island's finest drinks and an outstanding menu that's ideal for those wanting to soak up the nightlife with good food in hand.
Their cocktail menu is varied and celebrated for offering various ingredients, including cocktails with herbs and fruits. The taste is undeniably excellent, allowing those wanting to drink to their heart's content a great place to visit.
Address: Mitropoleos, Mikonos 846 00 | Phone: +30 22890 24288
Skandinavian Bar & Club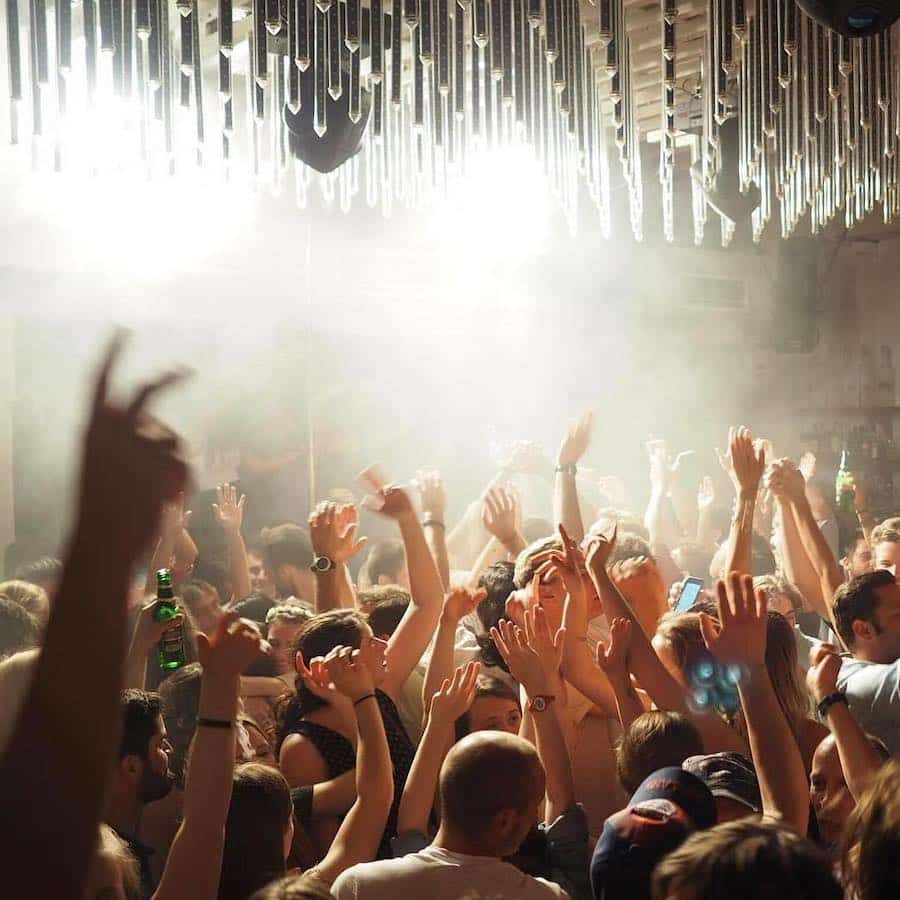 Want to get your groove on?
The Skandinavian Bar & Club is a cherished spot for those wanting to loosen up, drink, and have a great time on the dance floor. It's common for people between the ages of 18-40 to be here having a great timeThis location has a fun-filled ambiance and is so praised for its top-notch cocktails. They have a wide array of choices available for you to choose from, and each one is unique. This has been a treasured spot for decades, whether it's the open-air patio, sizeable dance floor, or pulsating atmosphere.
Address: Georgouli, Mikonos 846 00 | Phone: +30 22890 22669
Bao's Cocktail Bar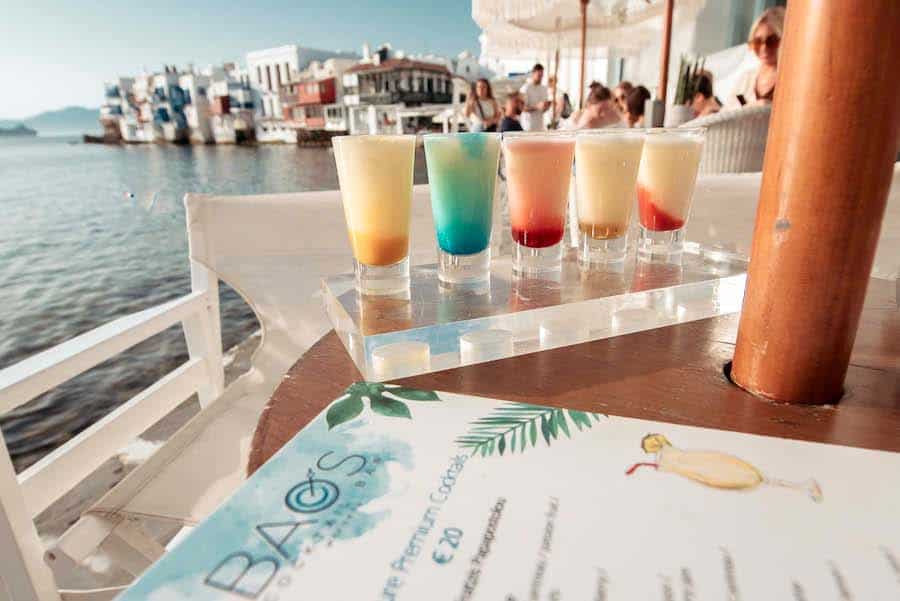 Bao's Cocktail Bar is all about the views. With the setting sun in the background, a cocktail in hand, and quality music ringing through the roaring speaker system, there isn't a better place in town than this delightful establishment.
It's common for people to stop by and have a great time at this location. It tends to get busier as the night goes on with people dancing, going through their intriguing drinks menu, and watching what the view has to offer.
Address: Lamprou Katsoni 1, Mikonos 846 00 | Phone: +30 22890 26505
Semeli The Bar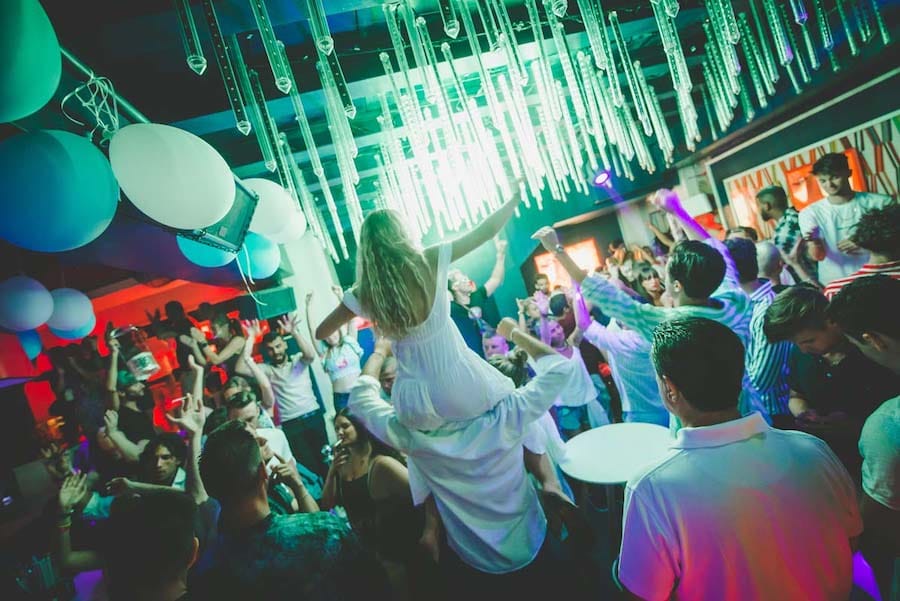 Semeli The Bar is one of those establishments where the focus is on delicious food, great cocktails, and a chance to have fun. They keep it simple and entertaining here.
While the dance floor is compact, it allows people to have an intimate experience while enjoying quality music. It's normal for the DJ to play the latest hits here and crank up the music as people enjoy their top-notch cocktails.
Address: Xenias, Mikonos 846 00 | Phone: +30 69443 85959
Cine Manto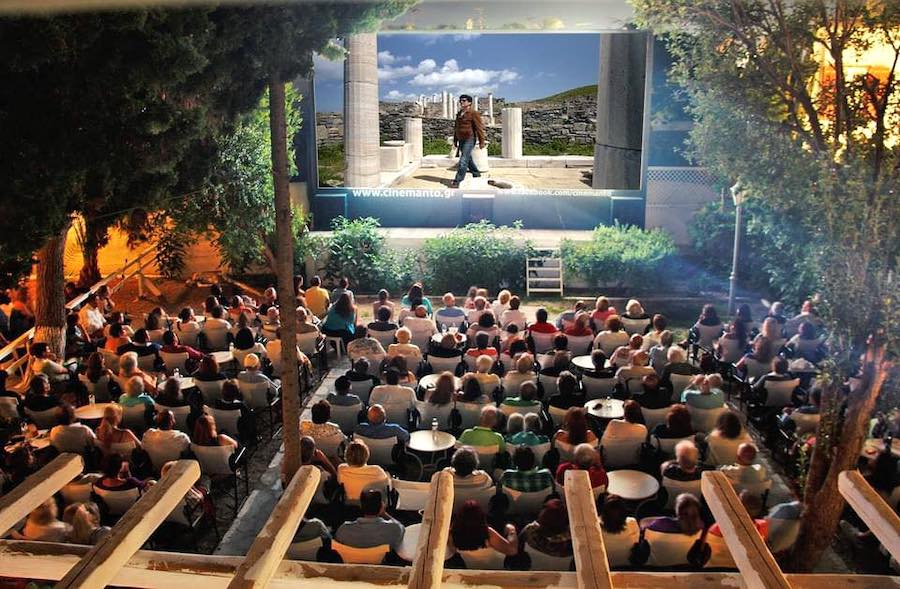 Sometimes all you want to do on a night out is settle in, watch a gripping movie, and experience Mykonos through a different lens. When this is your ultimate desire, there's no better recommendation than Cine Manto.
Cine Manto is one of the premier open-air cinemas on the island. Yes, it's open-air, allowing you to watch the best movies in a garden, with the warm air blissfully settling into the background.
Along with watching a great Hollywood movie, Cine Manto is also equipped with a top-tier menu featuring quality wines, cocktails, and more.
Address: Mykonos Town, Mikonos 846 00 | Phone: +30 22890 26165
Cosi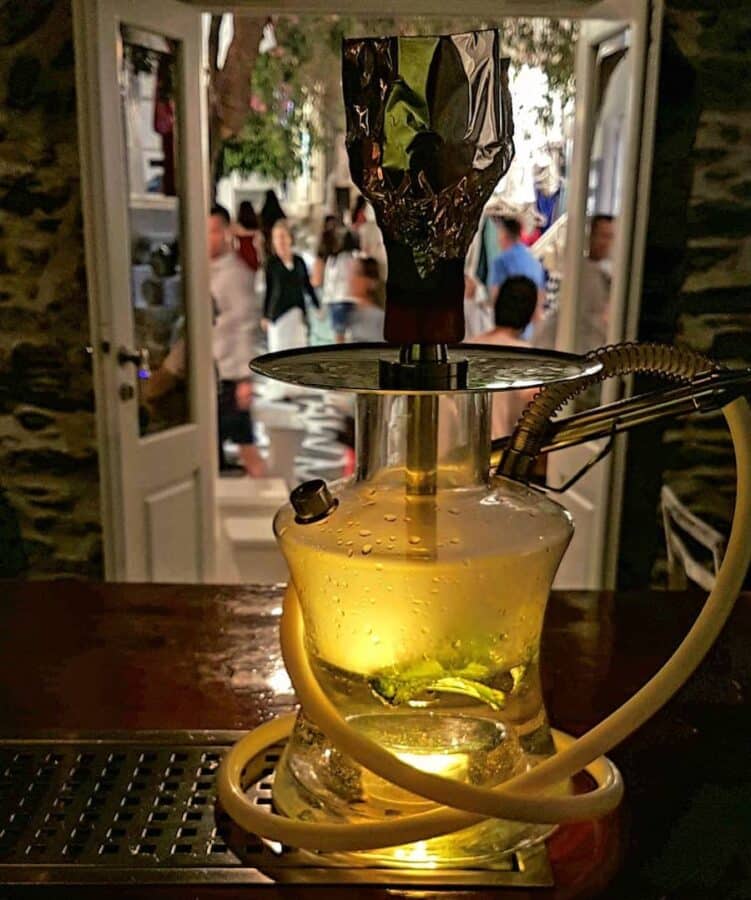 The allure of a late-night transformation is captivating. This location goes from a charming coffee shop in the morning to a bumping bar at night, displaying the fun nature of life on the island.
Cosi is a delightful bar as the sun goes down, offering great cocktails, quality music, and a chance to let loose.
For those looking to have simple, good-natured fun on the island, Cosi is never a bad bet.
Address: Ενόπλων δυνάμεων, Mattheou Andronikou και, Mikonos 846 00 | Phone: +30 22890 27727
Remezzo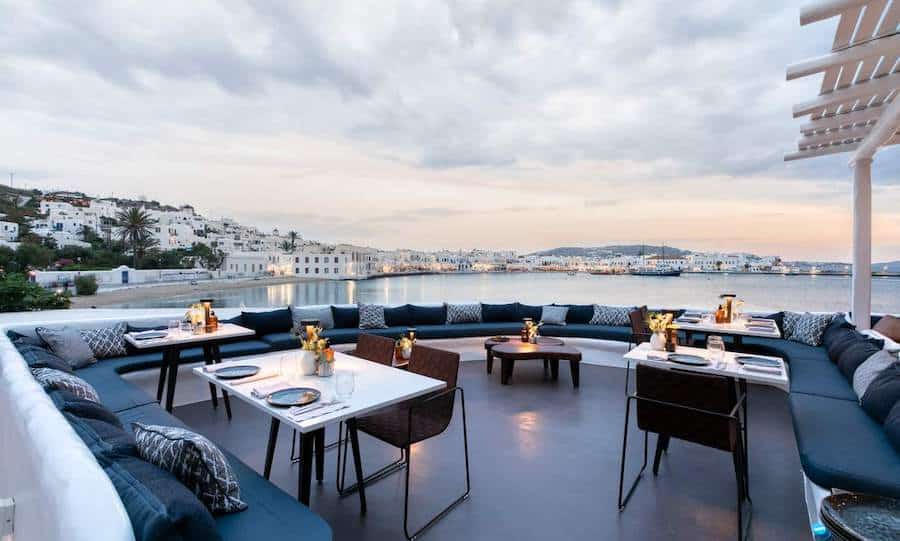 Remezzo has become a staple on Mykonos and is heralded for offering a fun place for everyone to enjoy themselves. Whether it's the guest DJs, the exceptional cocktails, or the undeniably excellent food, there is something for everyone here.
This establishment offers an elegant waterfront view that's enthralling and unforgettable while also being a place full of entertainment.
Address: Polikandrioti, Mikonos 846 00 | Phone: +30 22890 25700
54 Cocktail Bar & Sunset Lounge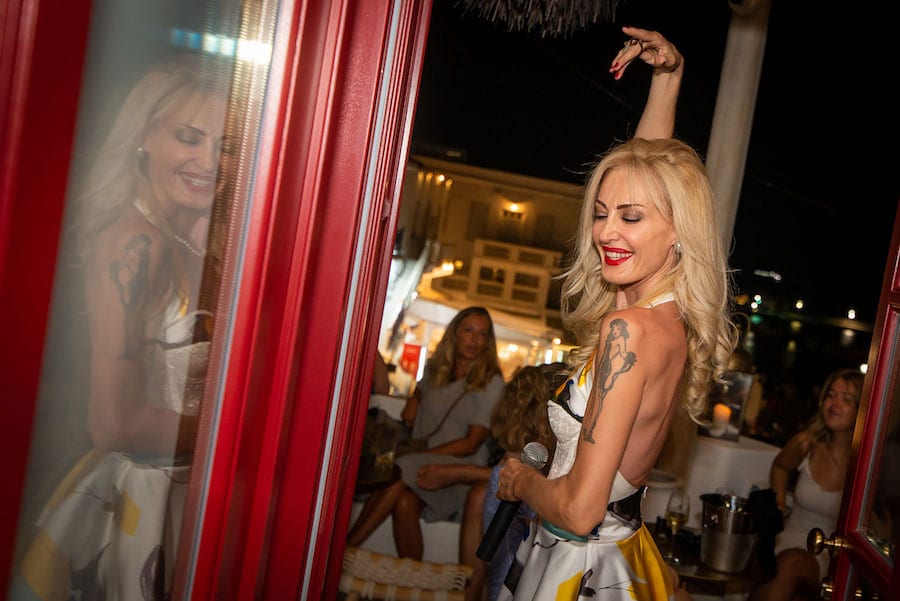 This is often noted as a "hidden gem" on the island as most people flock to the more prominent party locations. However, there is an incredible amount of fun to be had at night for those coming to the 54 Cocktail Bar.
Yes, this is a location that is a gym; during the day location lets its hair loose as soon as the sun goes dose and turns into a riveting lounge bar.
Whether it's the rooftop terrace or the extraordinary cocktail menu, this is a great spot to spend time in for those who want to relax and soak up the views.
Address: Manto Square Mykonos Town, Mikonos 846 00 | Phone: +30 22890 28543
Void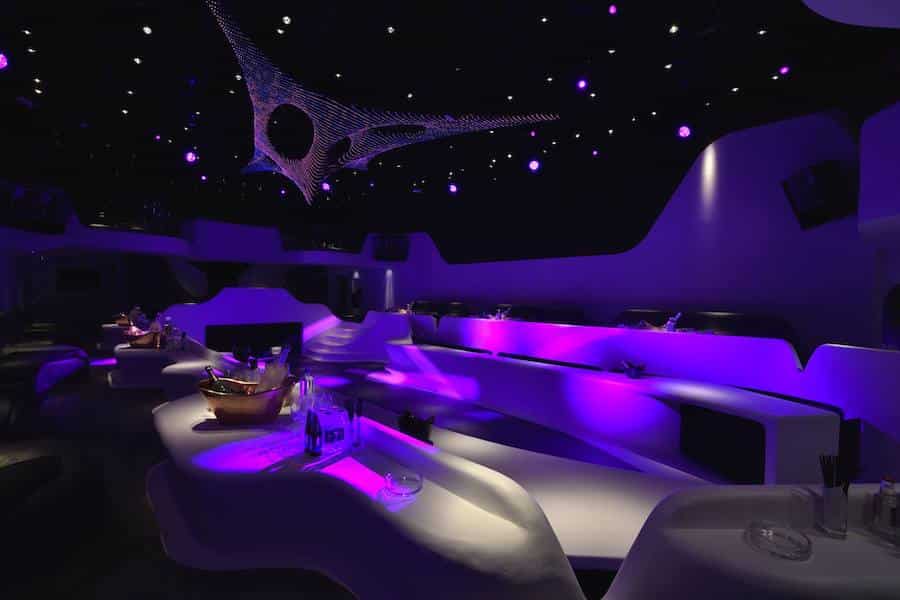 When it comes to sophisticated elegance, class, and a new-aged ambiance, Void has to be right at the top of the list as a premier location.
Void offers an extensive dance floor, modern décor, and spacious bars allowing for people to drink, dance, and party throughout the night. It's common to see some of the world's greatest musical talent show up here and jam to the latest hits.
Address: Void, Lakka Plateia, Mikonos 846 00 | Phone: +30 69448 11360
TRAVEL COMPANIES WE USE AND TRUST
How To Travel Around Mykonos At Night
If you are considering going from one spot to the next on this list, it's essential to plan out the transportation beforehand.
Mykonos offers a multitude of options, but not all are efficient during the night.
The buses tend to run during the night but tend to be far apart. In general, it's good to use this option as it will cost 1.80€ (one way) and the routes are short.
Taxis and car rentals are a bad idea at night. Finding a taxi is difficult, and getting a good parking spot becomes impossible with so many people out having a good time. Plus, getting drunk means driving is off-limits for most people.
Tips To Enjoy The Nightlife In Mykonos
Don't Be Afraid Of The Late-Hour Parties
Mykonos does not sleep.
It's normal to see establishments on the island remain open well past midnight. This is what makes the island's nightlife a world-famous experience and one that brings some of the biggest celebrities out for a good time.
If you want to have fun late at night, step outside and explore what the island has to offer. There is something for everyone after the sun sets, whether it's good food, cocktails, or waterfront seats.
Don't Wear Heels
This one is for anyone thinking of wearing high heels because it goes well with your outfit.
Unfortunately, this is a bad idea and never recommended on the island. The reason has to do with the cobblestone streets as it's common for a person to get their heel stuck in between the stones and trip.
After a few drinks in the body, this becomes an even worse idea!
Keep A Light Jacket Handy For Cooler Nights
The nights do get cooler even during the warmer months of the year. This is the nature of being on an island, as the cool breeze is natural with the sea nearby.
To avoid getting the shivers after being out late into the night, keep a light jacket on hand. If it gets brisk after a while, you can wear the jacket and stay comfortable.
Nightlife In Mykonos Wrap-Up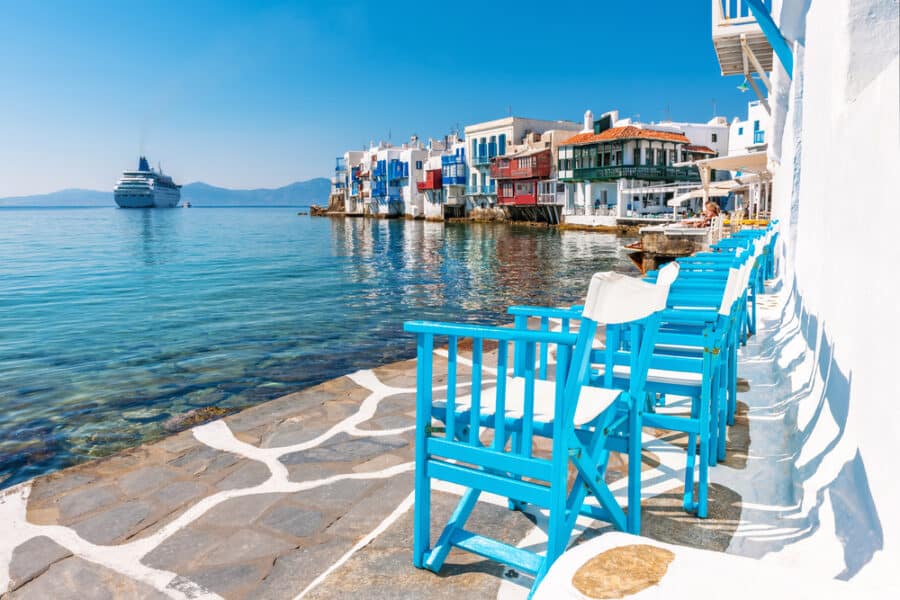 Life on the island is a joy to behold for those who love to have fun both in the day and night.
People adore having a good time on Mykon, which makes the island special. It's a premier tourist destination for a reason and renowned for being a party island.
When planning a trip to Mykonos, it's best to learn more about its nightlife. The fun can be endless whether it's day or night here.
From good cocktails to some of the best seafood on the planet, Mykonos is the place to be when the sun sets, whether you're a tourist or planning to live abroad.
[/su_note]