Wondering how to make the most of one day in Mykonos?
Whether you're embarking from a cruise ship or flying into this famous Greek Island for a quick visit, you can cover plenty of essential activities in just one day!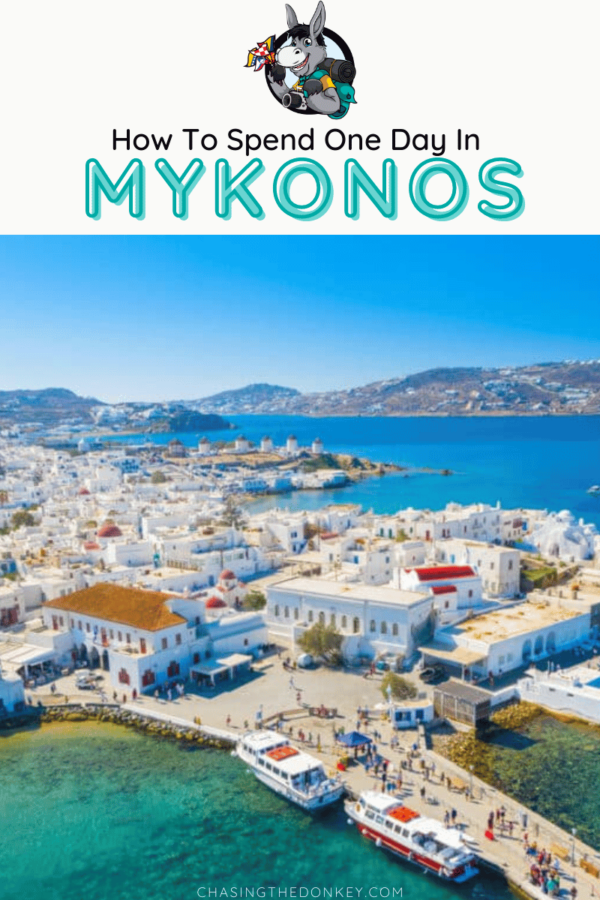 If you're short on time and want to experience the best that Mykonos has to offer, this guide will help you choose what to do and how to get around. For a relaxed pace, choose 2-3 spots to sightsee before hitting the beach.
From epic coastal views, charming seaside restaurants, posh beach clubs, and world-class nightlife, you're in for one memorable day in Mykonos!
Is It Worth Going To Mykonos For One Day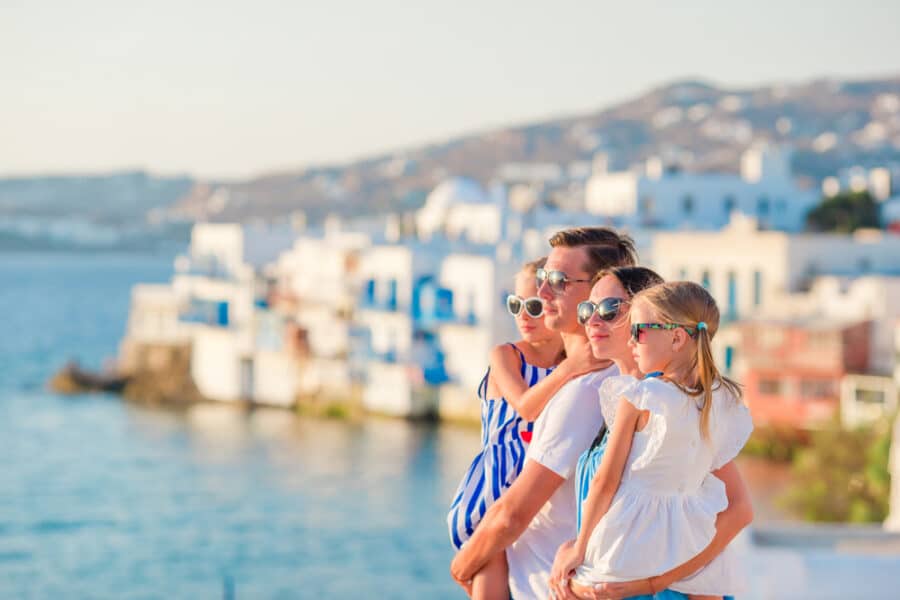 First, let's put your mind at ease. Yes, it's definitely worth it to visit Mykonos for a day.
You probably are asking yourself, "What to do in Mykonos in one day?". Even though Mykonos is a small, walkable island, most of its main attractions are close together so it's ideal for spending a day exploring.
Plus, this island is famous for a reason. If you have the option to fit in a day trip to Mykonos, don't let the opportunity pass you by!
What To Know About Mykonos
Mykonos is a popular destination for tourists from around the world. The island is known for being more expensive than others in Greece. Here are a few things to know before your one-day trip to Mykonos.
Language: Greek is the native language, but many people, especially hospitality workers, speak English.
Currency: Euros are used in Mykonos. Most places accept cards, and ATMs are readily available in Mykonos Town.
Costs: An average meal can range from 25-100 euros. Cocktails can be as expensive as 25 euros in popular beach clubs or spots in Little Venice, but plenty of places have more reasonable prices. Expect to pay around 20 euros for museum tickets. Prices at the beach clubs can add up. Chairs are around 50 euros for the day and may come with an additional minimum spend.
Best Time to Visit: Shoulder Season: April-May & September-October for manageable temperatures, fewer crowds, and slightly lower prices.
Peak Season: July-August
TRAVEL COMPANIES WE USE AND TRUST
What To Do In One Day
There's something special about this picturesque Greek Island with its white-washed houses with bright blue accents and old, cobblestone alleys. There's nothing more romantic than the sight of purple bougainvillea dripping down a doorway that leads straight to the ocean! Mykonos is an authentic slice of paradise.
From incredible sights to postcard-worthy beaches and jaw-dropping sunsets, here are the best things to do in Mykonos in one day!
Little Venice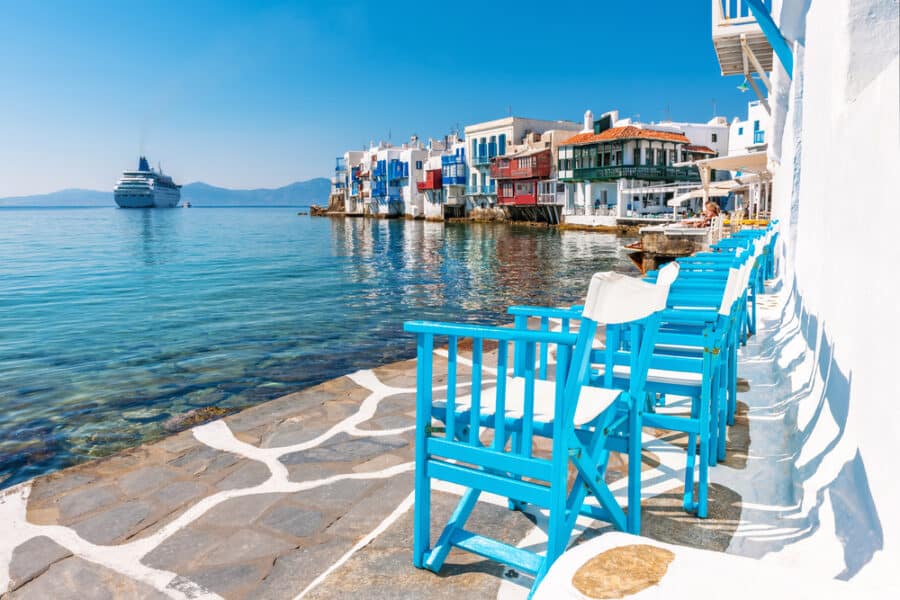 Little Venice is the most romantic neighborhood in Mykonos, adorned with colorful houses that practically jut out into the sea. Hundreds of years old, this corner of the island was constructed when Mykonos was under Venetian rule. Walk alongside the water and enjoy your views of the Cycladic houses that perfectly combine Italian and Greek styles. Little Venice is a dreamy seaside spot perfect for your first of many Instagram-worthy Mykonos photos!
Mykonos Windmills
The Mykonos windmills are the focal point of the local skyline and an iconic symbol of this famous Greek island. While there were once over 20 different windmills on the island, only seven remain today.
Capture the white-washed structures standing tall against the amazing backdrop of the sea and open sky. The windmills are just a 5-minute walk from Mykonos Town.
The Boni Windmill is Mykonos' most famous windmill, and it's located inside the open-air Agricultural Museum. It's a bit of an uphill climb to get here, but the view is totally worth it!
Beach Time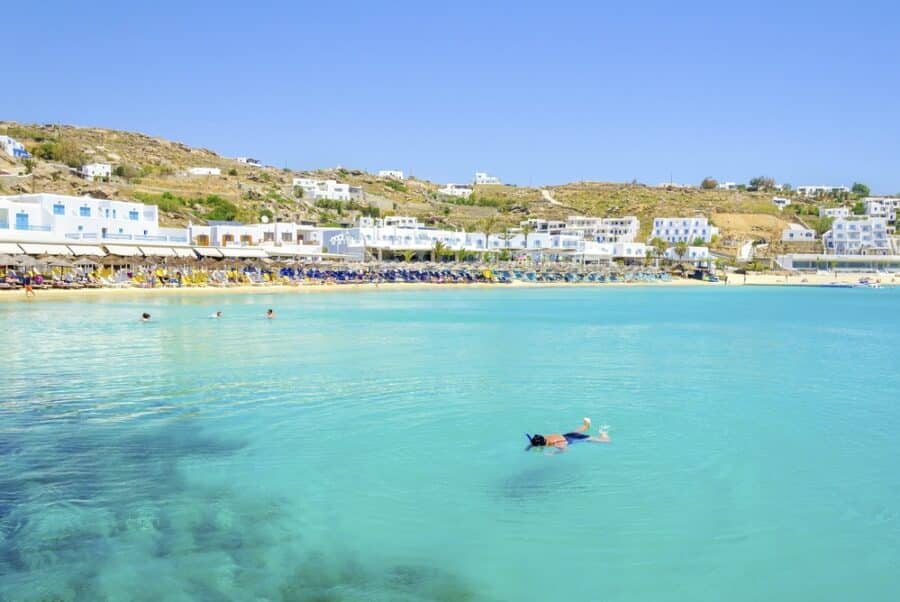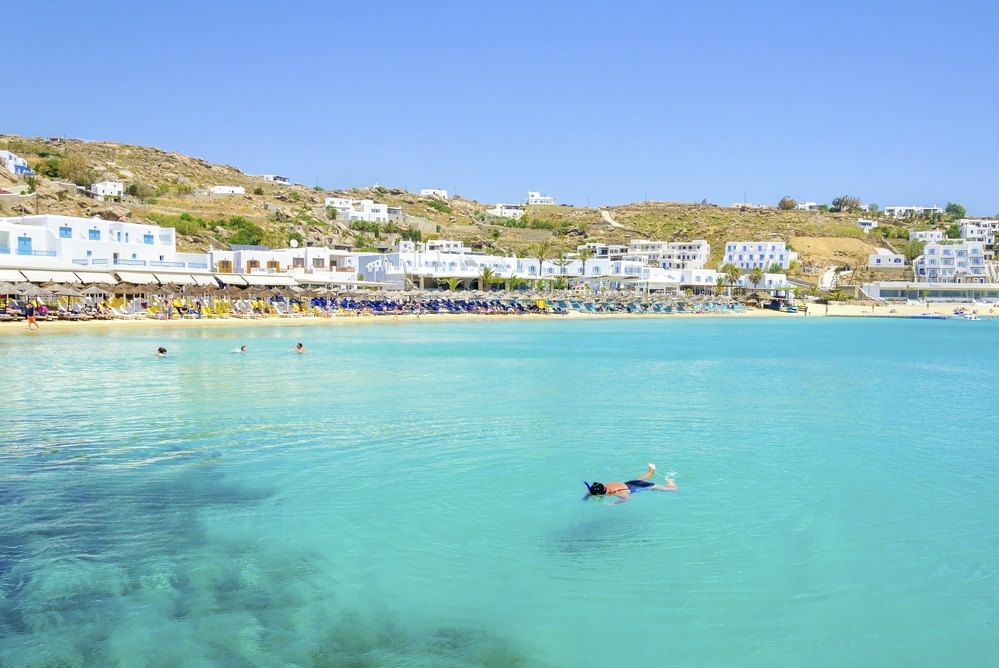 The beaches on Mykonos cannot be missed. Their crystal clear waters and cosmopolitan beach clubs are absolutely dazzling.
A dip in the Aegean Sea is the best possible way to enjoy the scorching Mediterranean summer sun. A tour of Psarou, Paradise, and Super Paradise beaches should be on your itinerary if you want to get a taste of the energy Mykonos is famous for.
Psarou Beach comes highly recommended for its idyllic setting and clear blue waters. You can rent a sunbed and umbrella and soak up the sun, swim in the sea, and indulge in some delicious beachside snacks and drinks.
You'll be able to find plenty of beach shops and stands if you need to buy sunscreen, towels, or other accessories.
Wander Mykonos Town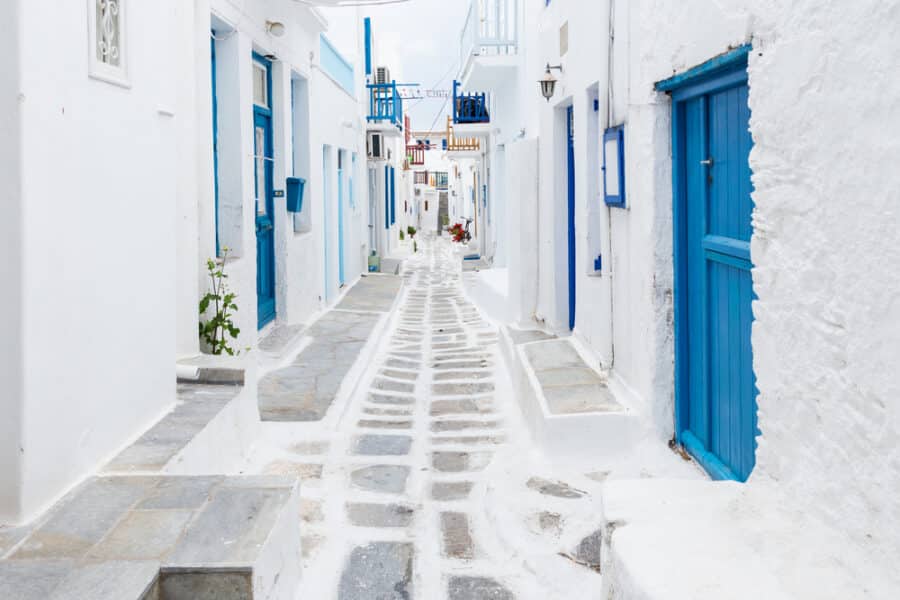 The Island of the Winds owes its name to the refreshing breeze that soothes the tourists traversing its charming cobblestone streets. The narrow alleys are decked out with darling boutiques, souvenir shops, cafés, and bars. Follow the town's labyrinth-like alleyways to the iconic church of Panagia Paraportiani, one of the most photographed spots in Greece.
Old Harbor
You'll find the Old Harbor near the church, the home of Mykonos' very own local celebrity. (And no, we're not talking about Lindsay Lohan.) Petros the Pelican is the unofficial symbol of Mykonos. The original Petros was found injured and nursed back to health by a local fisherman. Since then, the pelican has been a symbol of good luck and prosperity for the island.
Greek Food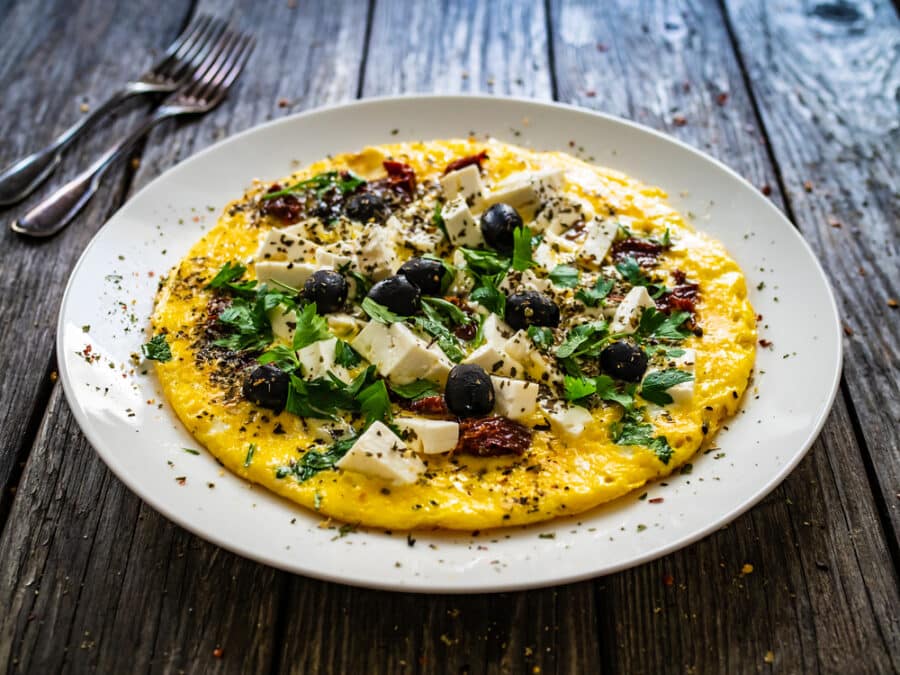 Your one-day visit to Mykonos won't be complete without a taste of Greek cuisine. Islanders pride themselves on their authentic Mediterranean cuisine, served in rustic tavernas and charming restaurants all over the island. Fresh fish, goat cheese, tzatziki, moussaka, dolmades, and of course, gyros are a few foods to try before heading on your way.
For a traditional Greek meal, head to Kiki's Tavern. This hidden gem is located in Agios Sostis and boasts a stunning setting overlooking the sea. With fresh seafood, warm pita, and grilled meat, it's the ideal lunch or dinner spot. Be sure to book in advance.
Shopping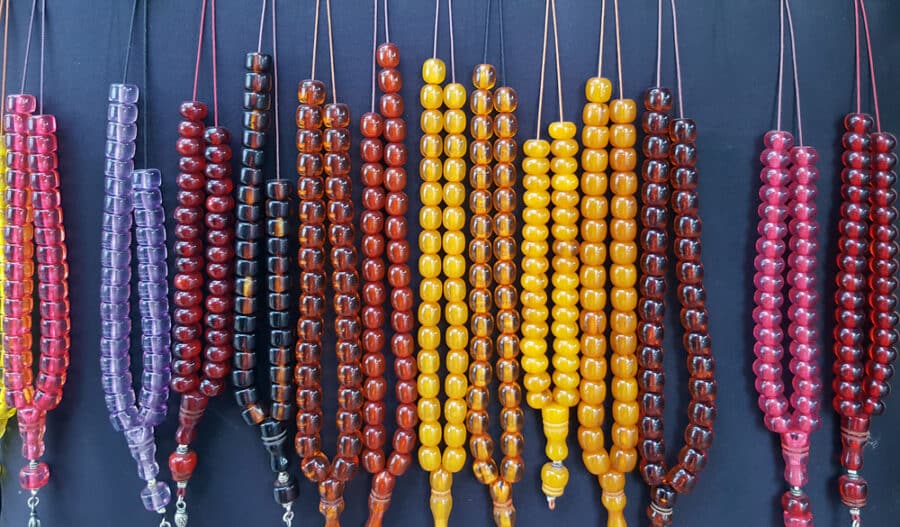 Mykonos is a shopping paradise for those with a love of fashion and art. The island offers all kinds of shopping experiences, from adorable souvenirs (miniature windmill, anyone?) and Greek handicrafts to designer clothing and antique art. Make sure you check out Matogiania for all the best handmade pieces. Jean-Paul Gaultier shop and Rarity Art Gallery also belong at the top of your list!
Folklore Museum
The Folklore Museum, also called Lena's House, exhibits a collection of artifacts, costumes, and other displays highlighting the historical and cultural heritage of Mykonos. The best part? This museum is located in a former 19th-century townhouse, so you can get a taste of what life in Greece was really like.
Explore the well-preserved rooms adorned with authentic furniture, traditional clothing, and household items, providing an immersive experience of the past. With its picturesque setting and informative displays, Lena's House Museum offers a fascinating journey into the history and traditions of Mykonos.
Sunset Beach Club
Sunset in Mykonos has a reputation of its own. The island never disappoints when it comes to finding the perfect spot for an evening cocktail. Choose from several beach clubs like Scorpios, Nammos, and Alemagou for incredible live music, a beautiful setting, and an inviting ambiance.
Famous Nightlife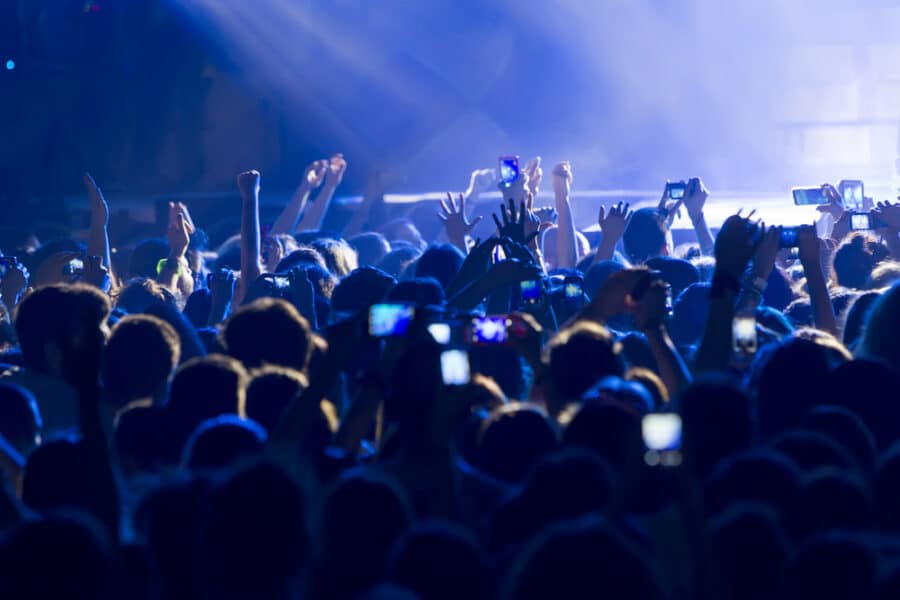 If you're staying overnight, be sure to check out Mykonos' famous nightlife scene. Mykonos has something to offer every type of party-goer. Choose from jazz, cocktails, electronic dance clubs, or traditional Greek music. This island never sleeps, and the nightlife thrives until dawn. The party scene is as iconic as a day spent at the beach. Just be sure to check dress codes and cover charges before you go.
Discover Delos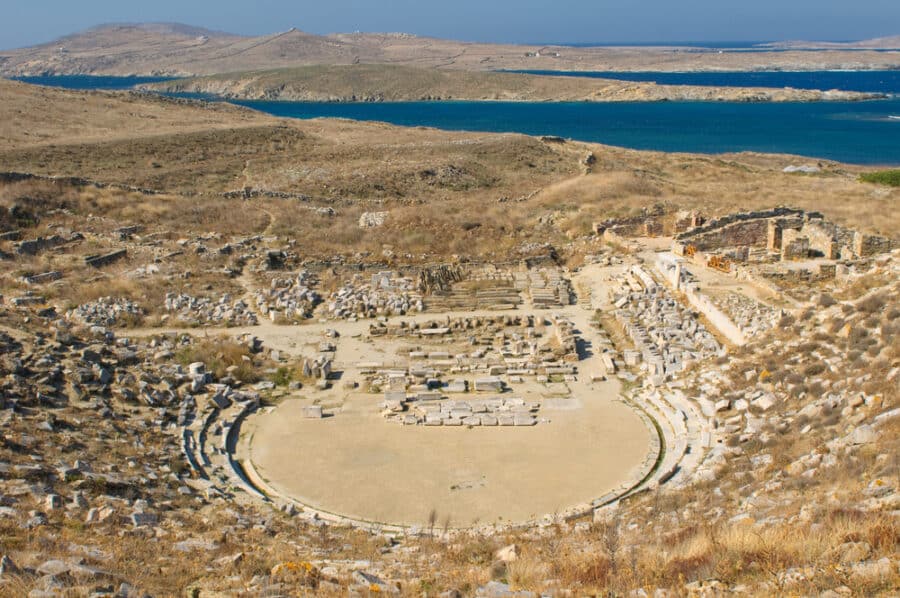 Have more time? Consider this quick excursion to Delos, a small uninhabited island just a few miles from Mykonos. In Greek mythology, Delos is the birthplace of Apollo and Artemis. This archealogical site and its ruins have magnificent structures and sanctuaries to explore. A guided tour to Delos should take around 4 hours, so it's best to book in advance.
Wine Tasting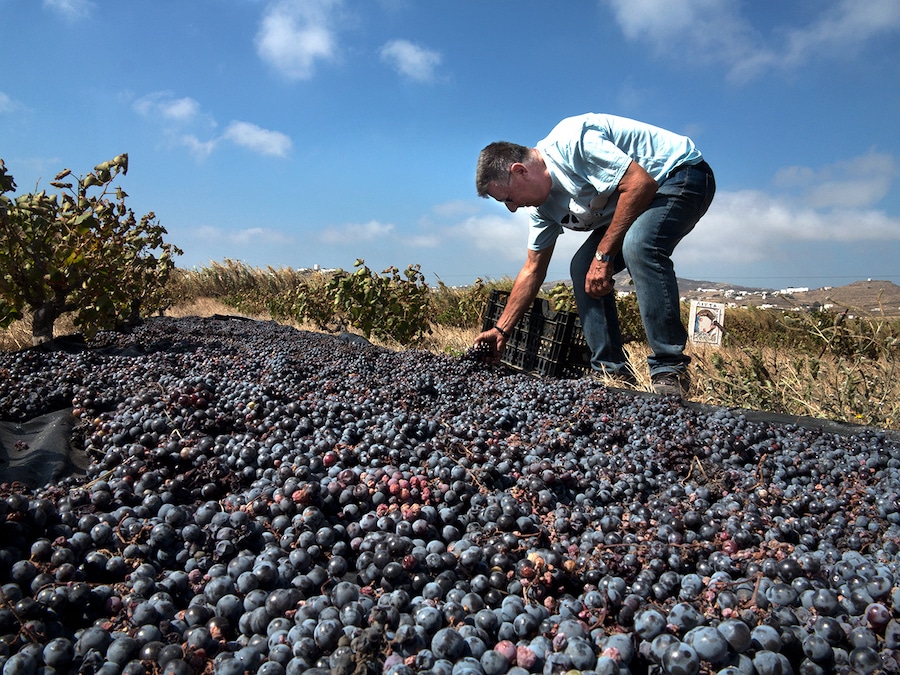 Did you know Mykonos is one of the world's oldest wine-producing regions? Mykonos is home to several unique indigenous grapes that produce wines unlike any others. Greek wine is known for its minerality and high acidity. (Which basically means it's delicious!) Experience the ancient legacy of Greek winemaking on a tour through charming vineyards with cliffside views of the Mediterranean coast.
Kapari Beach
Need a break from the crowds? Head to Kapari Beach for a tranquil escape. This hidden gem is a secluded shoreline free of organized facilities and beach clubs. Wade into the crystal-clear waters for a refreshing swim or stretch out on the pristine sand. For a look at some truly awe-inspiring vistas, take a leisurely stroll to the picturesque Agios Ioannis chapel.
To reach Kapari Beach, you can hop on a bus from Mykonos Old Town heading towards Agios Ioannis and take a short walk towards the beach. Alternatively, you can opt for a taxi or rent a scooter for a convenient and scenic journey to this hidden oasis.
How To Get Around Mykonos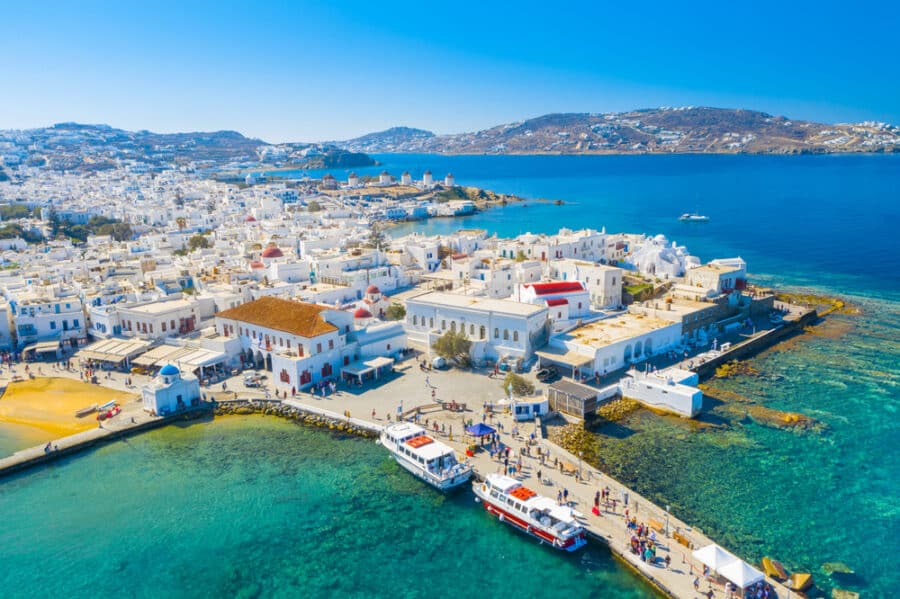 The best way to get around Mykonos is simply by walking, especially in the Old Town where narrow streets and no cars are allowed. Not only will it save you money, it'll save you time as well.
If you arrive by ferry or cruise ship, you'll dock near Agios Stefanos beach, just a few kilometers from the central area of town.
Public buses frequently run between Mykonos Town and the port, and the airport. The average ticket price is between 2-3 euros.
If you don't want to waste time waiting for a bus, taxis are a good option, especially if you can split the cost between a small group. A trip from the port to the main town is just a few minutes and typically costs around 30 euros.
Car and scooter rentals are available if you plan to explore a wide portion of the island on your own, but it's not recommended.
Final Thoughts 24 Hours In Mykonos
Mykonos may seem like a small island, but it's packed with exciting things to do in a one day visit. From romantic strolls in Little Venice to late-night partying, this Greek Isle really has it all. The beaches, nightlife, cuisine, culture, and history make Mykonos a must-visit destination for every traveler. With this guide, you should be able to squeeze in most of these activities in just one day. Mykonos is the perfect destination for a short and sweet visit filled with refreshing sea breezes, blue waters, and endless sunshine.
ONE DAY IN MYKONOS FAQS
How should I spend a morning in Mykonos?
Explore Mykonos Town early in the morning to avoid the crowds. Grab a coffee, do some shopping, and enjoy the overall charm.
How should I spend an afternoon in Mykonos?
Grab Greek lunch, take a trip to Delos and relax at the beach.
How should I spend an evening in Mykonos?
See the famous windmills and Little Venice, then enjoy the Mykonos nightlife.
What language is spoken in Mykonos?
While Greek is the traditional language of the island, you will find most people can communicate in English.
When is the best time to visit Mykonos?
April, May and October are great times to visit. You'll miss the crowds and still enjoy what the island has to offer. If you want to swim, consider October instead as waters won't be as warm in April and May.
How can I get to Mykonos for the day?
Plane – with an early morning and late night flight, you'll get about 8 hours of time on the island for exploring.
Cruise Ship/Ferry
How can I get around Mykonos for the day?
Buses – these are a fantastic option as bus service is cheap and easy
Rent a car or scooter – a more expensive, but more flexible option; parking can be tricky during busy season
Taxi – taxis are very popular, however there are only about 30 on the island, so they aren't always reliable in terms of timing