The Greek island of Paros is a nirvana for holidaymakers looking to escape the stresses of everyday life and let their hair down. Paros is the place to go, with all the components that make a nice getaway, including an idyllic coastline, constant sunshine throughout the day, and an abundance of bustling beach clubs always open for a drink or two.
There is an extensive selection of beach clubs in Paros waiting to be enjoyed, from the relaxing Rebel Beach Bar on the east coast to the hugely popular Punda Beach Club. And to add to the variety of options, there's something for everyone, whether you're a group of friends down to party, a couple who wants to sip on some fruity Long Island's, or a family hoping to relax for the day.
Read through this article to find out a Paros beach club that'll suit you best. Let's go run to where the sun, sea, and music meet!
Cabana Beach Bar Restaurant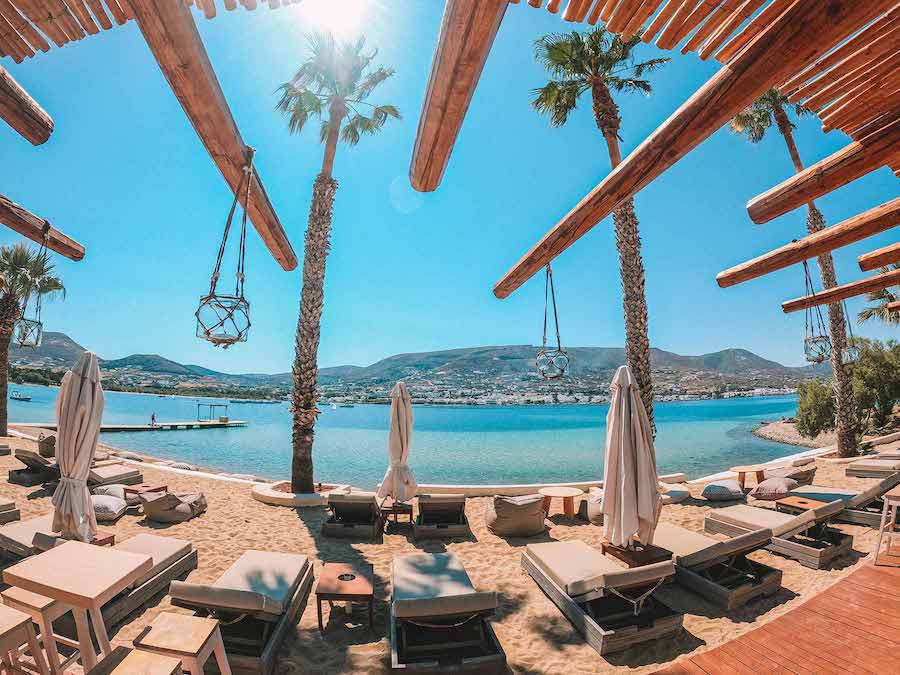 Next to Paralia Parikia Beach is the gorgeous Cabana Beach Bar Restaurant, a trendy spot overlooking the ocean.
This Paros beach club is Lined with lavish cabanas and ample sunbeds; the Cabana Beach Bar has plenty of lounging options available for a range of different prices depending on the season you visit. If you're coming during the summer, it's advised you book your bed online beforehand.
The food menu mixes local ingredients with foreign favorites: nourishing Buddha Bowls, Classic Club Sandwiches, and Greek yogurt bowls sprinkled with fresh fruits. A team of highly trained mixologists crafts cocktails with your favorite liqueurs. Standard meals cost anywhere between €8 and €14, and cocktails are €10.
Cabana Beach Bar doesn't get called one of the best beach clubs in Paros to party for no reason. Over the day, a DJ sets the mood with a blend of thumping beats and mellow sounds that will surely have you on your feet.
PAROS BEACH CLUB INFORMATION
Hours: open from 10 am until 10 pm every day between June and October.
TRAVEL COMPANIES WE USE AND TRUST
Monastiri Beach Bar & Restaurant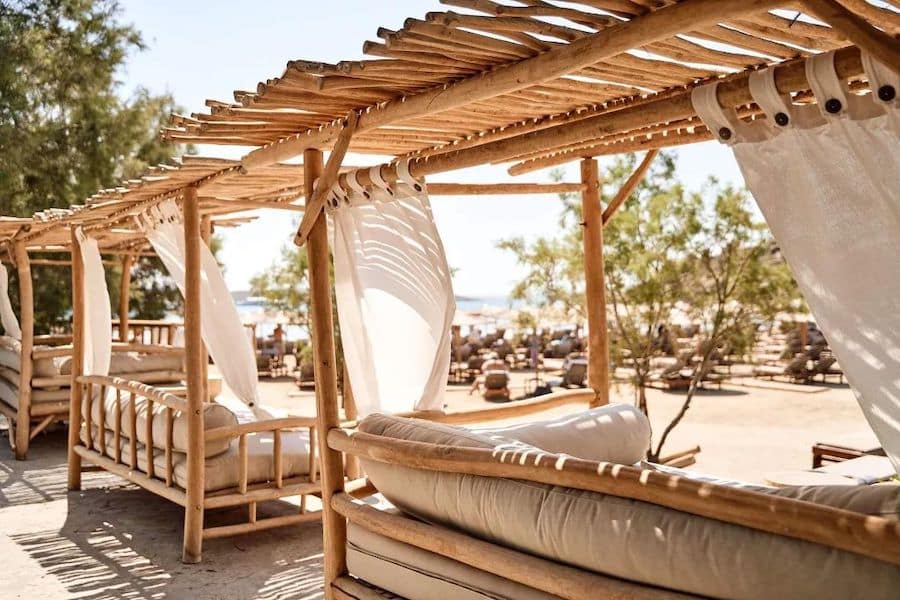 Aw, there's nowhere quite like the Monastiri Beach Bar & Restaurant on the island of Paros. It's in the well-sought-after neighborhood of Monastiri and is where serenity, gastronomy, and hospitality combine, offering visitors the opportunity to unleash their playful spirit while on vacation.
Featuring two separate bar areas looked after by a crew of professional bartenders who know a thing or two about making the flavors tantalize your palate. Drinks are nothing without grub; the Monastiri Beach Bar & Restaurant does it better than anywhere else – making it one of the best Paros beach clubs on our list.
Showcasing a Mediterranean-inspired menu with restaurant specials such as freshly caught Sea Bream Carpaccio, organic Greek salads, and Greek breading beef shanks, you're in for a treat.
The newly opened sunbed space contains seven rows of ultra-comfortable loungers with cloud-like cushions. Prices start at €35 for the back row and go up to €70 for the front during the high season; all purchases include an umbrella too.
Lots of recreational activities are available from Monastiri Beach Bar & Restaurant for people of all ages. Grab a canoe and head out to sea or try your arm at stand-up paddle boarding; you'll be a professional in no time.
Monastiri Beach Bar & Restaurant is actually situated in the Environmental and Cultural Park of Paros. You may be wondering "How would I get there if I don't have a car or I'm not staying in Monastiri", but don't worry, plenty of water taxis run routes directly from the Port Of Naoussa. Additionally, all visitors have free parking in the vicinity, so you'll be looked after.
BEACH CLUB IN PAROS INFORMATION
Hours: open 10 am to 8 pm daily
Rebel Beach Bar
Rebel Beach Bar is set on the dramatic Golden Beach, one of the most visited beaches in Paros, with over 500 meters of white sandy frontage and regular singalongs with guitars while watching the sun go down.
The plush daybed area is the perfect place to catch some rays with an Aperol Spritz in hand, adorned with quintessential tropical sunbeds and accompanied by straw-like umbrellas; there's one word to sum it up; paradise. Finding a better deal than the bed combos offered here is hard in Paros.
For just €20, you can enjoy two sunbeds with a shared umbrella in the middle, along with access to shower facilities. Just ensure you arrive before 1 PM as that's the cut-off time.
There are a bunch of activities on offer at the Rebel Beach Bar, like scuba diving, windsurfing, water skiing, wakeboarding, and more. While you leave the kids at play, you can get a Rebelaki, a rum-infused signature cocktail, for as little as €10. Paro's beach clubs don't get much better than this.
If you're staying on the other side of the island where the port is, you'll need to find a way there; taxis cost between €17 and €20, whereas a bus will only set you back €4.
PAROS BEACH CLUB INFORMATION
Hours: open from 9 am until 10 pm every day
Santa Maria Beach Bar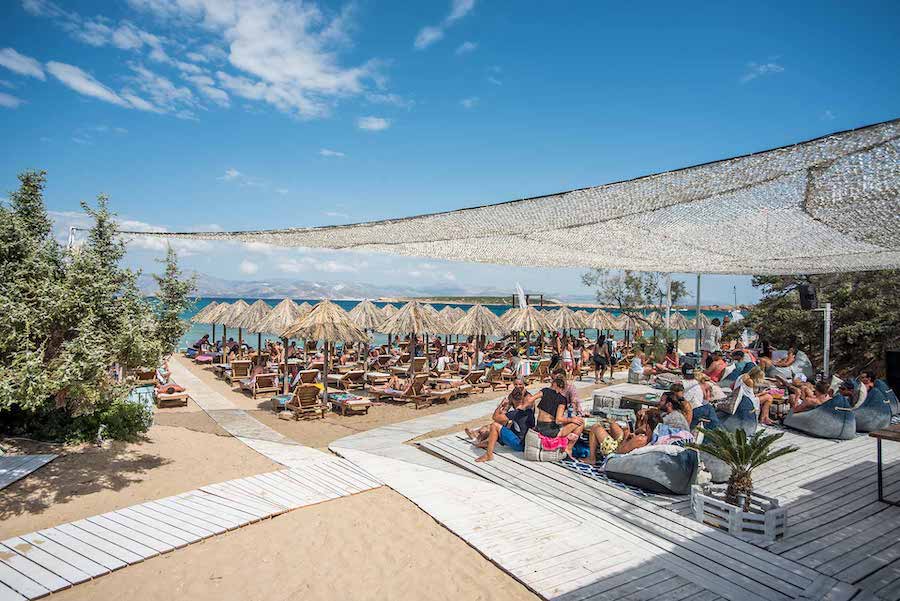 Santa Maria Beach Bar is what all luxury beach clubs in Paros should aspire to be. Situated on the pristine shores of Santa Maria Beach, this is where the tourists go to feel alive in Paros. Sip cocktails made with top-shelf spirits, indulge in nutritious acai bowls and bop your head to the best anthems produced by world-class DJs.
Open until the sun comes up until it goes back down, Santa Maria Beach Bar's menu has plenty of ways for you to quench your thirst with champagne-based cocktails, Grey Goose Vodka Martinis, ice-cold Heinekens, and fine white wines by the glass. Prices start from €6, and there's a minimum consumption requirement if you want to use the facilities.
For €30, you'll get two sun beds and an umbrella in the lounge, making it slightly more expensive than other Paro's beach bars. However, rest assured that you're also paying for the renowned atmosphere Santa Maria Beach Bar is famed for.
Getting to Santa Maria Beach Bar is easy; you can go by road from the port of Naoussa, as it's only 15 kilometers, and there are plenty of free parking spaces in the area. But if you're planning on having a drink, convenient transportation options such as buses, taxis, or water taxis are readily available.
BEACH CLUB IN PAROS INFORMATION
Hours: sunrise to sunset every day
Sal Y Mar Beach Lounge
If you're traveling with your kids and wondering what are the best beach clubs in Paros for families, the newly established Sal Y Mar Beach Lounge is well worth a look. Nestled in the quieter end of the illustrious Golden Beach, their elegant beach lounges offer a peaceful sanctuary, granting you and your loved ones entry to one of the island's most talked about beaches.
Sample some of the Sal Y Mar Beach Lounge's delights, including its aromatic coffee, fresh salads produced with healthy Greek products, sparkling wines, and obviously, there will be some ice cream for your little ones.
Similar to the rest of our selections on this list, the pricing for sun beds follows a zonal system, yet the cost is €20 for a lounger, and an umbrella proves to be quite reasonable. As you relax, book the kids in for some windsurfing or kitesurfing, more information will be available at reception.
Sal Y Mar Beach Lounge is open from 10 am and 7 pm every day; with this flexible schedule, you'll have plenty of time to make the most of your lounge rental while basking in the glorious Greek sun.
PAROS BEACH CLUB INFORMATION
Hours: open from 10 am and 7 pm every day
Zazala Beach Bar & Restaurant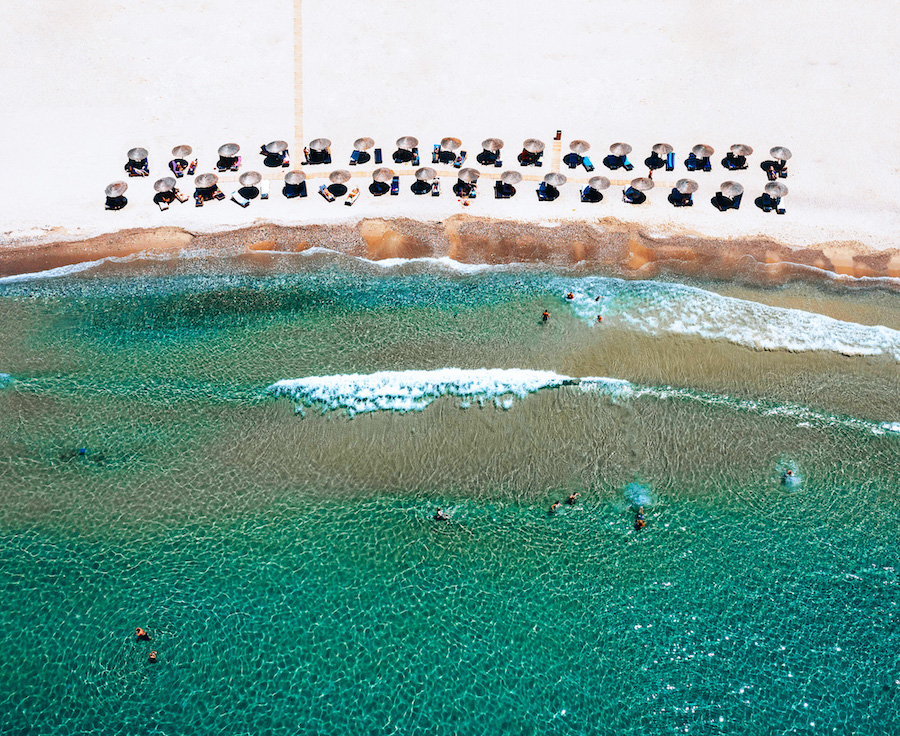 Zazala Beach Bar & Restaurant always gets mentioned as one of the best beach bars in Paros, and why not? It has everything you could ask for: an unmatched location, a beautiful eatery with breathtaking seascapes, tasty drinks, and brilliant live music and events across the week.
It's nicely situated on the western coast in the lovely locality of Parasporos and well worth a look at regardless of what part of the island you're staying at.
Showcasing traditional Cycladic decor and fresh aesthetics, you could easily chill out at Zazala Beach Bar & Restaurant every day and never get bored. Pull up a bean bag at one of the enclosed settings next to the sand, order a nice Margarita and a Titi sandwich, and listen to the sound of the waves crashing up against the sand.
If the seating areas aren't your thing, you can book an umbrella with a sun lounger for €30. The closer you want to be to the sea, the more expensive it gets. Bear in mind that bookings can't be made on the same day as usage, so book in advance to avoid disappointment.
The atmosphere at Zazala Beach Bar & Restaurant is what really makes it. Groups of friends are kicking back on funky deck chairs, DJs are playing 60s/70s classics, and the drinks are flowing; all the ingredients for a good time.
BEACH CLUB IN PAROS INFORMATION
Hours: open 10 am to 9 pm Monday thru Saturday and 10 am to 10:30 pm Sunday
Faragas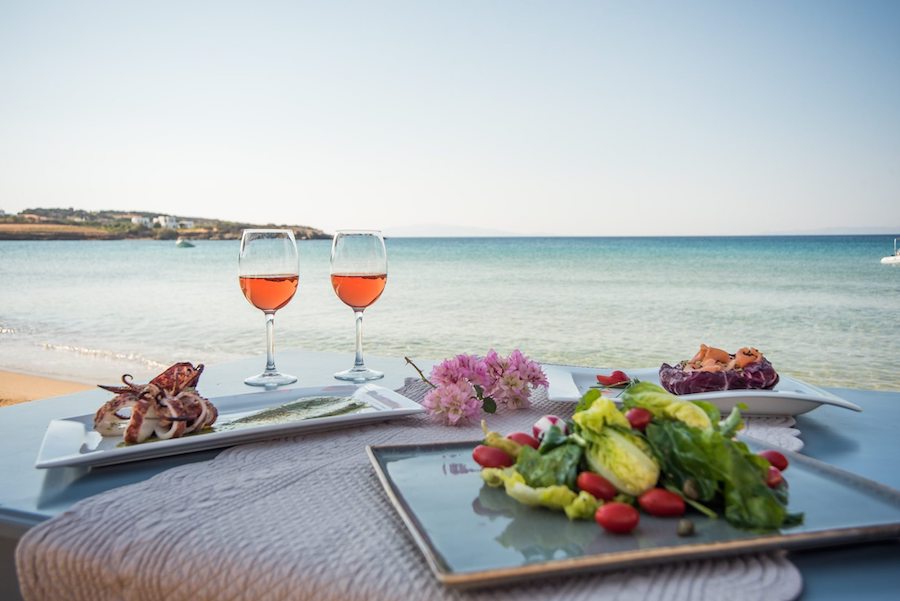 Fancy a date? Faragas is the main beach club in Paros for couples and honeymooners who are after a romantic drink. Positioned on Faranga Beach on the southern end of the island, looking out over the clear blue seas, Faragas Beach Club has a real charm between the venue itself and its surroundings.
Faragas' restaurant is open from 12 in the afternoon until 10 PM at night, with a menu mainly focused on seafood with fresh lobster and fish caught directly from some of the island's boats. For the carnivores out there, you'll be able to find some meat options too.
Purely pressed orange juice, freshly blended smoothies, and carefully crafted cocktails will keep you hydrated in +30 degree heat as the DJ gives you something to dance to. Although the restaurant is open at 12, the bar opens at 10 AM, so get there early for an early morning drink if your body is ready.
During high season, it's highly advisable to make a reservation at Farangas due to the rapid sell-out of their sun beds. They offer exclusive waterside deals, including two beds and an umbrella for as little as €35. Finding such affordable options with prime beachfront access anywhere else in Paros would be difficult.
Faragas is based in a quieter part of Paros, so there's not much to do in the area, but the neighboring village of Aliki is well worth looking at. You'll find some old Greek Orthodox Churches, the Museum of Cycladic Folklore, and some bicycle rental stores if you want to go for a pedal next to the coast.
PAROS BEACH CLUB INFORMATION
Hours: open 10 am to 10 pm daily (food is available starting at noon)
Golden Beach Club
Last but certainly not least, we have the alluring Golden Beach Club at the Golden Beach Hotel. Lying on the east coast, they have an all-day beach bar open to hotel guests and outsiders planning to unwind in the sunshine holidays.
Right on the ocean with views of Naxos in the distance (on a good day), the Golden Beach Club invites you to join them for some flavor-rich cocktails and light bites. The menu leaves nothing to be desired with an assortment of drinks, including Greece's national liqueur Ouzo and a nice choice of Greek wines. As for food, a mix of Mediterranean and global snacks are served all through the day.
A standard set of sun beds with an umbrella will set you back €25, but if bathing isn't your thing and you're not too fussed about drinking, Paros Divers is right next door to the Golden Beach Club, and they sometimes have some great deals on diving lessons regardless of your skillset and age. Their team of instructors are very professional and knowledgeable and know exactly how to put a newbie on the right track to becoming an expert.
BEACH CLUB IN PAROS INFORMATION
Hours: open 9 am to midnight daily
Beach Club Wrap-Up
It's no secret that Paros has some of the best beach clubs in all of Greece. They may not be too nice on your funds, especially if you're visiting on a budget, but for a nice day out, they're well worth a splurge.
Each part of the island has its fair share of options, especially the likes of Golden Beach and in and around Paros Ferry Port, so you're spoiled for choice.
PAROS BEACH CLUB FAQS
Does Paros have beach clubs?
Yes! While not as famous as neighboring Mykonos, the beach clubs here are top notch for a day by the sea, drinks in hand.
Does Paros have a good nightlife?
Absolutely. There are plenty of options for dancing, drinking and spending time at beach club parties.
Are Paros beach clubs open year round?
Some beach clubs are open year round and some are only open during the summer season. Make sure to check either online or by calling to make sure the club you want to visit is open.
How can I get to the beach clubs in Paros?
You can certainly take public buses, but a few of the clubs are further than the typical routes. If possible, renting a car or scooter is a great way to ensure you can make it to the more remote beach club locations.
When are beach clubs in Paros the busiest?
During the months of July and August, Paros Island is generally quite busy. Beach clubs fill up during these months, so make sure to reserve an umbrella or lounger ahead of time.
What is the most beautiful beach club in Paros?
We'd have to say Monastiri Beach Bar & Restaurant. The beach is breathtaking, with crystal water, sandy hills and hidden coves.
What beach club in Paros has the most exciting energy?
Cabana Paros has an incredibly fun vibe. It's close to the main town of Parikia, so expect larger crowds and vibrant energy.
There's no more time to waste; make a reservation and go dance the day away at one of these beach clubs in Paros or at least go for a swim at these beaches in Paros.
MORE GREEK BEACHES & ISLAND HOPPING IDEAS