We've all heard of Santorini, and we all know that it's one of the most popular Greek islands in existence. The postcard pictures you see online are jaw-dropping, and if you love sunsets, this is the place for you!
But what if you want a little beach time? Well, Santorini has plenty to keep you occupied!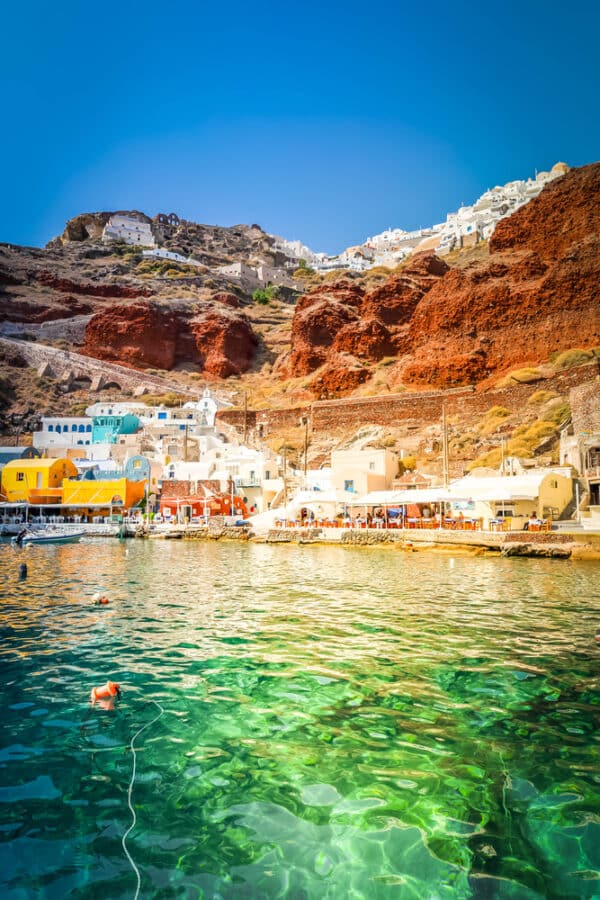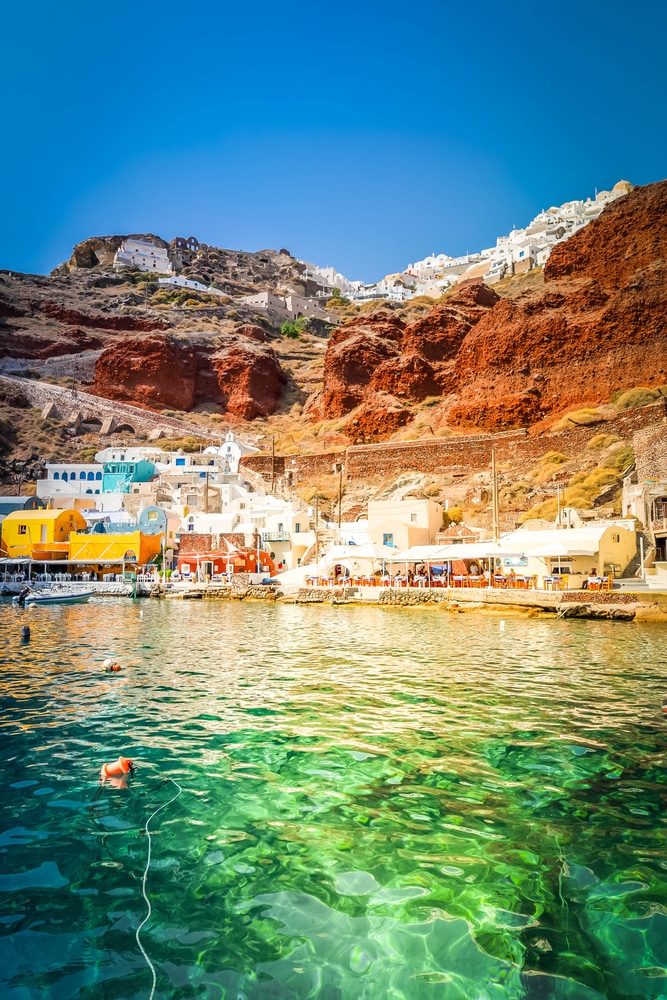 Because these are volcanic islands, you can expect the sand to vary in color from dark golden with dark flecks to deep black sand beaches. But that's what makes them so unique!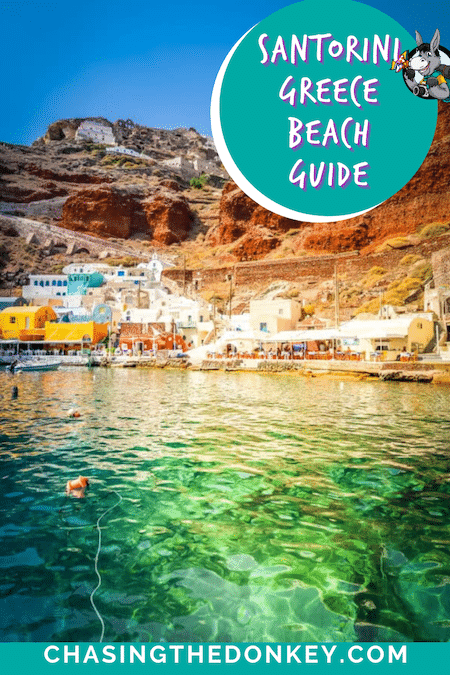 TRAVEL COMPANIES WE USE AND TRUST
Kamari Beach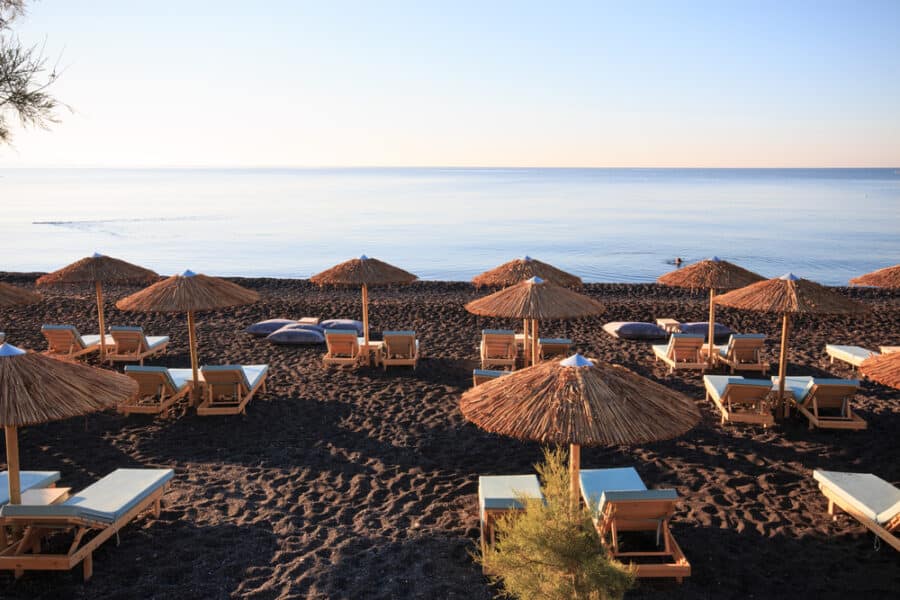 Families will adore Kamari Beach as it's a relaxed spot that has plenty to see and do within close proximity. The beach is close to the airport, so kids will love watching the planes flying overhead.
Very close to the beach, you'll find lots of amusements, such as mini golf and playgrounds, but the beach itself is ideal for building sandcastles and swimming. However, the beach is a little pebbly, so remember swimming shoes.
Caldera Beach
On the island's west side, you'll find Caldera Beach, which, as the name suggests, faces the famous caldera itself. You might also hear this beach referred to as Balos Beach, but they're one and the same. However, to reach the beach, you'll need to walk down a very steep road or drive if you feel brave.
Once you arrive, the beach is simply stunning, and the views are amazing. There are also some small restaurants to enjoy the sunset.
Perissa Beach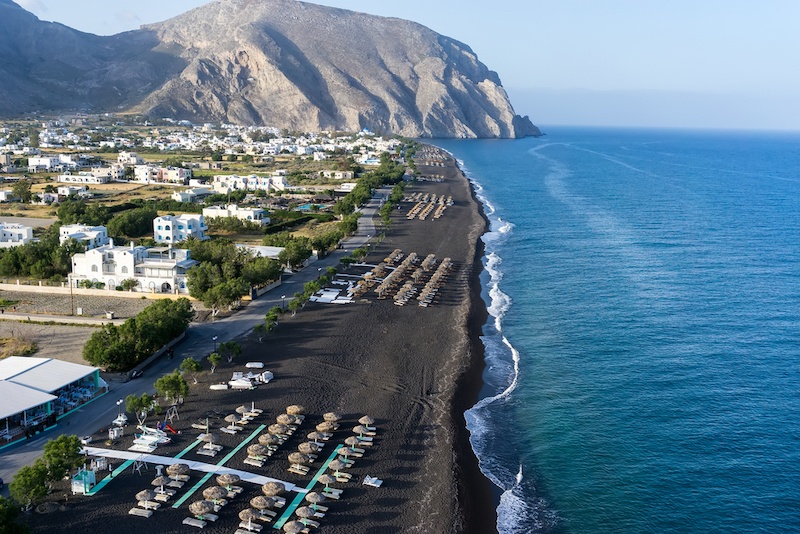 Perissa is a wide and golden/dark sand beach that's super popular with those who like a livelier type of holiday. There are several beach clubs in this area, and people sit here soaking up the sun until it's long gone down. But that's when the party starts!
Perissa Beach may not be the most family-friendly of beaches located on the southeast coast, but if you're looking for a lively and beautiful spot to base yourself, this is it.
Perivolos Beach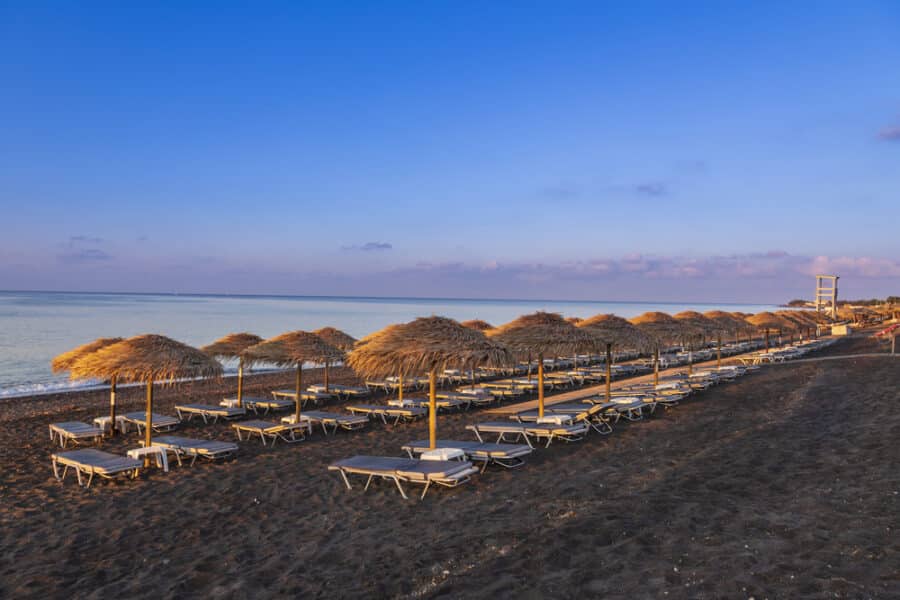 This beach is a typical black sand beach, but it's ideal for those who want to enjoy their beach days in relative peace and quiet. It's close to the party area of the island, but it's far enough away to give you space.
The beach is very long, and several watersports are on offer, including jet skis. The plus point is that there aren't as many hotels backing this beach as it's so long, meaning you'll never feel crowded in.
Eros Beach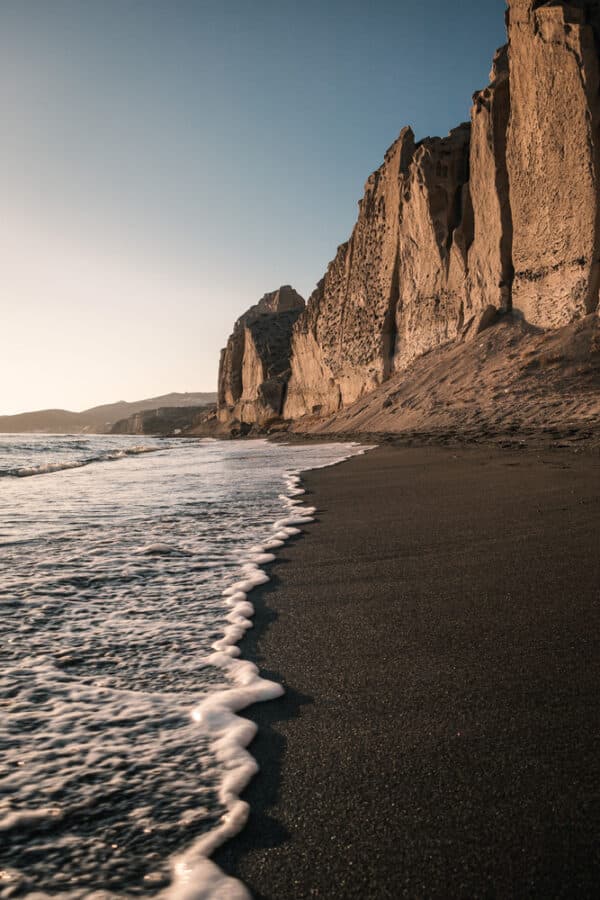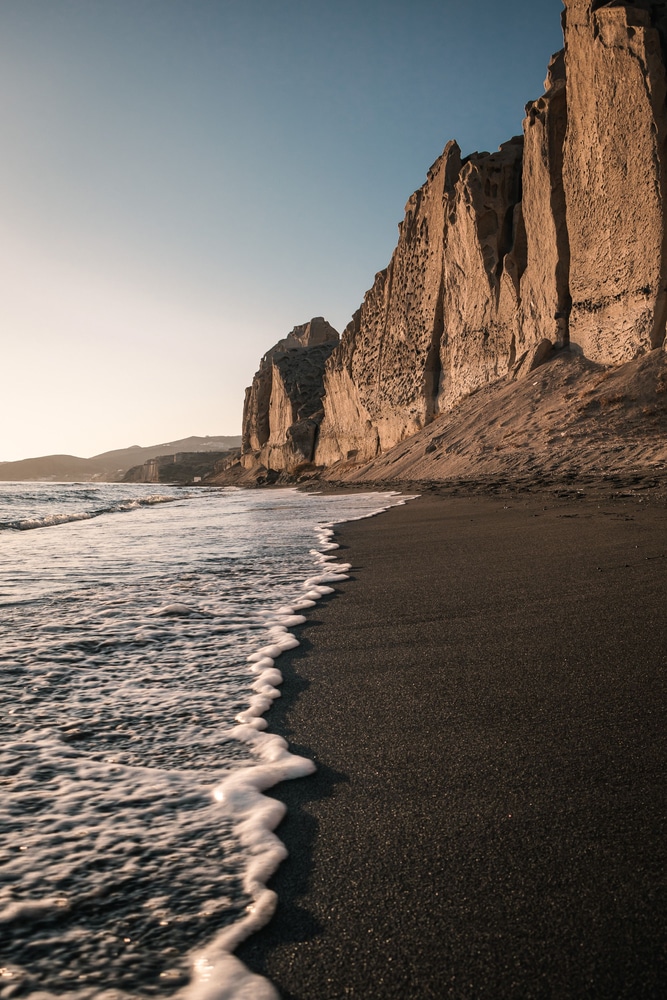 If you're visiting Santorini with someone special, you should head to this romantic and beautiful beach. Named after the God of sensual love and desire, the beach is stunning, and the sunset is mind-blowingly beautiful.
The soaring white cliffs that back the beach make for a little welcome shade, but the black sand is typical Santorini. You'll also find some beach clubs and a few restaurants within close proximity.
Cape Columbo Beach
On the island's north, you'll find Cape Columbo Beach, a hidden and slightly remote beach that gives you the best option to chill out. It's also known as a local nudist beach, so that's something to remember!
No hotels or bars around this beach exist, so you must take your own towels and parasol. The sea can be quite rough, but it's an excellent spot for sunbathing.
White Beach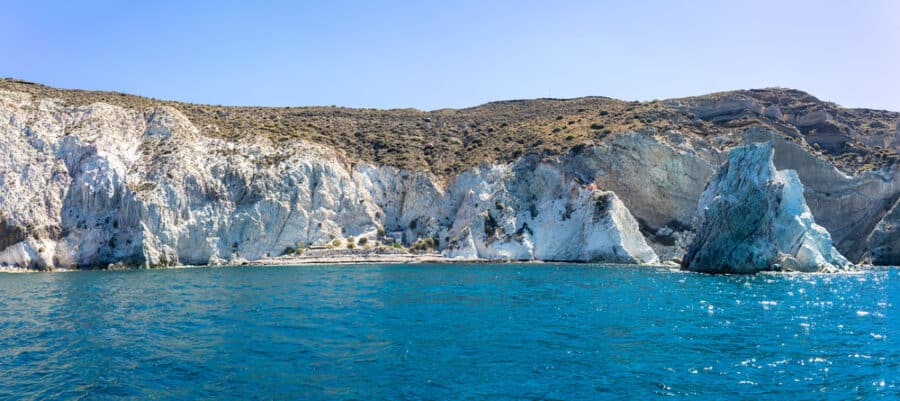 The huge, white cliffs and rocks behind this beach give it its name, and the contrast with the blue of the sea is delightful. However, this beach is small, so if you want to visit, you're best to get there early and bag a spot. Access to the beach is by boat only, and some sun loungers are available to make your day more comfortable.
Vlychada Beach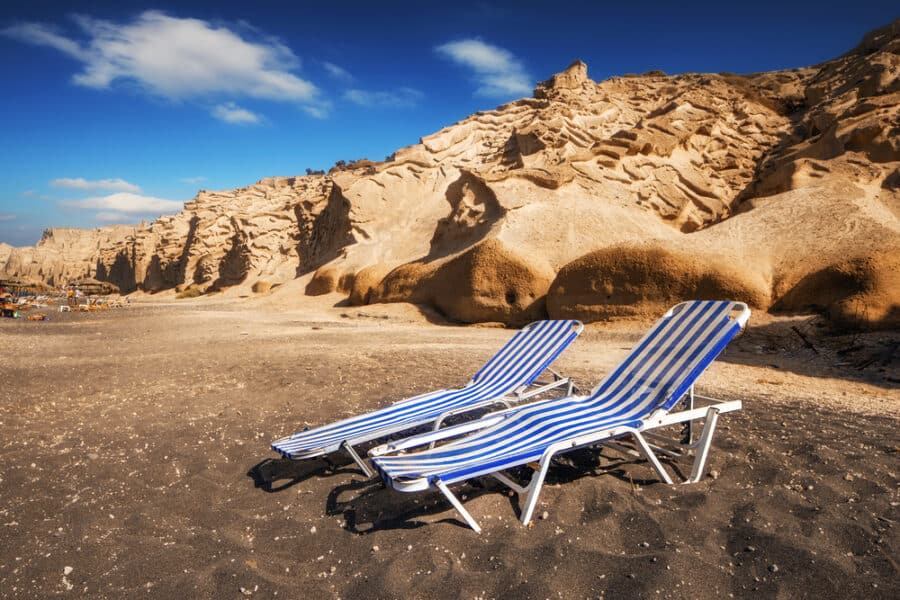 Vlychada Beach is a hidden gem that's ideal for anyone who wants to get away from it all and enjoy a relaxing day on the beach. Located on the south of the island, the huge cliffs and beautiful blue sea make for a fantastic view. The sand is a mixture of different colors and consistencies, and the water can be a little rough at times, so it's not the best for families.
However, nearby Vlychada is undoubtedly worth exploring for an hour or two.
Red Beach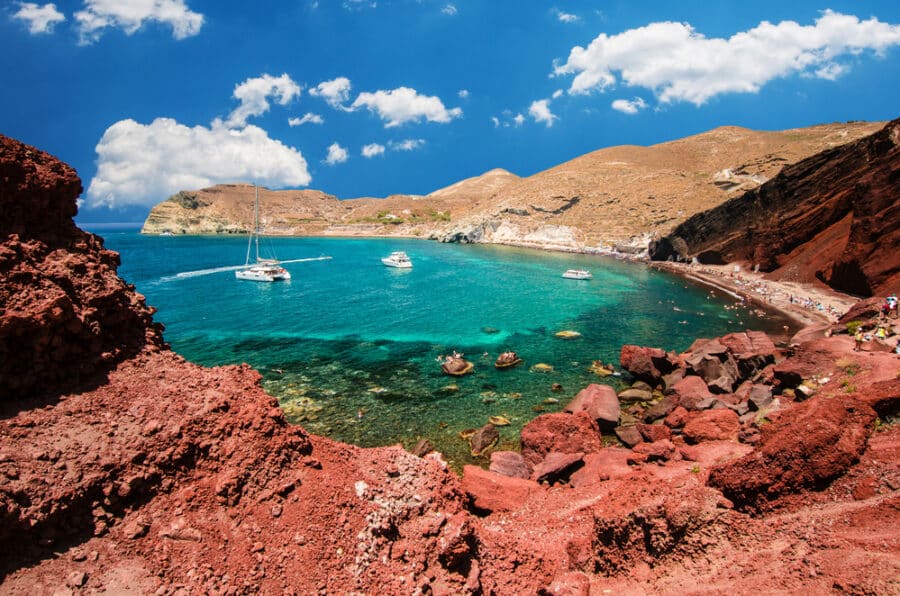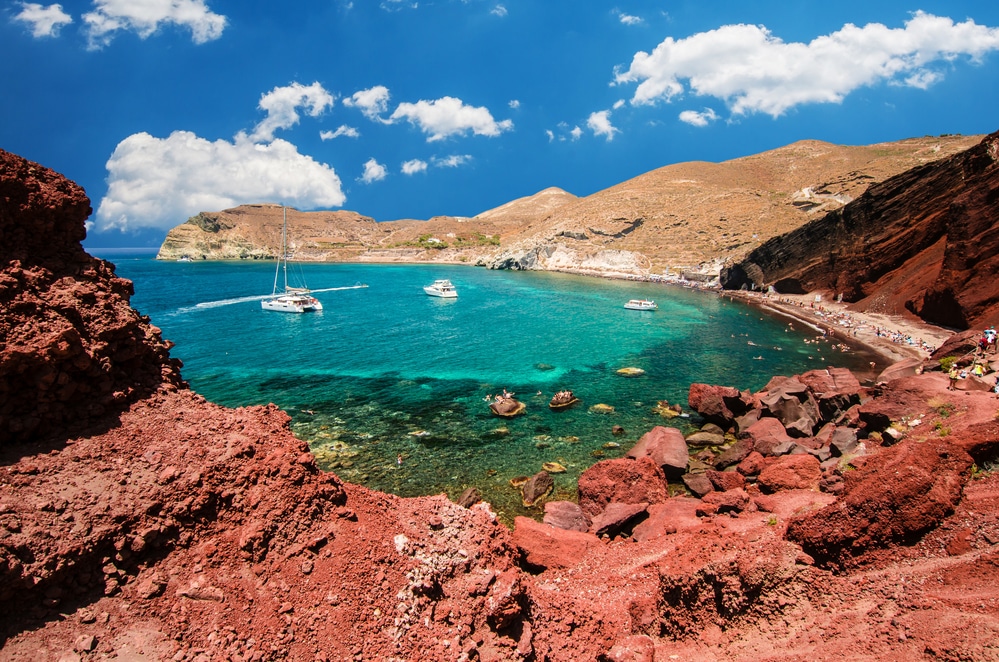 Red Beach is certainly one of the most instagrammable beaches on Santorini, thanks to the brown/red cliffs that tower up behind the sand, with the contrasting blue of the sea. Located on the south of the island, this beach is very popular, and it's ideal for a day enjoying the sun and splashing in the sea.
The beach is quite pebbly, and the path to the beach can be a little uneven underfoot, so good shoes are helpful here. However, once there, you'll be glad you made the effort.
Monolithos Beach
The sand on Monolithos Beach is as golden as it's likely to get on Santorini, making it a popular choice. The beach has facilities, i.e., sun loungers and parasols, and the width of the beach makes it ideal for families with children who like to roam.
You'll find lots of local families heading to this beach because the water is a little safer than some other beaches, without a steep drop into the water.
These are just a few of the beaches of Santorini; there are, of course, many more waiting to be explored. All you have to do is decide which of these Santorini beaches you'll swim at first.