Privacy & disclaimers →
Best Beaches On Rhodes That Are Waiting For You
Rhodes is one of the most famous Greek islands during the summer months. It is also the largest of the Dodecanese Islands, full of fun beach resorts and nightlife. However, there's also a huge amount of history here, with Rhodes Old Town a must-visit for anyone who enjoys architecture. In addition, the Palace of the Grand Masters is a great place to check out.
However, when the sun is beating down, the beach is the only place you want to be. So, let's check out 5 of the best beaches in Rhodes.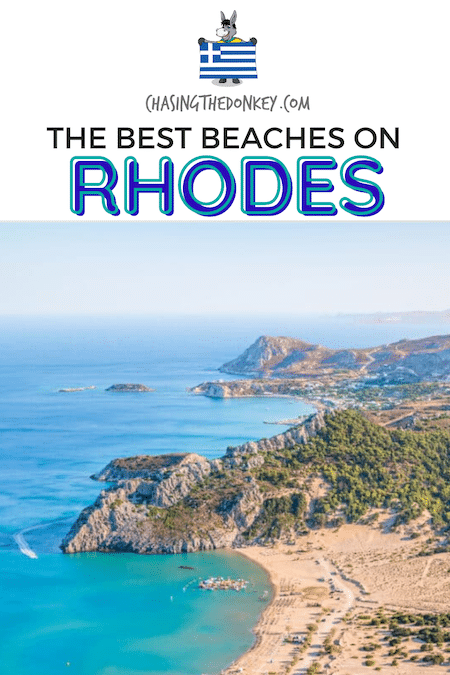 Anthony Quinn Beach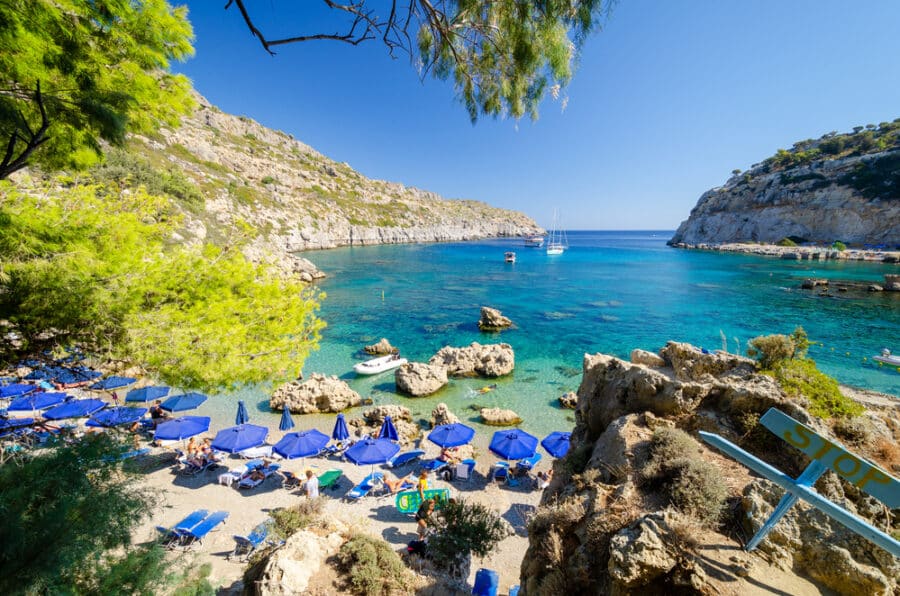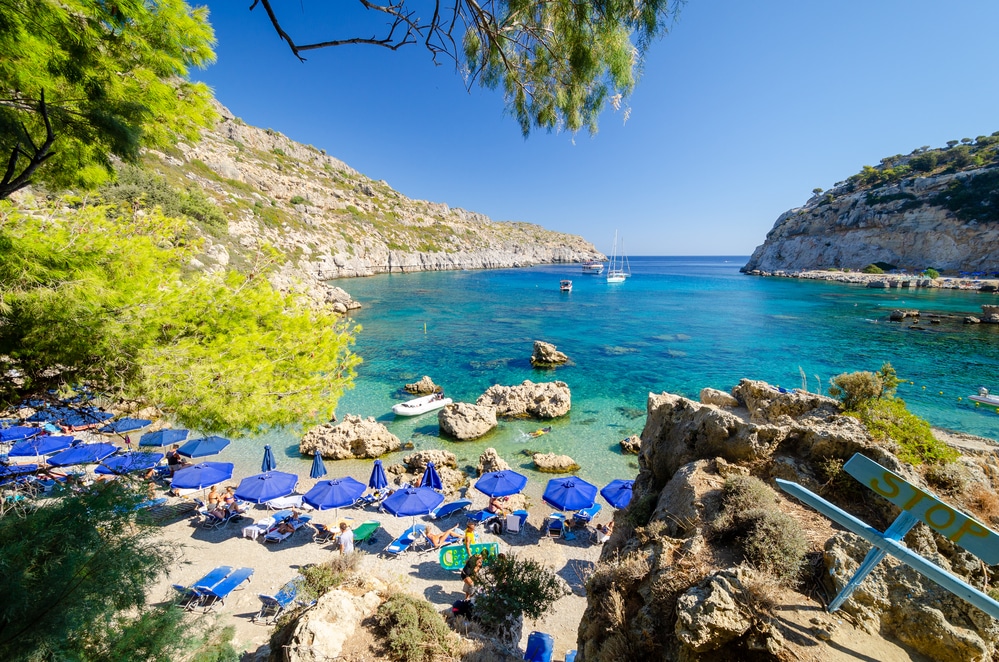 Antony Quinn Beach is one of the best beaches in Rhodes, given its name because it is where the actor used to visit during the summer and swim. With sand and pebbles, the water is clear and ideal for those who want to check out the underwater world. This beach may be small, but it's beautiful and has plenty of on-site facilities.
However, this isn't the best spot for families, as nudists tend to use the beach! Despite that, a day on the beach will be relaxing, and the surrounding hills are worth exploring.
How To Get To Anthony Quinn Beach
A bus from Rhodes Town heads to Antony Quinn Beach regularly throughout the day and takes around 20 minutes. You can also take a taxi.
Lindos Beach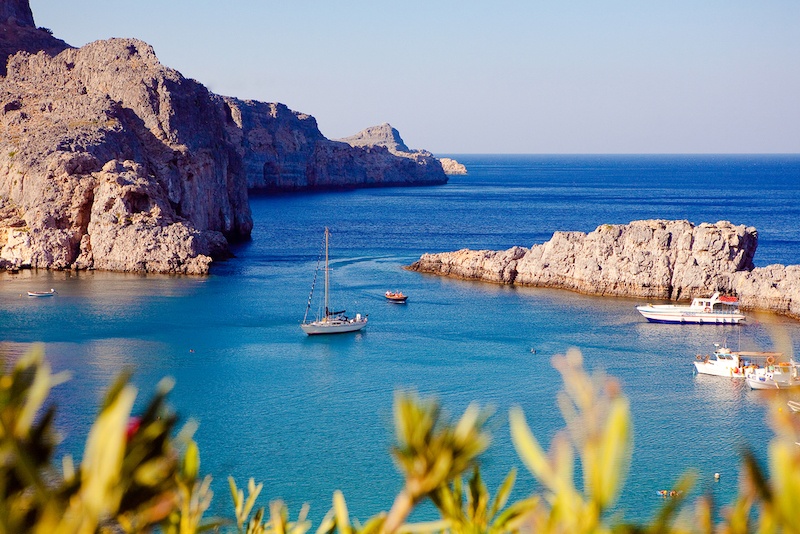 If you're staying close to Lindos, certainly make this Rhodes beach one of your must-visit beaches. It's a golden sandy beach that's ideal for families. The water is shallow, calm, and clear, and sun loungers and parasols are available. There are also cafes and restaurants just off the beach for refreshments.
The surrounding landscape is beautiful, with the contrast between the mountains and the blue of the sea.
How To Get To Lindos Beach
You can take a short taxi ride to the beach or the bus, which only takes 10 minutes.
Ixia Beach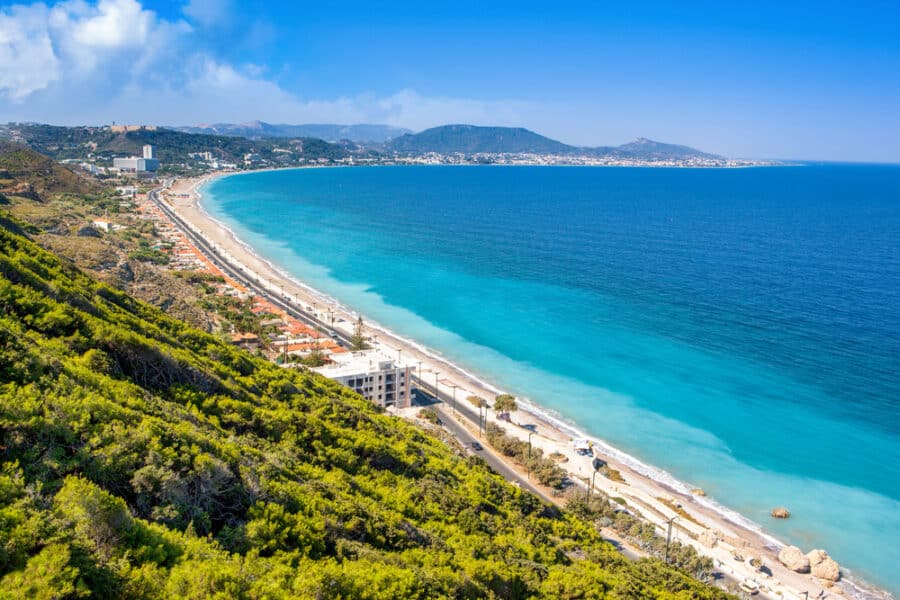 The great thing about Ixia Beach is that you can walk there from Rhodes Town, as it's only five minutes away, making it the easiest Rhodes beach to access. It's a great relaxing spot and always full of people, so you'll have that vibrant summer vibe to look forward to.
This beach is excellent for watersports, especially windsurfing. The beach itself is pebbled, but it's comfortable, and the water is clear and calm. Ideal for families and groups alike, this beach has parasols and sun loungers, and there are plenty of restaurants and cafes close by.
How To Get To Beach Beach
You can easily walk from Rhodes Town or take a short taxi ride if you're feeling lazy.
St Paul's Bay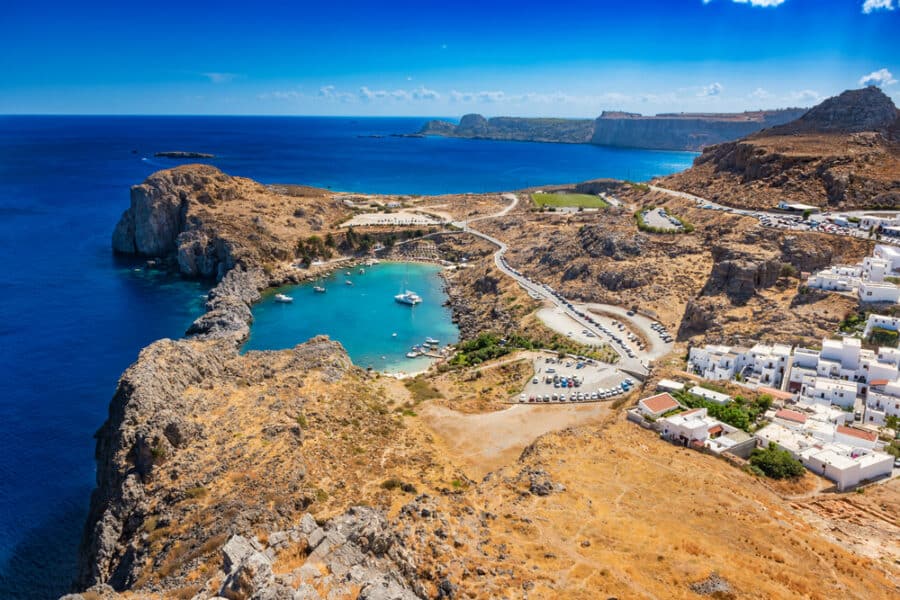 St Paul's Bay is a large sand beach located on the south-eastern coastline, very close to Lindos village. The beach is a short walk from the roadside, and you have to follow a trail, but it's a very relaxing spot once you get there and more than worth the walk.
The sea is very clear and calm, so it's ideal for snorkeling and swimming. There are also facilities on-site and a café for refreshments. Because this is one of the best beaches in Rhodes, it can become busy in the peak summer months but never to the point where you can't find space.
How To Get To St Paul's Bay
St Paul's Bay is just 10 minute walk from Lindos.
Tsambika Beach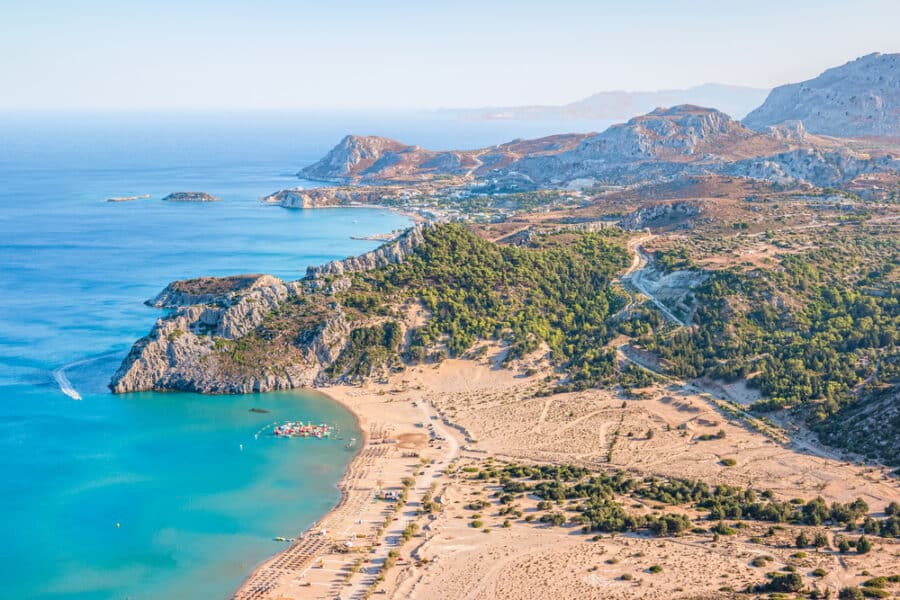 You'll find Tsambika Beach on the island's east coast. If you have time, it's a great idea to spend the evening here, as there's lots of vibrant entertainment to enjoy. This beach on Rhodes has plenty of on-site facilities and watersports on offer too.
Beach-wise, the bay is sheltered, so it's never too windy, and there is shade from the sun. The water is calm and clear, and it's an excellent spot for families to spend the day.
How To Get To Tsambika Beach
A bus leaves Rhodes Town and goes to Tsambika Beach in the summer months, which takes 30 minutes. Alternatively, you can take a taxi.
These are just a few of the beaches of Rhodes; there are many more waiting to be explored. All you have to do is decide which of these Rhodes beaches you'll swim at first.