We may earn commission from affiliate links →
Koufonisia: Kato Koufonisi & Ano Koufonisi In The Cyclades, Greece
Nisi is a Greek word that means island, and its plural is nisia. So, when talking about Koufonisia, we need to remember that we are talking about a small cluster of three tiny Cycladic islands. These are Kato Koufonisi, Ano Koufonisi, and the uninhabited Keros.
This unique group of small islands remained isolated from the Greek tourist trail for a long time and have been recently discovered; therefore, they still have an unspoiled character offering just a few things to do as well as incredibly pristine beaches and immaculate beauty.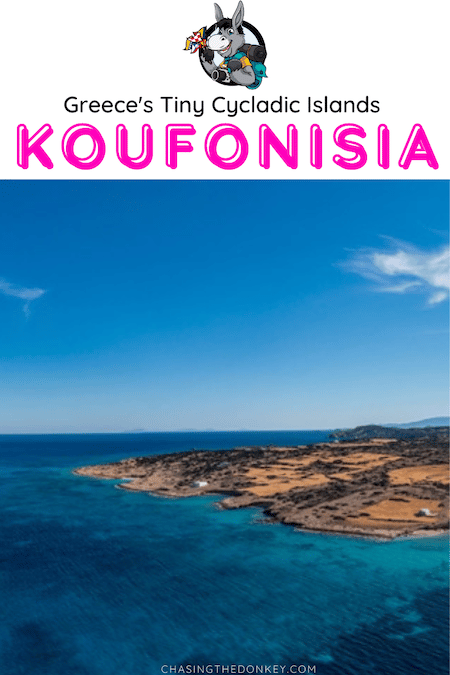 Where Is Koufonisia
These pretty islands are part of the so-called Small Cyclades group and are located in the heart of the Aegean Sea, quite close to the bigger island of Naxos. The islands belonging to the Small Cyclades are Koufonisia as well as Iraklia, Donousa, and Schinoussa.
The three islands belonging to Koufonisia feature some fantastic, Caribbean-like beaches with dramatic surroundings, powdery white sand, and a unique atmosphere.
The Three Islands
Kato Koufonisi is separated from Ano Koufonisi (also known as Pano Koufonisi) by a strait about 200 meters wide.
Ano Koufonisi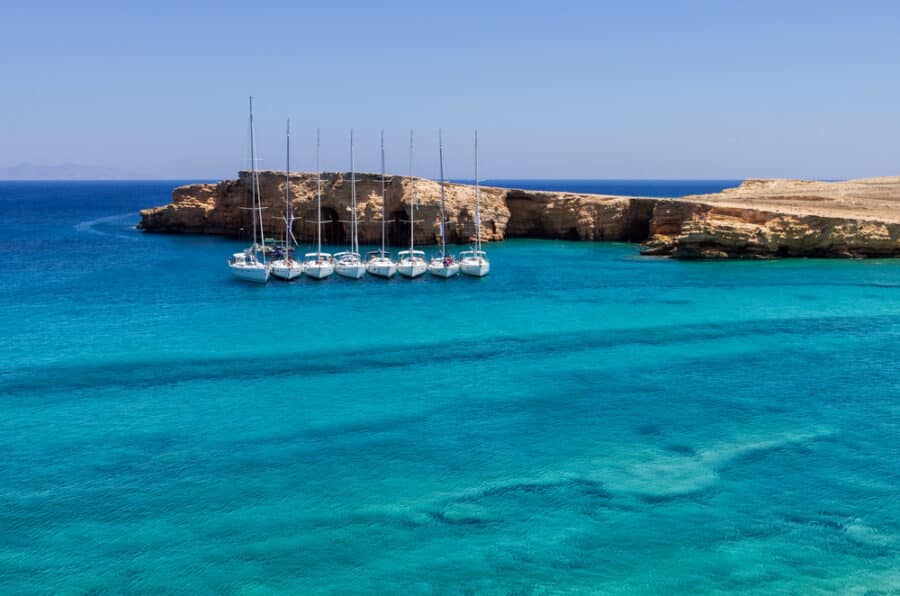 The main island is Ano Koufonisi, which receives the ferries from Athens and other islands nearby. It is home to less than 400 inhabitants all year round, and it's where you find most hotels and things to do.
Kato Koufonisi

On the other hand, Kato Koufonisi is even smaller, featuring just a handful of houses and a gorgeous tiny harbor for day visits and excursions, but it has no permanent residents.
Keros
Keros is the smallest of the three, and it is not easy to visit as it lacks structures. The island has been uninhabited for more than 45 years and houses an important archaeological site. The island can be explored by a boat day trip, but there are no options to stay overnight. The island also lacks drinkable water.
From a historical point of view, Keros might be the most interesting of the three. Here, different excavations have unearthed the remains of a pre-Cycladic civilization that inhabited the territory between 2800 and 2300 BC.
On Keros, archaeologists have found statues, stone utensils, ceramics, obsidian blades, and even tombs exhibited in the National Archaeological Museum in Athens.
PLAN AHEAD TO GET THE BEST DEALS
How To Get To Koufonisia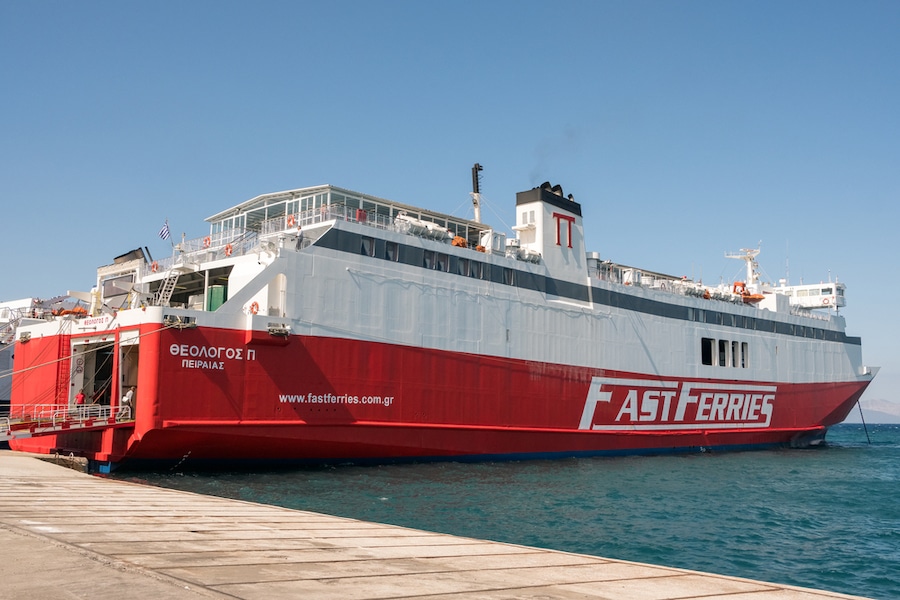 The only way to get to Koufonisia is by ferry, either a fast ferry (about 5 hours) or a conventional vessel (almost 8 hours). The ferries depart from Piraeus as well as from the port of Rafina.
It is also possible to board a direct ferry from other Greek Islands, including the closest of all, Naxos, Santorini, and Mykonos. If you prefer to fly, it is possible to land either in Mykonos or Santorini and then take a boat to Koufonisia. The boat ride between Mykonos and Koufonisia is under 1.5 hours, while it takes more than 2 hours from Santorini.
How To Move Around In Koufonisia
This is one of those destinations where you won't need a car to move around and explore. It is pretty easy to go to the beach by walking on several paths that provide easy access to the coast. To reach some areas with more difficult access or to check the three islands of the group, it is possible to take a taxi boat from the local harbor.
The island of Ano Koufonisi has a local bus that connects the port with other areas of the island. On the island, hiring a car is impossible, but you can easily rent a bike, which is probably the most efficient way to move around. Bike rental prices are pretty affordable; they range from 5 to 8 euro daily, depending on the month you visit. In general, Ano Koufonisi is very easy to navigate on foot.
When To Visit Koufonisia
Following the tradition of most Greek Islands, this destination sees the biggest number of tourists during July and August. For pleasant temperatures and fewer crowded facilities, it is best to plan your holidays in June or September.
If you're wondering how long you should stay… well, it all depends on your availability, but at least two days will be necessary to visit and explore. Of course, the more you can stay, the better, not because there is plenty to do, but simply because it is a very relaxing place to disconnect from everyday routine.
Best Things To Do In Koufonisia
Those who cannot do without a generous dose of beach life during their summer holidays will fall in love with these islands. There is not much more to do in Koufonisia. This group of islands represents the ideal destination to spend long, thoughtless hours on the beach, swimming, sunbathing and sipping cold coffees without worrying much about timetables and schedules.
Of course, being the ultimate beach destination, you will easily find sea activities in Koufonisia, such as fishing, snorkeling, scuba diving, sailing, or joining boat tours to explore the surroundings. As an alternative, the area is also suitable for some easy hiking and relaxing walks at sunset or in the early mornings, when the sun is not as high.
And if you like to explore, the islands offer an incredible collection of beaches you can discover little by little during your stay.
Discover The Chora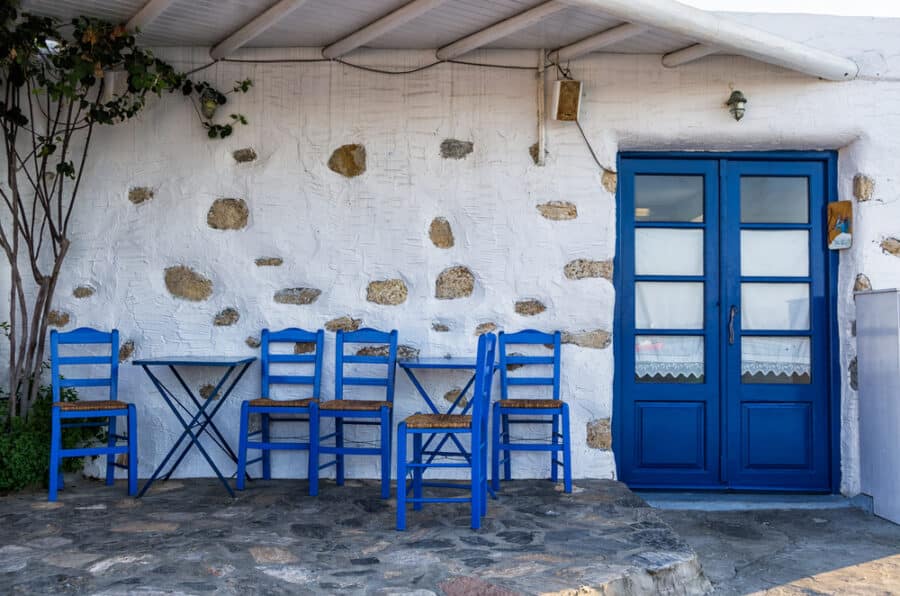 The main town on the island of Ano Koufonisi is Chora, a small settlement and the place where you will probably be staying (accommodation is available only on Ano Koufonisi, although free camping is tolerated in Kato Koufonisi).
Like many other Cycladic settlements, the small village is home to charming, narrow cobblestoned roads with tiny whitewashed houses, some coffee houses, traditional tavernas, and a few bars open until late at night. A few stores also sell handmade crafts such as jewelry and some ceramics, garments, and other souvenirs.
In this main settlement, it is possible to pay a visit to the Ethnographic Museum of Ano Koufonisi, featuring a small but interesting collection of utensils and other objects related to the local island life, most of them donated by the inhabitants.
Discover The Beaches In Ano Koufonisi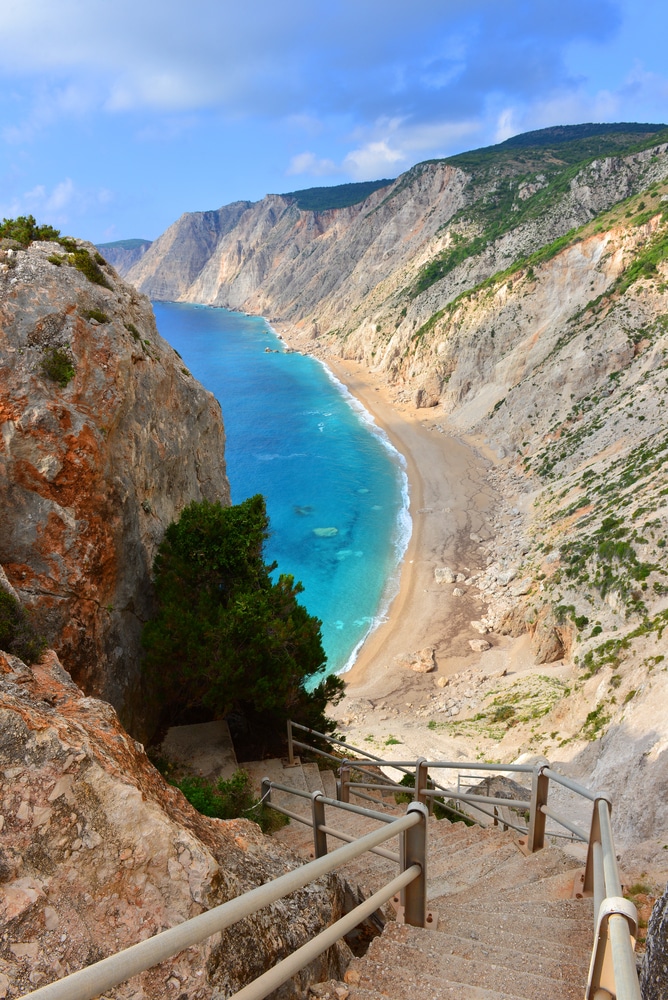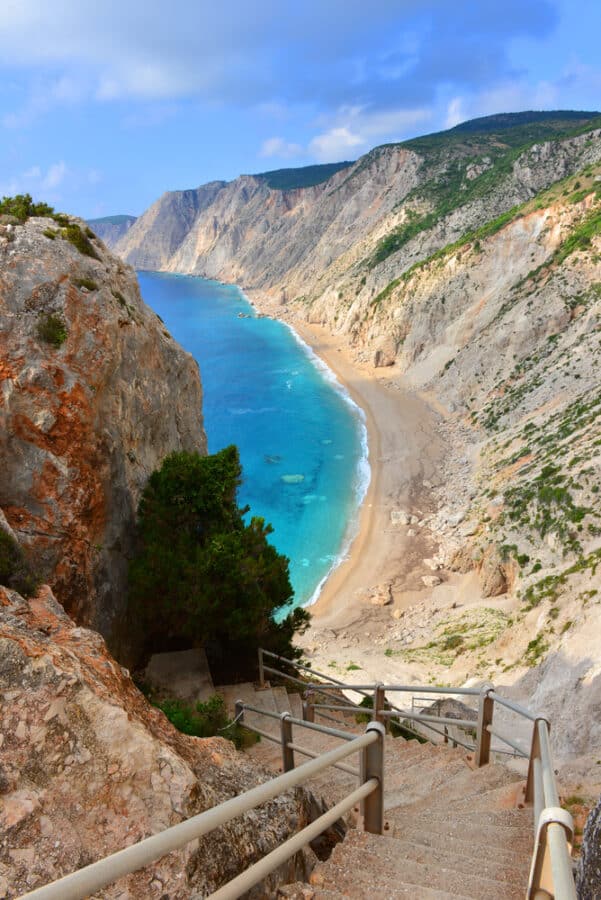 Ammos Beach
Ammos Beach, located just next to the small harbor in the Chora, is the most popular (remember, though, that we are not talking Santorini or Mykonos popularity levels!). It is a fantastic beach with clear waters, soft sand (Ammos means sand in Greek), and clear blue waters. The area is partially organized, and there are a few fish taverns and bars, too; however, there are no umbrellas or sunbeds.
It is always a good idea to ask at your hotel if any previous guest left an umbrella behind. This is a common thing to do on many small Greek Islands. You can buy a beach umbrella for as little as 5 euro in any convenience store and, when you leave the island, simply leave it behind in your hotel for the upcoming guests.
Finikas
Another lovely beach close to the Chora is Finikas, a fantastic shore with shallow waters that are safe for small kids just learning to swim. You can have lunch in the delicious (and exceptionally convenient) local taverns just meters from the sand.
Fanos Beach
Just minutes on foot from Finikas, Fanos Beach also features clear, turquoise waters and is one more kid-friendly beach on the island. In the area, you will find a small snack bar (that's part of a hotel) where you can get light snacks and cold drinks, so packing a huge beach bag won't be necessary.
You can get to this beach on foot, but it is also reachable with a taxi boat.
Italida Beach
If you want, on the same day you visit Fanos Beach, you can also explore Italida Beach (also known as Platia Pounta), located a good half-hour walk from Chora.
The beach has crystal waters with different shades of blue and green. The beach has a naturist section, and it's heavenly… so don't leave your photo camera behind! You won't find any bar or restaurant, so pack all you need to spend the day… because, trust me, you won't want to leave!
Pori
If you're interested in venturing a bit further from the Chora (about 40 minutes on foot but also reachable with a taxi boat and bus), then spend some time at Pori, the beach that many define as the best beach on the island.
Also, in this case, you won't need to pack a lunch as there are two different restaurants nearby (mind you, they are not convenient, so maybe packing a few snacks is not such a bad idea after all). This beach is a popular place for snorkeling. The beach is a long, sandy bay with soft sand that can sometimes be windy.
Check The Caves And Rock Formations
The island not only has some incredible beaches, but there are some unique sea caves and rock formations that make excellent backgrounds for scenic pictures.
Located close to Pori, you can start by checking a cave known as Devil's Eye.
When visiting Italida Beach, you can walk and reach a beautiful natural pool where diving is nothing but a pleasure. It is called Piscina (Italian for pool, in case you were wondering), and it is a favorite spot for tourists and locals alike.
Swimming In Kato Koufonisi
A day trip to the tiny island of Kato Koufonisi will allow you to discover more incredible beaches with gorgeous shallow waters. You can join a boat tour from Ano Koufonisi or take a taxi boat to visit.
Keep an eye on the meteo condition and choose a day with no wind to visit. Tours depart from the port of Ano Koufonisi, although the schedule changes according to the weather and the season, so it is always better to ask around in the port to have the most accurate information about departure times.
If you make up your mind and decide to spend a day on Kato Koufonisi, keep in mind that structures are minimal. You won't have many options with only one restaurant on the island. If picky eaters are in your travel group, pack accordingly and include drinks in your bag.
The island has some wild beaches worth the trip. One of them is Nero Beach, a great place to spend the morning, swimming in the pristine waters or lazily resting on the warm sand.
Where To Stay In Koufonisi
The most important settlement on the island, Chora, is the best place to stay. The island offers several types of accommodation, although there are not as many hotels available as you could find on bigger islands. Therefore, they tend to sell pretty early in the season; keep this in mind and book in advance. These are the ones we recommend.
Exclusive Stays In Koufonisi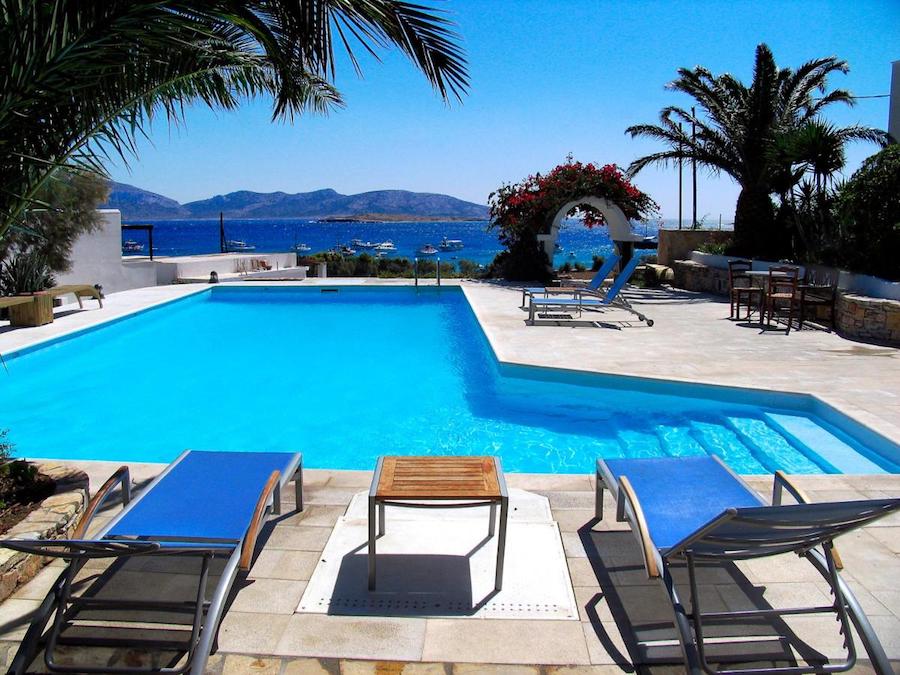 Suppose you're looking for a stylish hotel with an outdoor pool, free wi-fi, and a garden. In that case, Keros Art Hotel is a fantastic option, featuring rooms with unique comfort and a few extras such as a free shuttle service, a roomy patio, and a seating area. The hotel is about 200 meters from Fanos Beach and less than 2 kilometers from Italida Beach.
Family Stays In Koufonisi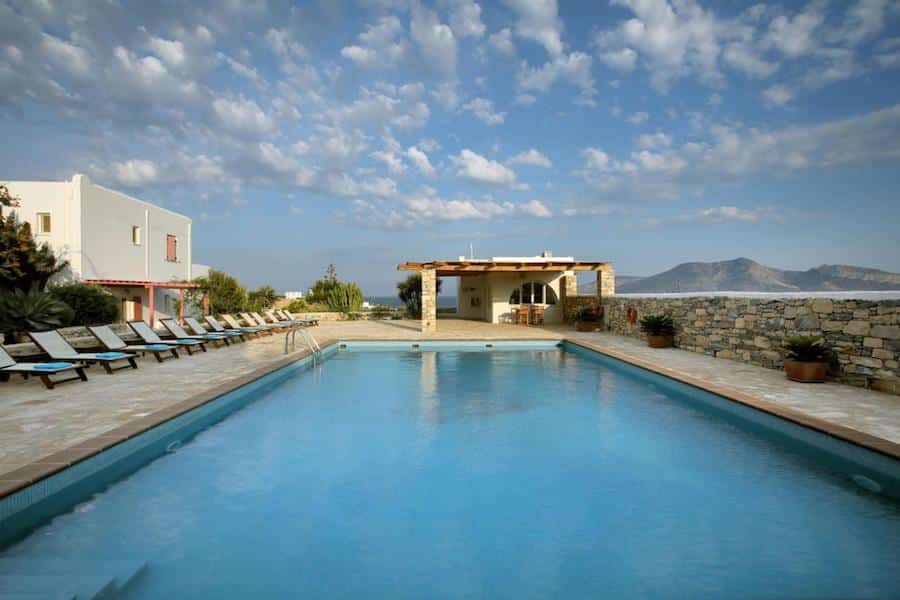 Aeolos Hotel is situated about 250 meters from Ammos Beach and has family rooms and a unique pool area. It has accommodation with a seasonal swimming pool, a bar, a terrace, and a garden. Some rooms include balconies as well as kitchenette and seating areas. The hotel offers continental breakfast by the pool too.
Affordable Stays In Koufonisi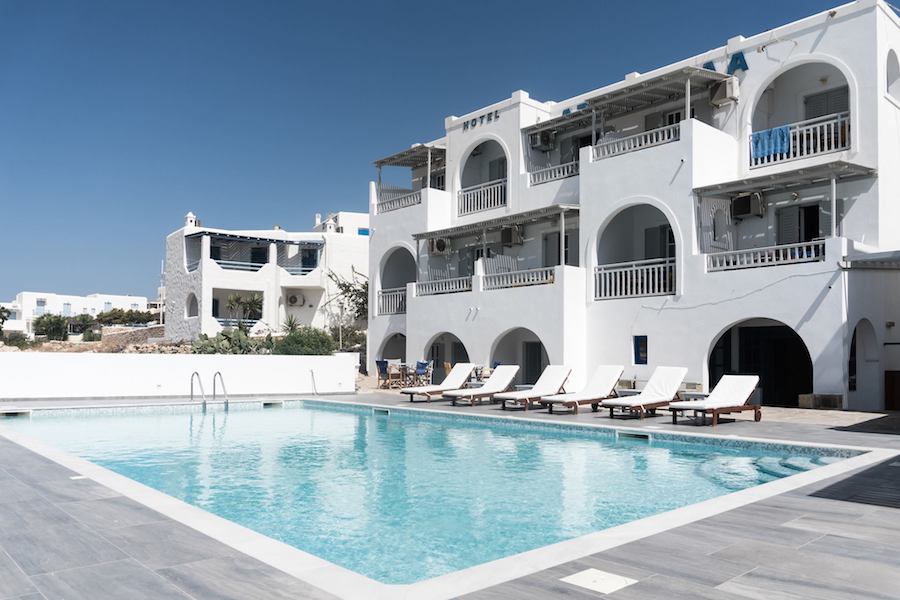 You can enjoy the comfort of a beachfront hotel with a small price tag at Atlantida Hotel, just 50 meters from Ammos Beach. The property, built in perfect Cycladic style, features facilities such as a snack bar with a sun terrace overlooking the sea. 
The whitewashed guest rooms, studios, and apartments come with a fridge, a TV, and an electric kettle, while some of them also have a kitchenette for further convenience. The hotel serves a daily buffet breakfast in the dining area, while drinks, coffee, and light meals are available at the snack bar all day long. The property is just steps from different tavernas and bars in the center of Koufonisi, while the port is a 5-minute walk away.
Where To Eat In Koufonisi
There are a few interesting places to check when visiting the island for authentic food experiences.
Karnagio
Karnagio is located on the outskirts of Chora. This restaurant features traditional Greek dishes and is perfect for a light meal.
Capetan Nikolas
If you're visiting the island for its mouthwatering fish and seafood, then Capetan Nikolas is the place where to book a table for dinner in the magnificent garden or terrace. The restaurant is a famous meeting point on the island (often crowded) and features a gorgeous sea view. The restaurant specializes in fish, traditional pies, pasta with seafood, and meat dishes.
Kyma Café
On the island, you can also have a drink at Kyma Café, a nice bar by the seafront featuring a picturesque veranda on the rocks with an amazing view of the port. The place is perfect for early breakfast and a late-night cocktail. It's known for a variety of delicious pancakes and homemade sweets.
Share