Not as popular as its neighboring island, Sifnos, Serifos is an island with a fascinating history to discover. Known for being the place where Medusa lost her head, according to the Greek legend, this is a gem of an island worth exploring this summer.
Let's discover the best things to do in Serifos during your next vacation in Greece.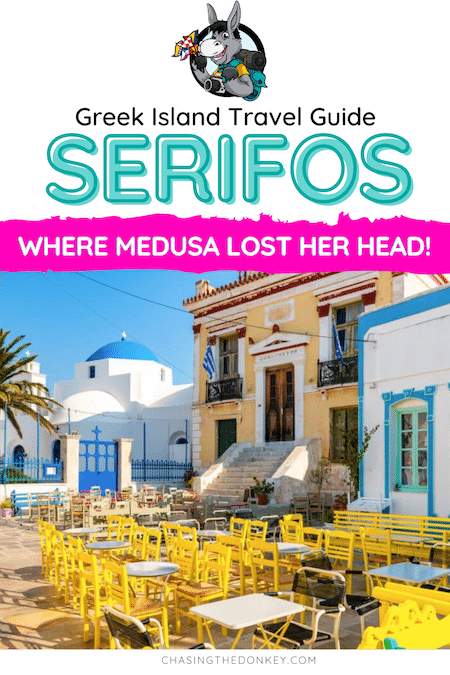 Where Is Serifos Island
Just a few minutes by ferry from Sifnos, Serifos is a Cycladic Island near the mainland, located in the Aegean Sea.
How To Get To Serifos Greece
One of the things you will love about Serifos is how easy it is to get there from the port of Piraeus with a fast ferry; the trip is about two hours. Boats are also leaving from the port of Rafina.
The island is well linked to many of the Cyclades, with daily or weekly connections (depending on the season) to Sifnos, Mykonos, Folegandros, Kimolos, Milos, Paros, Naxos, Santorini, and more. This makes it one of those stops to include in your island-hoping itinerary in Greece.
When Is The Best Time To Visit Serifos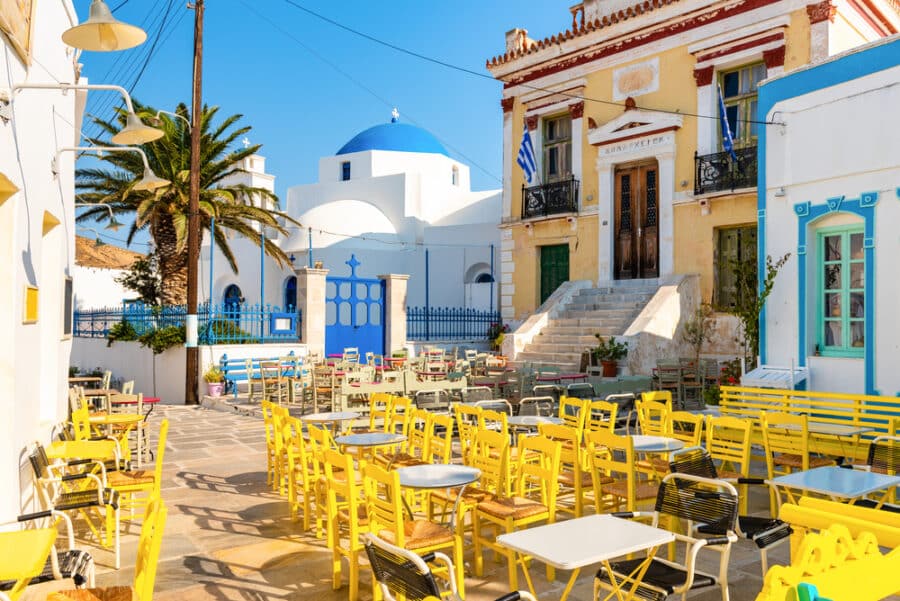 This island is perfect for a summer vacation as it hosts impressive beaches, and the weather is delightful from late June until September.
From late May until September, the temperatures are pleasant for seaside activities. During summer, however, accommodation prices tend to go up as the island has seen an increase in visitors during the last few years. Keep this in mind to book early.
Spring is also an excellent season to visit, as days are still long and sunny. Winters do not see as many travelers since many local businesses and accommodations are often closed for the cold season.
Top Things To Do In Serifos Greece
Now, let's get onto the best parts of our Serifos travel guide.
Incredibly beautiful and full of mysterious or abandoned places to discover, Serifos hides incredible opportunities to have fun, learn, and embrace a fantastic summer vacation.
Let's see what the best things you can do in Serifos for an unforgettable adventure in Greece are.
Check Out The Port Of Livadi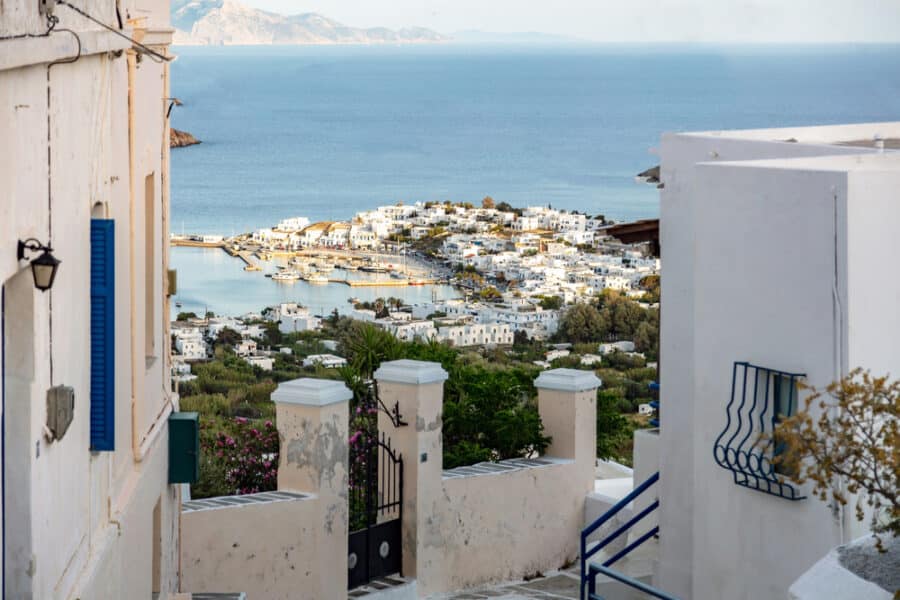 The place where your ferry will arrive and the first settlement to welcome you to the island of Serifos is Livadi. This is an ample green bay from where it's pretty easy to reach almost any point on the island.
The tranquil shore around Livadi attracts dozens of yachts and occasional visitors who stop over for the weekend on their way to further Aegean destinations.
Near the port of Livadi, there is a tiny harbor known as Livadakia (literally meaning small Livadi or small port), where you can enjoy the tranquil beach and find more affordable accommodation than you would find in the main port of Serifos.
Spend Hours Exploring The Chora Serifos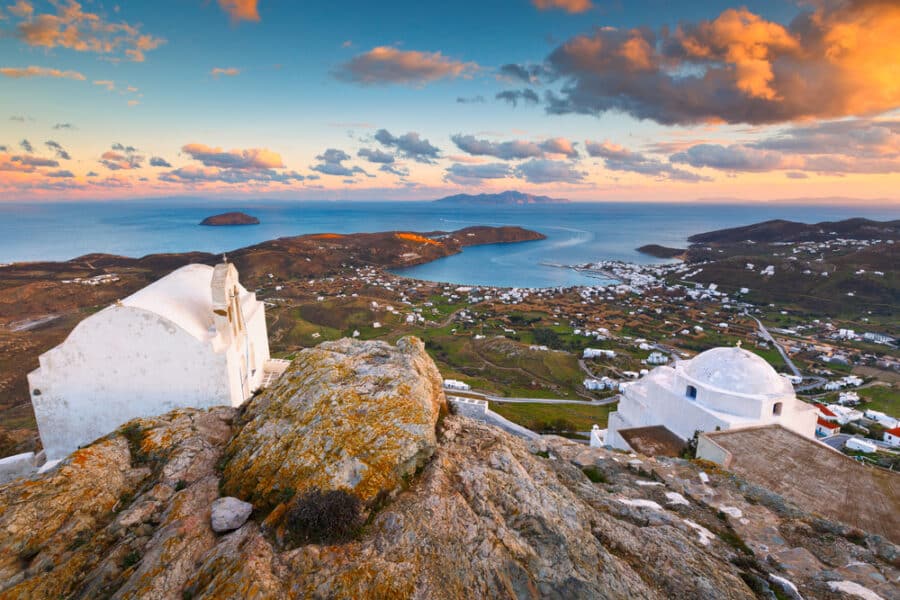 On top of a mild hill about two kilometers from Livadi, the main town of Serifos, Chora, is one of the most spectacular settlements in the Aegean. The town's highest point offers enchanting panoramic views you don't want to miss.
In Chora, you will be able to explore the ancient Kastro, a beautiful fortress located at the end of steep stairs that populate most of the alleys in the old settlement. In Chora Serifos, you can check out the church of Saint Athanasios, a small and beloved chapel on the island.
Chora is the right place to explore and discover enchanting whitewashed houses, but also the center of entertainment and Sifnos nightlife, housing some of the best bars and restaurants on Serifos Island.
Check Out The Abandoned Mines In Megalo Livadi
Located north of Serifos Chora, the small village of Megalo Horio and its harbor Megalo Livadi was the place where the island saw its most important growth during the last centuries, where the mines were in entire operation and expansion.
Over here, you will still find abandoned ancient structures made of iron, an old bridge, and several other systems. Many don't know that since ancient times, the island of Serifos has been an active mining place in Greece, occupied during Ancient times and under Venetian Rule.
Although closed during the Turkish occupation of the country, the mines opened again in 1830. However, the safety measures for local workers were incorrect and caused several deaths among workers, who, in the end, organized a hard strike in the first years of the 1900s which finally led to the closure of the mines. There is a memorial dedicated to the miners in Megalo Livadi.
Exploring abandoned mines in the area is possible, but it is always better to do so with a local as the risk of getting lost is relatively high. Many of the paths are not marked and are pretty dangerous.
Visit the Fortified Monastery of Taxiahon
Located close to the popular Platis Gialos Beach, the fortified monastery of Taxiarhon is another place to visit on Serifos. The building dates back to the fifteenth century, and it used to host over fifty monks who would work producing sweets.
Today, only one monk lives in the complex, and it is possible to visit agreeing on the visiting hours with him before getting there. You can ask for help by getting in touch at the reception of any hotel on the island.
TRAVEL COMPANIES WE USE AND TRUST
Best Beaches In Serifos Greece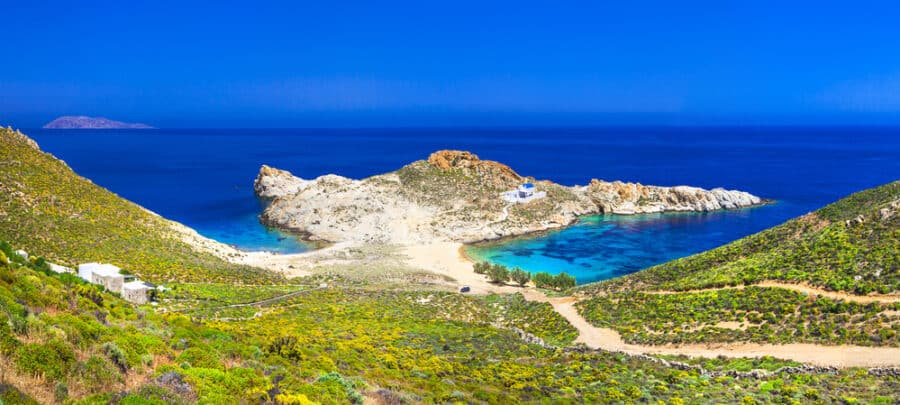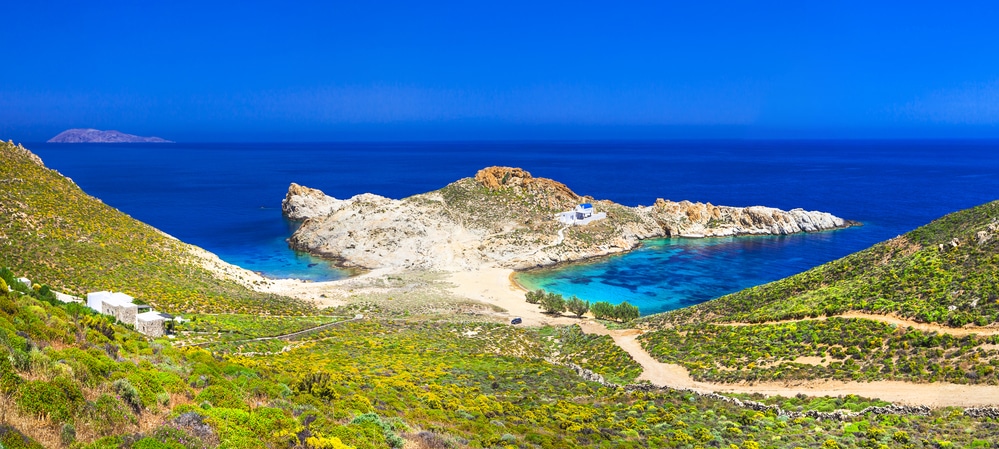 Despite being small, Serifos does not lack amazing beaches, many of them relatively isolated and lacking organization. It is always better to rent a car to explore. Be extra careful while driving since most roads are not paved.
As you can deduce, most of these shores lack organization, but you might find some beaches with just one family-run taverna serving a few dishes and which do not even have a menu.
These are some of the beaches you should visit on the island of Serifos.
Psili Ammos Beach
Some people describe Psili Ammos as the most beautiful beach in Serifos. This is a very popular beach about 8 kilometers from the port of Livadi. However, there are just a few ways there, on foot or by motorbike, as there are no safe roads to reach the place.
This sandy beach features shallow crystalline waters, and plenty of trees offer natural shade.
Koutalas Beach
Koutalas is easy to reach; you must follow the gravel road from the port of Livadi. This is an excellent shore for families as it is well-sheltered, and there are enough trees to offer natural shade during the day's hottest hours.
The beach is in a quiet location. There are some simple tavernas where you can try local fritters, fresh fish, and refreshing salads.
Platis Gialos Beach
This pristine and isolated shore is located about twelve kilometers from Chora Serifos. There are no organized structures or places to rent lounges or umbrellas. There are also no places to get food or cold drinks, so you will need to pack enough for the day. On the shore, a few tamarisks trees also offer shade.
Ganema Beach
This is a secluded, sandy beach perfect for making the most of a relaxing vacation. The beach features both soft sand and small pebbles, while there are trees for shade, and the shore is relatively shallow.
This beach is not far from Koutalas, and if you have the right vehicle or are willing to hike, it is a good idea to visit both shores on the same day.
Serifos Island With Children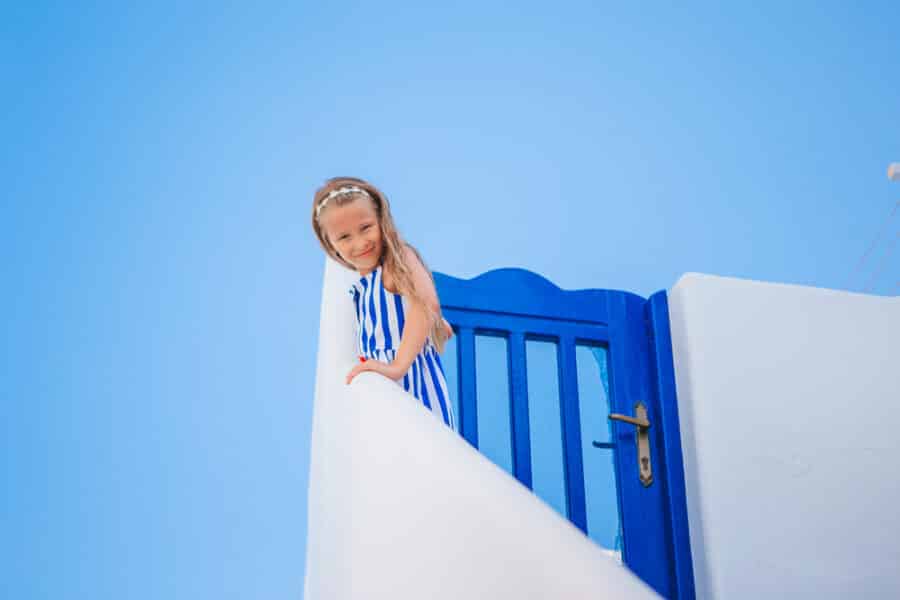 Serifos is a tranquil island that still needs to see some tourist development to offer special activities for kids and families.
However, kids will undoubtedly enjoy the same activities that most isolated Greek islands offer: plenty of sunny days, safe shores with shallow waters to learn to swim, and a receptive, hospitable community always ready to spoil your kids with excellent food, entertaining stories, and more.
Island Of Sifnos Nightlife
The best place to visit at night is the hilltop Chora. Over there, you will be able to enjoy some of the best bars and music lounges on the island, as well as some of the most amazing views of Serifos. For better panoramic views, start climbing your way to Chora at sunset. Once at the top, you can enjoy excellent dinners and amazing cocktails too.
If you prefer to spend the evening by the sea, check out the several beach clubs and bars located close to the port of Serifos.
Best Places To Eat In Serifos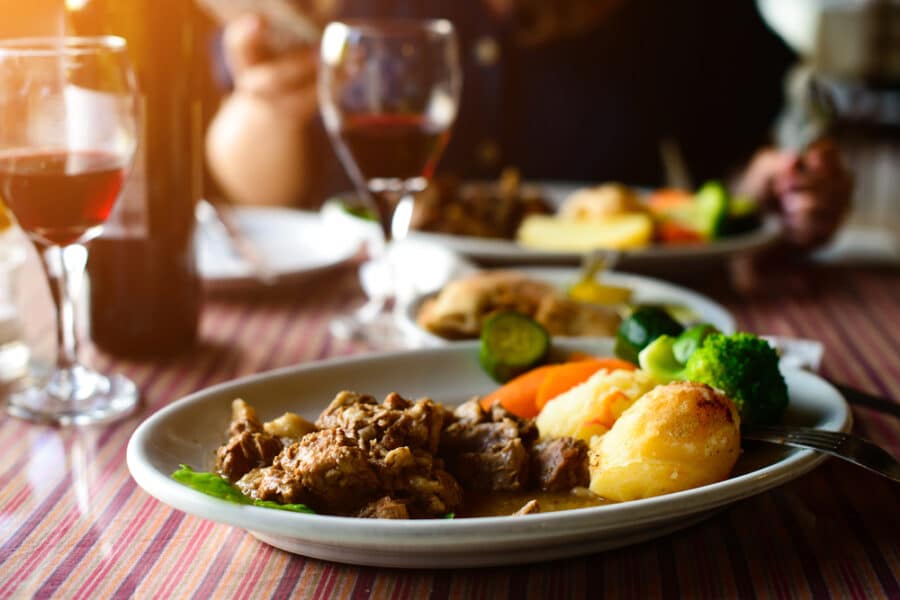 These are some of the most popular places to eat on Serifos Island.
Captain Serifos
Captain Serifos is located near the port of Livadi, and it serves fast, delicious dishes, including fries, hamburgers, sandwiches, and mouthwatering desserts.
Marathoriza Local Cuisine
Marathoriza Local Cuisine is one of the top places to eat in Chora. Specializing in the island's local dishes, this family-run Cycladic restaurant is a place not to skip in Serifos' main town.
Aloni
Aloni can be rightfully considered the best place in Serifos to eat local meat, including goat, sheep, and rabbit. Located in the hilltop Tsigouri village, the place features authentic greek cuisine cooked with excellent fresh local greek products cooked with extra virgin olive oil.
Accommodation On The Island Of Serifos
The island offers quite a good selection of hotels and apartments to rent. Since the island is quite popular among the Greeks and not just with tourists, booking your hotel before the season begins is the best way to guarantee both enough availability and reasonable prices.
These are the places we suggest checking out when it's time to book your place to stay in Serifos.
Budget Places To Stay In Serifos
Serifos Sunset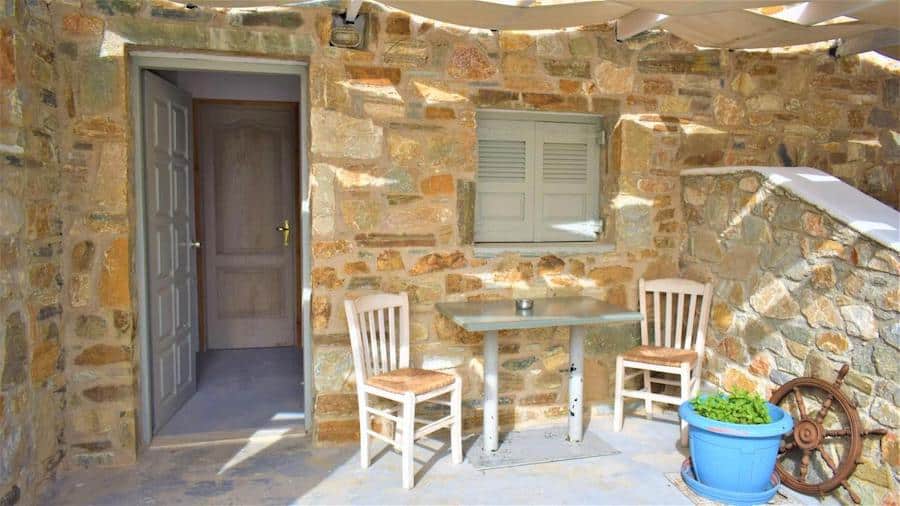 An affordable place in Livadakia, only 200 meters from the beach, Serifos Sunset features accommodations with a garden, private parking, and a terrace.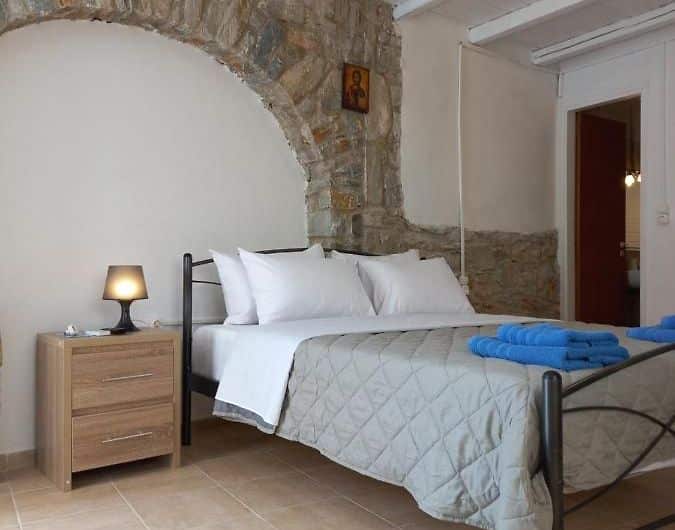 .
Astra Serifos
Ideal for families and couples on a budget, Astra is just one kilometer from Livadi Beach. All units come with a terrace offering city views, a TV, a seating area, and a well-fitted kitchenette with a fridge and a coffee machine.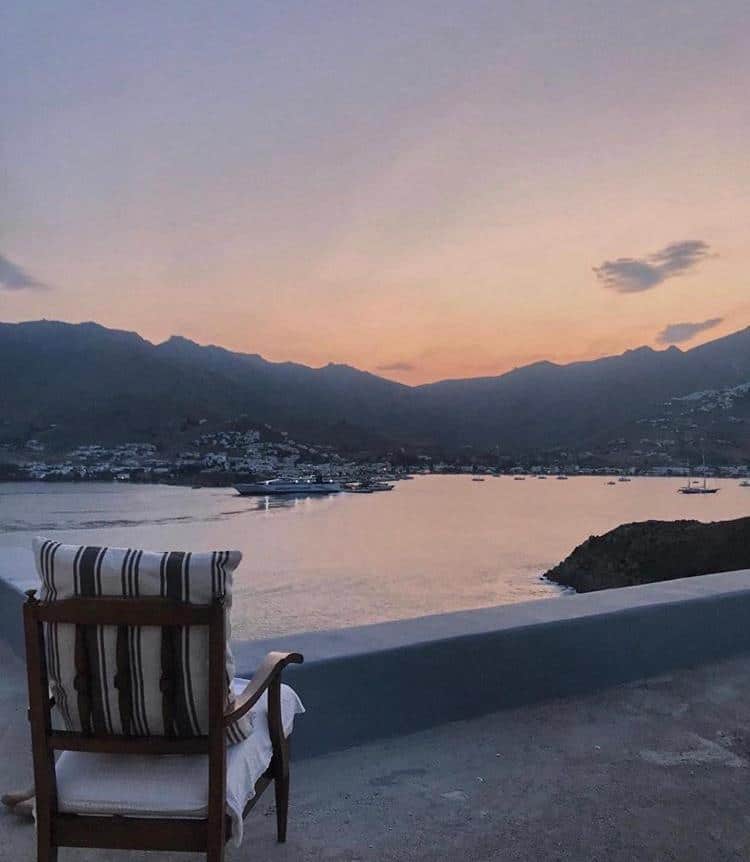 .
Mid-Range Places To Stay In Serifos
Alexandros Beach Resort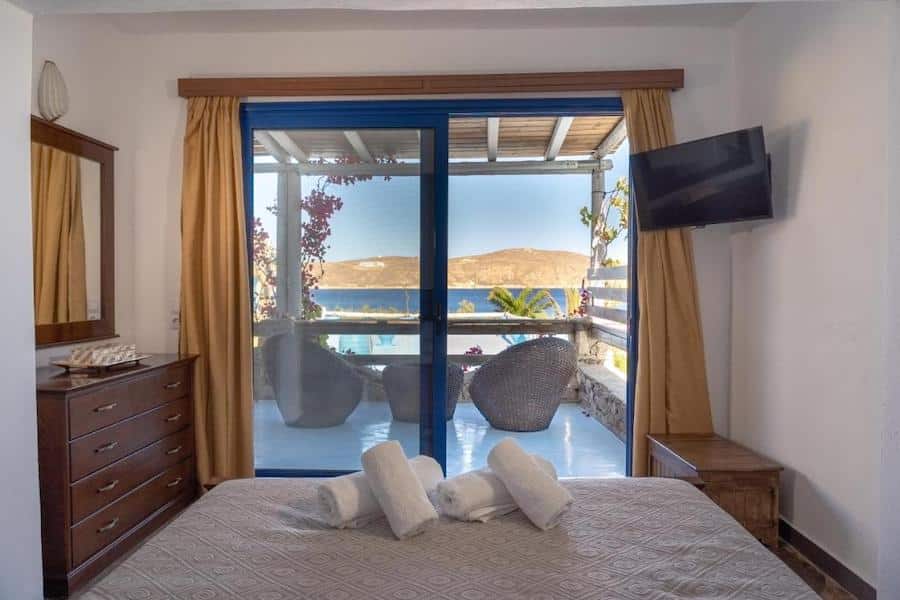 This excellent seaside hotel in Livadakia is perfect for families. It comes with an on-site restaurant and a bar, while there is also a free shuttle service to reach the port of Serifos. The suites come with mini-fridges, while the apartments also feature refrigerators.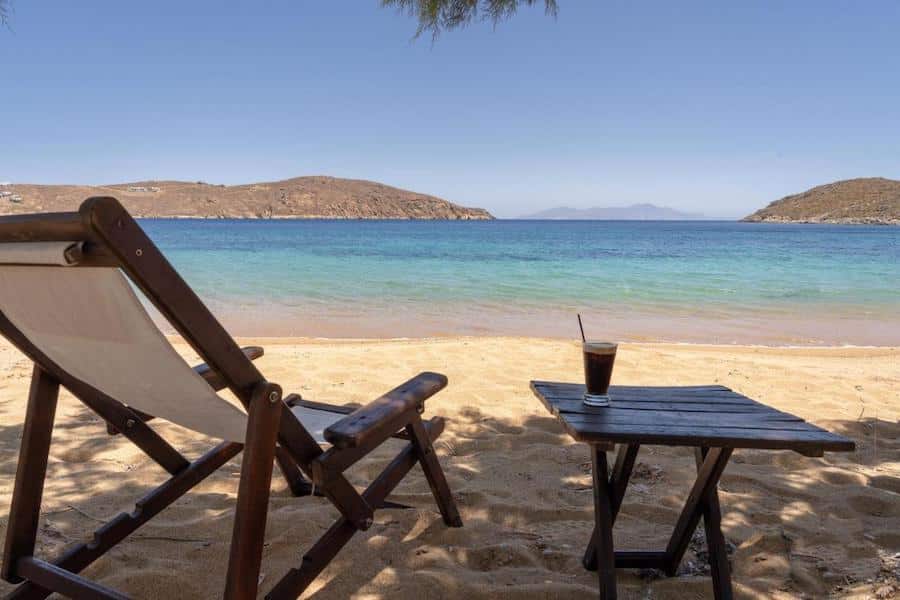 .
Serifos Palace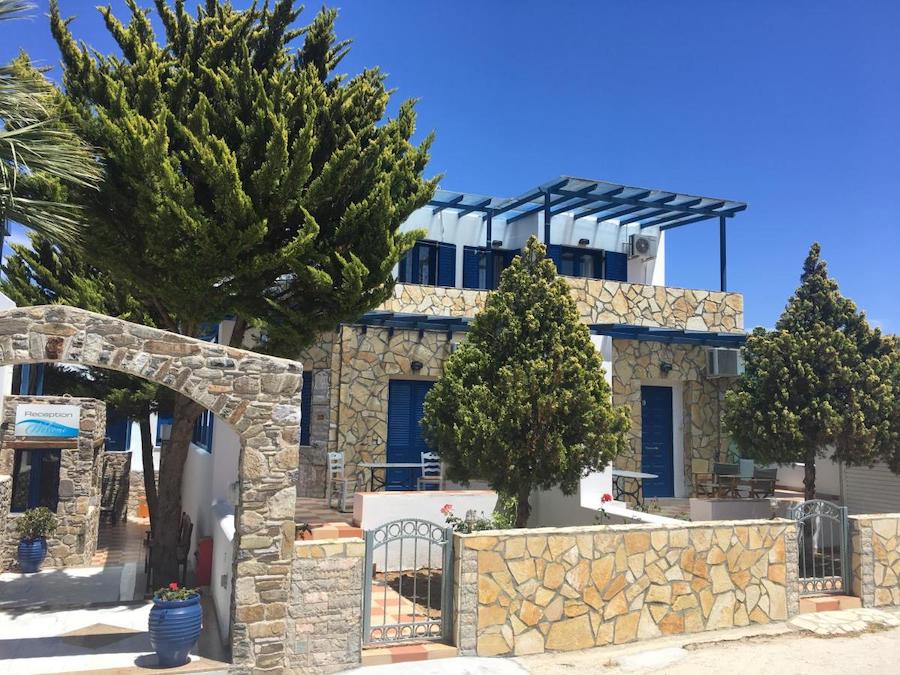 Ideal 3-star property in Livadakia, the Cycladic-style property features self-catered accommodation, a seafront restaurant, and free transfer from the port of Livadi. All studios and apartments are spacious, with one or two balconies, a garden, mountain or Aegean Sea views, and a kitchenette.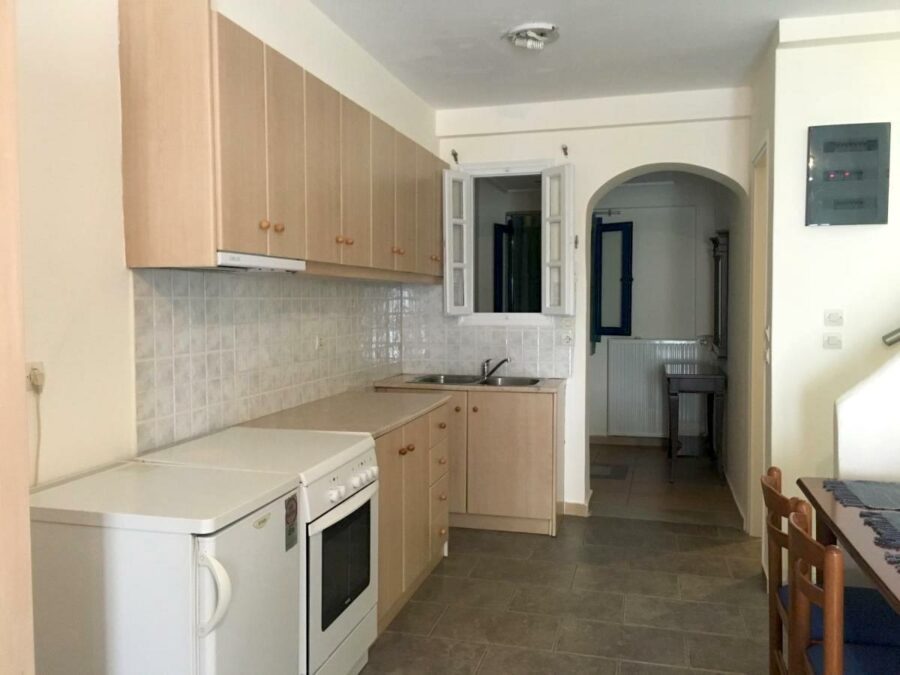 .
Luxury Places To Stay In Serifos
Serifos Sugar Cubes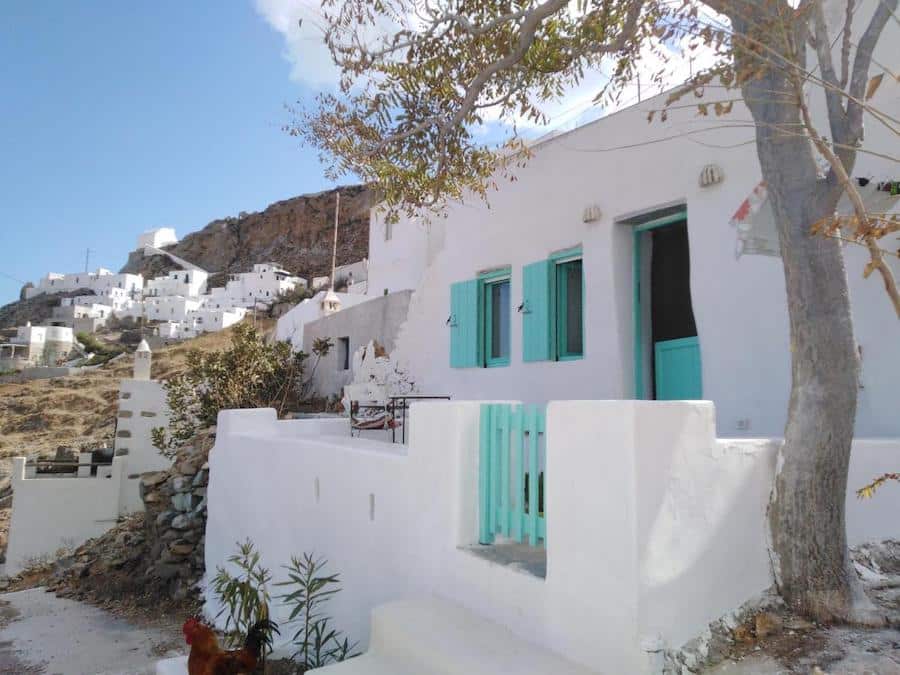 If you'd like to stay in Serifos' romantic Chora, on top of the hill, this is the place to stay. The property is about two kilometers from Livadi Beach and the gorgeous Psili Ammos Beach. The accommodation comes with air conditioning, balconies, and a patio.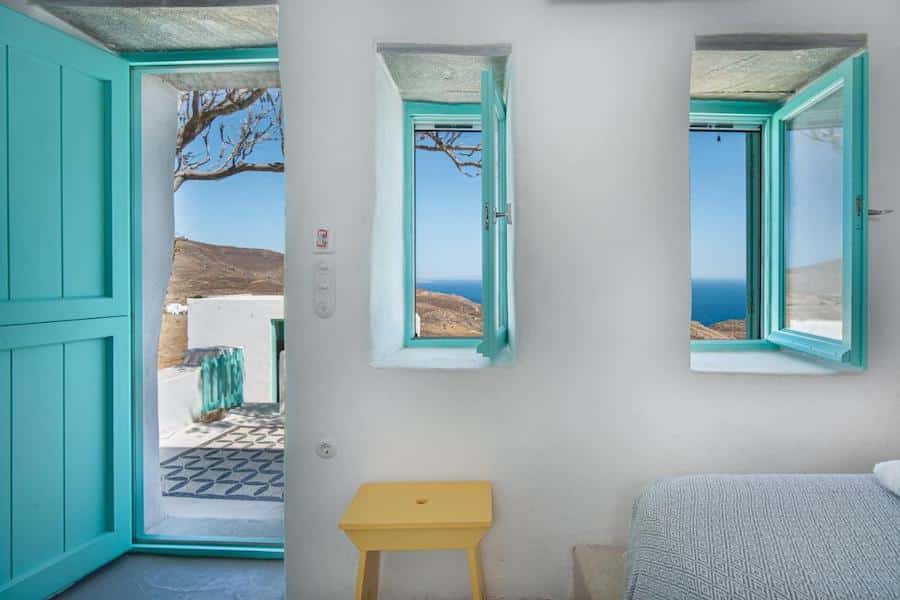 .
Coralli Seaside Resort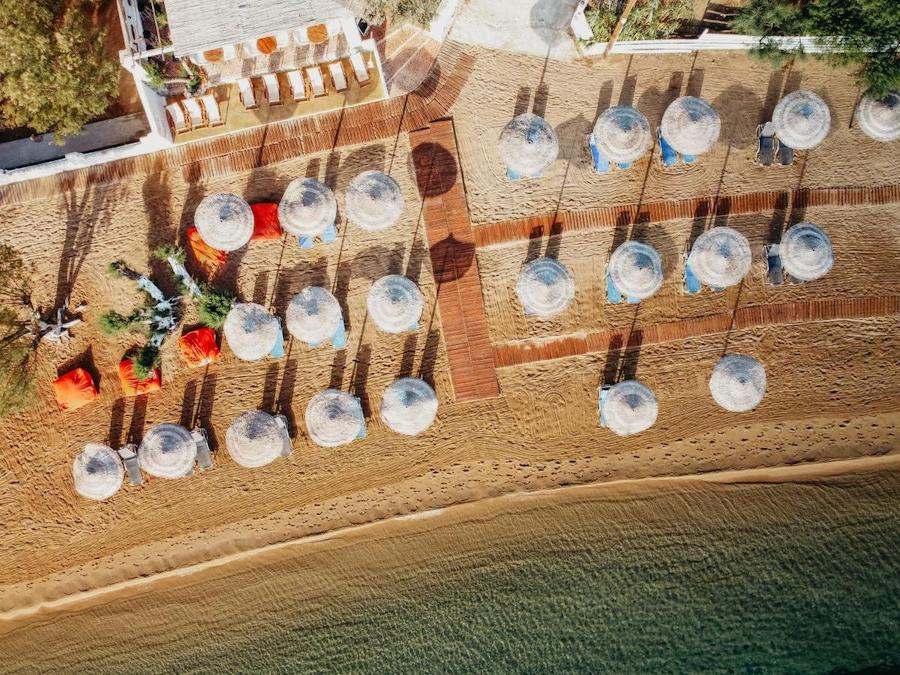 Located in Livadakia, right on the sandy beach, the hotel features whitewashed Cycladic-style accommodation with a private balcony, a seasonal swimming pool with a poolside bar serving exotic cocktails, and a delicious Mediterranean restaurant only 800 meters from the port of Serifos, and about 5 kilometers from Chora Serifos. On-site parking is provided free of charge.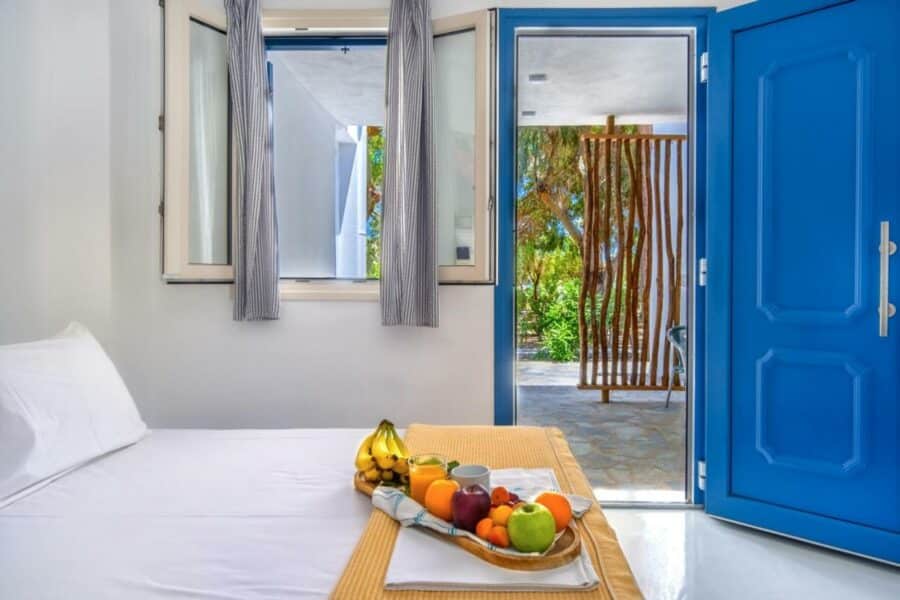 .
Now that you have read our Serifos travel guide, we hope that this list of what to do in Serifos and where to stay on the Island of Serifos, Greece helps you have an unforgettable vacation in Greece.