Escape to the idyllic paradise of Serifos Island, Greece, and discover a plethora of accommodation options that cater to every budget and preference. This island has everything from luxurious villas with stunning sea views to cozy guesthouses nestled amidst olive groves.
Whether you're seeking a romantic getaway or a family vacation, Serifos Island is the perfect setting for an unforgettable holiday experience. We're sharing some of the best accommodation options that will make your stay in Serifos genuinely memorable. So buckle up and get ready for an adventure!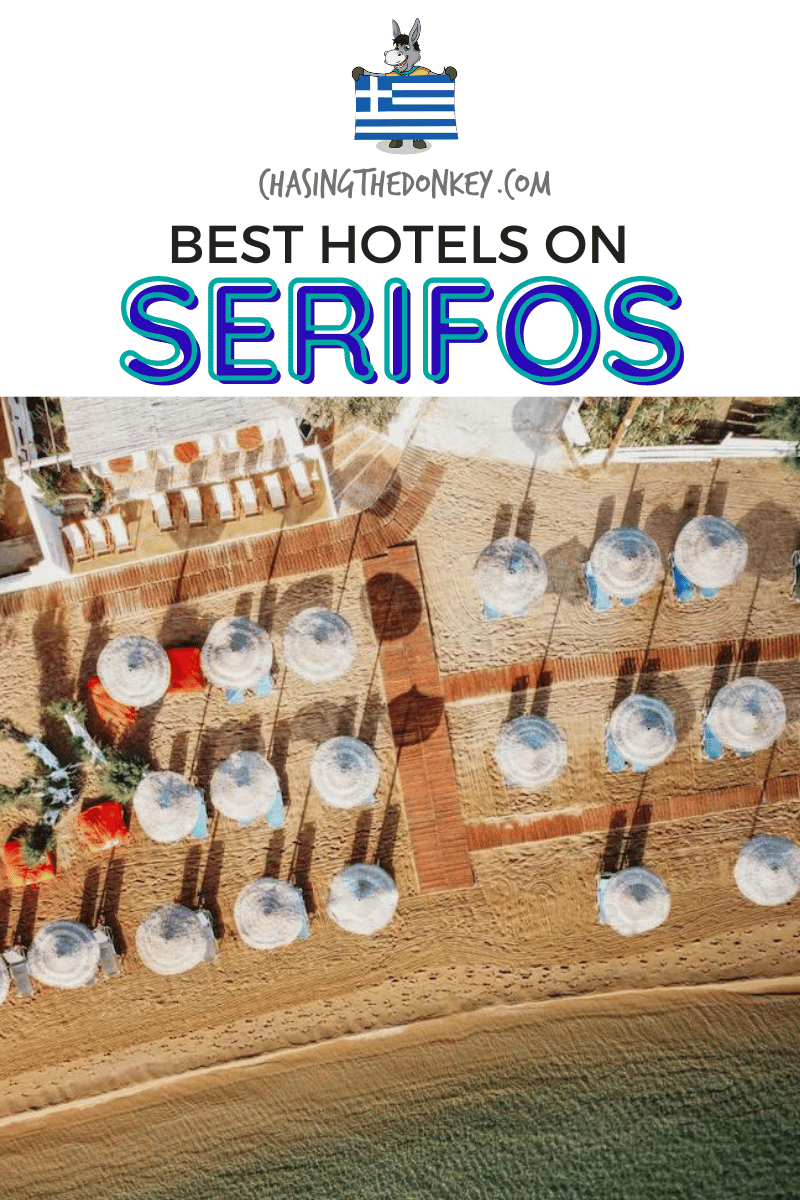 Introduction To Serifos Island, Greece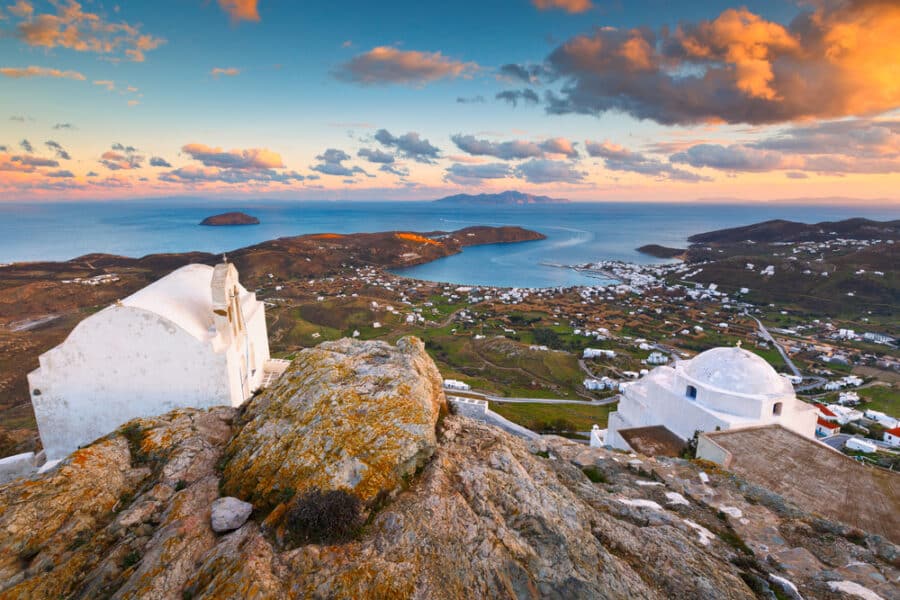 Welcome to Serifos Island, the hidden gem of Greece that is slowly becoming one of the most popular destinations for luxury travelers. With its stunning natural landscapes, beautiful beaches, and traditional architecture, it's no wonder why so many people are flocking to this island.
Serifos is a beautiful Greek island that offers visitors a wide range of accommodation options, from luxurious hotels to more budget-friendly options. Whether you're looking for a relaxing beach vacation or an action-packed adventure, Serifos has something for everyone.
SERIFOS NEIGHBORHOOD GUIDE
Top Areas To Stay On Serifos Island
There are so many wonderful places to stay on Serifos Island, Greece. You'll find it here whether you're looking for a cozy little apartment near the beach or a luxurious villa with panoramic sea views. Here are some of the top areas to stay on Serifos Island:
Livadi
This is a quieter spot on the island, perfect if you're looking for a relaxing holiday. Some great self-catering apartments are available in Livadi, as well as some lovely tavernas serving traditional Greek food.
Chora
The main town on Serifos Island, Chora, is a beautiful place to stay. There are plenty of traditional Greek houses, whitewashed buildings to admire, and plenty of shops, restaurants, and bars.
Koutalas
A long sandy beach lines Koutalas, a seaside resort with excellent fish taverns to enjoy Greek food.
Megalo Livadi
A picturesque seaside village on the island's western side, Megalo Livadi, has very few tourist facilities but a pleasant beach.
TRAVEL COMPANIES WE USE AND TRUST
Map Of Where To Stay In Serifos
Best Luxury Hotels In Serifos
From lavish villas overlooking crystal-clear waters to elegant suites offering panoramic views of the Aegean Sea, these accommodations offer unparalleled comfort and indulgence that will make your vacation truly unforgettable. So sit back, relax, and let us take you on a journey through our favorite luxurious retreats on Serifos Island – trust us when we say you won't want to leave!
What better way to enjoy your stay than by staying at one of the top luxury hotels and resorts on Serifos Island?
Nautilus Serifos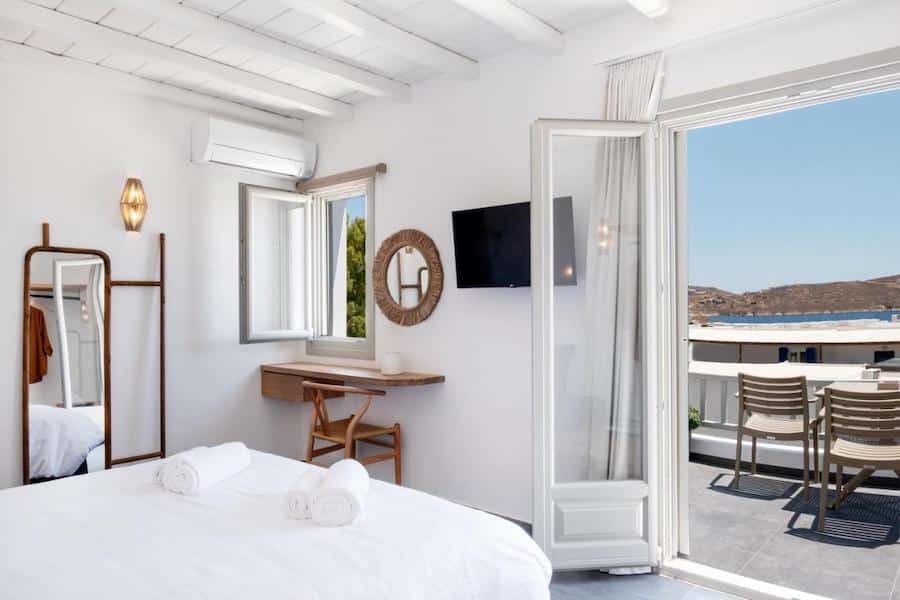 The Nautilus Serifos offers accommodation with free WiFi, air conditioning, and access to a garden with a terrace in Livadakia, 50 m from Livadakia Beach and 800 m from Livadi Beach. Some units have a balcony or patio with sea and mountain views. The aparthotel offers flat-screen TVs and private bathrooms with hairdryers, complimentary toiletries, and showers.
Total luxury awaits you at this hotel in Serifos!
.
Blue Sea Villa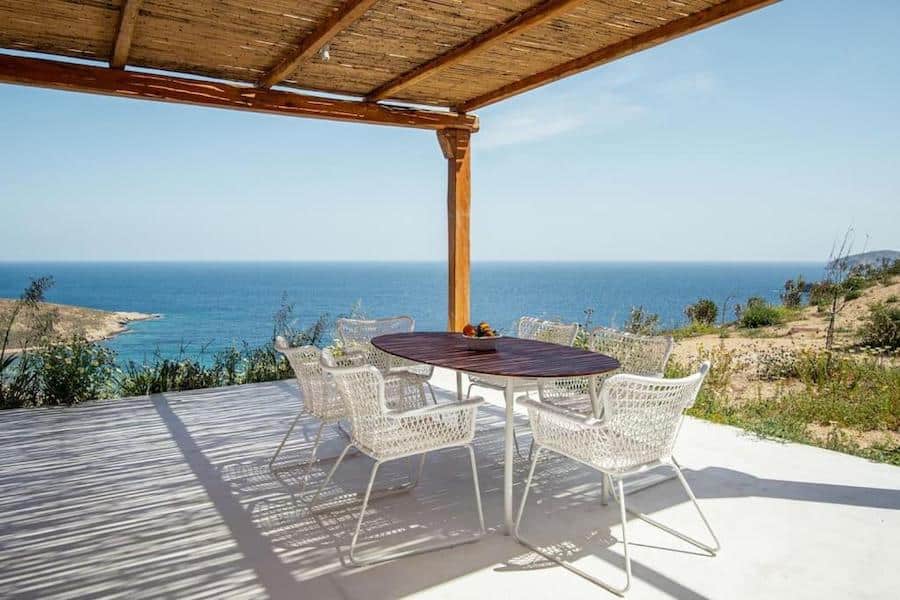 Blue Sea Villa offers free WiFi and accommodation 200 m from Agios Ioannis Beach in Serifos Chora, 600 m from Psili Ammos Beach, 2.7 km from Agios Sostis Beach, and 14 km from Serifos Old Mines.
The air-conditioned villa features three bedrooms, a fully equipped kitchen, and a terrace with sea views. Towels and bed linen are provided.
.
Best Mid-Range Hotel On Serifos
You're sure to find whatever type of accommodation you're looking for on Serifos. However, if you're looking to save money without sacrificing too much comfort, there are plenty of excellent mid-range and budget hotels on the island.
Coralli Seaside Resort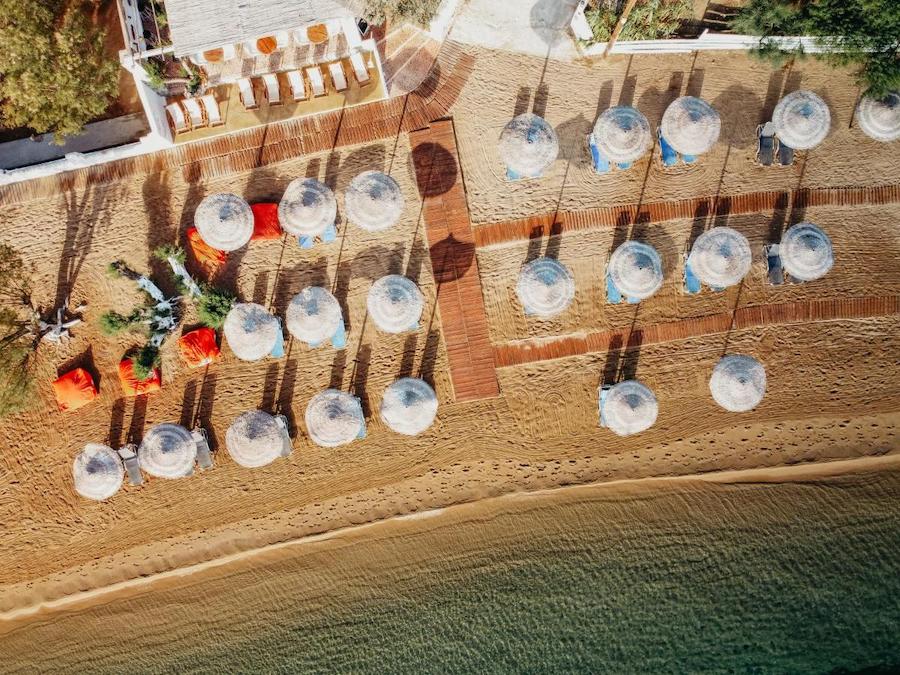 Coralli Seaside Resort offers Cycladic-style accommodation with a private balcony. It features a seasonal swimming pool with a poolside bar and a seasonal restaurant. The rooms overlook the garden and are equipped with built-in beds. All rooms are whitewashed with air conditioning, a TV, a mini fridge, and a bathroom with a shower.
In the shaded area of the bar, guests can enjoy exotic cocktails, refreshing drinks, and light meals while the on-site restaurant serves traditional Greek cuisine.
.
Serifos Palace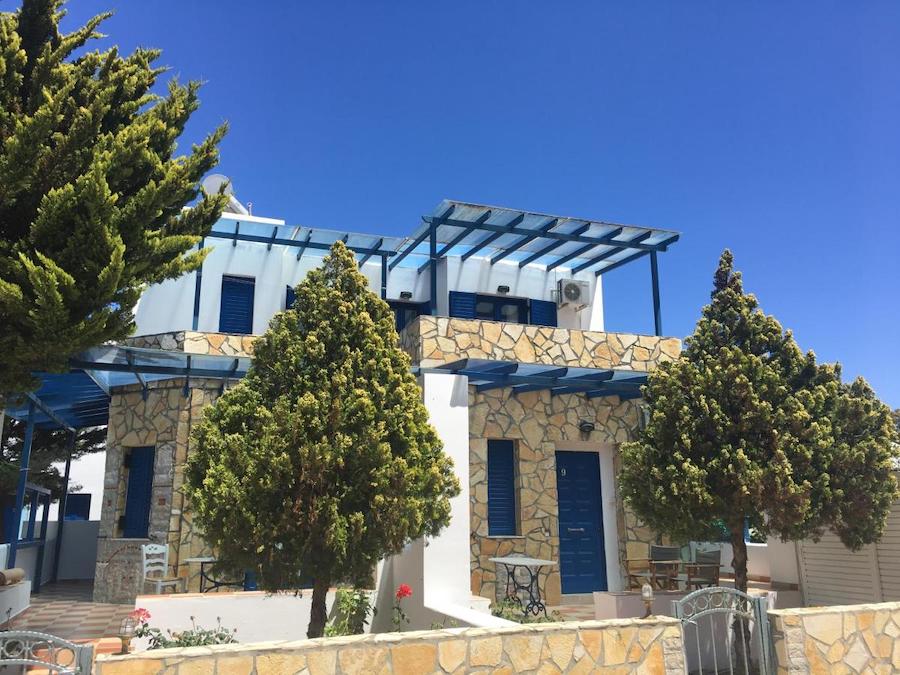 The Serifos Palace offers guests a truly luxurious experience. The hotel features beautiful architecture and stunning views of the Aegean Sea. Guests can enjoy various amenities, including an outdoor pool, spa, and fitness center. The hotel also has a great location, just a short walk from the beach.
.
Budget Accommodation Option
A variety of budget accommodation options are available on Serifos. One option is to stay in one of the many camping sites scattered around the island. These are typically very affordable and provide great access to the island's natural beauty.
There are also many apartments and hostels available for rent on a nightly basis. These can be found in most of the larger towns on the island and are often quite reasonable in price.
Pergola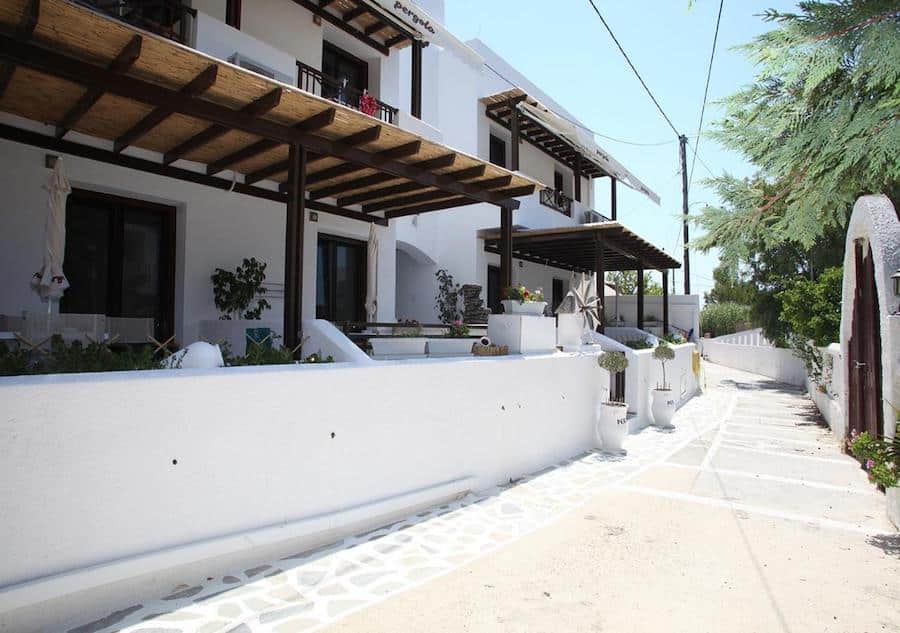 Situated just 30 meters from Avlomonas Beach, Livadi Village's Cycladic-style Pergola offers free WiFi access throughout and beautifully appointed self-catered accommodation with views of the mountains seen from its furnished balcony.
Boasting whitewashed walls and paved stone flooring, all studios and apartments feature air conditioning, flat-screen TVs, and kitchenettes with a coffee maker, fridge, hob, and electric oven.
The modern bathrooms come with a hairdryer for added convenience. You're within easy reach of a minimarket, restaurants, and port (50 m and 300 m away, respectively), Chora (5 km), and Psili Ammos Beach (3 km). Private parking is conveniently provided next to the property for free.
.
Airbnb Rentals On Serifos
Airbnb has become popular for travelers looking for unique accommodations that offer more privacy and amenities than a hotel room.
There are many reasons to choose an Airbnb rental over a hotel room on Serifos. Airbnb rentals often come with kitchenettes or full kitchens, which can save you money on meals. You'll also have more space to spread out and relax in your rental, and many rentals come with balconies or terraces with stunning views.
If you're traveling with family or friends, an Airbnb rental can be a great way to save money on accommodations. Many rentals can accommodate larger groups, and you'll often have access to laundry facilities and other amenities that can make your stay more comfortable.
We hope this article has provided you with a better understanding of the accommodations on Serifos Island, Greece. Whatever your budget, there is an accommodation option to suit you on Serifos Island. Why not start planning your trip today?
MORE SERIFOS ISLAND TRAVEL BLOGS
Chasing the Donkey - Balkan travel blog includes affiliate links. If you decide to make a purchase through these links, we receive a commission without any additional cost to you. We appreciate your support helping to keep this site free. Find our disclaimer & privacy policy here.