Greece offers much more than sun and sea to those who aren't afraid to explore the country during the off-peak summer. Don't be fooled! Despite being known as a magnificent summer destination, with sparkling seas and white sand beaches, Greece can also be an unexpected winter destination…
Greece is a country with vibrant ancient history and culture, and it is also full of stunning natural landscapes, most of them amidst high mountains, to explore. In winter, hiking, trekking, and even skiing are natural sports to practice in Greece.
There are many things to do in Greece during the cold season, so it is only logical to find yourself a great place to stay and explore its awe-inspiring gorges, snow-capped peaks, and vibrant mountain villages.
Are you planning to discover archaeological sites and museums during winter to avoid crowds? Ready to stay in a traditional winery to taste Greece's unique wines? Are you dreaming about skiing on the imposing Mount Parnassos? Then, this is the article you need to bookmark to find the right winter hotel in Greece for your next cold-weather adventure!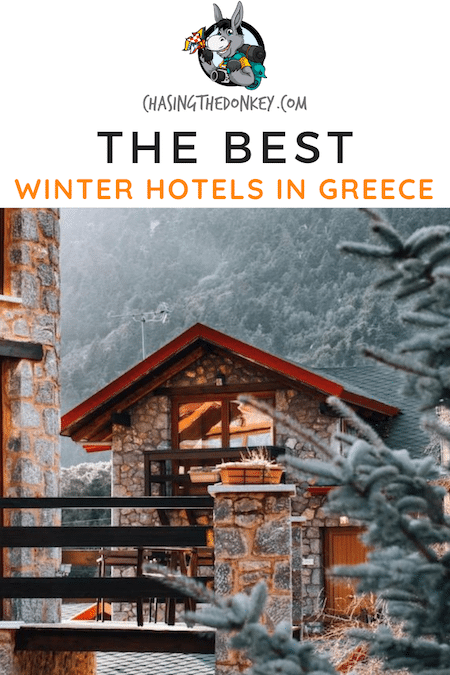 Best Winter Destinations In Greece And Best Winter Resorts
Athens & Thessaloniki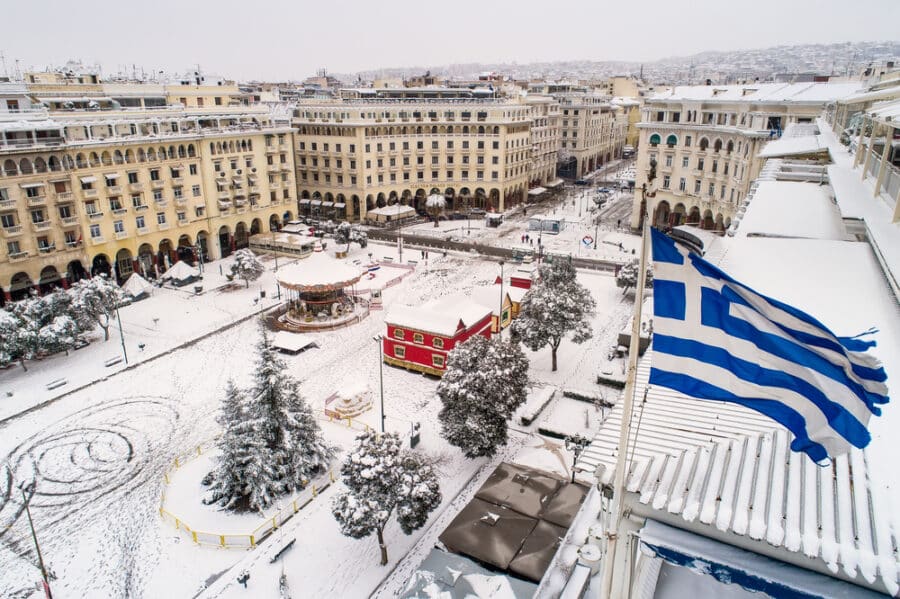 Athens and Thessaloniki can be excellent places to stay in Greece all year round, and since both cities do not present significant seasonal differences, there is no need to check unique winter hotels and resorts in any of both cities.
Still, we recommend a stay in Athens during winter. The city is much more relaxed, and you can enjoy all its attractions at better prices and without waiting in line to access some of its most interesting museums.
So if a visit to Athens in winter is all that you were hoping for, then check this super thorough guide featuring Athens's best hotels and neighborhoods. It is helpful for any time of the year!
Are you thinking about staying in the north of the country? Then Thessaloniki might be the obvious choice for those who want a vibrant city to spend some time in Greece during the cold season.
Thessaloniki is an active place all year round. Home to Greece's most important university, this city does not close for the holidays!
Always noisy, crowded, and interesting, Thessaloniki can make an excellent winter escape destination in Greece. So, why not check the best areas and hotels to stay in Thessaloniki and what things to do there in winter?
Parnassos & Arachova
This imposing mountain and luxurious ski resort are located only 2 hours from the capital, Athens, making it a desirable place to stay in Greece during winter.
It is a perfect winter sports hub, where locals and visitors from all over Europe love to gather to go snowboarding and skiing or to unwind by a cozy fire in a wooden chalet after a long day of adrenaline and fun on the runs.
The lush Parnassos area is also close to an important archaeological site that attracts hundreds of visitors all year round, so if you are spending some time in the area, do program a visit to the ancient ruins of Delphi.
Arachova is the most crucial town in the region, the natural place to stay for skiing in Parnassos.
Often described as the winter equivalent to Mykonos for its popularity and sometimes expensive entertainment, fine dining, and luxury accommodation is the first thing that comes to your mind when you think of Arachova.
However, exclusivity does not mean a deserted town. On the contrary! The expensive price tag of Arachova does not deter crowds from reaching the area, especially around Christmas. So, if you want to discover this enchanted, cold corner in Greece, check out the following hotels and resorts.
Nefeles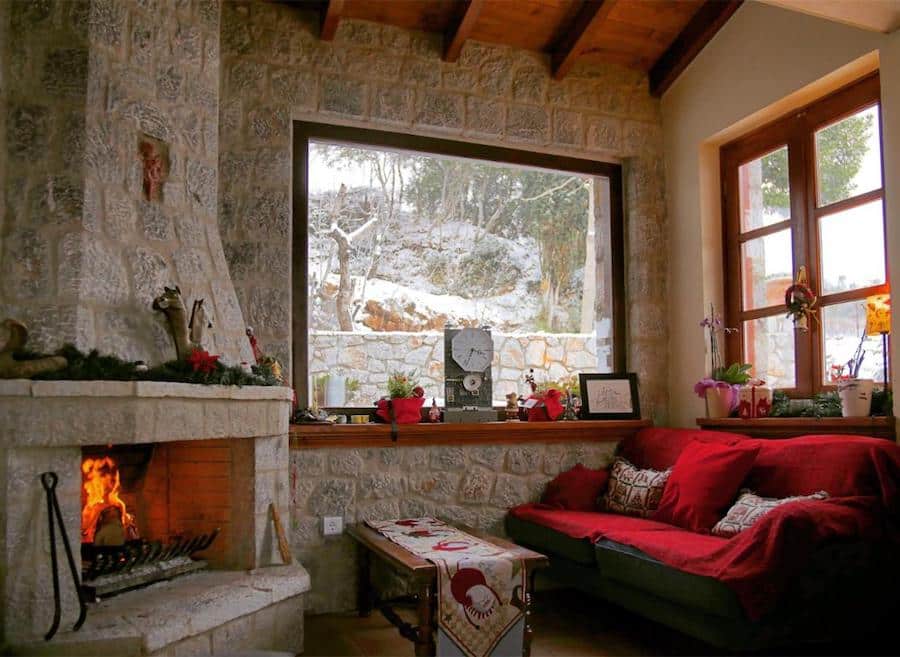 This charming accommodation is on the edge of Plistos Valley, only 1.5 kilometers from the central area of Arachova. The elegant and welcoming rooms of the hotel feature art from the private family collection and unique vistas.
The private furnished balconies offer inspiring views of Mount Parnassos and the surrounding forests.
Parnassos ski center is just 25 kilometers from the property, while the archeological site of Delphi is only 8 kilometers away.
Domotel Anemolia Mountain Resort
A modern property on the outskirts of Arachova Village, this hotel offers a magnificent surrounding landscape, including the fantastic green valley of Delphi and views of Parnassos Mountain.
The resort offers an indoor pool, a fitness center, and a sauna, among other facilities. Guest rooms and suites are stylish and spacious, with comfortable private balconies.
This hotel is a perfect place for a winter holiday destination; its heated indoor pool is ideal for relaxing and enjoying a leisurely swim.
Nothing better to end a cold winter day than a warm drink in front of the open fireplace and some homemade food in its delicious on-site restaurant.
Vip Chalet 4 Seasons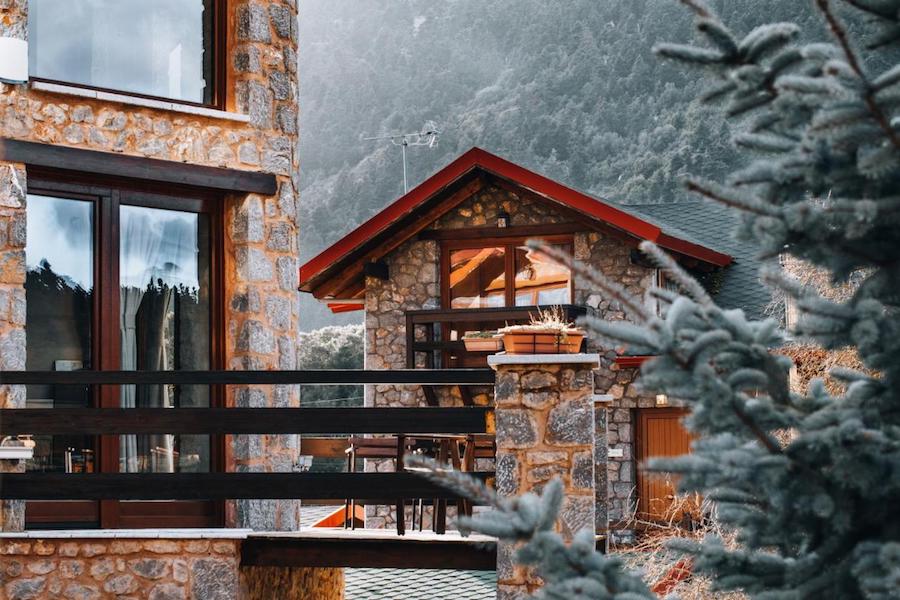 Only fifteen minutes from Delphi, Vip Chalet 4 Seasons is one of the most beautiful places you can find.
Cozy, warm, and welcoming, the chalet offers accommodation with garden and mountain views. The hotel offers a fantastic morning breakfast, while the on-site barbecue facilities are accessible to all the guests.
Kastoria
Fantastic nature, a breathtaking lake, tranquil, rural scenes, all these ingredients define the landscape of Kastoria, charming all year round but much more attractive during winter.
Located in one of the most remote corners of Greece, this secluded position probably makes it a coveted winter destination.
Far both from Athens and Thessaloniki, Kastoria provides the perfect hideaway atmosphere that many seek to disconnect and relax, especially around the end of the year.
Up and close to the borders of Albania, featuring mysterious forests and dramatic frozen landscapes, Kastoria features picturesque mountain villages and incredibly delicious gastronomy.
The whole region is a fantastic winter destination, from the spectacular old town district of Dolco to the exciting geography of the Aliakmonas River, considered one of the top rafting destinations in Greece.
Limneon Resort and Spa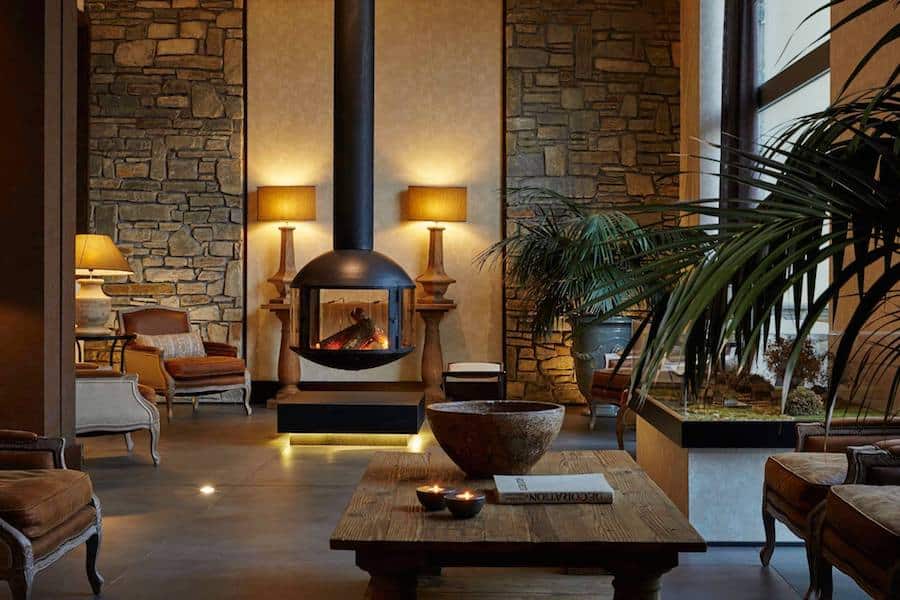 Extending over a beautiful 22,000 square-meter plot of well-manicured gardens with lake-view suites and rooms, the two buildings that shape this complex are surrounded by the imposing natural beauty of Lake Kastoria.
They have a state-of-the-art Spa that welcomes all visitors on a journey towards relaxation and harmony. On the property, guests can expect to start their day with a rich American buffet breakfast every morning.
There is an a la carte all-day bar and restaurant, outdoor swimming pools connected by a waterfall, and an indoor pool for winter months.
Calma Hotel and Spa
This beautiful resort is located less than two kilometers from the center of Kastoria Town and features impressive facilities for a relaxing winter escape.
A spa center is equipped with a sauna, Turkish bath, and a seasonal swimming pool. Treatments offered include massages and beauty treatments.
The hotel guest rooms are elegant retreats boasting lake and mountain views. The hotel is conveniently located, only minutes from Orestias Lake and very close to the Vitsi Ski Center.
Orologopoulos Mansion Luxury Hotel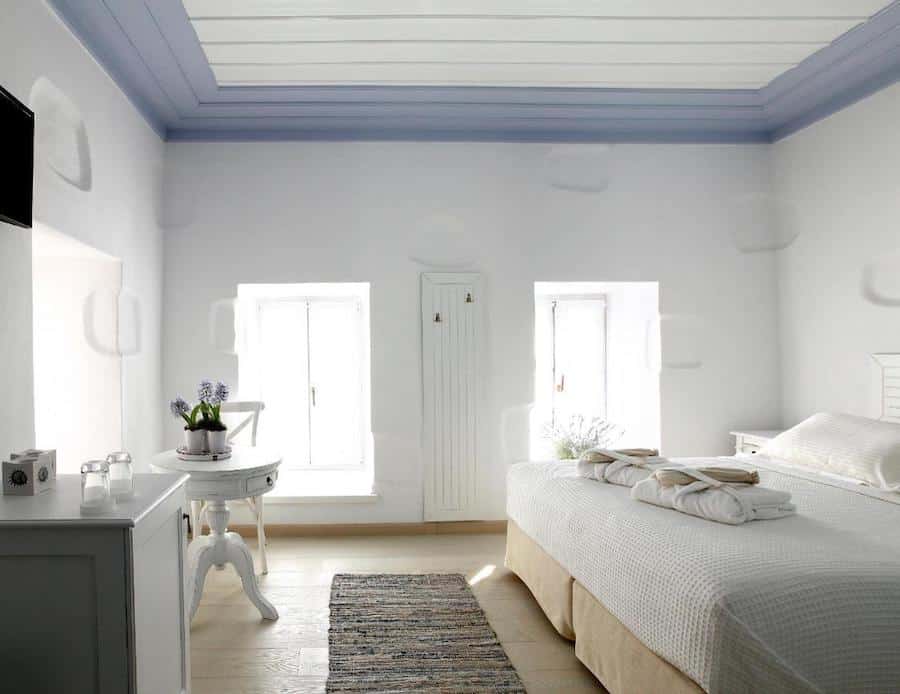 This elegant, lavish hotel is located in Dolco, the old town area of Kastoria, featuring an ancient style and traditional architectural features. Built respecting the local traditions of the village, the sleek accommodation can be found only a few meters from Kastoria Lake.
The suites feature stylish, vintage details, beamed or wooden ceilings, and incredible landscape views.
The property serves a delicious Greek buffet breakfast, while an on-site bar serves light meals and refreshing beverages throughout the day.
Zagorochoria
An inspiring region located about a 5-hour drive from Athens, the area, is an outstanding winter destination featuring the most incredibly gorgeous mountain villages that you could ever imagine.
Located in the region of Epirus, on the northwestern side of Greece, the local villages boast picture-perfect stone houses with grey-tiled roofs on charming narrow alleys.
Still somewhat virgin to international tourism, Zagorochoria can quickly become your favorite winter destination in Europe if you are looking for an off-the-beaten-track place to discover.
In Zagorochoria, you can explore the breathtaking natural landscape while testing your skills at extreme sports, including rafting, trekking, climbing, and horse riding.
In the area, you will also find the second deepest gorge in the world, the Viko Gorge, a unique hiking place with the most unbelievable landscapes that will capture your senses every step. A great place to visit in autumn and winter, there are some great ski centers nearby.
Hotel Athina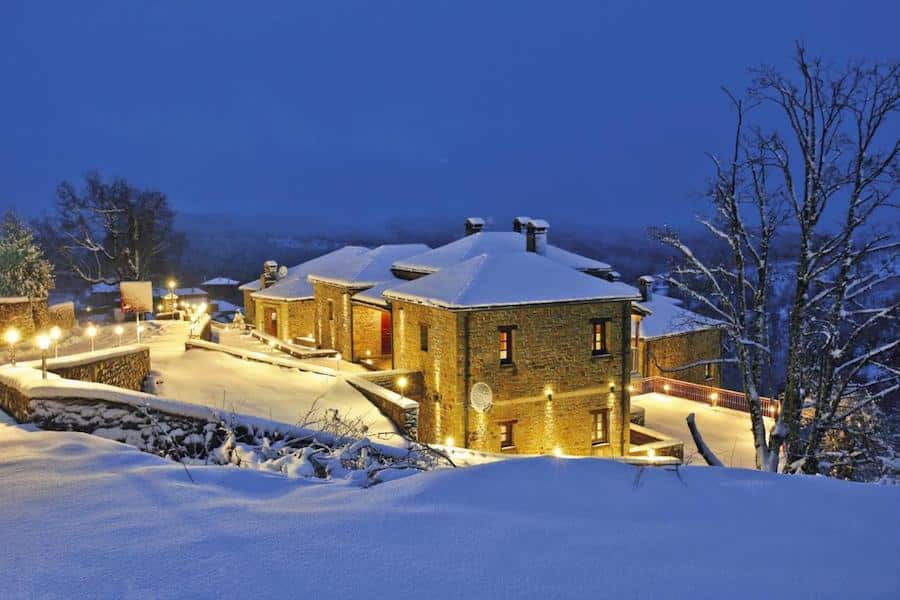 The 4-star Athina Hotel is an imposing, newly constructed complex featuring three buildings in stone and wood. It is located in the village of Elati in the area of Zagori, just thirty kilometers from Ioannina.
Local stone craftsmen have built the beautiful venue, paying homage to the local traditional architecture. All the traditional rooms offer comfy beds, a minibar, and a refrigerator.
The inspiring surrounding mountains of Zagori can be seen from the hotel's ample windows.
Pirrion Wellness Boutique Hotel
Close to Voidomatis Rives, an excellent place for rafting and hiking adventures, the hotel is a perfect choice for those looking to explore the area and have fun discovering interesting winter sports.
Right in the heart of Ano Pedina, a very traditional settlement, the rooms and suites in Pirrion Wellness Boutique Hotel offer unique decor with beautiful mountain views, antique furnishing, and comfortable beds.
On the premises, guests can enjoy the delicious menu of its traditional restaurant. The tasty Greek and Mediterranean dishes can also be savored right by the fireplace.
In the cozy lounge bar, guests can expect to enjoy a rich morning breakfast or a glass of wine from the hotel's rich cellar in the afternoon.
Guest House Anthrakitis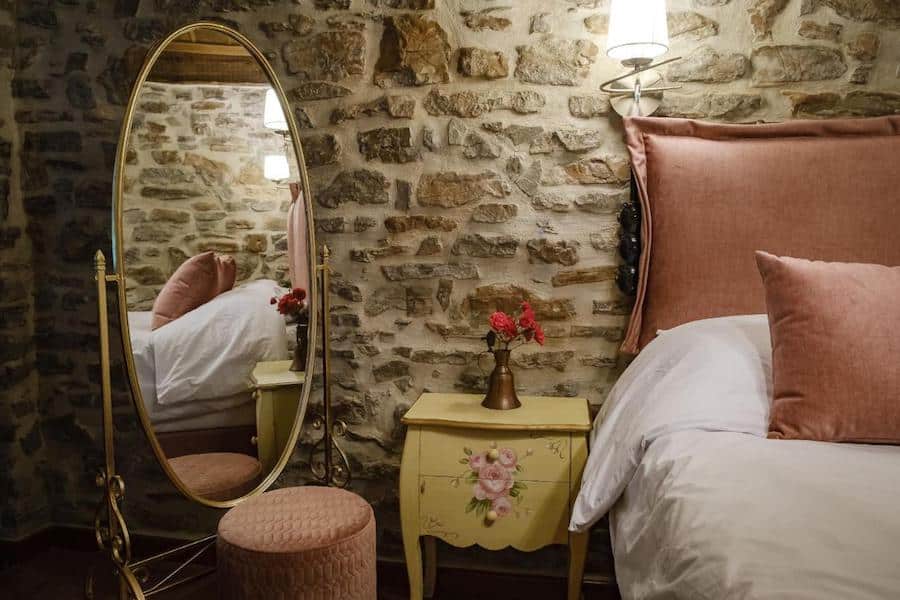 Set in Zagori and only 18 kilometers from nearby Metsovo, the hotel allows you to see the best of winter in Greece.
This guest house features comfortable units and an on-site garden and terrace. A mouthwatering à la carte breakfast is served daily for the guests on the premises too.
Tzoumerka and Trikala
The Tzoumerka Mountains are located in the northwestern area of Greece, not far from Ioannina and Trikala. Well-known as an alternative mountain range in Greece, the region hosts a breathtaking National Park accredited by the European Park Federation for Sustainable Tourism in Protected Areas.
Combining the simple and humble local lifestyle with exclusive resort and modern facilities, Tzoumerka is an area of deep contrasts and interesting destination, an authentic snapshot of Greece's dual character, torn between deluxe resorts and the signs of the deep crisis that affected the country not so many years ago.
The mountains are dotted with a fantastic collection of traditional villages adjacent to imposing canyons and steep rocks—the landscape surprises with its centuries-old monasteries and romantic stone bridges, some of them in ruins.
In the area, it is possible to go rafting in the Arachthos River, relax in one of the most luxurious hotels in Greece, or head to the beautiful Trikala, one of the oldest cities in Europe. A great winter destination, perfect for a walk surrounded by the green landscapes or for a boat ride in the tranquil Litheos River.
Ruitsa Tzoumerka Resort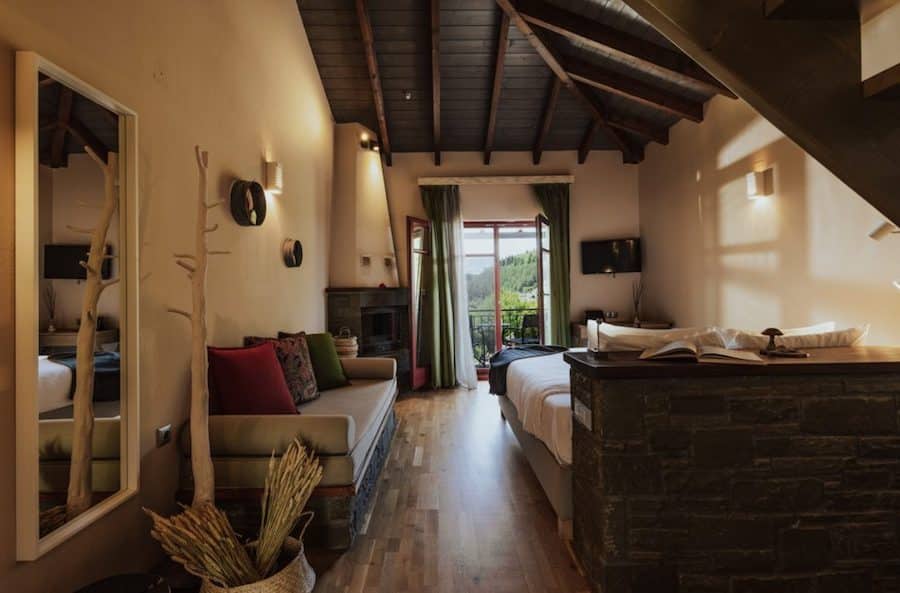 Less than an hour from Ioannina Airport, Rouista Tzoumerka Resort offers accommodations in a complex of traditional stone buildings at the National Park of Tzoumerka, Peristeri, and Arachthos Gorge.
Luxurious beds fitted with Dimstel mattresses and cotton linen guarantee unforgettable rest after a day exploring the exciting surroundings. Some of the units are equipped with a fireplace and a balcony.
The beautiful shared lounge has an impressive wood ceiling and a large fireplace where guests can enjoy a book or play a board game.
The morning breakfast is prepared with local ingredients, while homemade jams, spoon sweets, and spirits are the property's trademark.
The hotel is conveniently close to many hiking trails that allow venturing into the surrounding nature to explore the breathtaking landscapes of the Tzoumerka Mountains.
Anemoessa
Probably one of the most charming properties on this list, Anemoessa is located only 200 meters from the central square of Trikala.
The venue offers warmly decorated studios and apartments with a fireplace and balconies; they all enjoy views over Korinthiakos Gulf and Ziria Mountain. The tranquil Ziria Ski Center is less than 20 minutes from the property.
The suites feature a relaxing living area with a TV and a kitchenette with a coffee maker and mini-fridge. The hotel is close to the center of Trikala, where guests will find traditional taverns and cafés.
Napflio
Not everyone would consider Napflio as a winter destination in Greece; however, the fact is that the city is one of the most beautiful places to visit in the country, no matter which season of the year you are planning to discover it.
Since Napflio has become one of the places where the locals prefer to spend their Christmas holidays, it was only logical to add it to this list of winter resorts in Greece.
Located in the Peloponnese, Napflio enjoys winters that are somewhat milder than other traditional winter destinations.
It is an elegant gorgeous town that dresses with lights and colors during the Christmas period, making it a beautiful place to visit in winter.
Nafsimedon Hotel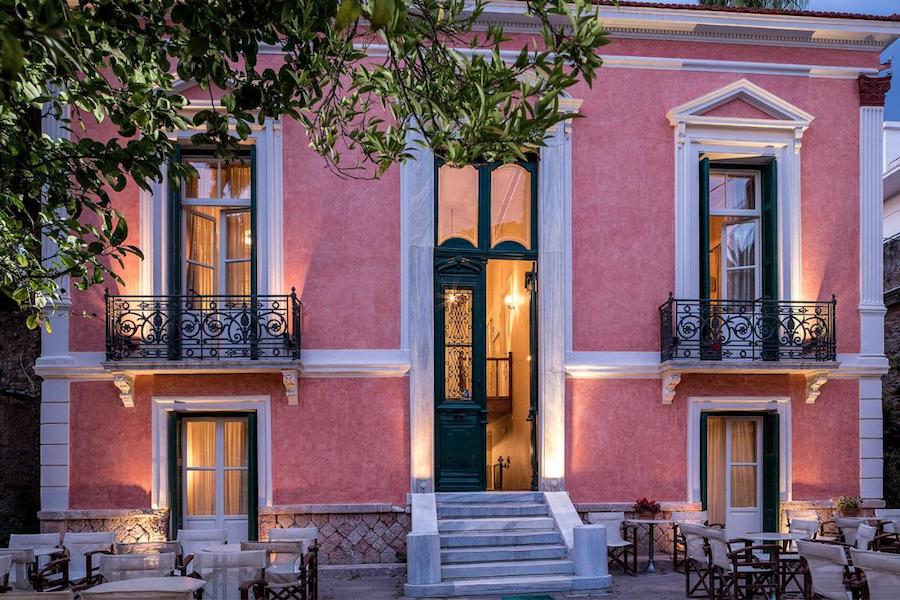 A family-friendly venue, Nafsimedon Hotel can be found inside a mid-19th-century neoclassical house right opposite Kapodistrias Square.
This picturesque boutique hotel features a small but well-curated garden with inspiring palm trees overlooking Kolokotronis Park.
Enjoy a hot drink under the shade of apricot and peach trees, or relax surrounded by the elegant charm of the decor, including stylish chandeliers, marble-topped tables, and old paintings.
A rich buffet breakfast, including pastries and yogurt, is served each morning in the bar area or the charming courtyard. Children can enjoy an afternoon in the playground right across from the property.
3 Sixty Hotel and Suites
This beautiful neoclassical property is right in the center of Napflio, only a few meters from the picturesque port. It is a 4-star property featuring a restaurant, elegant accommodations, and a spa bath.
All the suites include a seating area and a minibar for guests' comfort. The hotel is a stone's throw from Akronafplia Castle and a 15-minute walk from Pirgos Palamidi.
Grande Bretagne Napflio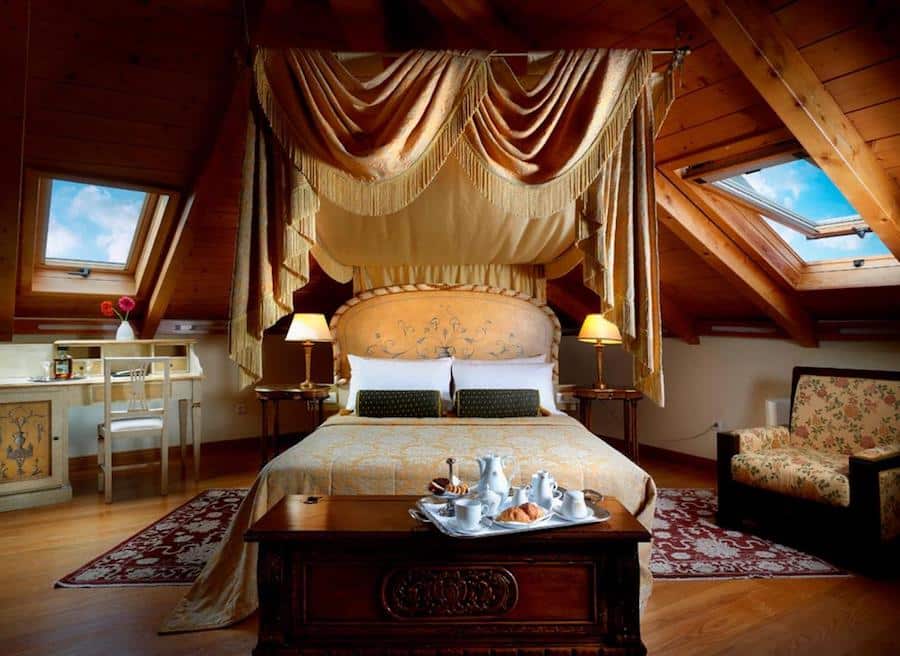 Located in a super privileged location, right on the Nafplio promenade, the Neoclassical-style Grande Bretagne offers luxuriously decorated rooms and suites with Oriental-style carpets, draped curtains, and wooden floors, some of them with beautiful vistas over the Argolic Gulf.
The hotel serves an American buffet breakfast daily, and it has a lounge bar where it is possible to taste light snacks, coffees, and drinks. The welcoming bar area features an impressive hand-painted ceiling with a big chandelier.
Crete
Since not everyone loves to spend winter in icy areas, we have also added a warmer alternative for those who enjoy the Greek Islands.
Not everyone knows it, but Crete can be a great winter destination, with milder weather than the one you would encounter on the continent, especially on the coast; the high hinterland mountains of Crete often see frigid snow winters too.
Crete is a huge island, so the things you can do in winter are virtually limitless. A stay in a winery in winter, for instance, can offer a completely different experience and the opportunity to taste some of the wines produced only a few weeks before Christmas.
In the Cretan mountains, it will be possible to find cozy stone resorts with sparkling fireplaces to enjoy Crete's delicious gastronomy and some of the most beautiful and diverse landscapes in the Mediterranean.
Scalani Hills Boutari Winery & Residences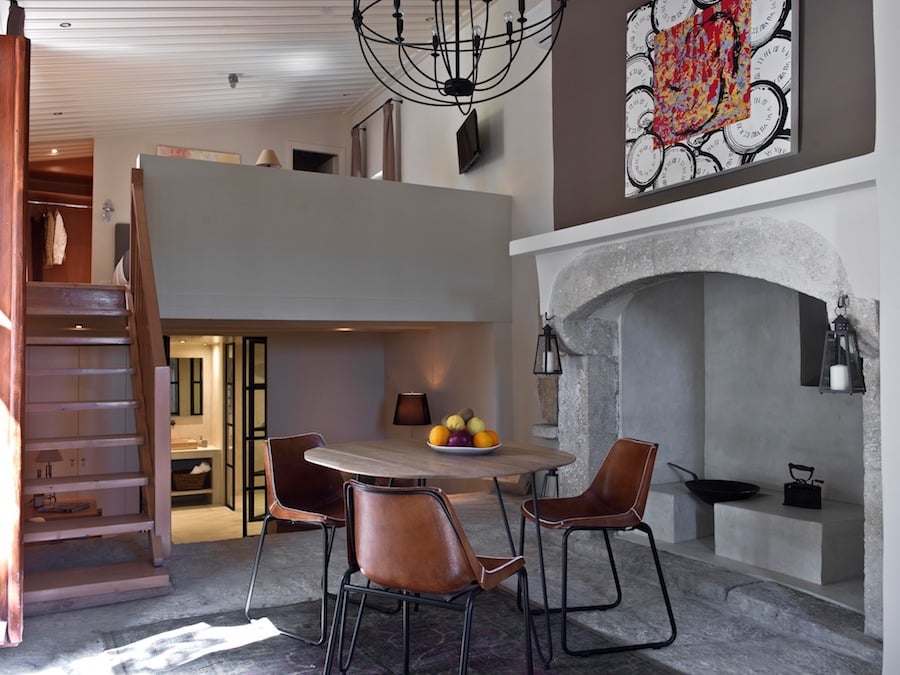 Located in the wine region of Heraklion, about half an hour from the capital of Crete, Scalani Hills Boutari Winery & Residences is a boutique hotel amidst the magnificent vineyard of Crete.
Perfect place for a winter retreat and to taste some of the island's best grape varieties, the suites feature a relaxing sitting and dining space, a private terrace with views, and several other convenient amenities.
Delina Mountain Resort
One of the most famous mountain refuges on the island, Delina Mountain Resort, is located in the traditional village of Anogeia, about 45 minutes by car from the coastal town of Rethymnon.
The resort is set in an area of 28 acres, and it flawlessly blends the fine facilities of a luxurious hotel with the authenticity of Cretan tradition.
The hotel's prime location allows guests to explore the island's natural landscapes during every season of the year. The resort also offers services and treatments for pleasant moments of relaxation and rejuvenation.
Villa Drakona Keramia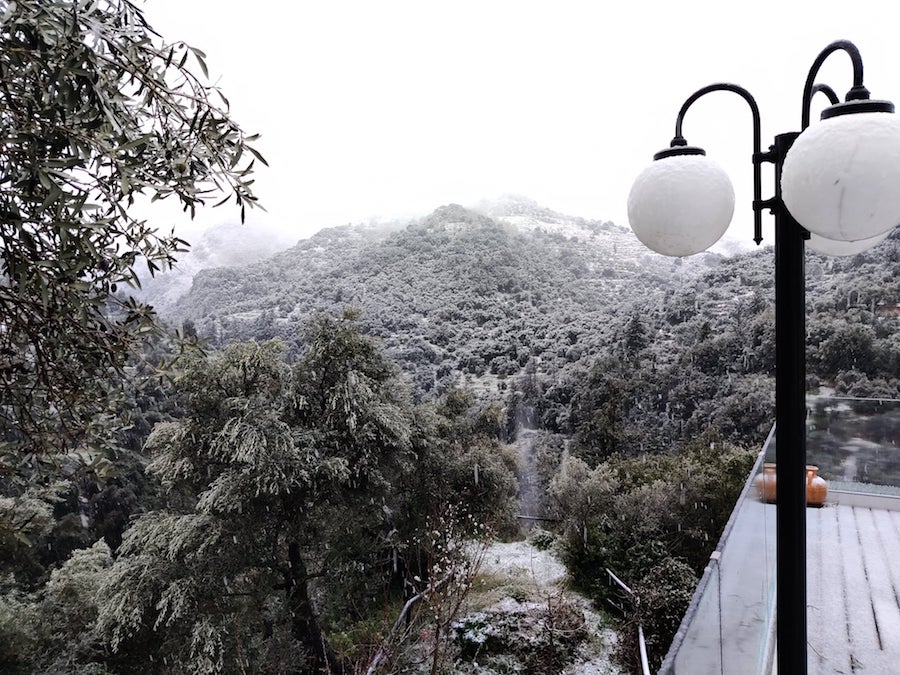 Featuring accommodations with a private pool, river view, and a well-furnished balcony, Villa Drakona is located in Katsifarianá, about ten minutes from Chania old town, in the Cretan White Mountains.
This beautiful mountain villa has three bedrooms and two bathrooms, a dining area, a fully equipped kitchen, and a patio with pool views.
Metsovo
In the breathtaking landscape of the Pindus Mountains and the region of Epirus in northwestern Greece, Metsovo can be a top winter destination featuring unique pine and beech forests and frozen alpine landscapes.
In the region, Pindus National Park is one of the most important protected areas for the conservation of mountainous biodiversity. Metsovo is one of Europe's most remarkable destinations for hiking, and its forest has imposing hiking trails.
In the area, the woods of Metsovo are home to protected species, including Eurasian brown bears, deers, wild cats, and wolves, and over eighty different bird species, some of them protected.
Katogi Averoff Hotel & Winery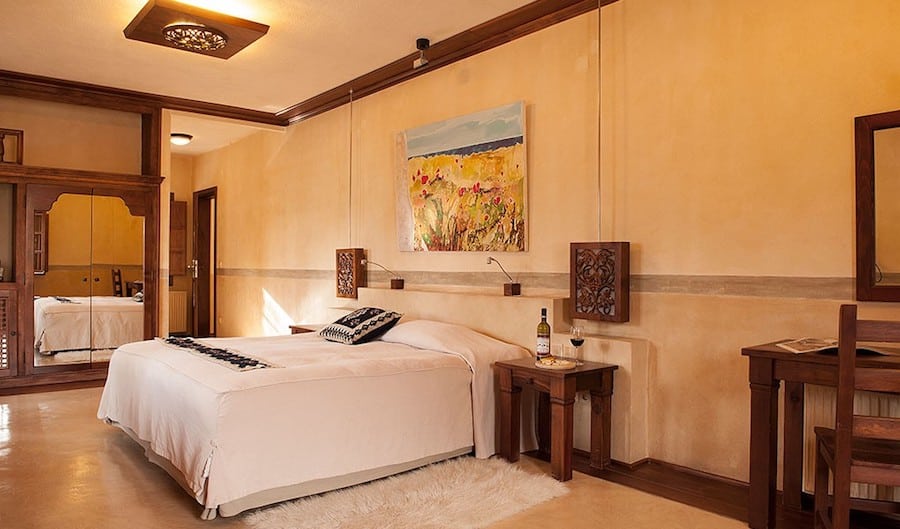 Among the best hotels in Greece, Katogi Averoff Hotel and Winery is situated in the scenic mountain village of Metsovo. This traditionally built property offers warmly decorated rooms next to the family's historic winery.
Guests can also enjoy the wine bar facilities, shop at the wine shop, or have a delicious meal at the on-site restaurant. Here, it is possible to visit the underground cellars of the famous winery and choose among a wide selection of wines accompanied by local flavors.
The rooms are elegantly styled, featuring earthy tones and dark-wood furnishings. Some rooms open out to a balcony with mountain views. A quality Greek buffet breakfast is served in the morning, featuring mouthwatering local products.
Grand Forest Metsovo
An impressive venue that guests simply love, Grand Forest Metsovo features a cutting-edge lobby and lounging area with ample windows that blend the cozy interiors with the incomparable beauty of the landscape.
The hotel's well-appointed suites offer 5-star hospitality throughout the year; inside the premises, guests are promised endless relaxation at the elegant spa and unique gastronomic delicacies in the on-site restaurant, Metsovo 1350 m.
Hotel Kassaros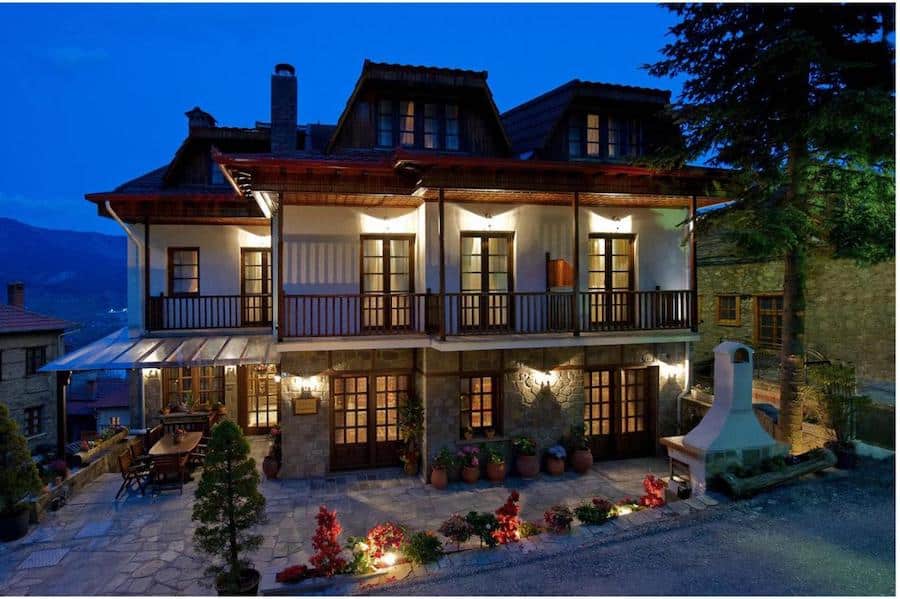 Conveniently near the ski centers of Metsovo and Anilio and close to Meteora and Valia Calda National Park, the Kassaros Hotel is just 50 meters from the center of Metsovo.
Luxurious facilities and amenities such as a free sauna, steam shower cabin, and hot tub are only a few of the perks you can enjoy when staying on the premises.
The historic hotel comes with refurbished rooms combining handmade carpets, decorated ceilings, and stone features of traditional style and décor with modern amenities. Most of the rooms have magnificent views of the mountain of Pindos.
There is also a communal living room with a wooden bar, fireplace, and a welcoming breakfast area.
Chasing the Donkey - Balkan travel blog includes affiliate links. If you decide to make a purchase through these links, we receive a commission without any additional cost to you. We appreciate your support helping to keep this site free. Find our disclaimer & privacy policy here.