This detailed guide covers the ways to get to Delphi from Athens. With this guide on how to get from Athens to Delphi, you'll get there with ease.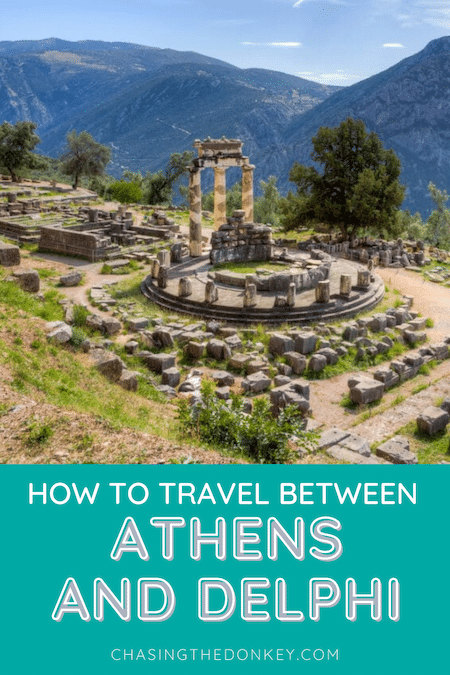 When you think of Greece, you usually think of two things – history and beaches. Both are correct, but you might be surprised at how many historical sites this country is home to!
If ancient history is what you're after, Athens has to be your first port of call. This is the home of Ancient Greece, and its center point is undoubtedly the Acropolis, sitting on top of a high hill, overlooking daily, modern life. However, that's not the only historical spot to visit. You should definitely head to the Parthenon temple and the Acropolis Museum and spend some time in the National Archaeological Museum – a full day is needed here!
But it's also important to remember that Athens isn't the only historical spot. Have you ever heard of Delphi? This is an ancient town around 161km from the capital and is home to history with a capital H. This is the spot that the Ancient Greeks considered the world's center – Zeus set free two eagles, one flying from the east and another from the west, and they both flew to the same spot – Delphi. As such, it was considered the center of the world. The exact location is the Temple of Apollo.
There is a huge amount of Greek mythology to learn about Delphi, but this UNESCO World Heritage Site is brimming with extremely well-preserved ruins to explore.
So, how do you get to see all of this in one trip?
The good news is that at just 161km, you can easily get there and back in one day if you set off early enough. Of course, staying over would give you more time to enjoy the sites, but if that's not possible, an early start will allow you to see everything you need to see.
You have two options when traveling between Delphi and Athens and also between Athens and Delphi – by car or bus. Of course, you could also book a private transfer, but we'll stick to details on the former.
The distance between Athens and Delphi is just 185 km (114 miles), and the drive is easy.
TRAVEL COMPANIES WE USE AND TRUST
How To Get To Delphi From Athens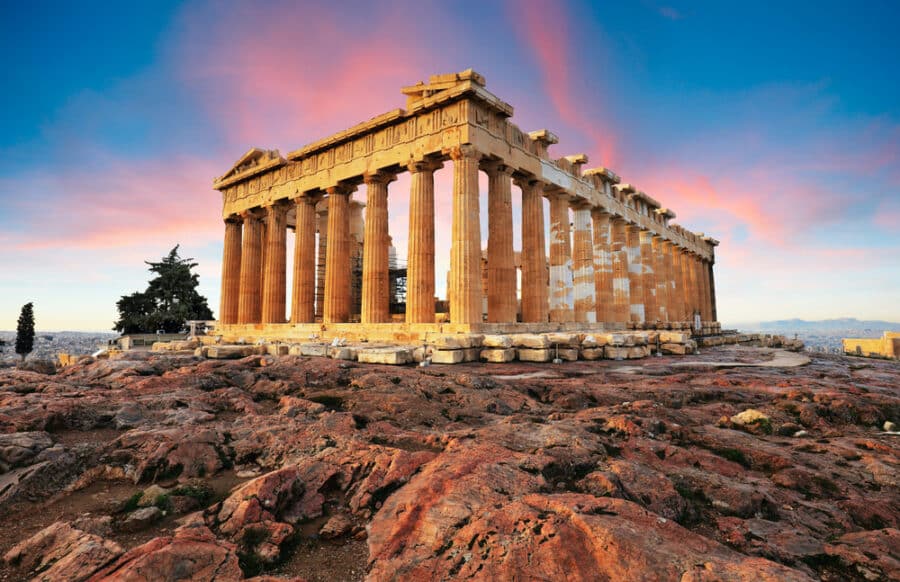 There are two options when traveling between Athens and Delphi and back again. There is no train station at Delphi, and the nearest is around one hour away, at Amfikleia. In theory, you could travel there and take a taxi, which is about 58km from Delphi, but it would be costly, and it's far easier to either drive or take the bus.
Athens To Delphi Bus
A bus is a good option if you prefer to sit back and let someone else drive you from Athens to Delphi.
The bus from Athens to Delphi takes 3 hours, which can be a little longer during the summer months, thanks again to that pesky traffic. The bus to Delphi from Athens runs around 5-6 times daily.
The service is operated by KTEL, the leading bus company throughout Greece. You can purchase your tickets online (below) or head to the main bus station in central Athens to purchase your ticket on the day. You will find that services are busy during the high summer months, so it's best to pre-book ahead of time if possible.
You can also pay on the day to the driver, but again, you may be disappointed if the service is busy. If you plan on doing this, make sure you have the correct change on hand.
The bus leaves from Liosion KTEL station B, which is around 10 minutes on foot from Agio Nikolaos in the northern section of the city. You can also get there by taking the green line on the Metro.
The journey is smooth and comfortable. You will have a 10-minute break during the journey to buy drinks and snacks or to use the restroom.
Buses back to Athens from Delphi are a little less frequent, although you will find a service around four times daily. Times change according to the month and season, but you can quickly check the exact times on the KTEL website or via staff at the bus station.

How To Get From Athens To Delphi By Car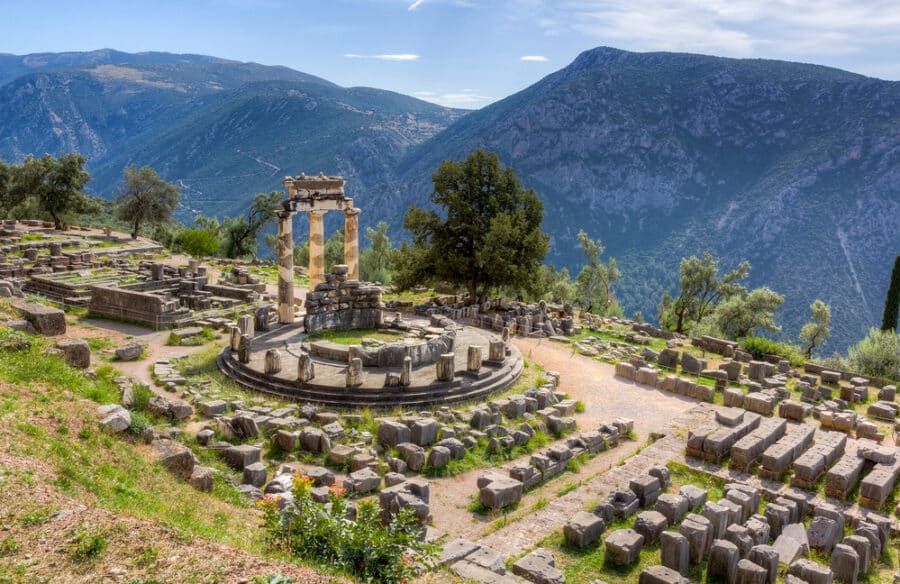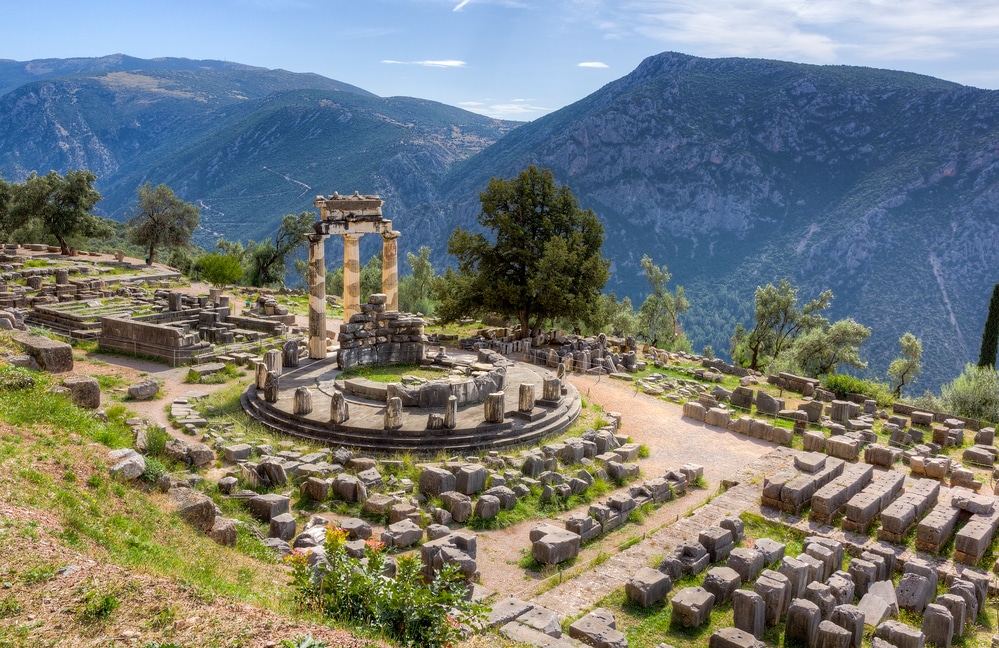 The other option is to hire a car and drive from Athens to Delphi. This means you can take your time and leave whenever you want to.
If you're traveling by hire car or your own vehicle to Delphi from Athens, you're looking at a journey of around 2 hours 20 minutes, depending upon traffic. Remember that during the summer months, in particular, there can be heavy traffic in both directions, which will hold you up. In that case, set off as early as possible, and you won't miss any time in Delphi.
You'll travel along the E75 highway and switch to the EO48 directly to Delphi. The E75 is a high-speed highway and high quality until you get close to Delphi. However, as you get closer to Delphi, you're also heading into the mountains, which means narrow, single-track roads. Drive with care here.
You'll find clear signposts in both directions, and you reverse the journey when you're heading back from Delphi to Athens.
If you're hiring a car this way, remember to have your passport, insurance papers, driving license (all parts), and International driving license with you at all times.
Athens To Delph By Private Transfer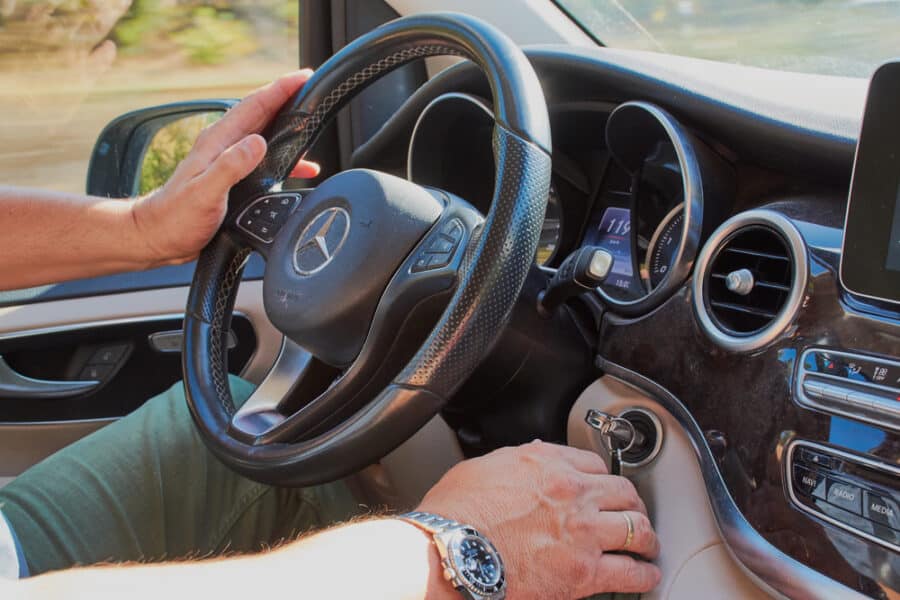 Looking to avoid the hassle of public transport when visiting Delphi from Athens? Then we suggest you book a private transfer like this. This way, you can relax and enjoy the journey without worrying about getting around. Let an experienced driver get you there safely and on time.
There are many benefits to booking a private transfer. For starters, you'll avoid the hassle and stress of trying to navigate public transportation. A private transfer lets you relax and enjoy the ride as someone else takes care of the navigation, and let's be honest, a private transfer is far more comfortable and luxurious than a bus.
Athens To Delphi Tours
Athens to Delphi day trips are one of the most popular tourist activities in Greece. The trip takes you from the city of Athens to the small town of Delphi, where you can visit the ancient ruins of the Temple of Apollo. The trip takes about six hours and you'll get to see some of Greece's incredible scenery and learn a lot about its history and culture. The trip is definitely worth taking, and you're sure to have a great time.
Delphi To Athens Travel Info
When traveling back to Athens from Delphi, you reverse the information above. The bus from Delphi back to Athens leaves thrice daily, and you can pre-book your ticket to ensure you get a seat; otherwise, you will need to wait until the next day.
About Delphi
Delphi is both ancient and modern; the ancient site is located just east of the modern town. However, most people visit for the history, and you can't blame them. Situated on the slopes of beautiful Mount Parnassus, you'll see natural landscapes that will blow your mind and ruins that will do the same.
Delphi is also famous as the former home of the oracle of Delphi. Famous throughout Ancient Greece, this oracle was visited by pilgrims from the entire Mediterranean region to hear prophecies from Apollo himself, the Greek God.
Now that you know how to get to Delphi from Athens, we hope you enjoy your trip.