Privacy & disclaimers →
Meteora Monasteries Greece Guide
The worldwide famous Meteora in Greece is located near the imposing Pindos Moutain in Kalambaka, in continental Greece.
These famous monasteries in Greece stand among and on top of enormous dark rocks and give life to the second most important monastic community in Greece after Mount Athos.
Its name was given by the founder of the Megalo Meteora Monastery, Saint Athanasios Meteoritis, who gave the name of Meteoro to the giant rock where the monastery was then established. Meteora means high up in the air.
The following Meteora guide will help you answer questions like, is Meteora worth visiting?, which Meteora monasteries of Greece can you visit, how to get to Meteora monasteries, and more.
Things To Know About Meteora Monasteries Greece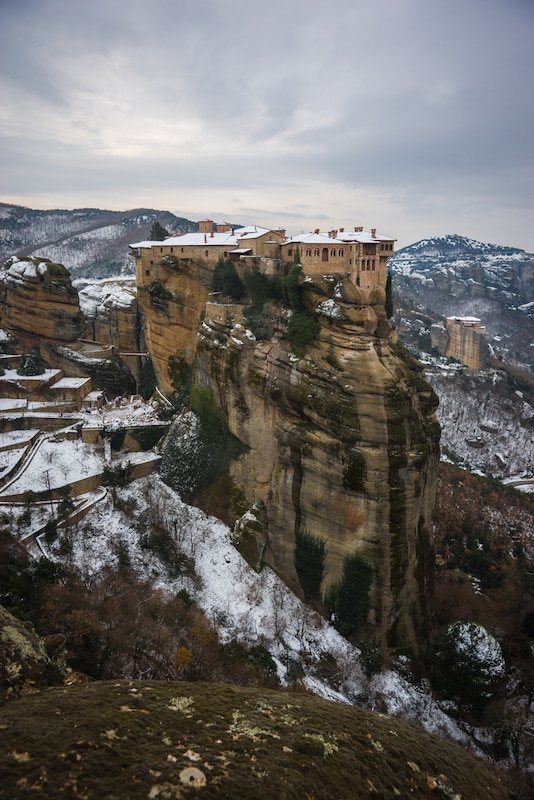 Meteora is a complex of 30 different Byzantine monasteries, although only six of them are still functioning.
All the Meteora monasteries in Greece are living museums housing icons and other remarkable historical relics.
The Meteora complex is included on the UNESCO World Heritage Monuments list. Hundreds of pilgrims visit Meteora all year round since the place is not hard to visit Meteora tours from Athens, the Greek capital.
How To Get To Meteora Monasteries From Athens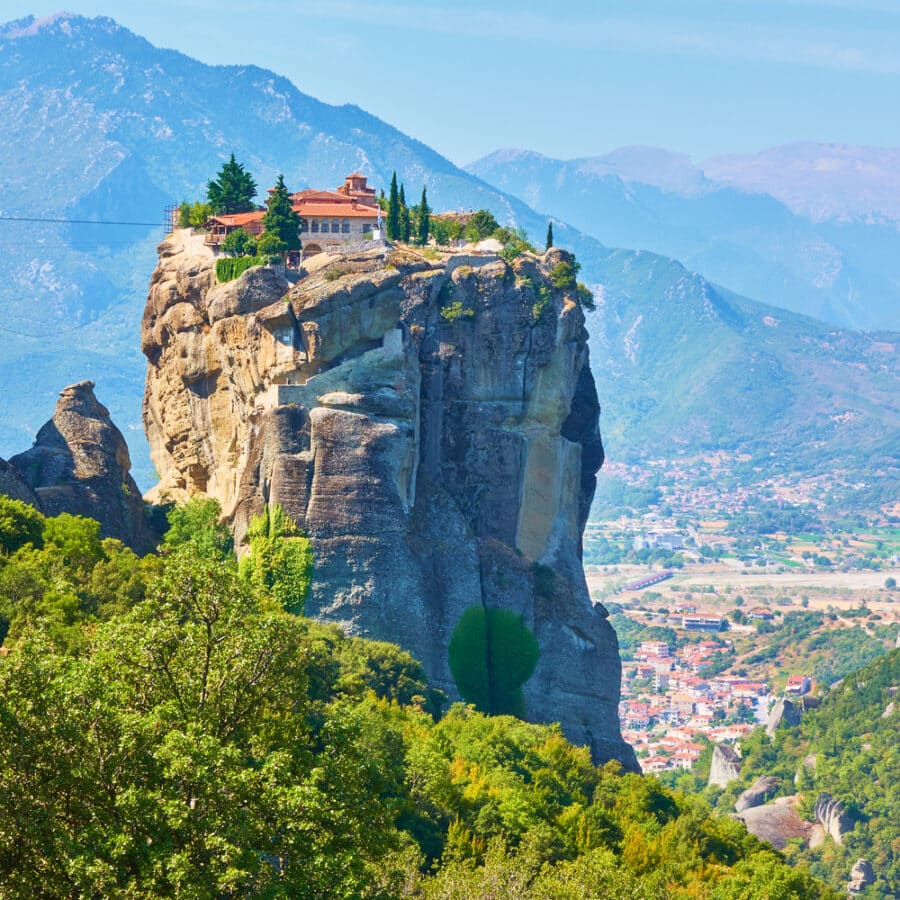 It's possible to take a 1-day tour to Meteora by train, bus or car. However, it is also a valid idea to tour Meteora joining a trip departing from Athens. There are also tours from Halkidiki and Thessaloniki.
Getting To Meteora By Bus
To visit the imposing location, the first thing to do is to travel from Athens to Kalambaka. To do so, you will need to reach Trikala and, from there, catch another bus. People departing from Athens need to board the KTEL bus that departs from the Liosion bus station.
Getting To Meteora By Car
It's also a great idea to visit Meteora in a rental car. The route to take is the National Greek Road Athina – Livadia – Lamia, following the direction to Kalambaka.
Getting To Meteora By Train
This is probably the easiest and most beautiful way to visit Meteora. Trains depart from Athens, Thessaloniki, Larisa, Livadia, and Paleofarsalo. The closest train station is in Kalambaka and, from here, you can get to Meteora either by car or by taxi.
If you're taking the train from Athens, remember that the Meteora trains depart from Larissa station.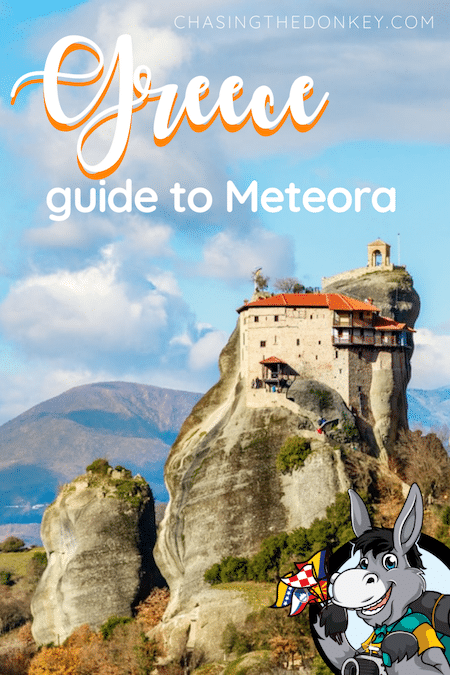 TRAVEL COMPANIES WE USE AND TRUST
Where To Stay In Meteora
All of the Meteora monasteries in Greece make an excellent day trip idea, but to get to know the monasteries the best and at a more relaxed pace, the best thing you can do is spend one or two nights in the area. You will not regret it.
The following hotels have been divided according to different budgets, so you can easily find the best place to stay in Meteora.
Meteora Monasteries Map
Budget Hotels in Meteora
Host El Greco: Budget accommodation in Kalambaka. This stone-built with place features comfortable rooms with a terrace or balcony and serves homemade breakfast daily. There's a cozy communal kitchen for guests. Bike hire is available, and car rental can also be arranged.
Meteora Central Hostel: Set in Kalabaka, 2 km from Meteora Central Hostel, it offers accommodation with a bar, free private parking, a shared lounge, and a garden.
Pyrgos Adrachti: This is a 3-star hotel set in one of the highest points of Kastraki village with fantastic views of the Pindos Mountains. From each balcony, guests can enjoy uninterrupted views of the famous rocks of Meteora and the green forests of pine trees.
Mid-Range Hotels In Meteora
Hotel Doupiani House: Along with amazing views of the Meteora, this hotel offers cozy and well-furnished rooms and a delicious buffet breakfast. This hotel is very close to the Meteora Monastery – Agios Nikolaos Anapafsas.
Petrino Guesthouse: A gorgeous property, this 1845 original stone building has been recently restored. It features modern accommodations with breathtaking views of Meteora. Some rooms have a fireplace, one features a spa bath, and one is disabled-friendly.
Hotel Kastraki: This place is in the traditional village of Kastraki, offering comfortable rooms with an open balcony. There is also a Meteora restaurant serving Greek cuisine and a bar. Some units enjoy views over the Meteora Rocks. Free private parking is available.
Luxury Hotels In Meteora
Hotel Xenion tou Georgiou Merantza: The place is surrounded by theTzoumerka Mountains, not far from Meteora mountain monasteries. Rooms are comfortable, and the property also features a swimming pool, a sun terrace, and a traditional restaurant.
Meteora Boutique Villa A: A beautiful accommodation for a comfy stay in the area; the villa is in Kalabaka. Enjoy the garden, terrace, and nearby activities, including cycling and hiking.
Tsikeli Hotel Meteora – Adults Only: This place is just 100 m from Kastraki's center. The rooms enjoy brilliant views of the area. Guests can enjoy a rich breakfast next to the fireplace in the shared lounge in winter or the garden during the summer, with magnificent Meteora views.
How To Get Around In Meteora Greece
You can book many alternative trips and tours once you get to Meteora if you don't want to rely on your own navigation skills to go from one Meteora monastery to the other on your own.
These organized tours take you to see the monasteries of Meteora Greece, in a private car or minivan.
Some travelers choose to rent a car in the area, and it's a great idea if you love adventure. Each monastery has a parking area close to the road, and it's not hard to go from one Meteora monastery to the next one by car.
Alternatively, it's a good idea to rent a scooter in Kalambaka; however, remember that many tourists choose this option, so book in advance to find the kind of vehicle you want.
Some pilgrims choose to hike or walk from the sites. In this case, try to devote at least three full days to your trip to do it at a more relaxed pace.
Meteora Monasteries To Visit In Greece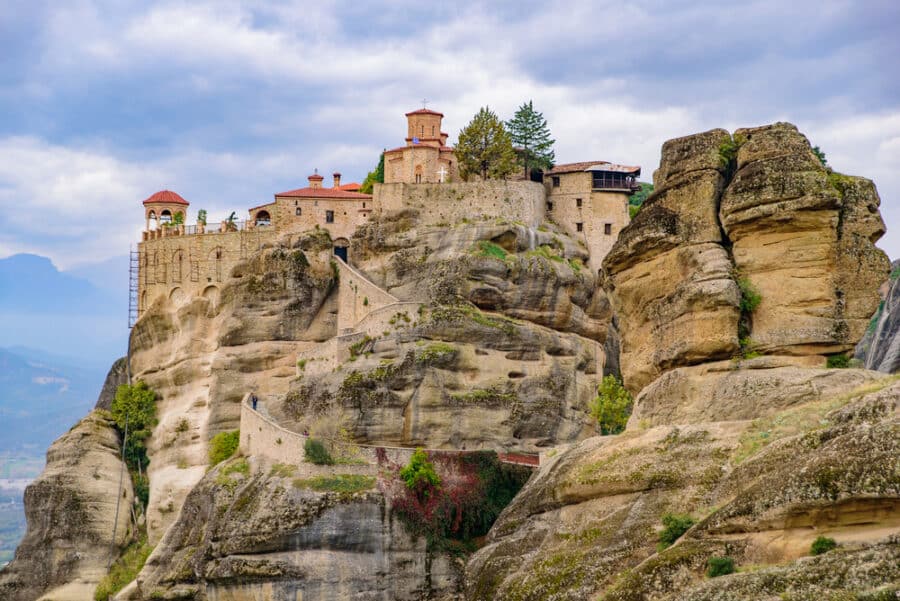 Although many more monasteries were open in the past, today you can visit six, which are still standing and open to the public; the following Greece monasteries on cliffs are open and ready for you.
Agios Nikolaos Anapafsas
Great Meteoron
Roussanou Monastery
Holy Trinity Monastery
Agios Stefanos
Varlaam Monastery Meteora
Some of them are smaller and others bigger, and they all have different visiting hours according to the season and the liturgical calendar.
The most remarkable ones are Great Meteoron and Varlaam, which are often the most visited and crowded. It's a good idea to visit these two Meteora monasteries early to avoid crowds.
Holy Monastery Of Great Meteoron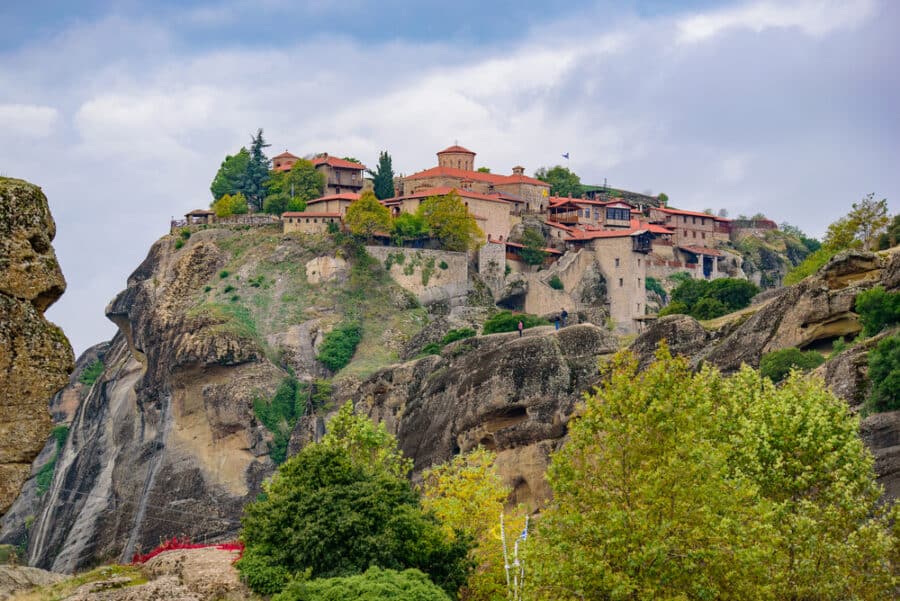 The Holy Monastery of Great Meteoron is one of the oldest Greek Orthodox monasteries in Meteora and the biggest of them all; it dates back to the 14th century, and once inside, you can also visit the museum and the main church.
Opening hours: April – October from 9 am to 3 pm (Closed on Tuesdays). November – March from 9 am to 2 pm (Closed on Tuesdays, Wednesdays, and Thursdays.)
Ticket: 3 euro.
Varlaam Monastery
Varlaam is the second biggest monastery in the area, and it dates back to the 14th century, it was founded by a monk named Varlaam, and he was the only one to live on the rock. Once he died, the monastery was abandoned until 1517.
Opening hours: April – October from 9 am to 4 pm (Closed on Fridays). November – March, from 9 am to 3 pm (Closed on Thursdays and Fridays).
Ticket: 3 euro.
Roussanou Monastery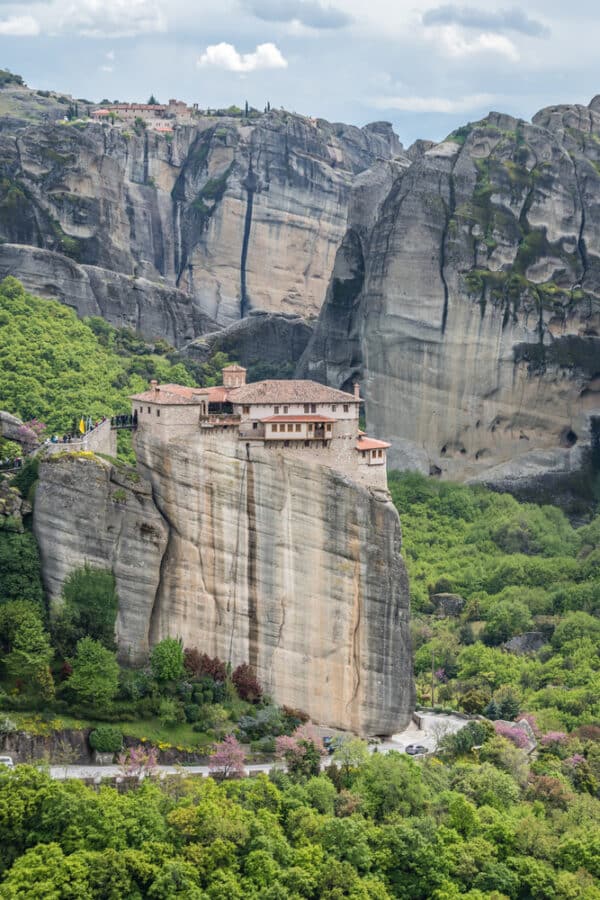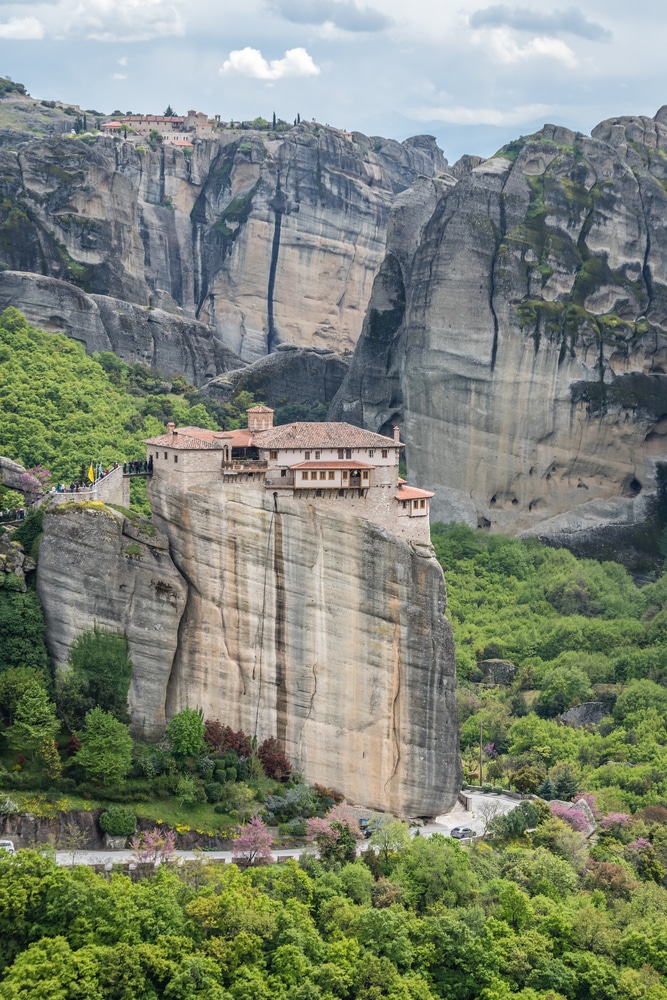 Next in your itinerary, check Roussanou Monastery, also known by the name of Agia Barbara. This beautiful building is a nunnery dating back to the 16th century.
Opening hours: April – October 31 from 9.30 am to 5 pm (Closed on Wednesdays). November – March from 9 am to 2 pm (Closed on Wednesdays).
Ticket: 3 euro.
Holy Trinity Monastery Meteora
The Holy Trinity Monastery Meteora also dates back to the 14th century and is not easy to access. The building is high up on a cliff, and you will need enough strength to hike up nearly 150 steps.
Opening hours: April – October from 9 am to 5 pm (Closed on Thursdays). November – March from 10 am to 4 pm (Closed on Thursdays)
Ticket: 3 euro.
After checking the Holy Trinity, the following remaining monasteries to visit are Agios Nikolaos and Agios Stefanos.
Agios Nikolaos Anapafsas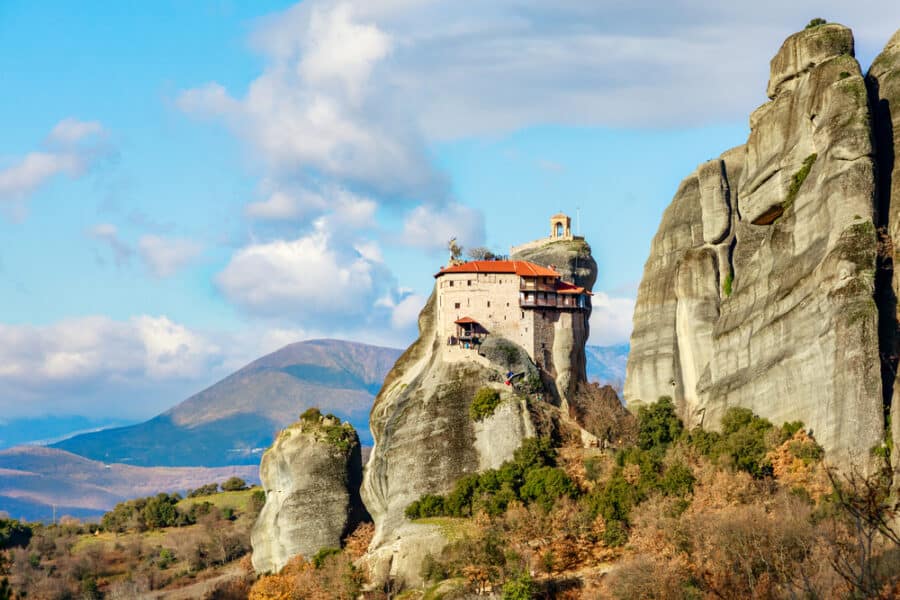 The Monastery of Agios Nikolaos Anapafsas dates back to the 14th century and features ancient and beautiful frescoes.
Opening hours: April – October from 9 am to 4 pm (Closed on Fridays and Sundays). November – March from 9 am to 2 pm (Closed on Fridays).
Ticket: 3 euro.
Agios Stefanos
Agios Stefanos is quite accessible. The monastery was built back in 1400 AD. The religious building was heavily damaged during WWII, but it has been restored and currently hosts a nunnery.
Opening hours: April – October from 9 am to 1.30 pm and from 3.30 pm to 5.30 pm. (Closed on Mondays) On Sundays, it opens at 9.30. November – March, from 9.30 am to 1 pm and from 3 pm to 5 pm (Closed on Mondays).
Ticket: 3 euro.
When To Visit Meteora In Greece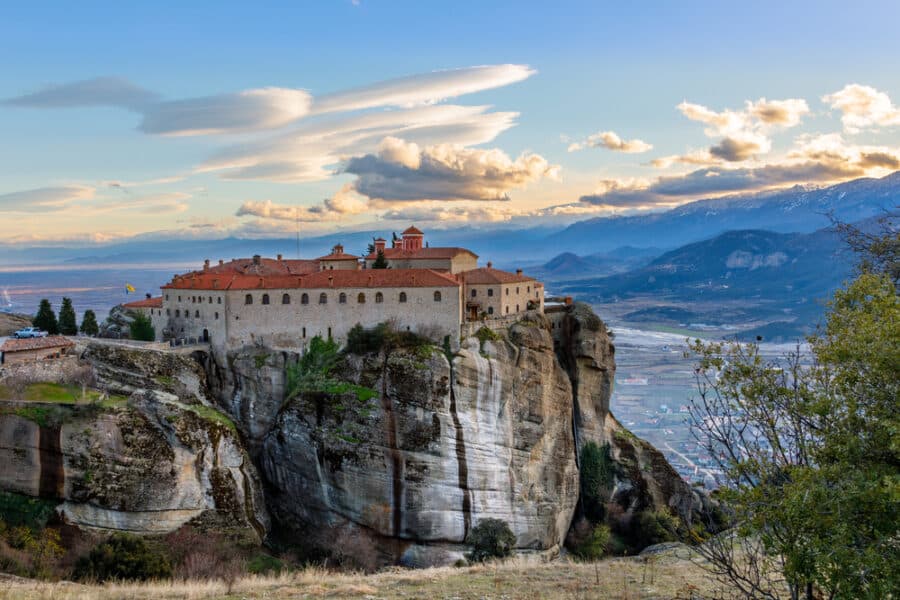 The area can be sweltering in summer and relatively cold in winter; therefore, the best tie of the year to visit is spring (March-May) or fall (September-November).
Besides better weather, you're bound to find fewer crowds and better accommodation prices.
Best Photo Locations In Meteora
Meteora is full of stunning photo spots where to take the most memorable pictures of the high rocks and the monasteries.
One of the most popular places for pictures is Psaropetra, where sunsets are among the most beautiful in the region.
Also, near Varlaam Monastery, there are breathtaking places to capture unique pictures of the high, dark rocks.
Day Trip From Thessaloniki To Meteora
If you're visiting the northern Greek city of Thessaloniki, you're probably wondering how to get to Meteora from Thessaloniki. It is possible to reach Kalambaka by train to see some of the Greek monasteries on a day trip.
You can either take this trip on your own or book a tour that includes the tickets and entrance to three of the six museums.
If you plan to visit all of them, it's a good idea to spend the night in Kalambaka, since one day won't be enough for all the sightseeing.
It's also possible to join a bus tour departing from the center of Thessaloniki to Meteora. Different organized tours can take you to the Monasteries of Meteora and then drive you back to the center of Thessaloniki.
What To Wear At Meteora Greece
First, you should remember to carry comfortable walking shoes, such as hiking boots in winter or hiking sandals in summer. Also, wear sunglasses and sunscreen lotion in summer.
Remember that the monasteries have a strict dress code regarding the clothes to wear. Women will need to wear a long skirt, dress, or sarong.
Don't worry much; all the monasteries have wrap skirts you can borrow at the entrance. Also, shoulders should be covered.
Men should wear long pants, although it can be possible to access the monasteries wearing pants that hit below the knee.
Now you are ready to head to Meteora Greece; which of these Meteora Monasteries will you visit first?