Co-written by Barbara from www.jet-settera.com and SJ Begonja
Dubrovnik, a stunning old city in southern Croatia right on the Adriatic Sea, is Croatia's most popular tourist destination.
The city's Old Town is surrounded by a massive stone wall that is exceptionally well preserved and, over the past few years, served as a filming location for the popular TV show, Game of Thrones, adding to its fame.
The old town itself reminds me of cities in Northern Italy. Massive walls surround Italian cities such as Bologna, Sienna, and Verona because the architecture resembles Venice or Trieste.
The architecture of Dubrovnik is dazzling; and ranges from the Baroque St. Blaise Church to the Renaissance Sponza Palace. The Old City is paved with limestone, and no cars can enter the town walls.
The city is a UNESCO World Heritage Site, and today, Dubrovnik is one of the top tourist destinations in the Mediterranean. George Bernard Shaw once said: "If you want to see heaven on earth, come to Dubrovnik."
After discovering beautiful Dubrovnik (or just wanting to beat the crowds), the medieval city of Mostar in Bosnia-Herzegovina is a great day trip worth considering. The town has the world's oldest arboretum, established in the 15th century. It also has the oldest pharmacy, which dates back to 1317.
All you have to do is hire a driver, hop into your rental car, or catch one of the many buses that leave Dubrovnik for Mostar, and you'll be there in a few hours.
Dubrovnik To Mostar Map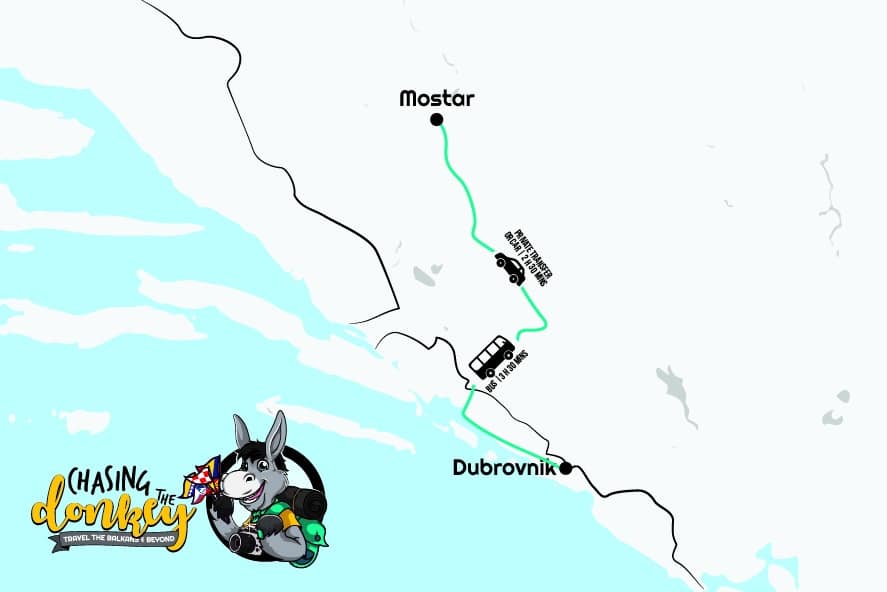 TRAVEL COMPANIES WE USE AND TRUST
How To Get From Dubrovnik To Mostar
Dubrovnik To Mostar By Car Or Private Transfer

Mostar is about 2.5* hours away by car from Dubrovnik. There are three driving routes between Dubrovnik and Mostar.
Dubrovnik via Tribinje, Stolac, and Buna to Mostar by M6 and M18roads.
From Dubrovnik via Metković to Mostar via M6 and D8 routes
From Dubrovnik via Tribinje, Bileca, Stolac, and Buna to Mostar by R427 and M20. This route is the longest.
If you're like me and don't want to worry about navigating a foreign land, you can take a private transfer, which is quite affordable, with prices starting from 250 euros. This is a super-convenient way to make a Mostar day trip from Dubrovnik.
Dubrovnik To Mostar Bus
The Dubrovnik to Mostar bus takes 3 and 3.5 hours* to reach this charming historic town. There are at least three buses a day serving this route. A one-way ticket costs 15 euros.
Outside of peak season, there's rarely a need for advance bus reservations, although if you are in Dubrovnik anyway, you may as well buy your ticket early to guarantee your seat.
Local Tip: If you take the bus from Dubrovnik to Mostar, grab a seat on the bus's left side to see the spectacular landscape of Croatia and Southern Bosnia. When you travel from Mostar to Dubrovnik by bus, sit on the bus's right side for the same impressive view.
Dubrovnik To Mostar By Train
No trains are connecting Dubrovnik and Mostar.
Crossing this border can be unpredictable so that travel times can vary significantly, especially during peak season. Before reaching Mostar, you must go through passport control, so don't forget your passport at home or in the hotel – even if you plan to return on the same day.
Day Trips From Dubrovnik To Mostar
Taking a day trip from Dubrovnik to Mostar with a tour guide is an excellent way to explore the rich cultural and historical heritage of the region. Mostar, located in Bosnia and Herzegovina, is a picturesque city renowned for its iconic Old Bridge and a blend of Ottoman and European influences.
With a knowledgeable tour guide, you can gain deep insights into the city's history, architecture, and the impact of the Bosnian War. As you stroll through the narrow streets of the Old Town, your guide can share fascinating stories about the city's past, including the bridge's destruction and subsequent reconstruction.
A tour guide can also introduce you to the local customs, traditions, and cuisine, allowing you to immerse yourself in the vibrant atmosphere of Mostar. You can explore the bustling marketplaces, sample traditional Bosnian dishes, and witness skilled artisans crafting intricate copper and leather goods.
Moreover, a tour guide can provide context and perspective on the complex cultural and religious dynamics in the region, offering a deeper understanding of the area's diversity and history.
Overall, embarking on a day trip to Mostar with a tour guide ensures an enriching and informative experience, making it a memorable highlight of your visit to Dubrovnik.
Day Trip From Dubrovnik To Mostar – Recommend Self-Drive Stops
There's nothing better than getting a rental car for the most freedom on your Dubrovnik to Mostar day trip. You can (and should!) stop at the following places on the way between those two famous cities.
Trebinje
Historic Trebinje is the southernmost town in Bosnia-Herzegovina, located on the banks of the scenic Trebisnjica River. The old town center dates from the 18th-century Ottoman Empire period and is home to the beautiful Arslanagic Bridge, while many hills frame the town nicely.
It is the closest town in Bosnia-Herzegovina to Dubrovnik and is a great stopping point on a day trip to Mostar. Besides historic architecture, you can enjoy wine (some of the cheapest in Europe) at local wineries or even an old monastery. They will often give you young cheese or olive oil produced locally to taste while you are there. Other top attractions include the fantastic 15th-century Serbian Orthodox Tvrdoš Monastery, the Gracanica Church, and kayaking on the river.
Stolac
The next stop on a Dubrovnik to Mostar tour is Stolac, situated directly between both cities. This beautiful old city has a vibrant history, having been part of four empires (Roman, Byzantine, Ottoman, and Austro-Hungarian) and three different kingdoms (Bosnian, Hungarian, and Yugoslav). Stolac is also a meeting point for the world's three monotheistic religions: Christianity, Islam, and Judaism.
When visiting Stolac on a day trip to Mostar from Dubrovnik, you can see this historical wealth and cultural diversity in the town's striking architecture. The old town has beautiful historic buildings, while the Stolac Fortress is a collection of ruins home to a famous 4-meter-high cross. Additionally, just three kilometers west of Stolac, you can visit a fantastic necropolis of so-called stećci, a vast collection of medieval tombstones which are part of a UNESCO World Heritage Site.
Počitelj
Another must-visit destination when driving from Dubrovnik to Mostar is Počitelj. This gorgeous town is one of the greatest highlights of southern Bosnia-Herzegovina. It's a fantastic place to visit for people who love history and culture.
This picturesque village sits on the left bank of the scenic Neretva River and dates from the Middle Ages. During its long and eventful history, Hungarian, Ottoman, and Venetian occupation was seen, all of which left behind architectural and other marks. Nowadays, Počitelj is a welcoming and charming stone village worthy of at least an hour of your time. Many Mostar day trips from Dubrovnik are often combined with other nearby places like Blagaj and Stolac.
Attractions include the Kula, a silo-shaped fortress with the Sahat Kula bell tower, and the Hajji Alija Mosque. This town is so well-preserved it's essentially a free open-air museum.
Blagaj
Travelers going on a Dubrovnik-Mostar day trip usually swing by Blagaj. One of the most popular tourist attractions in southeastern Herzegovina, Blagaj is a small and historical village town in the Buna River's spring. At this spring, and in front of towering cliffs, stand a beautiful 16th-century "tekija," a Dervish monastery.
Constructed with Ottoman and Mediterranean architectural elements, the Dervish monastery in Blagaj is a famous national monument in Bosnia-Herzegovina. You only need a couple of hours to explore this tranquil, almost magical, riverside village—it's super-easy to combine this with a longer visit to Mostar.
Recommended Mostar To Sarajevo Self-Drive Stops
We recommend swinging by these great points of interest if you'd like to continue your Balkan road trip from Mostar to Sarajevo, the Bosnian capital.
Konjic
The town of Konjic is a short drive north of Mostar and is well worth the time and effort, especially if you're into history. After all, this is one of the oldest surviving towns in Bosnia and Herzegovina, its roots dating back 4,000 years. The town, in its present form, originated sometime in the late 14th century.
One of the main highlights of Konjic is its famous old bridge, called Stara Cuprija, which was constructed in 1682-1683. It is registered as a national monument in Bosnia and Herzegovina, a landmark of national importance.
Ark Tito's Bunker
Also located in Konjic, the Armijska Ratna Komanda ARK D-0 is a Cold War-era nuclear bunker known more commonly as the Ark or Tito's Bunker. It was built to protect Yugoslav President Josip Tito and his entourage if there would ever to be a nuclear attack.
Although Tito's Bunker remained a national secret until after the Balkan War, it now serves as an excellent space for cultural and artistic exhibitions. It's still part of a military facility to this day, but you can visit it on guided tours, which are one of the truly unique things to do in Bosnia and Herzegovina.
Jablanica
When you decide to extend your Dubrovnik to Mostar tour with a visit to Konjic, we also recommend driving over to nearby Jablanica. This popular tourist town is situated just west of Konjic; this popular tourist town features excellent hiking trails and amazing historical attractions, including two sites containing medieval stećci. This is also where you'll find the fascinating Museum of the Battle of the Wounded on the Neretva River commemorates and exhibits one of World War II's most renowned battles.
What Jablanica is more famous for than anything else, however, is its fantastic food. This is the Balkan capital of roasted and grilled lamb, an unusual delicacy in the area. Don't leave Jablanica without trying some slowly roasted lamb!
MOSTAR VIGNETTE INFO
You will need to purchase a vignette for Mostar if your vehicle has more than seven seats. All entrances to Mostar require a vignette regardless of whether you plan to park. The vignette can be purchased at: https://vinjete.mostar.ba/
Highlights Of Mostar, Bosnia, And Herzegovina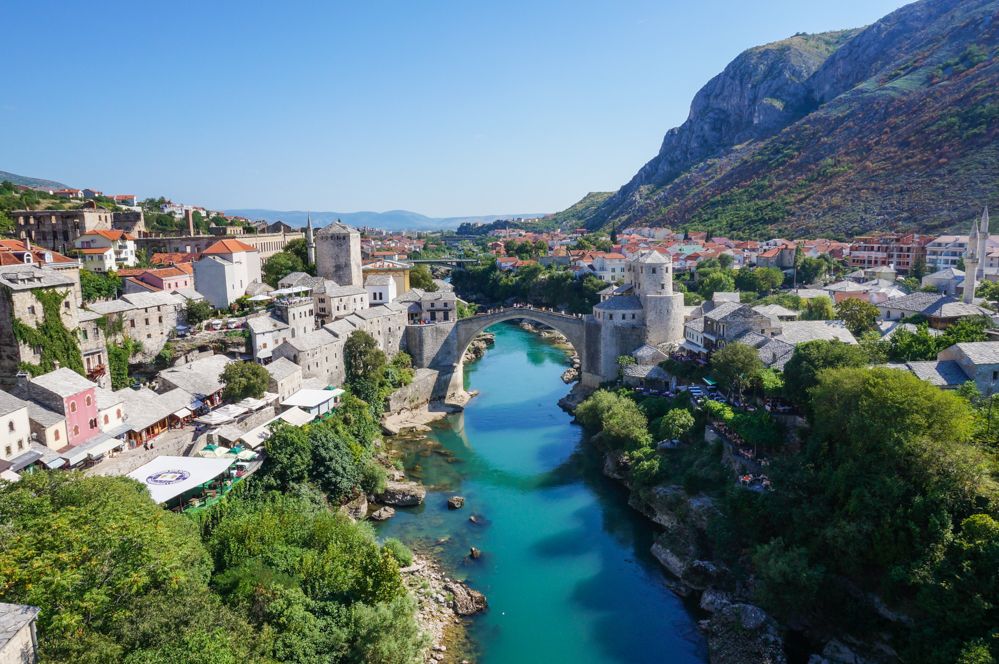 Mostar's population is about 100,000, and it is the fifth-largest city in Bosnia-Herzegovina. A visit to Mostar from Dubrovnik is easy, and most people travel to Mostar to see its famous bridge, the Stari Most.
The bridge was built in the 16th century by the Ottomans over the Neretva River and was once considered one of the most exemplary pieces of Islamic architecture. It was destroyed in the Yugoslavian war during the '90s, and it took 11 years to reconstruct the bridge. It was re-opened in 2004.
Some of the Mostar bridge pieces were recovered from the Neretva River and used in the newly reconstructed bridge.
The Stari Most Bridge is one of the country's most important landmarks, and the city was named after the middle ages bridge keepers (mostari) who guarded the old bridge (Stari Most) at the time. This UNESCO-protected bridge makes taking a Dubrovnik day trip to Mostar worthwhile.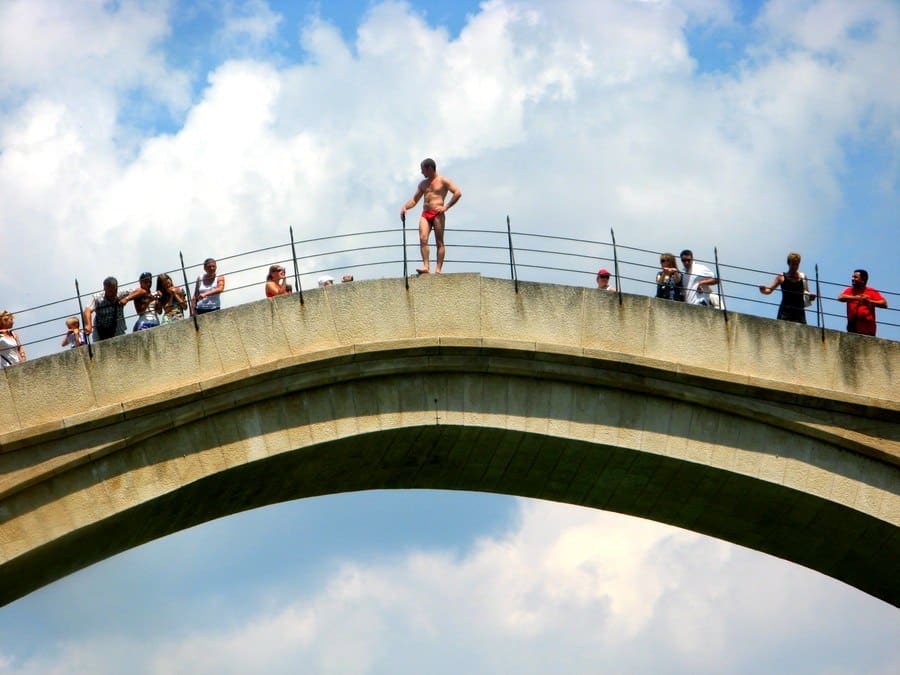 The 21-meter high bridge is a UNESCO World Heritage Site, and on most days, you will find local divers jumping from the Stari Most Bridge, putting on quite a show. These guys collect money from tourists for the dive, so they drop a few coins to appreciate their efforts.
The Mostar Bridge Museum, right next to the bridge, allows visitors to learn about the bridge's history and reconstruction. There is also a small market along the bridge to purchase local goods and souvenirs.
After visiting the Mostar Most, the city's principal landmark, you should also see the Muslibegovica House. It was constructed 300 years ago by the Ottomans and is considered one of the most beautiful houses in the Balkans. The house has separate sections for men and women and provides insight into the wealthy family life that occupied the place in the middle ages.
War history boffins should walk along the former front line, on Bulevar Revolucije, where the city was divided in 1993 during the Yugoslavian War. The Croats were on the west side, and the Bosniaks were on the East side of the front line. Another must is to climb the minaret of the Koski Mehmed Pasina Dzamija (Koski Mehmed Pasha Mosque), where you get the best views of the entire town.
War history boffins should walk along the former front line, on Bulevar Revolucije, where the city was divided in 1993 during the Yugoslavian War. The Croats were on the west side, and the Bosniaks were on the East side of the front line.
For lunch, stop by one of the local restaurants and try the local specialty cevapcici. National Restaurant Cevabdzinica Tima – Irma in the Old Town makes great Bosnian dishes, including cevapcici, at very reasonable prices. Pizzeria Roma, near the stadium, is said to make the best pizza in town.