Written by Anna from Expert World Travel & the Chasing the Donkey team.
Are you planning to visit Sarajevo? It's a charming city, and it may even rival many of its neighbors, such as Croatia!
But there's no reason to spend all your time in Bosnia and Herzegovina just in its capital. And with this guide to the best day trips from Sarajevo, you definitely won't have to!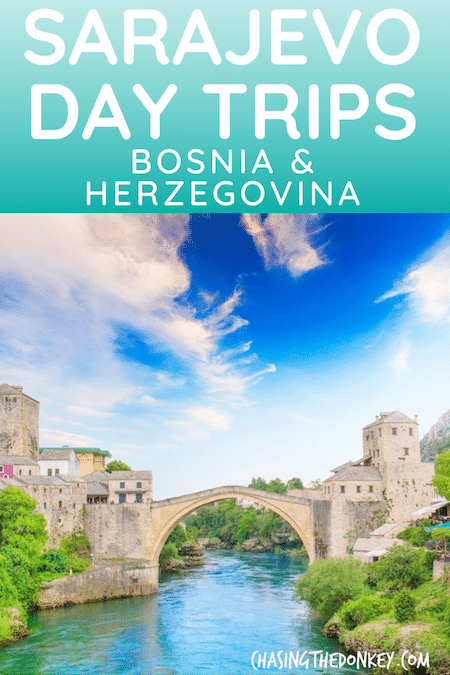 From captivating lakes to what locals call the oldest human-made pyramids globally, this small Balkan country has much to offer the adventurous explorer.
Whether you're looking for an adrenaline rush or want to learn more about the history of this charming country, this overview of the best places to visit near Sarajevo will provide you with all the information you need.
Mostar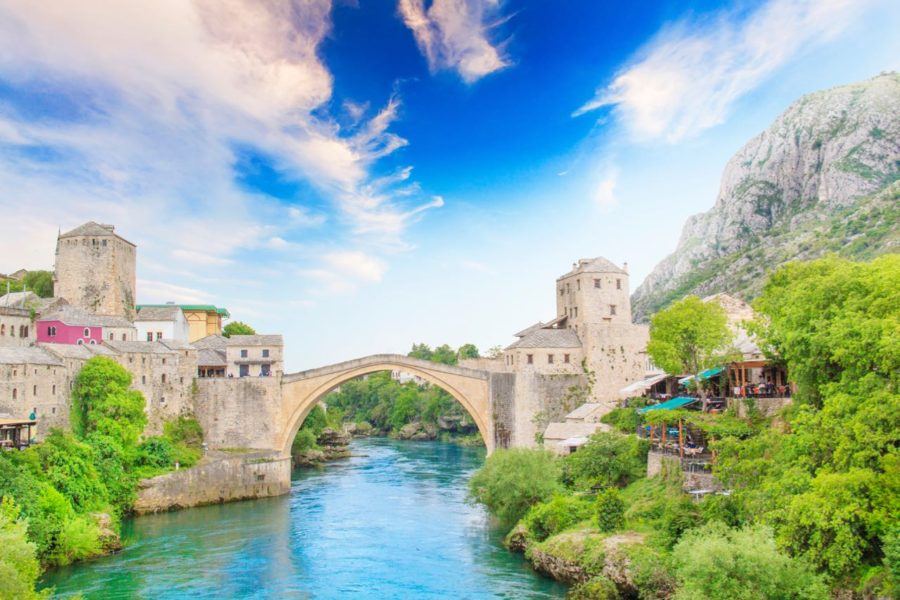 Mostar is one of the most famous cities in Bosnia and Herzegovina, largely thanks to the Red Bull cliff diving series that takes place in the city every year. Divers from around the world gather in this charming city and plunge themselves off a platform erected on the famous bridge (Stari Most) into the cold Neretva River below. I
t's definitely an exhilarating activity, but it's something locals have been doing for ages before the Red Bull series caught onto it. That's why you can usually spot people in swimming trunks on the bridge – they're waiting to collect a certain amount of money before they jump off the bridge for your entertainment.
Though Stari Most might be the most iconic city sight, it's certainly not the only one worth your time. We recommend a visit to the Biscevic House for an insight into how people lived in the olden days and a visit to the Koski Mehmed Pasha Mosque, which offers captivating views of the river.
If you only have time for one or two places to visit close to Sarajevo, make sure that Mostar is one of them. It's one of the most incredible destinations in the entire Balkans!
HOW TO GET THERE
It takes about two hours to get to Mostar from Sarajevo if you drive and much longer if you take the local train, which I don't recommend. I found the trains filthy, slow, and, quite frankly, I did not feel very secure.
How far is Mostar from Sarajevo?
Mostar is 130 km southwest of Sarajevo.
Best way to get to Mostar from Sarajevo
Local trains are the easiest and cheapest way to get to Mostar, but renting a car feels more secure and is quicker.
Blagaj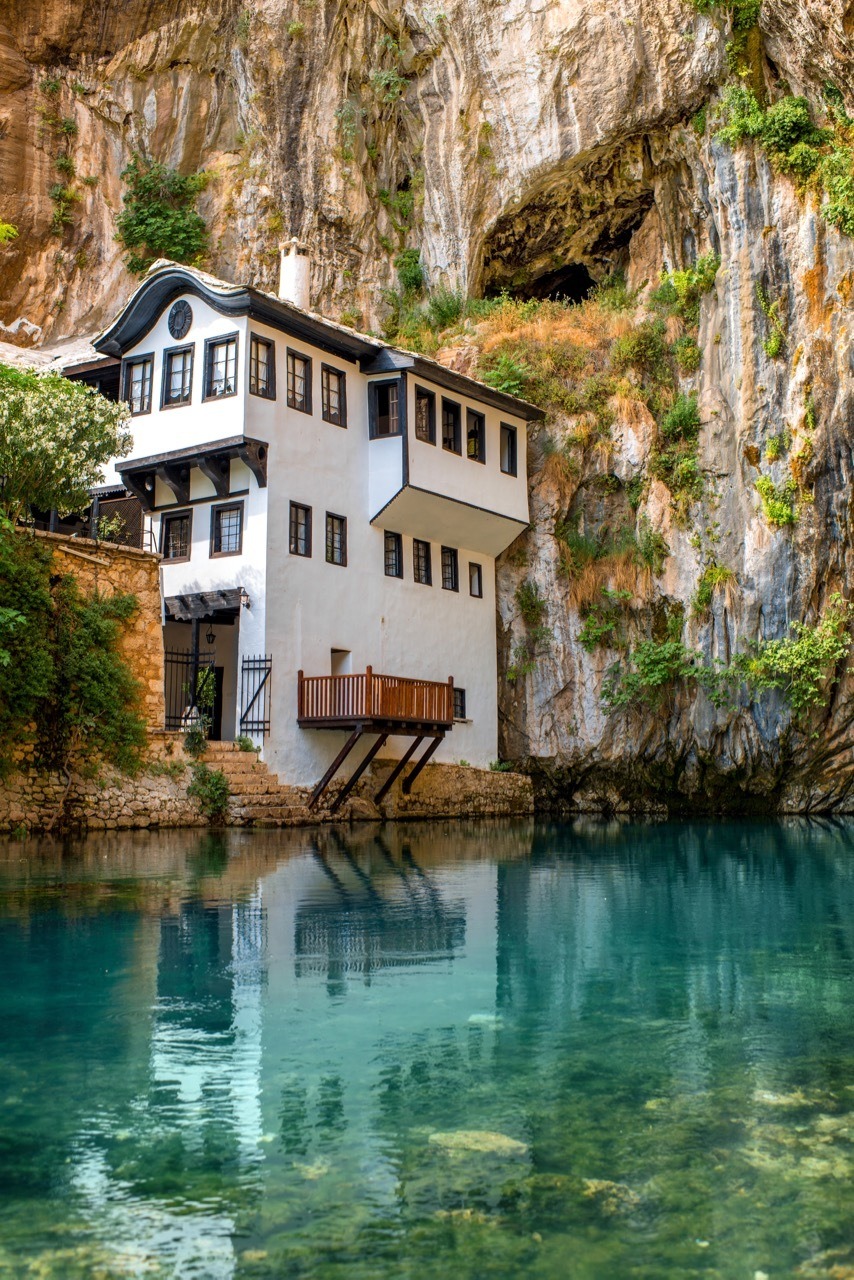 Travelers going on road trips from Sarajevo to Mostar often also make the short detour to Blagaj. One of the most popular tourist attractions in southeastern Herzegovina, Blagaj is a small historical village town in the spring of the Buna River.
At this spring, and in front of towering cliffs, stand a beautiful 16th-century "tekija," a Dervish monastery. Constructed with both Ottoman and Mediterranean architectural elements, the Dervish monastery in Blagaj is a famous national monument in Bosnia-Herzegovina. You only need a few hours to explore this tranquil riverside village—combining this with a more extended visit to Mostar is super easy.
HOW TO GET THERE
How far is Blagaj from Sarajevo?
Blagaj is about 140 km southwest of Sarajevo.
Best way to get there
Train and bus are the best ways to get to Sarajevo from Blagaj, taking 2 and 3 hours, respectively.
TRAVEL COMPANIES WE USE AND TRUST
Skakavac Waterfall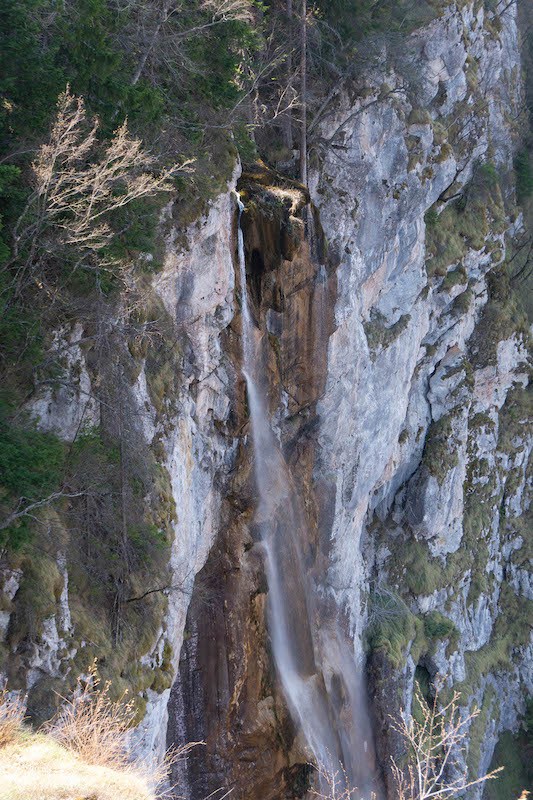 Skakavac Waterfall is very close to the city of Sarajevo, and it's one of the most famous sights in the area. You can reach it in just 40 minutes if you choose to drive or hike to the waterfall from the city.
Locals often do this, as it only takes about three hours to get to Skakavac by foot. Once you reach the waterfall after the steep ascent, you will be rewarded with spectacular views of a water cascade falling from a majestic rock, with a wooden bridge in the foreground. Whether you're up for a picnic or a photo shoot, the scenic area of the Skakavac Waterfall will not disappoint you.
HOW TO GET THERE
How far is Skakavac Waterfall from Sarajevo?
Skakavac Waterfall is 40 minutes from Sarajevo by car and 3 hours by foot.
Best way to get to Skakavac Waterfall from Sarajevo?
The fastest way to reach the waterfall is by car, but you can also hike.
Bjelašnica Or Igman

Bjelašnica and Igman are two mountains that are very close to one another and just about 30 minutes outside the city of Sarajevo. They're great for escaping the city crowds and very popular with the locals in the summer months when the scorching heat becomes unbearable in the city. But they're even more popular in the winter when locals and foreigners rush to the ski trails.
Of these two, Bjelašnica is the better option for experienced skiers, while Igman is more suitable for beginners. But honestly, you're best off heading to Jahorina if you're interested in skiing. Head to Bjelašnica if you want to sit down in a cozy cafe and enjoy a cup of coffee while admiring scenic mountain views.
But go to Igman if you're more up for a picnic, hike, or just playing football with your friends on vast plains.
HOW TO GET THERE
How far are Bjelašnica and Igman from Sarajevo?
Igman is 11 miles southwest, and Bjelašnica is 20 miles southwest of the city.
Best way to get to Bjelašnica and Igman from Sarajevo?
The fastest way to reach the mountains is by car or taxi, but you can also hike.
Visoko – Mysterious Bosnian Pyramids
Visoko is a town just some 30 minutes outside Sarajevo, best known for its ancient pyramids. You read that right – while there's no concrete evidence that the massive pyramid-shaped hills are burial sights, their appearance alone was enough to significantly boost the area's tourism.
You can also explore underground labyrinths below the "pyramids" and visit a museum that boasts a significant collection of items excavated there. Whether or not you believe these are the oldest human-made pyramids is up to you, but it's certainly worth visiting and seeing them with your own eyes. One of the top half-day trips from Sarajevo for sure!
HOW TO GET THERE
How far is Visoko from Sarajevo?
Visoko is 20 miles northwest of Sarajevo.
Best way to get to Visoko from Sarajevo?
The cheapest options are to take the bus or train, but the fastest option is to drive or hop in a taxi.
Počitelj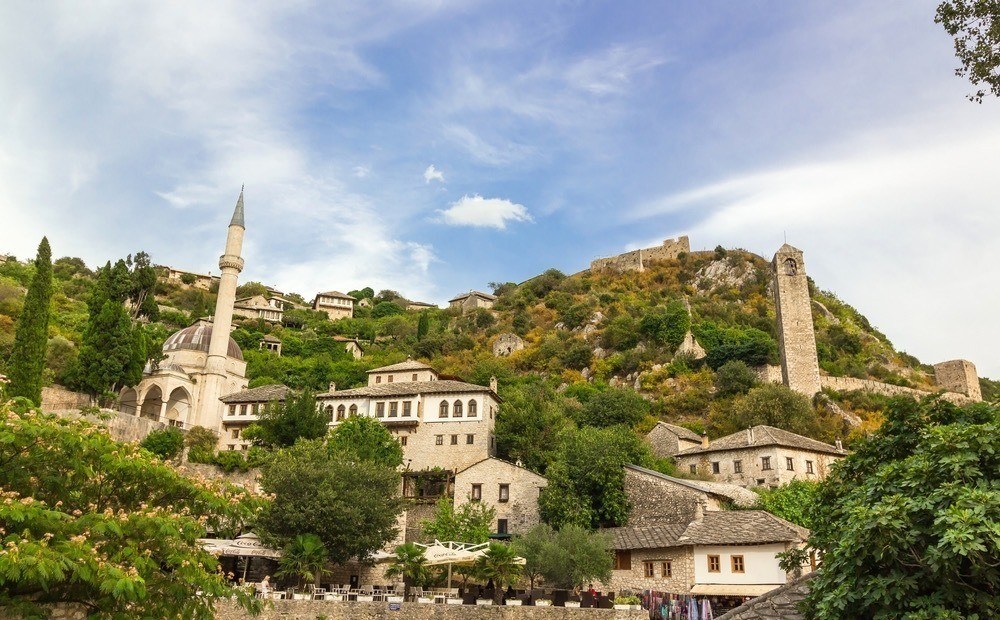 Situated to the south of Mostar and about 2.5 hours from Sarajevo, Počitelj is one of the greatest highlights of southern Bosnia-Herzegovina. It's one of the best places to visit from Sarajevo for people who love history and culture. And considering that you're reading about day tours from Sarajevo, we assume that you are!
This gorgeous village sits on the left bank of the scenic Neretva River and dates from the Middle Ages. During its long and eventful history, it's seen Hungarian, Ottoman, and Venetian occupations, all of which left behind architectural and other marks. Nowadays, Počitelj is a welcoming and charming stone village worthy of at least an hour of your time.
On many Sarajevo trips, it is often combined with other nearby places like Blagaj, Mostar, and maybe Medjugorje. Attractions include the Kula, a silo-shaped fortress with the Sahat Kula bell tower, and the Hajji Alija Mosque. This town is so well-preserved it's essentially a free open-air museum.
HOW TO GET THERE
How far is Pocitelj from Sarajevo?
Pocitelj is 160 km southwest of Sarajevo.
Best way to get to Pocitelj from Sarajevo
Buses require a change at Mostar, while trains require a change at Capljina. So the easiest way to reach Pocitelj in 2.5 hours is to drive or rent a car.
City Of Jajce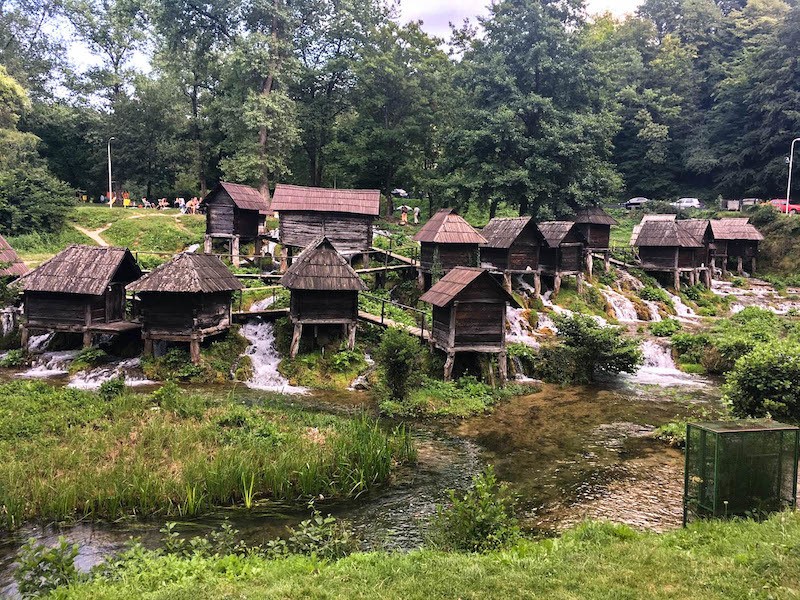 Jajce is a small town in Central Bosnia, and it lies on the confluence of rivers Pliva and Vrbas. It used to be the Bosnian king's seat during the Bosnian Kingdom, and even nowadays, people refer to it as the "royal town." One of the things you absolutely must-do if you visit Jajce is to go to the fortress.
It offers a spectacular panoramic view of the town and neighboring mountains, which will have you staring in awe. The same can be said for the magnificent Pliva waterfall. Head to the observation platform to get a magnificent view of the waterfall and enjoy this area's overwhelming sense of calm and serenity.
The city park is also worth a visit, as is the Malo Plivsko Lake, that's just 5-10 minutes outside the proper town area. You can enjoy a picnic in the park, admire spectacular nature, and see some ancient water mills that look absolutely wonderful.
HOW TO GET THERE
How far is Jajce from Sarajevo?
Jajce is located about 160 km north of Sarajevo.
Best way to get to Jajce from Sarajevo
You can only travel by train from Sarajevo to Zenica and then switch to a taxi or bus to Jajce. The easier way is to take the bus taking 3.5 hours, rent a car and drive for 2.5 hours.
Sutjeska National Park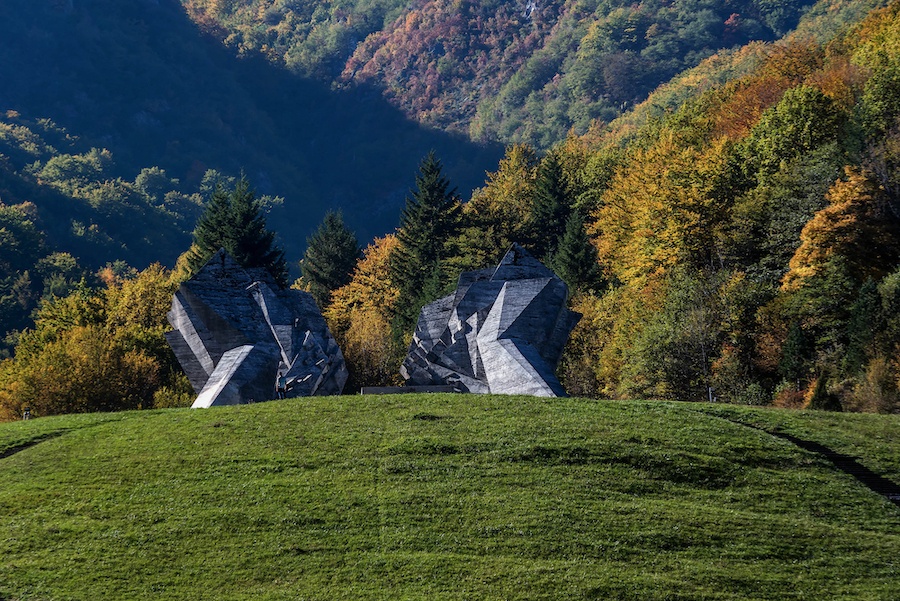 As one of the oldest parks in the country, the Sutjeska National Park attracts people worldwide for many different reasons. It is home to one of the few remaining primeval forests in Europe, Perućica. With beech trees over 60 meters tall and spectacular views of the Skakavac Waterfall from the lookout point, the national park certainly does not disappoint when it comes to photogenic nature.
Obviously, it's not the same waterfall-like the one near Sarajevo; they share the same name! Sutjeska National Park is also home to Maglić, which happens to be the country's tallest peak at over 2,386 meters. And that's reason enough for avid hikers and mountaineers who want the opportunity to boast of conquering Bosnia's tallest mountain. If you want to experience an otherworldly sight in this national park, head to the Valley of Heroes. It is home to some genuinely eye-catching monuments, which are actually a memorial for the fallen soldiers of the Battle of Sutjeska during WWII.
HOW TO GET THERE
How far is Sutjeska National Park from Sarajevo?
It's a 120 km drive South East.
Best way to get to Sutjeska National Park from Sarajevo
Buses require changes at Mostar and Gacko and take a total of 7 hours, so a car rental or self-drive will take 2.3 hours to get here.
Stoic Srebrenica
Small town Srebrenica will always be remembered for the Srebrenica Massacre and Bosnian Genocide. Memorials have been erected for victims from both sides, the Bratunac Memorial for the Serbs and the Genocide Memorial for the Bosnians. Srebrenica has many damaged homes and buildings that still stand testament to the war. Other than this stoic reminder of the past, Srebrenica is also home to natural thermal springs that are said to have healing properties.
HOW TO GET THERE
How far is Srebrenica from Sarajevo?
Srebrenica is around 155 km from Sarajevo.
Best way to get to Srebrenica from Sarajevo
Buses to Srebrenica require a change at Zvornik and take about 3.5 to 5.5 hours. So driving or renting a taxi is the best way to get to Srebrenica.
Konjic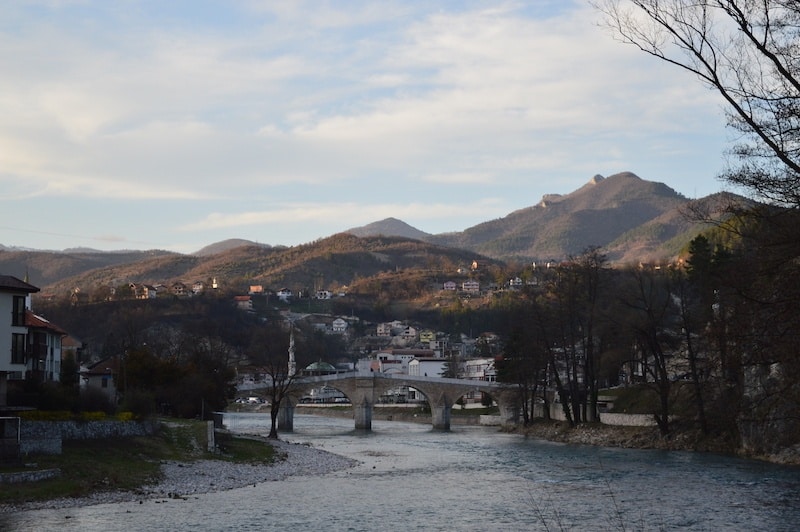 Konjic is a small town about an hour away from Sarajevo, and it's home to one of Yugoslavia's best-kept secrets – an underground nuclear bunker, which happens to be the hottest attraction in the town. The underground structure spreads over some 6400 square feet, with residential rooms, offices, strategic planning rooms, and other areas. It was built to house the then-leader of Yugoslavia – Josip Broz Tito – and some 350 of his closest confidants.
The bunker construction began in 1953 and lasted for about 26 years, costing around $4.6 billion. What's baffling is that the bunker remained secret until after the breakup of Yugoslavia in the 90s. We also recommend that you go on a walk around the town of Konjic. It's pretty tiny, so it won't take more than several hours to see the majority of it. But you just might get captivated by the spectacular views of the Stara Ćuprija (bridge), with tall mountain peaks in the background. Photographers will have the time of their life capturing the sights.
Konjic is also a very popular rafting spot in the country, making it an excellent place for the adrenaline-loving traveler. The untamed Neretva waters are no joke and pose a challenge even to the most experienced rafters there is – an adrenaline rush is guaranteed when you're rushing down the wild river.
HOW TO GET THERE
How far is Konjic from Sarajevo?
Konjic is about 58 km southwest of Sarajevo.
Best way to Konjic from Sarajevo
Local trains are the cheapest and fastest way to get to Konjic. (Although buses take about the same time, they cost a bit more.)
Winter Wonderland Kupres
In the heart of the Kupreško Polje, the town of Kupres is covered in snow for five months a year. The harsh winter conditions make Kupres the perfect winter ski destination, and the town has several ski resorts, apartments, and guest houses. Ski Staza Kupres and Snowpark Kupres are the most famous parks here! (If you can't visit in winter, Kupres is also popular for the Strljanica competition in July, hiking, paragliding, boating, and hunting in summer. Kupres is home to the famous Kukavicko Lake, the Otinovci UNESCO site, and the Roman Catholic Basilica of the Holy Family.)
HOW TO GET THERE
How far is Kupres from Sarajevo?
Kupres is 150 km west of Sarajevo.
Best way to Kupres from Sarajevo
The only method of getting to Kupres without changing transport is via taxi or car rental.
Čvrsnica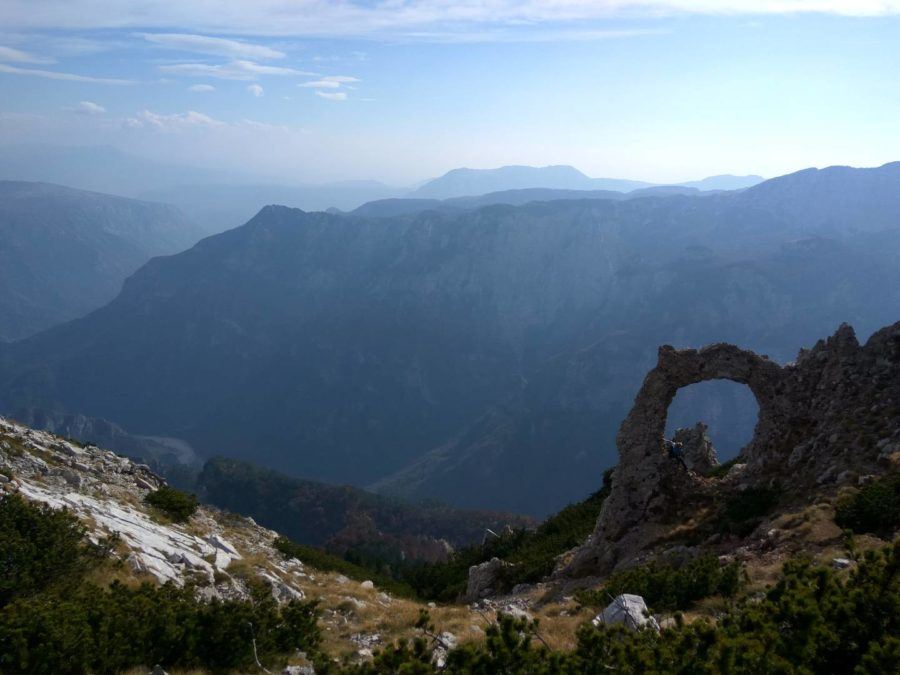 Bosnia and Herzegovina is heaven on Earth for climbers, hikers, and alpinists alike, thanks to the abundance of different mountain ranges. And Čvrsnica happens to be one of the most popular mountains for hikers, thanks to various trails suitable for people of all skill levels.
About an hour and a half outside Sarajevo, this mountain lies partially in Blidinje Nature Park – another phenomenal sight worth visiting, should you have the extra time. But, by far, the best-known Čvrsnica attraction is a natural rock formation known as Hajdučka vrata. This natural phenomenon has attracted hikers worldwide because of the picturesque scenery and ease of ascent.
The trail that takes you directly to the famous rock formation is relatively straightforward and suitable even for people with minimal hiking experience. But we recommend you have at least one person who knows what they're doing with you, just in case.
HOW TO GET THERE
How far is Čvrsnica from Sarajevo?
Čvrsnica is 60 miles southwest of Sarajevo.
Best way to Čvrsnica from Sarajevo
The fastest & cheapest way to get there is to drive, but you can also take a bus or taxi.
Isolated Lukomir
Nestled high in the Bjelasnica Mountains at 1495 m, the village of Lukomir is famous for the Stecak or Stecci tombstones from the 14th and 15th centuries. The Upper Village of Lukomir, known as Gornji Lukomir, is Bosnia and Herzegovina's highest and remotest village. Lower Lukomir, or Donji Lukomir, sits 500 m below the Rakitnica Canyon and has green pastures perfect for hiking or spending some time experiencing culture preserved in dress and traditions.
HOW TO GET THERE
How far is Lukomir from Sarajevo?
Lukomir is 46 km southwest of Sarajevo.
Best way to get to Lukomir from Sarajevo
The only way to get to Lukomir is by taxi or driving.
Travnik
Just some 90 kilometers west of Sarajevo lies Travnik, a charming little city characterized by a fortress, a rushing river, and some of the country's best ćevapi. Ćevapi are the most popular traditional dish in Bosnia and Herzegovina. If you don't get the opportunity to try them in Sarajevo, the second-best place in the country is Travnik! But don't go there just for the food – instead, visit all the famous spots first to build up your appetite.
We highly recommend that you visit the Ivo Andrić Museum – the birth home of the renowned Bosnian writer was turned into a museum. It offers some insight into the early life of the Nobel Prize-winning author. Another sight you shouldn't miss here is the Travnik fortress. It was built in the first half of the 15th century, and today it remains one of the best-preserved fortifications in the country! It's a truly remarkable sight, but it offers even better views if you climb to the top.
HOW TO GET THERE
How far is Travnik from Sarajevo?
Travnik is 92 km northwest of Sarajevo.
Best way to get to Travnik from Sarajevo
Renting a car is the easiest way to get to Travnik in 1.25 hours, while buses take 1.45 hours.
Banja Luka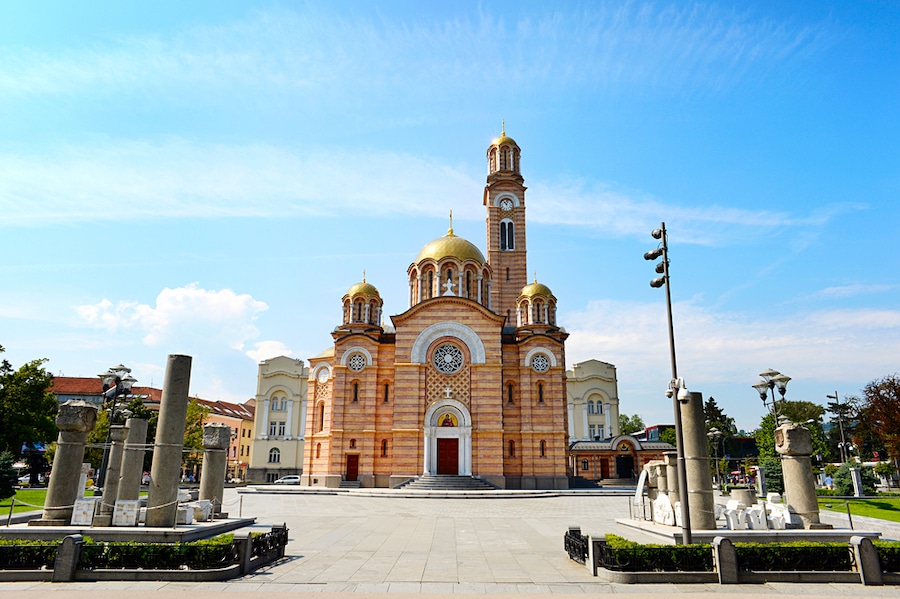 As the second-largest city in Bosnia and Herzegovina and the de facto capital of the entity of Republika Srpska, Banja Luka is another town you should visit if you get the opportunity. It's part of many of the best Sarajevo tours. The only issue is that it's more than three and a half hours away from Sarajevo by car, and the journey's even longer if you're considering taking the bus or train. However, it is more than worth the effort. For one thing, the city has its own variance of the popular ćevapi dish, which you unquestionably have to try. Let's not dwell on the food too much, especially with so many gorgeous sights in the area. The medieval Kastel fortress lies in the city's center, right on the Vrbas river bank. Another popular sight in the city is Christ the Savior Orthodox Cathedral. The majestic church is stunning both inside and out, and we highly recommend going inside it if you have the extra time. There's also the Ferhadija Mosque, which was built way back in the 16th century.
The Ottoman mosque and its gardens were destroyed during the war and rebuilt in the early 21st century. Today, they stand tall as a reminder that people of all religions and ethnicities are capable of coexisting in this astonishing country. However, the nasty nationalist politicians want you to believe otherwise.
HOW TO GET THERE
How far is Banja Luka from Sarajevo?
It's 200 km northwest of Sarajevo.
Best way to get to Banja Luka from Sarajevo
Self-drive or car rental is the easiest way to reach Banja Luka, while trains take 4.5 hours and buses take 5 hours.
Ancient Visegrad
Famous for the UNESCO heritage Mehmed Pasa Sokolovic Bridge, the town of Visegrad rests at the confluence of the rivers Rzav and Drina. Reasons to visit Visegrad include the King Matthias Museum, the 13th-century citadel, and Solomon's Tower, and the Nagy-Villam Lookout Tower.
HOW TO GET THERE
How far is Visegrad from Sarajevo?
Visegrad is a 122 km drive East of Sarajevo.
Best way to get to Visegrad from Sarajevo
There are no direct buses or trains here, and the best way to reach Visegrad is by spending 2 hours in a taxi or a rental car.
If You Want To Venture Further, Consider These Towns
Jaw-dropping Kravica waterfalls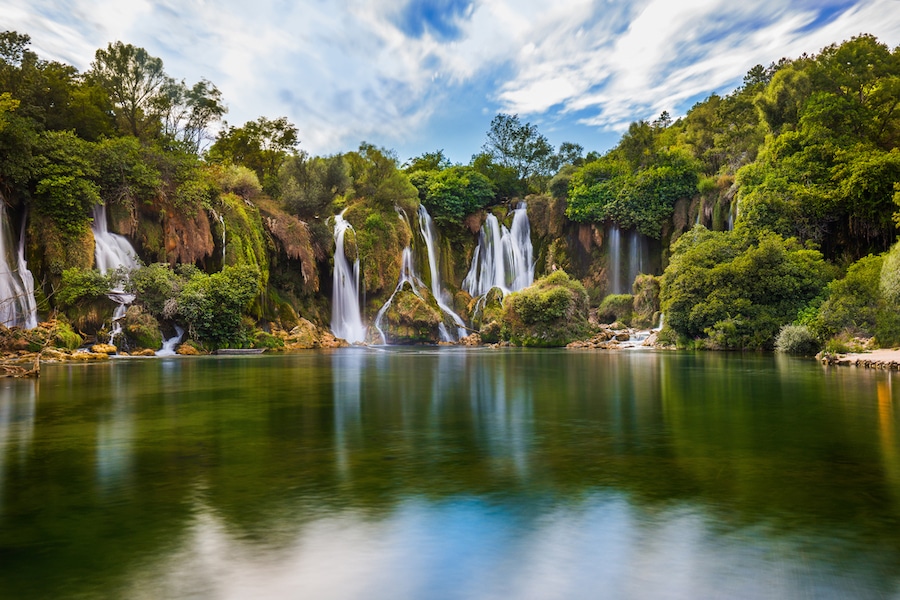 Kravica Waterfalls, often mistakenly called Kravice waterfalls, are many impressive cascades on the Trebizat River. The lake created by the 25 m waterfall has a radius of 120 m and is a popular place for picnicking and swimming in summer.
HOW TO GET THERE
How far are the Kravica Waterfalls from Sarajevo?
The Kravica Falls are 170 km southwest of Sarajevo.
Best way to get to Kravica Waterfalls from Sarajevo
Self-drives or car rentals are the easiest way to reach Kravica Falls.
Relaxing Neum
The only Bosnian town on the Adriatic Coast, Neum stretches over 22 km of coastline. Neum is an excellent place for scuba-diving, boating, jet skiing, parasailing, swimming, and water sports, with prices lower than the surrounding Croatian coastline. The Old Town of Neum, 2 km inland, has Stecaks and the Hutovo Fortress ruins to visit.
HOW TO GET THERE
How far is Neum from Sarajevo?
Neum is a 200 km drive from Sarajevo.
Best way to get to Neum from Sarajevo
Buses and trains involve changes and take 3 to 5 hours. So the most direct way to get to Neum is a 3-hour drive via taxi or rental car.
Bountiful Tara National Park (In Serbia)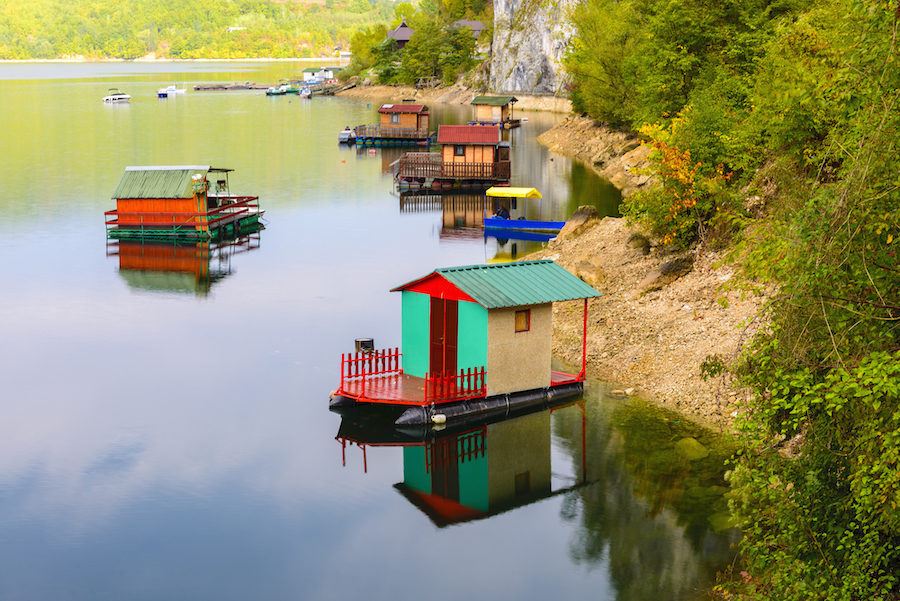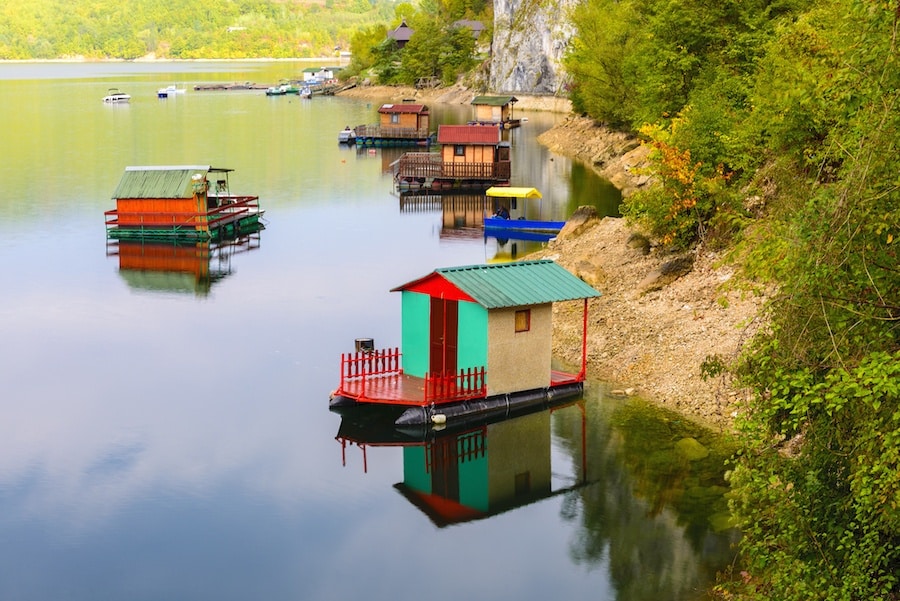 Tara National Park in Western Serbia covers 220 sq km and is filled with sprawling ravines, shining rivers, and dense forests that are perfect for spending time in nature. The Tara Mountain is at an elevation of 1544 m, the highest in the Dinaric Alps. Lakes Zaovine and Perucac are perfect for water sports and kayaking, and the Drina River is just right for canyoning.
HOW TO GET THERE
How far is Tara National Park from Sarajevo?
Tara National Park is a 190 km drive East of Sarajevo.
Best way to get to Tara National Park from Sarajevo
Car rentals to Tara take 3 hours and are the easiest, while buses require multiple changes and take 5 to 7 hours.
MORE SARAJEVO TRAVEL BLOGS